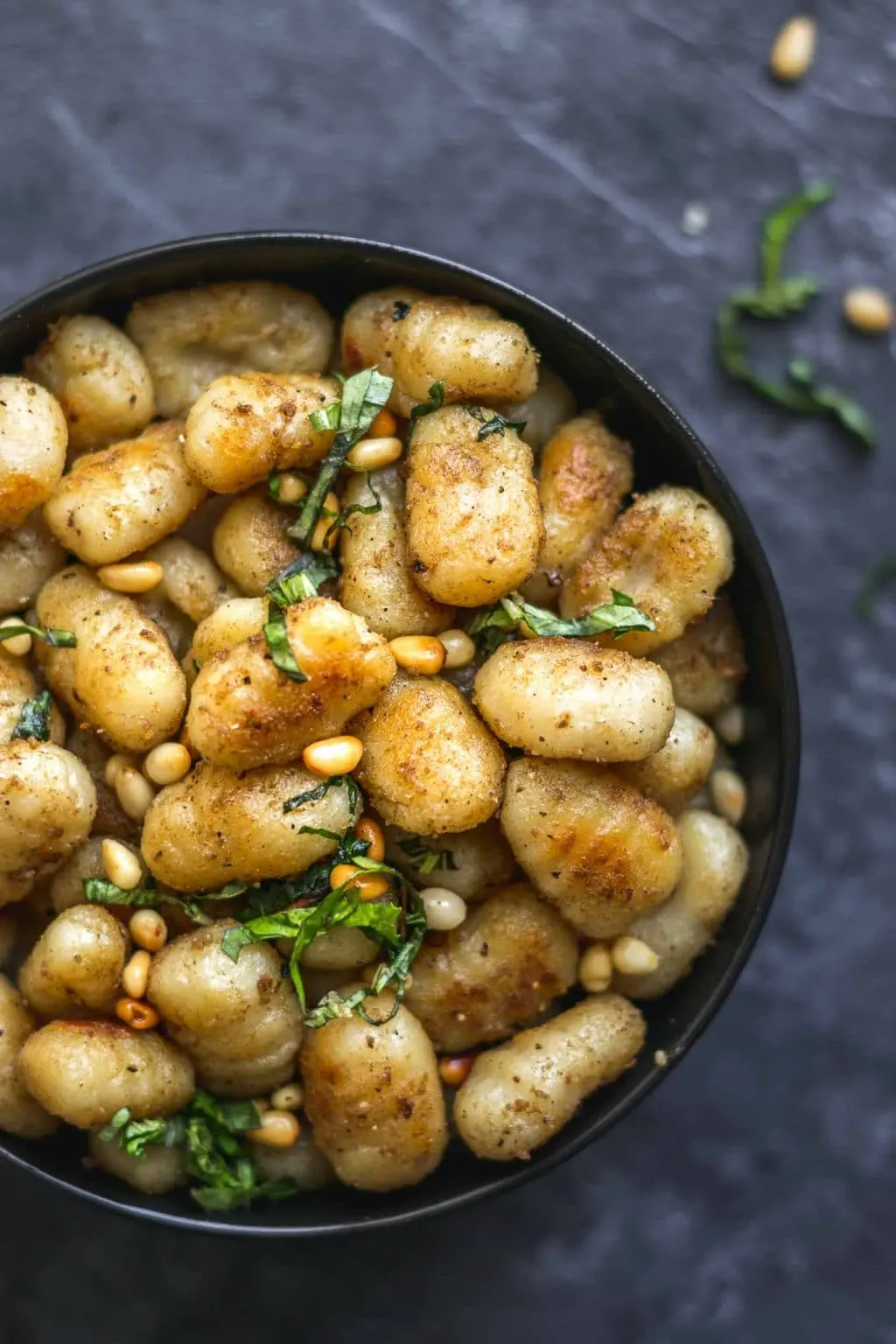 Toasty gnocchi, crispy golden-browned outside and pillowy soft inside. Rich, nutty-tasting roasted pine nuts, thinly sliced garlic that caramelizes a golden brown, and dried rubbed sage pairs perfectly in this incredibly easy, 8-ingredient, 15-minute recipe for vegan brown butter gnocchi. That's right, I said vegan brown butter. What, you thought that only cow's milk based butter could brown? Not true! You just need some proteins in your fat so that the Maillard reaction can occur. That is, the amino acids (protein) react with the sugars in the butter (vegan or not) and you end up with these richly flavored, nutty tasting browned solids which separate from the rest of the fat. I know, super sexy sounding. But it's quite delicious and has a much more complex flavor than plain butter!
The key to browning vegan butter, is that you can't use most of the margarine-style butters. In the US that means brands like Earth Balance buttery sticks are a no-go (I love them for a lot of applications, it just won't brown for this recipe). But what you can use is store bought butter like Miyoko's Kitchen European Style Cultured VeganButter or a homemade version, like the recipe from her cookbook, The Homemade Vegan Pantry (such a beautiful book and I highly recommend it), which was also published on An Unrefined Vegan's blog. The proteins in the plant milk used (soy, cashew, almond) are able to go through the same chemical reaction as the protein in cow's milk.
Ok, I think I've geeked out enough on the chemistry of cooking. Um. If you don't want to make your own homemade butter, and don't have access to the more artisan style vegan butters in stores, this dish will still be really good with whatever vegan butter you can find. Or, my preference is to substitute a nice tasting olive oil. While olive oil won't have exactly the same flavor as browned butter, it's rather flavorful on it's own. This is a hack I've used at restaurants before when wanting a browned butter dish vegan, and I'm never disappointed. If using olive oil or margarine style vegan butters, you'll want to skip the browning step, as this is going to do nothing but degrade the fat.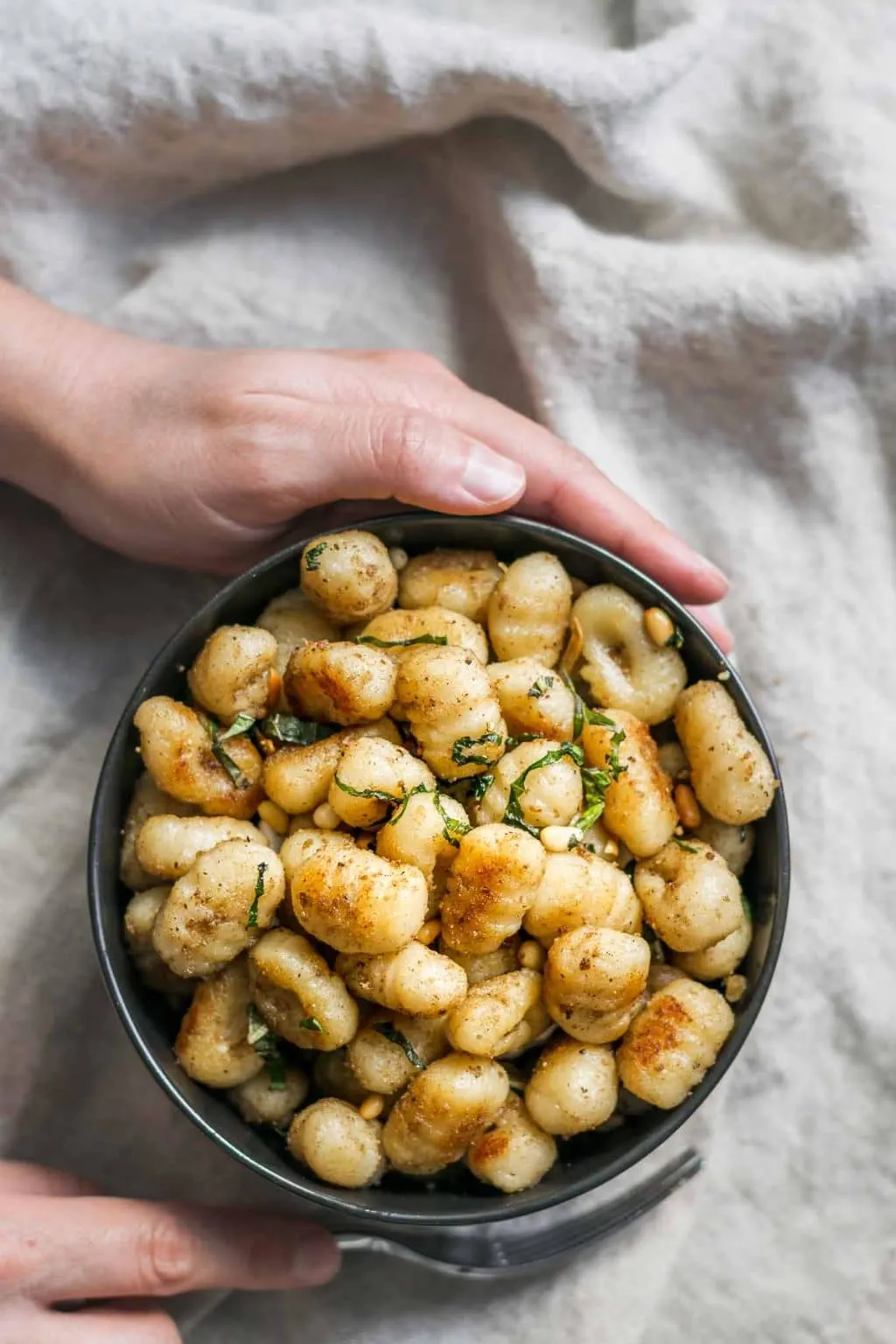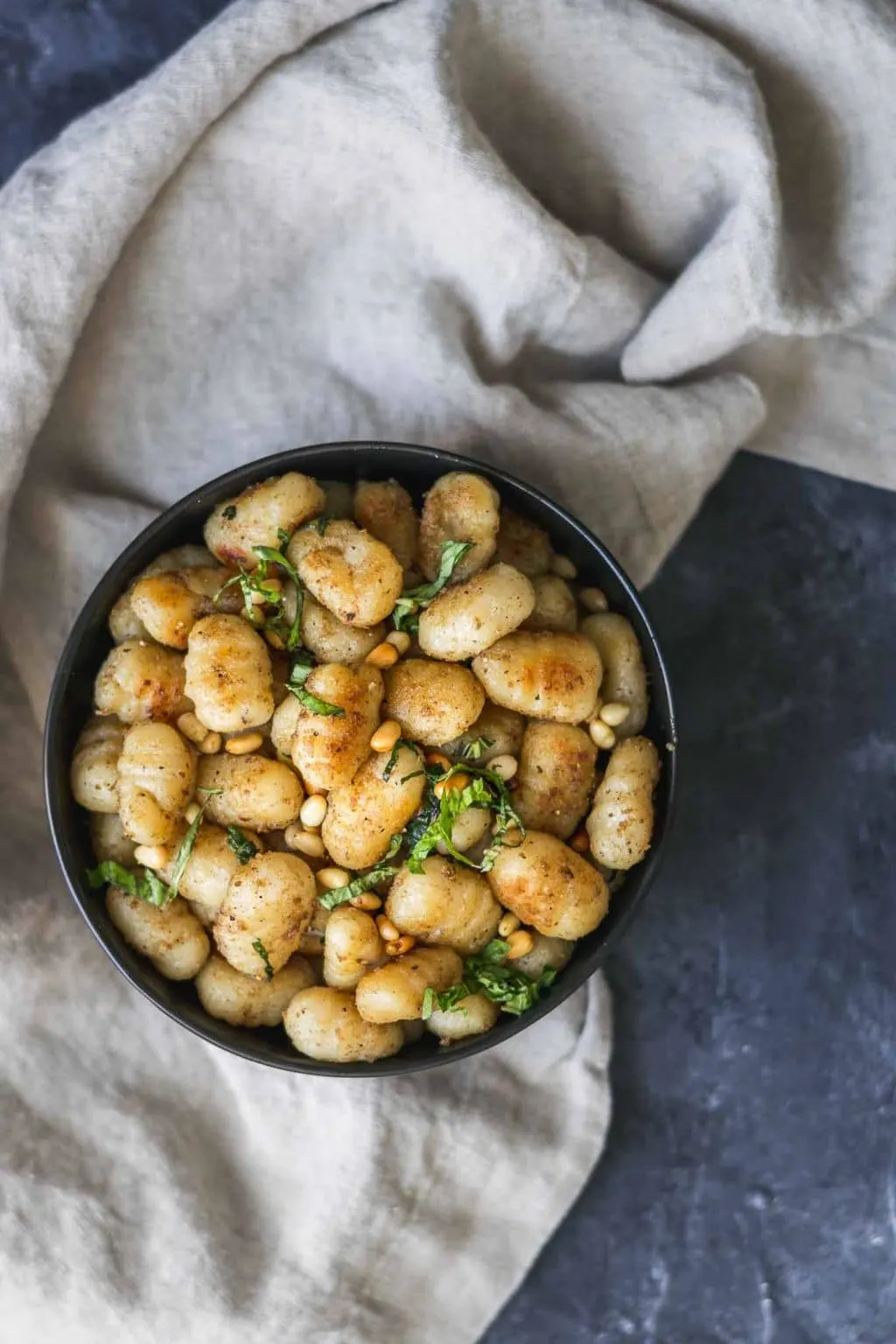 I love making this with my homemade gnocchi. I'll make a big batch of potato gnocchi, cook it up, and then it's almost no time until this super delicious and satisfying brown butter gnocchi is ready. Step 1: brown the butter. Step 2: toast the pine nuts and caramelize the garlic in the browned butter (or olive oil, if that's what you're using! still excellent!) to infuse the butter with garlic + pine nut flavor, but then remove them so they don't burn while you toast the gnocchi. Step 3: fry up the cooked gnocchi in the browned butter along with the dried sage, salt, and black pepper until the gnocchi are golden brown with some crispy sides. Step 4: Add the pine nuts and garlic back in. Turn off the heat and stir in the thinly sliced basil. You could finish this off with some vegan parmesan, or a sprinkle of nutritional yeast, but it's soo good and flavorful and perfect on it's own that I'll usually skip this step.
I hope you guys enjoy this vegan brown butter gnocchi! It's one of my favorite meals 🙂 . If you make it, please comment and rate the recipe below. I'd love to know what you think! As always, don't forget to tag your recreations @thecuriouschickpea and #thecuriouschickpea on Instagram, or share with me on Facebook! Happy cooking everyone!

Notes:
This recipe is great with homemade gnocchi or store bought gnocchi. Just check to make sure there's no egg in the gnocchi, and if there are mono- or diglycerides in the gnocchi note that it may not be vegan either.
For brown butter you need to use a vegan butter with some trace protein in it (like one that uses either nuts or soy milk as part of the ingredient list). Miyoko's Kitchen makes one, or you can make homemade.
Pro-tip: this recipe works sooo well with vegan ravioli and tortellini as well!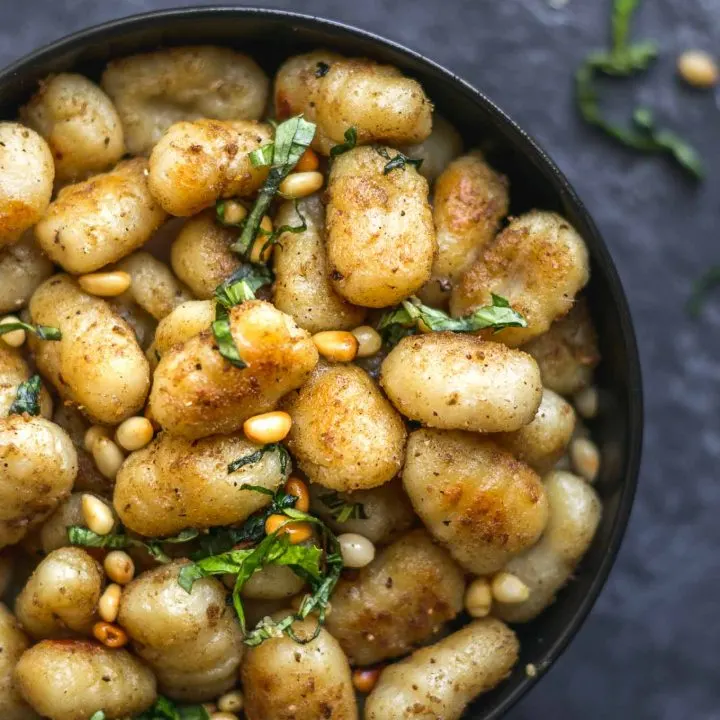 Vegan Brown Butter Gnocchi
Gnocchi are pan fried in vegan brown butter and tossed with dried sage, toasted pine nuts, and thinly sliced caramelized garlic in this delicious 8-ingredient and 15-minute meal.
Ingredients
3 tbsp vegan butter or olive oil*
3 cloves garlic, thinly sliced
1/4 cup pine nuts
3 cups (1 lb) cooked gnocchi
1/2 tsp dried rubbed sage
freshly ground black pepper, to taste
1/4 tsp salt, or to taste (more if using olive oil)
2 tbsp basil chiffonade, for garnish
Instructions
Heat a large skillet over medium-low. Add the vegan butter, allow to melt then continue to cook until you see some light brown solids forming, 1 1/2 - 2 minutes. If using olive oil skip this cooking step as it will not brown.
Add the pine nuts and thinly sliced garlic and cook over medium-low for 1-2 minutes until they are lightly golden. Remove with slotted spoon or spatula and set aside.
Add the cooked gnocchi and cook for 5-7 minutes over medium-low heat, stirring occasionally, until golden browned to your desired amount.
Add back the pine nuts and garlic and let brown another minute if desired.
Turn off the heat, add the basil garnish and enjoy while hot!
Notes
*If you don't have a vegan butter with some protein in it, substitute a flavorful olive oil