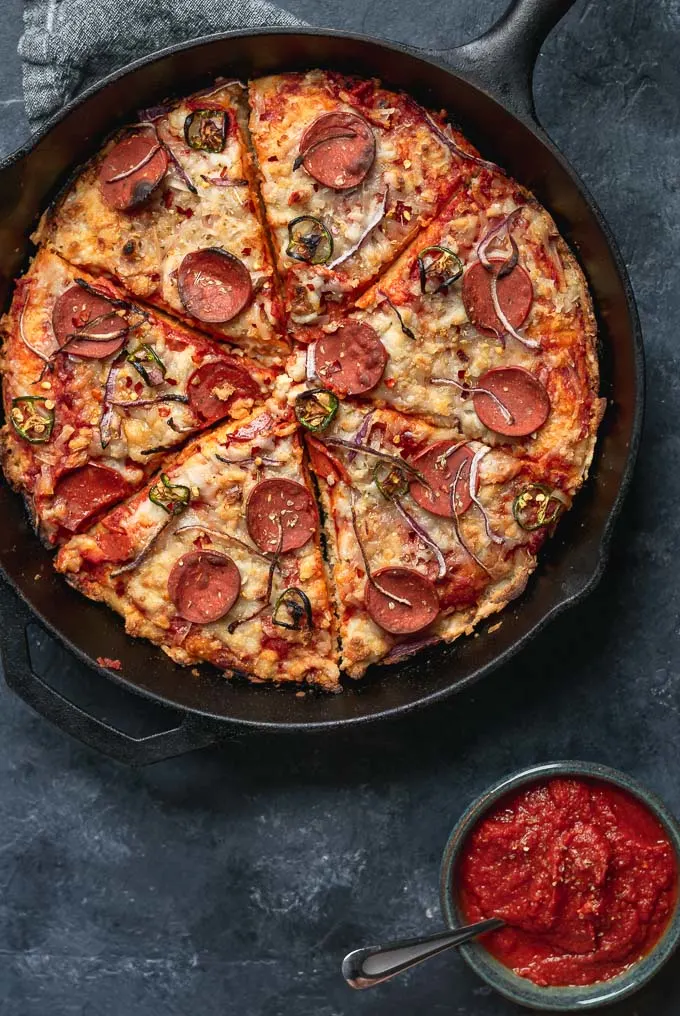 You need this vegan pepperoni pan pizza in your life. Like, yesterday already! What are you waiting for?!
Look, thin crust pizzas are great and all, but sometimes you need a thick crusted pan pizza. We're talking an entire inch(-ish) of deliciously doughy crust underneath generous toppings. There's no need to go light on the sauce, [vegan] cheese, or anything else you want to throw overtop as there is plenty of crust to support it!
Take this vegan pepperoni pan pizza. A super easy soft dough can be easily made by hand or in a stand mixer. It's loaded with a delicious homemade pizza sauce, plenty of vegan mozzarella, vegan pepperoni, fresh sliced jalapeños, and red onion.
It's an unassuming pizza, comforting and homey, and oh so satisfying. Growing up in the midwest thick crusted pizza was almost as common as it's thin crusted cousin. But whether or not this is a nostalgic food for you, you should get on making this mouth watering pan pizza!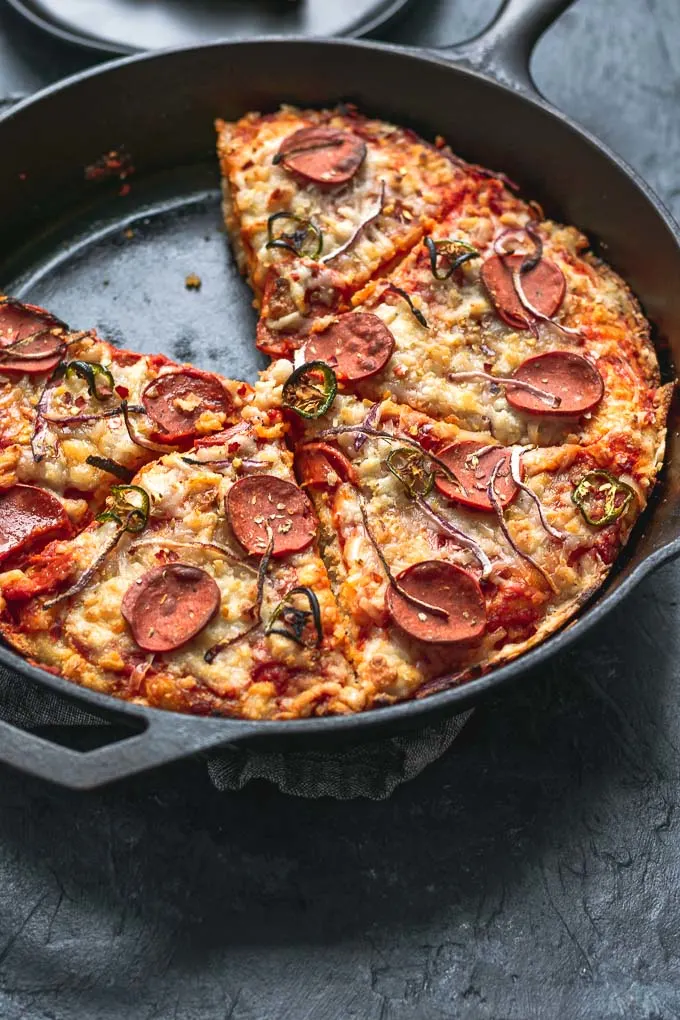 The Dough
Right, so first we make the dough. This dough can be made with either bread flour or all purpose flour. I tested it with both to make sure!
Now, all purpose flour soaks up a bit less water than bread flour, so the dough might be a bit slacker to work with, and you'll probably need to add a little more flour as you knead. A crust made with all purpose flour will also be a bit less chewy, as all purpose flour has less protein in it than bread flour (meaning a weaker protein network, which is what gives bread it's texture and height–well in conjunction with the yeast).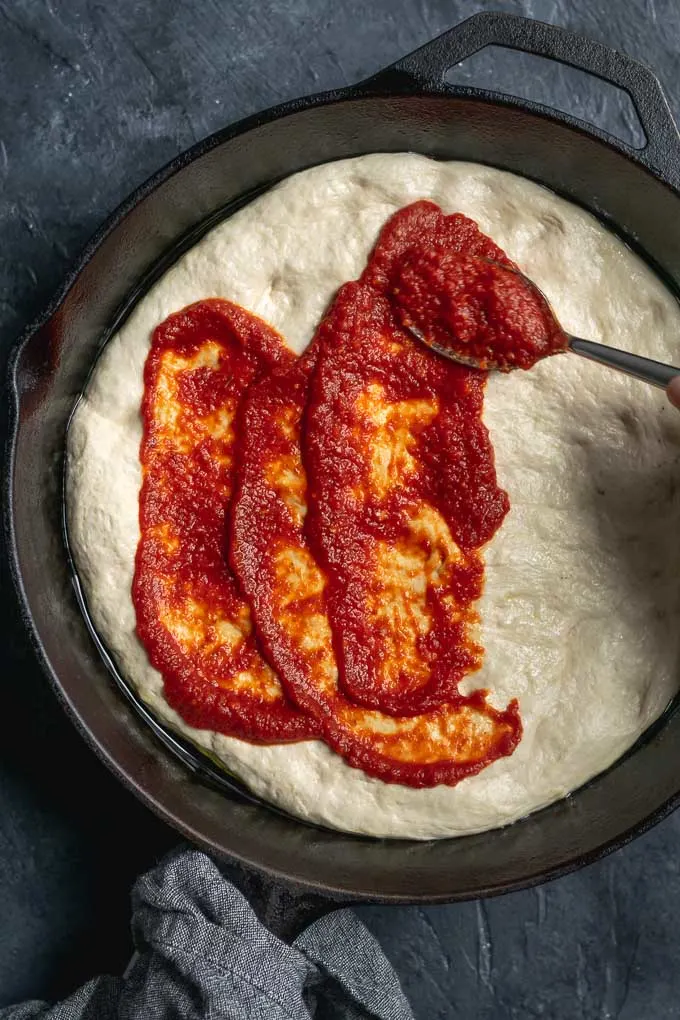 When making yeasted doughs, I prefer to use instant yeast. Instant yeast is different from dry active in that it can be added directly to the dry ingredients. It also starts activates a bit quicker than dry active yeast.
If you only have dry active yeast on hand, don't worry you can still make this dough! Just stir in the yeast to the warm water and let it activate for about 5-10 minutes before mixing it into the dough. You will also need to give the dough a bit longer to rise under the same environment, just keep an eye on it!
This dough needs about 1 1/2 to 2 hours to rise with instant yeast. In the summer heat, I'm looking at the lower end of this range. In a cold house it might take the full 2 hours. I personally don't like to rush my dough during the rise, as this is when the flavor develops.
The Sauce
While the dough is rising is the perfect time to make the pizza sauce. Now, if you want to buy pizza sauce, that's cool I guess, you can skip this step. But pizza sauce is so easy (and cheap!) to make, and you really can't beat homemade.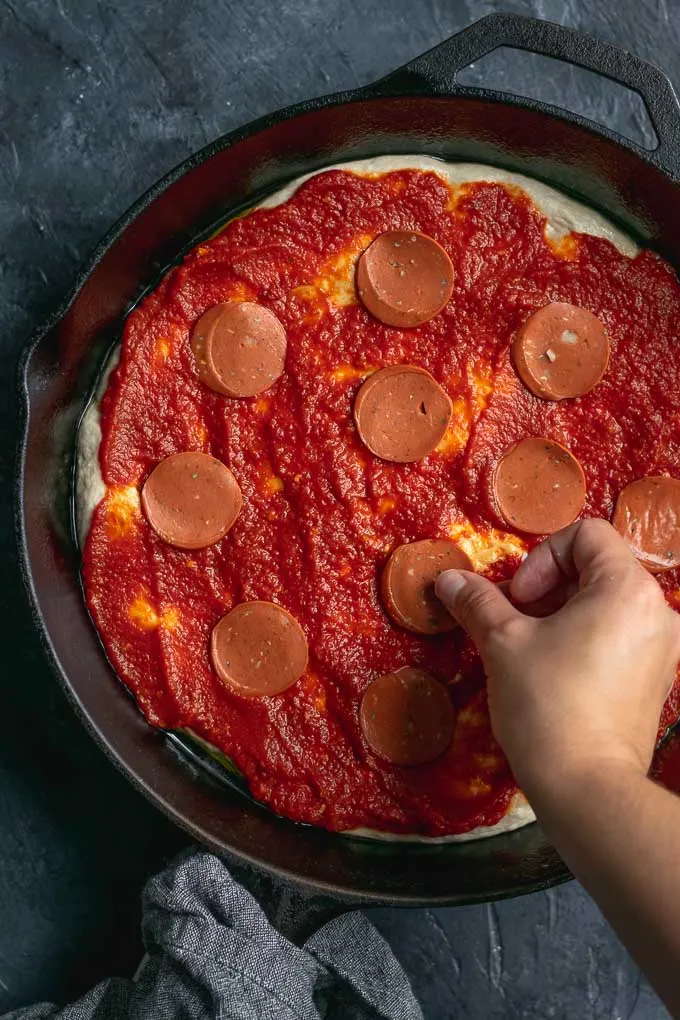 While I typically make an uncooked red sauce (like the one in my vegan meatball pizza) for my thin crust pizzas, this style of pan pizza goes perfectly with a simmered tomato sauce with its deeper, sweeter flavors.
This pizza sauce is herbed with dried oregano and spiced with dried granulated garlic and dried onion powder for their sweetened lightly caramelized flavors. Fresh garlic gives a double dose of nuanced garlicky flavor, and olive oil adds depth of flavor and richness to the sauce.
A sprinkling of sugar is totally optional, but rounds out the natural sweetness of tomatoes (plus you never know when you'll run into slightly more astringent tomatoes). And speaking of tomatoes, you'll want to choose high quality canned/boxed/jarred tomatoes. Canned whole tomatoes always work and tend to be the best quality tomatoes, but crushed or diced work too! The tomatoes in your pantry are the ones to use here! 🙂
The pizza sauce is simmered for about 30 minutes to allow all the flavors to meld and mellow. It brings out the sweetness of the sauce and that delicious tomatoey flavor.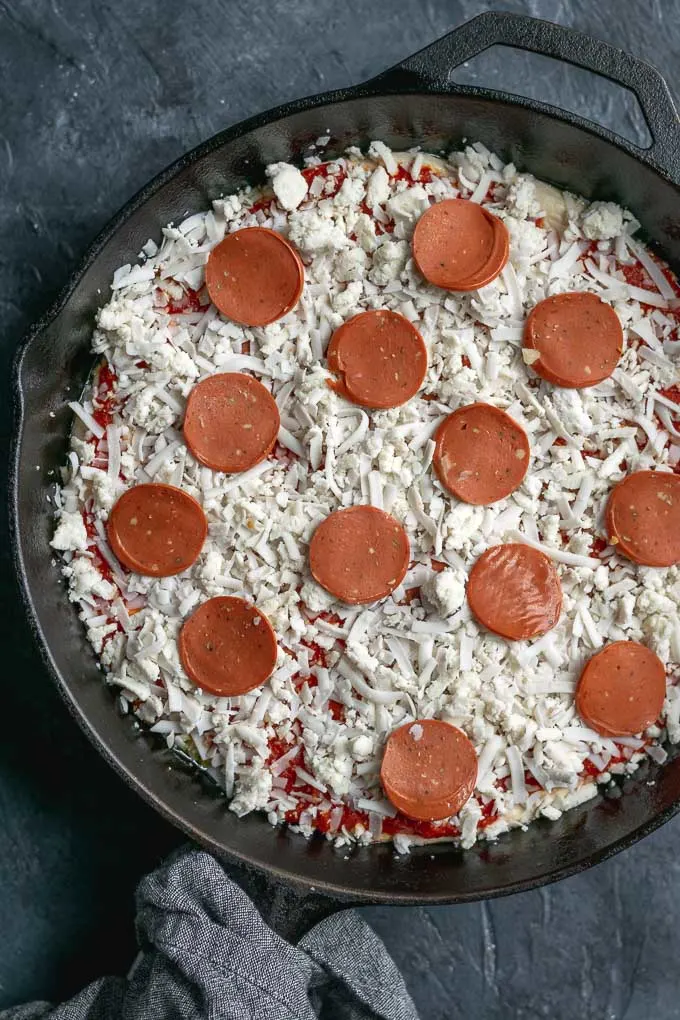 Topping the dough
Once the dough has completed it's rise, it's time to transfer it to the skillet or pan that will be used for baking. But first, preheat the oven. You want to take it to 550 ºF (285 C) or has hot as your oven will go. Also move a rack to sit in the bottom 1/3 of the oven. If you have a baking stone or even better, a baking steel, set it on that rack to pre-heat.
Grease your skillet or pan: drizzle in a bit of olive oil and spread it to coat the bottom. Next, ease the dough into the pan. Gently stretch the dough to fill the bottom of the skillet.
If/when the dough resists don't force it, but let it rest for several minutes. This gives the gluten (protein network) a chance to relax, and when you come back it should easily stretch to fill the pan. But repeat as needed!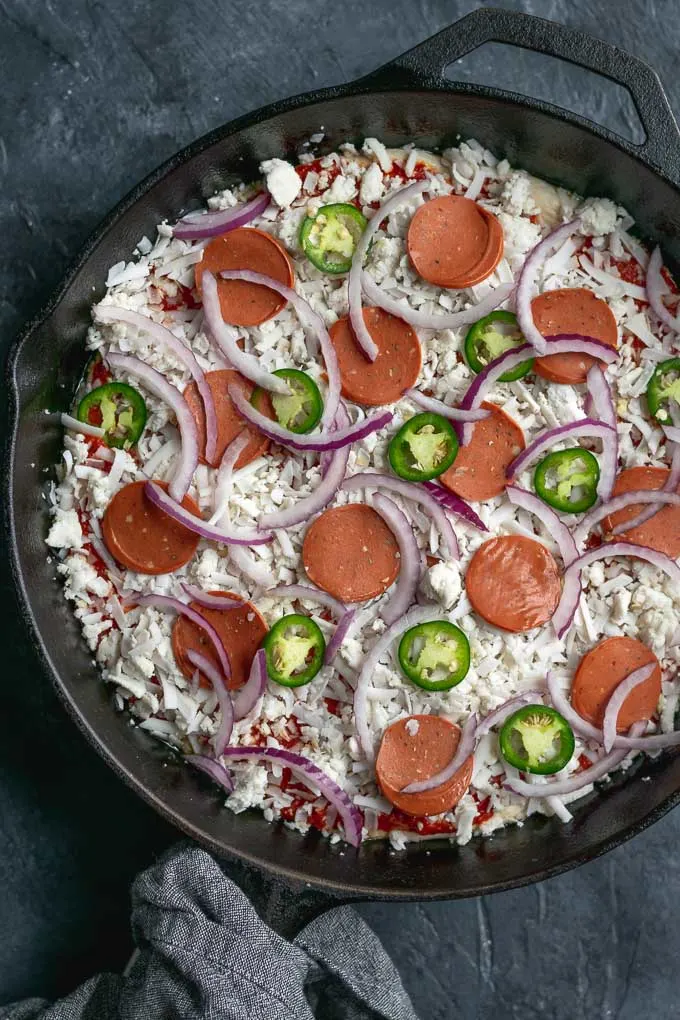 Let the dough rise for a second time once fitted to the skillet (cover so it doesn't dry out). This can happen while the oven preheats, or about 30 minutes.
Once the dough has risen for a second time, spoon over a generous portion of sauce. This isn't like thin crust pizzas where you have to worry about the dough being soggy and the delicate crust supporting the weight of the toppings. Go big with this pan pizza!
Now this is the way I like to do the rest of the toppings: vegan pepperoni, vegan mozzarella (also more generous than I normally would go with the cheese!), more vegan pepperoni, sliced jalapeños, then lots and lots of thinly sliced red onion. Like, I was a bit too skimpy with the red onion on this pizza, if we're being honest.
If you want to top your pizza differently, then you do you!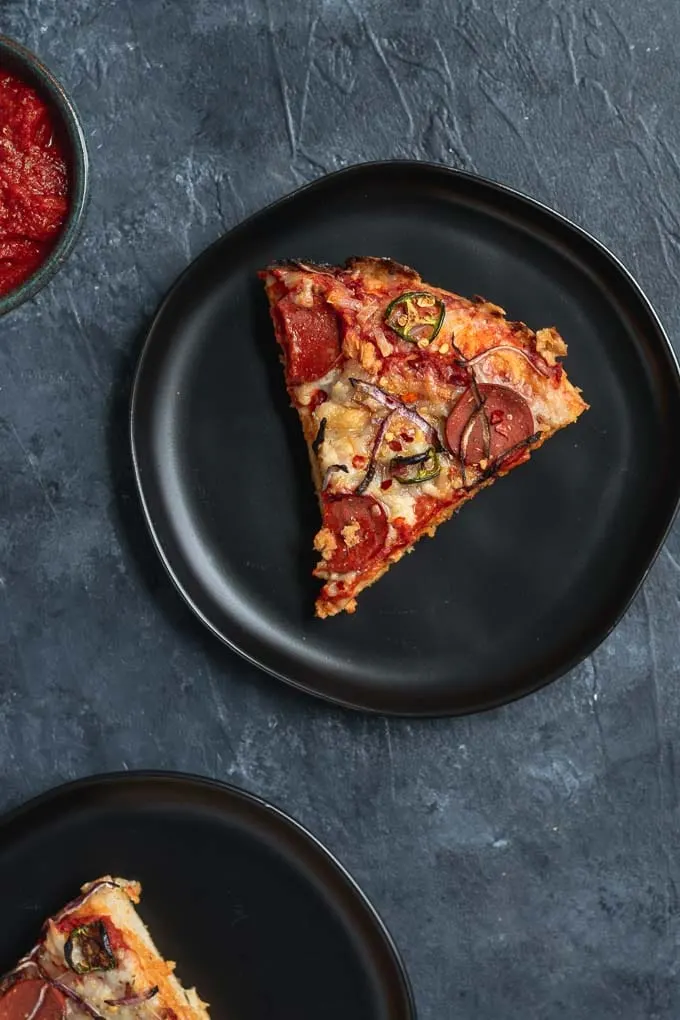 Optional Make ahead
You can always make your pizza ahead of time. There are two convenient points to pause the making of this pizza. After stretching the dough into the pan, it can be tightly covered and popped in the fridge for a slow second rise.
You can also completely top the pizza, then cover it and stick it in the fridge. At either point, the pizza can hang out in the fridge for up to 24 hours. Stick it straight from the fridge into a preheated oven to bake.
Baking the pizza
To bake this pizza, stick the skillet (or pan) onto the bottom rack. We want the pizza near the bottom of the oven so the bottom of the crust gets nice and cooked and the toppings don't cook too quickly.
The bottom crust will turn a beautiful golden brown and have a delicious buttery flavor (especially thanks to that olive oil it cooks in). In your super hot oven, this pizza cooks up in about 12-15 minutes. But give it the time it needs for a golden rim–if there's deep caramelization happening around the edges, even better!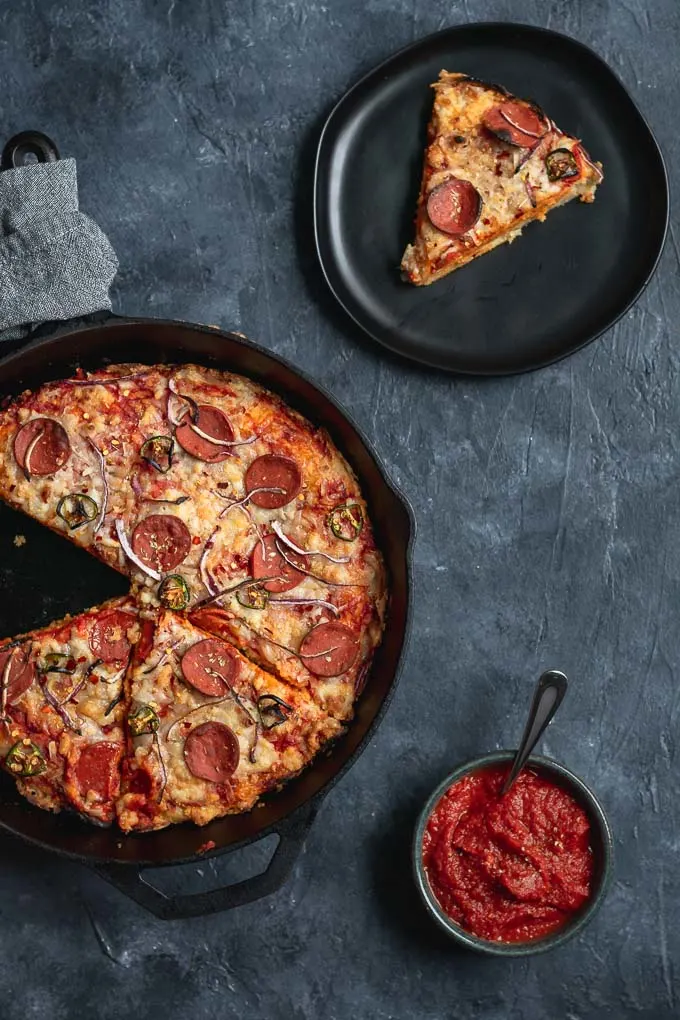 With vegan cheese, you may find it needs a bit of extra help from a more direct heat source to get perfectly melty and browned. So once the crust is looking great, move the pan about 6″ or so from the broiler and turn the broiler on.
The concentrated heat will brown your cheese in a couple of minutes and make for a perfect pizza!
Enjoy your pizza hot (I mean, give it a couple minutes before cutting into it) sprinkled with dried oregano and crushed red pepper. Just a warning, once slice of this pizza is a lot more filling than one slice of your average thin crust pizza! And trying not to over indulge is hard, because it's so damn good!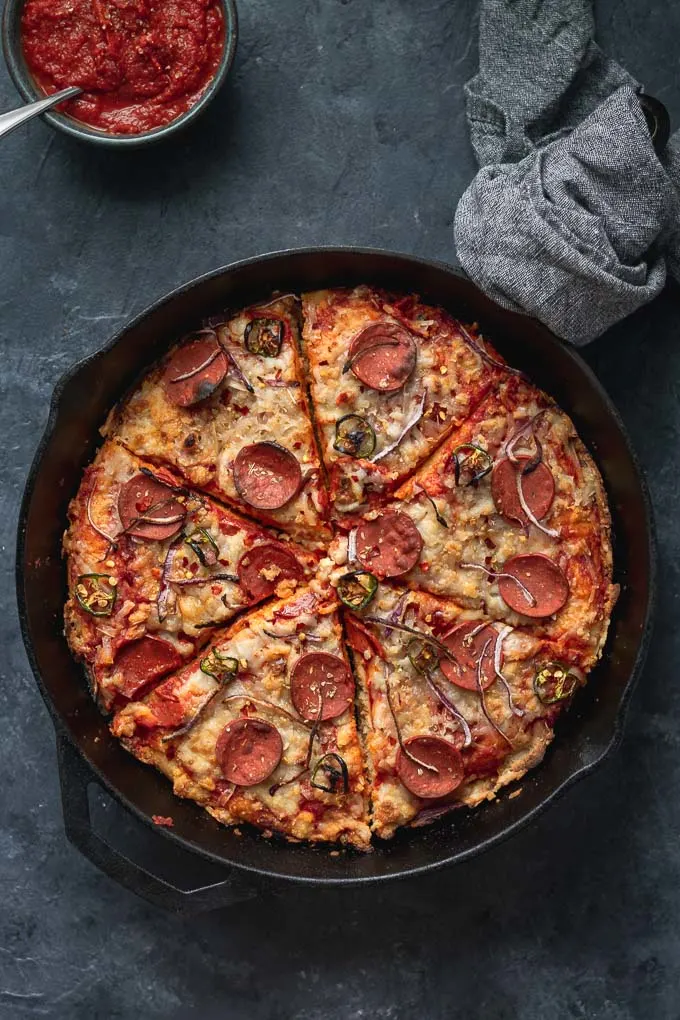 So next time you're not in the mood for thin crust pizza, make this one! It really doesn't get any better!
I hope you guys enjoy this vegan pepperoni pan pizza. I know I'm already ready for round two! And happen to have some more vegan pepperoni in the fridge… sooo….. 😛
If you make this recipe, leave a comment and rate it below! And don't forget to tag your recreations @thecuriouschickpea and #thecuriouschickpea on Instagram! I love seeing your photos! Happy pizza-ing friends!
Like what you see? Follow along on Instagram, Facebook, and Pinterest!
Notes:
If you don't have a large 12″ (14″ is ok too) cast iron skillet you can bake this pizza in a metal 9 x 13″ casserole dish, or divide the dough in half and bake in two 8 or 9″ square or round pans. The dough will be thinner if 9″ pans are used.
I used Yves Veggie Pepperoni and a mixture of Miyoko's Kitchen Fresh Mozzarella and Parmela Creamery Aged Mozzarella Style Shreds.
If you want to buy your dough, use about 1 lb of dough (this recipe makes 1 lb 2 oz).
You'll be left with extra pizza sauce. Heat it up to serve alongside the pizza for dipping, or plan for pizza night #2 already!
Don't like to use vegan meats? That's cool, don't! Or can't find vegan pepperoni? Use a vegan seitan sausage instead!
Vegan Pepperoni Pan Pizza
Prep Time:
2 hours
45 minutes
Total Time:
3 hours
2 minutes
This deliciously deep pan pizza is topped with a homemade pizza sauce, vegan mozzarella, vegan pepperoni, spicy jalapeños, and thinly sliced red onion. Complete with an easy homemade pan pizza dough!
Ingredients
Pan Pizza Dough
2 1/4 cup (295g) bread flour or all purpose flour
1 tsp (6g) salt
1 tsp (4g) instant yeast
1 cup (230g) warm water, ~100 ºF
Pizza Sauce
2 tbsp olive oil
2 cloves garlic
1 tbsp sugar (optional)
2 tsp dried oregano
1 tsp garlic powder
1 tsp onion powder
1 tsp salt
1/2 tsp crushed red pepper
1 28oz can tomatoes
Pizza Toppings
olive oil
8 oz vegan mozzarella
vegan pepperoni
1-2 jalapeños, thinly sliced
red onion, thinly sliced
Instructions
Make the pan pizza dough
In a large mixing bowl or the bowl of a stand mixer whisk together flour, salt, and instant yeast. Add the water and mix with a wooden spoon until it forms a shaggy dough and the dough rest for 10 minutes.
If kneading by hand, turn onto a clean and lightly floured surface and knead for 10 minutes until you have a soft and slightly sticky dough. Flour your hands and the counter as needed (but as minimally as possible) to keep it from sticking.
If kneading with a stand mixer, using the dough hook, knead on low speed for 10 minutes. Then turn the dough onto a clean lightly floured surface and knead for 1 minute making any final adjustments adding flour if needed to make a lightly sticky and soft dough.
Form the dough into a ball and then place in a lightly oiled bowl. Roll dough in the oil and cover the bowl. Set aside to rise for 1 1/2 to 2 hours, or until doubled in size.
Make the pizza sauce
Add the olive oil, garlic, sugar (if using), dried oregano, garlic powder, onion powder, salt, crushed red pepper, and a couple spoonfuls of the tomatoes to a blender. Process until smooth and emulsified. Add the rest of the tomatoes and blitz a few times until just ground up.
Pour the sauce into a saucepan and bring to a simmer over medium heat. Turn the heat to low, partially cover and simmer for 30 minutes, stirring occasionally. Turn off and set aside when done.
Assemble the pizza
When the dough has risen, turn the oven to 550 ºF and set a rack one level below the center. If you have a pizza steel or pizza stone place on the rack.
Pour some olive oil into a 12" cast iron skillet to coat the bottom. Gently ease the dough into the skillet and stretch to fill. If the dough resists, let it rest a few minutes then try again until it covers the skillet. Let rise while the oven preheats, about 30-45 minutes.
Cover the dough with sauce working all the way to the edge. Then top with some of the vegan pepperoni. Sprinkle with a generous portion of vegan mozzarella, then top with more vegan pepperoni, sliced jalapeño, and red onion.
Bake the pizza for 12-15 minutes until the cheese is melted and turning golden. If needed, transfer the skillet to a higher rack and broil for 1-2 minutes until the cheese is nice and browned.
Notes
Prep time is mostly inactive and varies depending on how long the dough takes to rise.
Adapted from Serious Eats
Recommended Products
As an Amazon Associate and member of other affiliate programs, I earn from qualifying purchases.