This vegan baked gnocchi with arrabbiata is pure comfort food. It's made with a homemade arrabbiata sauce and a homemade vegan mozzarella sauce. It's best served bubbly hot, with enough for seconds!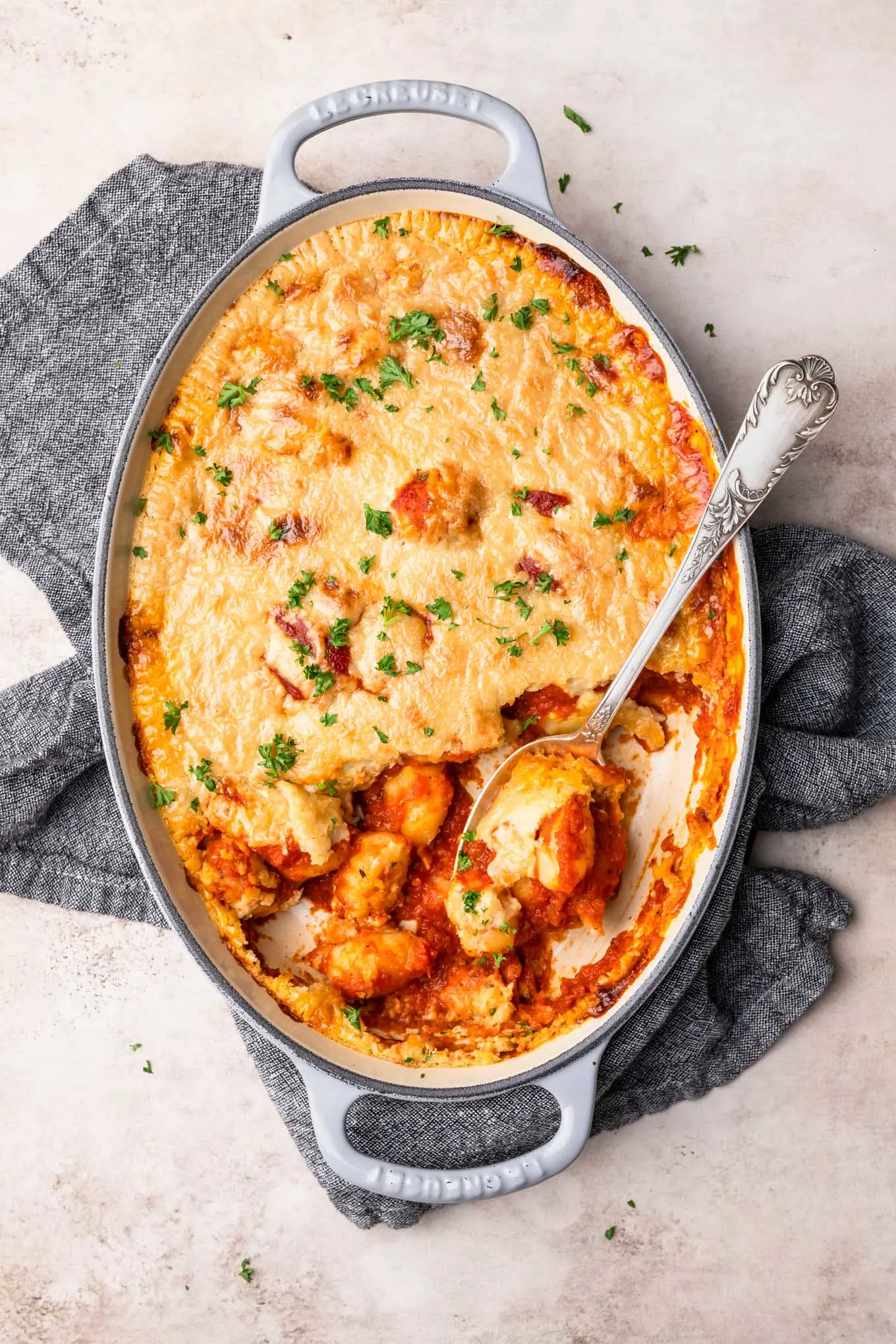 I love having gnocchi on hand, because it means satisfying, quick, and easy meals are a hop and a skip away. This baked gnocchi is great with store bought or homemade vegan gnocchi.
Sure if you use homemade gnocchi it does mean you put a bit more effort into the dish, but homemade tastes great! And if you can't find vegan packaged gnocchi, then you're stuck with making it yourself. I promise, homemade gnocchi is so much easier than you think!
When you have gnocchi in the fridge, you are moments away from having baked gnocchi! One of the world's most delicious dishes.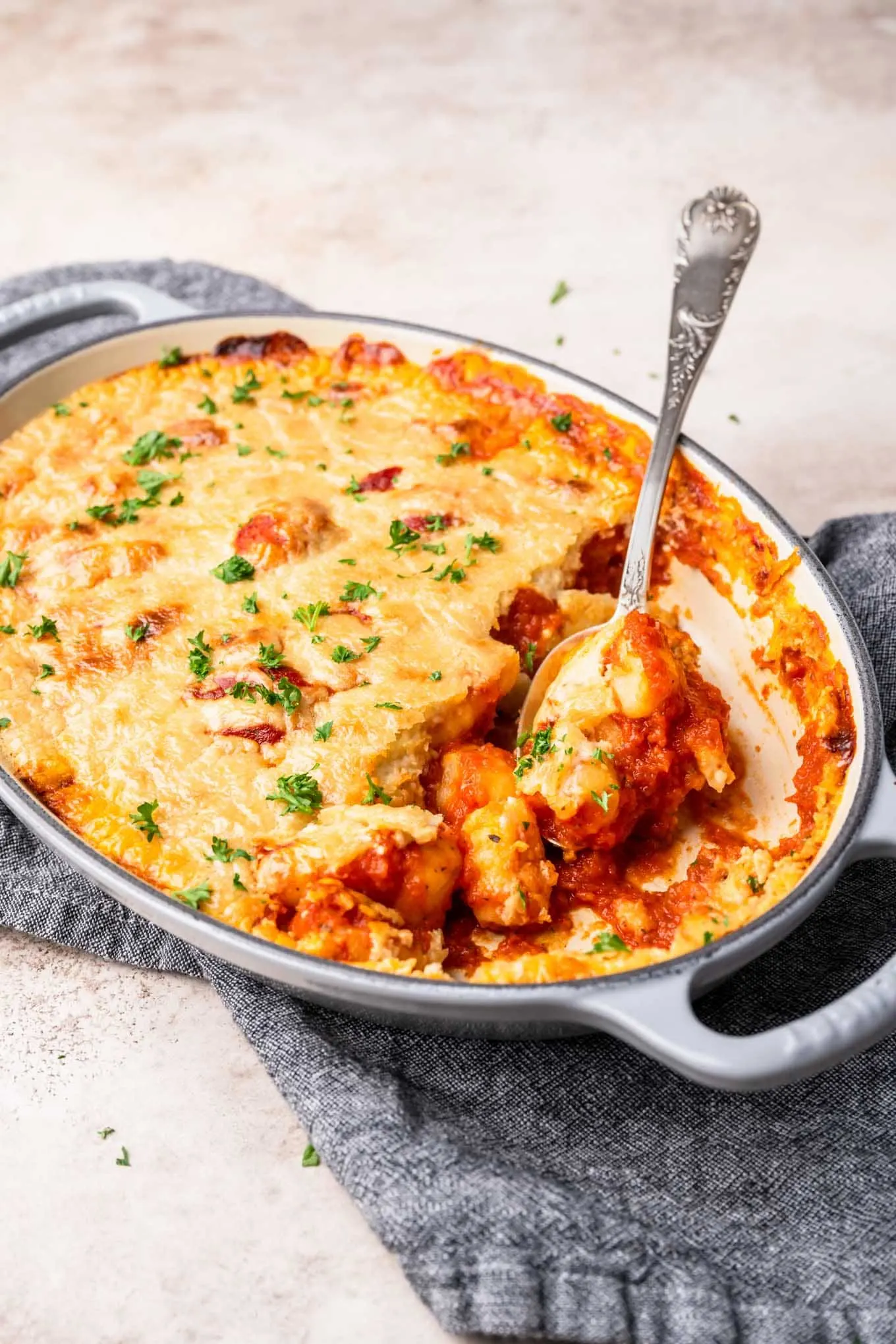 My version has pillowy gnocchi tossed in a spicy marinara (called arrabbiata) and smothered with a creamy, scrumptious vegan mozzarella sauce. It's baked until the cheese sauce is thickened and browned to perfection!
The whole dish can be ready in under 45 minutes, even with making homemade tomato sauce and mozzarella sauce! If you make some store bought swaps then it can be made even faster.
Easy homemade arrabbiata:
Arrabbiata is a spicy marinara and my go-to when making my own tomato sauces. This version cooks up quickly, with red chili flakes and garlic providing depth of flavor.
A little olive oil, sautéed onion, and dried basil round the dish out.
Use canned whole tomatoes for the best sauce. Whole canned tomatoes are the highest quality canned tomato option, and they are really juicy and flavorful. Using canned tomatoes makes homemade arrabbiata accessible year round.
Because the tomatoes are whole you do need to crush them a bit. You can do this by hand–pour the tomatoes into a deep mixing bowl and crush by hand, so the bowl catches any juices spraying. You can also do it with clean kitchen scissors. Just poke the scissors into the can and cut all of the tomatoes.
If you happen to have crushed or diced tomatoes but not whole on hand, using either of those still makes a great sauce.
The sauce is simmered for 15 minutes to bring the flavors together, then blended using a handheld immersion blender or an upright blender. If you have a handheld blender I recommend using that. We don't need the sauce to be super smooth and the clean up is easy!
The homemade vegan mozzarella sauce:
This easy vegan mozzarella sauce is made with cashews and refined coconut oil for the base. Cashews blend really smooth and creamy and have a rich flavor, while coconut oil adds the fat needed to brown.
Soften the cashews by soaking in cold water for 2 hours (or up to a day in the fridge) or boiling in water for 15 minutes. This step can be skipped if you are using a high powered blender such as a Vitamix or Blendtec.
I use refined coconut oil because it is odor and flavorless, but the texture it gives the "mozz" more closely mimics dairy cheese.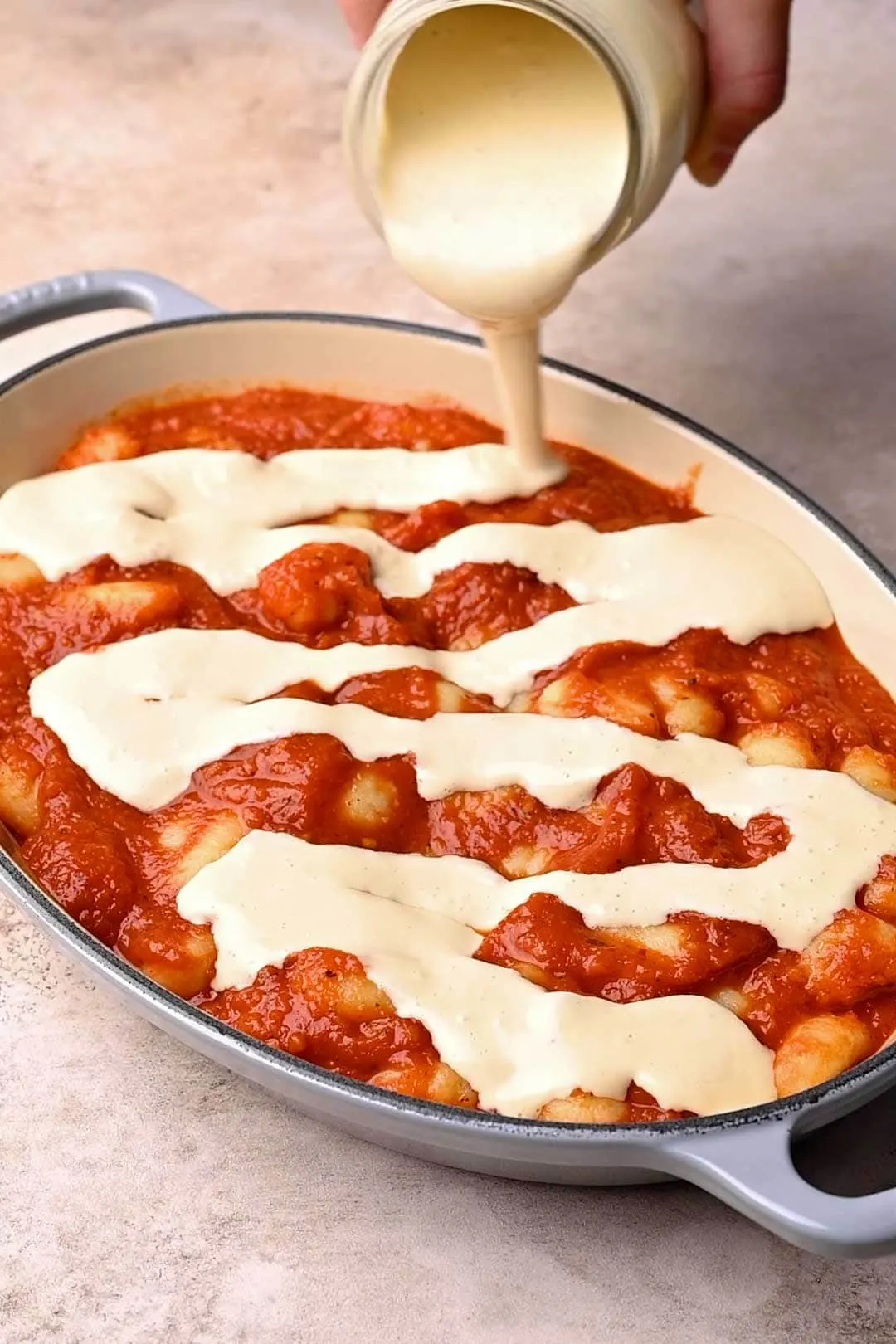 The sauce is seasoned with a teaspoon of apple cider vinegar for acidity. I sometimes swap this out for coconut vinegar, which is great in cheesy recipes.
A clove of garlic gives the sauce some pungency, and a tablespoon of nutritional yeast gives it a slight cheesiness.
Tapioca starch is essential to thicken the cheese. While other starches can be substituted to thicken, tapioca starch has a superior texture for vegan cheeses.
All of the vegan mozzarella sauce ingredients are added to a blender and blended until smooth. The sauce is now ready to be used.
Instead of cooking the mozzarella sauce before topping the gnocchi, the sauce is cooked in the oven while it bakes! This is the most awesome time saver and hack. It thickens up so much, coating the top of the baked gnocchi with a cheesy crust.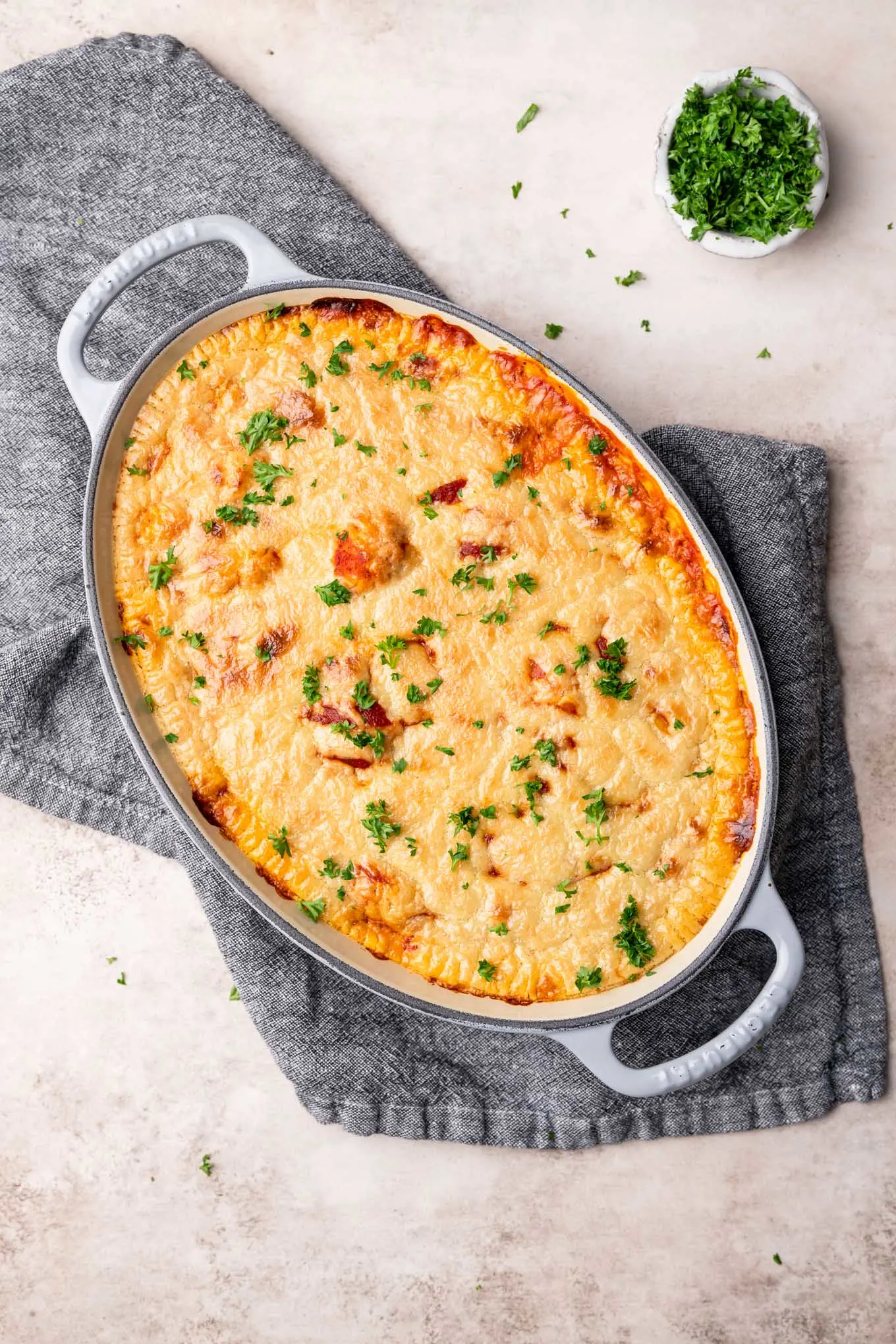 Store bought swaps to make the recipe even faster:
For the quickest baked gnocchi, use store bought packaged gnocchi. Dehydated, fresh, or frozen works well in this recipe!
You can choose a jarred marinara or jarred arrabbiata pasta sauce instead of making your own.
For the vegan mozzarella, you can use store bought vegan mozzarella-style cheese. Buy shredded, or thinly slice a block of vegan cheese.
How to cook vegan baked gnocchi:
You can prepare this dish in individual ramekins, or one larger casserole baking dish.
Toss the cooked gnocchi and sauce together, then divide it up between ramekins for individual portions, or transfer to a baking dish for family style eating. If using ramekins, place them on a baking tray to catch any potential spill-over.
Pour a generous amount of the vegan mozzarella sauce to cover the top.
Bake the gnocchi for 10 minutes if using ramekins, or 15-20 minutes if using a larger casserole. Either way, cook until it's heated through and the cheese is nicely browned on top.
To increase the browning, you can broil for a minute or two at the end of baking.
Preparing the dish in advance:
You can make the arrabbiata and/or vegan mozzarella sauce in advance. They can be stored in the fridge for up to 2 days before baking.
The sauce will thicken to a scoopable consistency after resting in the fridge. When ready to use, scoop it out and plop dollops over your gnocchi. It will melt and spread in the oven.
You can even assemble the dish before baking. Cook the gnocchi, toss it in sauce, transfer to your baking dish(es) and top with the mozzarella sauce. Cover and refrigerate until ready to bake!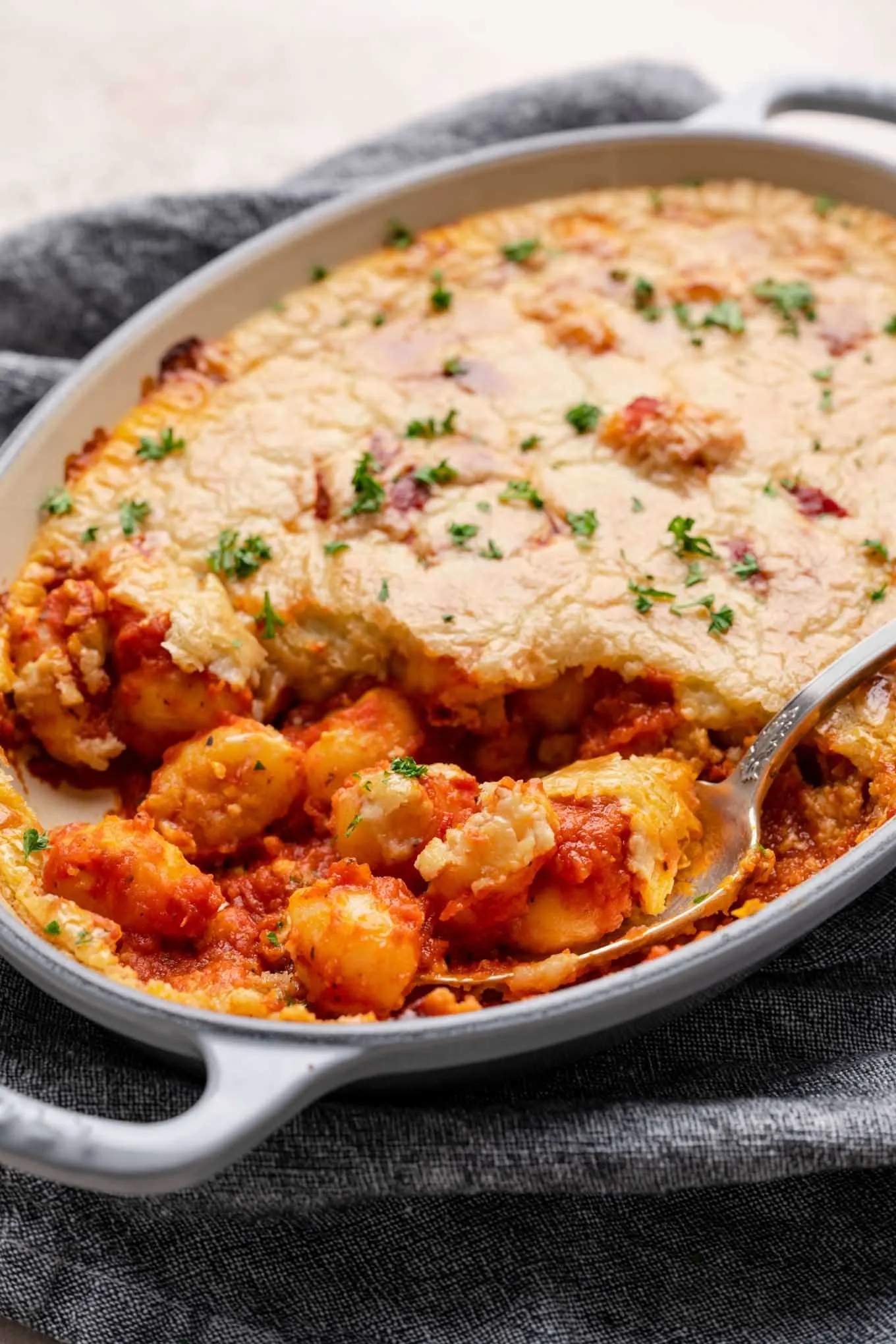 If you make this vegan baked gnocchi with arrabbiata, leave a comment below and rate the recipe on the recipe card. And please share your photos with me on Instagram, tag @thecuriouschickpea and #thecuriouschickpea. I love seeing your recreations!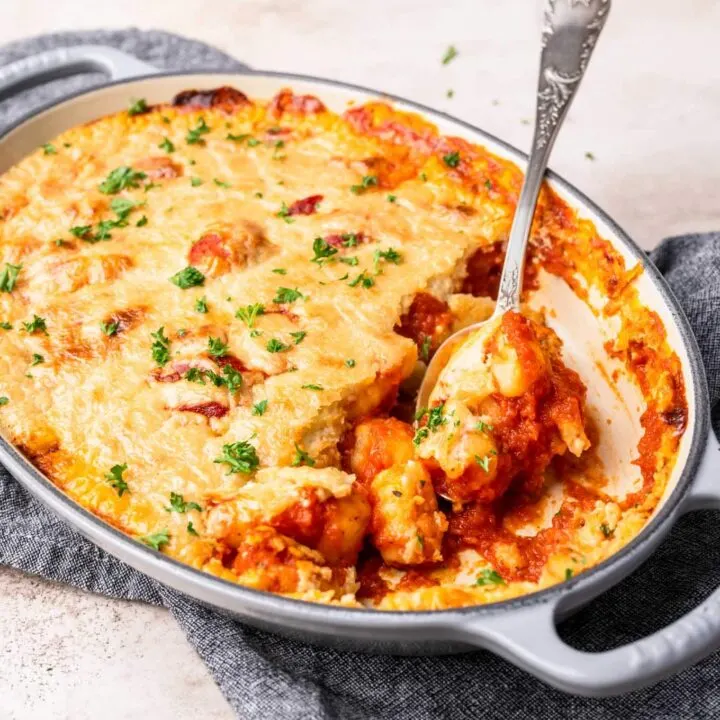 Vegan Baked Gnocchi with Arrabbiata
Fluffy gnocchi are smothered with a spicy homemade arrabbiata sauce and topped with a quick homemade vegan mozzarella sauce and baked up to to a steamy, bubbly entree with crispy edges and perfectly browned cheese. This recipe serves 6 to 8, depending on appetites.
Ingredients
Mozzarella Sauce
1 cup raw cashews, soaked*
1 cup water
1/2 cup refined coconut oil, melted
1 tsp apple cider vinegar
1 clove garlic
2 tbsp tapioca starch or arrowroot starch
1 tbsp nutritional yeast
1 tsp salt
Arrabbiata Sauce
1 tbsp olive oil
1 small onion, small dice
1/2-1 tsp crushed red pepper, to taste
2 cloves garlic, minced
1/4 tsp salt, more to taste
32 oz canned tomatoes
1 tsp dried basil
Everything Else
2 lbs gnocchi, cooked to package directions (or use cooked homemade gnocchi)
6-8 ramekins, or a 2 quart casserole dish
minced parsley for garnish
Instructions
To make the mozzarella sauce
Put everything in the blender and blend until smooth and creamy, scraping down the sides as necessary.
To make the arrabbiata sauce
Heat a heavy bottomed pot over medium-low heat and add the olive oil. Add the onion and cook for 6-8 minutes, stirring occasionally, until the onions are soft, lightly caramelized, and golden.
Add the crushed red pepper, minced garlic, and salt and cook for 1 minute.
Add the tomatoes and their juices and the dried basil. Bring to a simmer and let cook for 15 minutes. Blend with an immersion blender or upright blender (pause to vent as needed), until a smooth sauce is formed.
Prepare the casserole
Preheat the oven to 425 ºF.
Toss the cooked gnocchi in the arrabbiata sauce and transfer to the casserole dish or ramekins.
Pour the mozzarella sauce over the gnocchi to generously cover it.
Place the ramekins or casserole dish onto a baking tray to catch spillover.
Bake until the sauce is bubbling and the cheese has browned, about 10 minutes if using ramekins, or 15-20 minutes if using a larger casserole dish. Broil at the end for a couple of minutes to increase browning.
Garnish with minced parsley to serve (optional).
Notes
*Soak the cashews in cold water for 2 hours or boil in water for 15 minutes, drain then rinse. This step can be skipped if you have a high powered blender.
Mozzarella sauce adapted from Same Day Vegan Mozzarella Cheese
Recommended Products
As an Amazon Associate and member of other affiliate programs, I earn from qualifying purchases.
Nutrition Information:
Yield:

6
Serving Size:

1
Amount Per Serving:
Calories:

662
Total Fat:

33g
Sodium:

829mg
Carbohydrates:

79g
Fiber:

7g
Sugar:

7g
Protein:

15g
Nutrition is calculated automatically and should be used solely as an estimate.