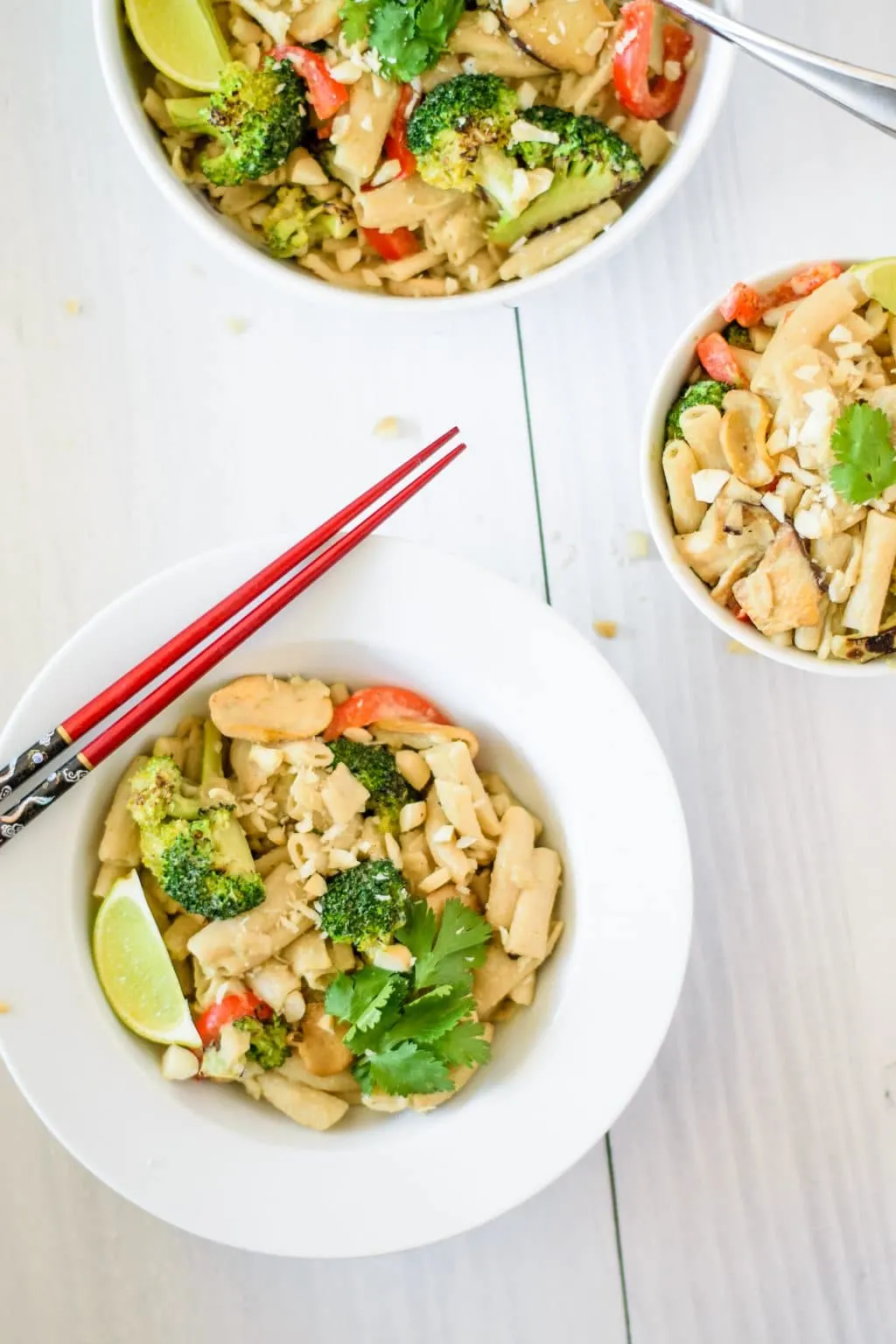 Could there be a more perfect food than Thai-style curry? In the summer it helps keep you hydrated, filling you with liquid and keeping you thirsty (because, spicy!). In the winter, it warms your belly and leaves you nice and full. And green curry is the freshest tasting of the curries, chock full of lemongrass, fresh chiles, ginger (or galangal), and kaffir lime. And curries are completely adaptable, making them pantry friendly. You can switch up the vegetables, enjoy them with noodles or rice, or simply them as a soup. This recipe uses a traditional Thai curry paste and creamy coconut milk, but beyond that it is not a traditional Thai curry. However, it's ultra flavorful, delicious, and ticks all the comfort food boxes, so, it's definitely something you're going to want to make!
As you may know, I spent the first part of my new year soaking up the sun in Hawaii, which was a wonderful escape from the frigid weather that seized most of the continental states. We had a wonderful time on the Big Island, spending most of our time enjoying the ocean (is anything better than swimming in warm ocean waters?) and hiking. And there was that one afternoon spent sipping overpriced frozen Mai Tais poolside, because um, vacation, duh.
We found a vegetarian restaurant near our hotel called Under the Bodhi Tree, and if you're visiting the Big Island and staying in the resort area of Waikoloa, you should definitely go to this restaurant! It's co-owned by a classically trained chef who was the executive chef at The Fairmont before going vegan. You can definitely taste the level of thought and care that went into each dish. And when I say each dish, we really ate most of them. My family ate there 3 times, and with 6 of us, we really sampled most of their dinner menu. One dish we kept ordering was the Nakhon Noodles, a Thai-inspired noodle dish. It was so tasty that upon returning home I just had to recreate it. And so this Nakhon noodle knock-off was born, along with a much more boring name of "green curry noodles with broccoli and mushrooms." And it's SO GOOD.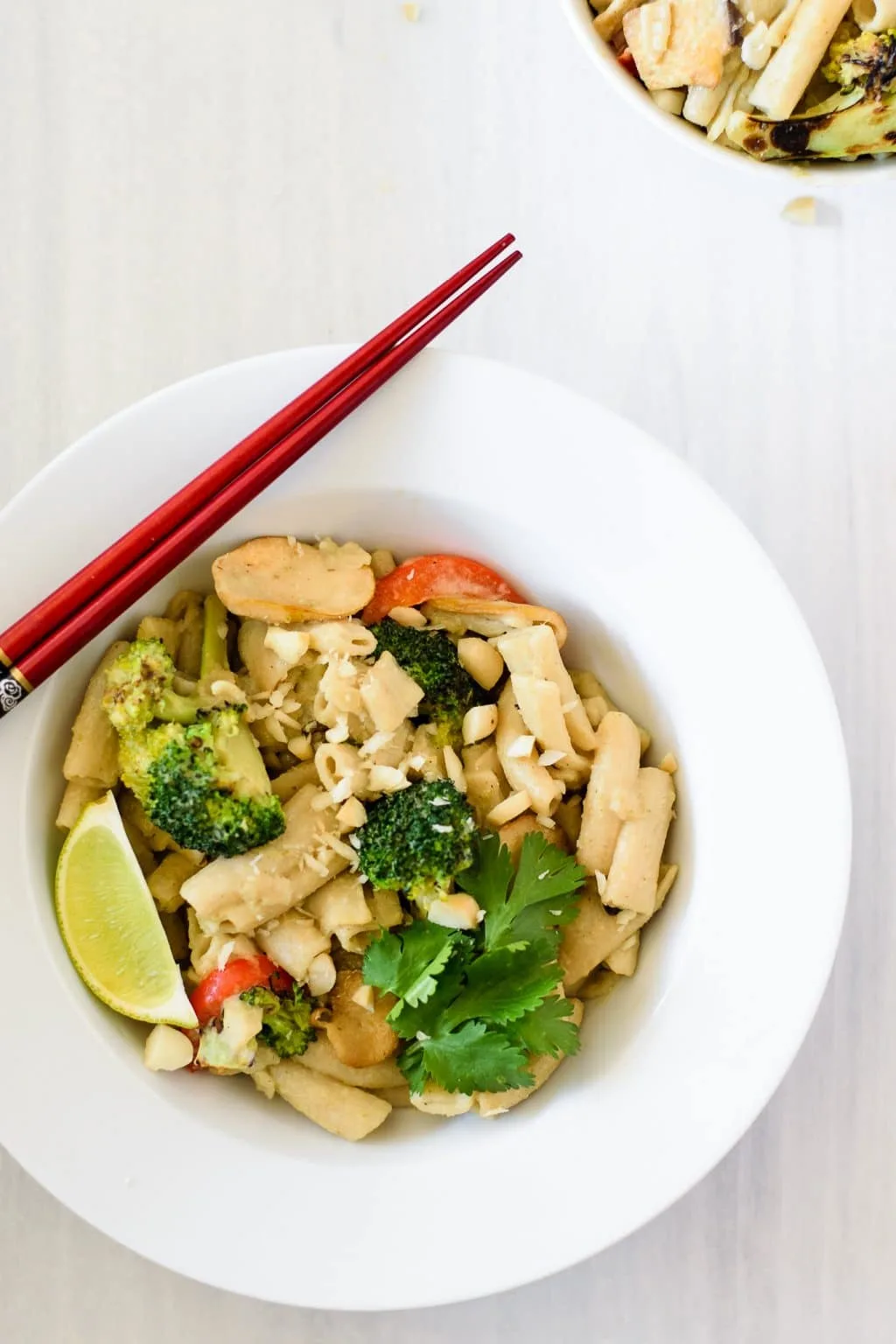 My homemade Thai green curry paste makes up the base and the seasoning in the dish. You could use store bought if you prefer (check to make sure it's vegan), but a lot of store bought curry pastes are very spicy, so you may be unable to use as much curry paste, which unfortunately means less curry flavor as well. So I highly recommend making your own curry paste, but do understand if you want to take the shortcut of store bought.
The curry paste combines with coconut milk for a luscious and flavorful sauce, which thickly coats charred broccoli, lightly caramelized king oyster mushrooms (you can substitute other mushrooms as desired), seared red bell pepper, and brown rice noodles. Using brown rice noodles keeps the dish gluten free, but also keeps it tasting like a more traditional Thai noodle dish. Brown rice noodles are reminiscent of shahe fen (aka ho fun, or sen yai in Thai), which are the thick rice noodle you're used to seeing in pad kee mao or pad see ew. They're chewy yet tender, and make for the perfect noodle to use in this dish. You can use any shape you'd like, but think that shorter and/or flatter noodles will work best. The dish is finished with a healthy squeeze of lime juice to brighten all of the flavors, with lime wedges served at the table for a little extra splash of tart. Chopped macadamia nuts garnish the final dish for a Hawaiian twist.
I hope you guys enjoy this recipe inspired by my Hawaiian vacation! Maybe it'll transport you for a moment to sunshine and palm trees? No promises though :-P. Let me know if you try the recipe! Leave a comment below, and tag your photos @thecuriouschickpea and #thecuriouschickpea on Instagram, or share with me on Facebook.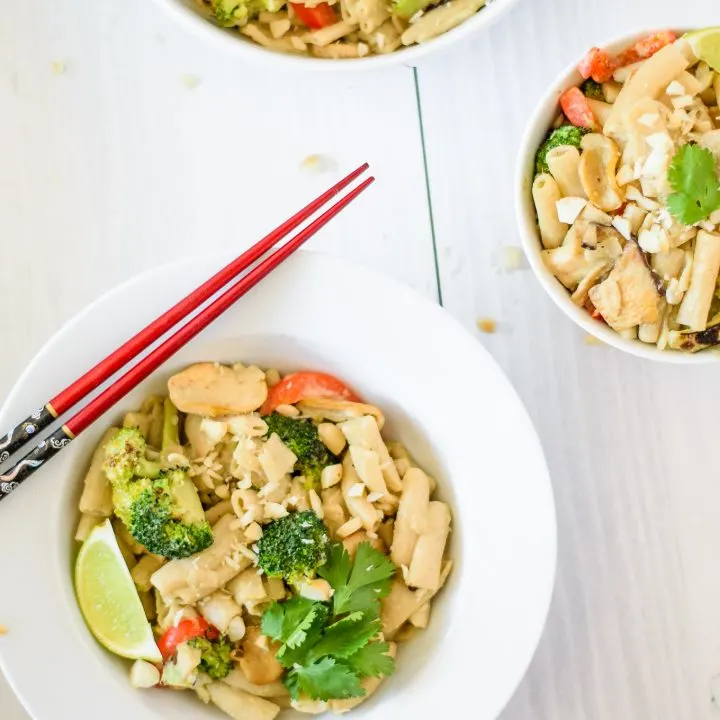 Green Curry Noodles with Broccoli and Mushrooms
Brown rice noodles are tossed in a green curry sauce and stir fried with broccoli, red bell pepper, and king oyster mushrooms in this delicious, gluten free and vegan entree.
Ingredients
12 oz brown rice noodles
1 tbsp neutral flavored oil, divided
2 (130g/2 cups) king oyster mushrooms, sliced into medallions or your choice mushrooms
4 cups (250g) broccoli florets and stem
1/2 large (85g/1 cup) red bell pepper, thinly sliced
1 15oz can coconut milk
1 tsp salt, or to taste
2 tbsp fresh lime juice (1 lime), plus more to serve
chopped macadamia nuts, for garnish
cilantro or micogreens, for garnish
hot sauce to serve
Instructions
Cook pasta according to package directions. Drain and rinse with cold water. Set aside until ready to use.
Meanwhile, heat a large heavy bottomed skillet, such as cast iron, over medium heat. Add 2 tsp of oil and the sliced mushrooms. Let cook, stirring frequently, until they've lost their water and are just starting to brown, 4-5 minutes. Then add a pinch of salt and cook an additional 1-2 minutes until lightly golden. Remove the mushrooms from the pan and set aside.
Add another 1 tsp of oil to the hot skillet then add the broccoli florets. Cook for 4-5 minutes, stirring frequently, until the broccoli is a bright green and lightly charred. Remove from pan and set aside with the mushrooms.
Again add 1 tsp of oil to the hot skillet along with the red bell pepper. Sauté the bell pepper for about 1 minute until it's charred a little but still crisp. Set aside with the other vegetables.
In the same pan over medium heat add the curry paste and fry for 1-2 minutes. Add the coconut milk and stir to combine. Cook and let simmer for about 1 minute.
To the curry sauce add the cooked noodles, mushrooms, broccoli, red bell pepper and salt. Cook for about 2 minutes until everything is thickly coated with curry sauce. Add the lime juice and taste, adjusting the salt and adding more lime juice as desired.
Serve with a garnish of macadamia nuts, cilantro, lime wedges, and hot sauce.