This roasted jalapeño and cilantro hummus is light and creamy and full of delicious smoky, spicy, peppery flavor. It's quick and easy to make, and the perfect dip for snacks, appetizers, or to incorporate into a meal!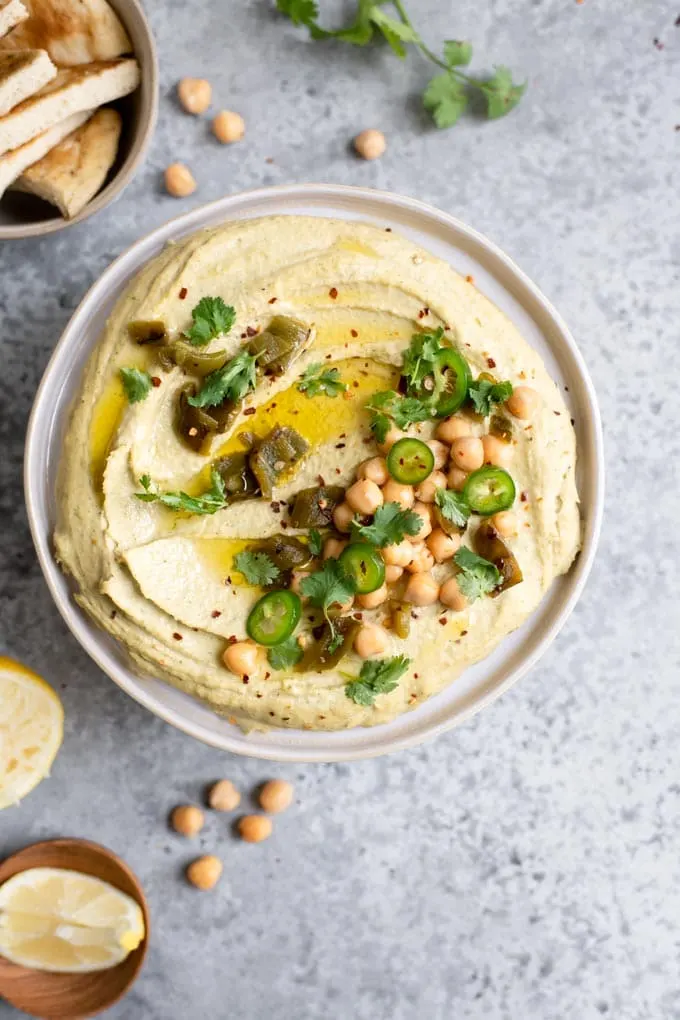 If you enjoy hummus, are looking to switch up your normal hummus routine, or have never made hummus before–then you've come to the right place!
Maybe you looked into making hummus before and have seen there are approximately 1 million ways to combine the handful of ingredients needed to make this classic Middle Eastern dip, each one more complicated than the next.
But I'm here to tell you that homemade hummus doesn't need to be intimidating. It doesn't need to be fussy. It doesn't need to be fancy.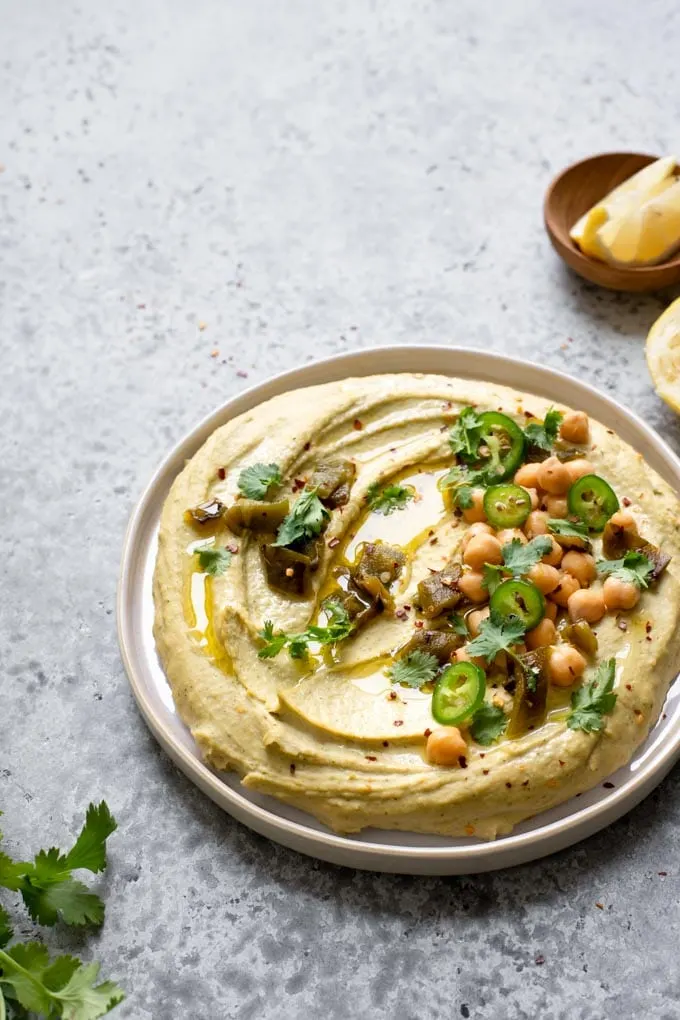 Don't get me wrong, if you want to cook your chickpeas from scratch then sit there popping the thin skins off of each individual bean, then be my guest!
But, you don't need to do that to make a delicious, creamy, rich tasting hummus! If you just want to grab a couple cans of chickpeas and have tasty hummus quickly, well, just know I've got your back!
This roasted jalapeño and cilantro hummus is quick and easy. In almost no time you have the most delicious dip/spread/appetizer/snack/sandwich or wrap filling to fill your hearts desire. And you'll have a lot of it.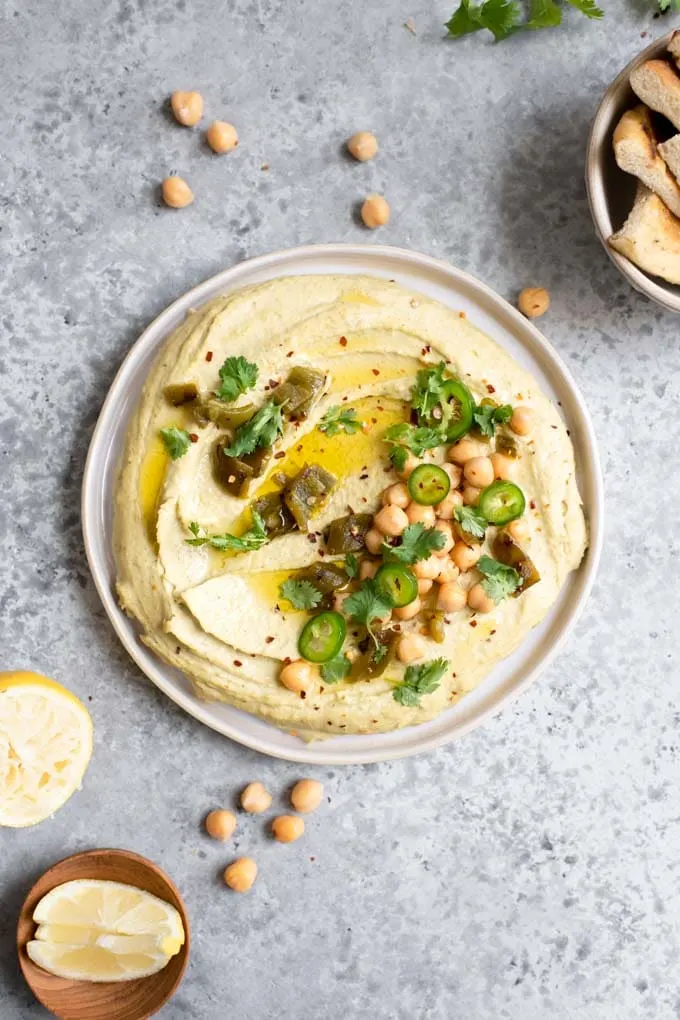 The benefits of making hummus at home are:
1) it's super cheap, 2) it makes a ton, 3) you can adjust it to your exact desires. You can play with flavor combinations, differing amounts of tahini to chickpeas, add extra virgin olive oil or leave it out.
There's so much you can do with homemade hummus. But most importantly you can make this wonderful creation!
This hummus takes your typical plain, unadorned chickpea and tahini dip and adds the spicy, smoky flavors of roasted jalapeño. Brightens it up with the fresh and almost lemony notes of cilantro (unless of course you're a cilantro hater, then you will probably want to leave it out).
It is so addictively delicious. And this is coming from someone who, as a life long vegetarian turned vegan, is a bit burnt out on hummus.
So let's start with the basics. Add all the extra flavors you want, but your hummus isn't going to be good without a delicious base.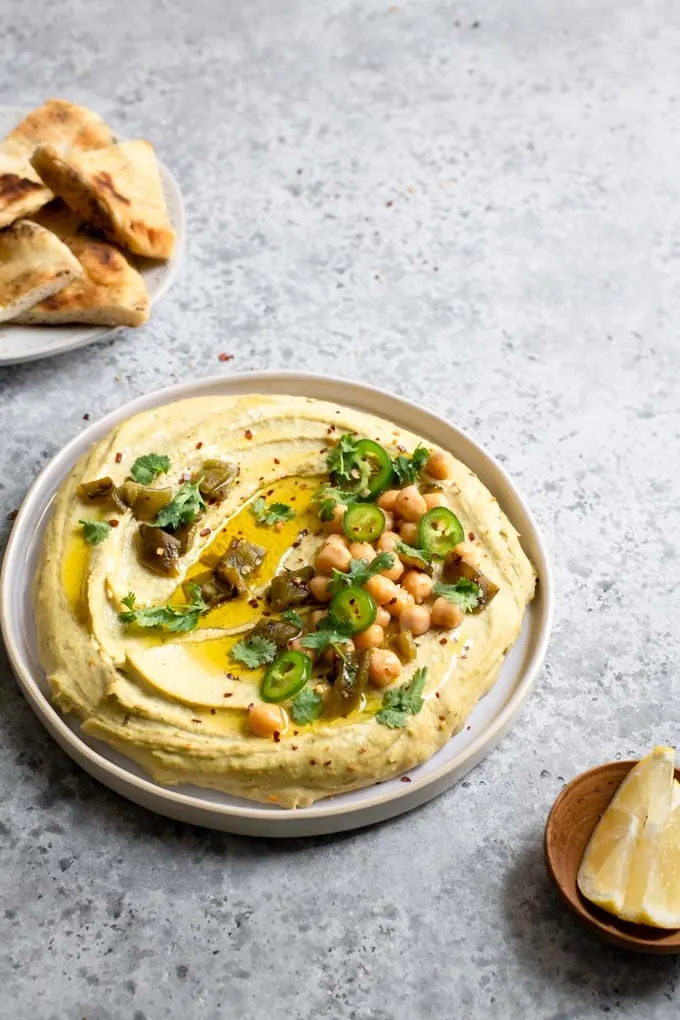 The main ingredients of hummus are tahini, chickpeas, garlic, lemon juice, and salt.
Usually extra virgin olive oil is added to that list, either in the hummus itself and/or drizzled atop to serve.
For extra creamy hummus we want well cooked and soft chickpeas. If cooking from scratch that means cooking the beans a bit longer, if using canned beans then a quick trip through the microwave (stove top works as well) softens the beans.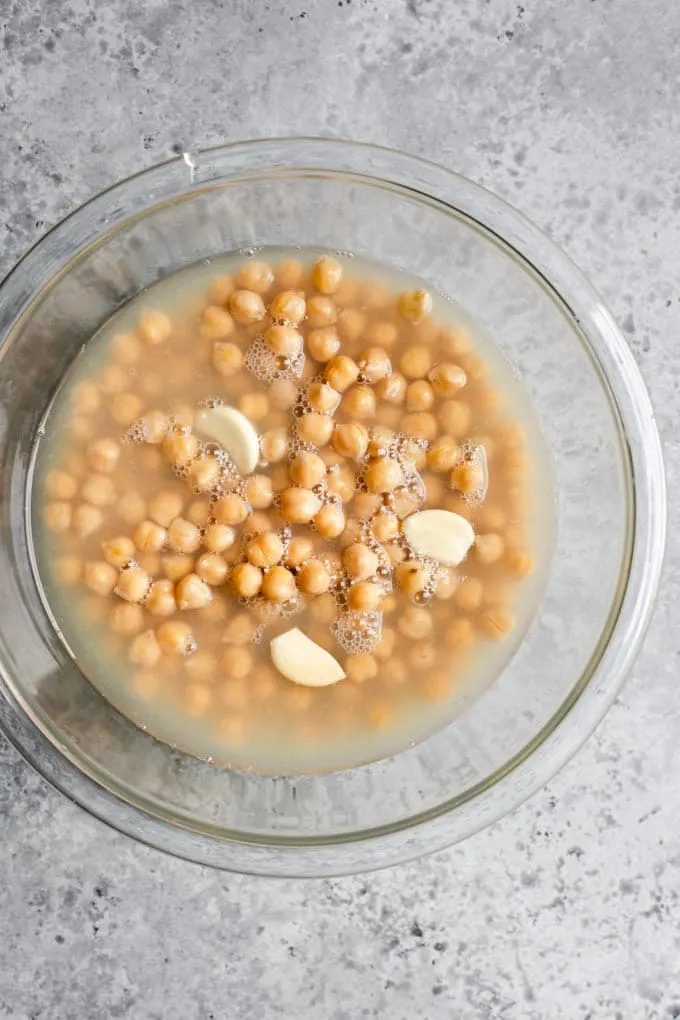 Even better is to simmer them with some garlic to soften and mellow the garlic while infusing the chickpeas with the flavor.
The next trick to a light textured, creamy hummus is to make a whipped emulsion with the tahini before adding the chickpeas.
To do this first add the liquid from cooking the chickpeas to your food processor. Whether it's the liquid from the can or from cooking the beans from scratch doesn't matter. If you really don't want to use the chickpea cooking liquid (also known as aquafaba) then use cold water.
Then add the tahini, and use a good quality tahini here–no skimping! Throw in the garlic (that you've boiled with the chickpeas), freshly squeezed lemon juice (no bottled stuff here), and salt.
Since we're making a flavored hummus, we also add in roasted jalapeño and cilantro. If you want to add oil to your final hummus for an even richer flavor and consistency, you can go ahead and add 2 tablespoons to a 1/4 cup at this point. I skipped it and was quite happy with the results!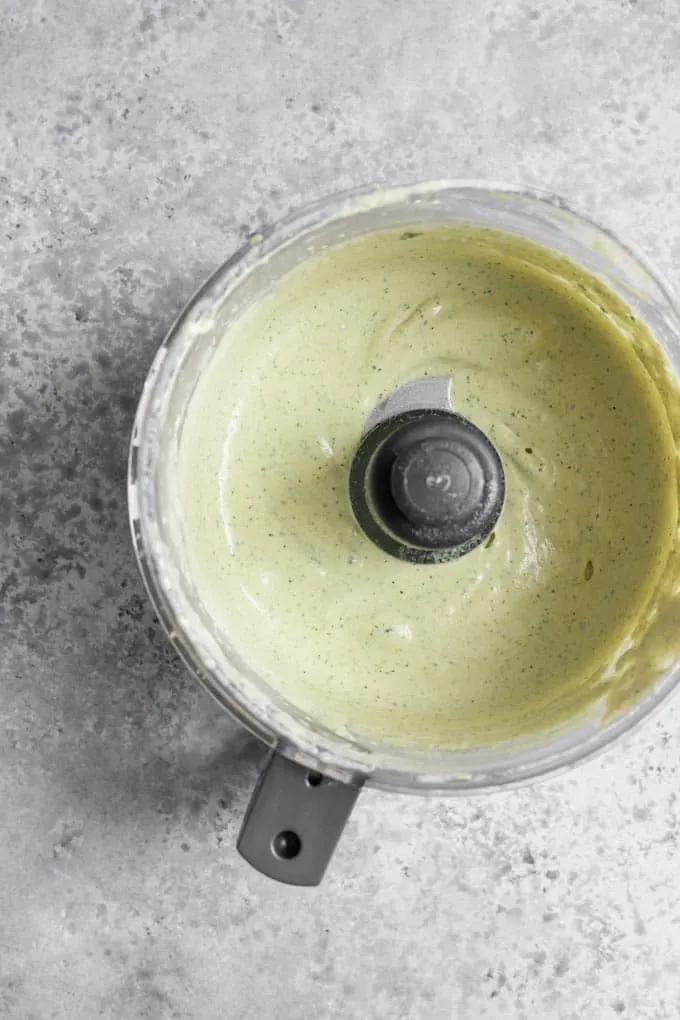 Whip the tahini, chickpea water, garlic, lemon juice, roasted jalapeño, cilantro, and salt together in the food processor until light and fluffy, with a pourable consistency.
Once we have this tahini emulsion, add the chickpeas and process for at least 3-5 minutes to make for a smooth and luscious hummus.
At this point I like to taste it and add more salt and/or lemon juice to really make the whole dish sing.
If you want more heat or just extra jalapeño flavor, you can add some more chopped roasted jalapeño. You can either blend it in smooth or leave it a bit chunky as you like.
To serve the hummus, spread some in a shallow bowl or on a plate, leaving swirls in the hummus to catch the olive oil. Top with garnishes, including some combination of diced roasted jalapeño, fresh jalapeño, cilantro, and cooked chickpeas.
Sprinkle flaked salt over top, perhaps some red pepper flakes, cayenne, paprika, or cumin. Then finish off with a generous drizzle of extra virgin olive oil.
Did I just tell you to add olive oil twice? Well, yes, but I really don't want you to miss it!
This is an amazing classic hummus recipe, but with a delicious peppery twist! I do you you enjoy it!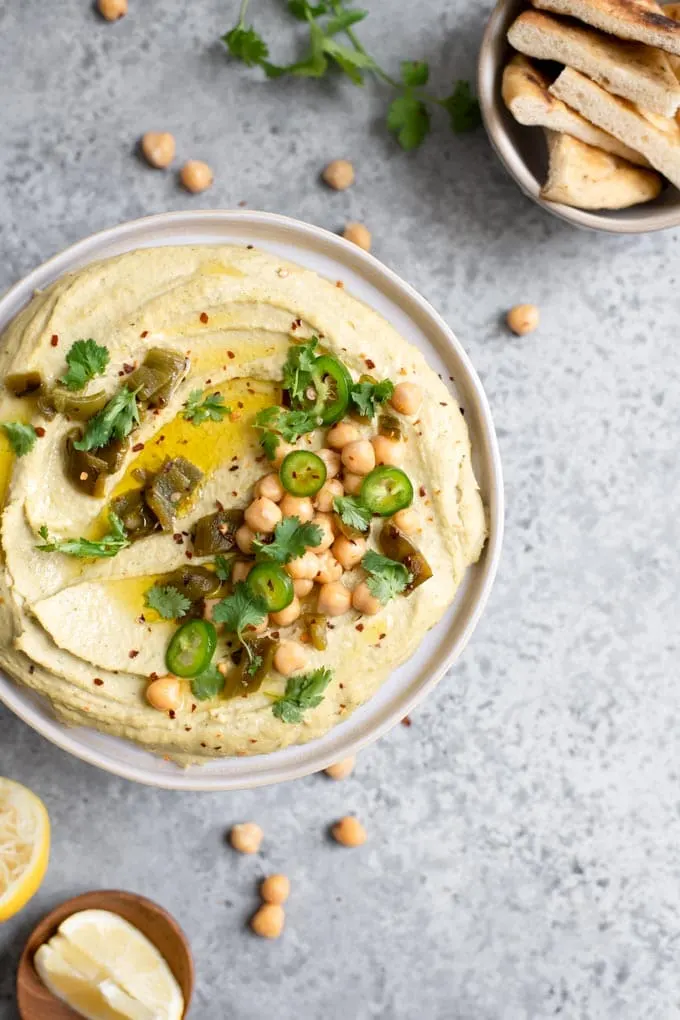 ---
If you make this roasted jalapeño and cilantro hummus, leave a comment below and rate the recipe on the recipe card. And please share your photos with me on Instagram, tag @thecuriouschickpea and #thecuriouschickpea. I love seeing your recreations!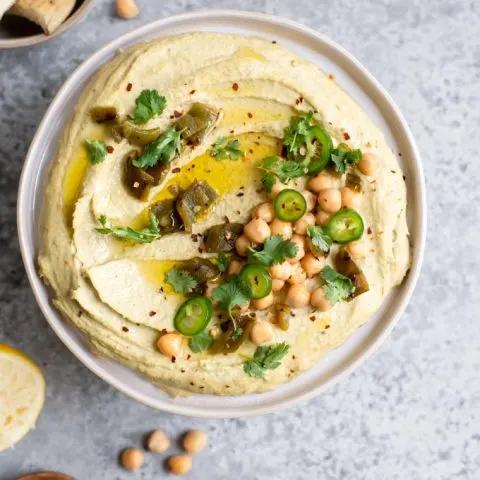 Roasted Jalapeño and Cilantro Hummus
This delicious roasted jalapeño and cilantro hummus is light and creamy and the perfect vegan and gluten free dip for an appetizer or snack.
Ingredients
4 jalapeños, more or less to taste and extra for garnish
30oz canned chickpeas*, or 3 cups cooked (leave in the liquid)
3-4 cloves garlic, peeled
3/4 cup chickpea cooking liquid or cold water
1 cup tahini
1/4 cup freshly squeezed lemon juice, more to taste and to serve
1/4 cup packed cilantro, leaves and stems chopped
1/2 - 1 1/2 tsp salt, to taste
extra virgin olive oil
Instructions
Roast the jalapeños either under the broiler or over a gas flame until the skin has blackened and cracking and the pepper is softened. Place in a heat safe bowl and cover to let steam loosen the skins as they peppers cool. Once cool enough to handle, remove the stem and seeds and chop the peppers.
Add the chickpeas and their liquid to a microwave safe bowl along with the peeled garlic. Microwave on high for 5 minutes. Alternatively add the canned chickpeas to a pot with the garlic and bring to a simmer for about 5 minutes.
Pour 3/4 cup chickpea liquid (or cold water) into a food processor. Add the tahini, garlic, lemon juice, 2-3 of the roasted jalapeños (you can add more to taste later), and 1/2 - 1 teaspoon of salt (less if using salted chickpeas, more if using no salt added chickpeas). Optional: add 2-4 tablespoons of extra virgin olive oil to make for an extra rich and creamy hummus.
Process the tahini mixture until it makes a smooth, light, and creamy emulsion with a pourable consistency.
Add the chickpeas and process a minimum of 3-5 minutes. Continue up to 10 minutes to make for a smoother hummus. Taste and add roasted jalapeño, salt, and lemon juice as desired.
Refrigerate until cold to allow flavors to meld. To serve spread on a plate or shallow bowl and top with extra virgin olive oil and an assortment of: roasted jalapeño, fresh jalapeño, cilantro, red pepper flakes, and/or chickpeas.
Notes
Choose a low sodium or no salt added canned chickpeas. If making from scratch, you can cook them with salt, but add less salt to the hummus until you can adjust to taste at the end. If cooking your own beans, add the garlic to the last few minutes of cooking to mellow and soften the cloves.
If you can only find salted canned chickpeas, rinse the chickpeas and add fresh water to boil the chickpeas in, you can use this to make the tahini emulsion.
Make sure to stir your tahini until creamy and smooth before using.
Because the spiciness of jalapeños varies, start with just a couple of roasted peppers and add more to your liking. Seed the peppers for less heat.
Makes about 2 1/4 lbs or 4 1/2 cups of hummus.
Recommended Products
As an Amazon Associate and member of other affiliate programs, I earn from qualifying purchases.
Nutrition Information:
Yield:

18
Serving Size:

1
Amount Per Serving:
Calories:

157
Total Fat:

11g
Sodium:

268mg
Carbohydrates:

12g
Fiber:

3g
Sugar:

2g
Protein:

5g