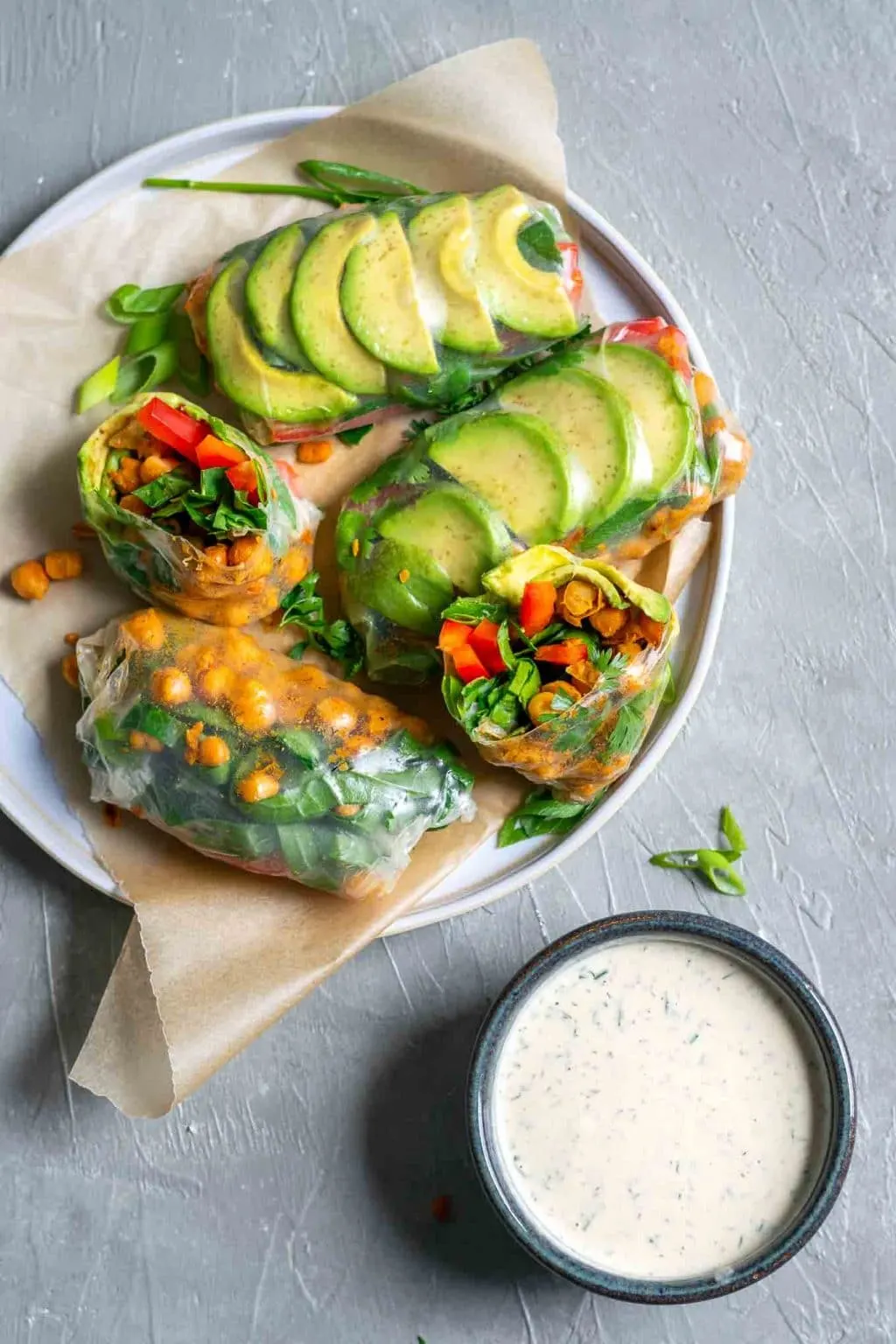 I'm loving these buffalo chickpea rice paper wraps, especially when dipped into a creamy and herbaceous tahini ranch dip. They're refreshing stuffed full of creamy avocado, crisp red bell pepper, spring-tender collard greens and a plethora of fresh herbs. And they're filling and a bit spicy thanks to the pan fried buffalo chickpeas.
I usually save my spring roll eating to Vietnamese restaurants. Which is a shame really because there is so much to love about them. They're a deliciously fresh take on your commonly encountered deep fried spring and egg rolls, with fresh veggies and lots of flavorful herbs stuffed into a rice paper wrap (usually alongside rice vermicelli and meat or tofu).
And that's a shame, because they're the perfect finger food for summer (or any time of the year, but I tend to crave my raw veggies in the spring and summer). They make a nice presentation for a party appetizer, while being filling enough for a light lunch or dinner.
I also love how versatile rice paper wraps are. You can stuff them with just about any of your favorite salad ingredients and dip into a flavorful sauce or dressing. Buffalo chickpea salad is just my newest way to enjoy these wraps! Or is it that the wraps are my newest way to enjoy buffalo chickpea salad?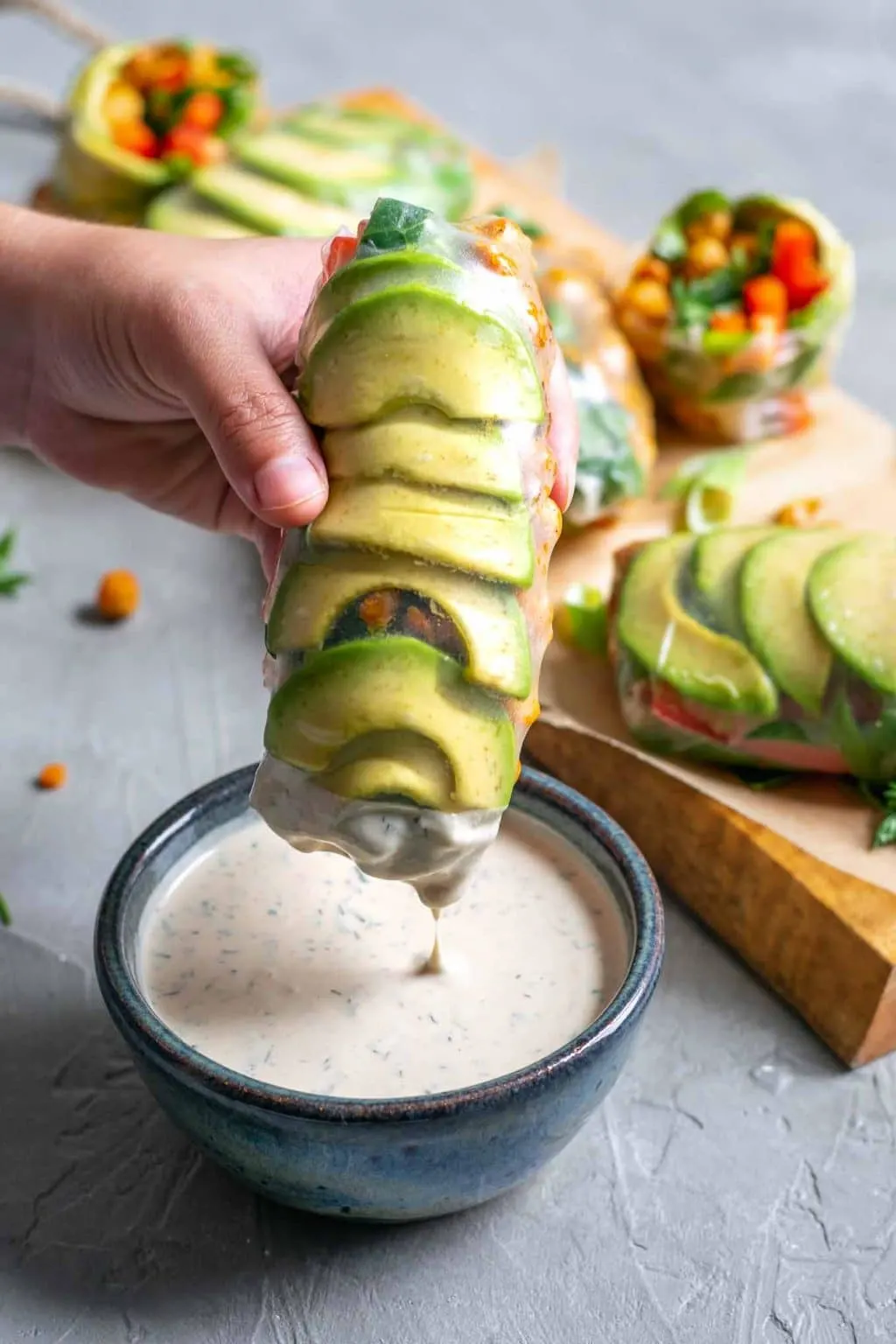 If you've never made spring roll warps before, they might take a little bit of practice to get right. The wrappers come dried and inflexible and need to be rehydrated under hot water, but if you soak them too long they become too delicate and easily tear.
The key is to dampen them and let them continue to soften while you fill and roll them. But don't stress it if you tear a wrapper, you can always start over with a new wrap, or roll the torn wrap in a second piece of rice paper. I promise, you'll be wrapping up all your salads in rice paper in no time!
I love how easy it is to prepare the fillings for these wrappers. Slice up some red bell pepper, avocado, collard greens, and the green part of scallions. Prepare your cilantro leaves.
They're versatile, so if you don't like something, sub it for another veggie! Don't like bell pepper? Try julienned carrots. Hate collard greens? Use lettuce. Does cilantro taste like soap to you? Leave it out! And everyone likes avocado and scallions right? 😉
And then we can't forget our chickpea filling! Buffalo chickpeas are one of my favorite way to prepare chickpeas. They're so easy–toss together chickpeas with hot sauce, melted butter, garlic, and a sprinkling of salt then dump them into a hot skillet and fry them up!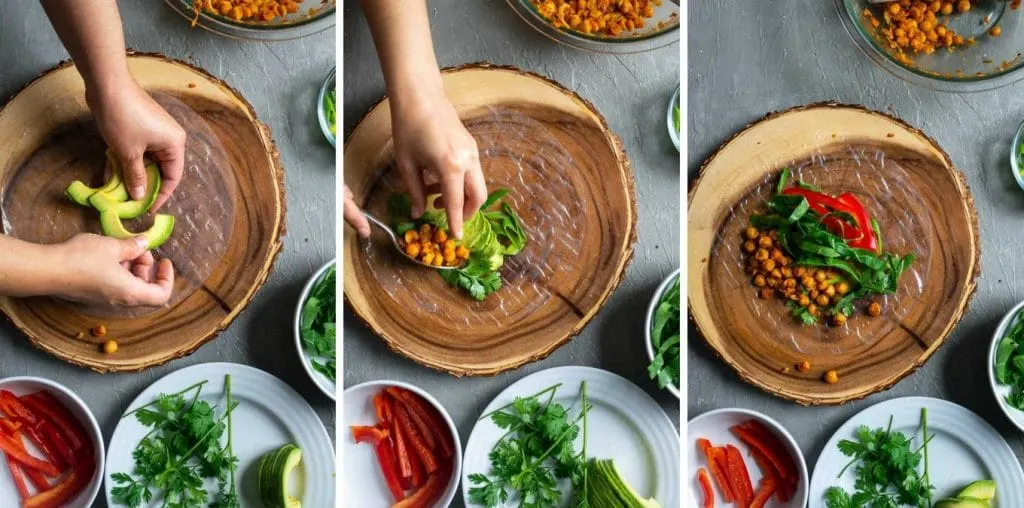 Then we wrap the rolls up! To soften the wrappers you can either pour some hot water onto a plate or run them under hot water from the tap. Either way, dip or rinse briefly on one side then flip to the second side for a quick dip or rinse. Then if they're still a bit stiff you can return to the original side for one last dose of hot water.
Place the softened wrapper on a damp cutting board or a damp lint-free towel and pile on your fillings. I like to arrange the avocado first, that way when it wraps up we have pretty layered avocado peeking through the translucent wrap. Next goes on herbs, chickpeas, red bell pepper and collard greens.
I wrap these rice paper rolls a little differently than I do a burrito. First, fold one side over the filling. Next, fold in the adjacent sides over and they'll stick to the wrapper. Lastly roll them over the create a fully sealed wrap.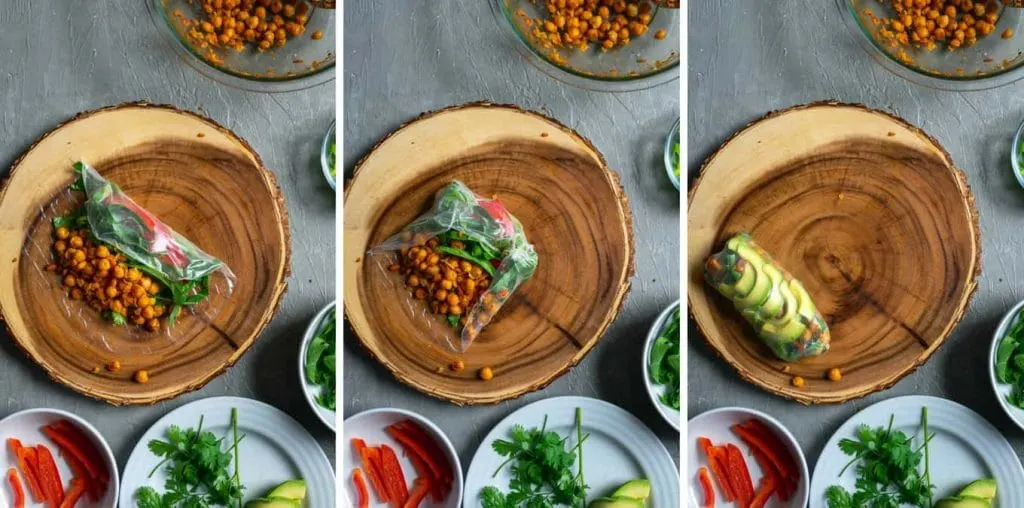 Move them over to a serving platter where you can cover with a damp towel to keep them fresh, and repeat with the remaining wraps. I like to eat these immediately (or within an hour) after wrapping, as I find that leftover wraps tend to get a bit harder to handle, with the wrappers losing their integrity and tearing more easily.
Now that's how you make the buffalo chickpea rice paper wraps. But what about the tahini ranch dip?! It's so simple to whip together that it barely requires an explanation.
Tahini, made from ground roasted and hulled sesame seeds, is a little bitter and a super savory spread. First the tahini is thinned with warm water, whisked to a smooth emulsion.
To brighten the flavors I add a lot of freshly squeezed lemon juice. To give it some of that ranch tang, I add a splash of apple cider vinegar and a teaspoon of dijon mustard. Adding a little sweetness in the form of maple syrup enhances the savory flavors and rounds out the dip.
Lastly we just need to add the traditional ranch herbs and spices: dill, chives, garlic, onion. I like to use dried and granulated onion and garlic as they are sweeter and milder than their fresh counterparts.
Dried herbs is what gives that quintessential ranch flavor, but I love fresh herbs so couldn't help myself but to use some fresh chives from my garden. Feel free to use fresh chives and fresh dill, or use only dried herbs.
Salt and pepper finishes the dip off, followed by a chill in the fridge. This allows all the ranch dip flavors to meld.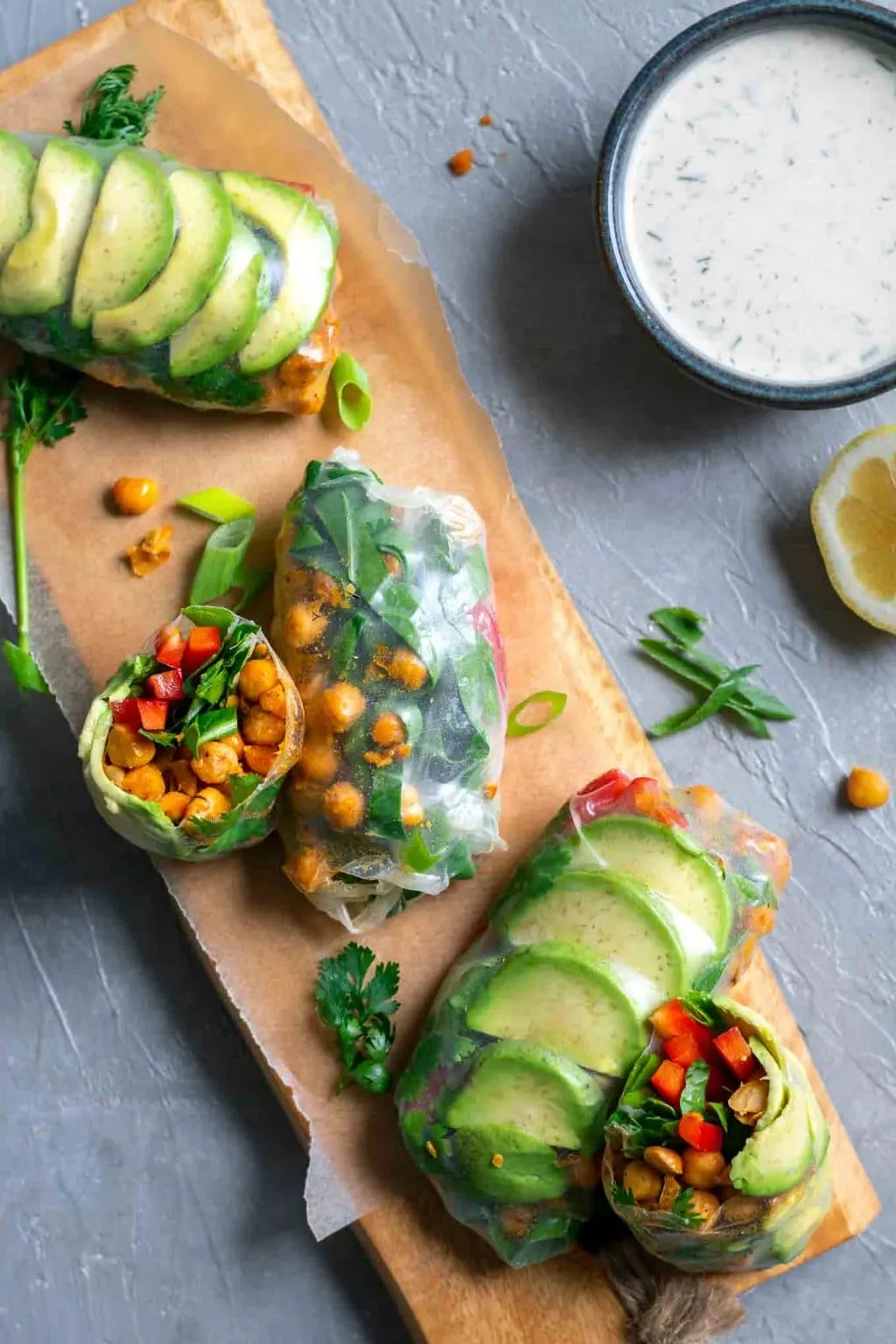 Tahini ranch doesn't taste exactly like a copycat ranch. If you want that you can buy a store bought vegan ranch or try the cashew ranch from my buffalo soy curl pizza recipe. But tahini ranch has a delicious savory flavor, and I love how easy it is to whip together.
These buffalo chickpea salad wraps are so easy to make, and are so satisfying to eat! They're filling thanks to being stuffed with chickpeas and dipped in a creamy tahini ranch dip.
I do hope you guys enjoy these wraps! They're the perfect refreshing summery food. Let me know how it goes if you make them! And don't forget to tag your recreations @thecuriouschickpea and #thecuriouschickpea on Instagram! I love seeing your photos!
Like what you see? Follow along on Instagram, Facebook, and Pinterest!
Notes:
You can purchase rice paper wrappers at Vietnamese grocery stores and they are commonly found in well stocked International sections of grocery stores. You can also buy them on Amazon. Leftover wrappers seem to last indefinitely, so feel free to buy in bulk.
I filled these rice paper wraps up quite full, so you could definitely get more than 8 if you make them smaller (but you might want to cut up another avocado).
The veggies and herbs can be swapped out to suit your tastes. Try to balance something sweet with earthy greens and include lots of fresh herbs.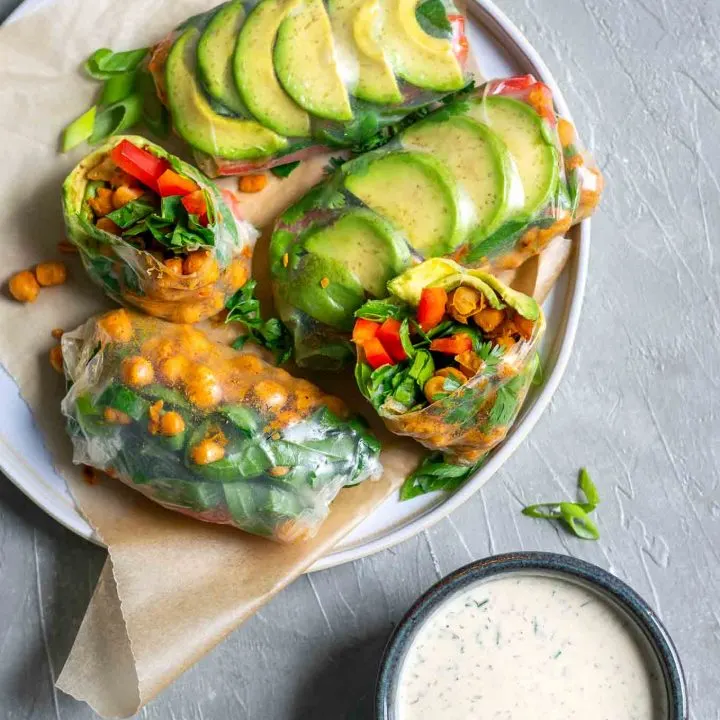 Buffalo Chickpea Rice Paper Wraps with Tahini Ranch Dip
These salad wraps are stuffed with spicy pan roasted buffalo chickpeas, avocado, shredded collard greens, red bell pepper, and fresh herbs. They're rolled up in rice paper then dipped in a tahini ranch dressing, they're the perfect light meal or snack on the go. They're fresh tasting and perfect for summer.
Ingredients
Tahini Ranch Dip
1/2 cup tahini
1/2 cup warm water
3-4 tbsp fresh lemon juice
1 tbsp apple cider vinegar
1 tsp dijon mustard
1/2 - 1 tsp maple syrup, to taste
1 tsp dried dill, or substitute 1 tbsp fresh
1 tsp onion powder
1/2 tsp garlic powder
1/2 tsp sea salt
1/4 tsp black pepper, more to taste
1 tbsp fresh chives
Buffalo chickpeas
30oz can chickpeas (3 cups cooked), drained and rinsed
1/4 cup red hot sauce like Franks RedHot, Crystal, or Louisiana
1 tbsp tabasco (optional)
2 cloves garlic, minced or crushed
2 tbsp melted vegan butter or refined coconut oil
3/4-1 tsp salt, to taste
Everything else
Rice paper wraps, at least 8 but have extra
1 large avocado, cut in half, pit removed and thinly sliced widthwise
3-4 large leaves collard greens, stem removed and thinly sliced
1 red bell pepper, julienned
fresh cilantro leaves
scallion greens, sliced
Instructions
Make the tahini ranch dip: whisk all the ingredients together in a mixing bowl, taste and adjust seasoning if necessary. Place the dip in the refrigerator while assembling everything else for it to chill. It will thicken as it sits, so thin with additional water as necessary to serve.
Make the buffalo chickpeas: In a large mixing bowl toss together the chickpeas, two hot sauces, garlic, vegan butter, and salt (start with 3/4 tsp). Heat a skillet over medium heat, then add the chickpeas and all the extra sauce. Pan fry for about 10 minutes, or until the sauce has absorbed, the chickpeas are starting to char, and some are starting to fall apart from the occasional stirring. If they are not mashing a little, go ahead and mash it up just a tiny bit, leaving most chickpeas whole. Taste and add more salt if desired. Turn off the heat and set aside.
Prepare the rice paper rolls: Have all the fillings ready to go and laid out so you can work quickly. Run a dried rice paper wrap under hot water briefly on each side then lay it on a damp wooden cutting board or a slightly damp lint free towel.
Arrange slices of avocado in the center of the wrap, then pile on the buffalo chickpeas, shredded collard greens, red bell pepper, and lots of cilantro leaves and scallion greens. Wrap one side of the rice paper over top the filling, then fold in the adjacent sides to cover. Then using both hands, gently roll the rice paper over the filling to form a burrito with the seam sealed. Place on a serving dish and cover with a damp towel to keep fresh.
Repeat until all spring rolls have been formed, about 7 or 8 in total. If needed due to a tear, you can always roll in a second rice paper wrap.
Serve with the tahini ranch dip and enjoy right away!