Favosalata is a flavorful Greek spread made of yellow split peas. This version is made with scallions and black garlic, and topped with toasted pine nuts. It's a perfect appetizer or snack, and a great alternative to hummus!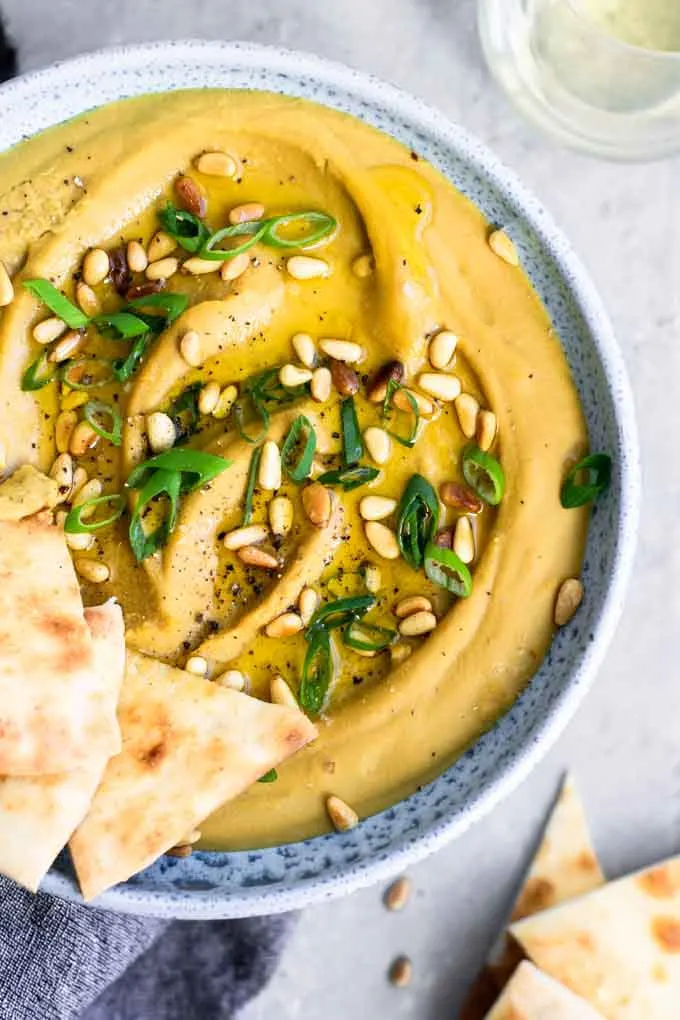 I recently discovered this amazing Mediterranean dish called favosalata–and if that's not the most fun food name, I don't know what is! Omar and I ordered it on a date night out, and it was creamy and super flavorful. It's made from a base of yellow split peas and is a bit reminiscent of hummus, but really only in the fact that it's a legume purée.
Favosalata is flavored with scallions, extra virgin olive oil (so use a good quality one!), white wine, and garlic. The restaurant we went to used black garlic, and that leant a really deep and sophisticated flavor to the spread that I was a big fan of and really wanted to recreate (don't worry if you can't find black garlic I give subs)!
Dipping fresh homemade flatbread (or store bought, I'm not stopping ya!) into the flavorful bright yellow spread was one of the highlights of our date night meal, and I really wanted to recreate the recipe for you! So, I picked up a bag of yellow split peas–which holy crap are cheap!–and got to cooking!
Well, not right away, because I'm someone who sits on cravings or ideas for weeks, sometimes even months, before I get around to making them. Sometimes this is good, because it keeps me from indulging in my regular chocolate cake cravings (speaking of which, this chocolate cake recipe is awesome). But more often than not it's probably a bad thing because I'm a professional food blogger!
The important thing is I do eventually get around to the project (which means there will always be cake in my future, yay!). And luckily for you and us and most importantly my husband, I did get around to making this favosalata!
If you eat a lot of hummus, and I mean, I get it, then you'll want to try favosalata as a delicious alternative!
I feel like I'm kind of a bad vegan, because I don't eat hummus that often. This might be because I've been vegetarian my entire life and have eaten so much hummus by this point I'm probably 1/6th chickpea (hah!) + tahini.
I burnt out on hummus, and so while I really like it, I just never crave it. This kind of makes my discovery of favosalata even better, because, while it's a similar kind of dish to hummus, it's very different in flavor, and it's not the go-to vegan catering option (though maybe it should be)!
Plus it's always great to eat a variety of legumes, and split peas are healthy and protein packed and all those great things you want from your peas.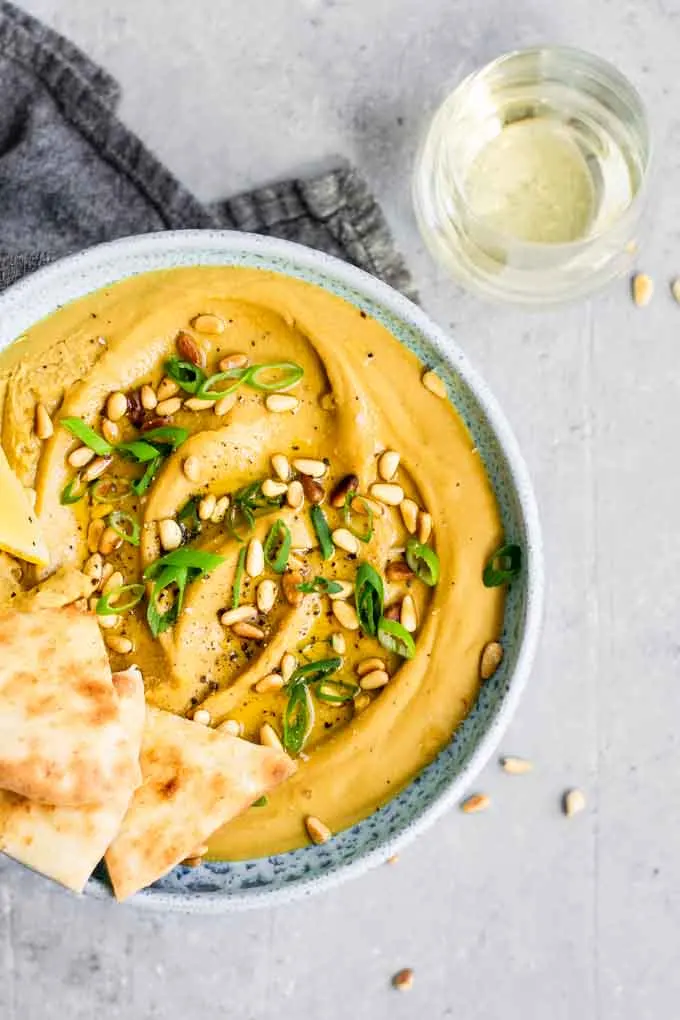 The recipe for favosalata is quite simple.
Lightly pan fry the white and light green parts of some scallions. Then add the split yellow peas and cook in broth and lots of white wine (if you're avoiding alcohol, you can use all broth, and just add a tablespoon of white wine vinegar–or champagne or malt vinegar).
You can basically just walk away from the stove while the yellow split peas cook, only coming back to check on them in the last 10 or 15 minutes of simmering to make sure the pot doesn't run completely dry. Cook the peas to the perfect softness, so they are tender without getting them too mushy.
The cooked peas and all their remaining juices are transferred to a food processor or blender along with some extra virgin olive oil, water, black garlic, and turmeric. They're blended to a smooth purée, which thickens a bit as it cools.
Black garlic is a deeply caramelized, ultra flavorful, almost fermented tasting garlic. It's a little bit smokey and sweet, with notes of sweet vinegar and tamarind. Black garlic certainly adds a lot of flavor to the dish, but it also turns it a duller color when blended in.
To combat this I add some turmeric for color. Good quality olive oil not only gives a satisfying richness but also adds a lot of flavor. Freshly squeezed lemon juice brightens the flavors and brings everything together.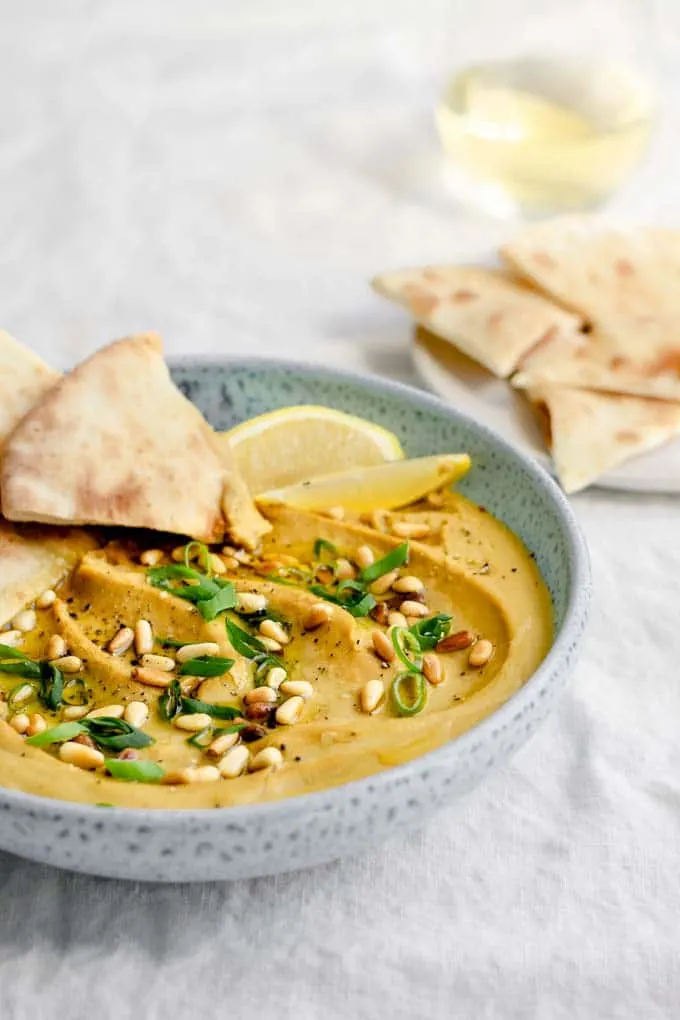 To serve, spread favosalata over a serving plate or shallow bowl.
Pour some additional extra virgin olive oil over top to pool into the crevices. Sprinkle toasted pine nuts and scallion greens over top. Scoop the creamy spread up with some fresh pita or lavash (or some homemade naan, which is what is pictured!), or some lightly pickled crudité.
Favosalata would be a wonderful appetizer for my chickpea and couscous stuffed red bell peppers for a Mediterranean-themed dinner party!
Not pictured, but we also enjoyed the dip with harissa drizzled overtop. It's an amazing pairing with the flavorful spicy, peppery kick!
Ingredient notes:
Black garlic was easy for me to find at my local Whole Foods store. If you can't find it at your local grocery store, it's available on Amazon (affiliate link). If you can't find/don't want to source black garlic, then follow the notes in the recipe below to substitute some roasted, caramelized garlic.
Yellow split peas should be an easy ingredient to find, but one that neither my local organic market or Whole Foods seemed to stock (seriously, what's up with that!). I did find it at my local regular grocery store in the Hispanic foods aisle. You can see what they look like and also buy from Amazon (affiliate link).
Now, it gets a bit confusing when talking about or looking for yellow split peas. That term can be applied to split chickpeas (chana dal), split pigeon pea (toor dal), or split yellow pea (matar dal).
These legumes all look fairly similar, and while they probably would all make a tasty dip, cooking times do vary for the different peas. This article by My Favourite Pastime details the differences between the three complete with photos, so check it out to learn more!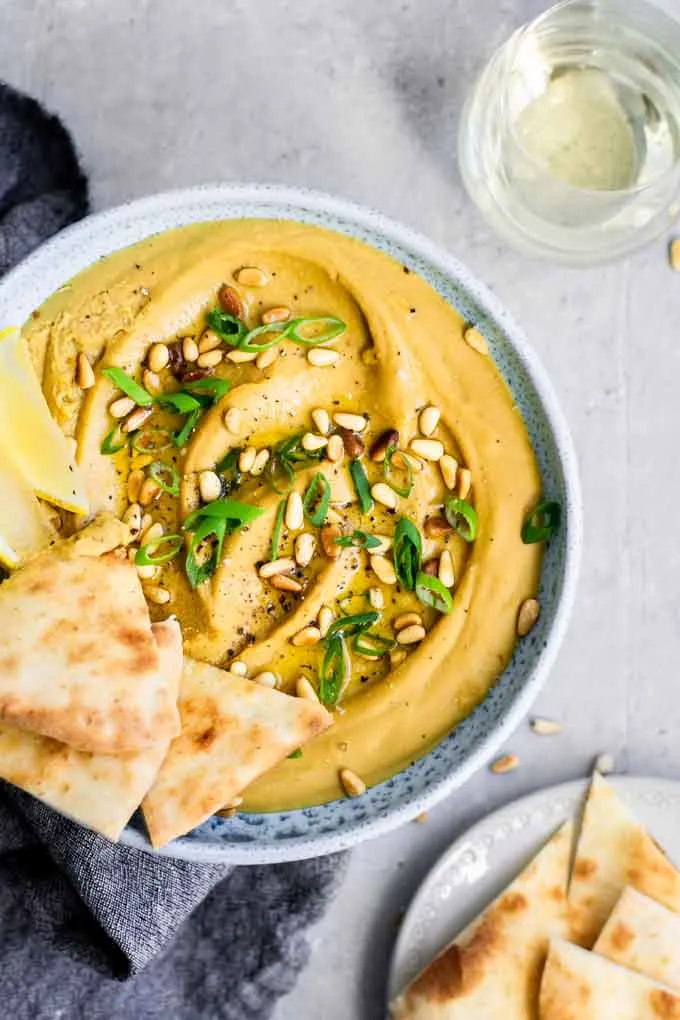 If you make this favosalata recipe, leave a comment below and rate the recipe on the recipe card. And please share your photos with me on Instagram, tag @thecuriouschickpea and #thecuriouschickpea. I love seeing your recreations!
WANT MORE DELICIOUS VEGAN RECIPES? FOLLOW ME ON INSTAGRAM, FACEBOOK, AND PINTEREST!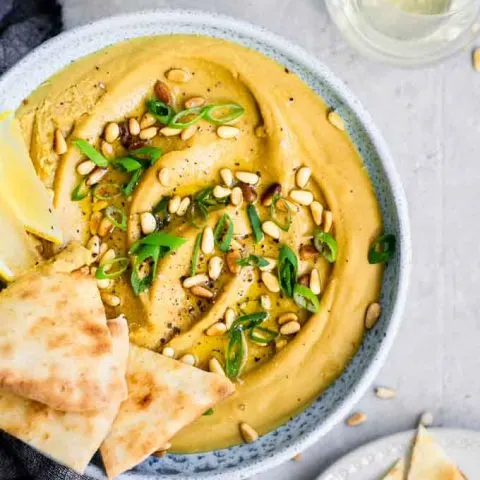 Favosalata: Yellow Split Pea Dip
Favosalata is a creamy Mediterranean spread made from yellow split peas. It's healthy, accidentally vegan and gluten free (serve with gluten free bread or crudite for dipping). It's a delicious alternative to hummus.
Ingredients
7 tbsp extra virgin olive oil, divided, plus extra for serving
1 cup (200 g) yellow split peas, sorted for debris and washed thoroughly
2 cups broth or water
1/2 cup white wine (or more broth)*
1/2 tsp salt
4 scallions, thinly sliced and divided into white/light green and dark green
1 cup water
3 cloves black garlic*
1/4 tsp turmeric
2 tbsp lemon juice
1/4 cup toasted pine nuts
flat bread and/or crudité for serving
Instructions
Heat a medium pot over medium low heat, add 1 tablespoon of olive oil and the white and light green part of the scallions [as well as the garlic if not using black garlic or roasted garlic]. Sauté for 2-3 minutes until lightly golden.
Add the split peas, broth or water, wine (or more broth, see note), and salt. Bring to a boil, then lower heat to a simmer. Cook partially covered for 35-40 minutes, stirring occasionally, until tender but not mushy. Keep an eye on the pot in the final 10 minutes of cooking and add broth or wine if it gets too dry.
In a blender or food processor, add the cooked peas, 1 cup of water, black garlic (or roasted garlic if using), and turmeric. Process until smooth adding more water if needed to make a smooth and creamy spread. Add the olive oil and the lemon juice and blend to combine. Taste and add additional salt or lemon juice to taste.
To serve, spread onto a shallow dish and pour some olive oil over top. Sprinkle on some toasted pine nuts and the green part of the scallions. Enjoy with some flat bread or crudité.
Notes
*If you're avoiding alcohol, you can use all broth, and just add a tablespoon of light colored vinegar, such as white wine, champagne, or malt vinegar.
*If you can't find black garlic substitute regular garlic. Either substitute 4-6 cloves of roasted garlic to taste, adding at the time you would have added the black garlic. Alternatively you can cook garlic along with the yellow split peas: Smash 3-4 cloves of garlic, peel, and add them along with the scallions to lightly caramelize before simmering with the split peas.
Recommended Products
As an Amazon Associate and member of other affiliate programs, I earn from qualifying purchases.
Nutrition Information:
Yield:

8
Serving Size:

1
Amount Per Serving:
Calories:

235
Total Fat:

16g
Unsaturated Fat:

13g
Sodium:

303mg
Carbohydrates:

16g
Fiber:

3g
Sugar:

3g
Protein:

6g