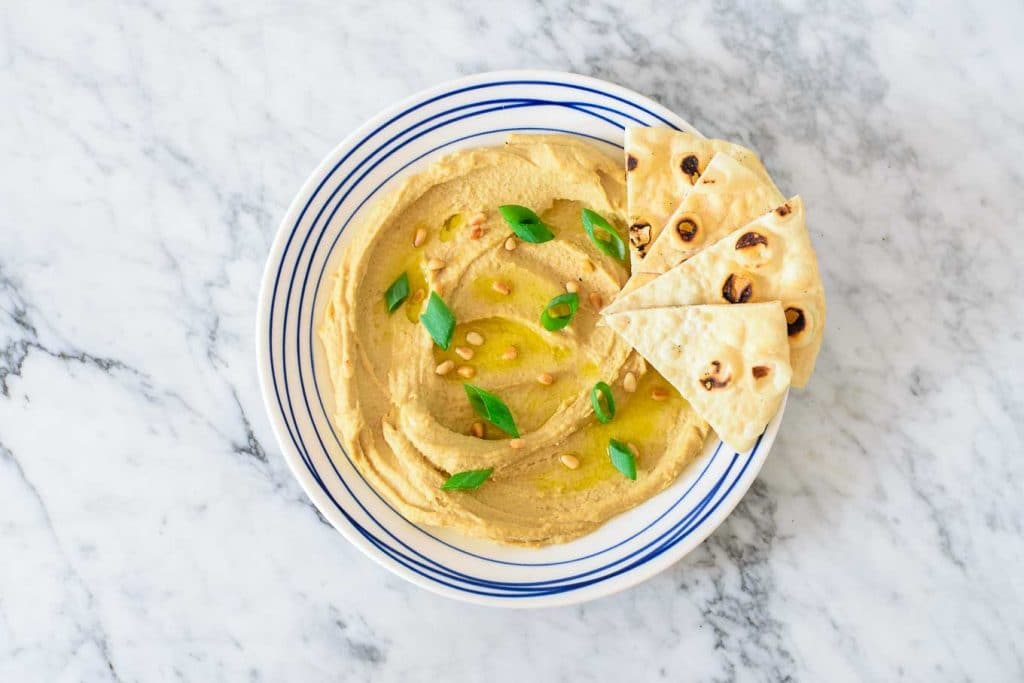 Back in June Omar and I ate out at a Kapnos, a pretty vegan-friendly, Greek restaurant in DC, where we discovered this amazing dish called favosalata. Is that not incredibly fun to say? Favosalata! It was creamy and super flavorful, despite only really being flavored with scallions, olive oil, white wine, black garlic, and a squeeze of lemon juice. Made from yellow split peas, it was a bit reminiscent of hummus, but really only in the fact that it's a legume purée. We really enjoyed dipping our freshly made flatbread into the flavorful bright yellow spread. It was one of the highlights of the meal for us! So much that when I was at the grocery store the following week I picked up a bag of split yellow peas to recreate it ASAP. And then they sat in my pantry for 6 weeks.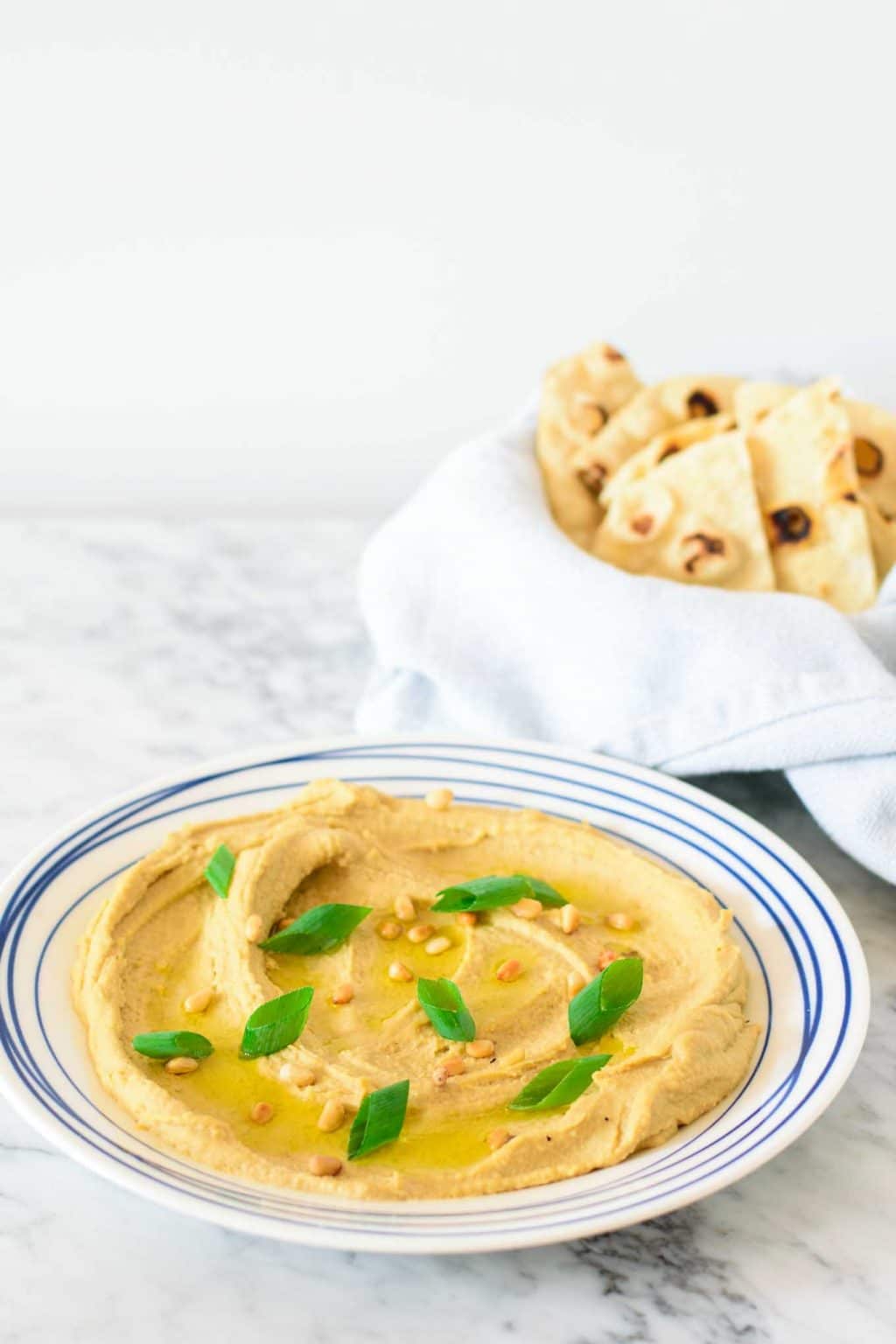 I have this trait, where I will crave certain foods for weeks, sometimes even months, before I bother to make something. Sometimes this is a good thing (such as, almost never indulging my almost weekly chocolate cake cravings), but it's also kind of a bad thing, I mean, I'm trying to run a food blog here. The important thing is that I do eventually give in to my cravings (which means there will always be cake in my future–yay!), and I'm so glad I finally got around to making my own version of favosalata!
I feel like I'm kind of a bad vegan, because I don't actually eat hummus that often. Maybe it's because I have been vegetarian my whole life and have eaten so much hummus by this point I'm probably 1/6th chickpea (hah!) + tahini. It's weird cause I actually like hummus, I just never really crave it. That kind of makes my discovery of favosalata even better, because, while it's a similar kind of dish to hummus, it's very different in flavor (I think anyway), and it's not the go-to vegan catering option (though maybe it should be)!
The recipe is quite simple, lightly pan fry the white and light green parts of some scallions. Then add the split yellow peas and cook in broth and lots of white wine (if you're avoiding alcohol, you can use all broth, and just add a tablespoon of white wine vinegar–or champagne or malt vinegar). You can basically just walk away from the stove while the yellow split peas cook, only coming back to check on them in the last 10 or 15 minutes of simmering to make sure the pot doesn't run completely dry. You'll cook the peas to the perfect softness, so they are tender without getting them too mushy.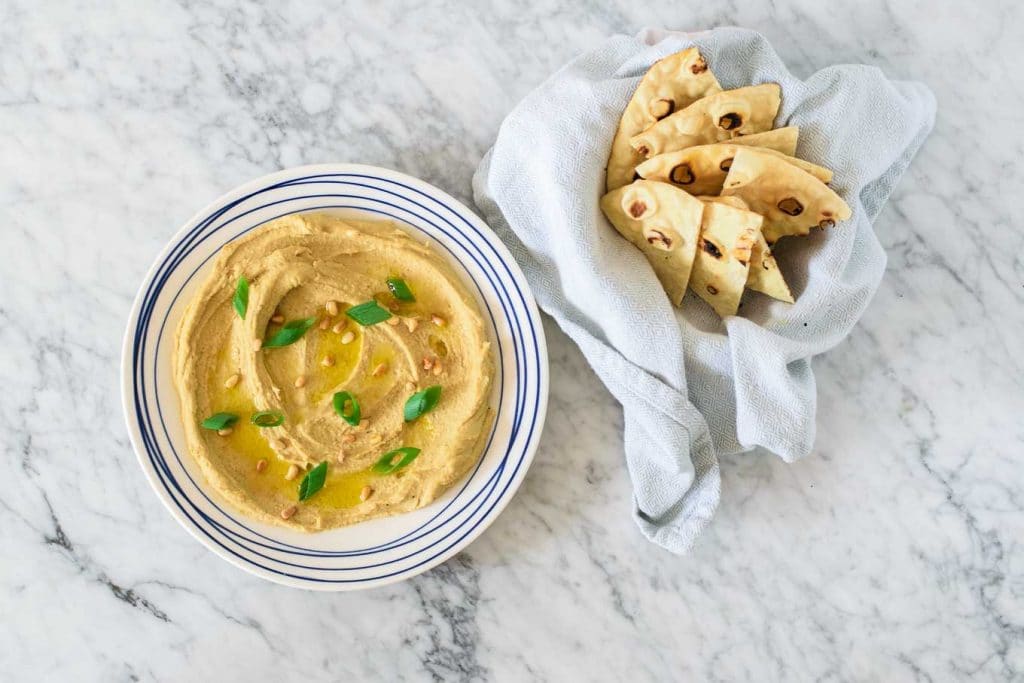 The cooked peas and all their remaining juices are transferred to a food processor or blender along with some extra virgin olive oil, water, black garlic, and turmeric. Black garlic is a deeply caramelized, ultra flavorful, almost fermented tasting garlic. It's a little bit smokey and sweet, with notes of sweet vinegar and tamarind. Black garlic certainly adds a lot of flavor to the dish, but it also turns it a duller color when blended in. To combat this I add some turmeric for color. Good quality olive oil not only gives a satisfying richness but also adds a lot of flavor. Freshly squeezed lemon juice brightens the flavors and brings everything together.
To serve, spread favosalata over a serving plate or shallow bowl. Pour some additional extra virgin olive oil over top to pool into the crevices. Sprinkle toasted pine nuts and scallion greens over top. Swipe the dip up with some fresh pita or lavash, or some lightly pickled crudité. Favosalata would be a wonderful appetizer for my chickpea and couscous stuffed red bell peppers for a Mediterranean-themed dinner party!
With that said, impress your vegan and non-vegan friends at your next party by making this non-hummus Mediterranean spread! If you make favosalata, please, let me know! Leave a comment and/or rate the recipe below, tag me on Instagram (or #thecuriouschickpea), or share with me on Facebook!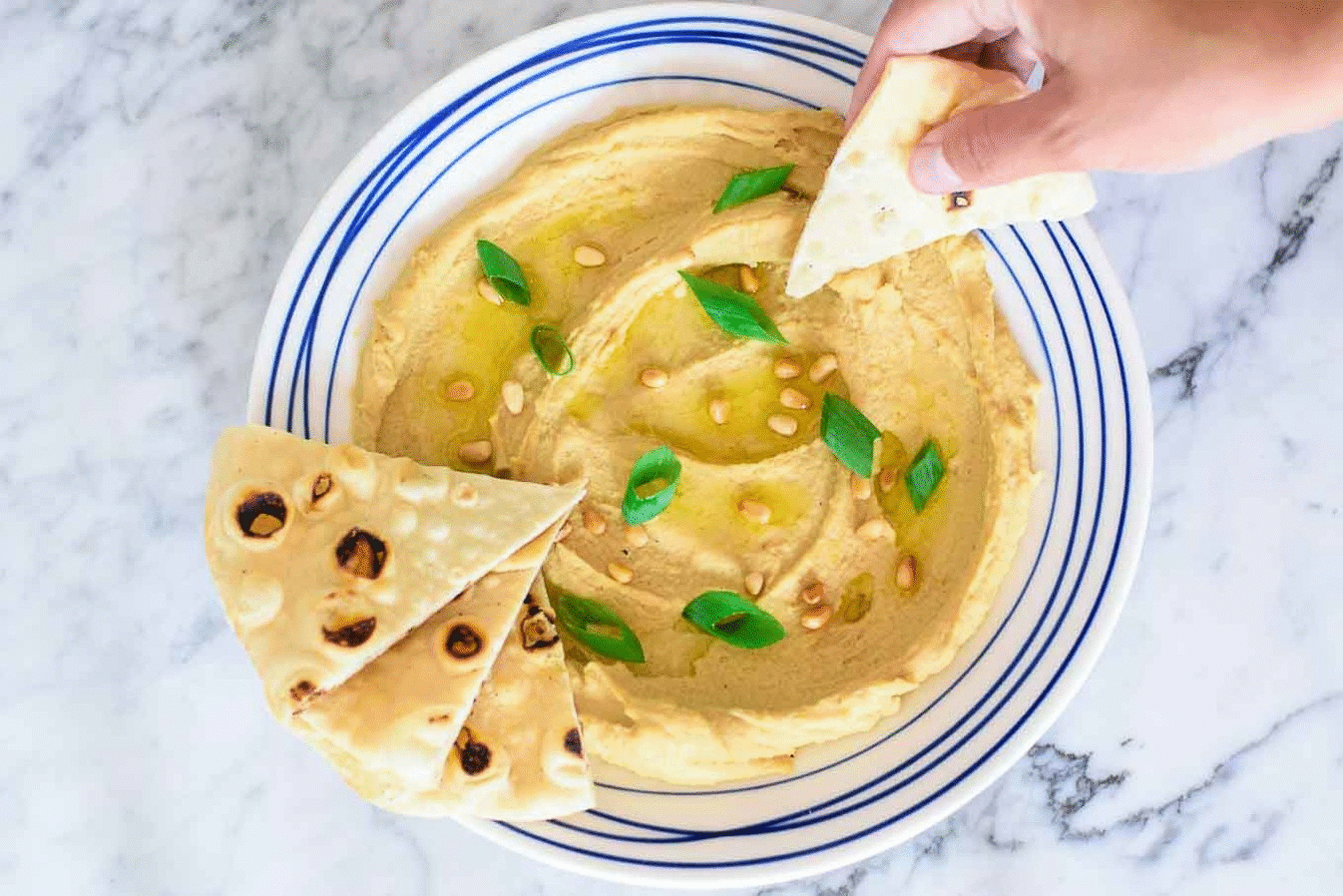 Notes:
You might be able to find black garlic at a well stocked grocery store. I found it near the refrigerated peeled garlic cloves in the produce section of a whole foods. You could also purchase it online, for those in the US I found it in several places, including on nuts.com. I haven't ordered it online myself. If you can't find/don't want to source black garlic, then follow the notes in the recipe below to substitute some roasted, caramelized garlic.
This dish is also great served with some harissa over top. We ate plenty of it this way and are huge fans!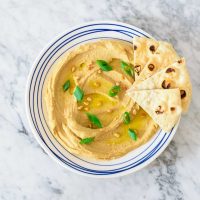 Favosalata: Yellow Split Pea Dip
Yield: ~4 cups

Prep Time: 10 minutes

Cook Time: 40 minutes

Total Time: 50 minutes

A creamy almost-hummus like Mediterranean dip made with yellow split peas.
Ingredients
7 tbsp extra virgin olive oil, divided, plus extra for serving
1 cup (200 g) yellow split peas, sorted for debris and washed thoroughly
2 cups broth or water
1/2 cup white wine (or more broth)*
1/2 tsp salt
4 scallions, thinly sliced and divided into white/light green and dark green
1 cup water
3 cloves black garlic*
1/4 tsp turmeric
2 tbsp lemon juice
1/4 cup toasted pine nuts
flat bread and/or crudité for serving
Instructions
Heat 1 tbsp of olive oil over medium-low heat in a heavy bottomed pot and and add the white and green part of the scallions [as well as the garlic if not using black garlic or roasted garlic]. Sauté, stirring regularly 2-3 minutes until lightly golden.
Add the split peas, broth, wine and salt. Bring to a boil, then lower heat to a simmer immediately. Cook partially covered for 35-40 minutes, stirring occasionally, until tender but not mushy. Check regularly in the last 10 minutes of cooking, add broth or wine if needed. Remove from the heat when done.
In a blender or food processor, add the cooked peas, 1 cup of water, black garlic (or roasted garlic if using), turmeric, and 6 tbsp of olive oil. Process until smooth adding more water or olive oil if needed, then add the lemon juice and process to combine. Taste and add salt or lemon juice if desired.
To serve, spread onto a shallow dish and pour some olive oil over top. Sprinkle on some toasted pine nuts and the green part of the scallions. Enjoy with some flat bread or crudité.
Notes
*If you're avoiding alcohol, you can use all broth, and just add a tablespoon of light colored vinegar, such as white wine, champagne, or malt vinegar.

*If you can't find black garlic substitute regular garlic. You can either use 4-6 cloves of roasted garlic, or lightly caramelize 3-4 cloves of garlic as part of the recipe: smash and peel the cloves, then cook in oil along with the scallions to get lightly caramelized and simmer along with the split peas.
Nutrition Information:
Yield: 8 Serving Size: 1
Amount Per Serving:Calories: 235 Total Fat: 16g Saturated Fat: 2g Trans Fat: 0g Unsaturated Fat: 13g Sodium: 303mg Carbohydrates: 16g Fiber: 3g Sugar: 3g Protein: 6g