You're going to want to make this vegan classic potato salad! It's stuffed full of fresh herbs and extra delicious, a dish that's sure to be gobbled up in no time!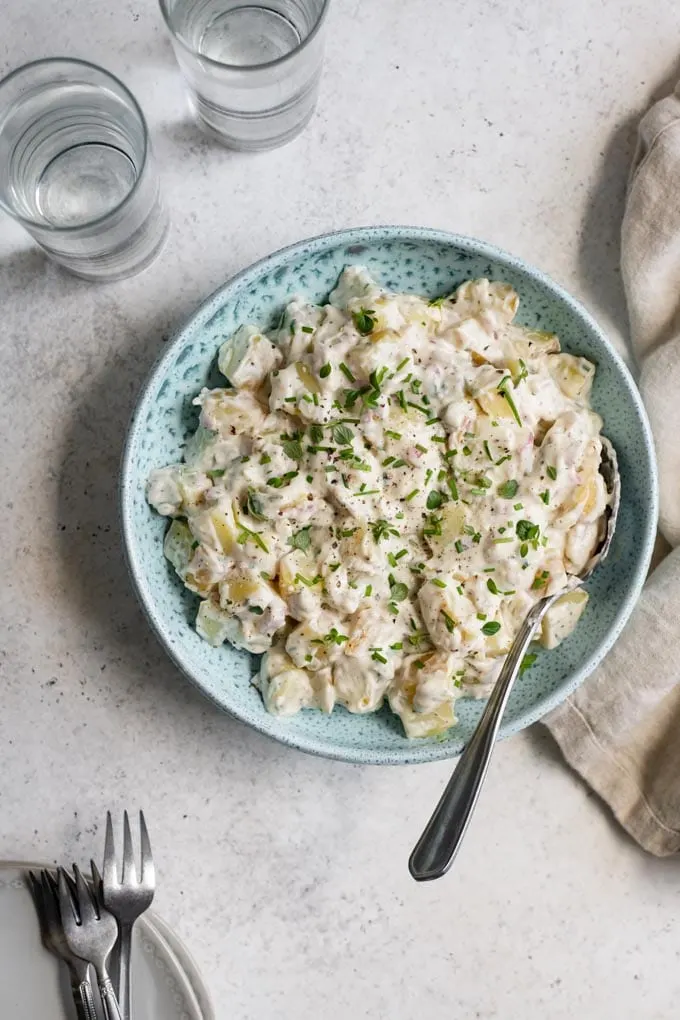 This potato salad is no fuss, no frills, just a good old classic potato salad that happens to be vegan! And gluten free, but isn't that most potato salads?
It's the perfect side dish for summer cookouts and picnics, or served alongside your veggie burgers and hotdogs year round. Using an eggless (vegan) mayo means it can be enjoyed by everyone, while still delivering the classic flavors of your childhood.
Because this potato salad isn't about breaking the mold, instead it elevates it!
So what goes into a great potato salad?
Well, potatoes for starters! Choose buttery, thin skinned, waxy potatoes like yukon gold or red skinned potatoes. Fingerling or baby potatoes work really well too.
Whether or not you peel your potatoes is up to you and your preferences. I like the bit of texture the skin adds to the salad, plus its extra nutrients! But if you want to peel, or your potatoes are a bit old and full of eyes, then go ahead.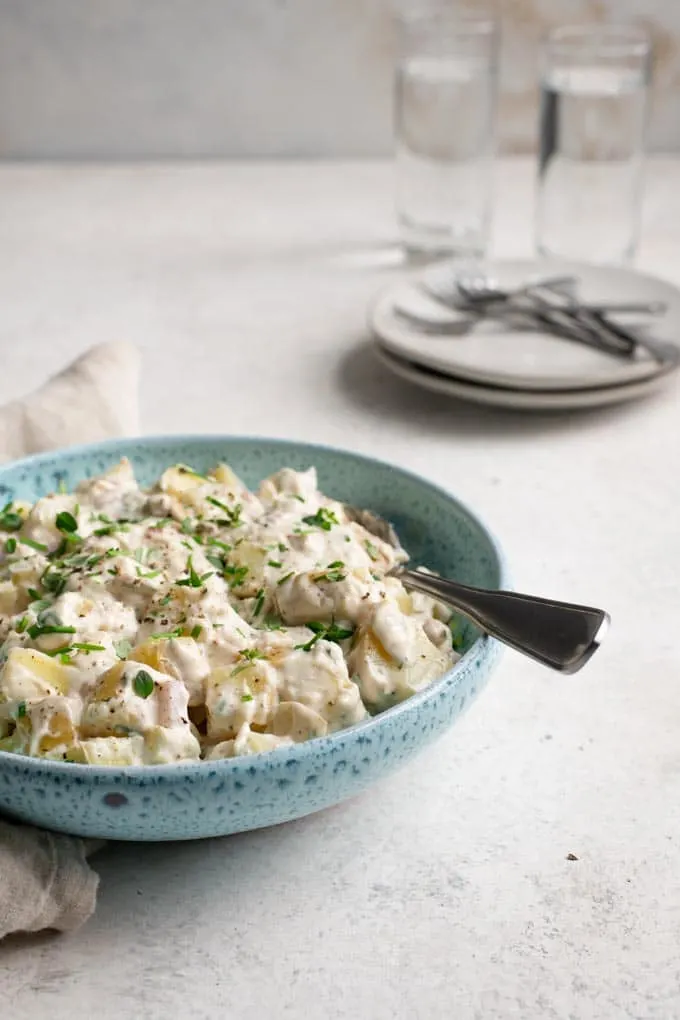 The second most important thing after choosing the potatoes is cooking them properly. A good potato salad should have very tender potatoes. This means steaming them until they are completely soft. When pierced with a fork or knife, there should be no resistance.
Have you ever taken a bite of potato salad only to find there's almost a crunch to your potatoes? Yeah, it's disappointing. So steam those potatoes until they are soft! You can always test one with a bite to be sure.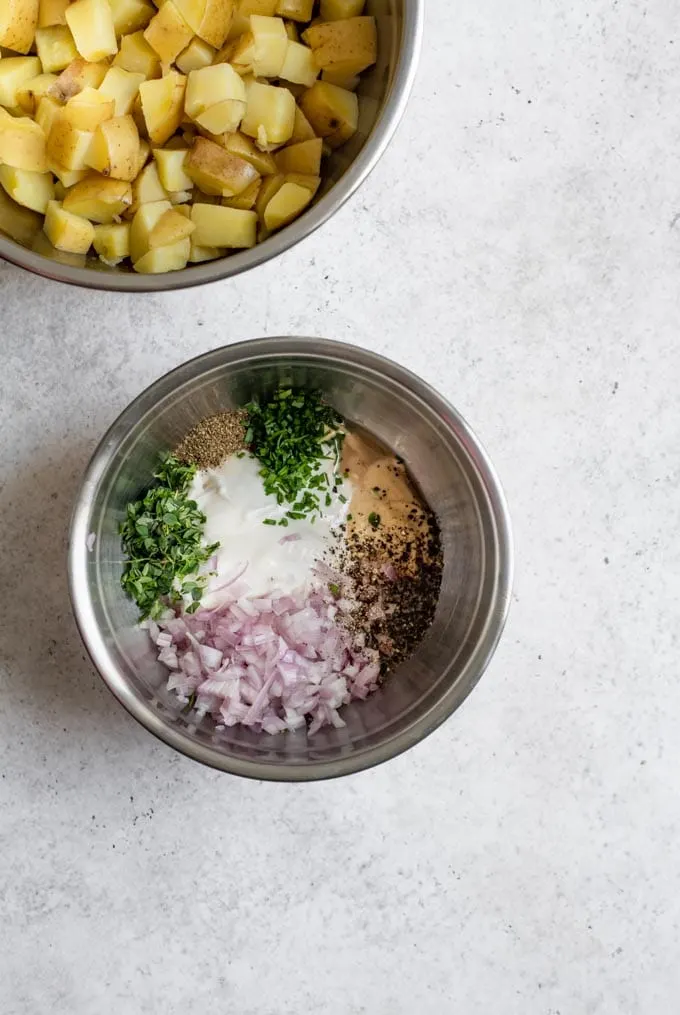 Next, we whip up the dressing!
With the potatoes done and cooling off, the only thing left to do is quickly whisk together the dressing for the salad.
The bulk of the dress is vegan mayonnaise. You can use your favorite brand, they'll all make a great potato salad! I particularly enjoy Follow Your Heart Vegenaise, Just Mayo, and Sir Kensington Fabanaise.
To jazz up the mayo, add a splash of apple cider vinegar. This cuts back on the richness and adds much appreciated acidity.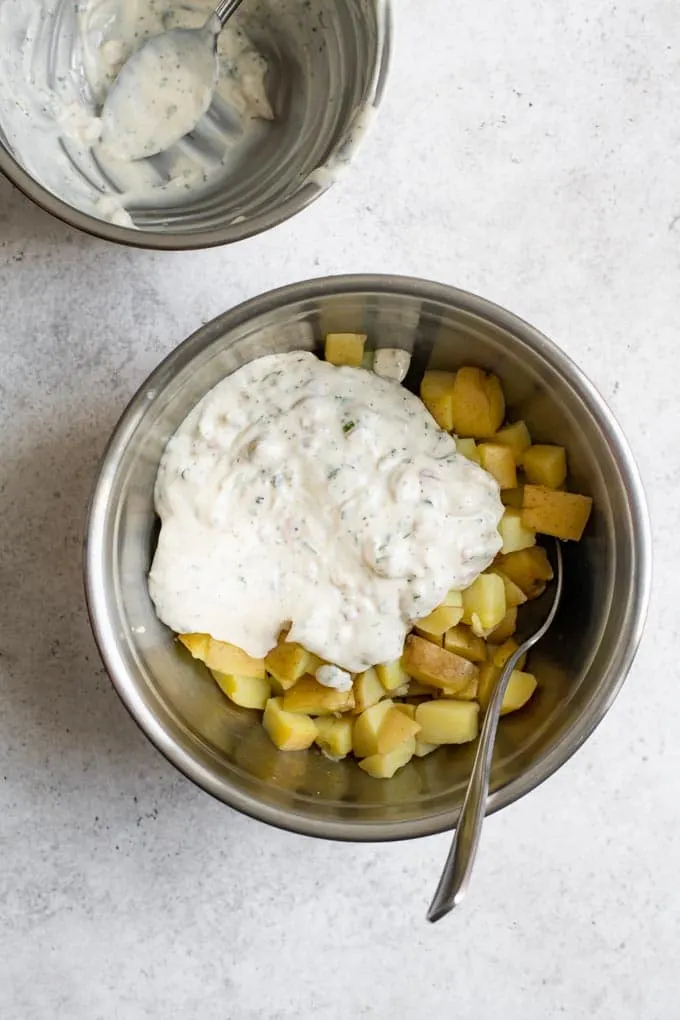 Next, add mustard. I like my mustard to be spicy and bold flavored, so dijon is the one I grab for making potato salad. Its a hotter, stronger mustard flavor than its cousin yellow mustard, and adds more robust flavor to our potato salad. But if you're a yellow mustard person through and through, you can feel free to use that instead.
My favorite potato salads are loaded with fresh herbs. It takes them from mundane to special, something even potato salad skeptics will find themselves reaching for seconds of!
I add thyme and chives, specifically I love using lemon thyme from my garden. It has such a great flavor, it's fresh and bright tasting, and a bit lemony as can be expected by the name. But this salad is great with the thyme found in grocery stores too!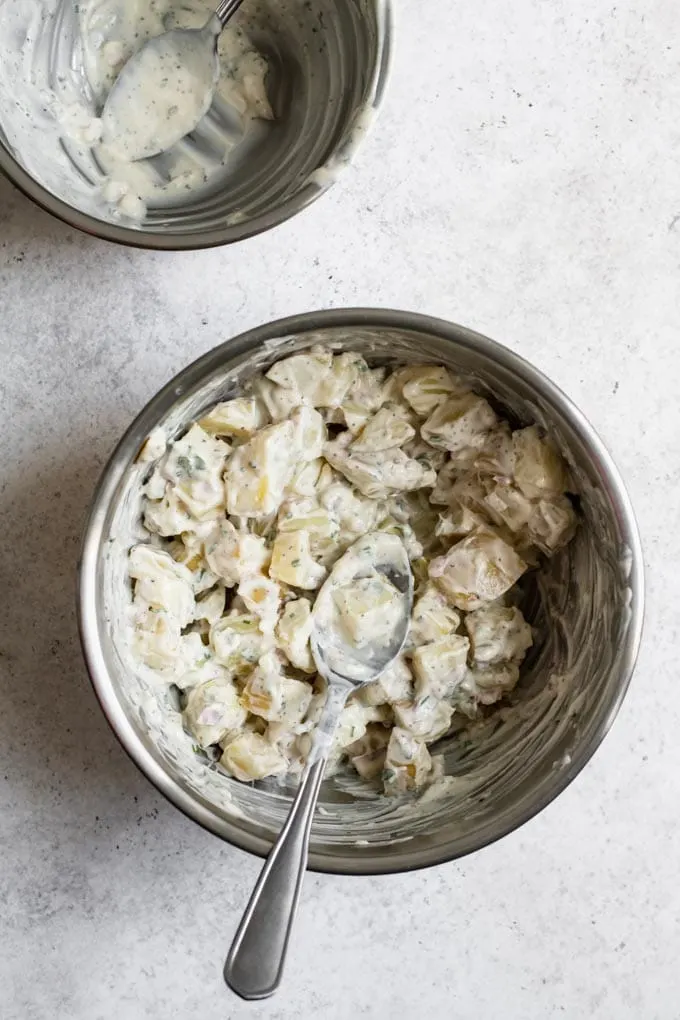 Celery seed is a must when it comes to creamy cold picnic salads. It adds a punch of earthy, somewhat bitter, celery flavor. Add it in the form of straight celery seed or celery salt, but if using the latter, cut back on the added salt to compensate. You can always add more salt later to taste.
Speaking of salt, it and freshly ground black pepper are the last ingredients for the potato salad dressing! Add it to taste, but if you're like me, that means a lot of pepper! What can I say, it packs a big punch of yum.
The last ingredient for our potato salad is some minced shallot.
While we don't want our potatoes to be crunchy, we do want a bit of texture in the potato salad. A little minced shallot comes to the rescue!
It's juicy and has a little bit of a kick, but is milder, sweeter, and has less of a bite than red onion. A scattering of minced shallot tossed into the potatoes and dressing adds the perfect finish to the salad.
That being said, if raw onion is not your thing, you can substitute some mined celery instead.
And that's it! Everything you need for a perfect vegan potato salad!
It's classic and nostalgic, everything you hoped for! I like to finish it off with some flaked salt, cracked pepper, and more fresh herbs for garnish.
I hope you enjoy this potato salad to the max!
If you make this classic vegan potato salad, leave a comment below and rate the recipe on the recipe card. And please share your photos with me on Instagram, tag @thecuriouschickpea and #thecuriouschickpea. I love seeing your recreations!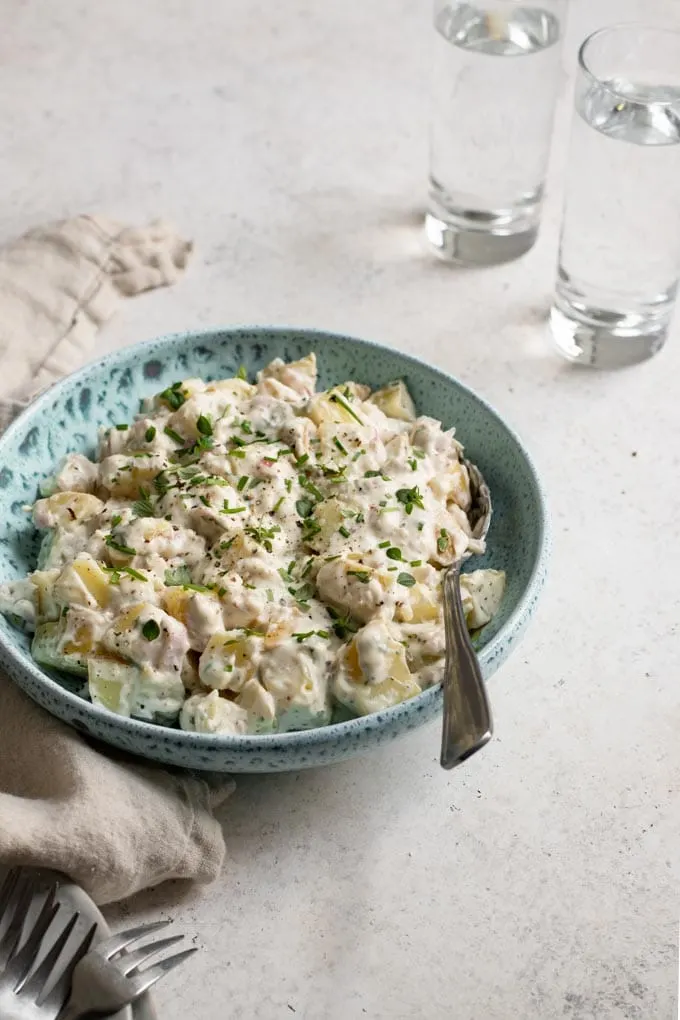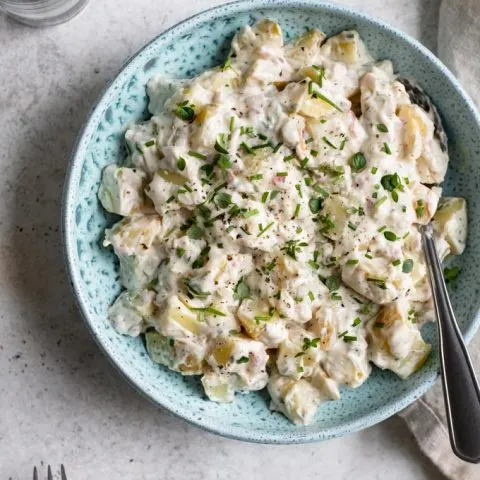 Vegan Classic Potato Salad
A creamy and delicious herb filled take on a classic potato salad, perfect for cookouts and picnics and alongside veggie burgers and hot dogs.
Ingredients
1 1/2 pounds yukon gold potatoes
1/2 cup minced shallots
1 cup vegan mayonnaise
1 tbsp dijon mustard
1 tbsp apple cider vinegar
1 tbsp fresh thyme, chopped
2 tbsp fresh chives, minced
1/2 tsp celery seed*
1/2 tsp salt, or to taste
freshly ground black pepper to taste
Instructions
Wash the potatoes and peel them if you want, I like the skins on. Cut the potatoes into bite sized pieces, about 1/2" - 3/4" cubes. Bring a pot of water to a boil on the stove and set a steamer basket in the pot. Steam the potatoes until they are very tender and easily pierced with a fork or knife. This can take ~15-20 minutes depending on size of the potatoes. Set aside to cool.
In a small mixing bowl stir together the shallots, vegan mayonnaise, mustard, vinegar, fresh thyme and chives, celery seed, salt and pepper.
When the potatoes have cooled to room temperature add the mayo dressing and toss to combine. Chill until ready to eat!
Notes
Choose any low starch, buttery potato variety such as red skinned potatoes, yukon gold potatoes, or fingerling potatoes. Do not use starchy potatoes such as russet potatoes.
*can substitute celery salt, but reduce the added salt to compensate.
If you want to avoid raw onion, substitute the shallots for minced celery.
Nutrition Information:
Yield:

8
Serving Size:

1
Amount Per Serving:
Calories:

225
Total Fat:

14g
Unsaturated Fat:

11g
Sodium:

305mg
Carbohydrates:

25g
Fiber:

2g
Sugar:

4g
Protein:

3g