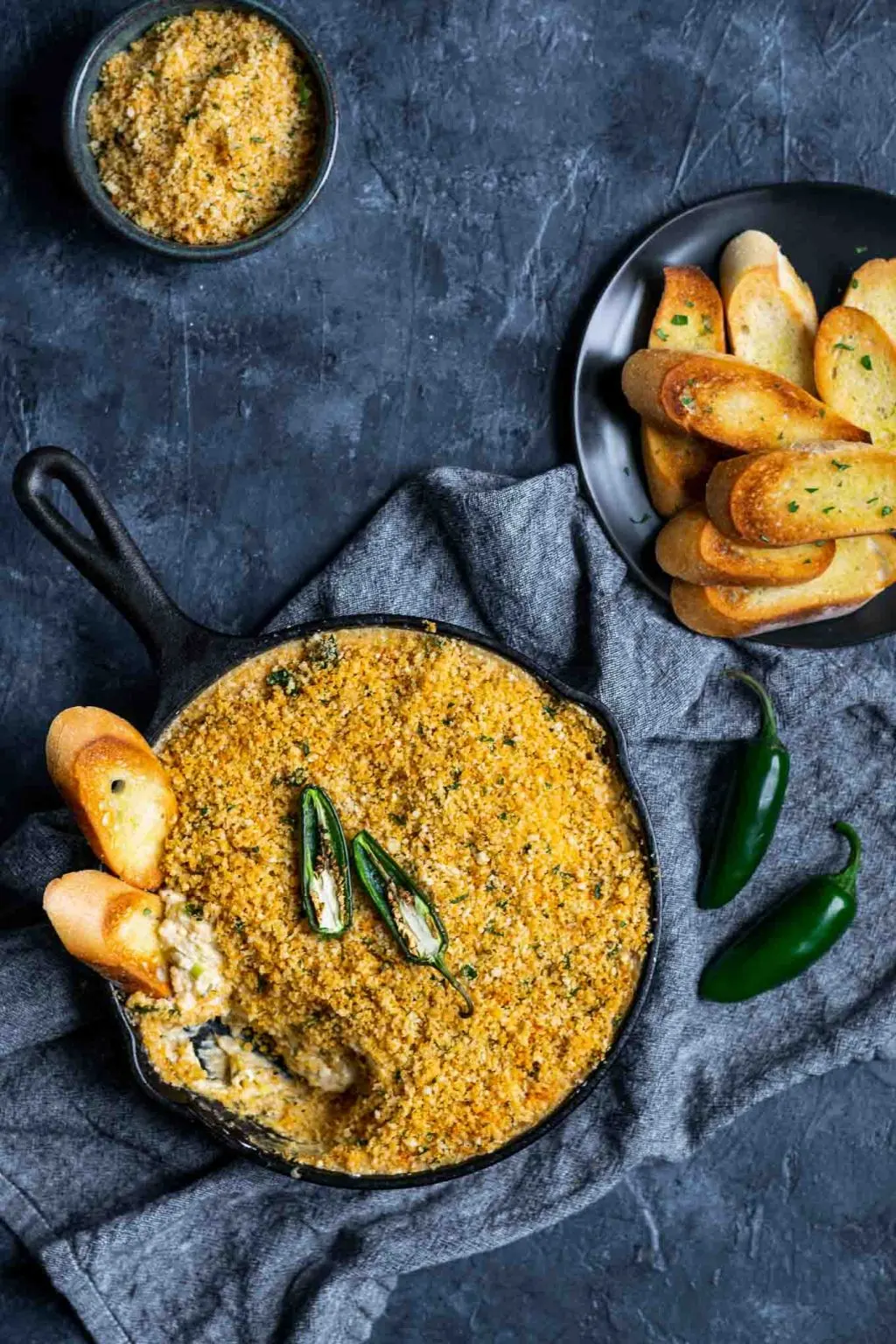 Sometimes you just need to eat dip for dinner, because the dip is so good you don't want to fill your belly with anything else! And sometimes that's ok, because the dip is filled with good for you things like cashews and cauliflower and jalapeños.
Am I describing a thing that actually happened in my house? I mean, yeah, duh, obviously!
So I had never had jalapeño popper dip before. I've eaten plenty of jalapeño poppers (and have a recipe for roasted jalapeño poppers that is to die for). And made plenty of dip, but never a jalapeño popper dip!
When researching dip recipes, I have noticed a theme in creamy [non-vegan] dips. They are made of 3 main ingredients: cream cheese, mayonnaise or sour cream, and some other kind of shredded cheese (cheddar/mozz/monterary jack) and only once you have that mixture can you even think of adding in your main event (jalapeños, caramelized onions, spinach & artichoke)!
Yeah. Ok, I don't know about you, but as much as I enjoyed eating those dips before going vegan, it all just sounds so unappetizing now. And while I would have enjoyed eating it if ordered at a restaurant or brought to a party by a friend, I could never bring myself to put something like that together.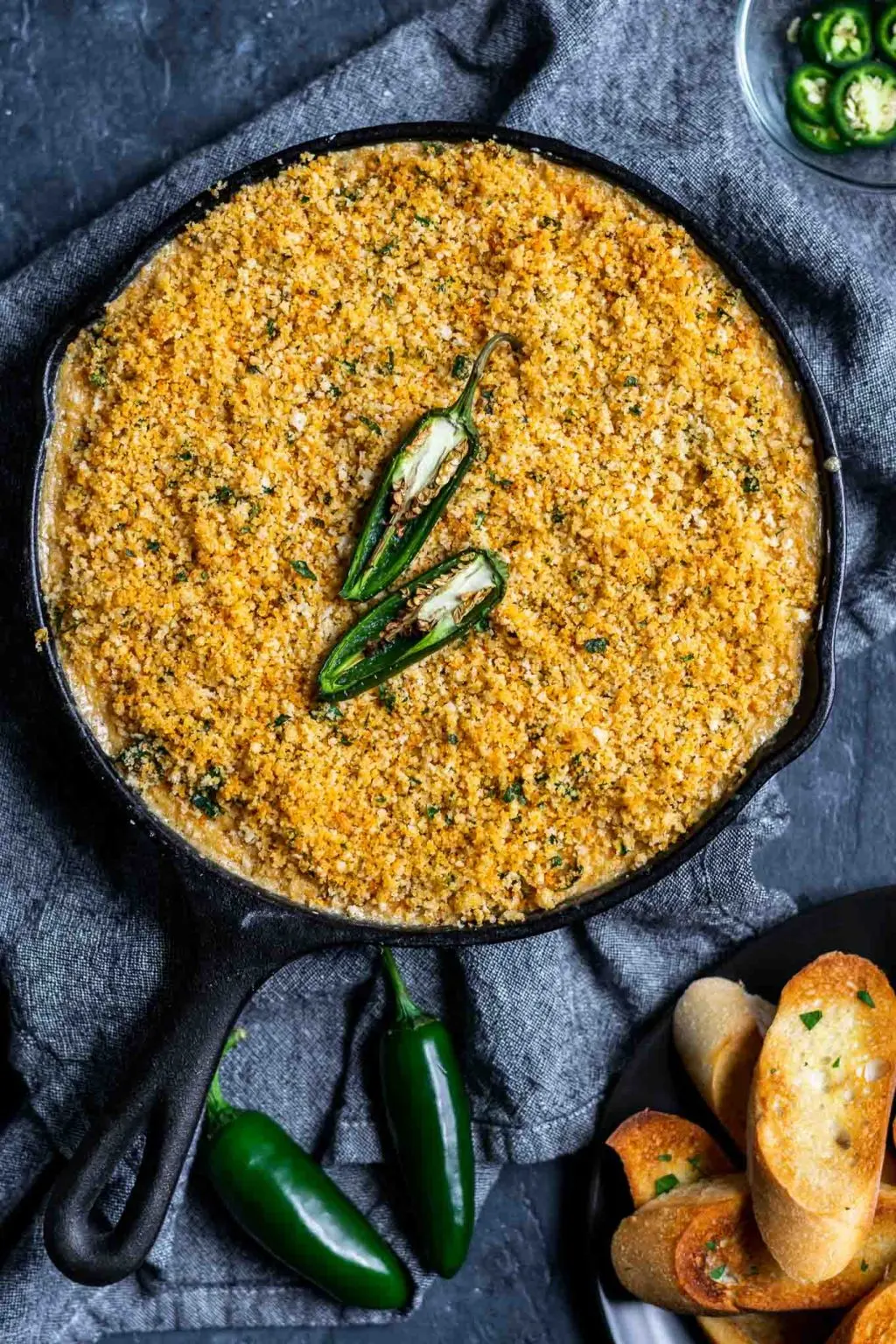 I've been eating veganized versions of dips from before I went vegan. You can get all the rich (well ok, maybe a little less rich) creaminess, all the flavor, all the indulgence without using animal products.
And it's not just me who loves them! Every time I've tried out a new dip on my non-vegan friends I get requests to bring them to my next get together. Dips are just crowd pleasers, what can I say!
So like why are there no dips on The Curious Chickpea??! This is a failure on my part, and one that I mean to rectify starting now! With this vegan jalapeño popper dip!
This recipe was in part inspired by my recipe for penne with buffalo cream sauce, which was a recipe inspired by a dip at a local restaurant.
This vegan jalapeño popper dip is a delicious combination of nut cream and ground cauliflower.
Cashews and water blend up silky smooth. Add refined coconut oil for a rich mouthfeel, apple cider vinegar for some tang, a sprinkling of nutritional yeast for a bit of cheesy flavor, minced garlic, onion powder, smoked paprika, and salt.
I blend in some tapioca starch which thickens the cream and gives it a stretchy consistency. While cornstarch, potato starch, and arrowroot also will thicken, tapioca starch is extra special and important in vegan cheese or cheese sauce making.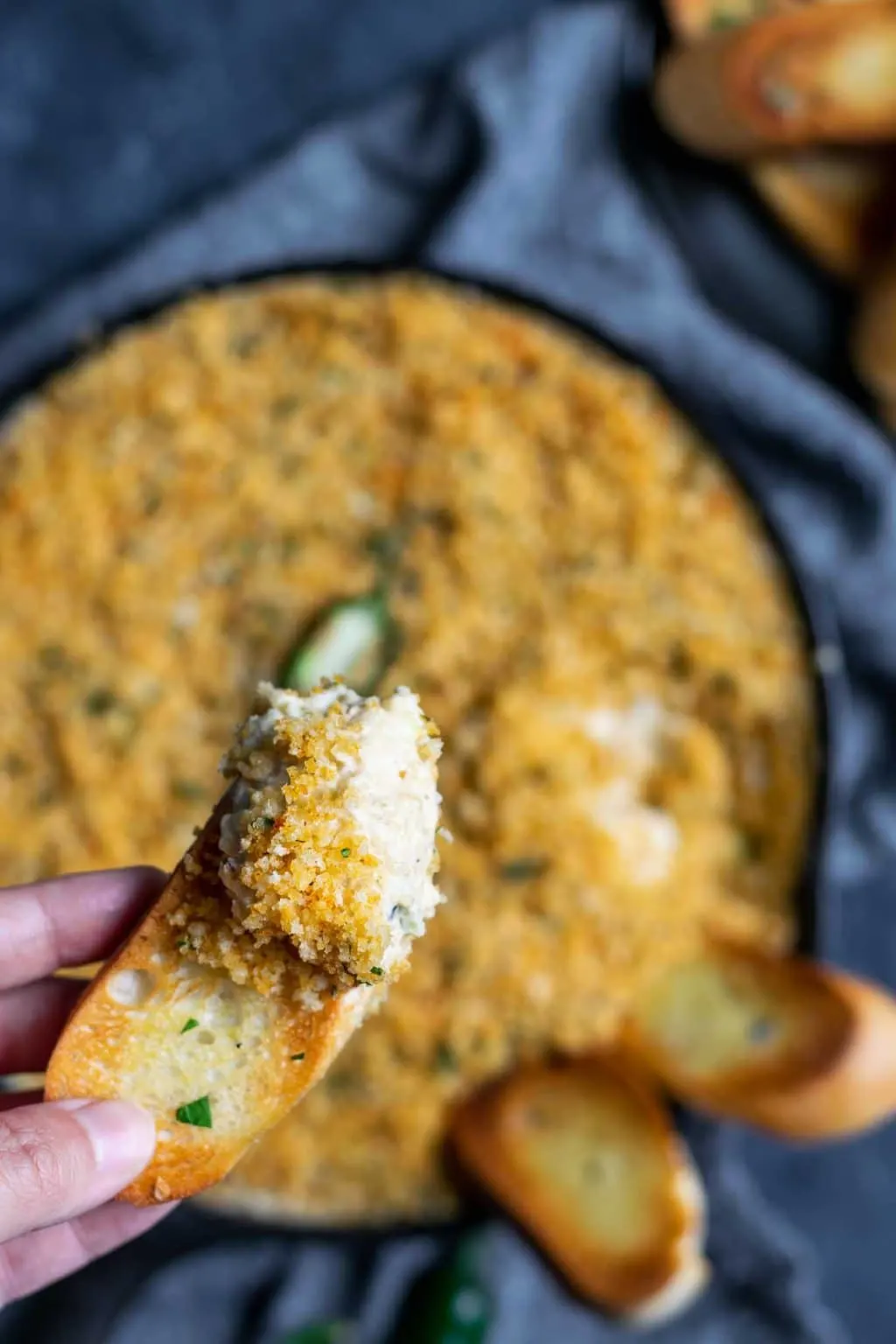 For the cauliflower, I love to cook it on a hot skillet, charring it slightly. This imparts a little bit of a smokey flavor and gives the cauliflower a nice chewy texture. The cooked cauliflower is added to the thick and rich cashew cream, and blended until it's finely riced.
While my Vitamix could turn the cooked cauliflower into a smooth cream, I keep the speed closer to medium and let it pulverize it into a fine pulp. This leaves the dip slightly textured, which I love. Of course, if you prefer differently you can always blend it more (perhaps steam the cauliflower towards the end of cooking by adding a splash of water and covering the skillet to help out your blender).
Next up is the roasted jalapeños. Roasting jalapeños gives them a slight smokey flavor and mellows their flavor slightly. It also softens them so that the resulting minced peppers just melt into the dip.
Adding some sliced scallions for their tasty oniony bite and lastly canned minced green chiles (as seen in the Mexican aisle of your grocery store) for extra chile flavor. These chiles can be hot or mild, so make sure to choose the one with the heat level you'd prefer!
I made an easy breadcrumb topping to go over the dip. All you gotta do is toss panko style bread crumbs with olive oil, salt, smoked paprika, and parsley!
I love baking this dip in my 9″ cast iron skillet. It has a nice rustic appeal when served this way. Any similar sized baking dish or small casserole dish will work though!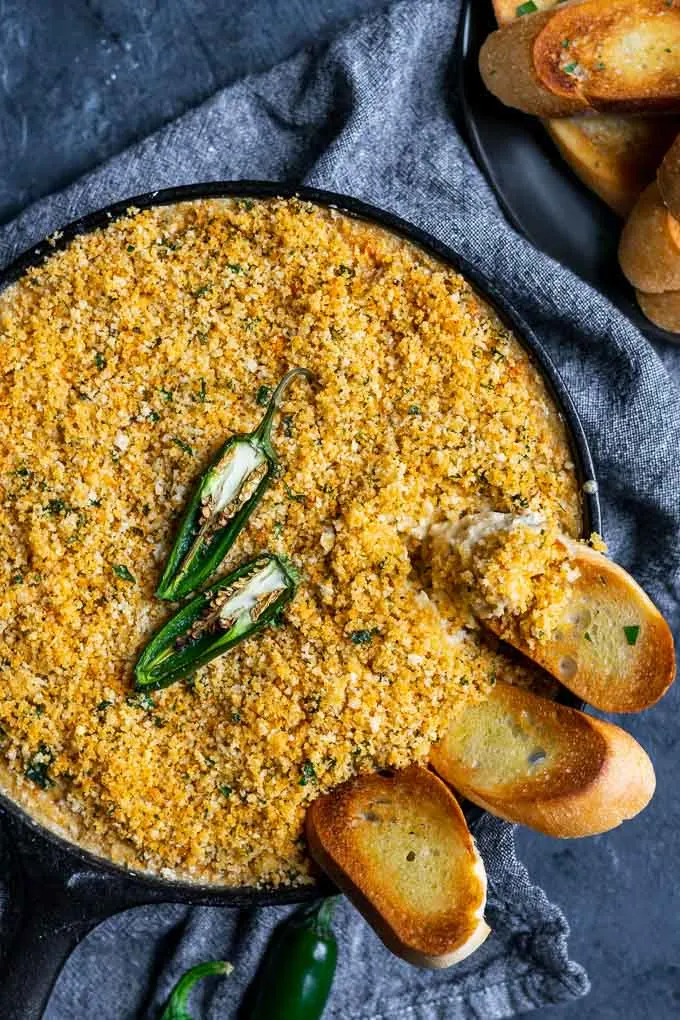 The dip thickens while baking in the oven. The heat activates the tapioca starch and the starches in the cashews and thickens the creamy sauce to a nice scoopable texture. Because of this you don't want to cut the baking time short!
This dip comes together easily. Roast the jalapeños while you cook up the cauliflower. Blend the cashew cream while those cook. Blend in the cauliflower then toss in the rest of your dip mix-ins. Quickly stir together the crumb topping. Put a sliced jalapeño or two on top for looks and stick the whole thing in the oven!
The dishes can be done while the dip bakes, and if you want to enjoy it with toasted bread you can go ahead and prep that. Brush slices of french bread with a little olive oil on one side, then stick them under the broiler for a minute or two until toasted and golden.
Just don't say I didn't warn you when you try to eat the dip for breakfast (over freshly baked bread!), lunch (it's a nice snacky lunch on work days), and dinner (you said there was veggies in it, right?)!
I hope you guys enjoy this recipe! Let me know how it goes if you make this vegan jalapeño popper dip! And don't forget to tag your recreations @thecuriouschickpea and #thecuriouschickpea on Instagram! I love seeing your photos!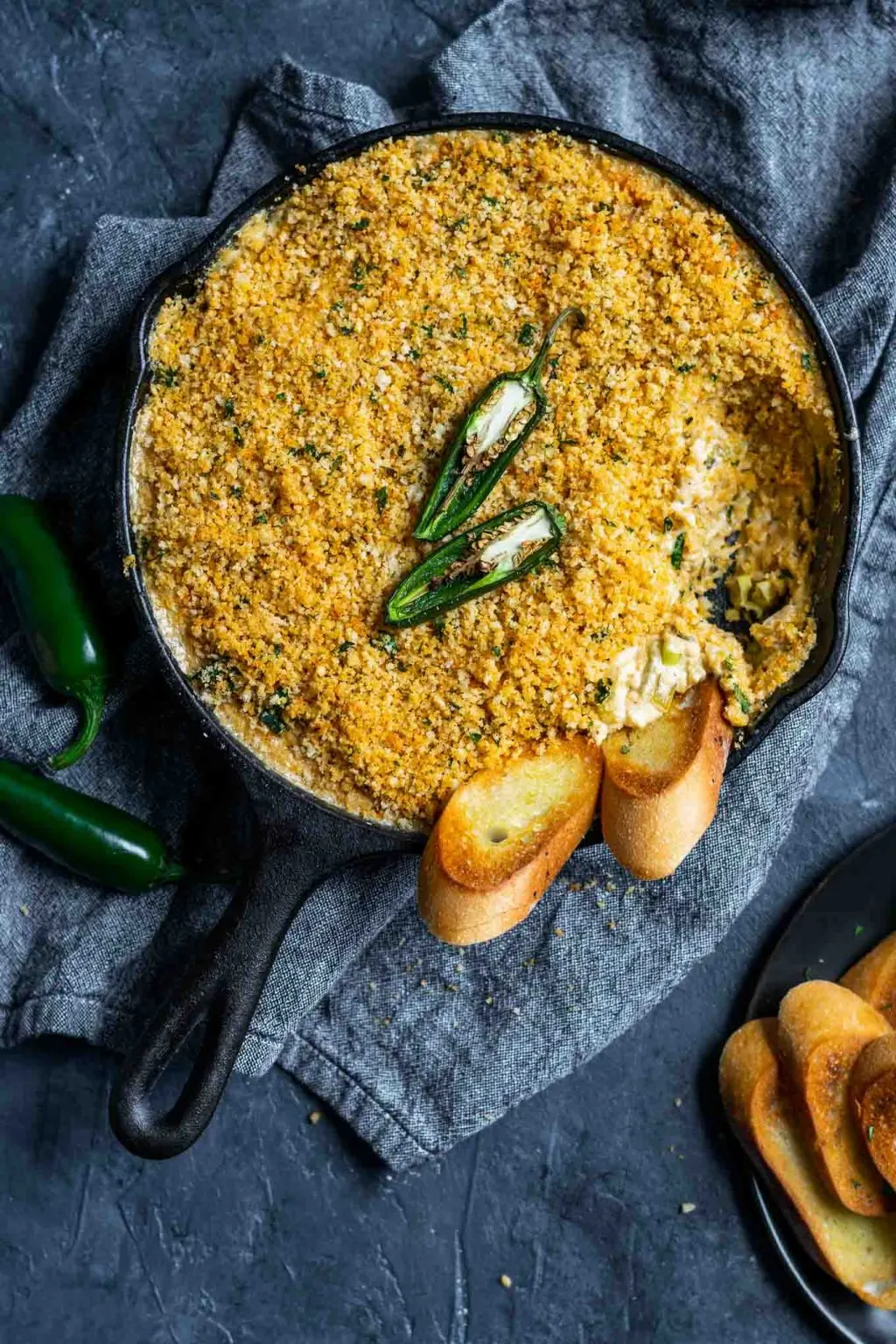 Like what you see? Follow along on Instagram, Facebook, and Pinterest!
Notes:
To make gluten free, use gluten free bread crumbs and serve with gluten free toast, crackers, or crudite.
I've left a pretty big range of jalapeños to use in the recipe, because everyone has a different spice tolerance and jalapeños can vary a lot in heat from one pepper to the next. De-seeded and roasted the peppers lose a little of their punch.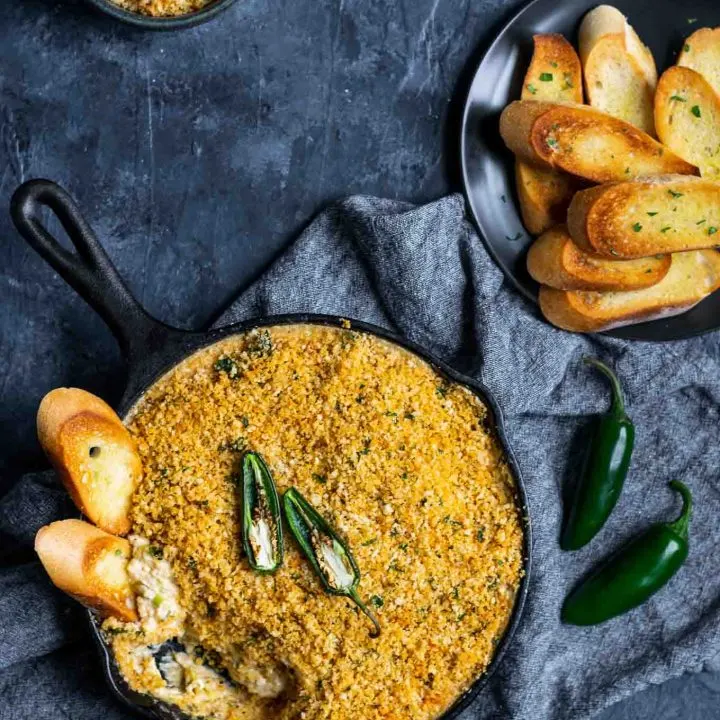 Vegan Jalapeño Popper Dip
Yield:
enough for a party!
A delicious vegan jalapeño popper dip. A little smokey, ultra creamy, and stuffed full of spicy roasted jalapeños. This dish is sure to delight when served as an appetizer or snack alongside some crostini or crackers.
Ingredients
6-10 jalapeño peppers*
1 tbsp oil
4 cups (12 oz) cauliflower (~1/2 head) cut into thick slices
1 1/2 cups cashews, soaked for 2+ hours and drained
3-4 cloves garlic
2 cups water
1/4 cup melted refined coconut oil
2 tsp apple cider vinegar
1/4 cup tapioca starch
2 tbsp nutritional yeast
1 1/2 tsp salt
1 tsp onion powder
1/2 tsp smoked paprika
1/2 cup sliced scallions (white and light green parts)
4 oz canned diced green chilies
Breadcrumb topping
1 cup panko breadcrumbs
2 tbsp olive oil
1/2 tsp salt
1/4 tsp smoked paprika
1 tbsp minced parsley
Instructions
Turn the oven on to broil and position a rack 6" from the burner. Place the jalapeño peppers on a baking sheet under the broiler and roast for about 10 minutes, rotating occasionally, until the skin of the peppers has charred and blackened. Put the jalapeños in a covered bowl to allow them to steam so the skins loosen. When cool enough to handle peel off the skin, seed (unless you want your dip spicier), and mince.
Turn your oven to 350 ºF.
Heat a large skillet over medium and add the 1 tbsp of oil. Place the cauliflower in a single layer and let cook for 8-10 minutes, flipping halfway through. The cauliflower should be charred in spots and just slightly fork tender (it should still be rather firm).
In a blender add the cashews, garlic, water, coconut oil, apple cider vinegar, tapioca starch, nutritional yeast, salt, onion powder, and smoked paprika. Blend until smooth and creamy, then add the cauliflower. Blend the cauliflower until it is finely riced, or you have your desired texture.
Pour the mixture into a large bowl and stir in the minced roasted jalapeños, the sliced scallions, and the can of diced green chiles. Mix to combine, then pour into a oven safe dish, such as a 9" cast iron skillet.
In a small mixing bowl, stir together all of the breadcrumb topping ingredients and spoon over the dip. If you'd like place a sliced jalapeño on top of the breadcrumbs.
Bake for about 25 minutes, or until the bread crumbs are a deep golden brown and the dip has thickened. Let sit for several minutes before digging in.
Enjoy with some crostini, toasted baguette, or crackers.
Notes
*use more or less jalapeños depending on your spice tolerance. Heat can vary a lot between peppers as well.