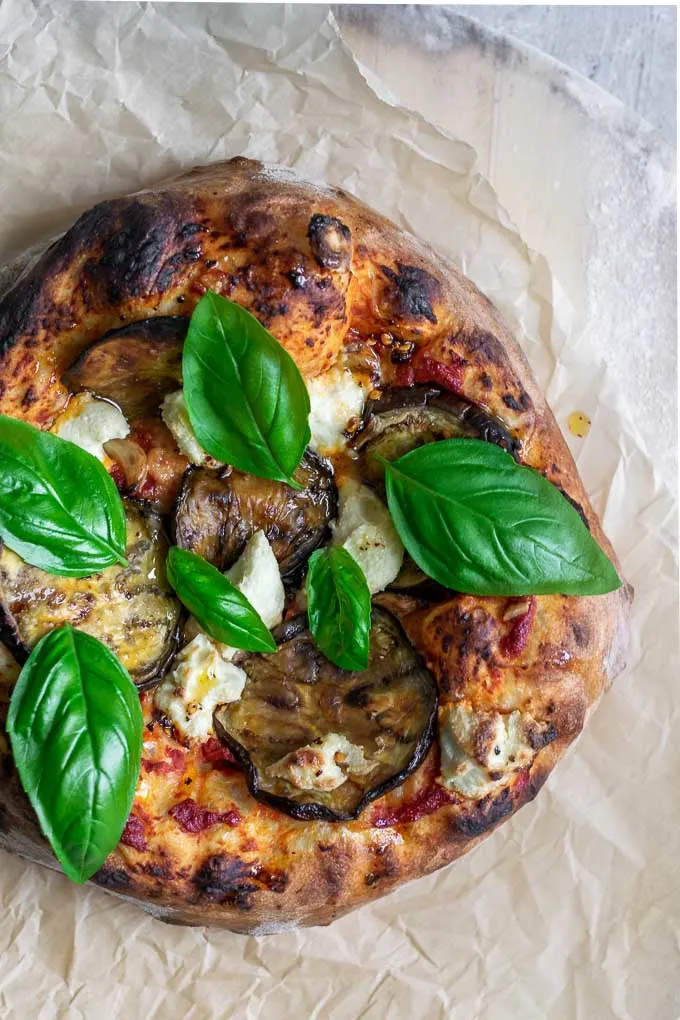 My pizza adventures continue with this deliciously savory roasted eggplant pizza. We're talking a pillowy pizza crust topped with juicy, tender chili oil roasted eggplant. Dollops of creamy vegan almond ricotta, a flavorful red sauce, and completed with drizzles of chili oil and fresh basil.
Eggplant is one of the most underrated pizza toppings, but it's so good atop dough! It's easy to prep in advance, which means low stress when it comes time for pizza assembling and baking as everything is ready to go.
For this pizza I've roasted the eggplant with a coating of homemade chili oil. Eggplant absorbs the flavor of the chili oil for a mild (to medium) heat with a flavorful warming effect.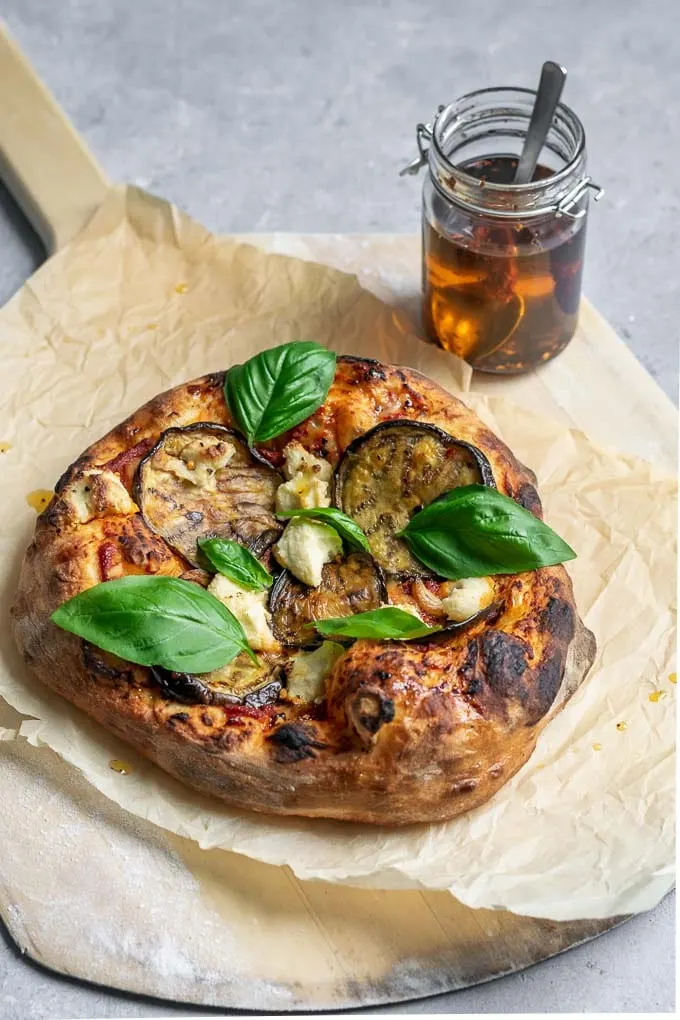 If you tend to find eggplant a bit bitter, you can always salt the eggplant slices before roasting. Salt helps draw out moisture from the eggplant, and bitterness along with it. Cut the eggplant, sprinkle with salt, let it sit somewhere it can drain (such as a cooling rack with a pan underneath to catch the water), then after 30 minutes or so rinse the slices of eggplant and pat them dry.
Then we drizzle the eggplant with the oil, rubbing it into each side to coat and bake until the eggplant is fork tender. You can always use a store bought chili oil if you prefer, or if you're not into spice then just use olive oil.
The eggplant can be packed away and refrigerated for a day or two before baking the pizzas. Or maybe the night before so you can also make your own pizza dough?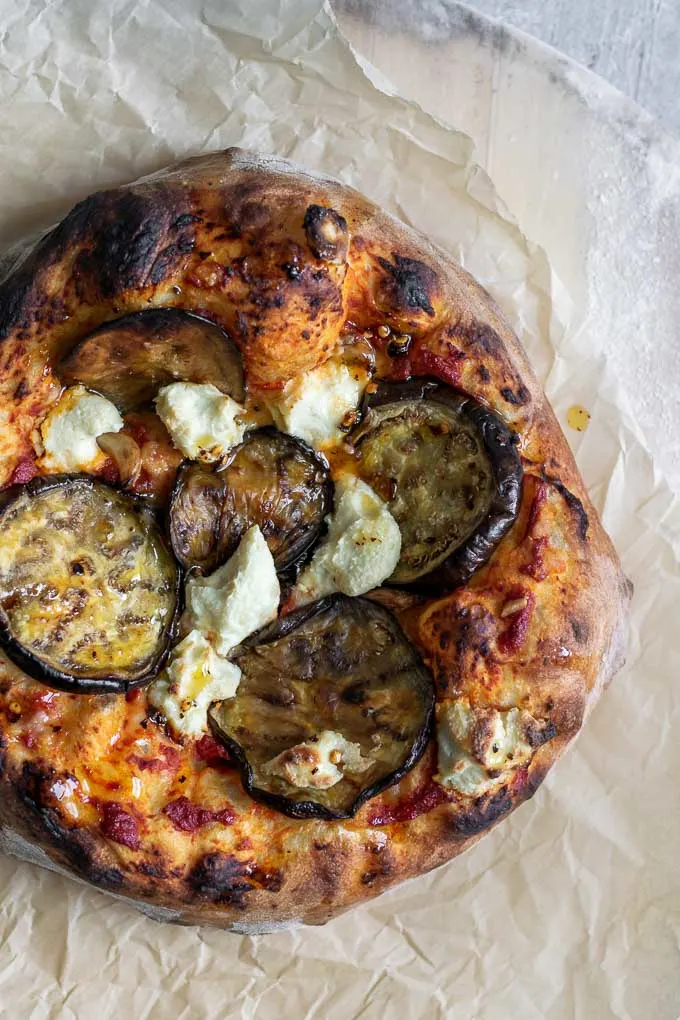 I also like to prep my creamy vegan almond cheese a day or so in advance. I mean, it's even better if it just happens to be in your fridge already because you enjoy it on toast or crackers (and its sooo good that way!).
The creamy, lemony almond cheese pairs perfectly with the chili and eggplant. It's a play on a ricotta pizza, but the flavorful and nutty almond cheese is even better than its dairy counterpart. Dollop it on the pizza last before going in the oven and enjoy the toasty warm bites of cheese.
For the pizza sauce, I made the recipe from my vegan pepperoni pan pizza but any pizza sauce you like will do, whether homemade or store bought. I also like a light sprinkling of vegan mozzarella over the sauce and think it adds a lot to the final pizza, but it's certainly not necessary if you'd rather leave it off.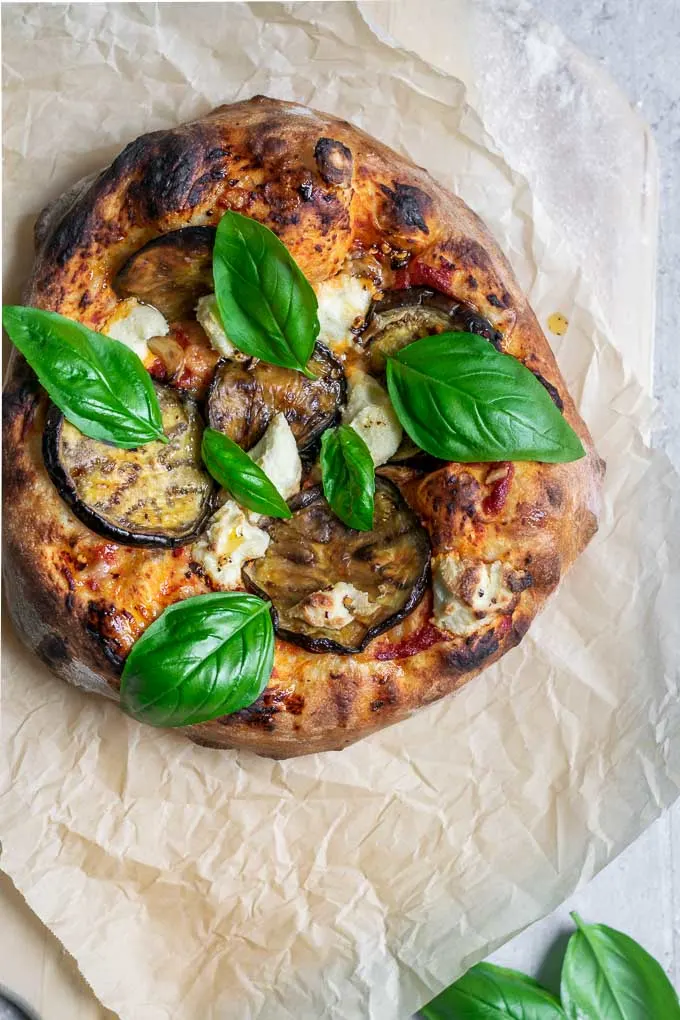 Top the finished pizza with a drizzle of chili oil and some fresh basil, and it turns into the perfect pizza! One that is sure to be enjoyed by vegans and non-vegans alike. Just thinking about this pizza is giving me all the pizza cravings, I will definitely be making this one again!
If you try this roasted eggplant pizza with almond ricotta and chili oil, go ahead and give the recipe a rating and leave a review on the recipe card below! Also don't forget to share your creations with me on Instagram, tag @thecuriouschickpea and #thecuriouschickpea, I absolutely love seeing your photos!
Notes:
You can use my recipe for pizza dough, or substitute a store bought dough as you'd like. The instructions are for 10oz portions of dough, and I typically make 3 at a time.
I like this recipe best with my creamy vegan almond cheese, but for a shortcut you can use a store bought vegan ricotta or nut cheese.
I used the pizza sauce recipe from my vegan pepperoni pan pizza, the extra sauce is great for dipping breadsticks in.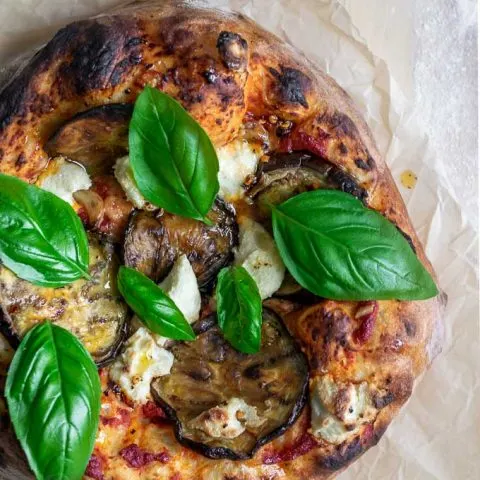 Roasted Eggplant Pizza with Almond Ricotta and Chili Oil
Total Time:
1 hour
40 minutes
This incredible vegan pizza is topped with roasted eggplant, almond ricotta, roasted garlic, and chili oil. Tender and juicy roasted eggplant makes for one of the most delicious pizza toppings!
Ingredients
Roasted Eggplant
2-4 tbsp chili oil, homemade or store-bought
2-3 baby eggplants, sliced into 1/4" thick slices
sea salt
Roasted Garlic
1 head garlic
1 tbsp olive oil
Pizza Sauce
15oz canned whole tomatoes
1 tbsp extra virgin olive oil
1/2 tsp dried oregano
1/2-1 tsp red pepper flakes, to taste
1/4 tsp salt
Everything Else
3 10oz balls pizza dough, homemade or store-bought
Vegan Mozzarella
Creamy Vegan Almond Cheese or store-bought vegan ricotta
Fresh Basil, for garnish
Chili Oil, for garnish
Instructions
Make the Roasted Eggplant & Garlic
Preheat the oven to 425 ºF. Place the sliced eggplant in a single layer on a baking sheet and drizzle both sides with the chili oil and rub it in to coat. Bake the eggplant for 20-25 minutes until juicy and tender, flipping halfway through.
Optional: While the oven is preheating salt the slices of eggplant and let them drain over a cooling rack for 30 minutes. Rinse, then pat dry before drizzling with chili oil and baking. This helps remove some of the bitterness from the eggplant.
Remove the extra papery skin on the outside of the head of garlic. Slice off the tips of the cloves, then place in a piece of aluminum foil and drizzle the olive oil overtop the cut side of the cloves. Wrap the foil to meet at the top and twist to seal. Bake alongside the eggplant until the garlic is soft and golden, about 40-60 minutes. Check after 40 minutes, then continue cooking until desired amount.
Make the Sauce
In a blender combine a couple spoonfuls of the tomatoes and their juices with everything else (olive oil, oregano, red pepper flakes, salt) and blend until smooth.
Add the rest of the tomatoes and pulse a couple of times. Do not overprocess or the sauce will be watery! Set aside until ready to use.
Make the Pizzas
Turn the oven to 550 ºF, or as hot as it will go. Place a rack one third of the way down from the top of the oven, and place a baking steel or baking stone on that rack. You want the oven to saturate with heat for about 1 hour before baking pizza for best results.
At this time also remove the pizza dough from the fridge so it can come to room temperature and the gluten can relax.
When the oven is nice and hot, prepare your pizzas one at a time. Stretch (don't roll!) your dough to around 10-12" diameter and place on a lightly floured pizza peel. Spread the pizza sauce over the dough then top with a light sprinkling of vegan mozzarella. Then top with the roasted garlic and roasted eggplant and dollop with the almond cheese or vegan ricotta.
Transfer the pizza onto the baking steel or pizza stone and bake for about 8 minutes. If needed, turn the heat to broil for another 1-2 minutes to brown the top. Alternatively, bake on a baking sheet: assemble the pizza straight on the pan and place directly in the oven to bake.
Repeat the pizza assembly and baking with the remaining dough.
Let the pizza cool for a couple minutes before cutting and serve drizzled with extra chili oil and garnish with fresh basil (optional). Enjoy while hot!
Notes
This recipe can be made completely from scratch or with storebought swaps for a simpler dish. You can use homemade chili oil or purchase one for use. Use the homemade pizza sauce or a bottled one. Homemade pizza dough or store bought dough (if using store bought I recommend you divide it into smaller dough balls for optimal results in your home oven). You can also make homemade almond cheese or use a storebought vegan ricotta.
Recommended Products
As an Amazon Associate and member of other affiliate programs, I earn from qualifying purchases.