This easy homemade vegan gnocchi recipe makes perfectly pillowy gnocchi that go well in any recipe! You can toast them on the skillet, toss them in sauce, or bake them in a casserole.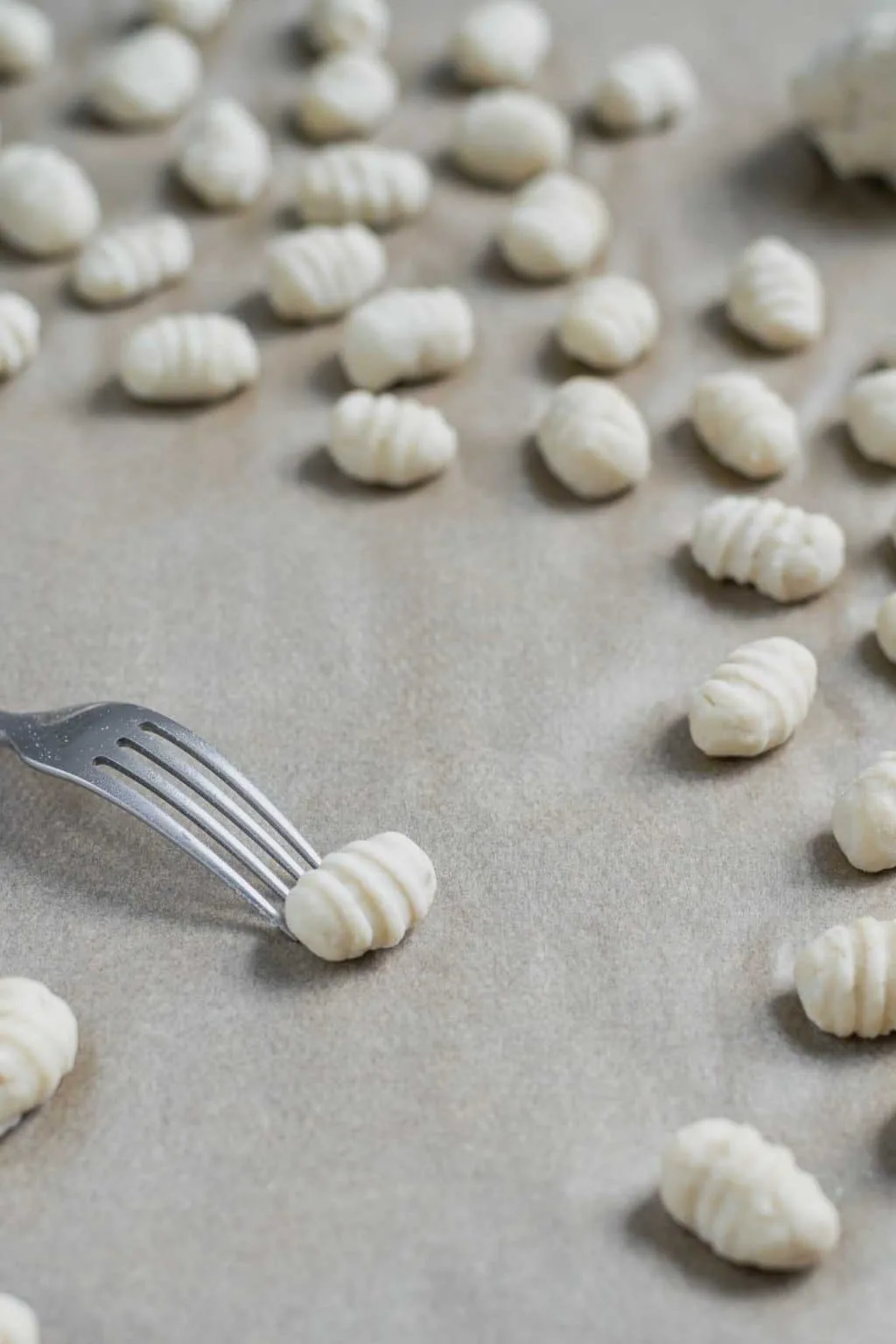 Gnocchi was the first thing I ever cooked. I must have been 4 or 5, and I remember watching PBS (that's the public television channel, for my non-US readers) and there was a cooking show on. And on that show they were making gnocchi. I watched raptly for long enough to know that I NEEDED to have gnocchi in my life immediately!
So I ran over to my dad and told him they were cooking something on TV and we had to make it. My dad comes into the family room and probably catches the tail end of the episode and none of the instructions, but didn't let that deter him.
We immediately went into the kitchen and made some gnocchi, recipe-free. I'm positive it was his first time making gnocchi. The dumplings were probably 3x bigger than typical, made with whole wheat flour, and rather watery and soft. We tossed them in some marinara sauce and called it done. And guys, I was smitten.
Gnocchi became one of my more requested dinners, and I loved every mushy bite. The following year, we traveled to Italy and that was my first time seeing gnocchi on a restaurant menu.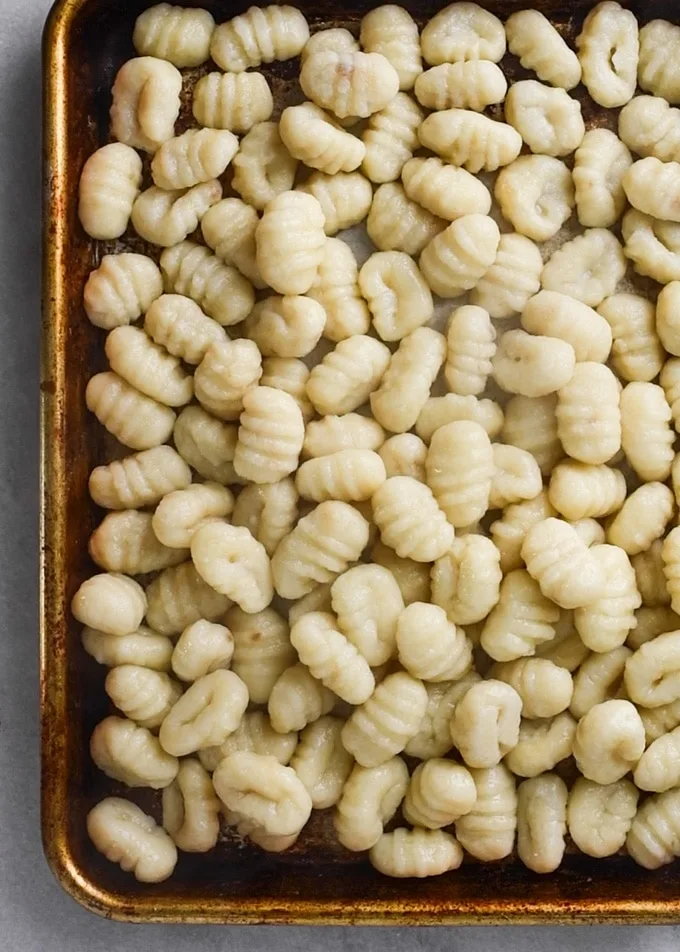 You better believe I ordered it, ate it, and was like WHAT ARE THESE DENSE DUMPLINGS THAT DARE CALL THEMSELVES GNOCCHI.
Yeah, it was a bit of a shock that the gnocchi my dad and I had been making for *forever* (in kid time, it really was) weren't exactly authentic. And that was my last time eating non-dad-made gnocchi for quite a few years.
Fast forward a bit in time, and I came to realize that the traditional pillowy, chewy gnocchi were actually the gnocchi of my dreams. And thankfully my cooking skills advanced a bit, haha.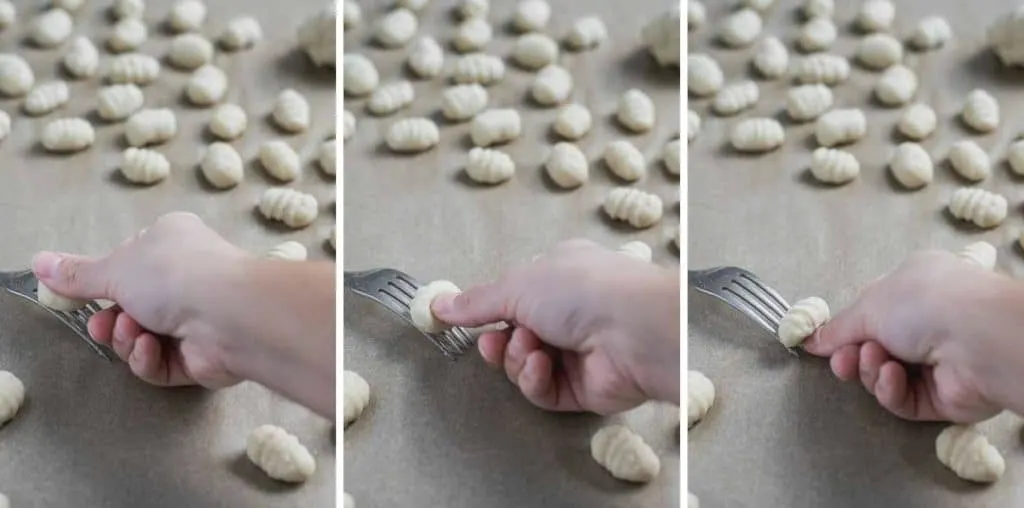 How to make gnocchi?
Gnocchi is probably the easiest homemade pasta to make. At the basic level, you just have to cook a potato, then mix a bit of flour into it, make little balls out of the dough, then boil the dumplings to cook them. But you start looking for recipes and you see there are somehow hundreds of variations on the most simple food.
Do they need egg, or not? Should the dough be salted? The water? Both? Neither? Do you bake or steam or boil the potatoes?
Well, there's a reason recipes seem overly complicated, and it's not that gnocchi is complicated, it's just that there are variables that are difficult to control. Namely, how much moisture is in the potato after cooking.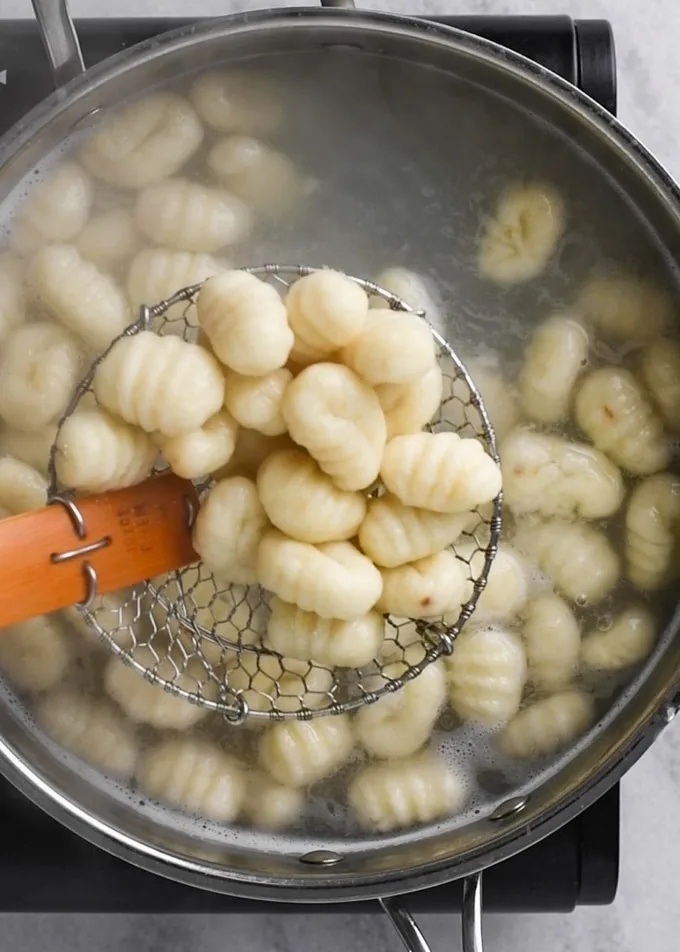 More moisture in the potato means you should use more flour, and so it's best to use the recipe as a guideline and make adjustments as needed.
When making gnocchi from 1 potato it might be small adjustments (a tablespoon or maybe 1/4 cup flour), but as you make more at a time this compounds and you might find yourself scratching your head that you need almost a cup more of flour than the recipe called for.
Bake your potatoes.
Here's the deal: I baked the potato as the resulting cooked potato has the least amount of water. I also let the potato cool before making the gnocchi. In part so I didn't burn my hands trying to knead hot potato into a dough, but also because it loses additional moisture as it cools.
When I use this method, and weigh my potato, my measurements are pretty consistent for making gnocchi. That being said, if you don't/can't weigh your baked potato, or if you choose to steam the potato instead of baking, you might need to use more or less flour. I judge my dough on feel, not just on if I've added the correct amount of ingredients.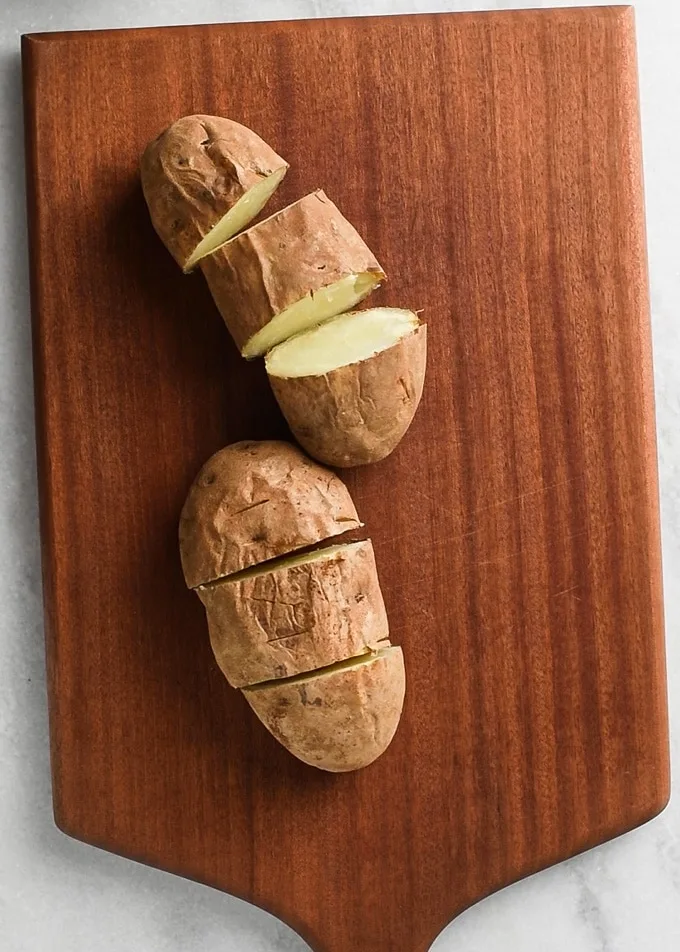 You'll know you have enough flour in the dough when you can shape it and work with it without having a horribly sticky mess.
If the dough is very wet, sticky, and soft work more flour into it until it's not sticky. If the dough is too dry and you can't get it to come together, add a bit more oil. You shouldn't need much, unless you started with less potato. It's quite simple to adjust the dough until it's workable, so don't be intimidated!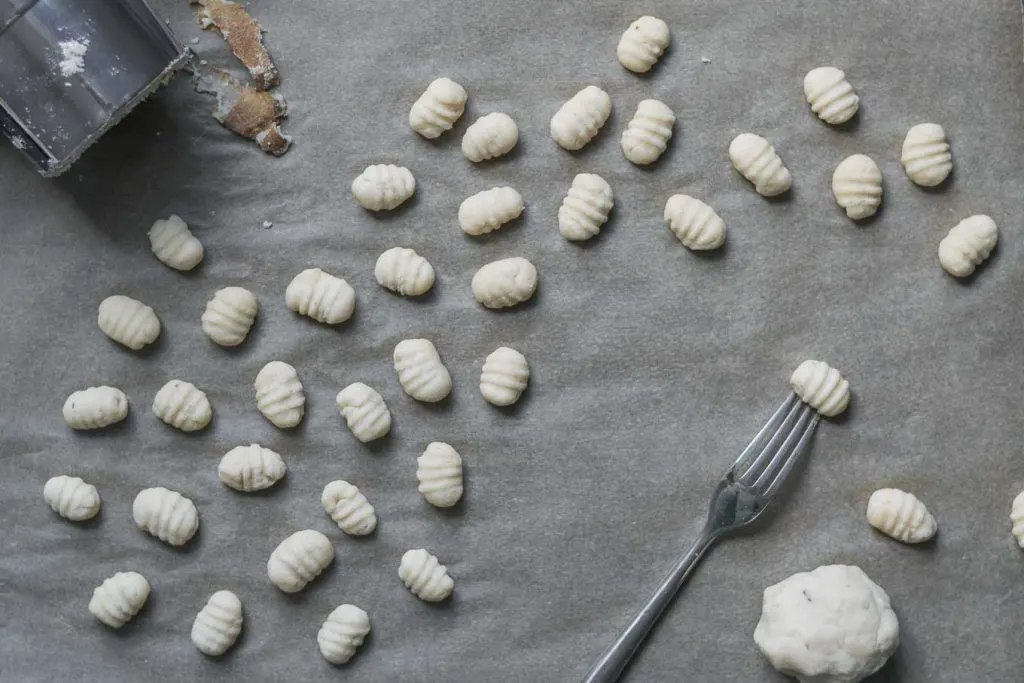 I add a bit of oil to the dough it helps tenderize the dough, which otherwise has the potential to get a bit tough (especially in an egg-free dough). I do add a bit of salt to my gnocchi dough, because salt is flavor.
Boil in salted water and cook in advance.
I also cook it in salted water, so that the dough doesn't soak up too much water. The resulting cooking gnocchi are pillowy and chewy, but not gummy. They're just perfect.
They'll firm up a bit more as they cool, so I love making gnocchi and boiling it a little in advance of using it in my final dish.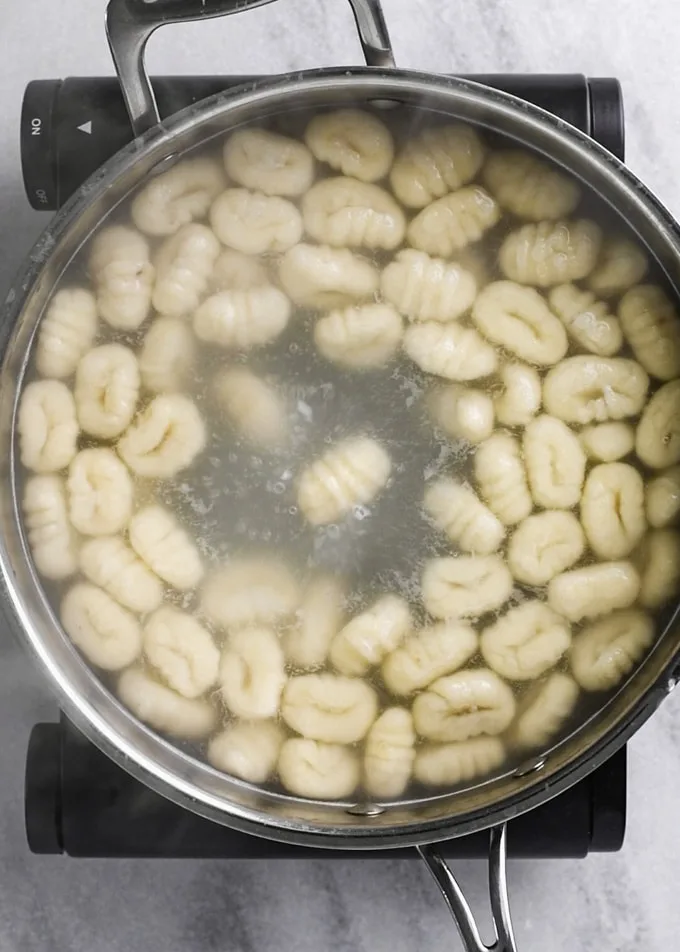 I hope you guys love making your own gnocchi! It's so fun and easy. I love the repetitive movement of making those little dumplings, it's so relaxing.
Do you need to make the grooves?
Though, while it's fun to make the grooves (and helps the sauce stick to them), you certainly can skip that step, and just form little balls, or roll out the dough into a rope and cut it into little pieces. It's a nice time saver for even quicker gnocchi!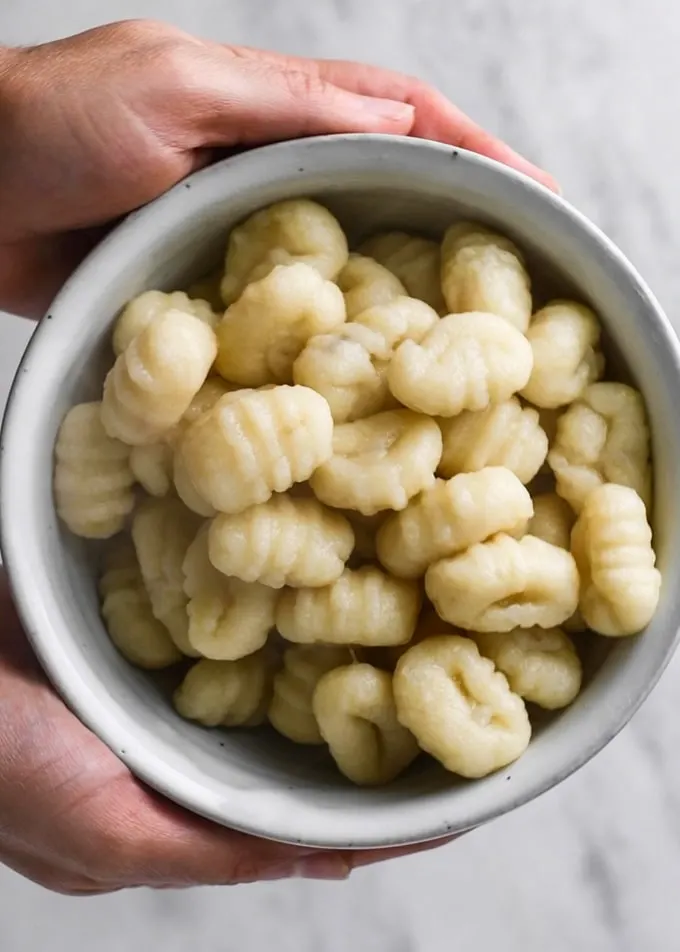 Can you make the gnocchi in advance?
I recommend that you do! The gnocchi firms up a bit after cooking, so I prefer to make and cook the gnocchi the day before I want to eat it. This isn't a strict rule and you can also enjoy it right away.
You can reheat cooked gnocchi either in the sauce it's being served in, or by blanching briefly in boiling water. You can also toast it on the stove in a bit of olive oil!
Another option is to freeze the gnocchi in a single layer on a baking sheet, then when frozen solid, put in a freezer safe bag or container. Then cook the gnocchi straight from frozen. They will take longer to cook this way, so wait for them to float then boil 1 additional minute.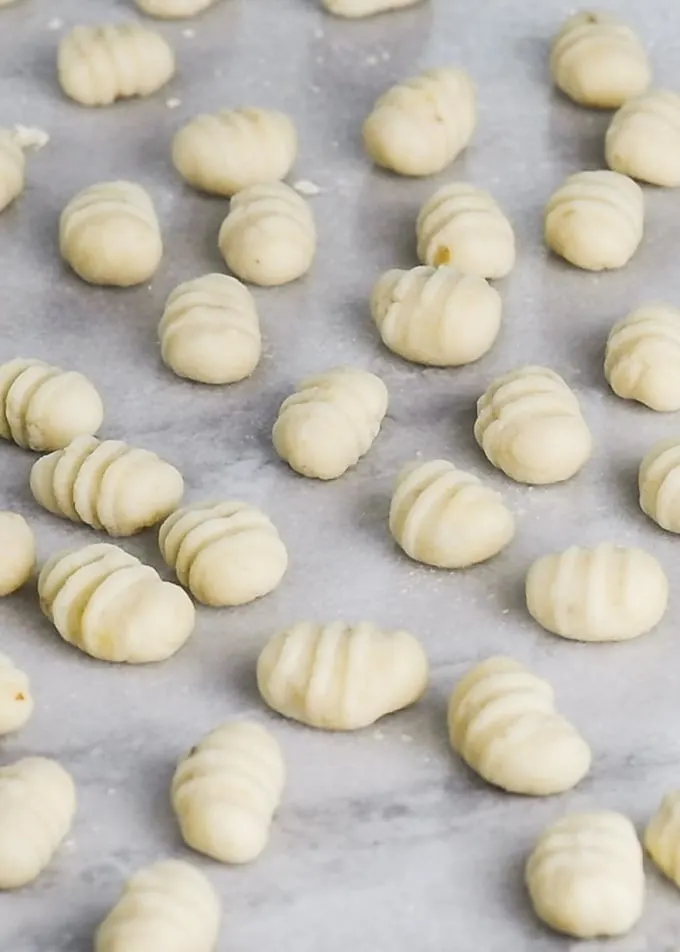 How to use the cooked gnocchi:
There are so many tasty ways to enjoy gnocchi, and I have some gnocchi recipes for inspiration! But really you can enjoy it however you want!
If you enjoyed this recipe, check out and share my Easy Homemade Vegan Gnocchi Recipe Story with your family and friends! Thank you!
If you make these homemade gnocchi, leave a comment below and rate the recipe on the recipe card. And please share your photos with me on Instagram, tag @thecuriouschickpea and #thecuriouschickpea. I love seeing your recreations!
Notes:
The amount of potato given is after it's been baked and the skin removed, as it's hard to say exactly how much weight your potato will lose while cooking. I would start with 2 1/2 to 3 lbs of raw russet potato, as it's easy to add more flour if the mixture is sticky.
You don't need to rice your potatoes, but riced potatoes do make better, fluffier gnocchi. I don't recommend many single-use appliances, but if you like mashed potatoes and gnocchi, a potato ricer like this one is a great (and small) investment!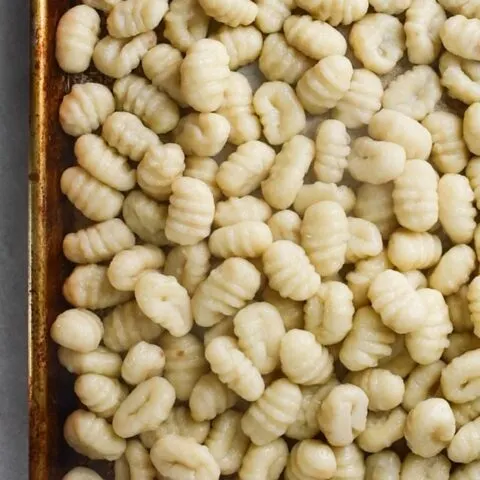 Easy Homemade Vegan Gnocchi Recipe
Yield:
2 lbs cooked gnocchi
Making homemade gnocchi is incredibly easy and only requires 4 pantry friendly ingredients. This recipe makes 1 3/4 lbs uncooked and about 2 lbs cooked gnocchi, which feeds around 4-8 people depending on appetites and how it's prepared.
Ingredients
1 lb 4 oz (535g) baked and peeled russet potatoes* (~4 1/2 cups riced, unpacked)
1 tsp (5g) salt
2 tbsp (20g) olive oil
2 1/2 cups (284g) all purpose flour, more as needed
Instructions
Take the peeled, cooked and cooled potatoes and cut them into sections. Using one section at a time, press them through a potato ricer. Alternatively, mash them well so that no lumps remain.
In a large bowl add the riced or mashed potato, salt, olive oil, and flour and using clean hands mix the ingredients together and then squeeze to gently knead it into a cohesive ball. If the mixture is sticky add flour until it no longer sticks to your hand. If you can't get the flour to fully absorb and mix into the potatoes add a little extra olive oil until it comes together. The key is to not have a wet and sticky dough so that it's easy to work with and form into little dumplings.
Keeping the dough covered so it doesn't dry out, take a small section at a time to form into the gnocchi. Take a 1 tsp (~6g) piece of dough and squeeze it in your fist to make a compact and roughly shaped ball, then roll it between your palms to make it round.
For the traditional gnocchi shape with the grooves on one side, place a fork sitting face down on the counter and take the ball and place it at the top of the backside of the tines of the fork. With your thumb on the piece of dough, slide the gnocchi down the tines of the fork until you reach the counter. The gnocchi will turn under your thumb until it has grooves going around about 3/4 of the dough and a small inset divot where your thumb was.
Repeat with remaining pieces of dough. If the dough becomes sticky at any point, toss shaped gnocchi with flour so they don't stick together and knead a bit of extra flour into the remaining unshaped dough.
To cook the gnocchi, bring a large pot of salted water to a boil. Add half the gnocchi to the pot and let it cook for about 4-5 minutes, or until the gnocchi float to the top and have cooked an additional minute at the top. Remove the cooked gnocchi with a slotted spoon and then cook the second batch of gnocchi.
Use the cooked gnocchi in your favorite recipe, or store in the fridge for up to a week (you can freeze for longer).
Notes
*Potatoes can lose 30-40% of their weight when baked, but this will vary depending on how long you baked them, if you baked them covered in foil or not, and how much you let them cool (thereby losing more moisture via evaporation) before using. As a general guideline use 2 1/2 lbs of uncooked russet potatoes to get 1 lb 3-4oz after baking. It's easy to add extra flour if needed.
**To bake the potatoes: Prick in many places with a fork or knife, then bake covered in foil or uncovered and on a baking tray) at 425 ºF for 45-60 minutes, or until soft and easily pierced with a fork. You can shave off 15-20 minutes by microwaving the potatoes for 3 minutes before baking. Let them cool before using.
*If you use previously baked potatoes that have been hanging out in the fridge, microwave them for 1 minute to make them softer and easier to rice or mash.
Nutrition Information:
Yield:

8
Serving Size:

1
Amount Per Serving:
Calories:

194
Total Fat:

4g
Saturated Fat:

0g
Trans Fat:

0g
Unsaturated Fat:

3g
Cholesterol:

0mg
Sodium:

4mg
Carbohydrates:

34g
Fiber:

2g
Sugar:

0g
Protein:

5g
Nutrition is calculated automatically so should be used as an estimate.
Some Recipes to use your homemade gnocchi in: