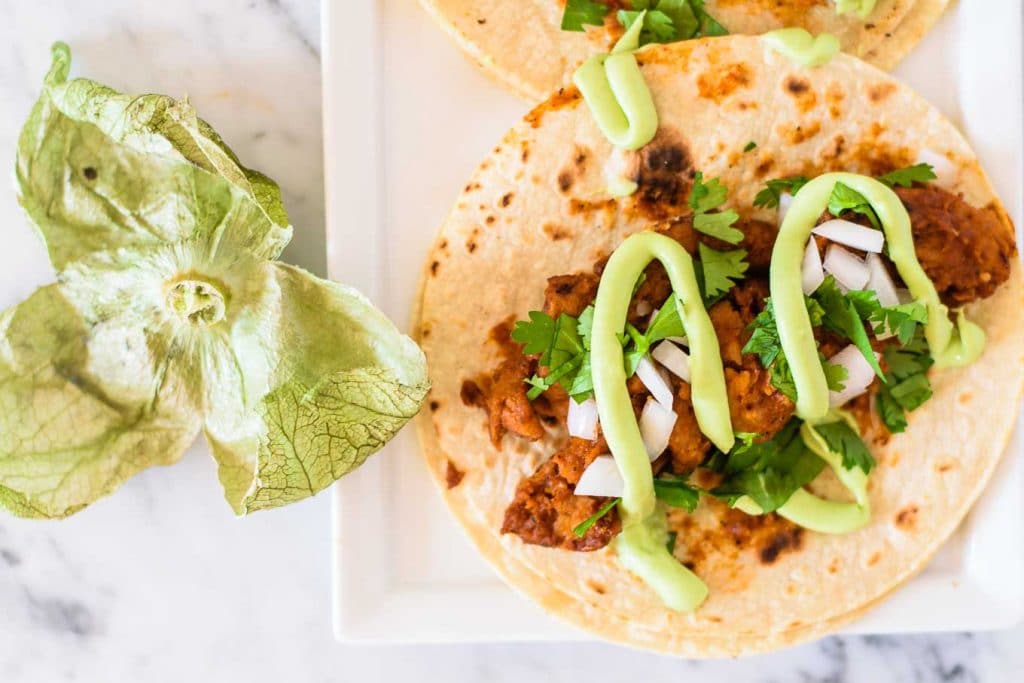 Have you guys ever had tinga? It's a traditional Mexican dish where shredded chicken (which is easily substituted to make it vegan) is cooked in a tomato, onion, and chipotle in adobo sauce. The simple sauce is made of only TEN ingredients and packs a ton of flavor. It's tangy and smokey, tomatoey and oniony, and oh so mouth-watering delicious. It quickly became a favorite around here, to the point where we made 4 batches in one week–in part because the first day I made it Omar ran out to the store for more tortillas (not that we were out yet) and brought home a 5-pound bag of them. Did you know they sold tortillas in 5 lb bags? Me either. For those of you concerned about our current tortilla status, we had some friends over for a tinga taco party (I highly recommend you do the same) and that took care of most of them.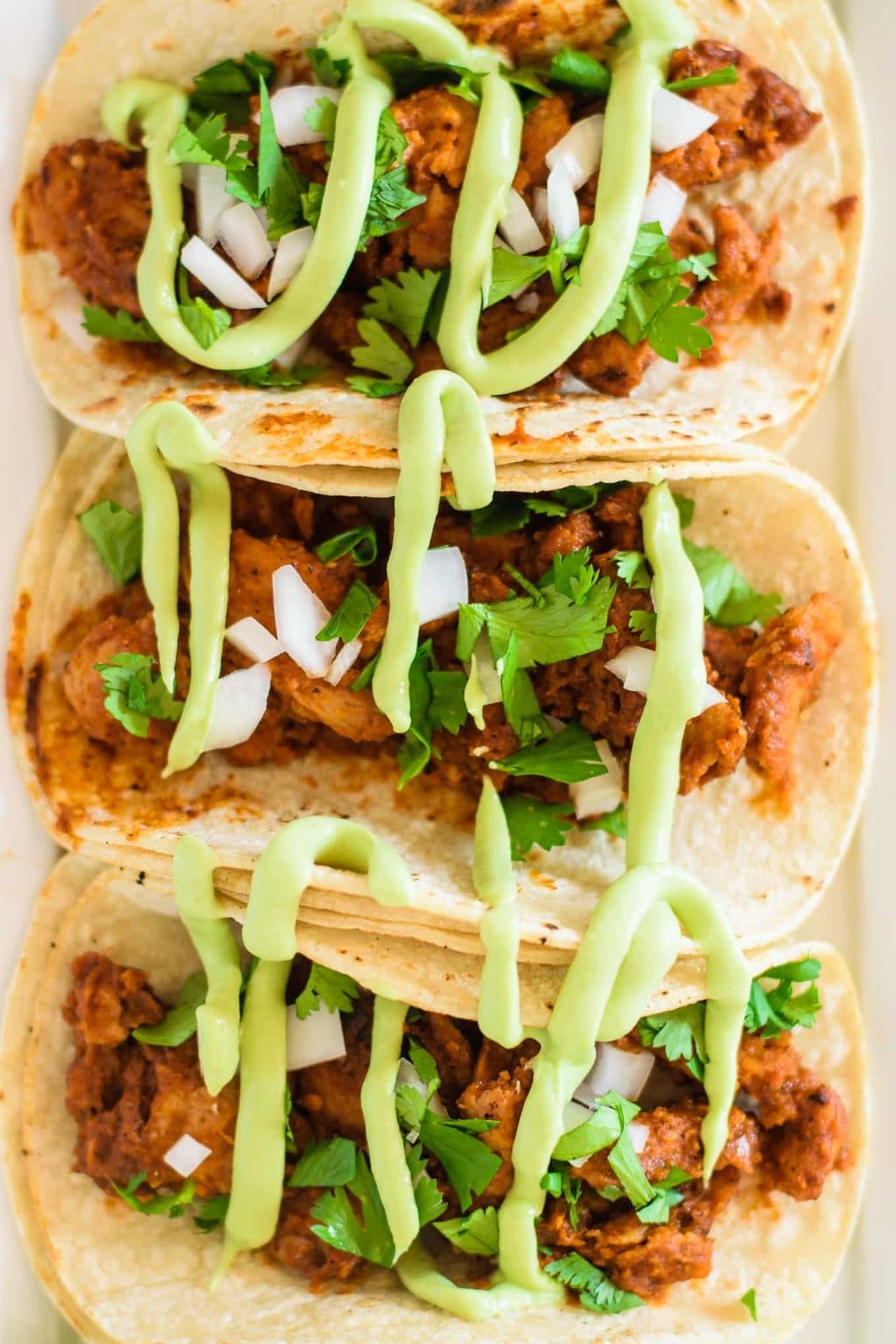 I can't believe this is the first taco recipe I'm sharing with you! I certainly haven't been devoid of tacos in my life, though I will say we eat a lot less of them since moving away from Chicago. It's really hard to get decent corn tortillas here (and don't even get me started on the tortillas chips), so sometimes I make my own (or go all out and make pupusas–yum!), but more often we'll stick with the flour ones, which are not the same at all! The ones we do buy, I hate to say, have some preservative in them. But if they're not eaten fresh, corn tortillas without preservative get super hard and weird and undesirable. I actually grew up thinking I hated corn tortillas because all we bought were those hard and crumbly ones! Corn tortillas should be soft and almost doughy, tender and pliable. Anyway, this isn't a post about tortillas, so, moving on!
In Chicago we would go to this vegetarian Mexican restaurant, Quesadilla La Reina del Sur, that offers vegan versions of all the traditionally meat-heavy dishes. Having grown up vegetarian, it was my first real exposure to dishes such as tinga, chicharrones, barbacoa, and pastor. And now that we've moved away, having access to inexpensive, delicious, vegan Mexican street food is something we really miss. So, when a craving for Mexican food hit strongly a few weeks ago I decided to take matters into my own hand. Tinga was my recipe of choice because it's Omar's favorite, and definitely a top 5 of mine (I am REALLY bad at picking favorites).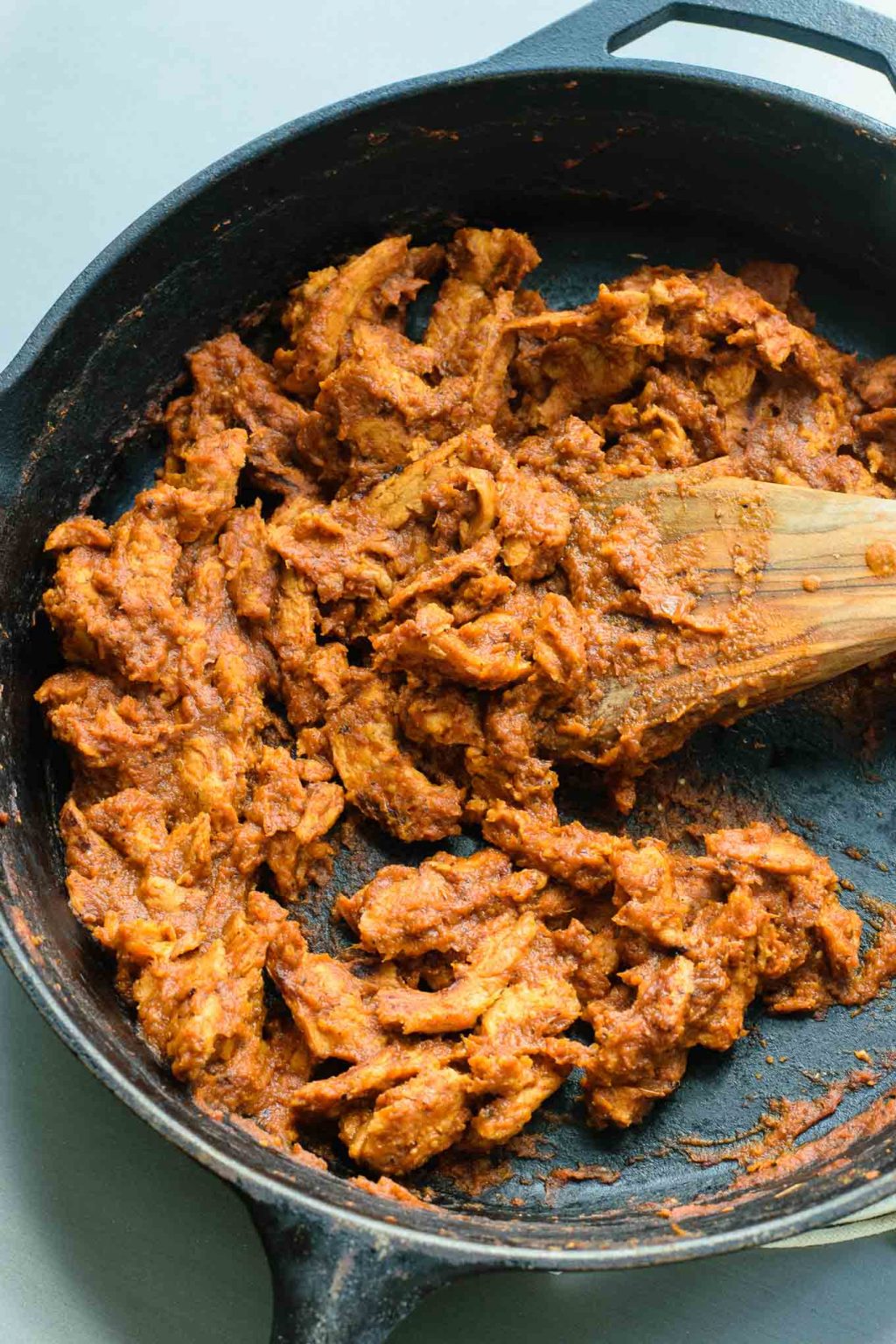 Tinga is such an easy dish to make! I tried both soy curls and seitan in place of the shredded chicken. While both were excellent, soy curls were my favorite in this application, as they soak up the sauce so perfectly for a less-messy taco eating experience, and literally burst with juicy tomatoey tinga flavor when you eat them. It also keeps the dish completely gluten free if that's something you're worried about! Seitan is easier to source though, and will probably end up being our go-to version as we don't always stock soy curls in the pantry.
For the tinga sauce, I researched the different versions and recipes, but found myself especially drawn to recipes that included tomatillos. Tomatillos are delightfully tangy and the perfect complement to sweet tomatoes. I used fire roasted tomatoes with green chili for an extra layer of smokey flavor and a little extra heat. If you can't find the kind with chili just use plain fire roasted–or see notes below about using fresh tomatoes. For the chipotles I used both the pepper and the adobo sauce for max smokey tomato flavor (while we're talking chipotles, this is our favorite out of the many brands we've tried over the years). The chipotles can be seeded or not, I prefer them not seeded and do not find it more than a mild to medium heat, but when making tinga for my spice-adverse friends I seeded the chipotles and the tinga was very mild. Lightly caramelized onion provides the base along with garlic, which is smashed and left whole for a more sweeter and subtler flavor. Mexican oregano and thyme are all the herbs you need for this ultra flavorful dish.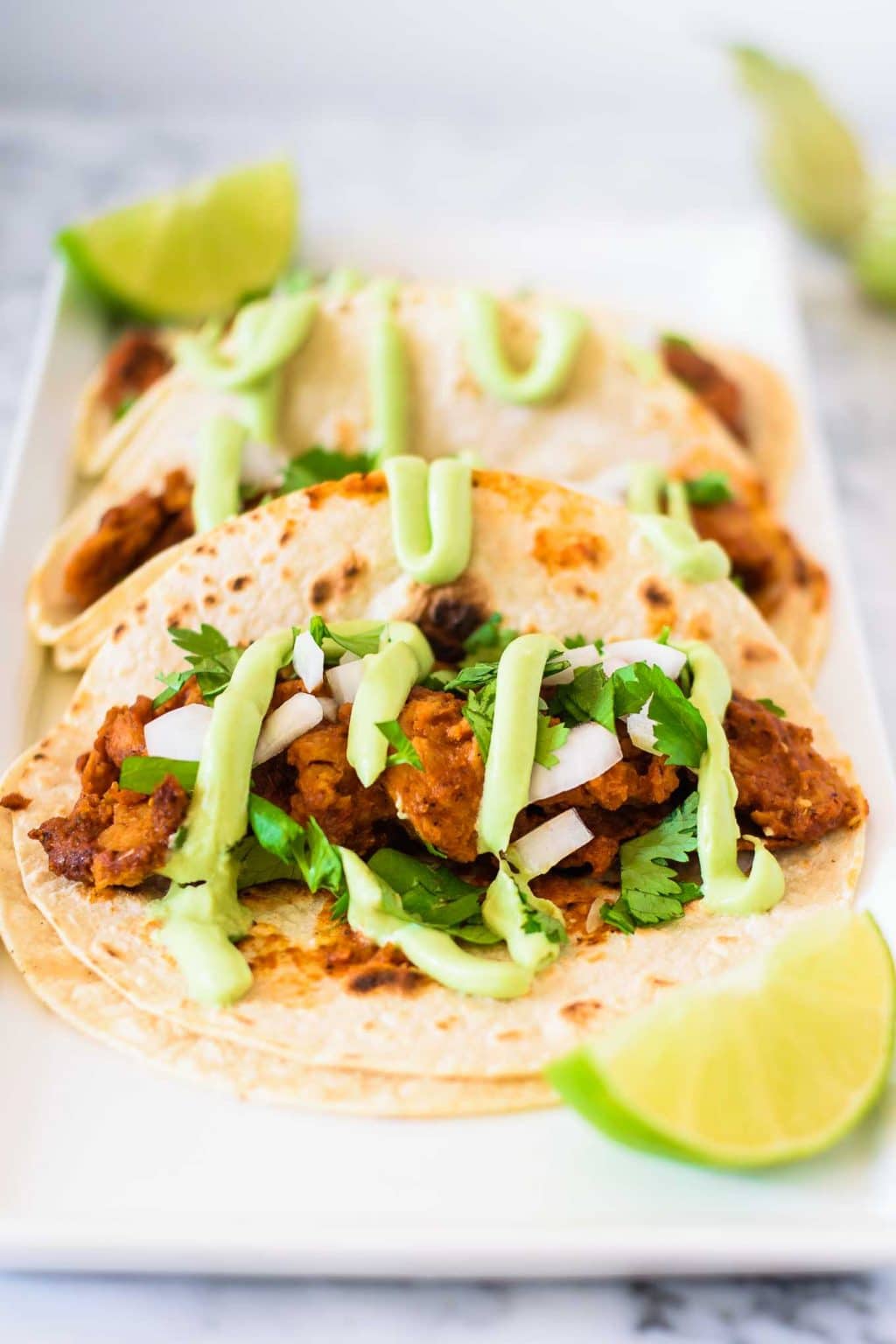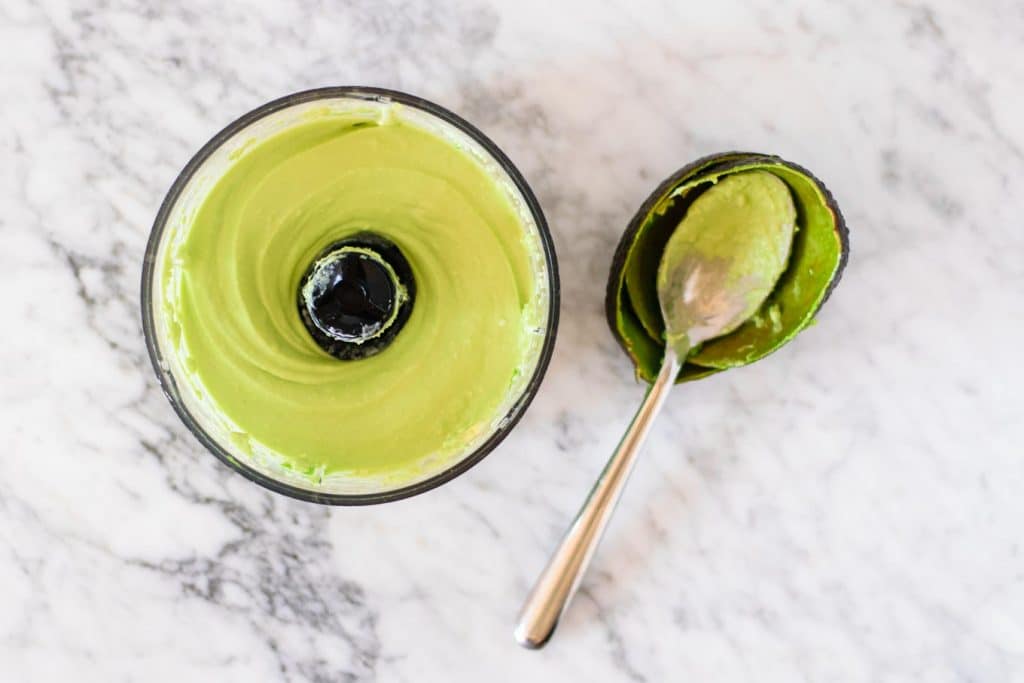 This recipe is so good that Omar lost his mind and ate 8 tacos the first night I made it. He can't look at the photos of the tacos without getting serious tinga cravings. To be fair, I've been struggling with the cravings too. I hope you guys enjoy these tinga tacos as much as we did! And make the avocado crema! It's simple and I haven't mentioned it yet, but it's the perfect cool and tangy accompaniment to tinga. It also stores way better than guacamole ever would, lasting for days in the fridge without any browning!
If you try this recipe, let me know how you liked it! It makes me so happy to see my recipes out in the wild. Leave a comment and/or rate the recipe below, tag me on Instagram (or #thecuriouschickpea), or share with me on Facebook!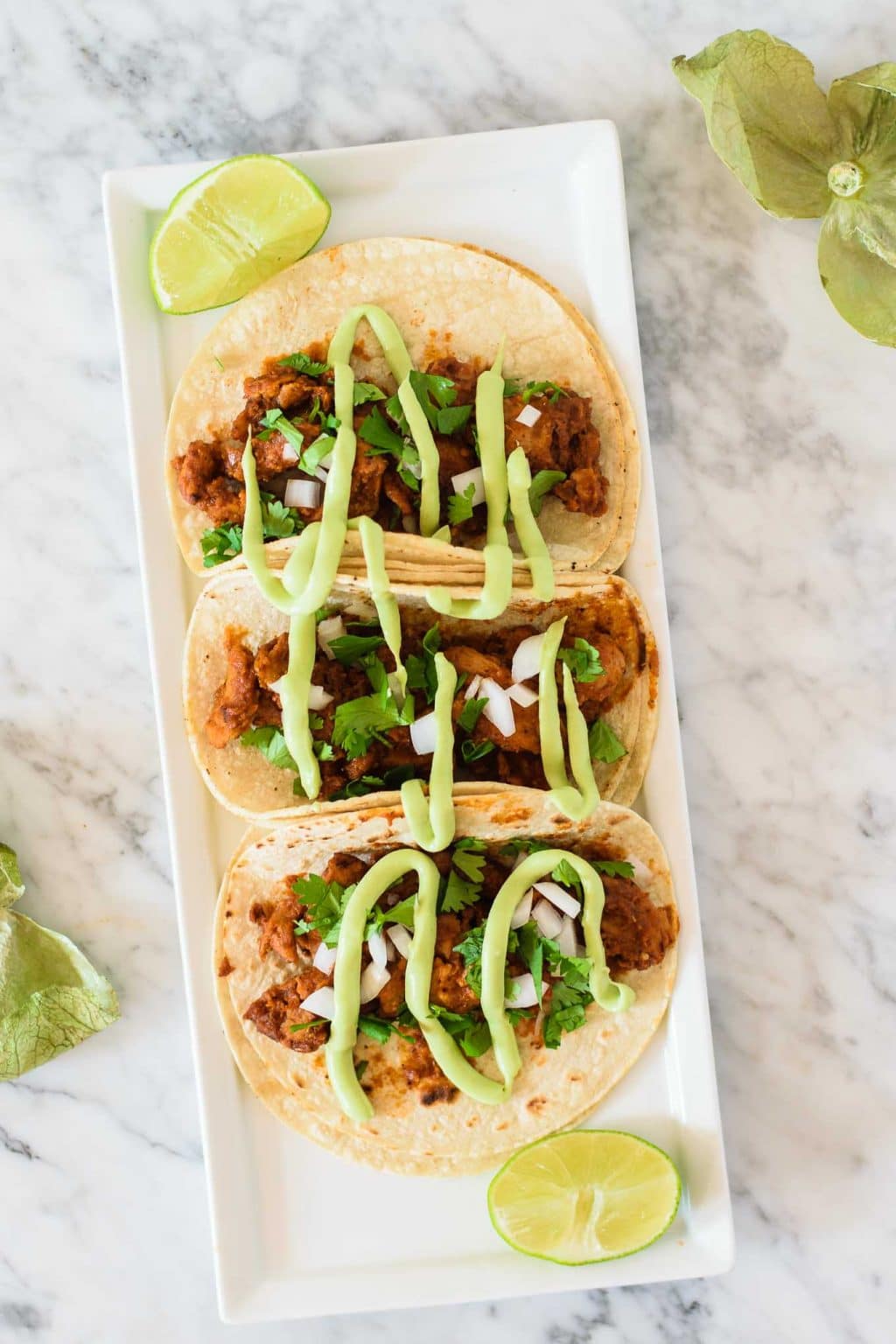 Notes:
For a gluten free meal use soy curls. For a soy free option use seitan.

If you can't find tomatillos but can find salsa verde (check the label for a short list of ingredients including tomatillos), try substituting in some of that to taste. I'd start with 1/2 cup salsa. Otherwise add some fresh squeezed lime juice at the end for the tangy flavor.

I chose to use canned tomatoes for simplicity sake, but it is tomato season so if you want to substitute fresh tomatoes: roast them under the broiler until blackened in spots, roughly chop (peeling first if desired), and measure out about 1 1/2 cups to use in place of the canned.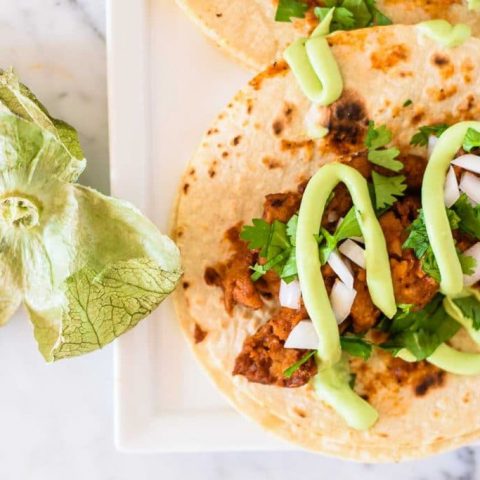 Vegan Tinga Tacos with Avocado Crema
The traditional Mexican dish tinga gets a vegan makeover with this flavor-packed recipe. Smokey, spicy, tomatoey, saucy. Your choice of seitan or soy curls. All in delicious corn tortillas smothered with an avocado crema.
Ingredients
Tinga
2 1/2 cups (~3.5 oz) dehydrated soy curls -OR- 1 lb seitan, cut into bite sized strips
1 tbsp oil
1 cup diced yellow onion (~1/2 large)
2 cloves garlic, smashed and peeled
1 15 oz can (1 1/2 cups) fire roasted tomatoes, ideally with green chili
1 cup diced tomatillos (~1-2 large), fresh or canned
2 tbsp chipotles in adobo chopped + 2 tbsp adobo sauce
1 tsp Mexican oregano (or substitute mediterranean oregano)
2 sprigs fresh thyme, or 1/2 tsp dried
1/2 cup vegetable broth, no-chicken style or water
1 tsp salt, or to taste
freshly ground black pepper
Avocado Crema
1 ripe avocado, peeled and pit removed
1/4 cup vegan sour cream
1/4 tsp salt, or to taste
2 tbsp freshly squeezed lime juice (~1/2 lime)
For the tacos
corn tortillas
yellow onion, small dice
cilantro
Instructions
To make the tinga
If using soy curls, place them in a heat proof bowl and cover with ~2 cups of boiling hot water. Set aside covered until cool enough to handle (~15 minutes). Once they've cooled enough, drain and squeeze the extra water out of them by hand. Set aside until ready to use.
Preheat a large nonstick skillet, such as cast iron, over medium heat. Add 2 tsp of oil and the onions, and sauté 4-5 minutes, stirring occasionally, until lightly golden brown. Add the smashed cloves of garlic and cook an additional 1 minute.
Add the chipotles and adobo, tomatillos, tomatoes, oregano, thyme, salt, black pepper and 1/2 cup of broth or water. Lower the heat and bring to a simmer. Cook for 7-10 minutes until the tomatoes and tomatillos have broken down. Remove the sprigs of thyme if using fresh.
Transfer the sauce to a blender and blend until smooth, venting to allow steam to escape. Or use an immersion blender.
Turn the heat back up to medium, and add the remaining teaspoon of oil to the pan. Fry the soy curls (or seitan if using) with a pinch of salt for 3-5 minutes until they are lightly browned.
Turn the heat to low, and pour in the sauce. Be careful of splattering as the liquid hits the hot pan. Cook on low, simmering, for 12-15 minutes until the sauce is reduced and thickly coating the soy curls (or seitan). Taste and adjust seasoning if necessary.
To make the avocado crema
Combine everything in a small food processor or blender and process until smooth. Taste and adjust salt or lime as desired. Add water or a little olive oil to thin if desired.
To assemble the tacos
Heat the corn tortillas and place in a tortilla warmer or cover them with a clean towel to steam and keep warm.
Layer 2 tortillas and place hot tinga into them. Sprinkle diced onion and cilantro over top, then finish off with a drizzle of avocado crema. Enjoy!