Tinga is a delicious tangy, tomatoey, smoky Mexican dish that traditionally is prepared with chicken or beef. In these vegan tinga tacos, we use soy curls instead which soak up the flavorful sauce beautifully and if you pair it with corn tortillas the whole recipe is gluten free!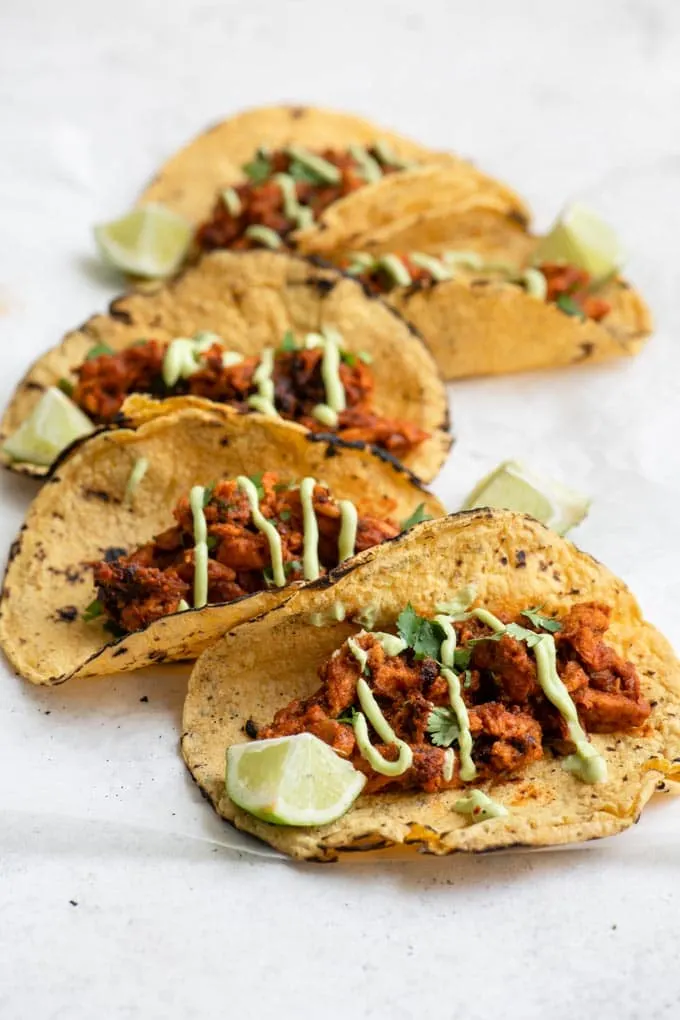 Tinga is a Mexican dish with amazing flavor. And while it's traditionally prepared with chicken, there is no reason we can't make it vegan!
The flavorful sauce is simple to put together, and addictively good. I'm telling ya, taco night is even better when my vegan tinga is part of the spread!
Tinga is definitely in our top 5 favorite taco fillings, and I say that as a really big taco lover!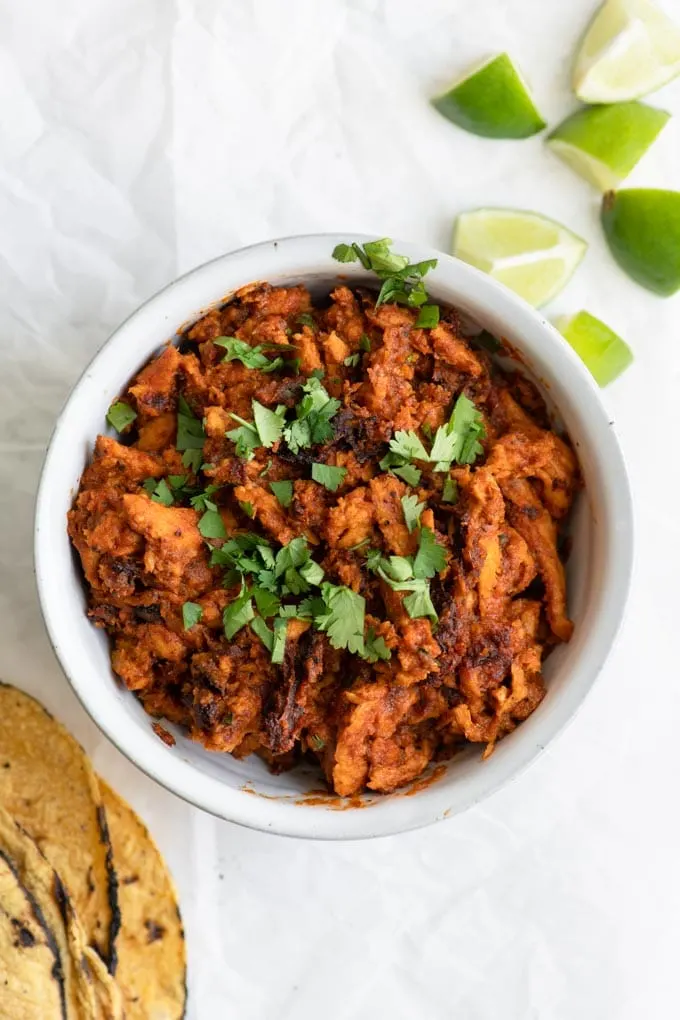 It also makes for a great burrito filling, toastada topping, huraches filling, or really any other Mexican dish your mind can think of! Tinga torta? Yes, please!
I love serving vegan tinga tacos with a generous heaping of avocado crema and a side of beans and rice to make it a feast.
Now let's get down to the details, and first things first, we need a protein to replace the meat!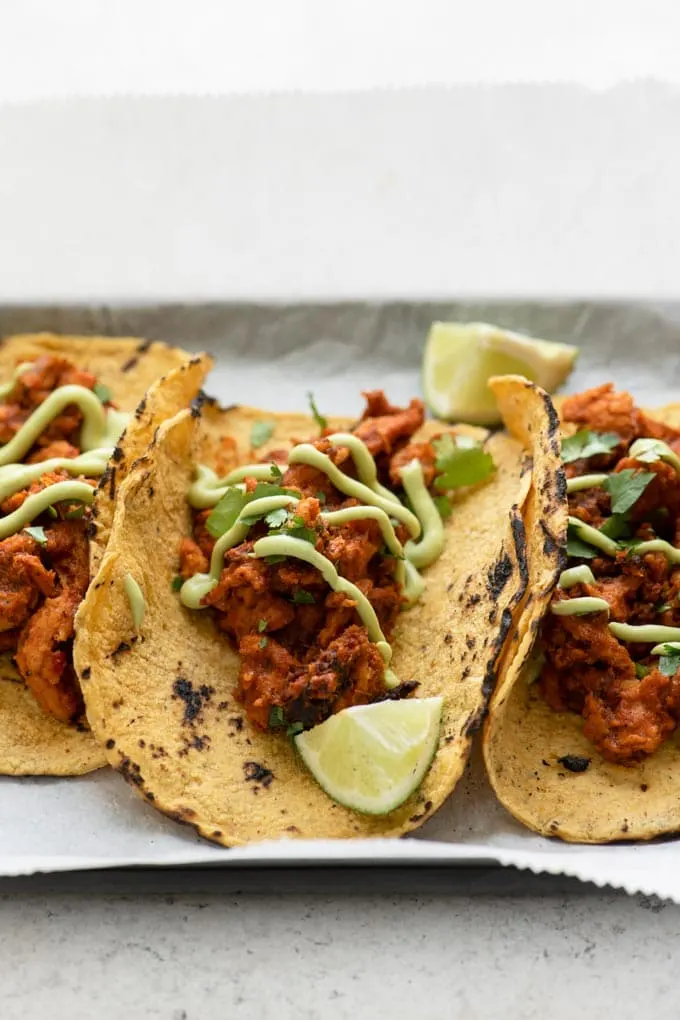 Options for the vegan meat:
You can make this recipe using soy curls (my personal favorite) or seitan.
Soy curls are made of soy protein and are purchased dehydrated making them perfect pantry items to keep stocked up. When rehydrated they are super chewy and perfect for soaking up sauce and flavor.
This recipe was developed using soy curls, as they do a better job at soaking up the juicy tomatoey tinga sauce. They also keep the recipe 100% gluten free!
That being said, you can certainly cook it with seitan and I have quite a few times.
If cooking this sauce with seitan, choose a plain or chicken style seitan and hold back some of the sauce unless you want a messier taco eating experience. Which is fine, I won't judge!
Saucy is good.
The tinga sauce:
Tinga is a spiced tomato chili sauce that uses chipotles for their delightfully smoky flavor.
You start with your usual suspects: onion, garlic, and tomatoes. For the tomatoes I like to use fire roasted with green chilies as it deepens the smokiness of the sauce.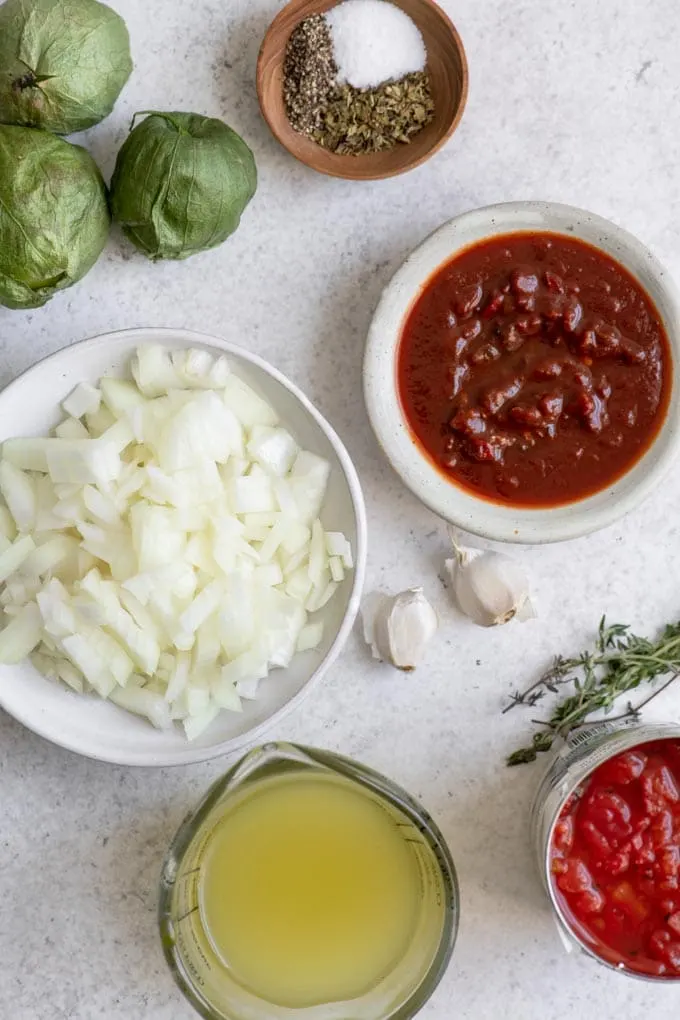 You can certainly substitute other canned tomatoes in this dish, and since it gets blended at the end it doesn't matter if they're diced, crushed, or whole. If using whole tomatoes break them apart with your hands or the spatula when adding.
I chose to use canned tomatoes for simplicity sake, but if it's tomato season and you want to substitute fresh tomatoes: roast them under the broiler until blackened in spots, roughly chop (peeling first if desired), and measure out about 1 1/2 cups to use in place of the canned.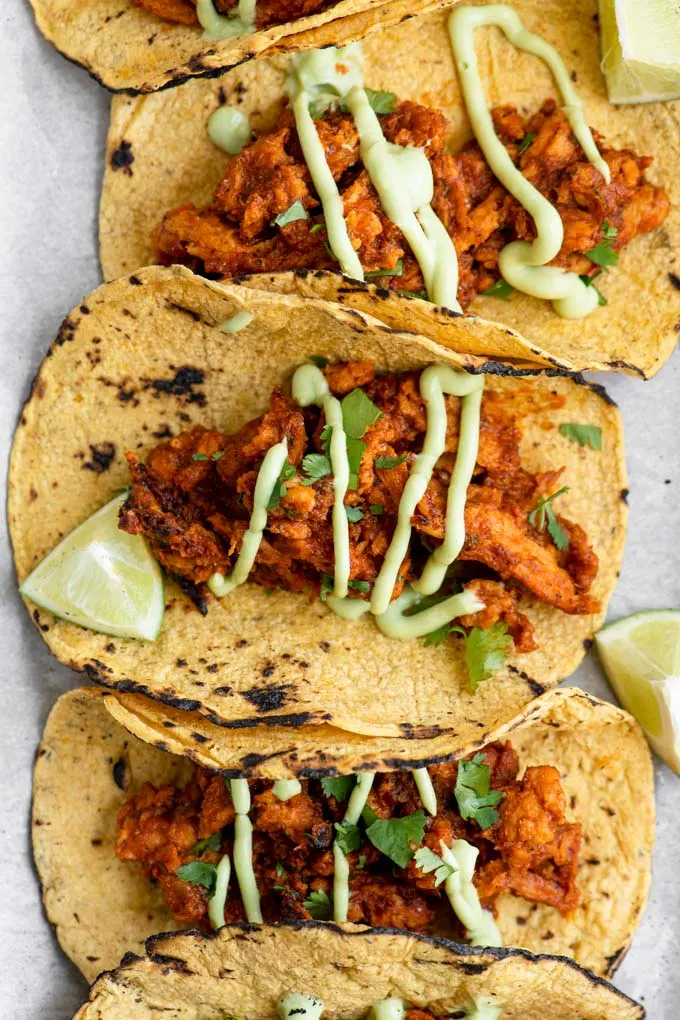 Next up comes a tangy twist when tomatillos are added to the mix! Though they look like tomatoes they're actually more closely related to the husk cherry. Tomatillos have such a fresh and bright flavor and liven up the tinga sauce beautifully.
Tomatillos can be used fresh, but if out of season or unavailable you can substitute canned. In a pinch you could even use tomatillo salsa (aka salsa verde). I'd use about 1/2 cup.
And if tomatillos are not your thing for whatever reason, add some lime juice at the end to give some of that zing!
Like I mentioned, those chipotles in adobo get added as well. I add both the chilies themselves (you can seed them if you're spice sensitive) as well as the adobo sauce they come in.
For spices we add oregano and thyme. If you can get Mexican oregano this is a perfect place to use it, but otherwise the regular old Mediterranean oregano works fine! I love fresh thyme when I have it, but dried can be substituted.
Then its just a matter of a bit of broth or water and salt and pepper to season and the sauce is ready! Well I mean, you have to cook it then blend it, but then it's ready!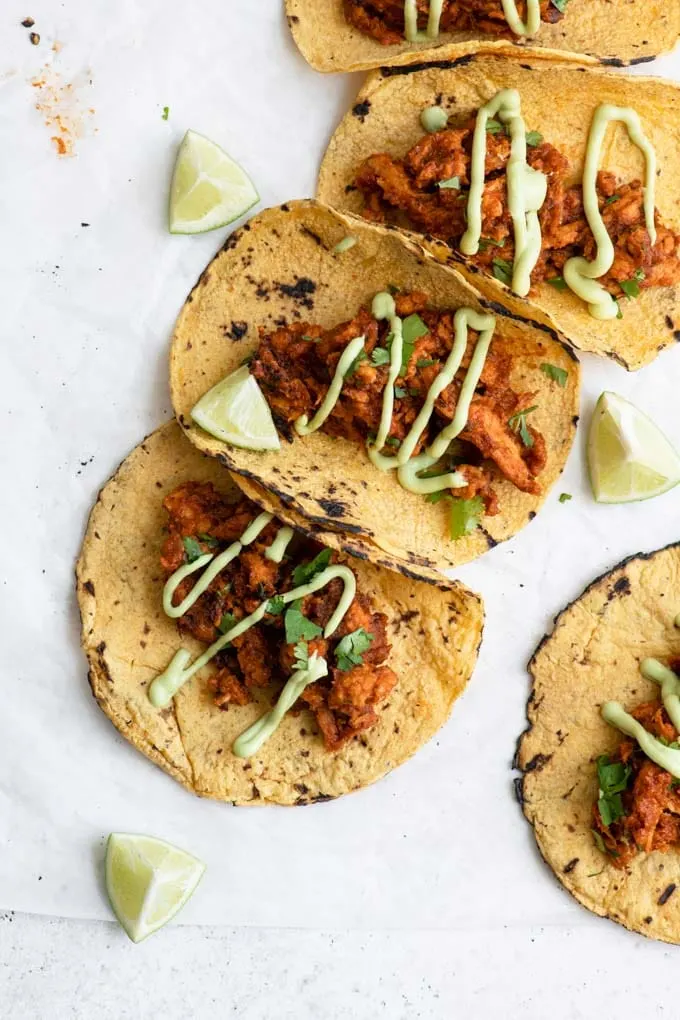 Cook the soy curls with the tinga sauce.
Once the soy curls are hydrated, we drain them and squeeze out as much of the water they've soaked up as we can (to leave room for the tinga to soak in instead).
They then get browned in the skillet and finally cooked in the tinga until the sauce has reduced and thickened, clinging to the juicy soy curls.
If you're using seitan it won't get quite as thick but that's ok! I recommend you use less sauce, possibly even more seitan, or enjoy it as a burrito filling instead.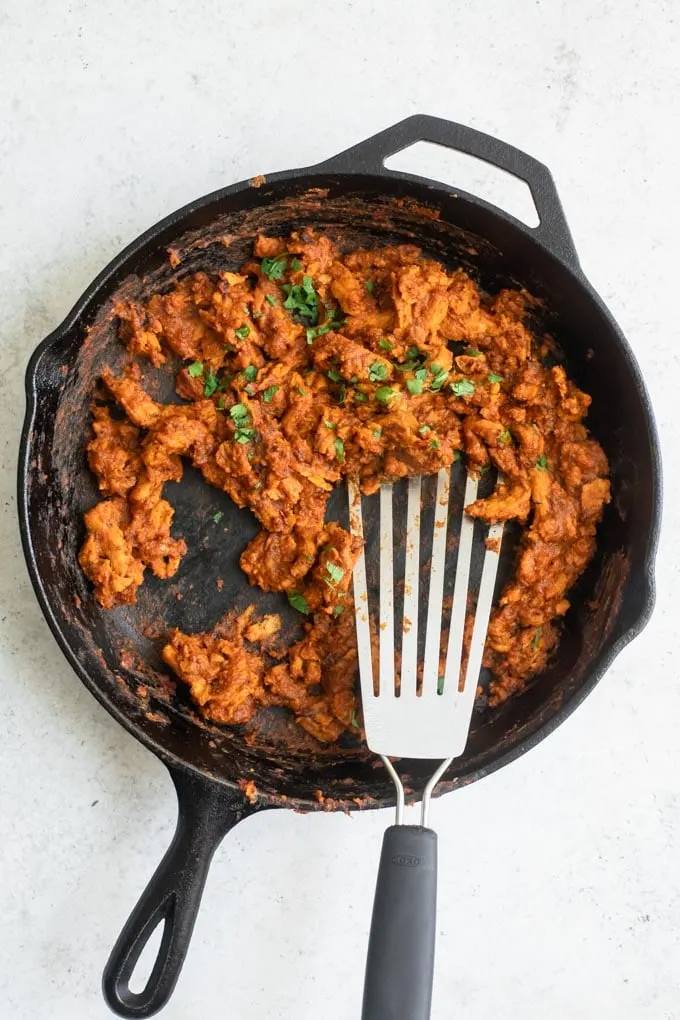 This recipe makes about 8 to 12 tacos, depending on the size of your tortillas and how generously you load them up. If you want more, it's easy to double the recipe!
However make sure that you don't overcrowd the pan, particularly in the last step where the sauce is simmered with the soy curls until thickened.
If the pan is very full it can take a lot longer to cook down the sauce, so just keep that in mind!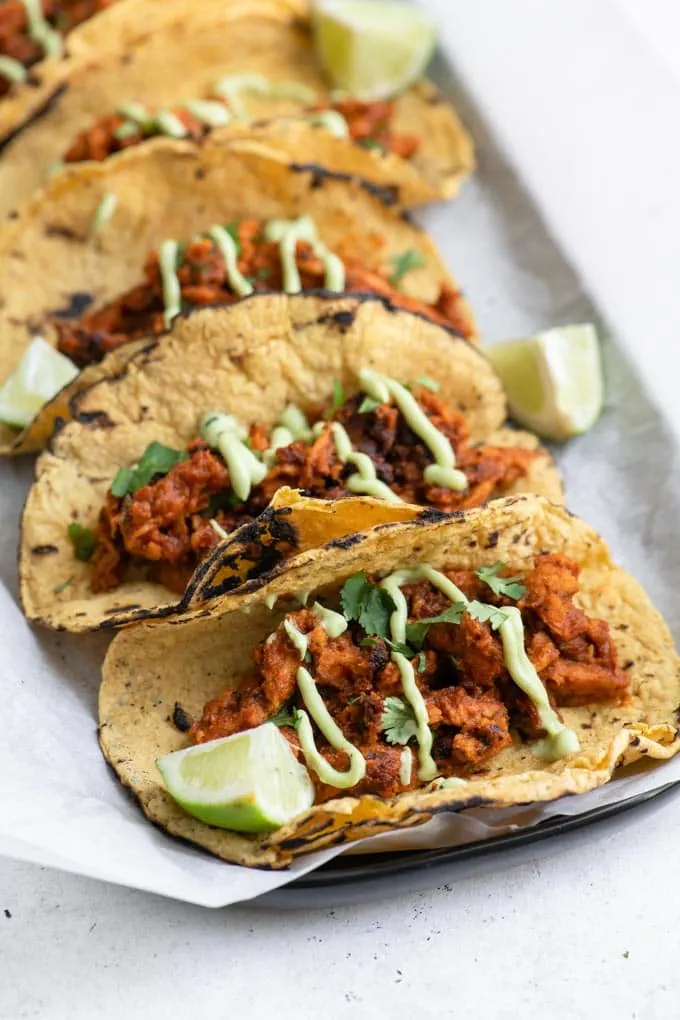 If you make these vegan tinga tacos, leave a comment below and rate the recipe on the recipe card. And please share your photos with me on Instagram, tag @thecuriouschickpea and #thecuriouschickpea. I love seeing your recreations!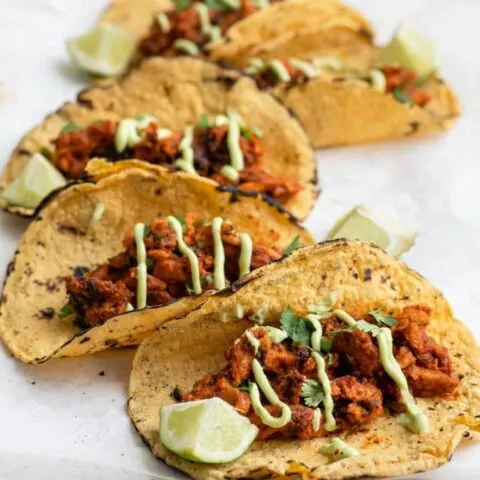 Vegan Tinga Tacos
The traditional Mexican dish tinga gets a vegan makeover with this flavor-packed recipe. It's smoky, spicy, tomatoey and, saucy. Perfect for wrapping up in soft corn tortillas and drizzling with avocado crema!
Ingredients
2 1/2 cups (4 oz) dehydrated soy curls*
1 tbsp oil, divided
1 yellow onion, diced
2 cloves garlic, smashed and peeled
1 15 oz can fire roasted tomatoes with green chili
1 cup diced tomatillos, fresh or canned
2 tbsp chipotles in adobo, chopped
2 tbsp adobo sauce from the can
1 tsp dried oregano (ideally Mexican)
2 sprigs fresh thyme, or 1/2 tsp dried thyme
1/2 cup vegetable broth or water
1 tsp salt, or to taste
Black pepper to taste
12 corn tortillas
diced onion, for garnish
cilantro, for garnish
Instructions
Place soy curls in a heat proof bowl and cover with ~2 cups of boiling hot water. Let sit for at least 15 minutes, or until it's cooled enough to handle. Drain the soy curls then squeeze out water by hand.
Preheat a large skillet over medium heat and add 2 tsp of oil and the onion. Sauté for 4-5 minutes until softened and lightly browned. Add the smashed cloves of garlic and cook an additional 1 minute.
Add the chipotles and adobo, tomatillos, tomatoes, oregano, thyme, salt, black pepper and 1/2 cup of broth or water. Lower the heat and bring to a simmer. Cook for 7-10 minutes until the tomatoes and tomatillos have broken down.
Remove the sprigs of thyme and transfer the sauce to a blender. Blend until smooth, venting to allow steam to escape.
Turn the heat back up to medium, and add the remaining teaspoon of oil to the pan. Fry the soy curls with a pinch of salt for 3-5 minutes until they are lightly browned.
Turn the heat to low, and pour in the sauce. Be careful of splattering as the liquid hits the hot pan. Cook on low, simmering, for 12-15 minutes until the sauce is reduced and thickly coating the soy curls (or seitan). Taste and adjust seasoning if necessary.
Serve in warmed corn tortillas. Garnish with cilantro and diced onion if using and drizzle over avocado crema.
Notes
To substitute seitan for soy curls, use 16oz seitan and hold back some of the tinga sauce. Seitan doesn't absorb sauce the same way that soy curls do, so if you use all the sauce it will make for a messier and saucier taco eating experience.
You can substitute another type of canned tomato if needed. Or use 1 1/2 cups of diced fresh tomatoes
Adapted from Serious Eats.
Recommended Products
As an Amazon Associate and member of other affiliate programs, I earn from qualifying purchases.
Nutrition Information:
Yield:

8
Serving Size:

1
Amount Per Serving:
Calories:

176
Total Fat:

6g
Sodium:

410mg
Carbohydrates:

25g
Fiber:

7g
Sugar:

3g
Protein:

9g
Nutrition is calculated automatically so should be used as an estimate.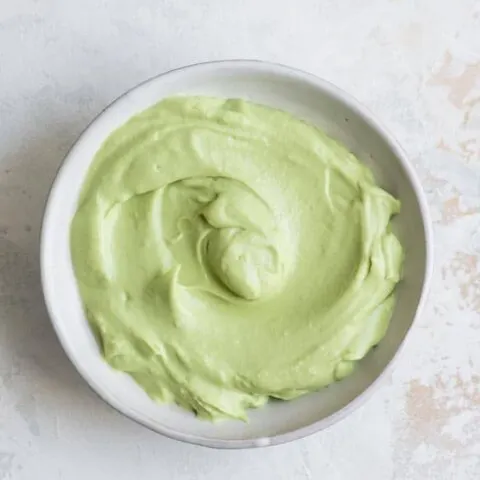 Vegan Avocado Crema
Avocado crema is easy to make and the perfect tangy, cooling sauce to top flavorful tacos, burritos, and scrambles. Or enjoy with tortilla chips!
Ingredients
1 ripe avocado
1/4 cup vegan sour cream
1/4 tsp salt, or to taste
Juice from 1 lime (2 tbsp)
water to thin
Instructions
Cut the avocado in half and remove the pit. Scoop out the flesh and place in a small food processor or blender.
Add the vegan sour cream, salt, and lime juice and process until smooth. Add water to thin as needed. Taste and adjust seasonings.
Nutrition Information:
Yield:

8
Serving Size:

1
Amount Per Serving:
Calories:

56
Total Fat:

5g
Saturated Fat:

2g
Unsaturated Fat:

3g
Sodium:

83mg
Carbohydrates:

3g
Fiber:

2g
Sugar:

1g
Protein:

1g
Nutrition is calculated automatically so should be used as an estimate.
This tinga recipe was originally published on August 8, 2017.