These vegan Korean BBQ burgers are loaded with flavor. Made with tempeh for protein packed goodness, glazed with a Korean barbecue sauce, and topped with a kimchi slaw they are veggie burger perfection!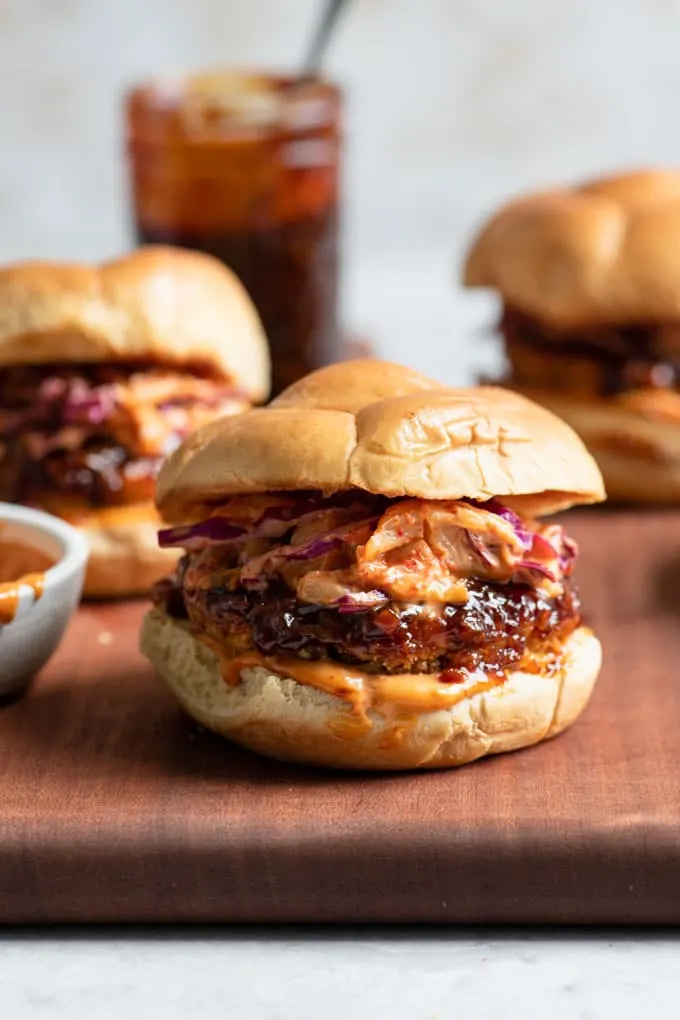 I am obsessed with these vegan burgers! We've got a toothsome, flavorful tempeh patty glazed with an umami rich Korean barbecue sauce. And loaded up with a juicy kimchi and cabbage slaw. Pile it all in between a soft and squishy bun. Oh, yes!
It might just be the perfect, dreamy burger!
These burgers are made of tempeh, which gives them a beautiful texture. It also means they are really easy to make.
They cook up nice and firm, have structural integrity (any vegan burger aficionado knows how elusive that can be). This means they don't fall into a million pieces in your hands. Woo hoo!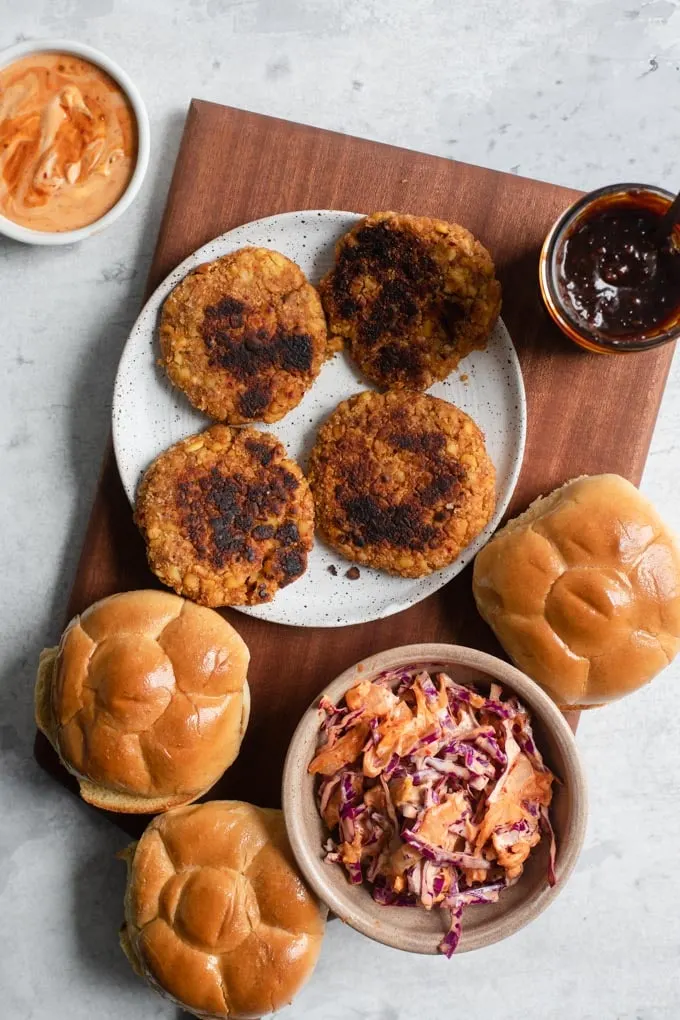 So what makes them Korean?
Well, I'm not going to pretend these are an authentic Korean anything. But they do use a lot of amazing Korean flavors and ingredients. I am all about that Korean BBQ sauce!
In the burgers themselves I use doenjang, which is a Korean fermented soybean paste. It's along the lines of miso, which is a Japanese fermented soybean paste.
If you can't find doenjang, miso is a totally acceptable substitute. I'd use red miso for its stronger flavor, but any will work.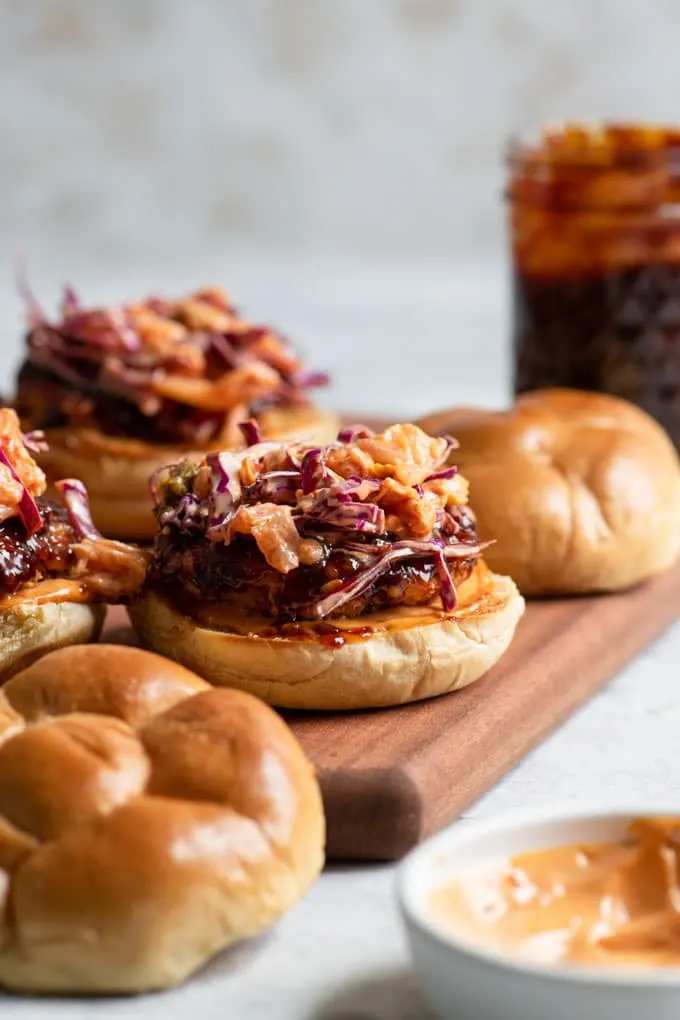 I also add some gochujang, which is a Korean red pepper paste and absolutely delicious! If you can't find it you can leave it out or use sriracha (it's different but would still be good).
The rest of the flavor in the patties themselves comes from soy sauce (my preference is low sodium tamari, but any work), garlic, ginger, and rice vinegar.
A drizzle of oil adds richness and touch of juiciness, and breadcrumbs hold the patties together.
Let's talk tempeh.
Tempeh is made of naturally fermented soybeans, and it comes in cakes, or blocks if you will. It's a traditional Indonesian preparation of soybeans and is considered unprocessed (or minimally processed, pretty much everything we eat is processed in some way).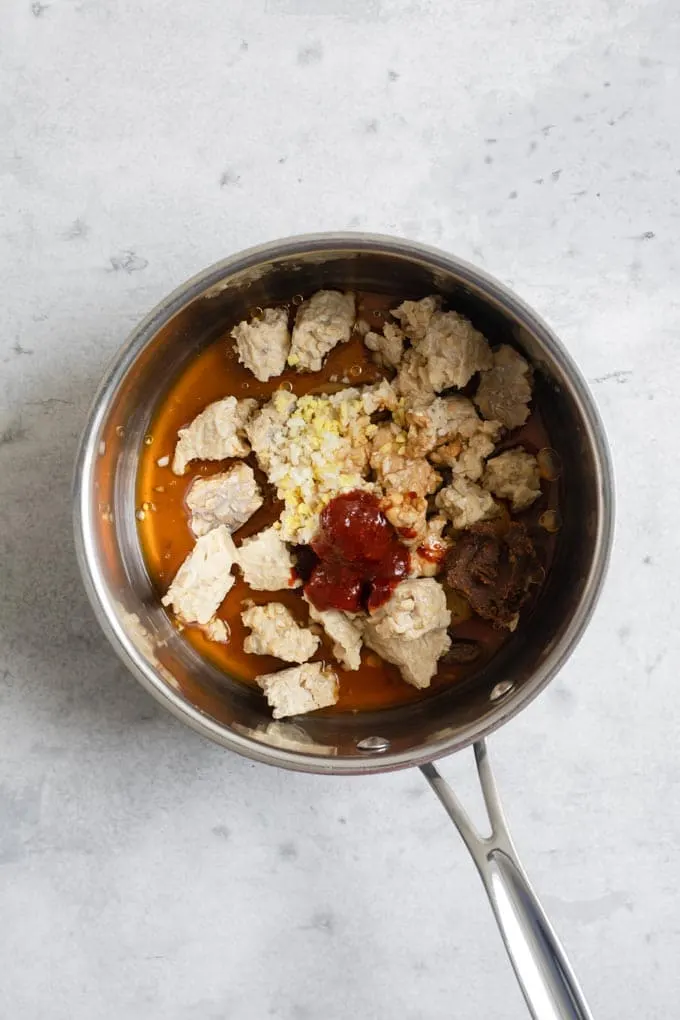 Though it comes in a cake, it's easy to crumble it up and turn it into a patty.
To do so, I steam the tempeh in water and the seasonings. This does two things. It softens the tempeh so that it can be formed into a different shape, and it causes the tempeh to absorb flavor.
It even has a side benefit, in that if the tempeh is a bit bitter it helps get rid of any bitterness. Sometimes tempeh can be slightly bitter, and this is particularly true of less fresh tempeh.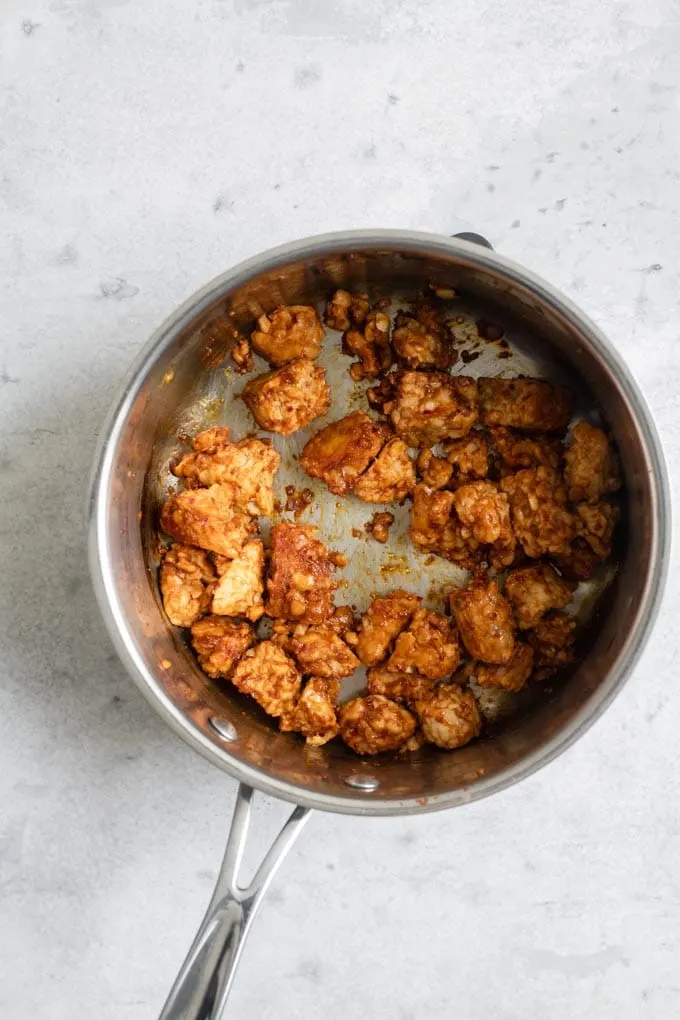 With this recipe there is so much amazing flavor going on that you don't even have to worry about bitterness.
How to steam the tempeh:
Well I say steam but really it's being boiled in the water with the lid ajar until the small amount of water mostly boils dry. You want to keep an eye on it so as soon as the water has boiled off (or mostly anyway) you can turn off the heat.
If you're doing this step in a small pot, it might not completely boil dry in the time frame even with the lid ajar, so in this case you'll strain off excess water at the end.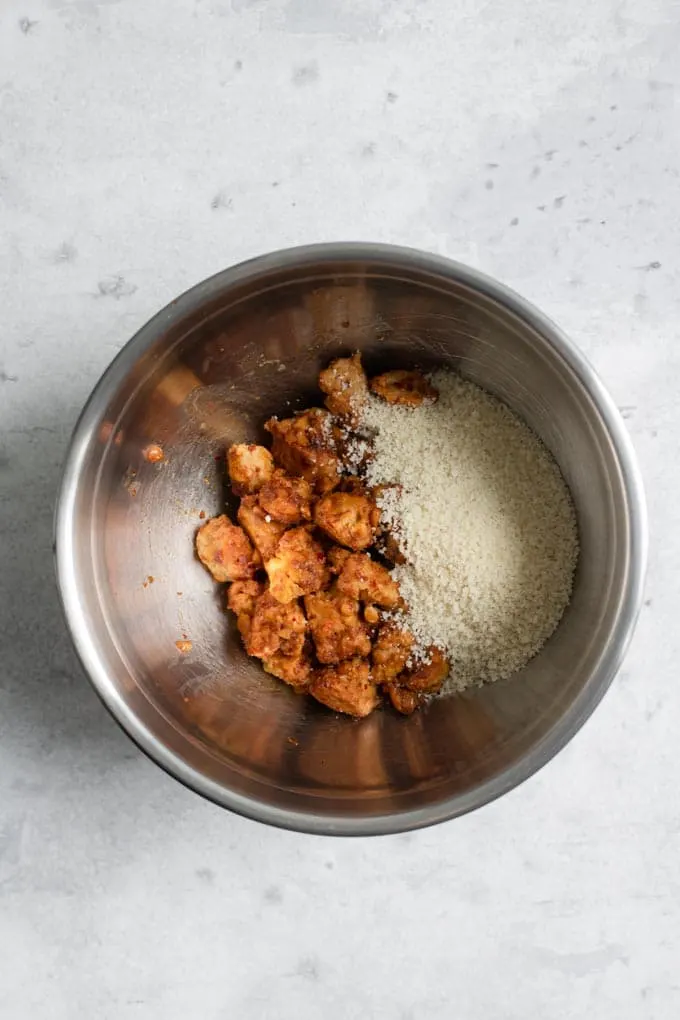 When the tempeh is done steaming we need it to cool down enough to touch. You can just let time do the work here, or transfer it to a freezer safe bowl and stick it in the freezer for a 5-ish minutes to cool quickly.
Make the vegan Korean BBQ burger patties:
The only other ingredient we need for our burger patties is breadcrumbs, which act as the binder. I like to use panko breadcrumbs, but regular ones should do the trick as well!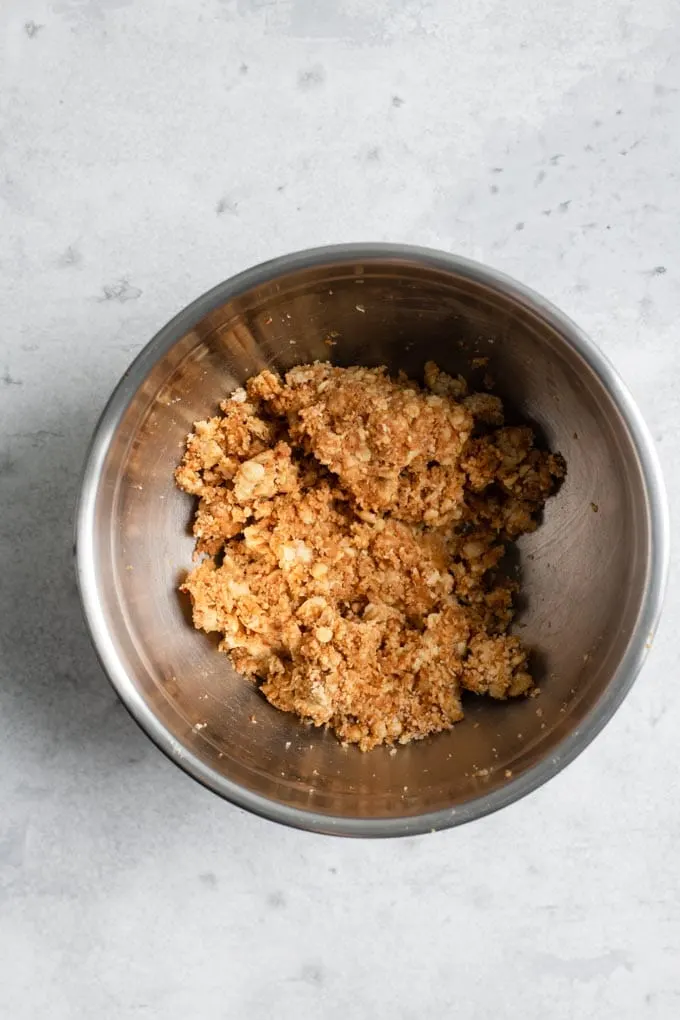 Now that the tempeh has cooled enough to touch, get right in there with your hands and crumble up the chunks of tempeh and mix it the bread crumbs. It won't lose all texture thanks to the soybeans in the tempeh.
At this point you have your patty mixture so just divide it up and shape them into burgers!
Troubleshooting the mixture:
It should be a pretty consistent recipe, but depending on how dry the tempeh got you might need more or less bread crumbs.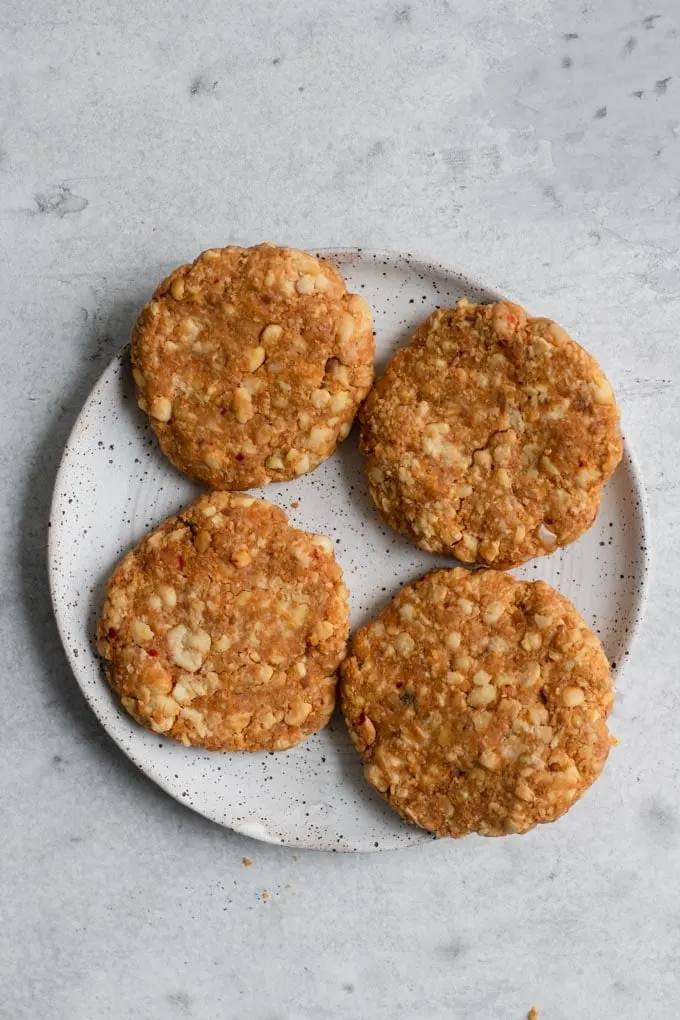 If you mix it all together and find dry spots, drizzle in a bit of water, oil, or even a splash of soy sauce (don't get heavy handed with the soy sauce though). If we're being honest these could have used a teaspoon or so of water, but it worked out fine.
If it's still a bit wet or sticky, then add some more breadcrumbs!
Cooking the tempeh burgers:
One of my favorite things about tempeh burgers is that they are very non fussy. No baking needed (that would dry them out), just throw them on a skillet and let fry on both sides until browned.
They're sturdy enough that they should hold up to a grill, but I haven't tested them on one yet.
Can I make them gluten free?
You certainly can!
Make sure to use tamari which is gluten free, and use doenjang or miso that is certified gluten free. Also make sure to use a gluten free gochujang. Some are but not all.
Load up the burgers into a gluten free bun, or enjoy as lettuce wraps.
The Korean barbecue glaze:
So the patties on their own make for a fine burger. You can eat it as is, and I'm sure you'd have a grand old meal, but seriously, take those five extra minutes to make my Korean BBQ sauce and glaze these babies up!
You only need about 1/3 or 1/2 of the recipe to glaze the burgers, so your options are 1: double the burger recipe (which you probably want to do anyway because they're yummy and the recipe only makes 4 patties) or 2: halve the BBQ sauce.
Third option of course is to have extra BBQ sauce and add it to veggies or tofu or whatever. Yum.
You brush the glaze on the burgers after they're done cooking. It's a very flavorful glaze, so don't get too heavy handed here or your burgers will be too salty. I just brush some over the top of the patty only.
The Toppings:
I like to keep it simple with these tempeh burgers as they are super flavorful as is. The burgers are topped with a kimchi slaw and I slathered some gochujang mayo over the bottom bun.
To make gochujang mayo I just mixed vegan mayonnaise with a bit of gochujang to taste. You can also just use plain mayo!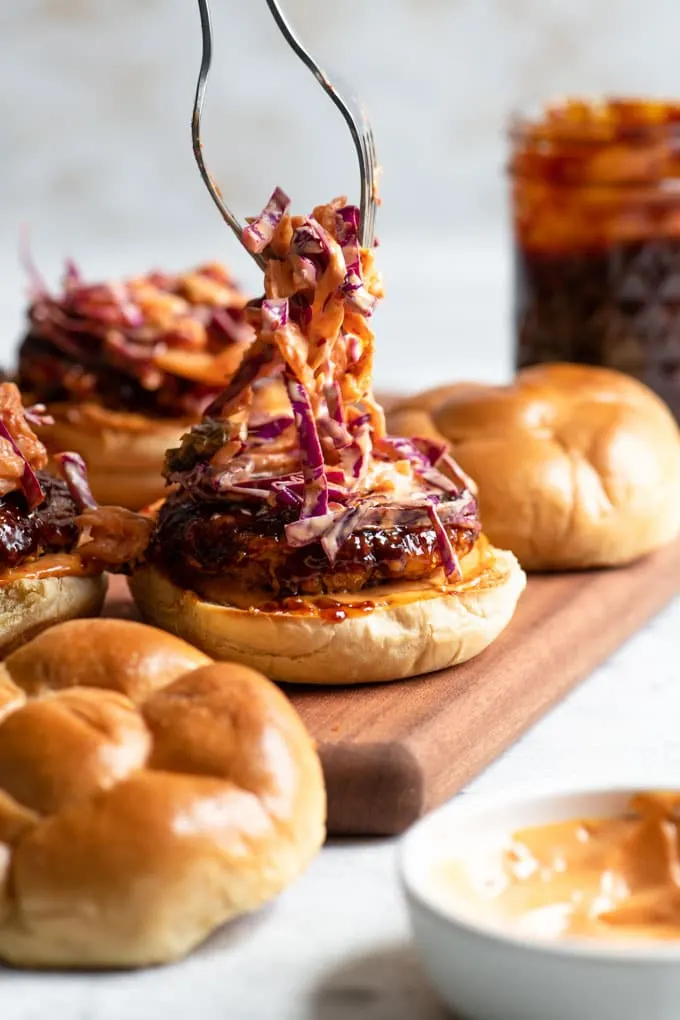 The cabbage and kimchi slaw takes only a few minutes to stir together and makes a fabulous topping so I recommend you make it!
It's kimchi, cabbage, and vegan mayo with a drizzle of rice vinegar. What more could a person ask for!
Nothing. Make these burgers, load them up, and dig in!
If you make these vegan Korean BBQ burgers, leave a comment below and rate the recipe on the recipe card. And please share your photos with me on Instagram, tag @thecuriouschickpea and #thecuriouschickpea. I love seeing your recreations!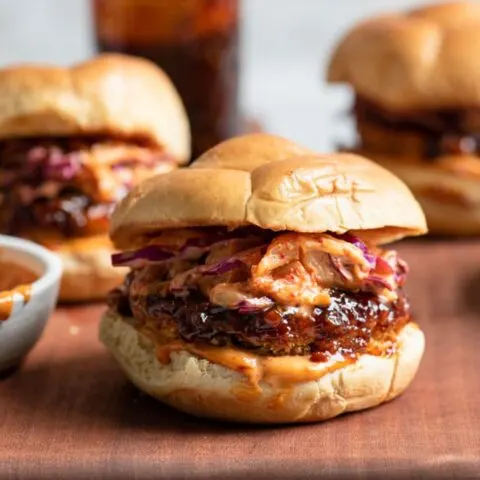 Vegan Korean BBQ Burgers
Additional Time:
5 minutes
These vegan Korean BBQ burgers are made with tempeh for a delicious protein packed meal. The burgers are glazed with Korean BBQ sauce for an extra punch of savory and topped with kimchi slaw for the perfect veggie burger!
Ingredients
8oz tempeh
1/2 cup water
1 tbsp low sodium tamari (substitute soy sauce)
1 tbsp oil
1 tbsp gochujang (substitute sriracha, or leave out)
1 tsp doenjang (substitute miso)
1 tsp rice wine vinegar
2 cloves garlic, minced
2 tsp minced fresh ginger
1/2 cup bread crumbs
4 burger buns
vegan mayonnaise
Instructions
Crumble the tempeh into chunks and add to a pot along with all of the ingredients except for breadcrumbs. Bring to a boil, then partially cover with a lid and turn the heat down to simmer. Let simmer for 10-15 minutes or until the water is mostly absorbed and boiled off. Stir a couple of times. If after 15 minutes water still remains, pour any excess off.
Transfer the tempeh to a mixing bowl and let cool down enough to handle. To speed this up, place it in the freezer for about 5 minutes.
Add the breadcrumbs to the mixing bowl and using your hands mash the mixture until it comes together. Add more breadcrumbs if it is very wet and won't hold together, and add liquid (water, a little tamari, or more oil) if it is too dry and crumbly.
Divide the dough into 4 pieces and form them into patties.
Heat a skillet over medium low heat, add oil and cook the burgers about 4 minutes on each side, or until golden brown.
Glaze the top of the burgers with the Korean BBQ sauce.
Enjoy on toasted buns, slathered with vegan mayo (see note for gochujang mayo option) and topped with kimchi slaw.
Notes
To make gochujang mayo mix together vegan mayo and gochujang to taste. This is completely optional, it's great with plain mayo too!
Recommended Products
As an Amazon Associate and member of other affiliate programs, I earn from qualifying purchases.
Nutrition Information:
Yield:

4
Serving Size:

1
Amount Per Serving:
Calories:

504
Total Fat:

21g
Saturated Fat:

5g
Unsaturated Fat:

16g
Sodium:

1622mg
Carbohydrates:

57g
Fiber:

3g
Sugar:

16g
Protein:

22g
Nutrition is calculated automatically so should be used as an estimate.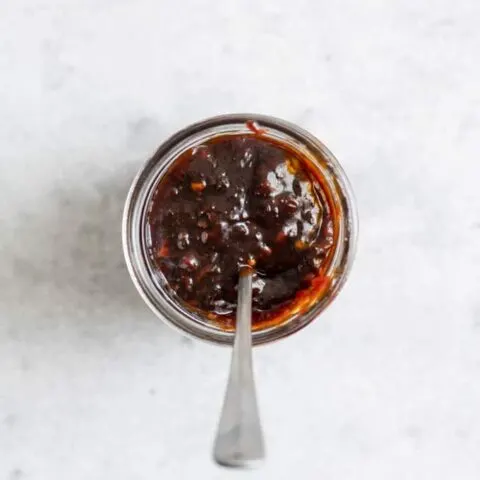 Korean BBQ Sauce
This flavorful Korean BBQ sauce is easy to make!
Ingredients
1/2 cup low sodium tamari or other soy sauce*
1/4 cup brown sugar
2-3 cloves garlic, minced
1 tbsp minced fresh ginger
1 tbsp gochujang (substitute another chili sauce or paste)
1 tbsp rice wine vinegar
1 tbsp toasted sesame oil
2 tsp doenjang (Korean soybean paste, substitute miso)
1 tbsp cornstarch
1/4 cup water
Instructions
Mix together all ingredients in a small pot except cornstarch and water.
Bring to a simmer over low heat until the sugar dissolves.
Mix together the cornstarch and water in a small bowl, then add it to the pot.
Whisk sauce together and let simmer until thickened, 1-2 minutes. If needed, thin with additional water.
Notes
*If using a full sodium soy sauce, cut back on the soy sauce by 2 tbsp.
Microwave directions: mix everything but cornstarch slurry together in microwave safe bowl. Microwave in 30 second increments, stirring between each time. When sugar dissolves add cornstarch slurry and microwave in 30 second increments, stirring between each increment, until thickened.
Recommended Products
As an Amazon Associate and member of other affiliate programs, I earn from qualifying purchases.
Nutrition Information:
Yield:

8
Serving Size:

1
Amount Per Serving:
Calories:

59
Total Fat:

2g
Unsaturated Fat:

1g
Sodium:

688mg
Carbohydrates:

10g
Sugar:

7g
Protein:

2g
Nutrition is calculated automatically so should be used as an estimate.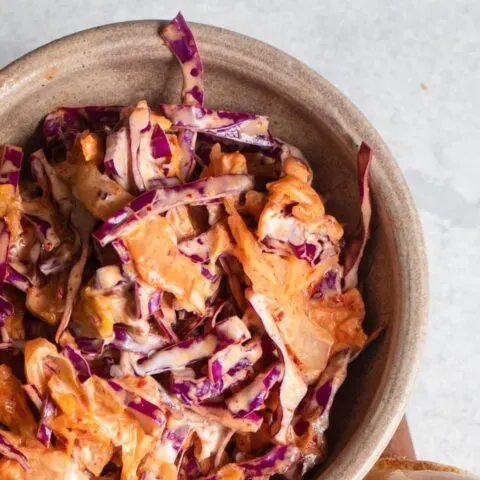 Kimchi Slaw
Kimchi slaw is a flavorful and easy slaw with a Korean twist! Make it vegan by using vegan mayonnaise and a vegan kimchi (check ingredients for fish sauce or shrimp paste).
Ingredients
1 cup thinly sliced cabbage (green or red)
1 cup chopped kimchi
1/4 cup vegan mayonnaise
1 tsp rice wine vinegar
Instructions
Mix all ingredients together in a large bowl. Taste and adjust seasoning if needed. Store in sealed container in fridge until ready to eat.
Recommended Products
As an Amazon Associate and member of other affiliate programs, I earn from qualifying purchases.
Nutrition Information:
Yield:

4
Serving Size:

1
Amount Per Serving:
Calories:

82
Total Fat:

7g
Saturated Fat:

1g
Unsaturated Fat:

5g
Sodium:

239mg
Carbohydrates:

5g
Fiber:

1g
Sugar:

2g
Protein:

1g
Nutrition is calculated automatically so should be used as an estimate.