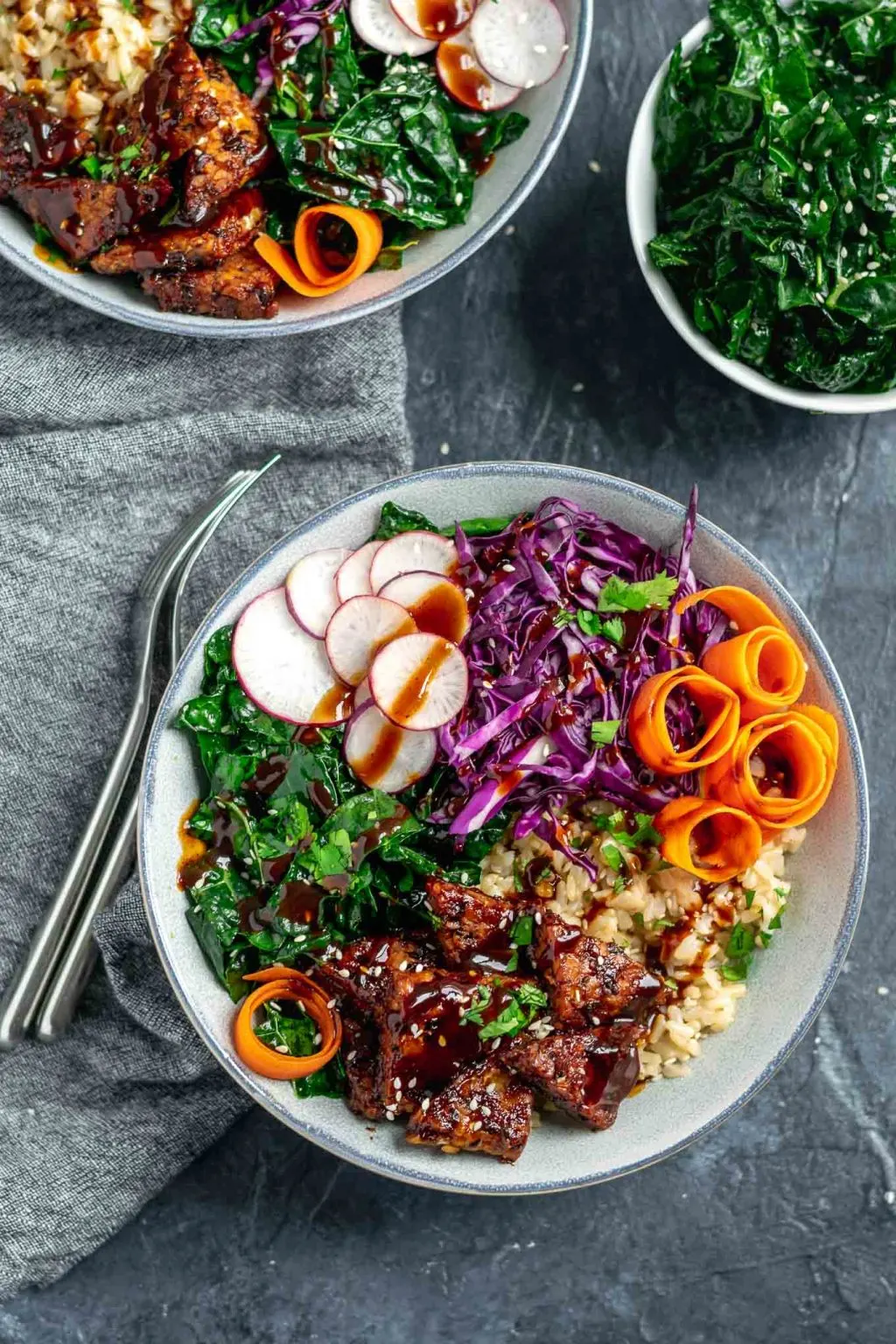 Grain/buddha bowls have been hip for years, and I can see why. They're super versatile, stuffed with veggies and your choice of protein, usually served with a whole grain, smothered with a yummy sauce, and the perfect vehicle for eating more avocados. They also are great for meal-planning and meal prepping. The veggies can be batch washed and chopped, you can cook the grain in advance, make the protein so it's ready to go, and have dressings galore stored in your fridge. And leftovers pack up perfectly for lunch. Honestly, I don't know why we don't eat them more! Especially when they're as delicious and straightforward to prepare as these hoisin glazed tempeh bowls.
I love tempeh, it's a great source of protein, and I love the nutty flavor and the chewy texture. I didn't always love tempeh, however, so if you're unsure about it, I say just keep cooking with it and trying new tempeh recipes until you find one you like! One of my favorite ways to prepare tempeh is to glaze it with a flavorful marinade and bake it until nice and chewy.
Hoisin is a delicious Chinese sauce, that is reminiscent of barbecue sauce. It's made of fermented soy and is super flavorful, salty and sticky, tangy and a bit sweet. For the glaze I add soy sauce for a little extra saltiness to balance the sweet, minced garlic and ginger for a burst of stir fry flavor, and Chinese 5-spice powder, which is a blend of 5 spices: star anise, cinnamon, fennel, Sichuan peppercorn, and clove. These combine to make a super flavorful glaze, which covers the tempeh and bakes into sticky bite-sized pieces. If there is any leftover glaze, I add a little water to thin and drizzle it over the finished bowls.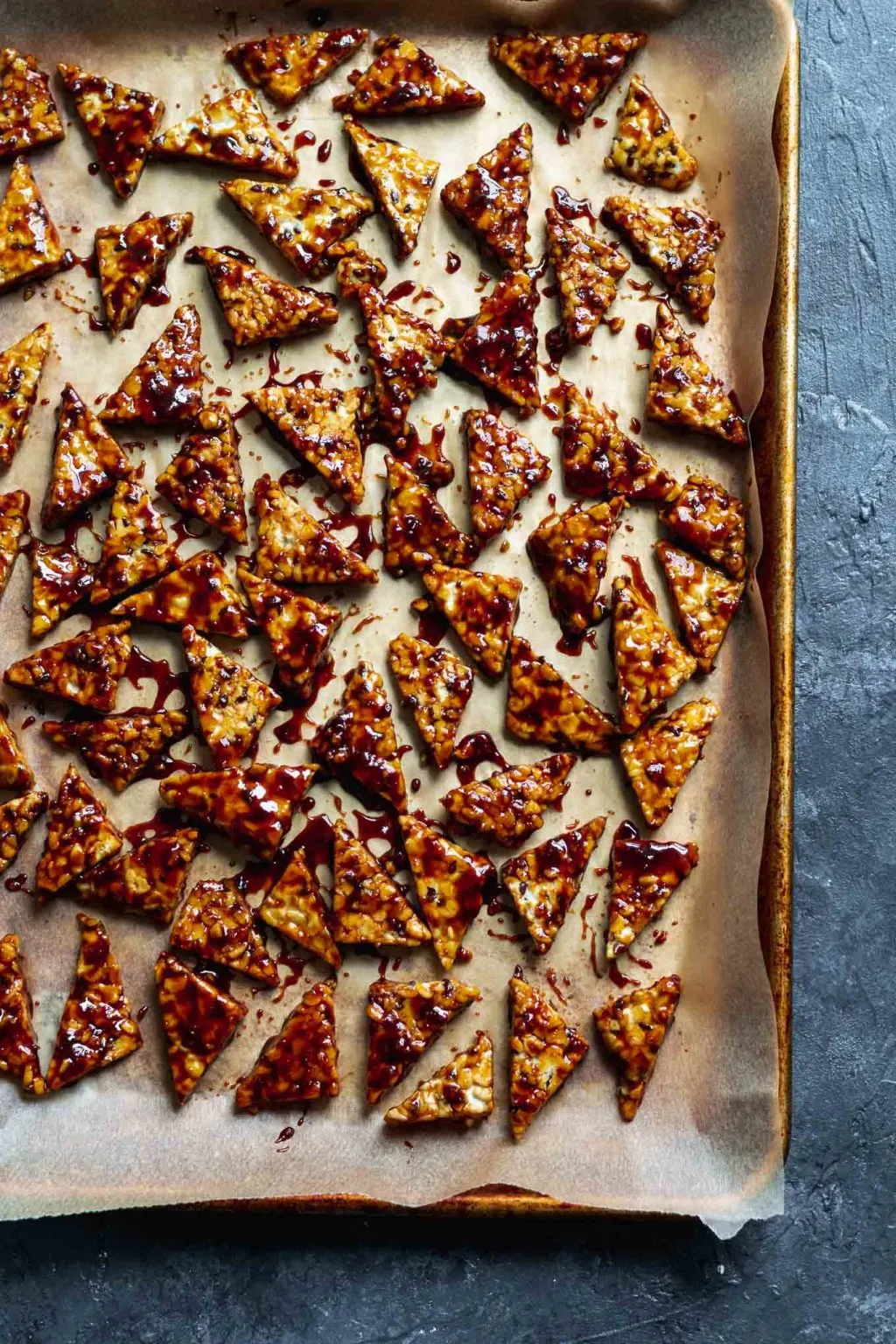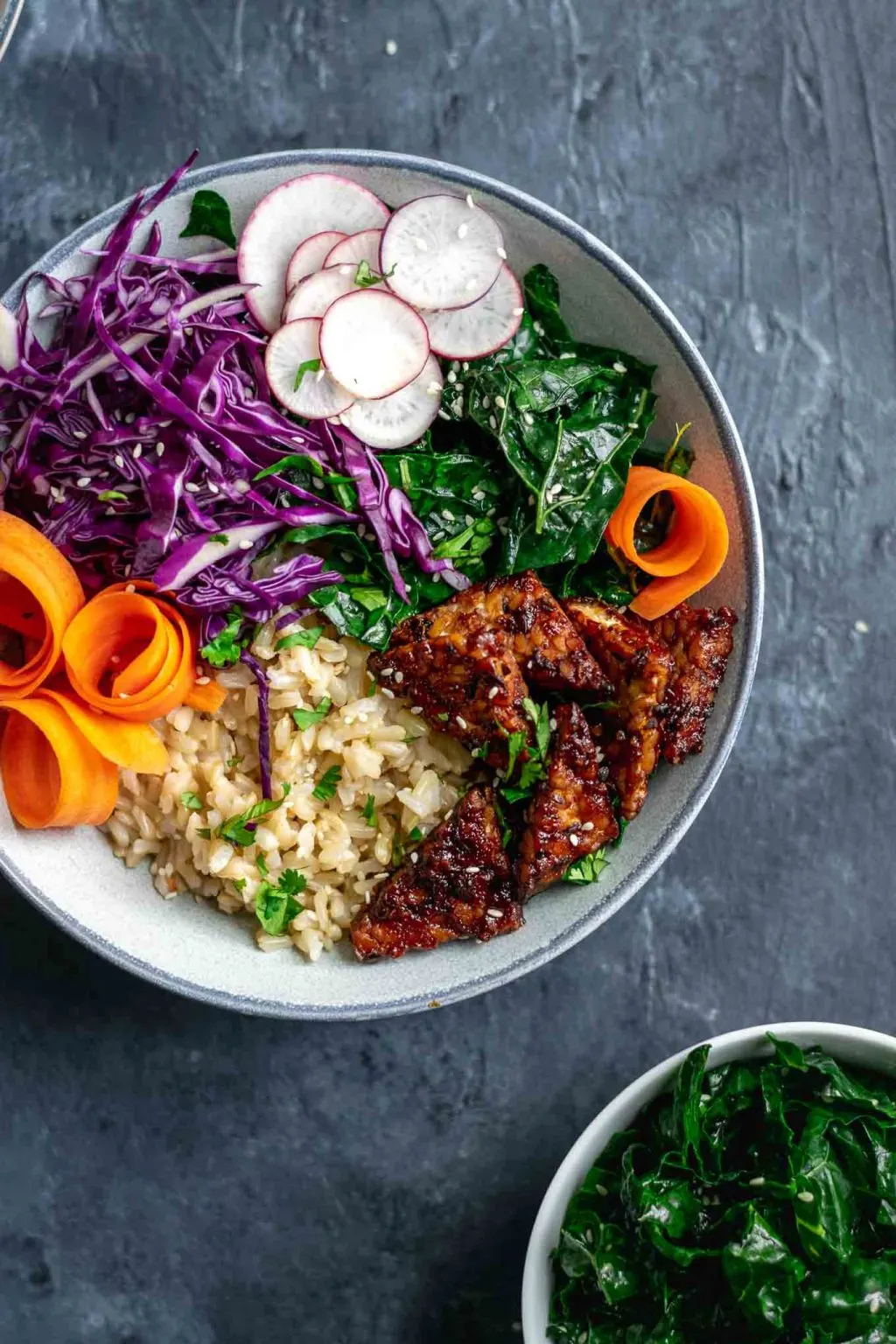 Next we have the sesame kale. I massage the kale to tenderize it, making it easier and more enjoyable to chew. To do so, drizzle a little oil, in this case, toasted sesame oil (because, yum) and a sprinkling of salt, then get right in there with your hands and massage the leaves. You'll notice the kale shrink and turn a darker green and can massage more or less to your liking. Once massaged, add some rice vinegar for a tanginess and a sprinkling of sesame seeds for extra sesame flavor.
I like to use an assortment of crunchy veggies to finish the bowls off, and love the combination of spicy radishes and sweet carrots. Cabbage has a delicious peppery flavor, and you can't beat that gorgeous purple color of red cabbage. Cut thinly, these veggies easily mix into the bowl, and provide a nice textural contrast to the chewy tempeh and rice.
For the rice, I love brown jasmine rice. The lightly floral scented rice is perfect for these hoisin bowls. However, it may be difficult to find brown jasmine rice so feel free to substitute white jasmine rice, brown basmati, your favorite brown rice, or a different grain of choice.
I love that all the parts of the dish can be prepped in advance. Kale can be massaged and dressed in advance, carrots, cabbage, and radishes can all be sliced in advance. Rice can be cooked and stored in the fridge for a couple of days or frozen for longer. And the tempeh is easily reheated as well. Individual servings can even be dressed in advance as nothing will get soggy!
I hope you guys enjoy these delicious and healthy hoisin-glazed tempeh bowls as much as we do! They're the most beautiful colorful bowls, perfect for spring, and a delight to your taste buds! Let me know if you make them! Leave a comment and/or rate the recipe below, tag me on Instagram (or #thecuriouschickpea), or share with me on Facebook! Happy eating!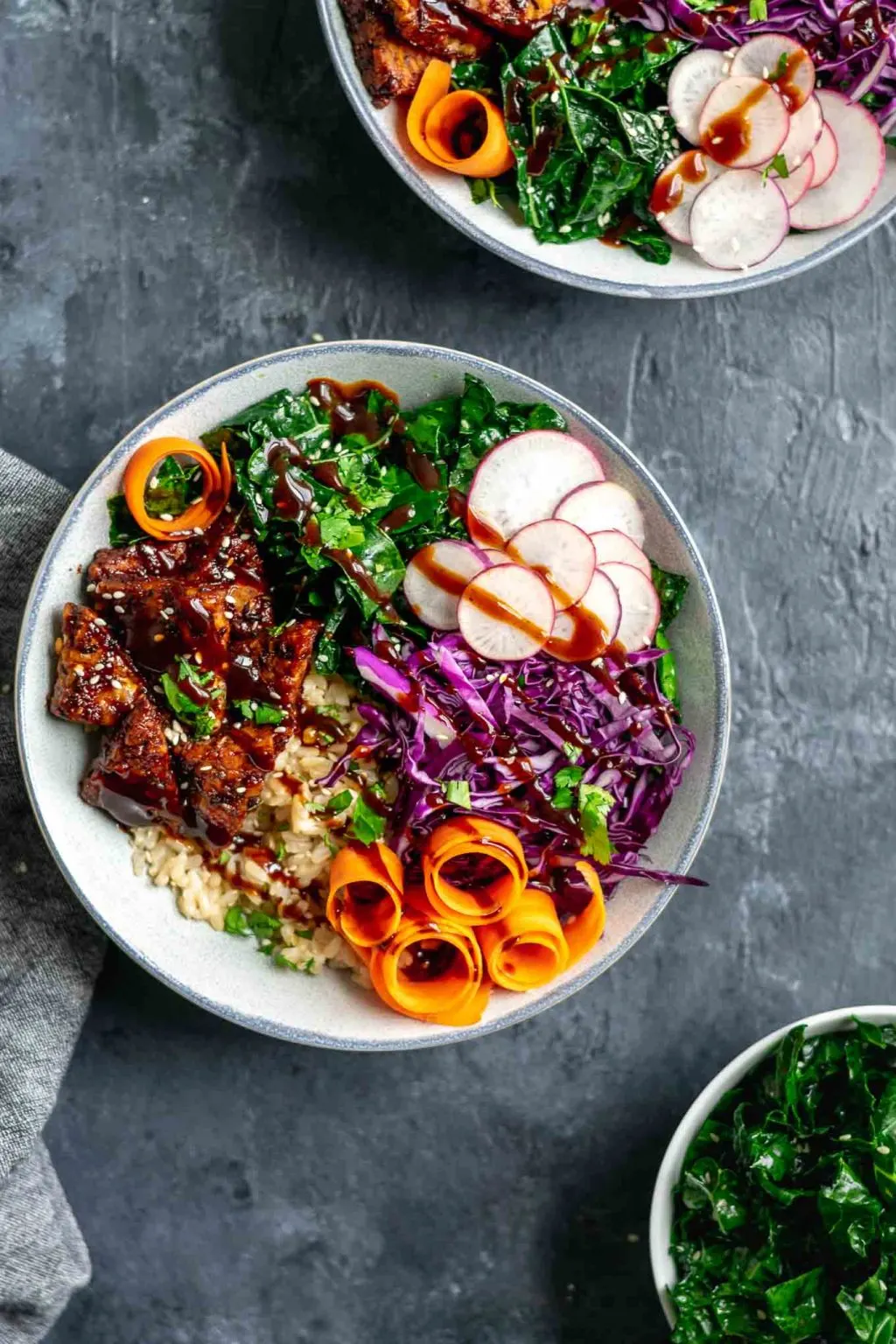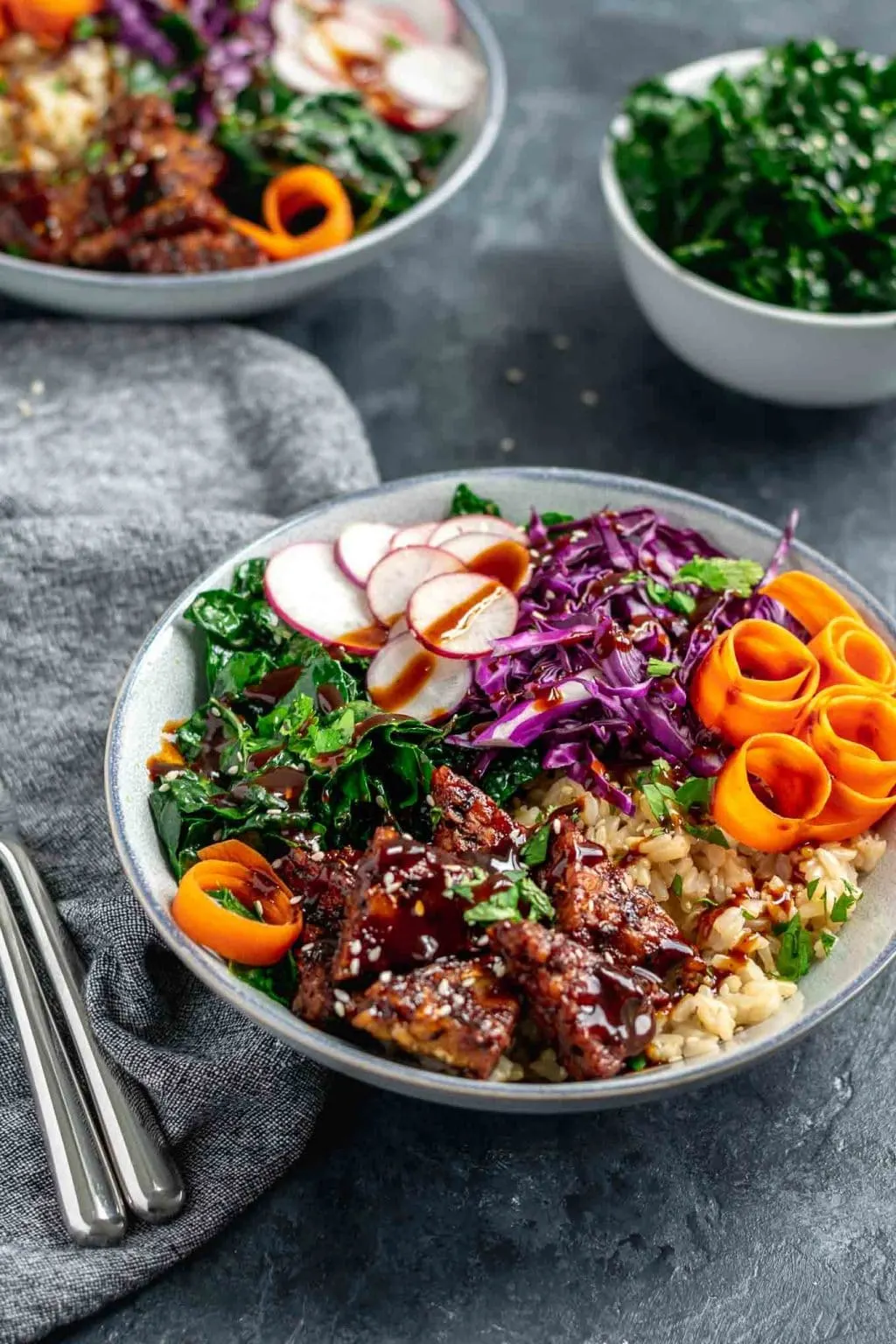 Notes:
The cooking time is mostly from the time it takes to cook brown rice. I love brown jasmine rice in this bowl, but you can cook white rice if you want dinner more quickly, or substitute the brown rice of your choice. Note that cooking instructions can vary with different kinds of rice, so when in doubt, cook according to package directions!
Feel free to substitute the vegetables for what you have on hand. And you can always add avocado for more filling-power!
For a gluten free dish just make sure you've picked up a gluten free hoisin!
If you have toasted sesame seeds use those for extra yum!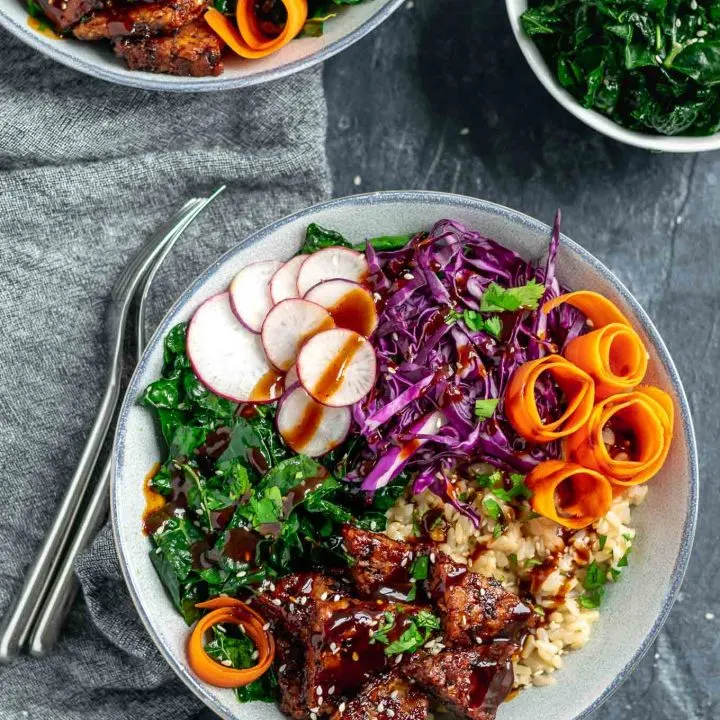 Hoisin Glazed Tempeh Bowls
Total Time:
1 hour
5 minutes
Sticky hoisin-glazed tempeh are served with sesame massaged kale, sweet carrots, crisp radishes, and shaved cabbage, and brown jasmine rice in this healthy and delicious vegan buddha bowl.
Ingredients
2 cups dry brown jasmine rice, or rice of choice
16 oz tempeh
Hoisin Glaze
1/2 cup hoisin
2 tbsp soy sauce
2 cloves garlic, minced
1 tsp grated ginger
1 tsp Chinese 5-spice powder
The Veggies
1 large bunch kale
1 tbsp toasted sesame oil
1/2-1 tsp salt, to taste
1 tbsp rice vinegar
2 tsp sesame seeds
1-2 carrots, julienned or thinly sliced
3-4 radishes, thinly sliced
1/4 head red cabbage, thinly sliced
sesame seeds, for garnish
cilantro, optional, for garnish
hot sauce, optional, to serve
hoisin or leftover glaze, thinned with water to pouring consistency, to serve
Instructions
Cook the brown rice according to package directions.*
Preheat the oven to 375 ºF and prepare a large rimmed baking sheet with a piece of parchment paper.
Steam the tempeh to remove any bitterness by bringing a small amount of water to a boil in a pot. Add the tempeh, cutting in half if needed to fit in the pot, and let steam covered for 10 minutes. When cool enough to handle cut the tempeh into small triangles--for the 8oz rectangular shape this means cutting the tempeh in half widthwise (if you haven't already done so to steam), then take each half and cut into two thin slabs. Then cut those into four squares, then each square in half to make 8 triangles.
Whisk together the hoisin glaze ingredients in a large mixing bowl. Toss the tempeh in the glaze, then spread the triangles in a single layer on the parchment lined baking tray. Bake at 375 ºF for 20 minutes. There's no need to flip.
Thin any extra glaze with a little water to dress the bowls with, add extra hoisin if needed.
Prepare the sesame kale: Thoroughly wash the kale and de-stem. Tear the leaves into bite sized pieces and add them to a large bowl. Drizzle with the toasted sesame oil and 1/2 tsp of salt and massage the kale with your hands until it has shrunk in size and turns a dark green. Add the rice vinegar and about 2 tsp sesame seeds and toss together. Taste and add more salt if desired.
When the glazed tempeh and the rice are finished cooking, prepare the bowls. Spoon some rice into the bottom of a bowl and top with the sesame kale, hoisin glazed tempeh, carrots, radishes and cabbage. Garnish with sesame seeds and minced cilantro, if desired. Drizzle the extra hoisin sauce over top and/or hot sauce. Enjoy!
Leftover bowls can be prepped for lunches and eaten cold, room temperature, or warmed.
Notes
*To cook brown Jasmine rice: 2 cups rinsed rice + 3 1/4 cups water + 1/2 tsp salt + 1 tbsp oil (optional, but makes a better final texture), bring to a low boil, cover, turn heat down to low, cook for 40 minutes, turn heat off, leave covered and steam for 10 minutes. Then fluff with a fork.