This vegan shallot gravy is savory and rich tasting, while being so easy to make. It's great over mashed potatoes, biscuits, vegan "steaks" or other vegan meaty dishes, even makes for a great vegan poutine!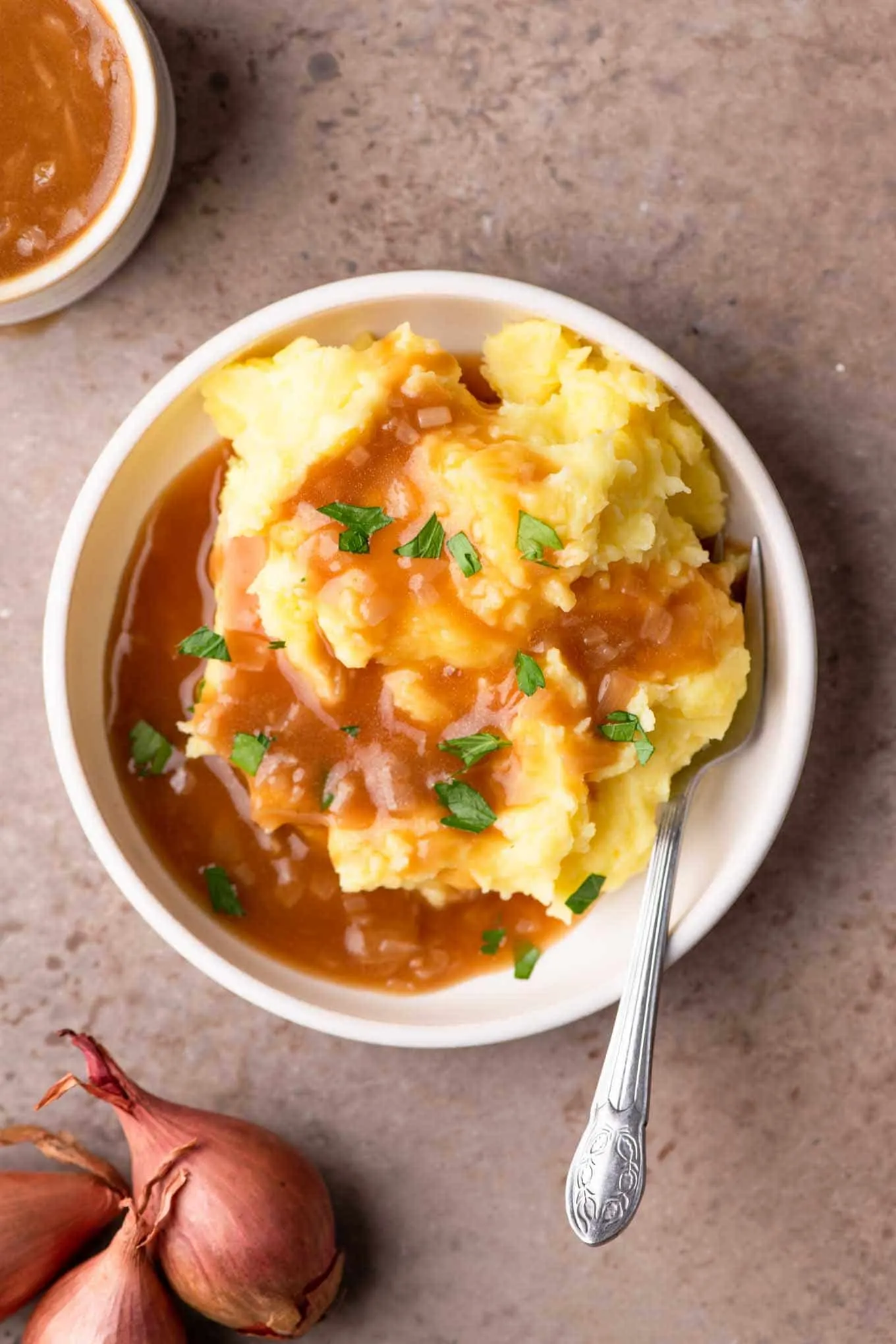 What makes gravy vegan?
Gravy is often made with dairy butter and chicken or beef broths. Sometimes it also includes crumbled sausage or other meaty ingredient. There's none of that in this shallot gravy, while still getting all the rich flavors!
You can make this gravy with vegan butter or olive oil, my personal preference is for the vegan butter in this scenario, but olive oil has a great flavor too if that's more your jam.
Choose a flavorful vegetable broth for the gravy, you can use regular veggie broth or use "no-chicken" or "beefless" style veggie broths. Each will have their own flavor, but all are great! Keep in mind that a "chicken"-style broth will be more golden in color and the resulting gravy will be correspondingly paler.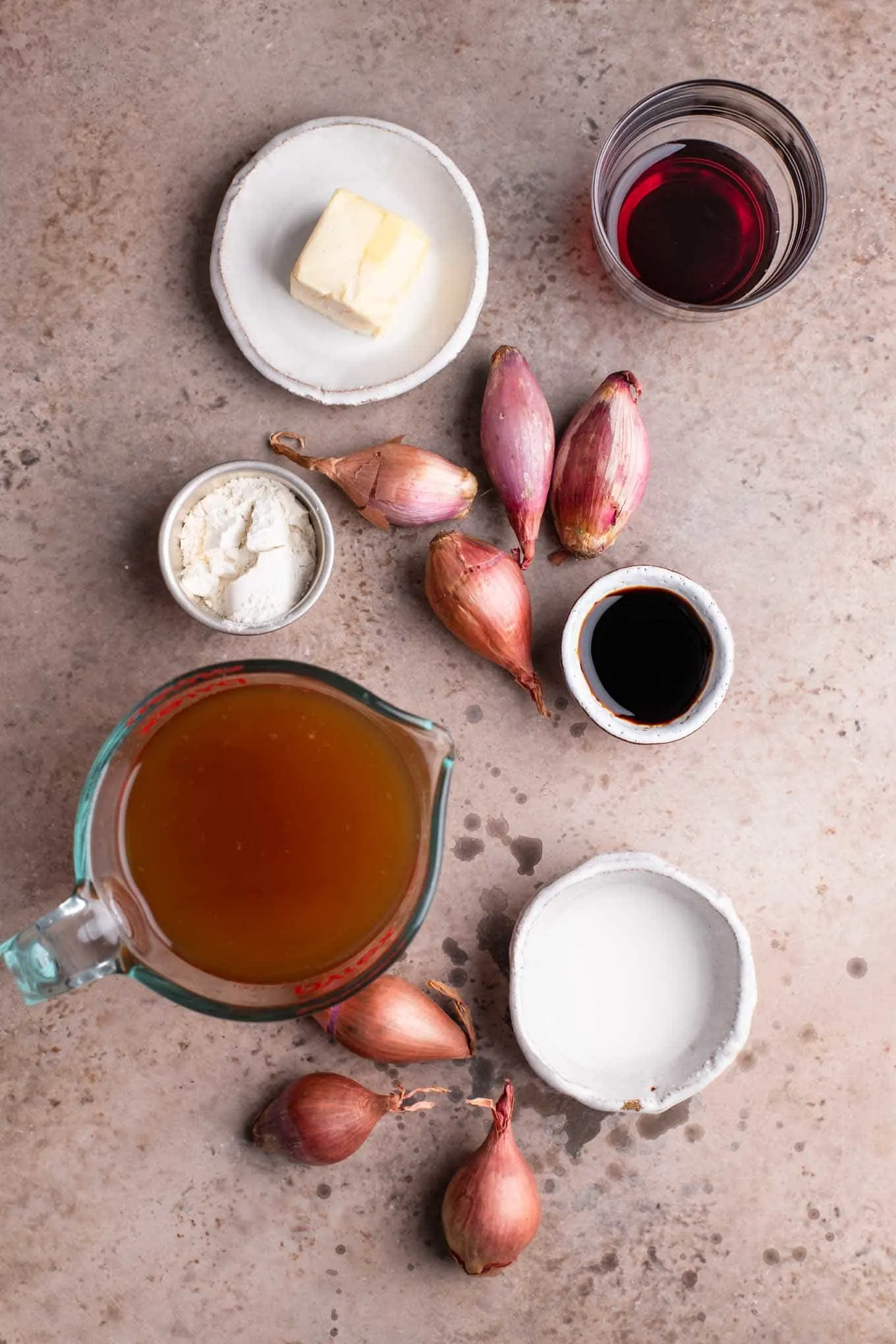 Ingredients for a deliciously savory shallot gravy:
Well, onions to start! Shallots are a sweeter and more mild tasting onion, and cook down to a delicate oniony flavor. They make a great base for gravy, especially when cooked in vegan butter!
When the onions are soft add flour and let that toast in the pan for a minute or two. This deepens the flavor of the gravy, and then the flour will work to thicken the gravy when it's cooked.
Choose a flavorful broth, and pay attention to the salt content. If you have a low salt broth you may find that you need to add some salt.
To build layers of flavor I add red wine and soy sauce (or use tamari) to the broth. I recommend choosing a dry red wine, but it's a small enough amount and really any will work in the dish.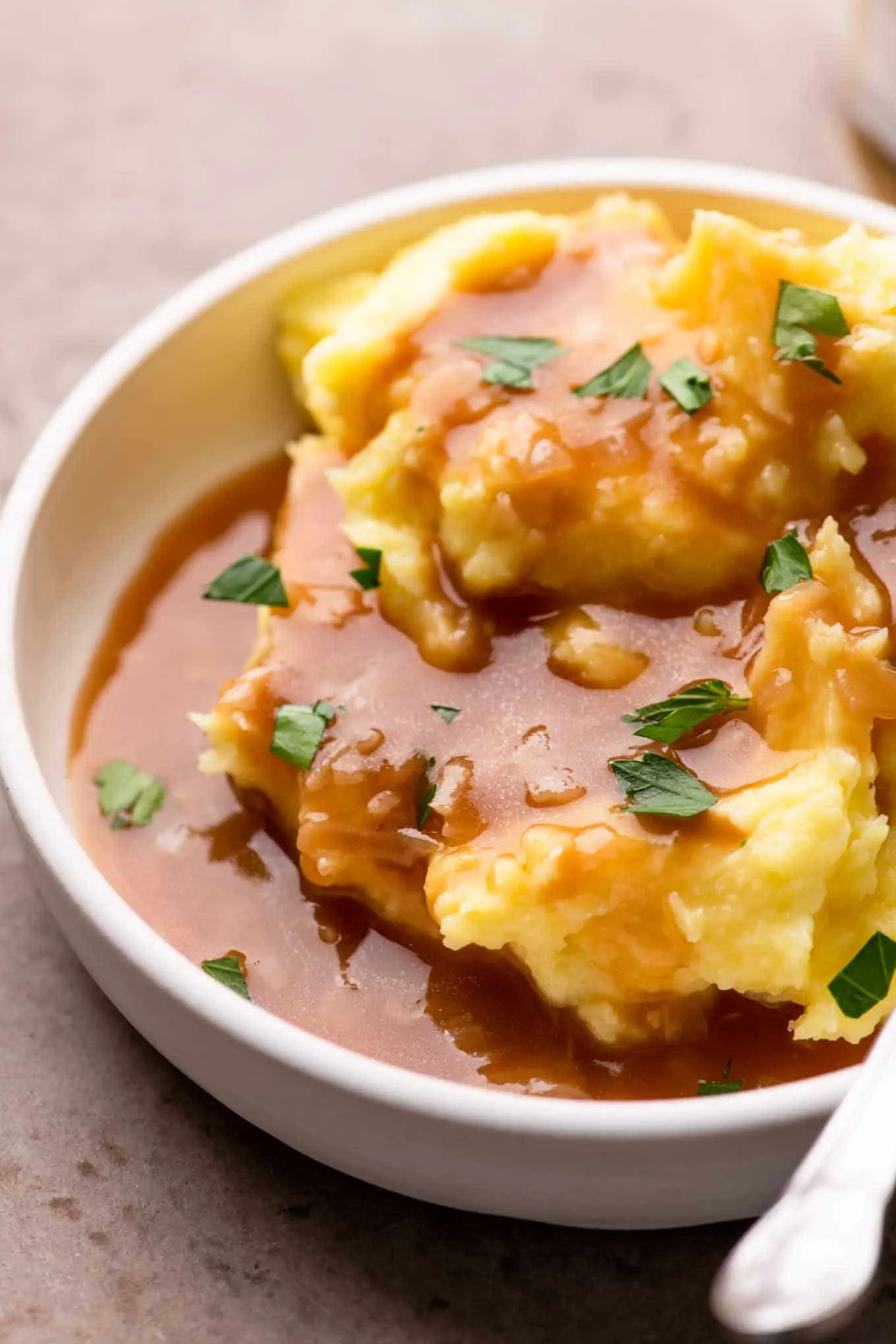 That takes care of all of our flavor building ingredients, and now all we need is to make sure you get that thick lush gravy texture. To help out the flour I like to add a little tapioca slurry. You can substitute cornstarch or arrowroot starch if you prefer.
Now all that's left is cooking it for a few minutes until it's gravy-thick and all the flavors have come together!
Can I freeze the gravy?
Yes you can definitely freeze any extra gravy! If you find the texture to have changed after thawing you can always blend up the gravy which will turn it smooth while being equally delicious!
You can also keep the gravy in a sealed container in the fridge for about 2 weeks.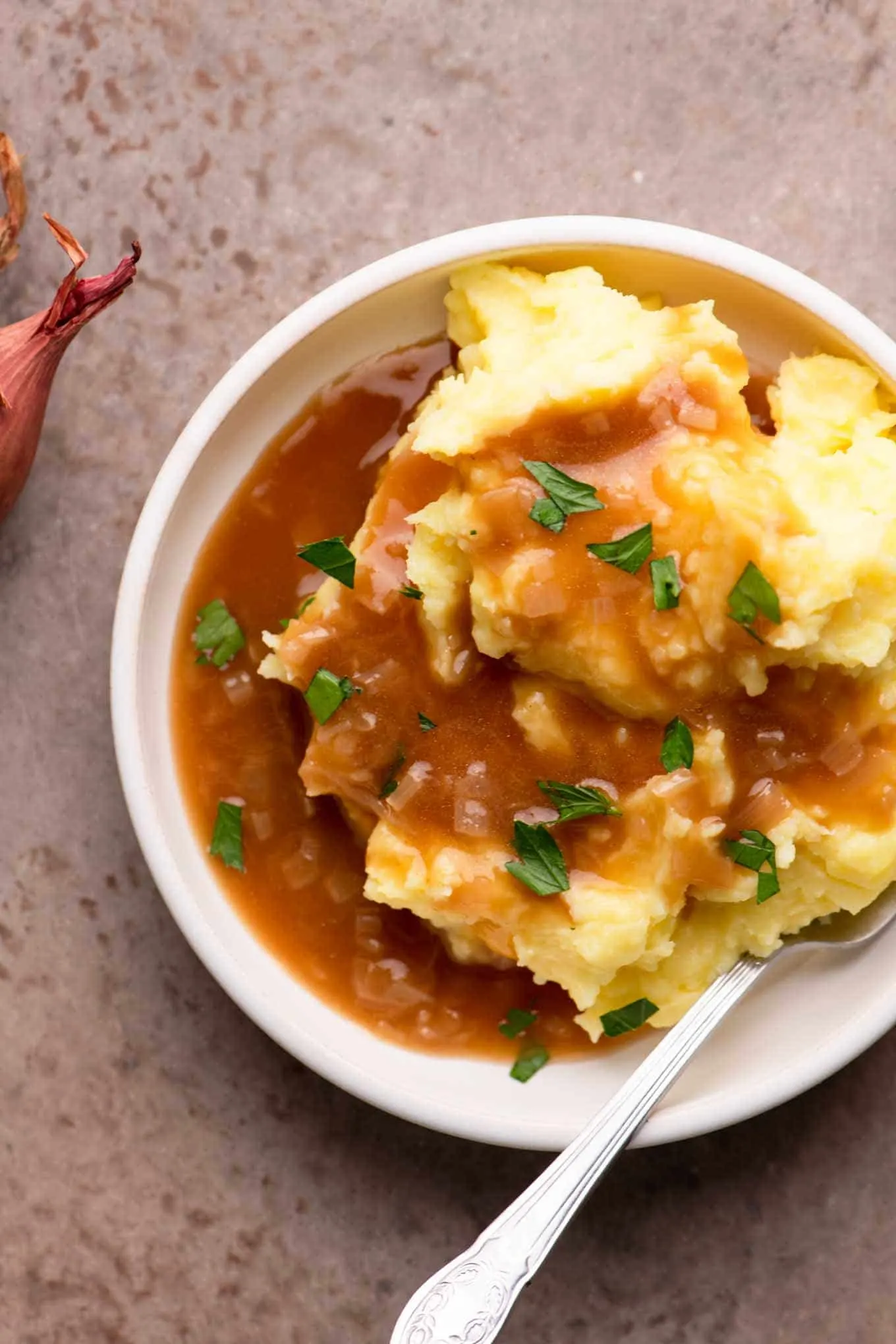 Can I make this gluten free?
Yes of course. To substitute the flour use either a gluten free all purpose blend, or use oat flour or cassava flour. You can also skip the flour and add more starch. If using starch skip the toasting step as it's not going to toast and turn a richer flavor. Simply make a slurry with 2 tablespoons starch and 2 tbsp water, then add that to the broth. If it needs to be thicker made additional starch slurry to add, if it's too thick add broth to thin.
You also need to substitute the soy sauce. This is super easy, just tamari which is gluten free.
Dishes to pair shallot gravy with:
There's the given, mashed potatoes.
This gravy is also great served with vegan biscuits for a delicious brunch.
Top fries with the gravy and add cubed vegan cheese for tasty a vegan poutine experience. Don't forget a chive garnish!
You'll also want to try pairing this gravy with my vegan seitan steaks, as seen in this delicious vegan "steak and potatoes" style meal.
Pour the gravy over vegan roasts, or some roasted vegetables! You can even use it to make a shepherd's pie. The possibilities are seemingly endless!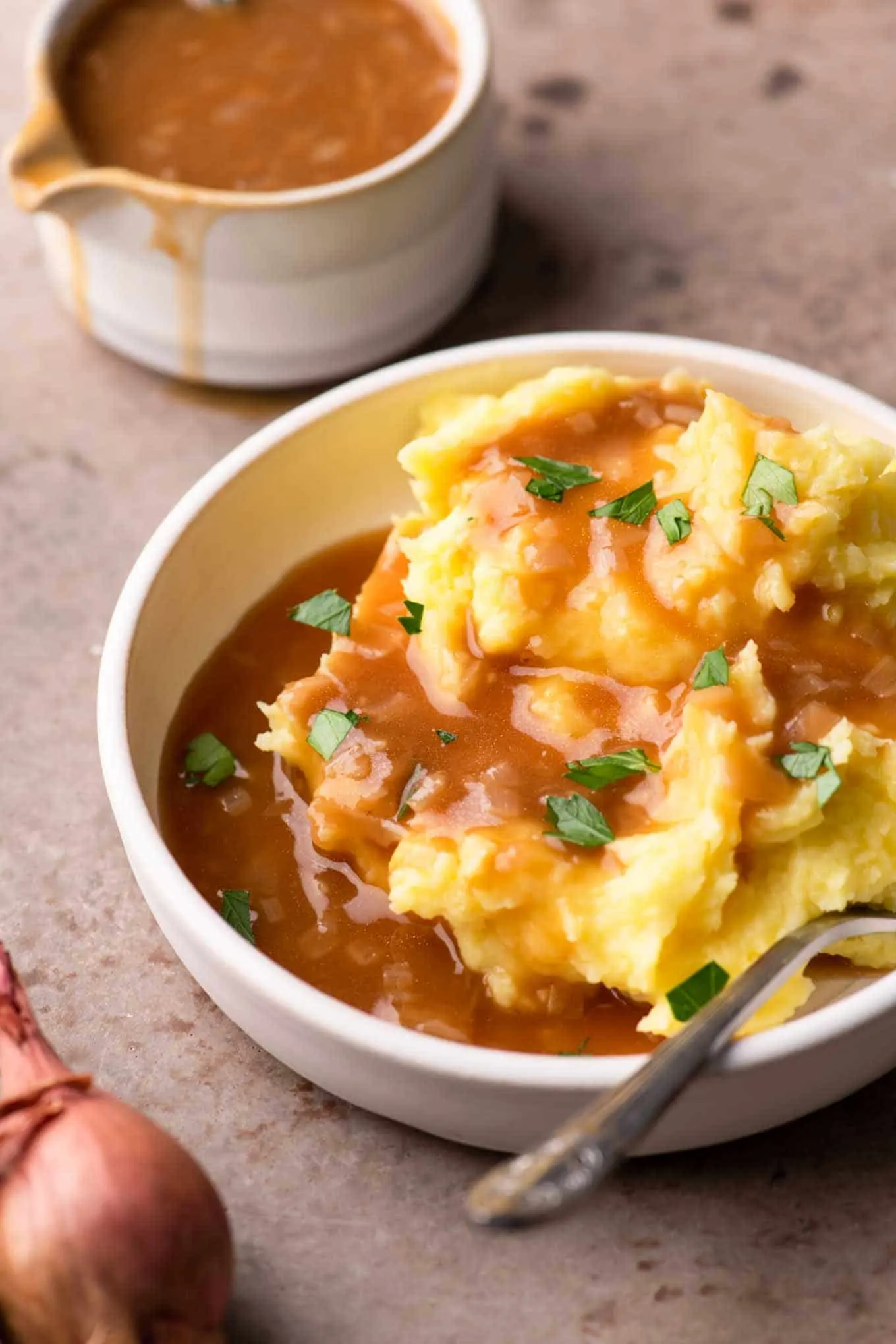 More vegan gravy recipes:
If you want some other gravy inspiration, check out my creamy vegan mushroom gravy and the delicious creamy tarragon gravy that's part of my cabbage sheet pan meal.
If you make these vegan shallot gravy, leave a comment below and rate the recipe on the recipe card. And please share your photos with me on Instagram, tag @thecuriouschickpea and #thecuriouschickpea. I love seeing your recreations!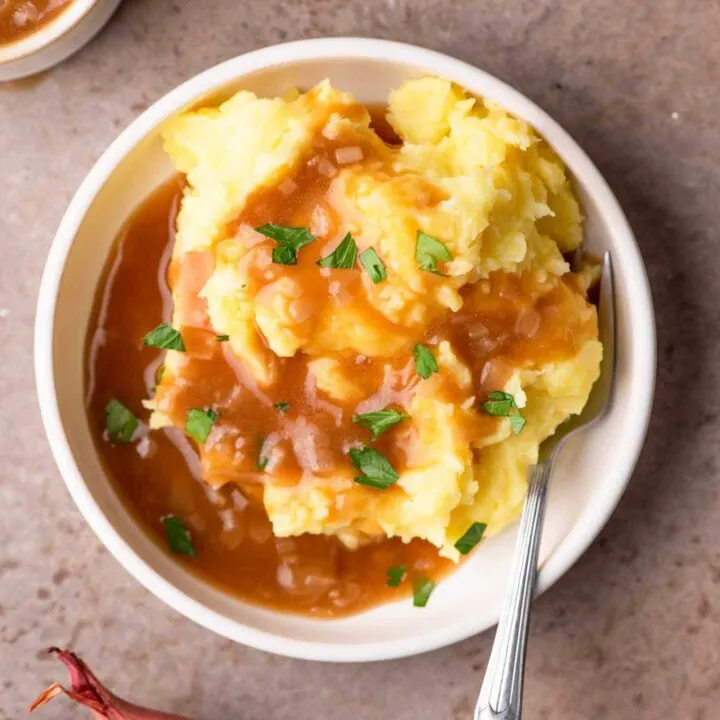 Vegan Shallot Gravy
This shallot gravy is really easy but delivers big on flavor. It's a delicious accompaniment to any gravy loving meal! The gravy can be made in advance and reheated, and lasts about 2 weeks in the fridge.
Ingredients
2 shallots, finely diced (heaping 1/2 cup)
3 tbsp vegan butter or olive oil
2 tbsp all purpose flour
2 cups vegetable broth
1/4 cup red wine
1 tbsp soy sauce
2 tsp tapioca starch
1 tbsp water
Instructions
Heat the vegan butter (or olive oil) in a small pot over medium low heat. Add the shallots and cook until soft and translucent, about 4-5 minutes. Turn down the heat if they start to brown.
Add the flour and cook another 1-2 minutes, stirring near constantly,
When the flour smells a little toasty, slowly stream in the vegetable broth, whisking as you pour to prevent clumping.
Add the wine and soy sauce. In a small dish whisk together the tapioca starch with 1 tablespoon of water, then add it to the gravy.
Bring the gravy to a simmer, and let it cook for about 5-8 minutes or until thickened. If needed add a little extra starch to thicken, or broth to thin.
Nutrition Information:
Yield:

10
Serving Size:

1
Amount Per Serving:
Calories:

65
Total Fat:

5g
Sodium:

250mg
Carbohydrates:

4g
Sugar:

1g
Protein:

1g
Nutrition is calculated automatically so should be used as an estimate.