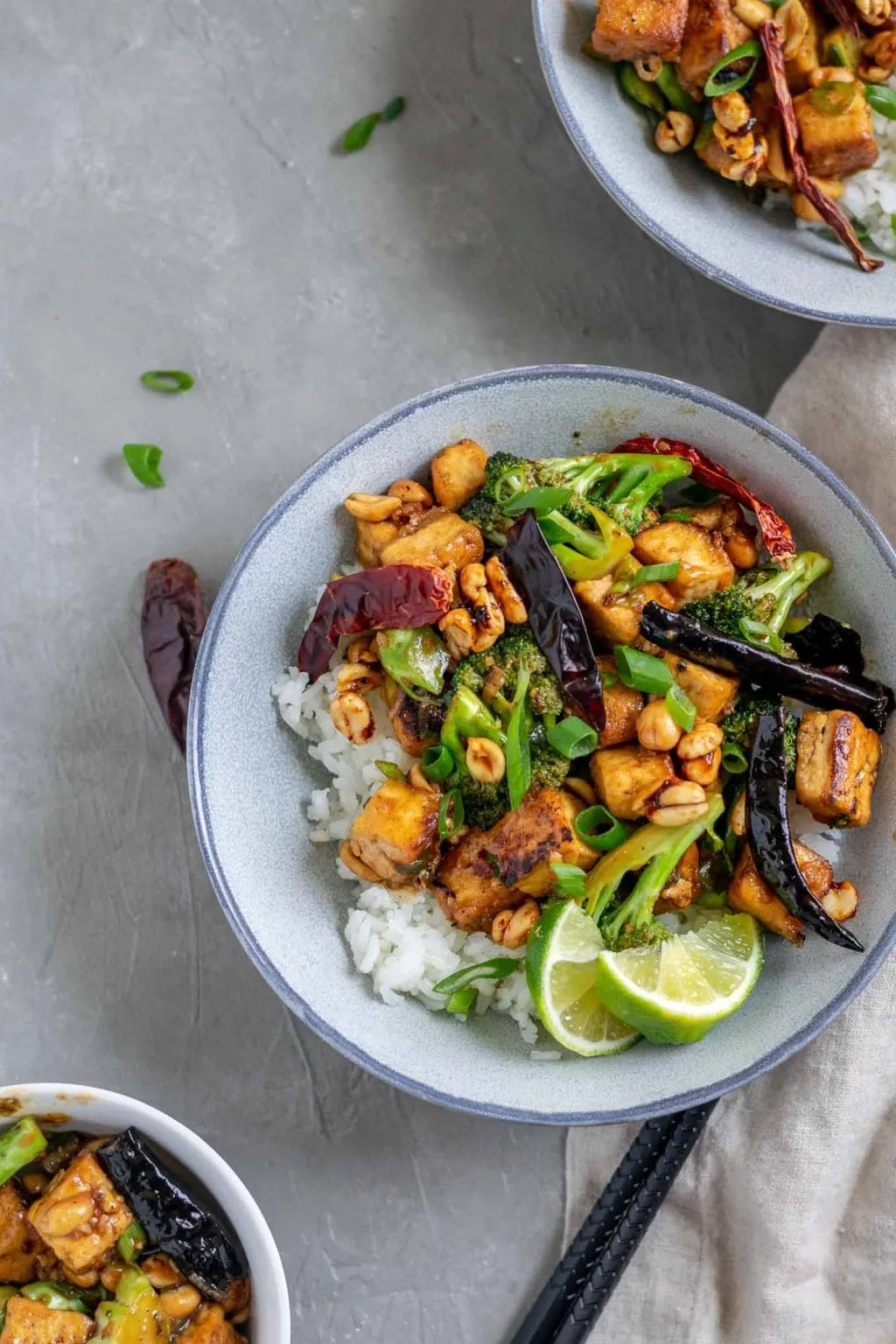 Kung Pao, that American-Chinese food classic with roots in Sichuan cuisine, gets a vegan makeover today. Wok fried tofu is doused in a flavorful, salty, tongue tingly sauce and tossed with handfuls of buttery roasted peanuts. Add in some broccoli florets because why make 2 stir fries when you can enjoy one!
I love stir fries because they're typically ready in just minutes. In a wok and over high heat, vegetables and proteins cook in almost no time. Things move so quickly that you want to have everything prepped–vegetables chopped, tofu cubed, sauce mixed together, etc–before starting. That way when the cooking starts you can focus on it.
Kung pao is traditionally a dish made mostly of marinated chicken, hot chiles, Sichuan peppercorn (which have that tongue-tingly heat), and nuts (either peanuts or cashews). Tofu makes an easy swap for the protein. Tossed in corn starch the outside fries up nice and crisp, while the inside remains nice and soft. I've been on a big tofu kick lately, and love the combination of creamy tofu with flavorful, spicy sauces.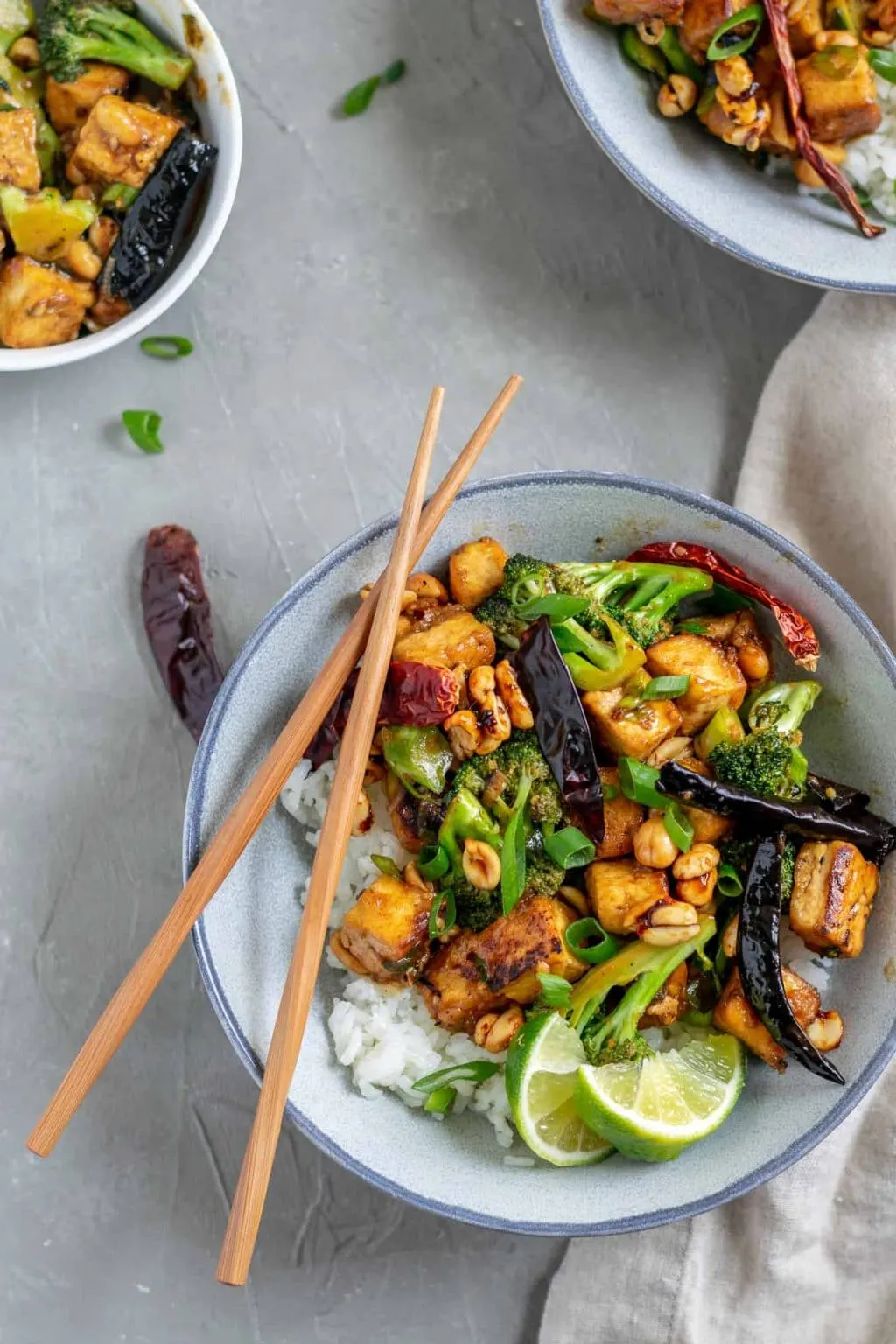 I tried to keep the sauce on the authentic side, at least from what I understand and what my research turned up. I used a combination of dark and light soy sauce. Dark soy sauce is a sweetened soy sauce, salty and syrupy, with a lot of umami flavor. Light soy sauce is thin and salty, and lightly seasoned. Together they add layers of flavor that are hard to achieve with the single Japanese style soy sauce we're more accustomed to finding in the US. That being said, I suggest a tamari (or shoyu) substitution, if you're unable to hunt down the Chinese soy sauces.
Next we add some Chinese cooking wine (shaoxing rice wine), which you can substitute sherry or gin for, and toasted sesame oil. Then stir in some Sichuan peppercorn. I buy this whole and grind before use with a mortar and pestle or a spice grinder, depending on how much I'm grinding.
Vegetable broth is next, and then corn starch. The broth and thins out and dilutes the sauce so it isn't too strong and the starch thickens it to a flavorful gravy that can coat every last morsel.
Traditional cooking would have you deep fry un-roasted nuts before adding the rest of the ingredients, but I like to keep things easy and toss in roasted nuts right at the end. I personally don't miss the extra richness that deep fried nuts would bring.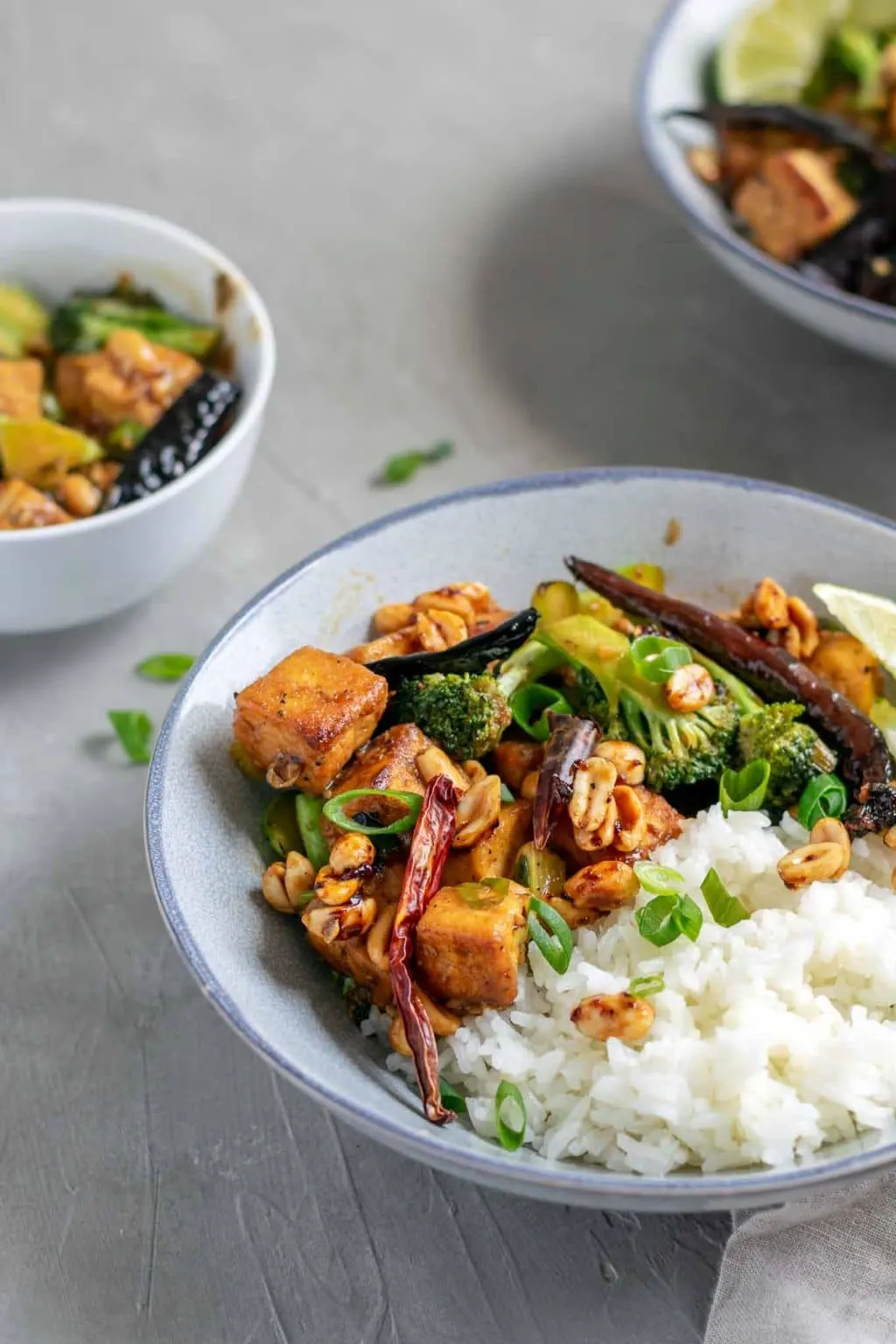 Instead, we first fry the starch coated tofu until crispy, then remove it from the wok and set aside. In the leftover oil we fry up our aromatics. Whole red chiles (you can get Chinese ones from an Asian grocery store or from Amazon, or substitute arbols, or Indian whole red chiles), minced garlic, and the light part of scallions–thinly sliced.
The aromatics fry up in a matter of seconds, then we add the broccoli. While you more commonly see bell pepper in American Kung Pao, I like the added nutrition you get from broccoli. It's also one of my favorite vegetables in stir fries, at it soaks up all that delicious sauce into the florets. I mean, yum.
The broccoli cooks up to a vibrant green, barely tender with charred edges, in a couple of minutes, then we add in the tofu, peanuts, and the sauce. The sauce thickens over the heat in a minute or two, and at the very end add in the scallion greens.
And there you have it! Easy, quick, and delicious vegan kung pao tofu. Once you have the sauces for the recipe, it becomes very pantry friendly. It's work seeking out the specialty ingredients, as they will make your stir fries more authentic tasting, but if you don't and instead use the suggest substitutions, the final dish is still excellent, if less authentic.
I haven't listed a substitute for Sichuan peppercorn because there really isn't one. At least not one that dances across your tongue in the same manner. If you can't find it and still want your Kung Pao, I would probably use white pepper in its stead.
If you make this dish, leave a comment and rate the recipe below! And as always, don't forget to tag your recreations @thecuriouschickpea and #thecuriouschickpea on Instagram!
Like what you see? Follow along on Instagram, Facebook, and Pinterest!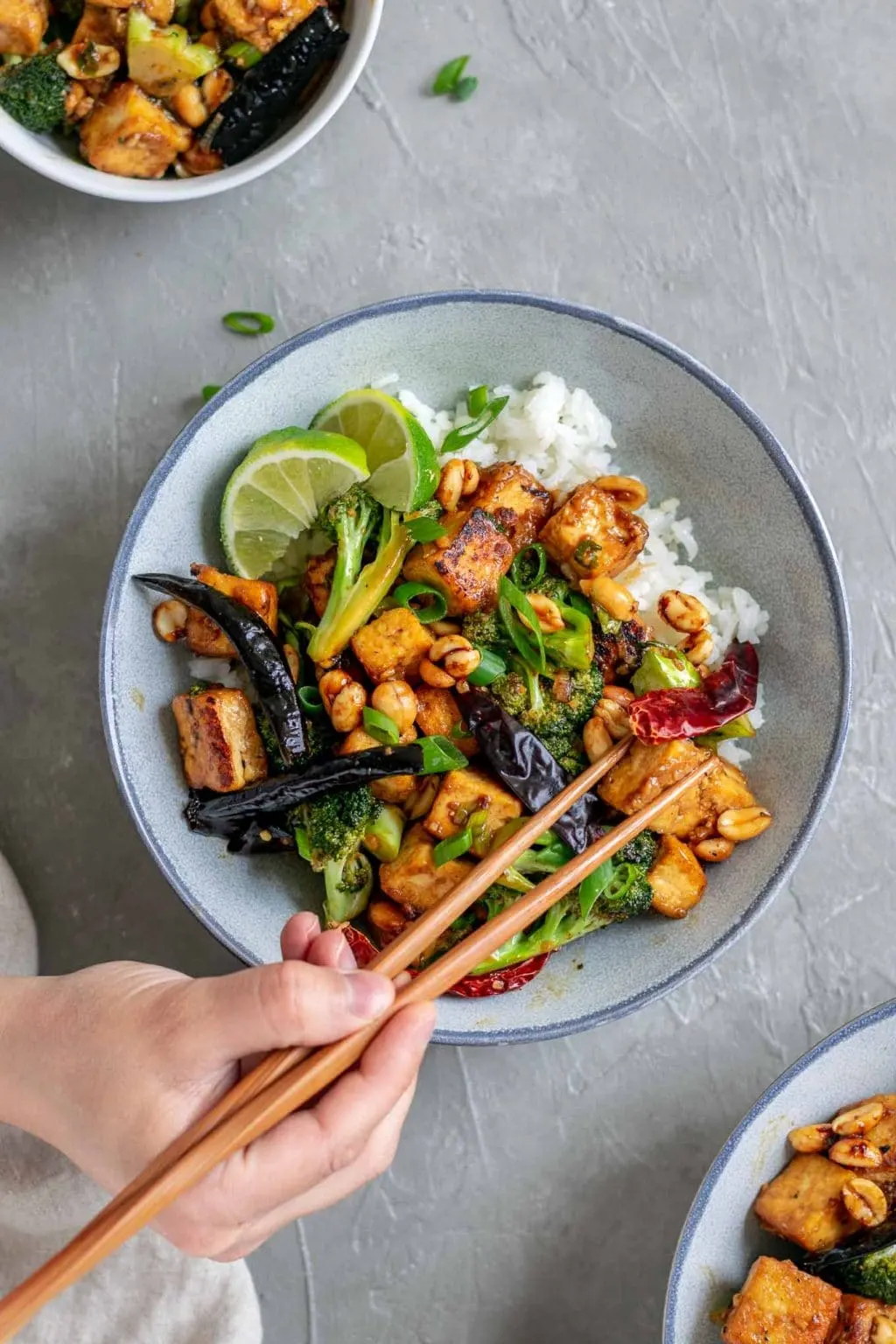 Notes:
I have made this stir fry with cubed seitan and love it that way as well, skip the salt when tossing in corn starch. You can use just 8 oz of seitan, the dish will just be saucier at the end.
If you like extra saucy stir fries, make 1.5-2x the sauce. You'll need to eat it with extra rice to sop it up.
The recipe calls for 4-6 dried chiles, which makes a nice medium heat (by my standards). You can always double that if you want a spicy meal, or use less for a mild dish. And whether or not you want to eat the chiles is up to you! They'll add heat without overpowering if you don't eat them and leave them whole.
Vegan Kung Pao Tofu with Broccoli
Crispy fried tofu is smothered in a kung pao stir fry sauce with roasted peanuts and charred broccoli in this quick and easy vegan Americanized Chinese stir fry.
Ingredients
Stir fry sauce
2 tbsp dark soy sauce*
1 tbsp light soy sauce*
1 tbsp Chinese cooking wine, substitute sherry or gin
1 tsp toasted sesame oil
1/2 tsp ground Sichuan peppercorn
1/2 cup broth or water
1 tbsp corn starch
Crispy fried tofu
2 tbsp high heat safe oil, like peanut oil
2 lb extra firm tofu, cut into ~3/4" cubes
1 1/2 tbsp corn starch
1/2 tsp salt
Stir fry ingredients
4-6 dried red chiles
3 cloves garlic, minced
2 scallions, thinly sliced, white and green parts divided
1/2 cup roasted and unsalted peanuts
1 head broccoli cut into florets
Instructions
In a small mixing bowl whisk together the dark and light soy sauces (see note for substitution), Chinese wine, toasted sesame oil, and ground Sichuan peppercorn. In a small dish whisk together the broth (or water) and corn starch to make a slurry, then add the slurry to the rest of the sauce and whisk to combine. Set aside.
Put the cubed tofu in a large mixing bowl and sprinkle the 1 1/2 tbsp corn starch and 1/2 tsp salt and toss to coat the tofu.
Heat a wok or large skillet over high heat. When hot add the 2 tbsp of oil then add the tofu. Fry for 7-8 minutes, flipping every couple of minutes, until golden and crispy on all sides. Remove the tofu and set on a paper towel lined plate to drain.
In the wok using the leftover oil add the dried red chiles. Fry for about 15-30 seconds, stirring constantly, until a shade darker and toasted. Add the minced garlic, and white parts of the scallions and sauté for another 30 seconds, stirring constantly. Add the broccoli and stir fry until bright green and charred, about 2-3 minutes. Add the tofu, peanuts, and sauce and fry for 1-2 minutes. Add the scallion greens and turn off the heat.
Serve the kung pao tofu with jasmine rice and enjoy hot.
Notes
*If you can't find the dark and light chinese soy sauces substitute 3 tbsp of tamari or shoyu and add 1 tsp of brown sugar or coconut sugar.
Adapted from Serious Eats