If you need a delicious and savory gravy, look no further than my creamy vegan mushroom gravy! It's so flavorful thanks to caramelized onion and mushrooms, but blended smooth to infuse every bite with the perfect balance of flavors. It's vegan of course, and can be made gluten free if needed.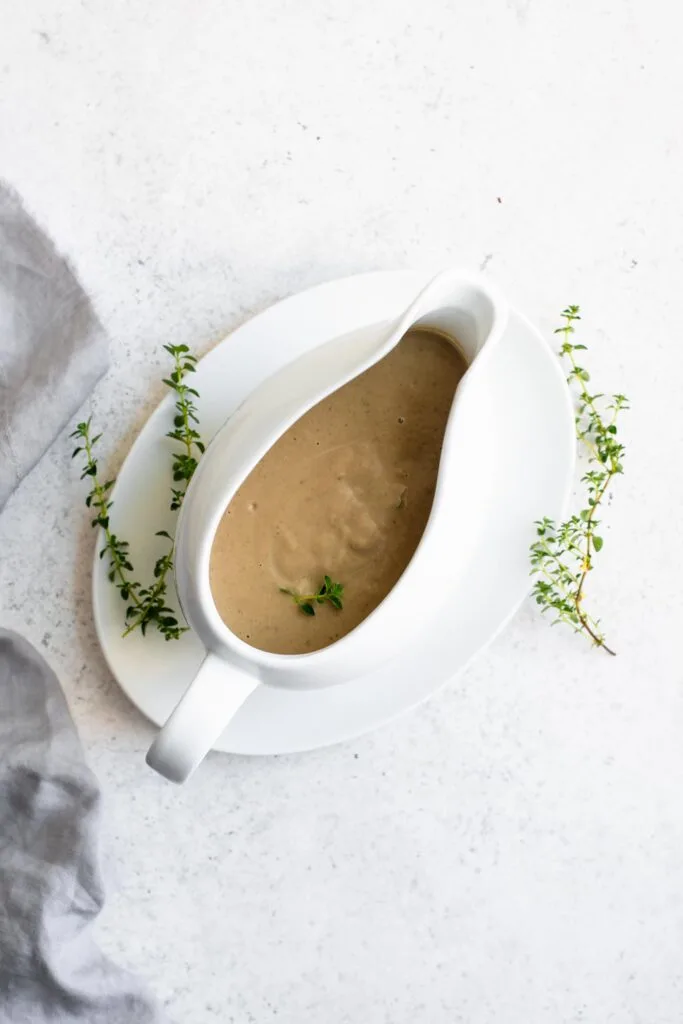 This vegan mushroom gravy pairs perfectly with mashed potatoes, vegan holiday roasts, biscuits (biscuits and gravy anyone?), french fries (for poutine of course!), and whatever else you enjoy gravy with!
I personally like to just think of this as a generic creamy vegan gravy* wherein just enough mushrooms are added to lend their rich, savory flavor. And when blended addd body and a luscious texture to the gravy.
Of course, it's completely a mushroom gravy (at least that's what my mushroom loving husband insists), but I don't think of myself as a mushroom person and I love this gravy! Hence my hedging ?.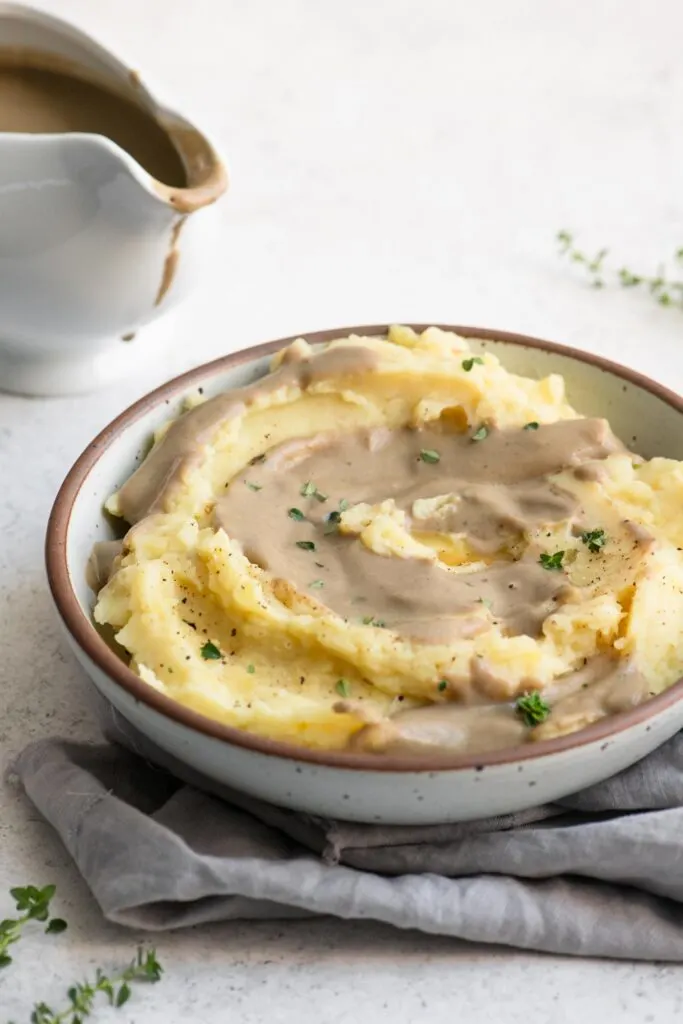 The creamy vegan mushroom gravy sorcery:
I say sorcery, because it's so insanely good! Like, I don't think I'll ever want to make another gravy again good.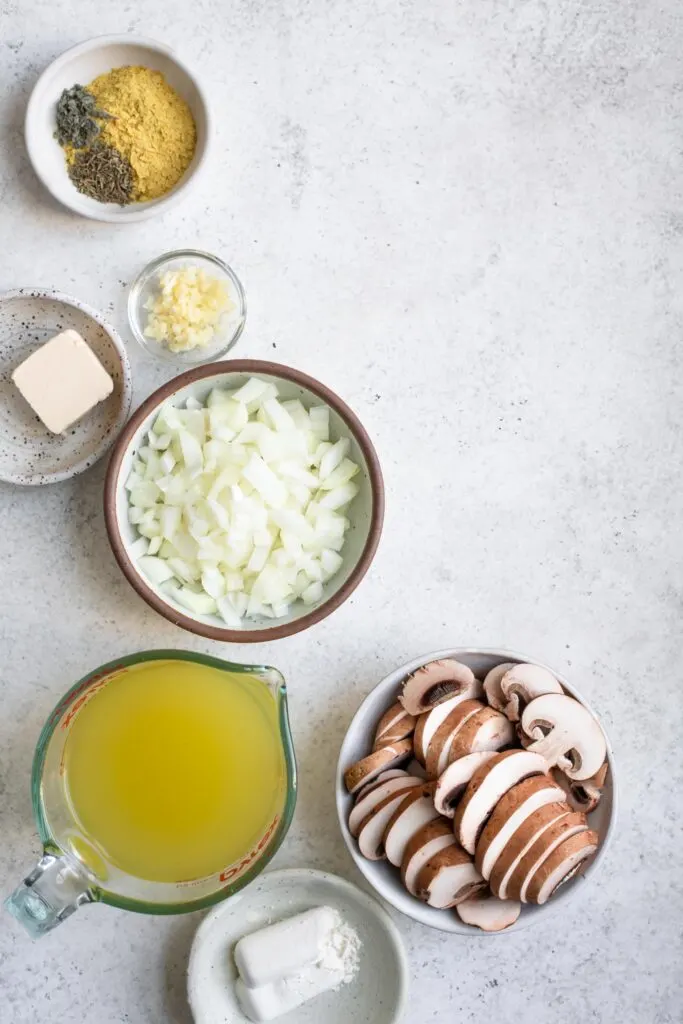 First, we build flavor by sautéing onion in vegan butter until they're soft and decadent tasting. The onions should turn translucent but not get too browned!
I like to use vegan butter in this recipe for extra flavor and that buttery taste, but if you prefer to use extra virgin olive oil that also will give great flavor.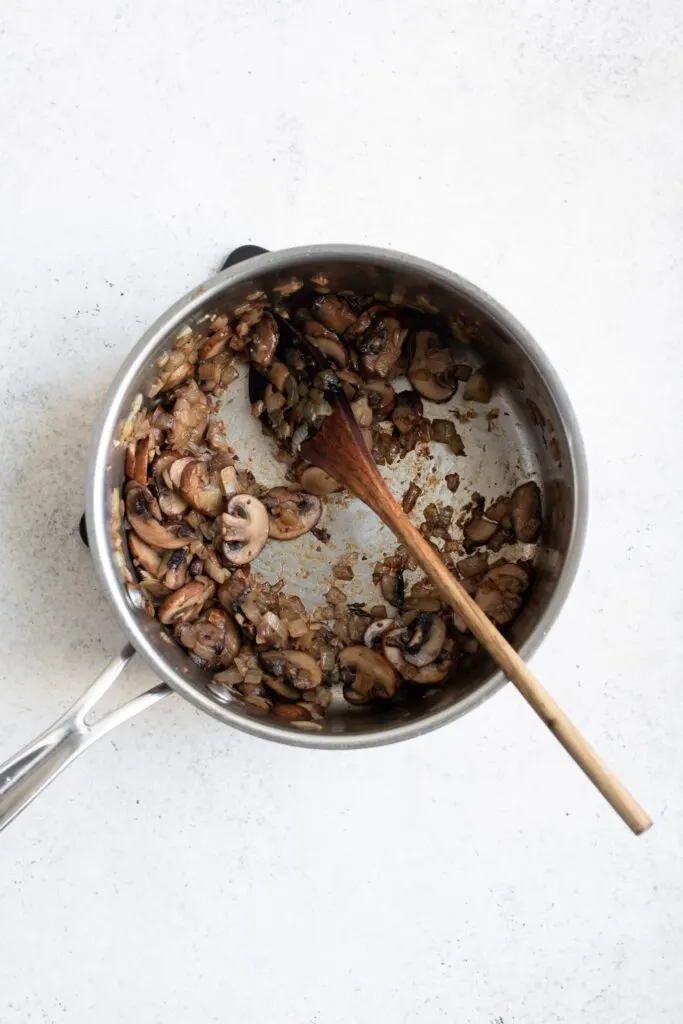 Then add minced garlic and cremini mushrooms and cook until the mushrooms have released their water and are lightly browned.
At this point the onions will be lightly caramelized as well!
Now add flour to thicken it. I use all purpose flour, but for gluten free you can use starch (cornstarch, arrowroot, etc.) or a gluten free all purpose blend. Stirring in the flour onto the vegetables helps keep the gravy from getting lumpy when you start adding the liquid.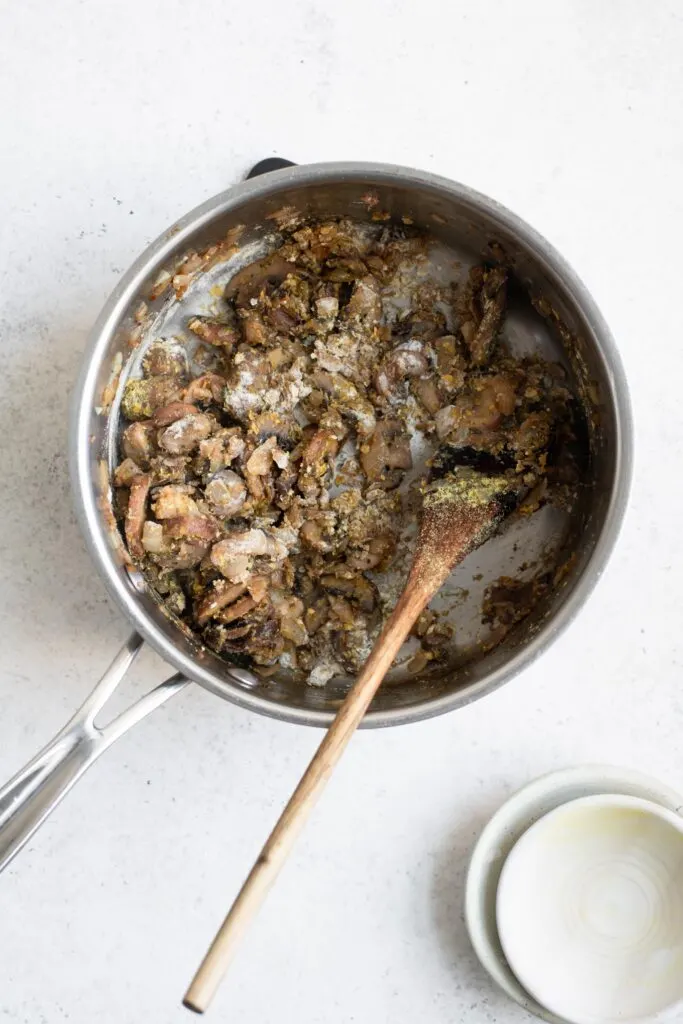 The seasoning gets added along with the flour: a sprinkling of nutritional yeast for its savory, almost cheesy flavor, dried thyme, dried sage, and salt and pepper.
I use white pepper because it's less visible and has a less complex flavor (therefore less competing) than black pepper.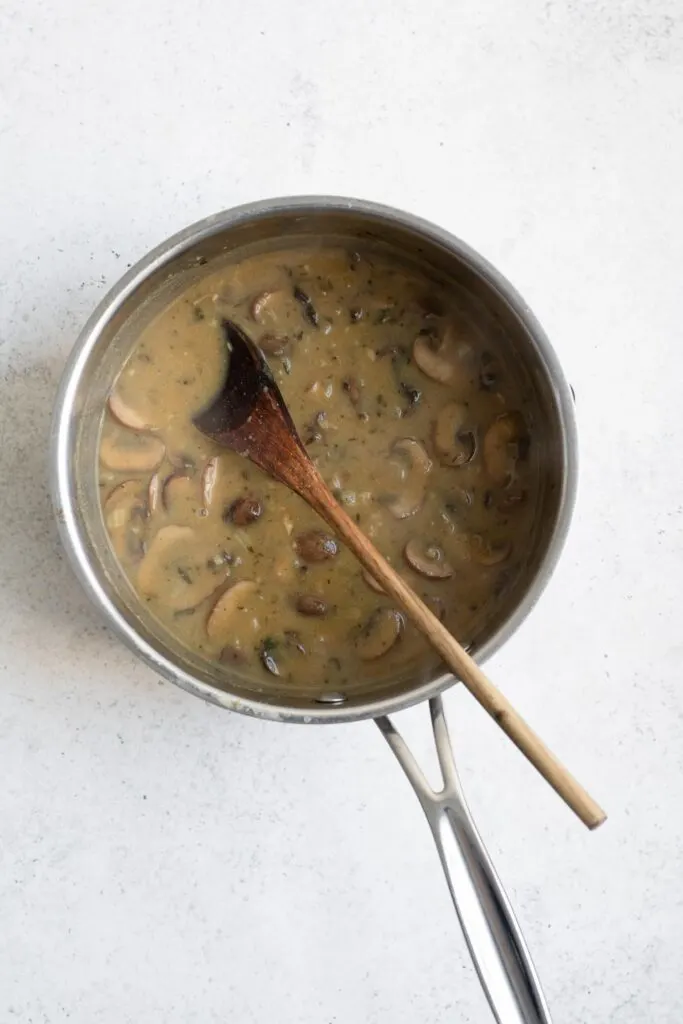 All that's left is adding vegetable broth and letting it simmer until the broth has thickened, then blending the gravy smooth!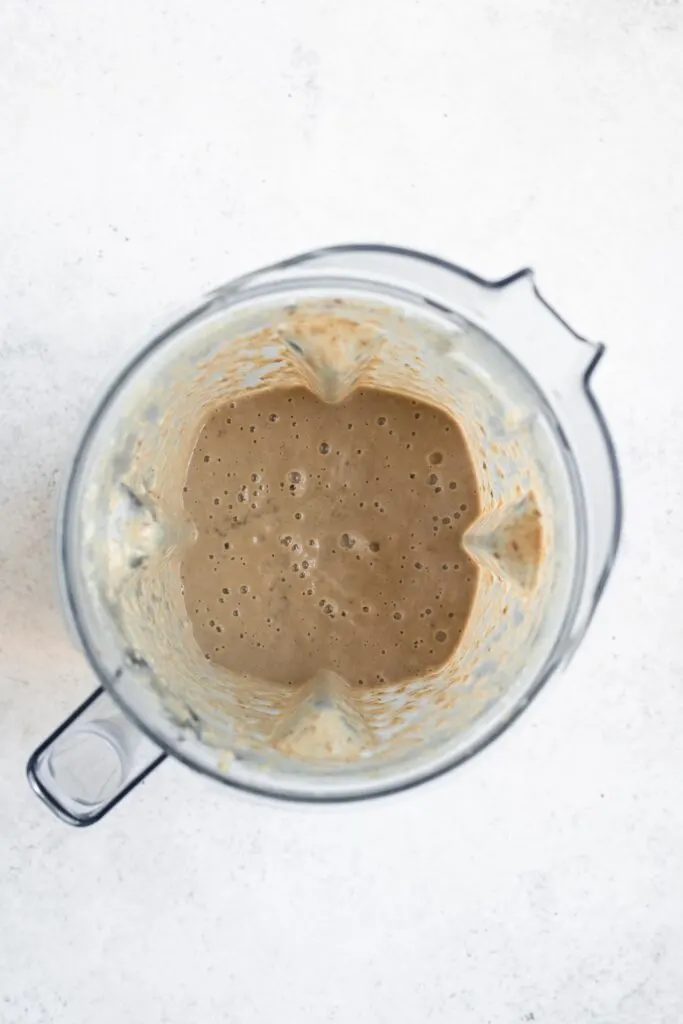 How to serve and store the mushroom gravy:
You can have the creamy gravy right away, or make it in advance and warm it up to serve.
It will keep for about a week in the fridge, any longer and go ahead and freeze it.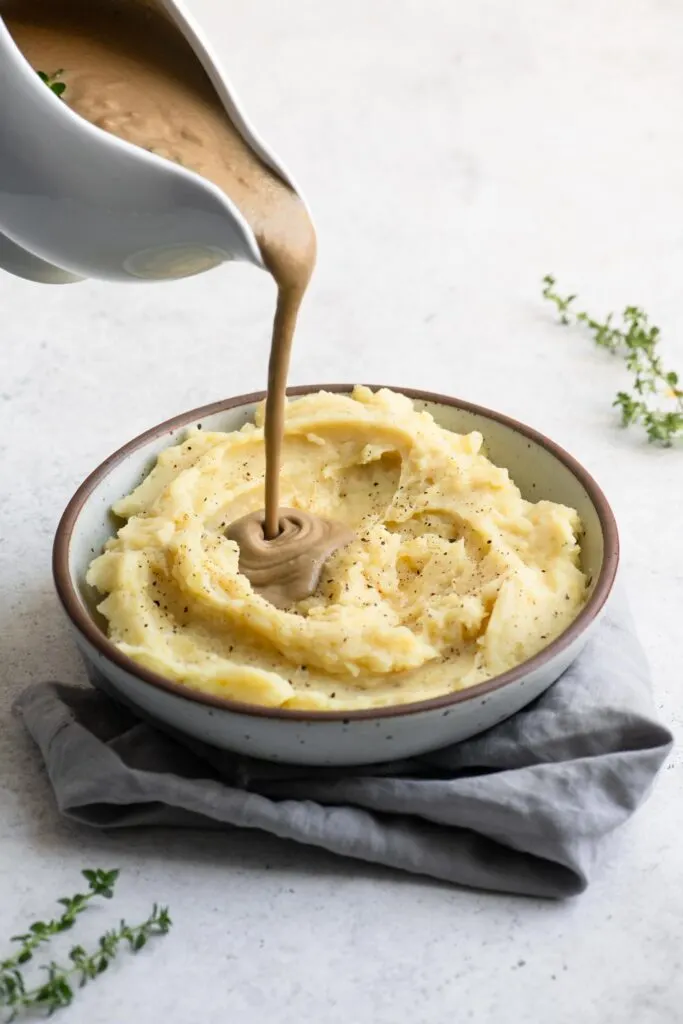 It's the perfect gravy to serve at a holiday feast, vegans and non-vegans alike will enjoy it! Thanksgiving, Christmas, Easter, you know, whatever holidays gravy is appropriate.
Honestly, I know mashed potatoes and gravy is a thing, but next time I make this gravy I'm going to have to make some fries to go along with because I'm craving some vegan poutine something fierce!
And psst, if you're trying to figure out your vegan thanksgiving menu, I'm here to help with a whole vegan thanksgiving recipe roundup!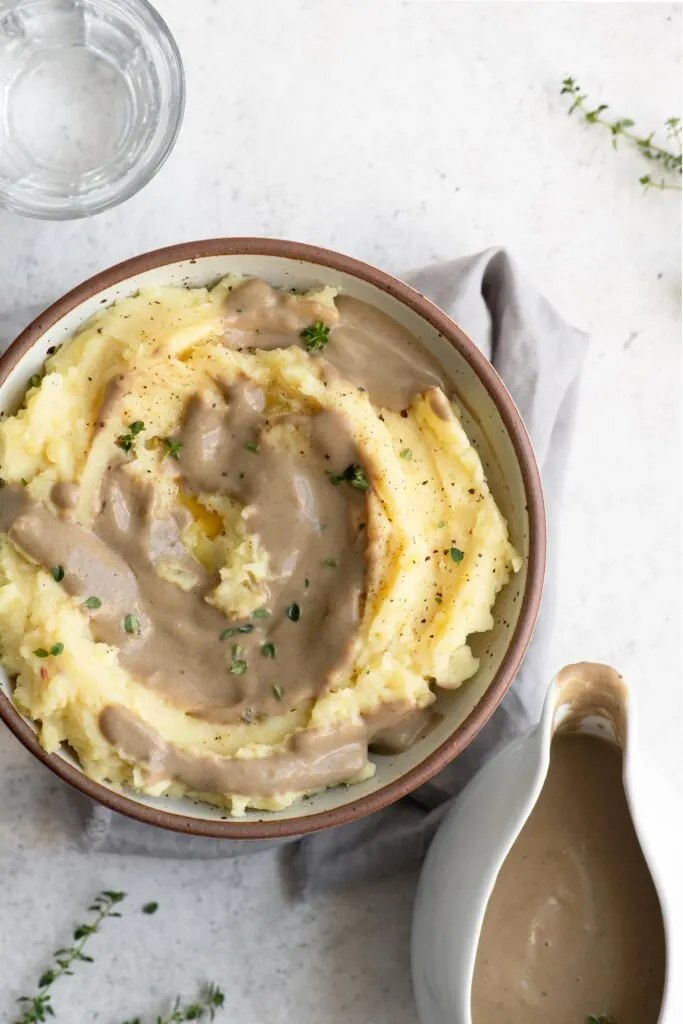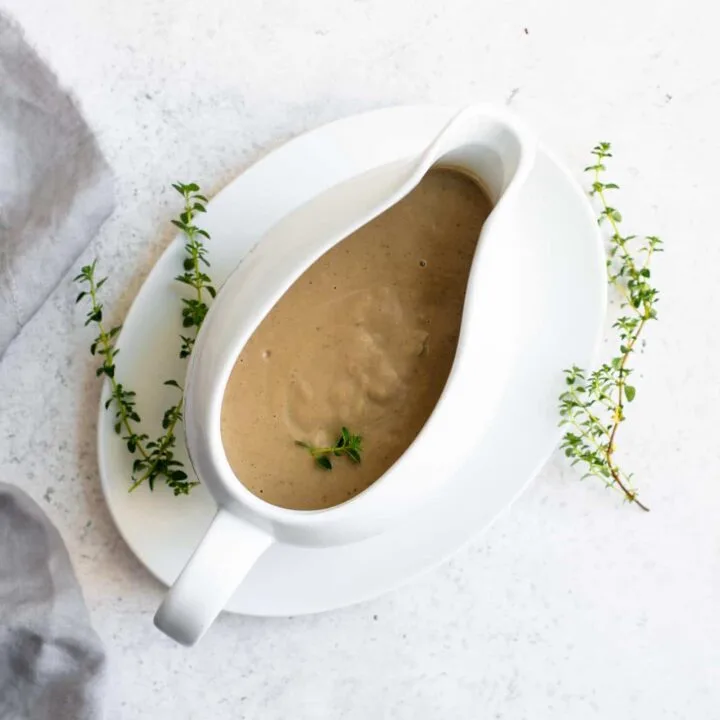 Creamy Vegan Mushroom Gravy
This creamy vegan mushroom gravy is built with so much flavor from caramelized onion and mushrooms. It's easy to make and can be made in advance, so ideal for holiday meal planning! For a gluten free gravy, use GF all purpose blend or substitute arrowroot or other starch.
Ingredients
2 tbsp vegan butter (substitute extra virgin olive oil)
1 small yellow onion, diced (1 cup)
8 oz cremini mushrooms, sliced
2 cloves garlic, minced
2 tbsp flour
2 tbsp nutritional yeast
1/2 tsp dried thyme
1/2 tsp dried sage
white pepper, to taste
salt, to taste
2 cups vegetable broth
Instructions
In a medium pot melt the vegan butter over medium heat (or warm olive oil). Add the onions with a pinch of salt and cook until they are soft and a pale golden, about 8-10 minutes. If the onion starts to brown, turn the heat down.
Add the mushrooms, garlic, and a pinch of salt and cook until the mushrooms have released their water and have lightly browned, about 8-10 minutes.
Add the flour, nutritional yeast, thyme, sage, and some white pepper and stir to coat the onion and mushroom mixture. Let toast for 1 minute.
Slowly pour in the broth while stirring, then bring to a simmer and let simmer until somewhat thickened, about 5 minutes.
Transfer the gravy to the blender and blend until smooth. Season with salt and pepper to taste. Enjoy immediately or store in a sealed container in the fridge for up to a week (freeze for longer storage).
Notes
You can substitute black pepper for white pepper.
Because vegetable broth is often quite salty, only add a pinch during cooking, then after blending add it to taste.
Nutrition Information:
Yield:

8
Serving Size:

1
Amount Per Serving:
Calories:

56
Total Fat:

3g
Sodium:

337mg
Carbohydrates:

5g
Fiber:

1g
Sugar:

1g
Protein:

2g
Nutrition is calculated automatically so should be used as an estimate.