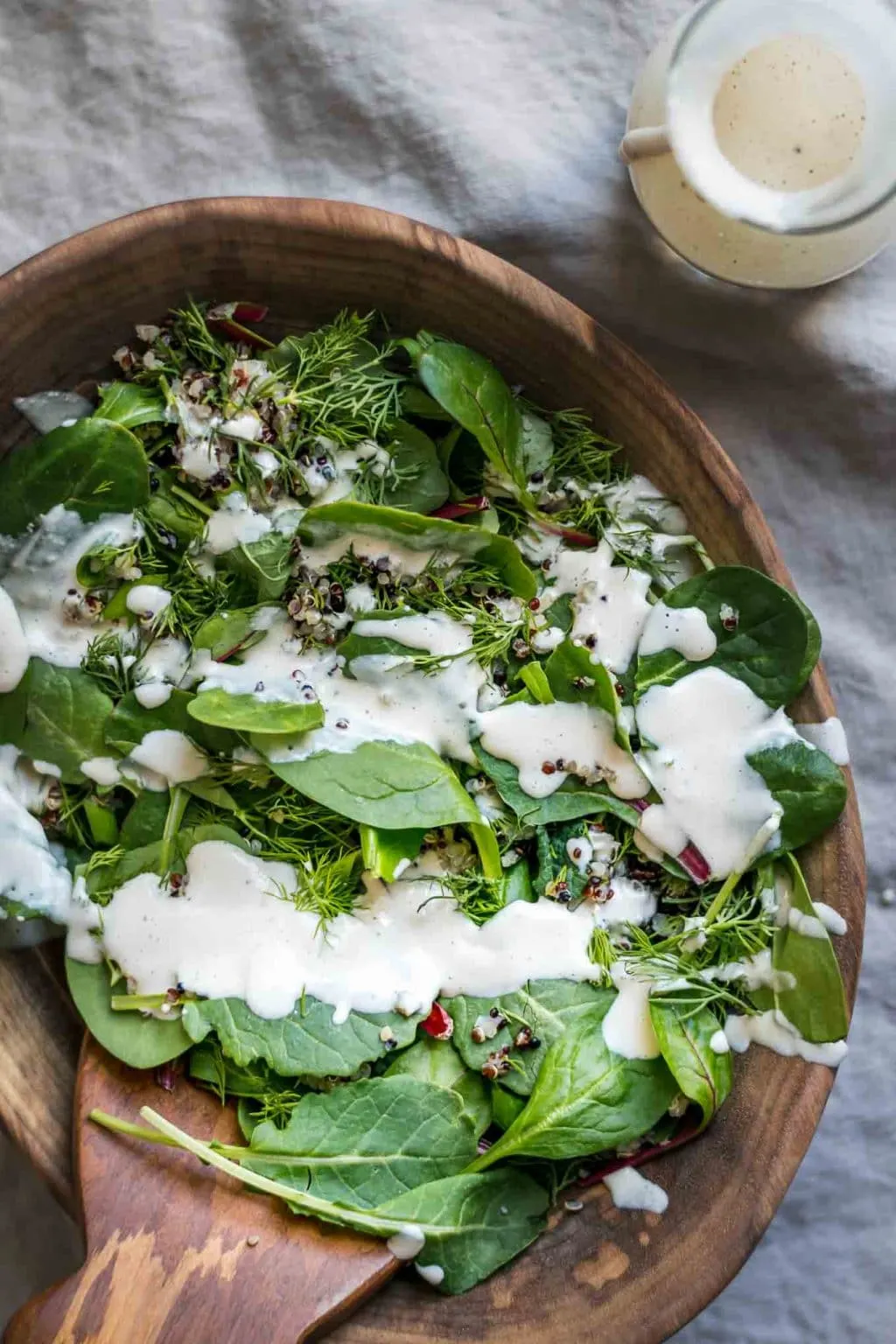 I'm usually not a huge salad eater, preferring my vegetables cooked up and served warm. But after the first month of winter I start craving craving fresh uncooked greens like there's no tomorrow. It happens every year around the same time, and this year is no different. It started a couple weeks ago when I ordered a salad at a restaurant. It was a vegan restaurant. There's really no excuse for this. I mean the salad was good, just so far off my typical ordering M.O. Well one thing led to another, and I've found myself buying greens and making salads. And you're welcome, because this easy salad was born.
This delicious salad strikes all my fresh food cravings. Stuffed full of baby greens (the mix I'm into right now includes baby kale, baby chard, and baby arugula), the exact right amount of fresh dill (read: a lot), and a scattering of scallion greens. It's bulked up with some quinoa and served with an easy lemony tahini yogurt dressing.
So I have a thing for tahini dressings. Most days I prefer a creamy dressing over a vinaigrette, and tahini has such a great rich and nutty flavor that pairs so well with raw salad greens. It also is the easiest to use for dressings. Sure cashews can make a great creamy dressing, but you need to dirty your blender (and possibly plan a couple hours ahead for soaking your 'shews). Tahini dressings can be whisked together with a fork or, for an elbow-grease-free method, immersion blender. This dressing combines a plain, unsweetened non dairy yogurt (I used Kite Hill, but any will work) with the tahini for a little creamy tang. The tang is enhanced with apple cider vinegar, and freshly squeezed lemon juice adds a bit of mouth watering sourness. All this acidity is balanced with a drizzle of sweet maple syrup. A clove of garlic, some sweet dried onion powder, salt, and freshly ground black pepper finish the dressing off. The resulting dressing is flavorful and complex, perfect for adorning a salad.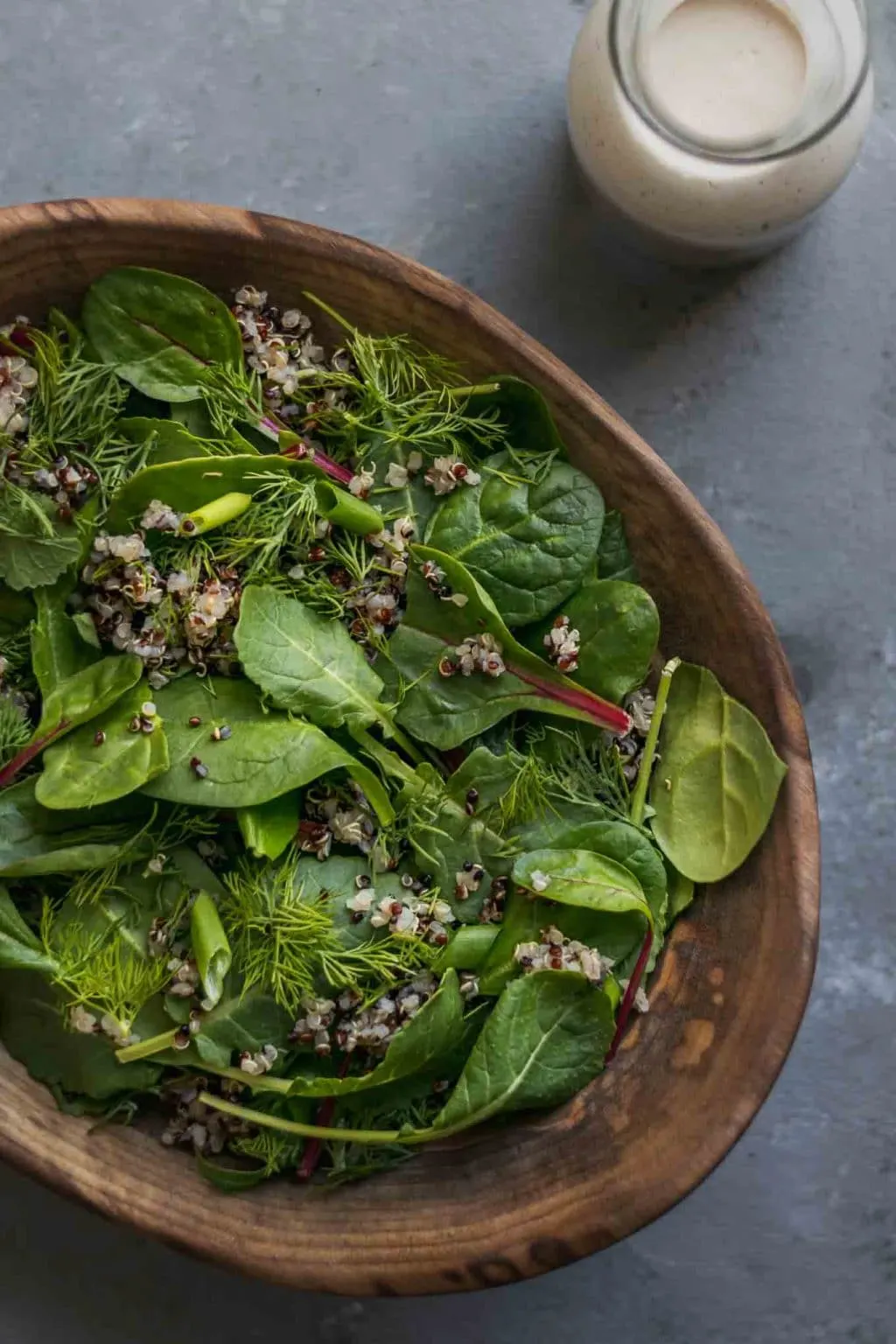 I kept the salad simple, with just greens and fresh herbs. Fresh dill makes the ideal pairing for the tangy lemony, garlicky dressing and is used in abundance. The occasional sharp bite of scallion heightens the fresh flavors of the salad. I added quinoa, as it's one of my favorite salad grains. It adds a great textural element to the salad, and enough body that you could eat this as a full meal. Might I suggest serving it with some breadsticks though (drool)?
This salad is a powerhouse of nutrition. First there are the greens, and those baby greens are packed full of vitamin A, vitamin C, iron, and calcium. They even have protein in them (only ~4g per 5 oz package of greens, but still)! Then there's the quinoa, which is a complete protein (8 grams of protein per serving), not to mention a great source of fiber and a ton of vitamins and minerals, including magnesium, manganese, folate, and riboflavin. Then there's tahini, which is high in fat, but it's good for you fats, and it happens to be a great source of calcium (say what?!) and yeah, has protein too. I probably should have called it The Powerhouse Salad. I've basically been doing my body a favor by eating a ton of this salad. But only reason I actually have been eating it is because it tastes seriously good.
Hope you guys like the recipe! Let me know if you make it, and leave a comment below! Tag your recreations @thecuriouschickpea and #thecuriouschickpea on Instagram, or share with me on Facebook. Here's to surviving the rest of winter!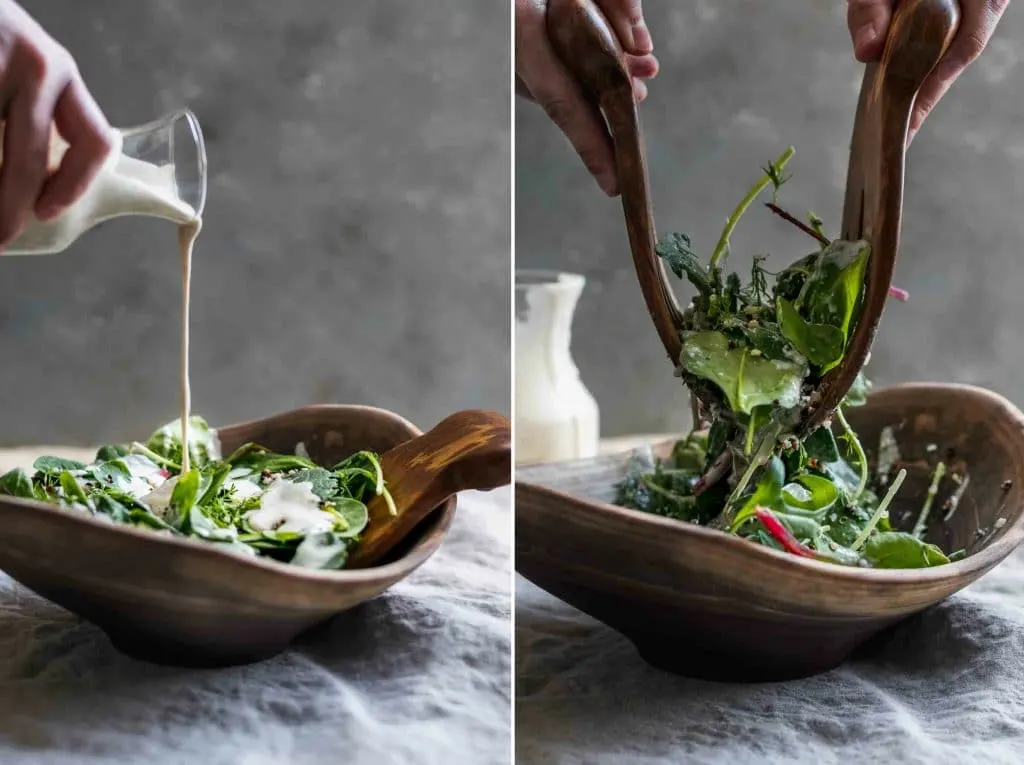 Notes:
I used baby 'power greens,' a mix including baby kale, chard, arugula. However, any of your favorite salad greens will work in the recipe.
You can use any color of quinoa, I use tricolor because it's pretty. You can cook the quinoa in advance using the package directions (or try these @ The Kitchn). To quickly cool the cooked quinoa, spread it over a strainer, place the strainer on a plate, and stick in the freezer, stirring every 5ish minutes until it's room temperature. You don't want to put hot quinoa on the salad or it will wilt the greens.
If you can't find plain unsweetened yogurt but can find plain, I would leave out the maple syrup.
Serves 2 as the main meal, 4 as a side.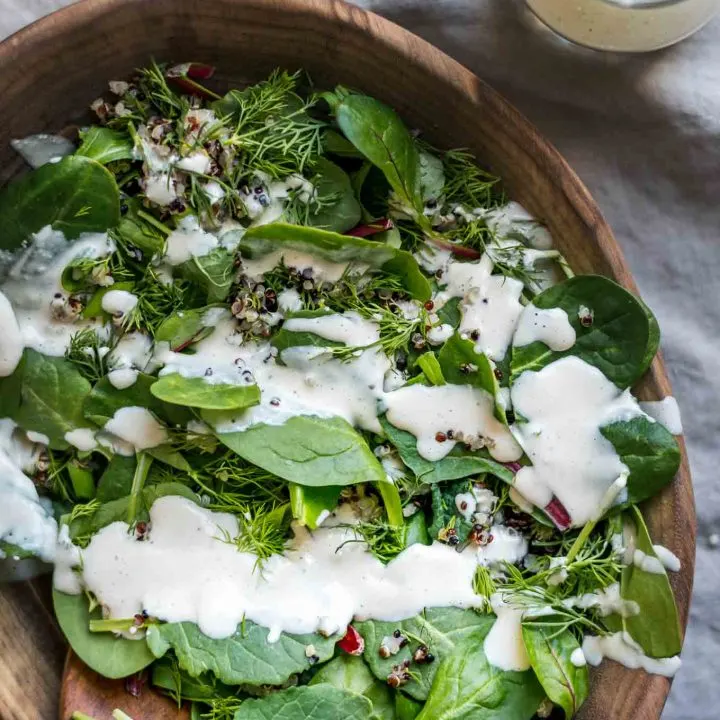 Quinoa, Dill, and Baby Greens Salad with Creamy Lemon Tahini-Yogurt Dressing
This fresh tasting salad has nutritious baby greens, beautiful tri-colored quinoa, is boosted with fresh herbs, and served with an easy creamy vegan lemony dressing.
Ingredients
Creamy Lemon Tahini-Yogurt Dressing
6 tbsp tahini
2 tbsp freshly squeezed lemon juice
2 tbsp plain, unsweetened non-dairy yogurt
1 1/2 tsp maple syrup
2 tsp apple cider vinegar
3/4 tsp onion powder
1 garlic clove, crushed or minced
3/4 tsp salt
freshly ground black pepper
3 tbsp warm water, more to thin as needed
For the salad
5 oz salad greens
2 cups cooked quinoa
1/4-1/2 cup chopped fresh dill, to taste
2 tbsp scallion greens, sliced
Instructions
In a small mixing bowl whisk together all of the dressing ingredients. Or use a stick immersion blender. Add more water to thin until the desired dressing consistency is reached. The amount of water needed can vary a lot between brands of tahini. Set the dressing in the fridge until ready to use. It should last a week in the fridge. It may require additional water to thin after refrigeration.
To serve the salad, toss together the greens, quinoa, and the dill. Sprinkle the top with with the scallion greens. Right before serving, add dressing and toss to coat.