These homemade vegan biscuits are incredibly fluffy and soft, with beautiful layers. They are such a treat to eat and easy to make!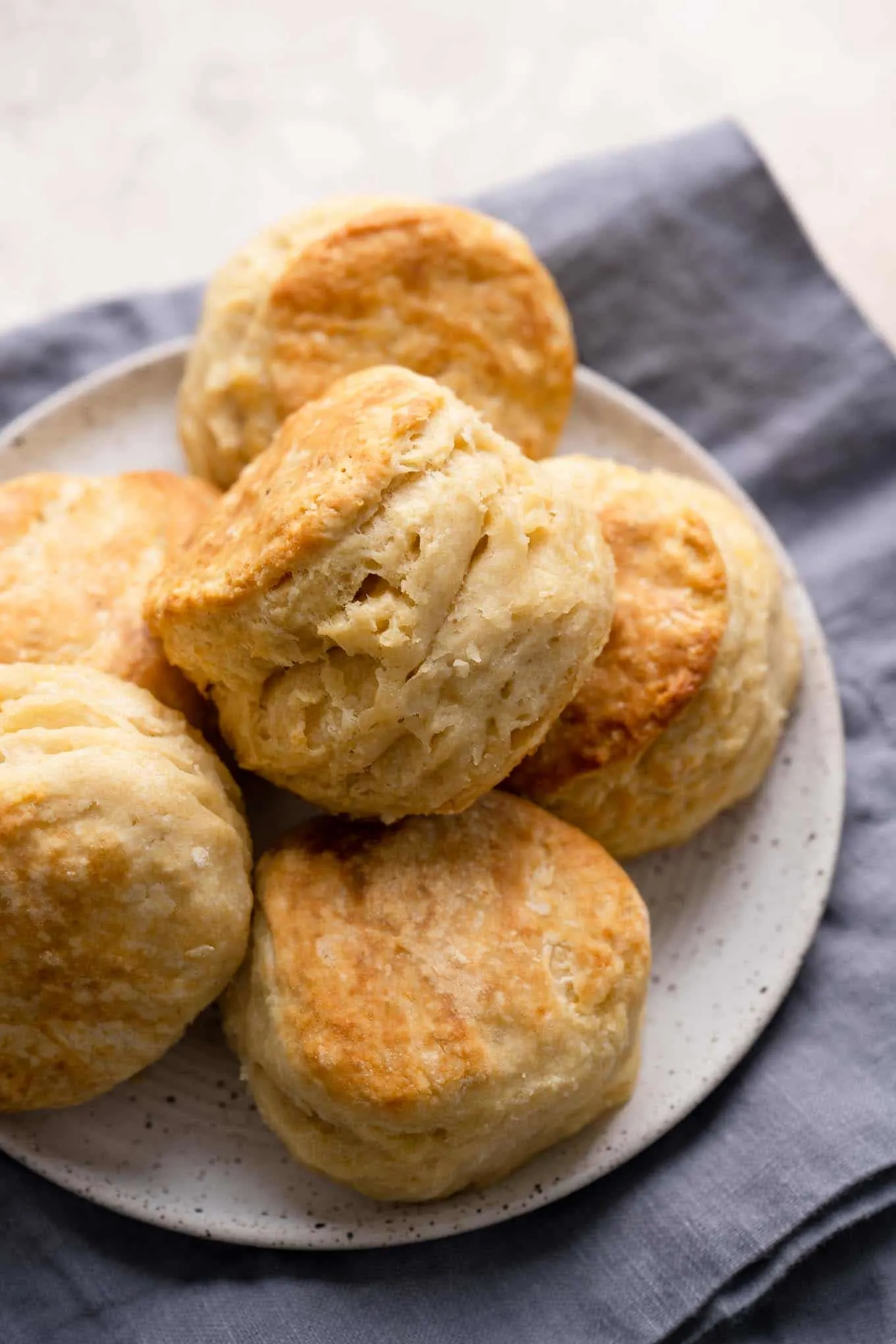 Biscuits are one of the easiest and quickest breads to make. And when made properly they're tall and flaky, soft and buttery, and a real crowd pleaser!
Making biscuits vegan is as simple as swapping out the dairy ingredients for the vegan counterparts. There's nothing else to it!
The real secret to homemade biscuits is in the method. You must make biscuits the right way to get those distinct layers, but never fear, I'm here to hold your hand through the whole process!
I love biscuits because they're simple and only require 7 pantry friendly ingredients. This means last minute biscuits are at your fingertips!
Need a side for that stew you've got simmering away on the stove? Make biscuits.
Have unexpected guests at breakfast time? Make biscuits (and gravy!).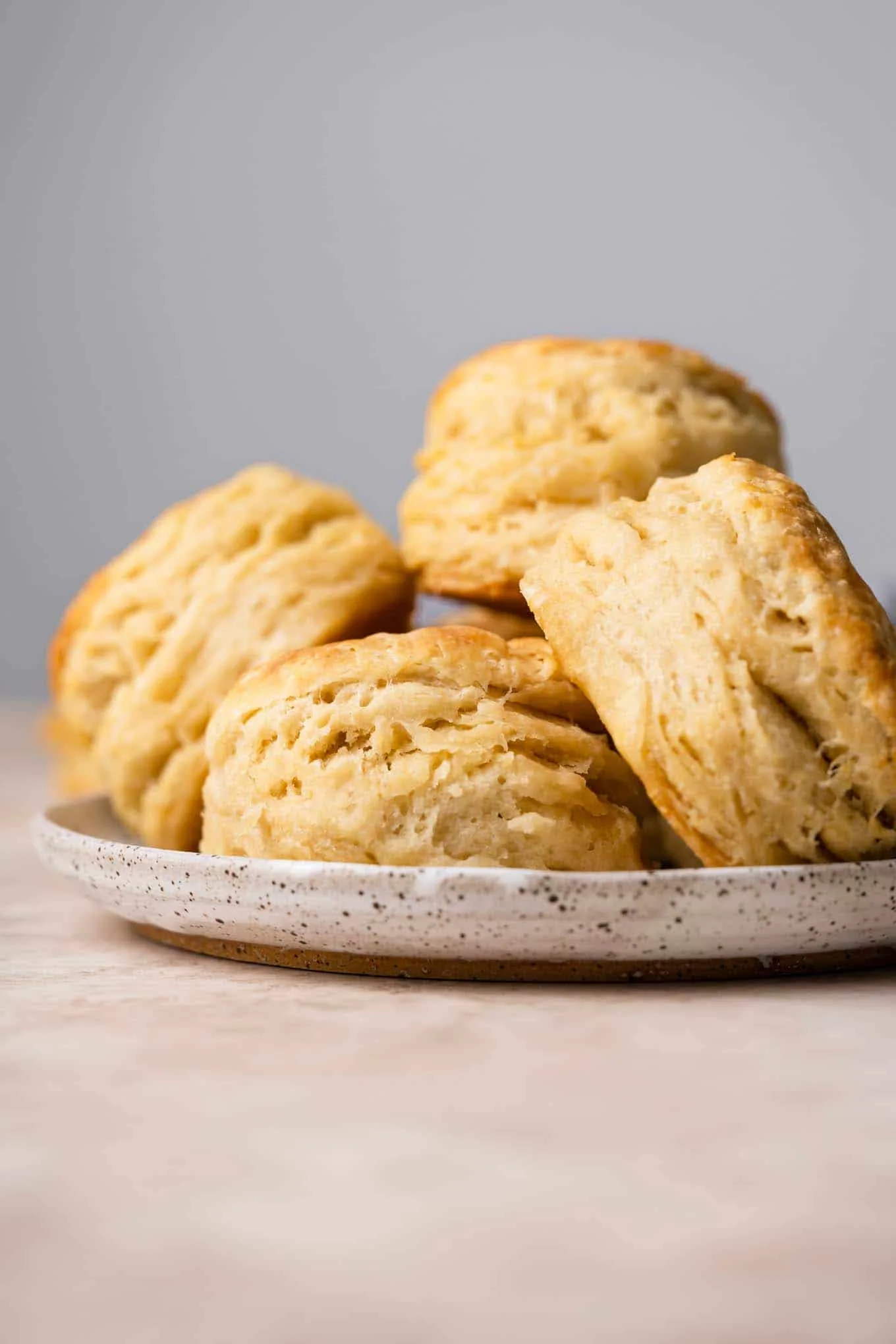 Biscuit ingredients:
To make biscuits you need all purpose flour. Some recipes call for self rising flour to make biscuits, but I never have that on hand so developed my recipe for all purpose flour.
Baking powder and baking soda are used for their leavening properties. Baking powder gives the biscuits a boost once they hit the hot oven and baking soda starts working as soon as the liquid hits.
Next up, salt, because you don't want bland biscuits.
And of course you can't make biscuits without butter, and for vegan biscuits are no different! Choose a vegan butte that comes in stick form. Vegan butter that comes in a tub is more soft and spreadable and doesn't work as well for making biscuits.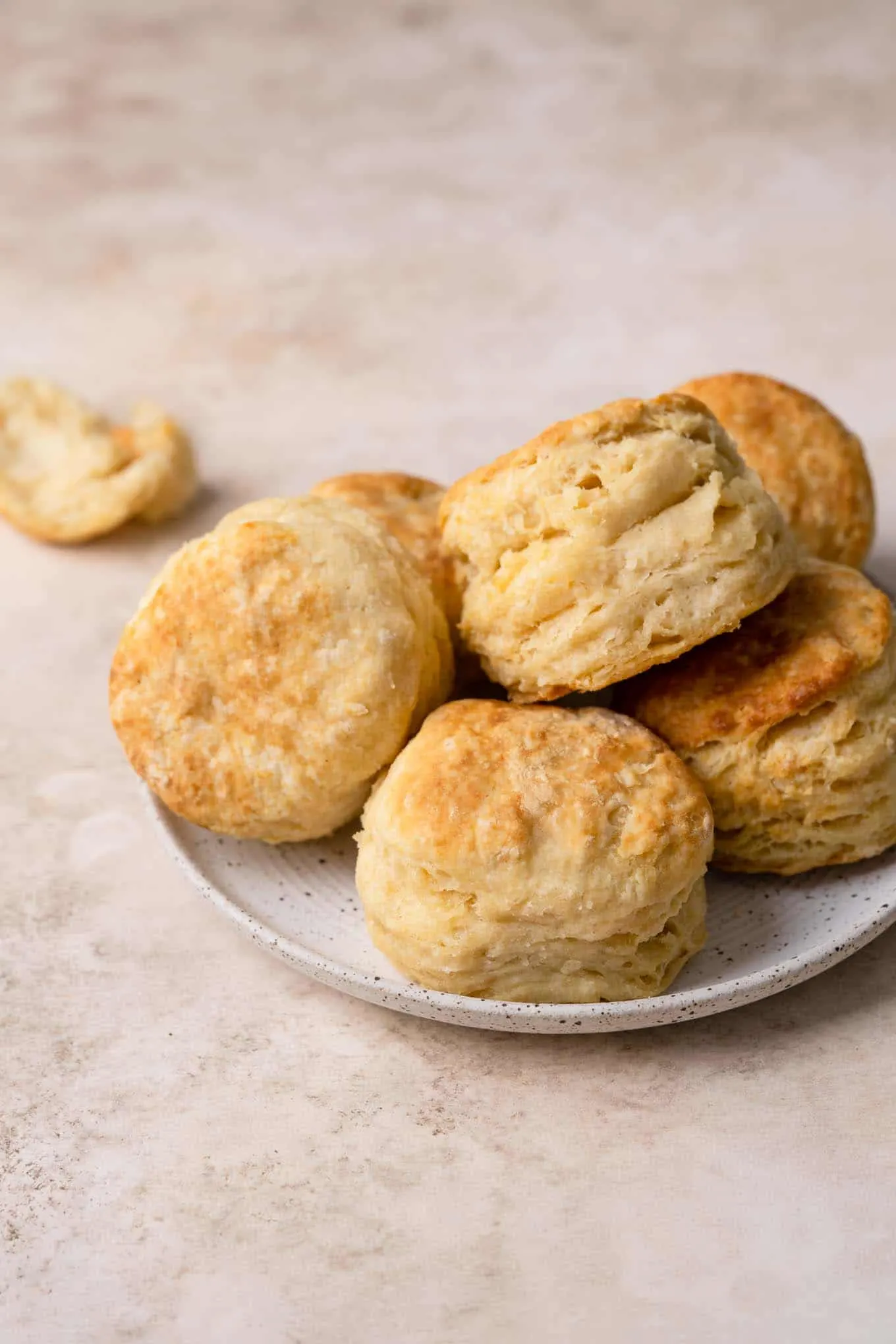 Finally we make a homemade "buttermilk" by adding apple cider vinegar to soy milk or other plant milk. For best results use a rich non-dairy milk and avoid watery ones like rice milk.
How to make vegan biscuit dough:
Now that we've covered the ingredients, let's get down to the all important biscuit making method! The way we mix the dough together keeps gluten formation down to a minimum to assist the fluffiness of the final biscuits.
Before you start anything, turn on your oven to preheat it to 425 ºF.
Next, get your soy milk (or other plant based milk) clabbering. Add the vinegar to it and set aside for 5-10 minutes so it can do its thing.
Mix together your dry ingredients: flour, baking powder, baking soda, and salt.
Take vegan butter straight from the fridge (so that it's cold) and cut it into 1-inch pieces. Add it to the dry ingredients and then cut the butter into the flour until you have a pebbly looking mixture.
You can cut the butter using a pastry blender or with two opposing butter knives. We want the butter to remain as cold as possible while we make our biscuit dough, so I don't recommend using your hands to do this.
Add the vegan buttermilk in and then mix it together with a spoon until it's just coming together.
How to shape the biscuit dough:
Flour a clean counter or large piece of parchment paper. Turn out your rough biscuit dough onto the counter and use a rolling pin or your hands to roll or press the dough into a large rectangle, about 1/2-inch thick.
Fold the short edges like a letter so that the dough is 1/3 of its original width. Fold that in half across the short direction to make an approximate square.
Now roll the dough out a second time, and you can see that this time the dough is smoother and has come together more.
Roll it into a large rectangle and repeat the folds, first like a letter, then in half.
Now we have 36 layers in our biscuits! So, this time, roll the dough out but only until it is 1 inch thick.
Cut the dough using a biscuit cutter or round cookie cutter, pressing straight into the dough and lifting the cutter out without twisting the cutter.
By pressing straight down we maintain those nice layers. Twisting would seal those layers in so that the biscuits wouldn't be able to rise as nicely.
Cut all of the dough then gather the scraps and re-roll, repeating as necessary to use up your dough. Try to handle it as little as possible while you do this!
Baking the biscuits:
Place the cut biscuits on a baking tray. They're pretty easy to remove with a spatula, but you can always use parchment paper if you'd like to ensure no sticking.
Arrange the biscuits so that they are touching. This way when the biscuits start to expand in the oven they grow up instead of out. In the end this will mean taller biscuits!
Brush the tops of the biscuits with some plank milk to help with browning, and bake until fluffy and golden!
Biscuits work because as they hit the heat, the vegan butter melts an the water content in the butter turns into steam. The steam rises and creates air pockets which turn into those flaky layers you know and love!
The chemical leavening agents we use (baking powder & baking soda) assist to get that extra height and fluffiness of the bread.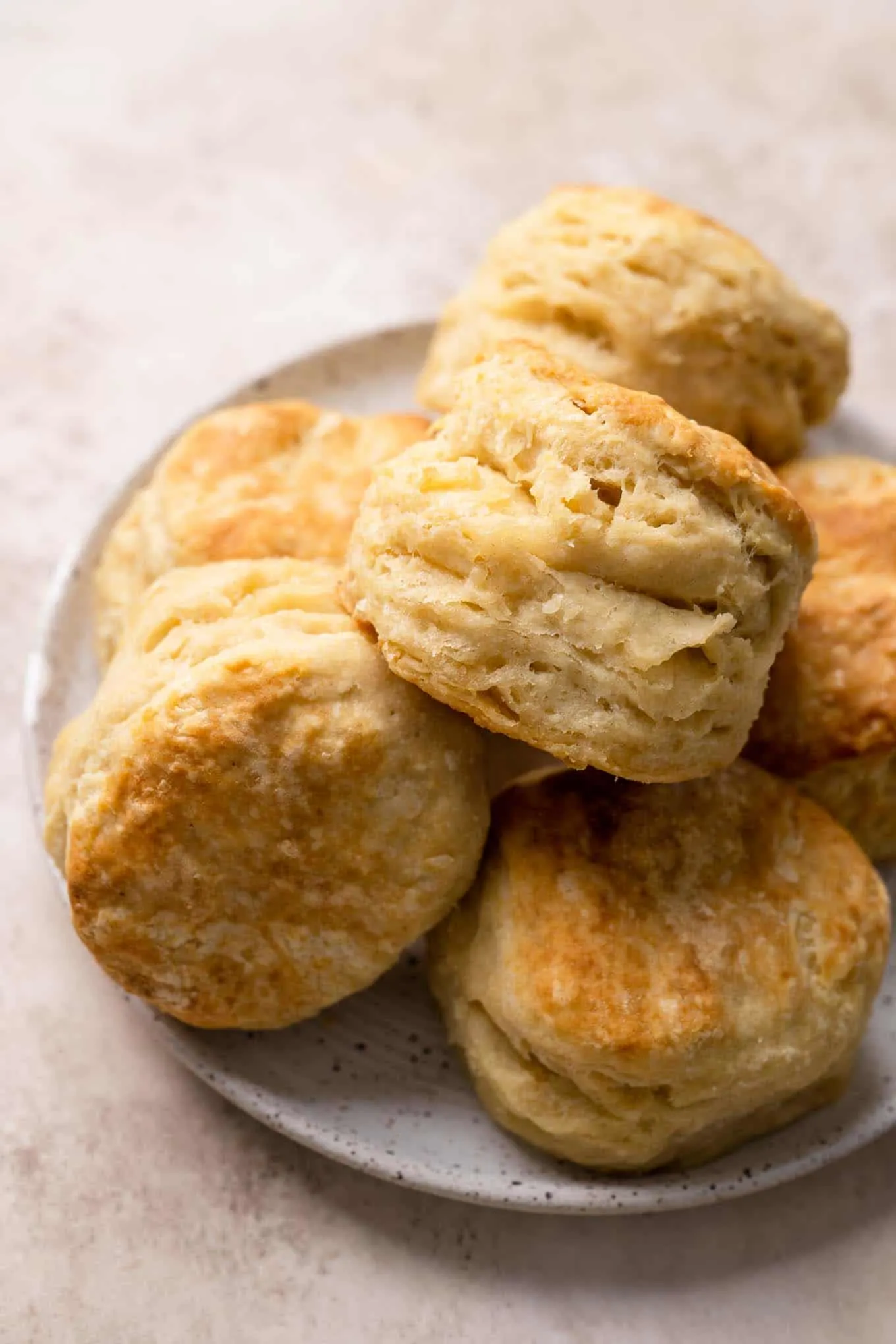 I hope you enjoy these homemade vegan biscuits! They're absolutely addictive and such a treat to eat!
Recipes I enjoy with biscuits:
If you make these homemade vegan biscuits, leave a comment below and rate the recipe on the recipe card. And please share your photos with me on Instagram, tag @thecuriouschickpea and #thecuriouschickpea. I love seeing your recreations!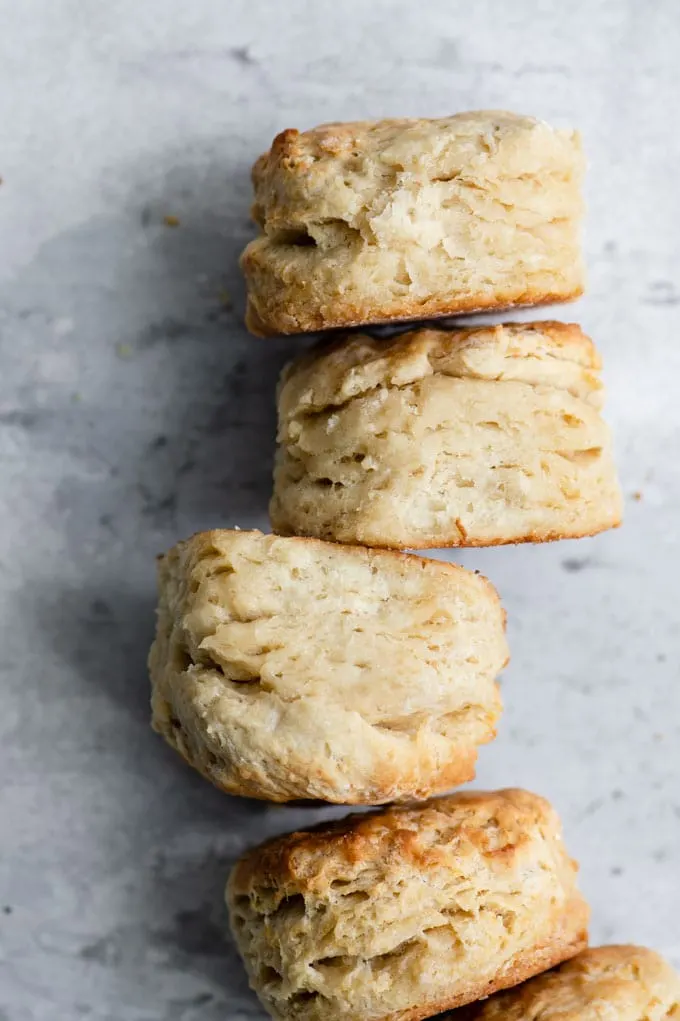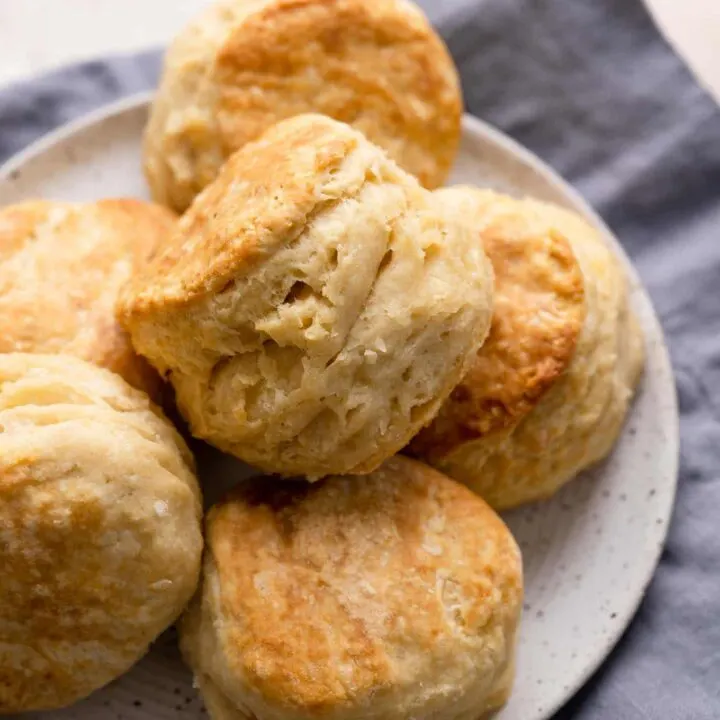 Homemade Vegan Biscuits
These are the best biscuits, vegan or not! They're soft and fluffy, super tall and flaky, and have a delicious buttery taste. Plus, they're super easy to make!
Ingredients
1 cup (235g) soy milk, almond milk, or oat milk
2 tsp (10g) apple cider vinegar
2 1/2 cups (325g) all purpose flour
1 tbsp (13g) baking powder
1/2 tsp (2g) baking soda
1/2 tsp (2g) salt
6 tbsp (84g) cold vegan butter sticks
Instructions
Preheat the oven to 425 ºF. Add the apple cider vinegar to the soy milk and set aside for at least 5 minutes to make a vegan buttermilk.
Mix together the flour, baking powder, baking soda, and salt in a large mixing bowl. Add the cold vegan butter in 1" pieces and then using a pastry cutter or two opposing butter knives, cut the butter into the flour to form a crumbly mixture. The largest pieces of butter should be about the size of a pea.
Add the vegan buttermilk and mix together with a spoon until it has mostly come together.
Turn the shaggy dough out onto a clean and lightly floured counter (or parchment paper for easy clean up). Press or roll the dough into a large rectangle, about 1/2-inch thick. Using the bench scraper to assist, fold the dough into thirds like a letter, then fold in half in the opposite direction.
Add more flour under the dough and on top as needed, then roll the dough out once more to a large rectangle. Repeat the folds, first in thirds like a letter, then in half.
Roll the dough out until it is 1-inch thick, again adding a dusting of flour to prevent sticking as needed. Cut using 2 1/2 to 3-inch biscuit cutters. Press the cutter straight down into the dough and do not twist. Collect the scraps of dough and roll and cut until all the dough has been used.
Place the biscuits on a baking sheet so that they are touching each other. Brush with a little extra plant milk and bake for 13-15 minutes until golden.
Recommended Products
As an Amazon Associate and member of other affiliate programs, I earn from qualifying purchases.
Nutrition Information:
Yield:

8
Serving Size:

1
Amount Per Serving:
Calories:

232
Total Fat:

9g
Sodium:

423mg
Carbohydrates:

31g
Fiber:

1g
Sugar:

1g
Protein:

5g
Nutrition is calculated automatically so should be used as an estimate.