This za'atar pasta salad has a Middle Eastern theme, with a delicious and simple za'atar lemon vinaigrette, roasted eggplant, and cherry tomatoes. It's completely vegan and can be made gluten free!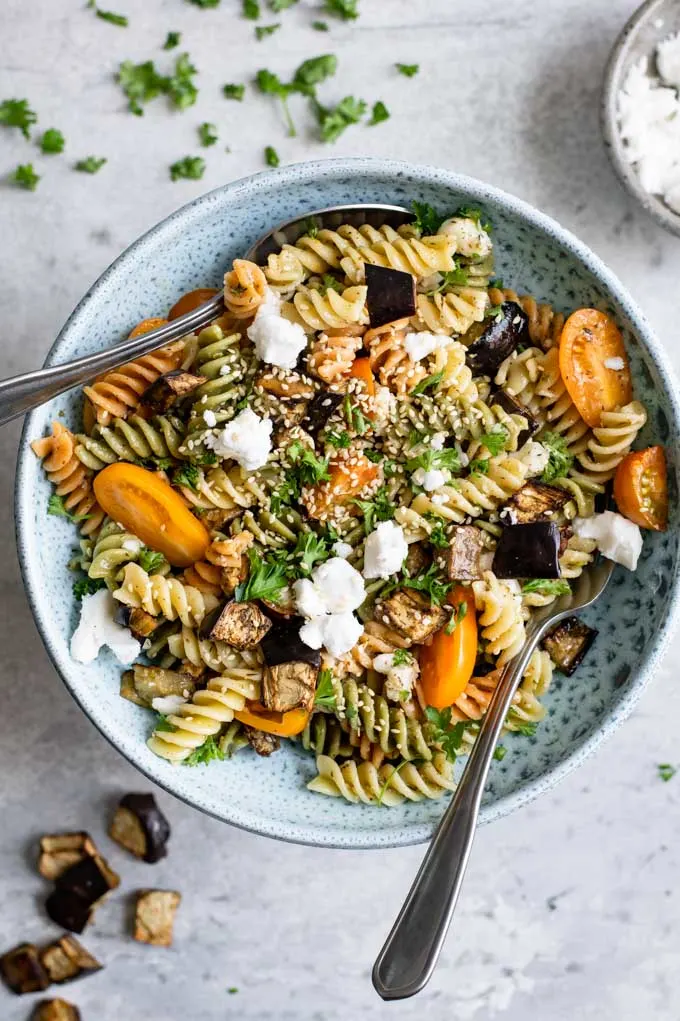 I'm a fan of all things pasta–I mean, who isn't! I'm also pro-picnic, pro-potluck, pro-casually bring a dish to your friends house. And occasionally for a handful of weeks in the year, I'm pro cold/room temperature/lukewarm food. Side note: lukewarm has to be the least appetizing way to describe food but just run with it for my sake please!
My point is, sometimes you need a pasta salad. It's filling, it's tasty, it has one of my favorite foods (pasta), and it's great at just about any temperature (prob don't eat it frozen, but otherwise you're good to go)!
Growing up pasta salad was my family's go to potluck dish. It was hearty enough to fill us up if it was the only vegetarian food in the spread, and everyone enjoys a pasta salad!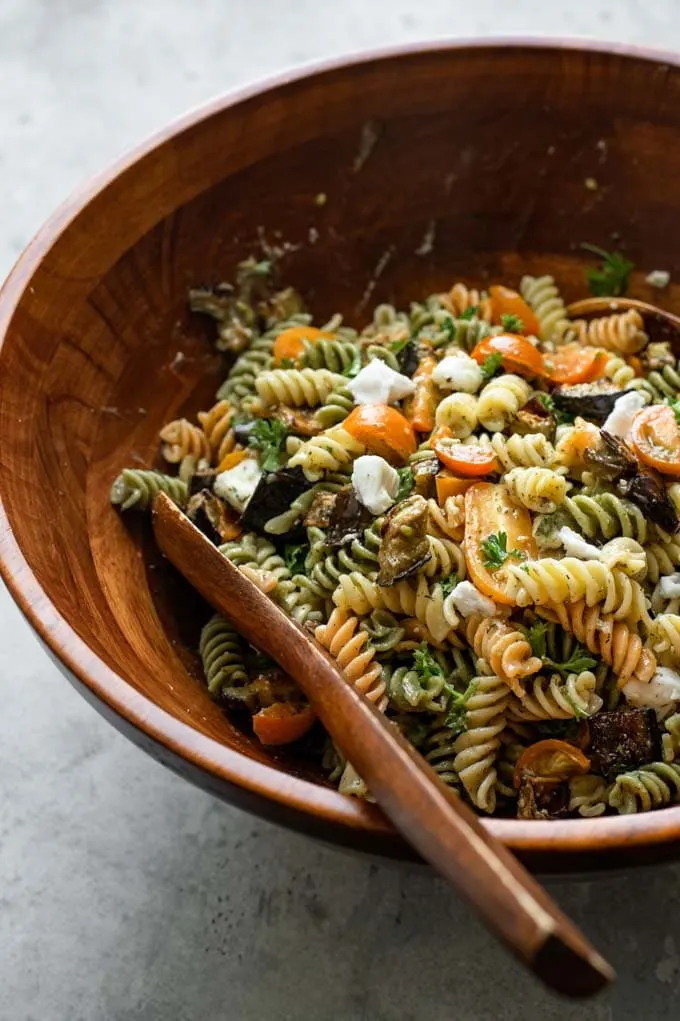 Now this isn't your average pasta salad. It's my take on a Middle Eastern pasta salad. And it is out of this world delicious!
I take advantage of one za'atar, one of the most tantalizing spice blends, to flavor this pasta dish. The spice mix gets blended into an easy homemade lemony vinaigrette which dresses the whole salad.
The rest of the ingredients build on these flavors with deeply roasted, melt-in-your mouth eggplant, and juicy sweet cherry tomatoes tossed in with the pasta.
For a garnish, some vegan cheese is crumbled throughout to add some creamy, tangy bites.
What can I say, it's an easy, crowd pleasing pasta salad and one you should certainly make!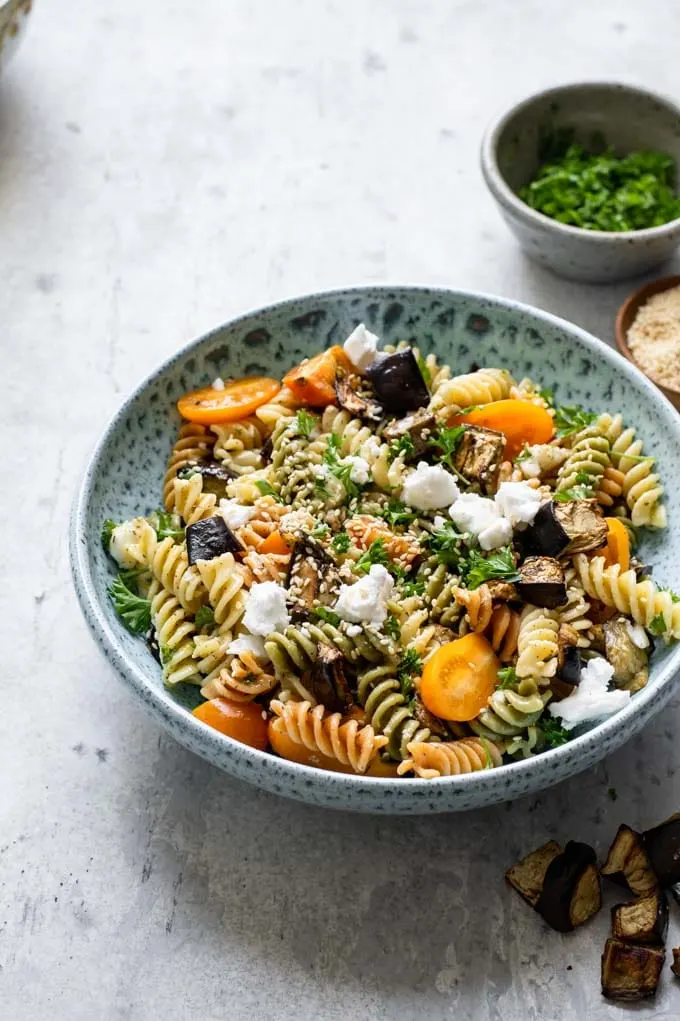 What exactly is za'atar?
Za'atar is a Middle Eastern spice mix. Like other spice blends it varies from recipe to recipe, store bought version to store bought version. But no matter the recipe, its full of ultra savory, herby, and nutty flavors.
My favorite versions of za'atar include sumac. Sumac is a deep red, purplish ground spice made from the sumac berries. It's tart and almost lemony, and has a distinct and mouth watering flavor.
Other commonly found spices in za'atar include sesame seeds (technically not a spice, I know, but certainly a defining ingredient of za'atar), savory, cumin, coriander, oregano, and thyme.
You can make your own za'atar, or buy a pre-made blend. Just make sure to have extra on hand, because you'll likely want to make this pasta dish again soon, and sprinkle that za'atar on just about everything!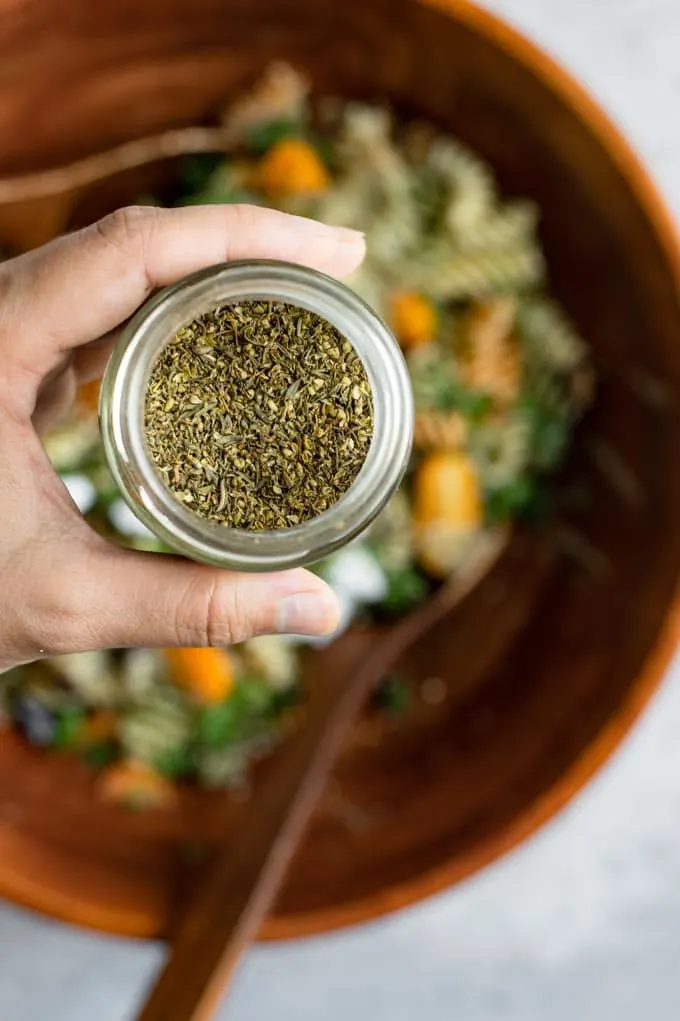 The za'atar lemon vinaigrette
To infuse za'atar into every bite, we add it to an easy vinaigrette. To make it blend extra virgin olive oil, freshly squeezed lemon juice, a splash of water, salt, garlic, za'atar, and some sugar to balance the flavors together until you have a creamy and emulsified dressing.
An immersion blender makes easy work of this (easy clean up too), but a standing blender does the trick as well.
You can even put all the ingredients in a sealable jar, screw the lid on tight and shake it until it's all mixed. For the shake method it will not get as creamy and emulsified as the blender method, but it will still taste great! For this method you'll want to grate, press, or finely chop the garlic.
You can set the za'atar vinaigrette aside until you're ready to dress the pasta salad or make it in advance and keep it in the fridge. If it starts to separate, just shake it back together!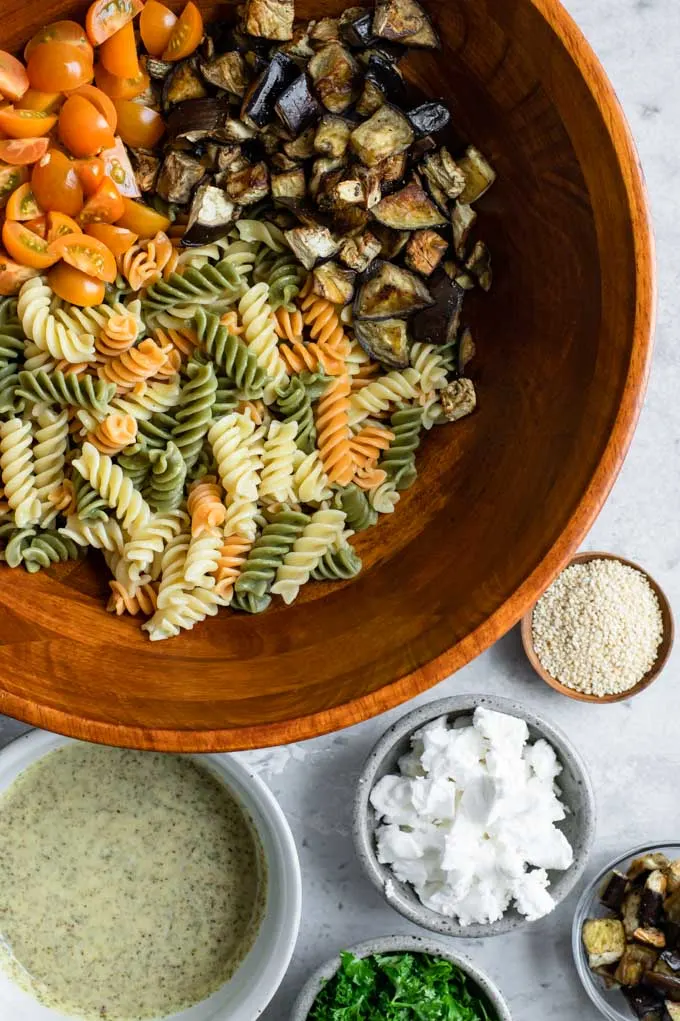 The roasted eggplant
The key to a successful batch of this za'atar pasta salad is the deeply roasted eggplant.
Start with fresh and tender eggplant. My top choices for this dish are baby eggplant followed by Japanese eggplant. If you can't find either of these, then regular old globe eggplant will work just fine–choose as young and ripe ones as possible!
Cut the eggplant into about 1/2-inch cubes, then arrange them on a olive oil coated baking tray. Sprinkle some salt and pepper on the eggplant–and this is important. The salt will help draw out the water from the eggplant for extra succulent bites.
Roast the eggplant until it's dark golden and caramelized, stirring once halfway through. Take it out and let it cool!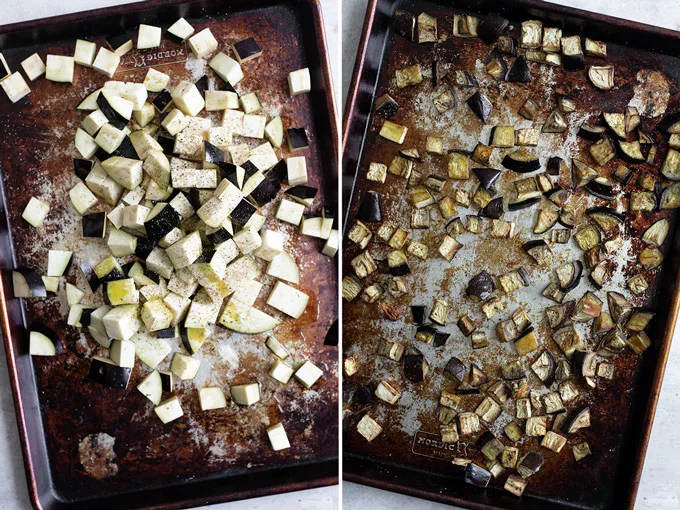 The pasta
Can't have pasta salad without pasta! You can choose your favorite pasta shapes for this pasta salad, but you're best off choosing smaller shapes like fusilli, penne, bowtie, rigatoni, or ziti.
Gluten free or gluten-full, it's up to you!
Cook the pasta to package directions then let it cool, adding a bit of extra virgin olive oil to keep it from sticking to itself.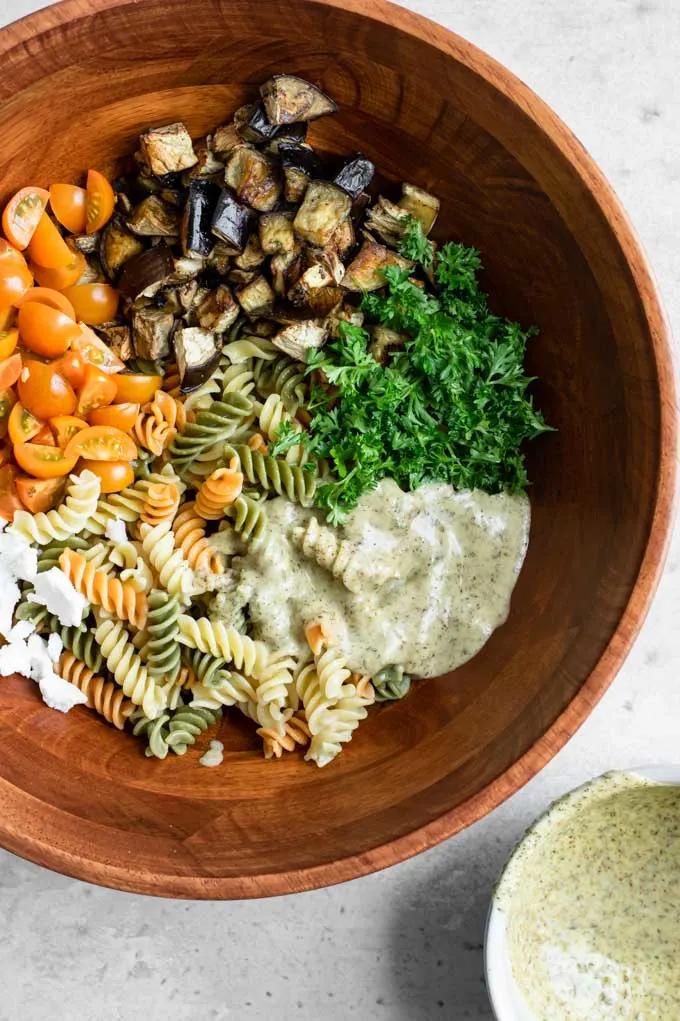 Everything else
We're most of the way through the pasta salad, but now it comes time to choose the vegan cheese! I kept it simple and picked up some vegan feta made by Violife at my local grocery store.
If you have a bit more time and want to make your own homemade cheese I would make either my almond cheese or my vegan queso fresco. Both would be fantastic in this dish!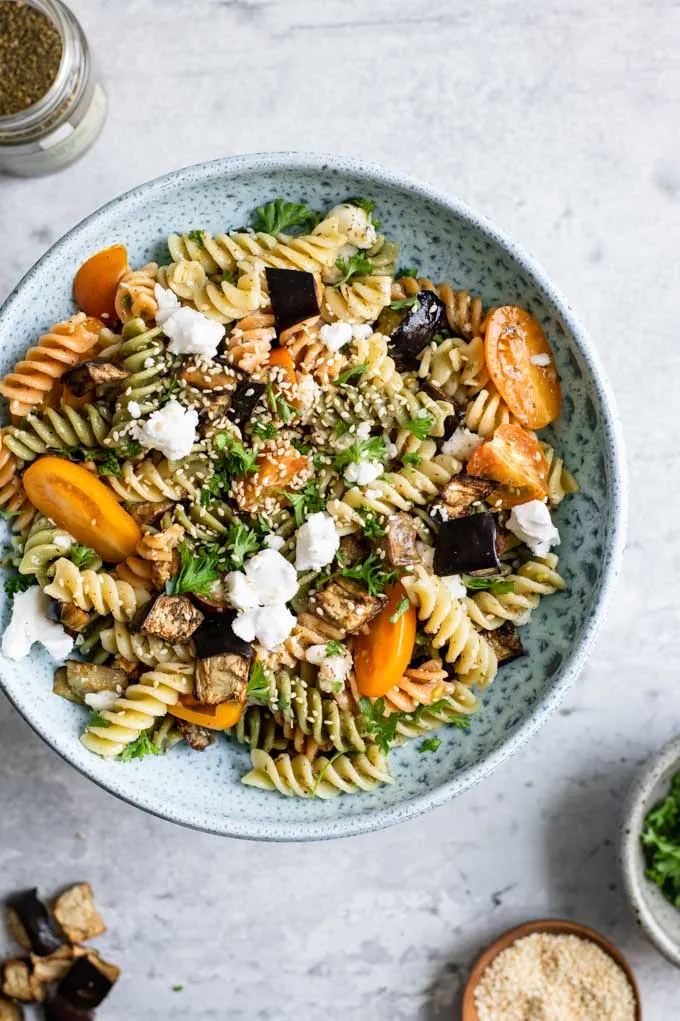 Next we have our cherry tomatoes, and this can be any cherry tomato variety you enjoy, I'm just having a moment with the sungolds! The juicy sweet tomatoes are a must for this pasta salad!
Lastly keep some fresh herbs on hand to garnish this salad, along with extra za'atar and/or toasted sesame seeds! I used minced parsley and sesame seeds for garnish.
Mix everything together once the pasta and eggplant have cooled down enough that they won't make the cheese melty, then eat immediately or stick it in the fridge to eat at a later time!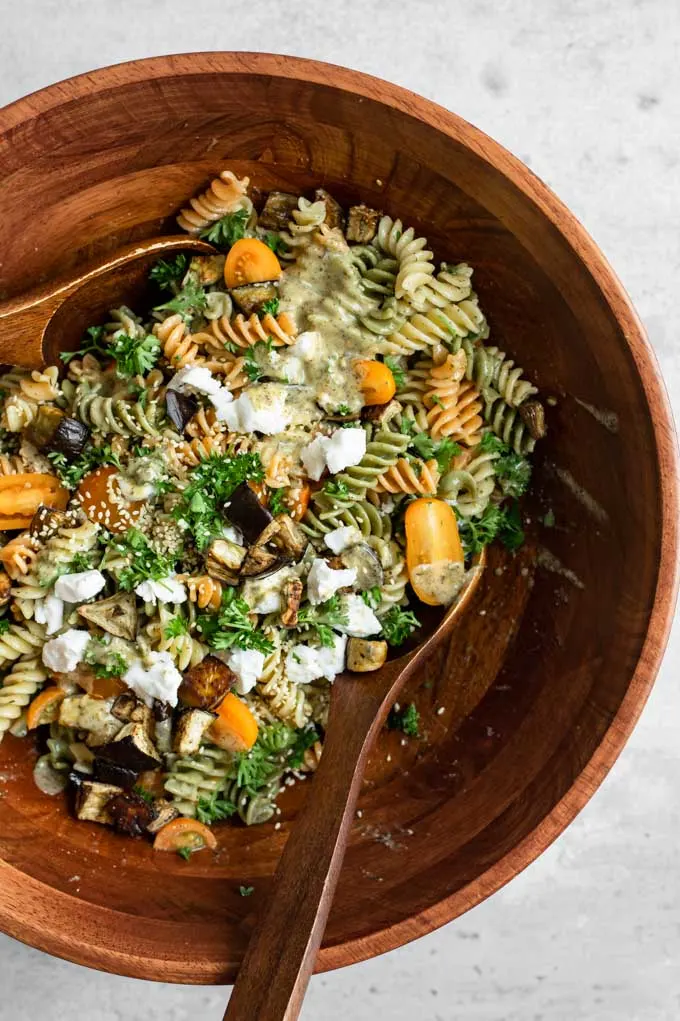 ---
If you make this Middle Eastern za'atar pasta salad, leave a comment below and rate the recipe on the recipe card. And please share your photos with me on Instagram, tag @thecuriouschickpea and #thecuriouschickpea. I love seeing your recreations!
---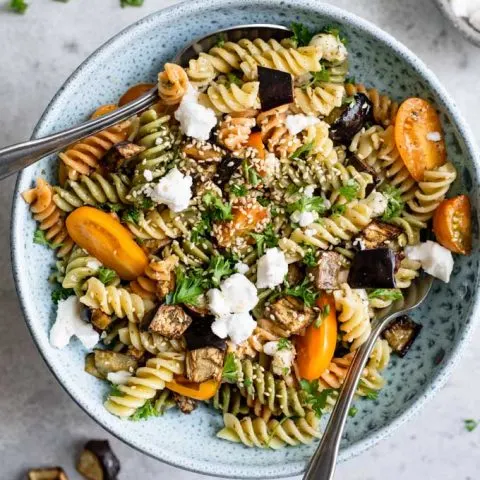 Za'atar Pasta Salad
This Middle Eastern inspired za'atar pasta salad is made with a delicious and simple za'atar lemon vinaigrette, deeply roasted eggplant, and sweet cherry tomatoes. It's completely vegan and can be made gluten free! It's perfect for potlucks, picnics, or hot summer days!
Ingredients
Eggplant
1 lb baby eggplant, cut into 1/2 cubes
olive oil
salt and pepper
Za'atar Lemon Vinaigrette
1/2 cup extra virgin olive oil
2 tbsp freshly squeezed lemon juice
2 tbsp water
1-2 cloves garlic, peeled
2 tbsp za'atar
1 tsp salt
1 tsp sugar or maple syrup
Everything Else
1 lb pasta, gluten free if desired
1 pint cherry tomatoes, chopped
4-6oz vegan cheese (see note)
za'atar, toasted sesame seeds, and/or fresh parsley for garnish
Instructions
Preheat the oven to 425 ºF. Grease a large baking tray then spread the eggplant in a single layer. Drizzle a bit of olive oil over top, and sprinkle some salt and pepper. Bake for 15-20 minutes, then stir the eggplant, and bake an additional 15 minutes or until very tender and golden brown. Remove from oven and let cool.
Meanwhile, cook the pasta according to package directions, when done cooking, drain and let cool. Toss with some extra virgin olive oil as it cools to keep it from sticking.
Using an immersion blender, a regular upright blender, or a sealable jar: combine all the ingredients for the za'atar vinaigrette. Blend or shake until you have a creamy immulsion. If using a jar, grate or press the garlic before adding.
In a large mixing bowl combine the cooled pasta, eggplant, cherry tomatoes, vegan cheese, and za'atar dressing and toss to combine. Add parsley for garnish along with any other fresh herbs you like (e.g. thyme, oregano, savory). Finish off with toasted sesame seeds or additional za'atar to taste.
Enjoy immediately or store in the fridge until ready to eat.
Nutrition Information:
Yield:

8
Serving Size:

1
Amount Per Serving:
Calories:

317
Total Fat:

20g
Sodium:

527mg
Carbohydrates:

27g
Fiber:

3g
Sugar:

6g
Protein:

7g
Nutrition is calculated automatically so should be used as an estimate.