These Baja tofu tacos are a delightful and delicious vegan version of the popular fish tacos from Southern California. Enjoy the battered tofu cutlets in a soft corn tortilla with a creamy white sauce and crisp cabbage slaw. A bit of lime juice and some hot sauce drizzled on top makes for taco perfection!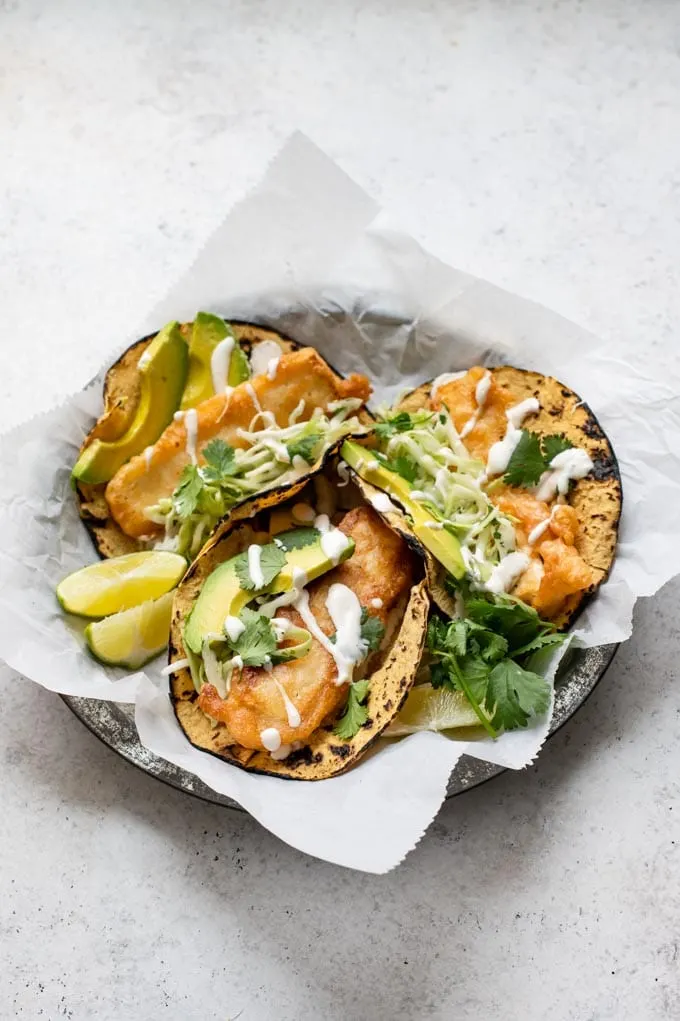 There are a million and one ways to enjoy your tacos, and variety is the spice of life and all that–but, if you've never had the pleasure of enjoying a Baja taco, it's time to change that!
If you're familiar with the Baja taco you'll know that they're traditionally a fish taco. It's a battered and fried cutlet stuffed into a corn tortilla, slathered with a creamy white sauce and crisp cabbage slaw.
Everything about that sounds incredible to me–except for the fish part. But luckily, you can enjoy completely vegan and completely delicious Baja, CA-style tacos!
And that's what I'm here for, to introduce you to the Baja tofu taco. Aka your new, most favorite taco. The taco of your next taco night (and maybe the 2-3 after that because there is no such thing as enough Baja tofu taco nights!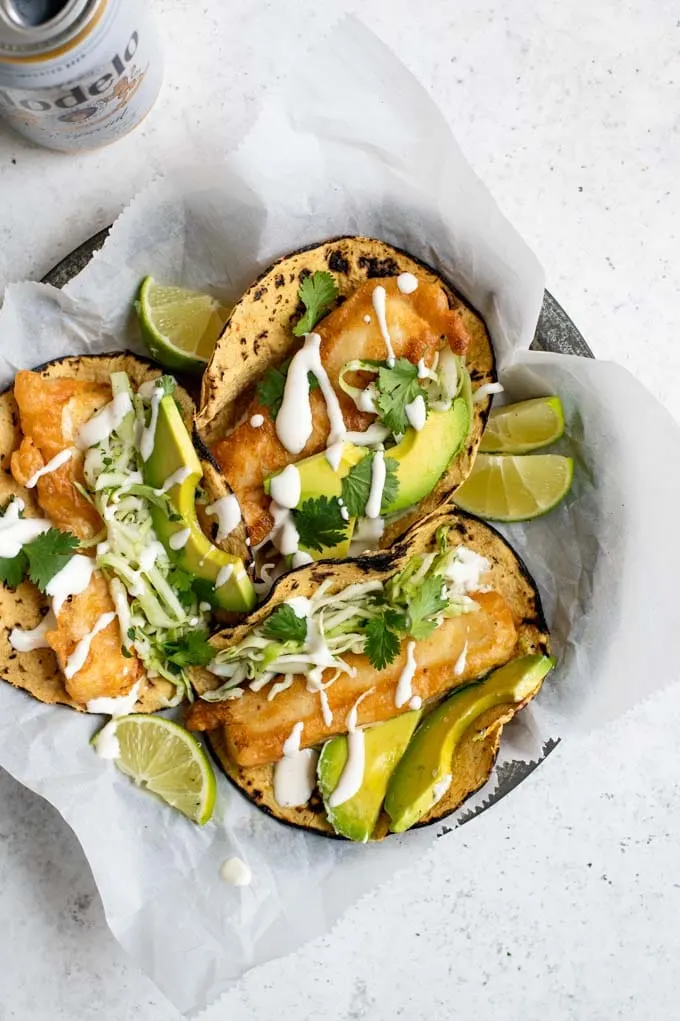 Now, I've never had fish (raised vegetarian), and frankly I don't want to get near anything edging on "fishy tasting." Now don't come at me and lecture me that fish actually smell like seaweed and not the other way around–I know. But I just can't stomach it!
So swapping fish out for tofu is perfect. You get to enjoy all the delicious textures of the taco. Revel in the creamy tofu, the crispy seasoned batter, the tangy cabbage, and creamy sauce.
I frankly can't get enough of these tacos!
Choosing your tofu
You want an extra firm tofu. Unless you have access to good super firm tofu, then choose that and save yourself the step of pressing the tofu.
But assuming all you can buy is extra firm tofu, then you'll want to press out extra water from it. This improves the texture of the tofu and keep sit from being too watery and too flimsy.
Slice the block of tofu into 5 slabs. Place these on a clean lint free towel or on some paper towel. Wrap the towel over the tofu, then place something heavy overtop. Let it press for 20 minutes or so. Longer is ok, but it's not strictly necessary, particularly if you use a tea towel which is very absorbent.

Making the slaw
The cabbage slaw can be made a few hours or even a day or two in advance of the tacos, or just immediately before.
It's the simplest of slaws, just thinly slice cabbage, add some cilantro (unless you're a cilantro hater), freshly squeezed lime juice, and salt and pepper to taste. Toss it all together then set it in the fridge until you're ready to eat it.
As the slaw sits it will release more liquid and become downright juicy. It's kinda up to you if you prefer a crisp slaw or a juicier slaw. It's delicious either way.
Making the white sauce
The white sauce is traditionally a slightly spiced mixture of mayo and sour cream. Sometimes you'll find it made with yogurt. And I'm certain you could make a "whole foods" version with cashew cream.
But we're trying to be a bit authentic here (but for the fish, of course), so I'm sticking with a mix of vegan mayo and vegan sour cream.
To that, add freshly squeezed lime juice, ground cumin, hot sauce, and salt (if it needs any). Whisk it all together then set it in the fridge until you're ready to serve the tacos.
The sauce is great for making ahead, which can save you a few minutes at taco time!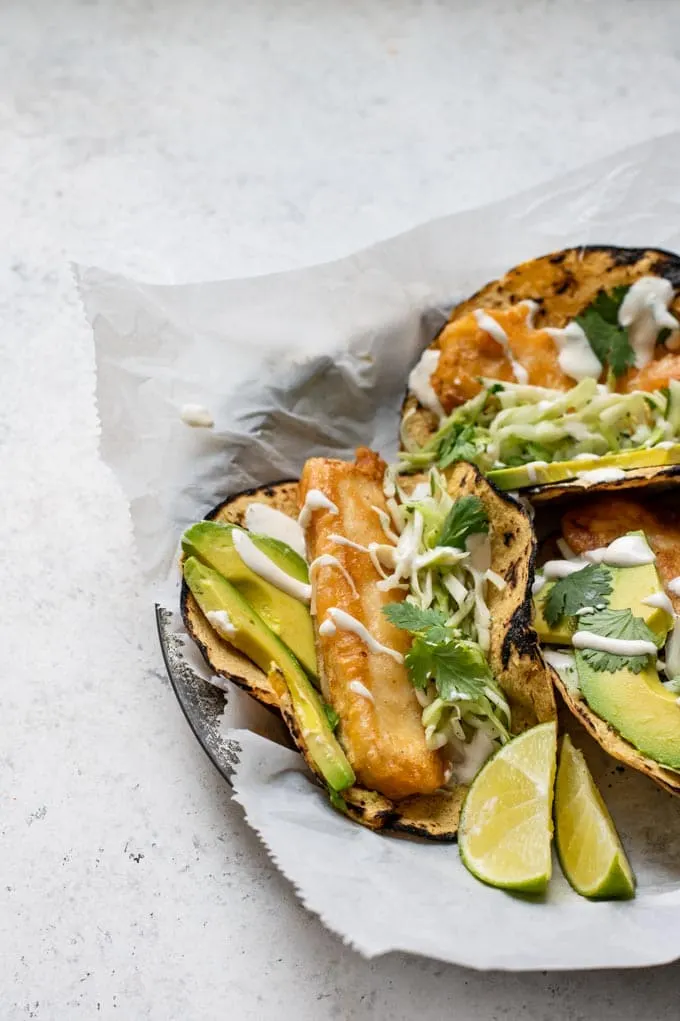 Making the batter
Now it's time to work on the batter for the tofu and heat up the oil to fry it in.
The batter is simple: flour, a couple of spices, a bit of mustard, pinch of salt, and Mexican beer. Mix everything together, adding beer until we have a thick pancake batter consistency. You can always adjust it after the first tofu cutlet if bit if you find it's too thin (add some more flour) or too thick (add more beer).
With so few ingredients the Mexican lager is essential for the classic batter. Not only does alcohol make a lighter and crisper battering, but the carbonation also helps.
Mexican lagers are milder tasting beers, light and refreshing to drink. Think perfect for a hot summers day.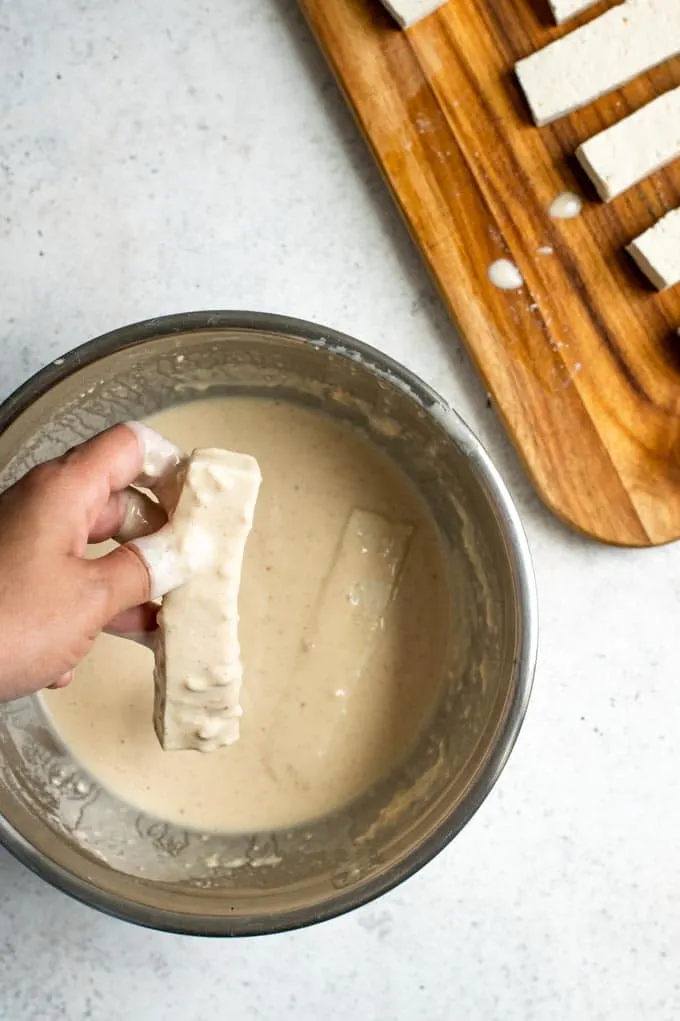 Now, if you don't buy or consume alcohol, then your best bet is substituting some carbonated water for the beer. You'll also want to increase the spices a bit in the batter so it's not too mild tasting.
If you are gluten free, use a gluten free all purpose flour blend to make this recipe.
Cooking the tofu
Once the batter is made, we can cut the tofu into cutlets. Take each slab of tofu and cut it in half for good sized cutlets. If you want a higher batter to tofu ratio then you can cut each slab into three pieces (long-wise). It's up to you!
Then dip the tofu into the batter and place it into the hot oil.
Now, traditionally these are deep fried, but I find pan frying works just fine as long as you add enough oil that it can go about halfway up the cutlet, then we flip the cutlets halfway through cooking to fry each side. So about 1/2″ or so of oil.
The oil is hot enough when a drop of batter put in the oil sizzles and starts to float to the top. The oil should look like its boiling around the piece of batter.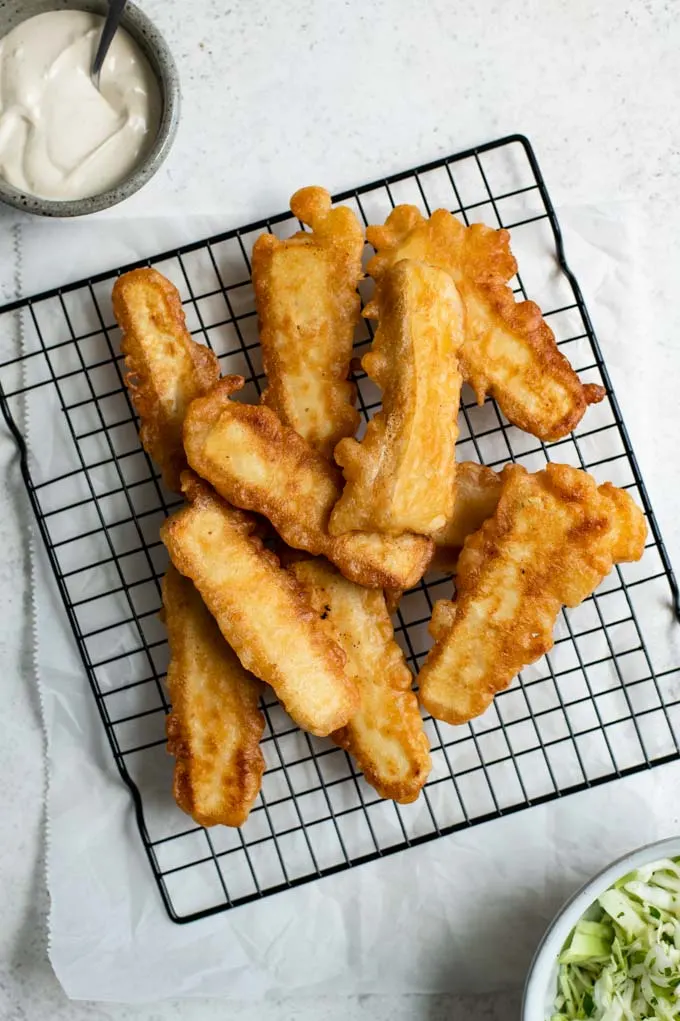 If the oil is too hot it will burn the cutlets and too cool and the cutlets will absorb too much oil and become greasy. But since we don't need to cook the tofu through or anything like that, it's not particularly fussy and you don't need to check the exact temperature to fry.
Fry the battered tofu in batches, carefully flipping halfway through so that both sides crisp up. When done, carefully remove the cutlets from the oil and place on a wire rack (over a tray to catch any dripping oil) so that the cutlets remain crispy and can drain.
The tofu is best enjoyed hot and fresh, so make up the tacos as soon as possible once the cutlets are fried!
Warming the tortillas
First, heat up your tortillas, I prefer corn tortillas and recommend them for these particular tacos. If you have a gas stove you can heat them over the open flame (turn on your vent fan). Flip them with metal tongs until the edges are charred.
You can also do it in the microwave, wrap some tortillas in a damp paper towel and zap them until softened. This is probably my least favorite method though.
You can also do it on a dry skillet. This is good if you have an electric or induction stove. High heat and flip a couple of times until warm and pliable.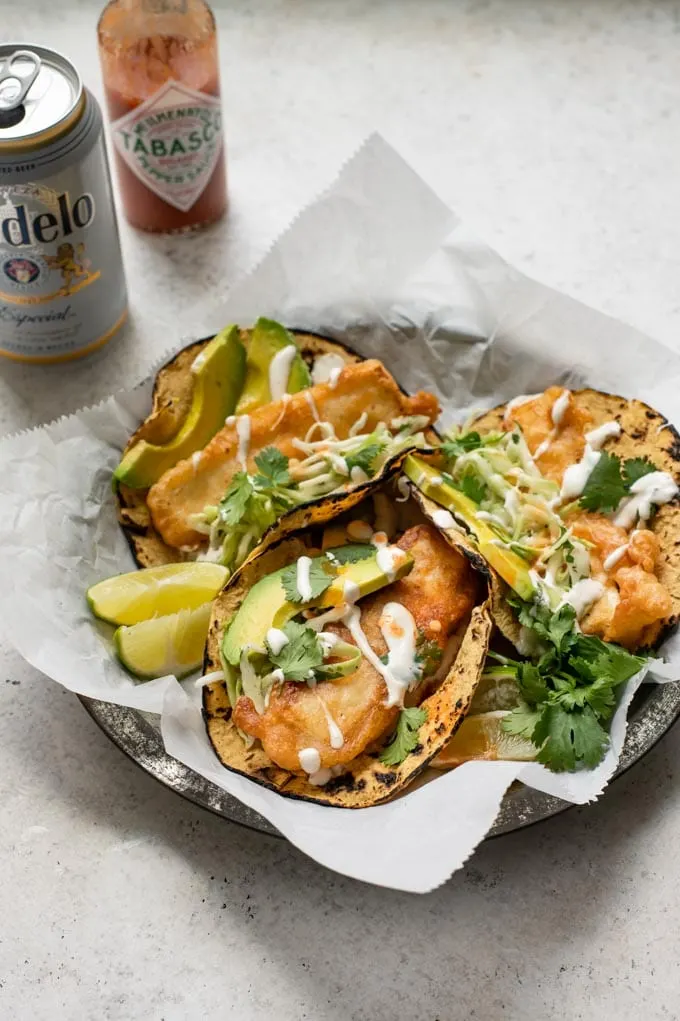 Lastly, if you're going to be heating up a lot of tortillas, you can always do it in a hot oven, or under the broiler. Just keep a close eye on them and flip halfway through.
Keep warmed tortillas wrapped in a tea towel or cloth napkin, or in a tortilla warmer until ready to serve.
Assembling your Baja tofu tacos
Smear a bit of the white sauce down the center of the tortilla, then place a battered tofu cutlet in the tortilla. Add some slaw, then optionally add some sliced avocado. Garnish with cilantro (if you'd like), then squeeze fresh lime overtop. For extra creamy white sauce you can drizzle some on top, but you'll likely want to thin the sauce with water to do so.
Now it might not be the most authentic, but I really enjoy my Baja tacos with some quick pickled radishes, so definitely give that a try!
Enjoy them hot while the tofu cutlets are still perfectly crisp!
Reheat leftover cutlets in the oven or toaster oven, about 375 ºF for 10 minutes. They're not quite as perfect as fresh, but still really good this way. Alternatively you can heat them on a dry, hot skillet–flipping a couple of times to re-crisp the batter and heat through.
You will likely have leftover batter, and you can discard this or use it to make another batch of fried tofu (or batter some cauliflower, broccoli, or tempeh with it). The batter can be stored in the fridge for 1-3 days. After that it starts to get a bit icky.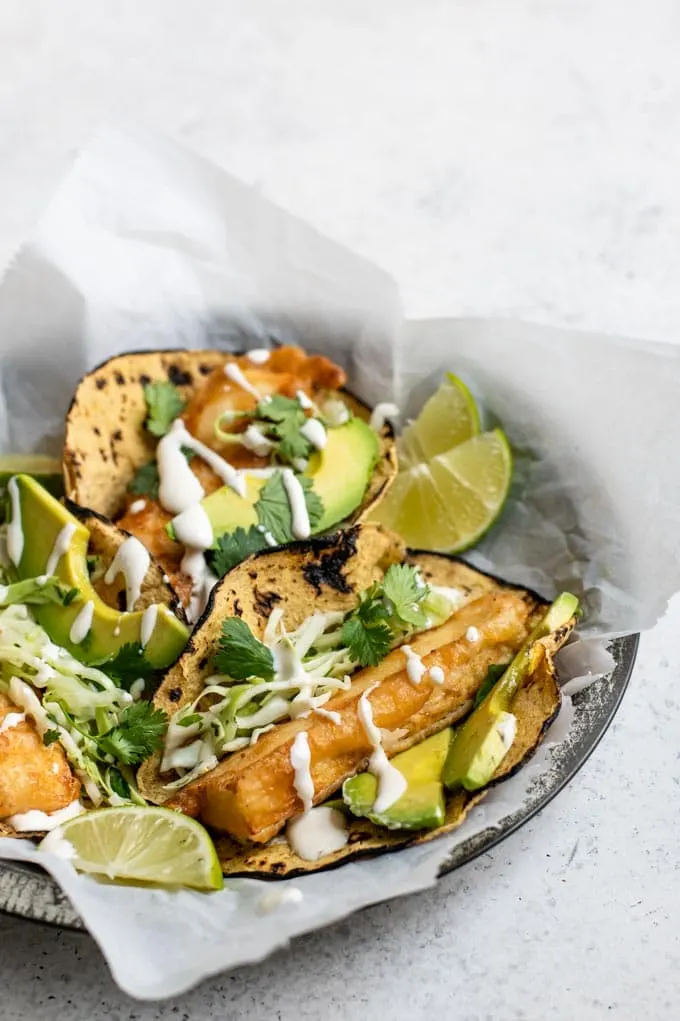 ---
If you make these Baja Tofu Tacos, leave a comment below and rate the recipe on the recipe card. And please share your photos with me on Instagram, tag @thecuriouschickpea and #thecuriouschickpea. I love seeing your recreations!
---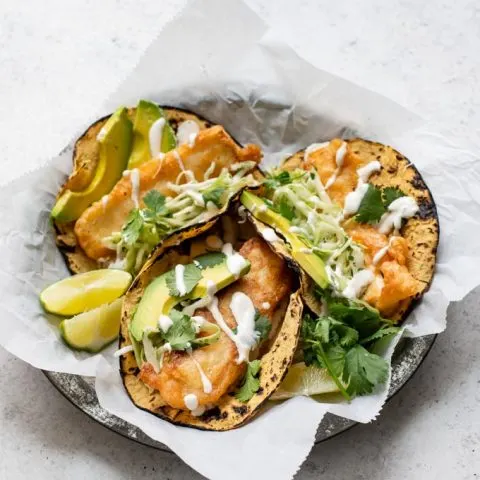 Baja Tofu Tacos
These Baja tofu tacos are a delightful and delicious vegan version of the popular fish tacos from Southern California. It doesn't get better than the battered tofu cutlets, a creamy white sauce, and crisp cabbage slaw of these Baja tacos!
Ingredients
Tofu Cutlets
1 lb extra firm or super firm tofu
1 1/2 cups flour
1/2 tsp salt
1/4 tsp garlic powder
1/8 tsp cayenne pepper
1 - 1 1/2 cups Mexican lager beer
1/2 tsp prepared mustard (dijon, spicy brown, or yellow)
oil to fry
Slaw
1/4 head green cabbage, thinly sliced (~3 1/2 - 4 cups)
1-2 tbsp minced cilantro
2 tbsp lime juice (from 1 lime)
1/2 tsp salt
pepper to taste
White Sauce
3/4 cup vegan sour cream
1/4 cup vegan mayonnaise
1 tbsp lime juice
1/2 tsp ground cumin
1/2 tsp hot sauce
salt, to taste (if needed)
To serve
Corn Tortillas
Avocado
Lime wedges
Hot sauce
Instructions
Cut the block of tofu into 5 slabs. Wrap in a lint free towel or paper towel and set something heavy on top and let press for 20-30 minutes. Skip if using super firm tofu.
In the meantime, prepare the slaw: combine all ingredients for the cabbage slaw in a bowl, taste and adjust seasonings if needed, and set in fridge until ready to use.
Also prepare the white sauce: mix all ingredients together in a small mixing bowl except for salt. Taste and adjust seasoning or add salt if desired.
Next, prepare the batter. Mix together the flour, salt, garlic powder, and cayenne pepper in a large mixing bowl. Add 1 cup of beer (or sparkling water) and the mustard and mix together. Add more beer as needed to reach a thick pancake batter consistency.
Heat a 1/2" of oil over medium heat in a cast iron skillet or a deep heavy bottomed pan. It's hot enough when a small amount of batter is dropped into the oil and it bubbles around the batter and starts to float to the top.
Cut each slab of tofu in half lengthwise to make 10 pieces of tofu. For a higher ratio of batter to tofu, cut each slab into three pieces for a total of 15 pieces of tofu.
Dip each piece of tofu into the batter and then gently place it in the oil. Fry 3- 5 cutlets at a time, depending on how many fit in the pan, do not overcrowd. Once the bottom is golden, carefully flip and let fry until the other side is golden as well. Remove and place on a wire rack set over a pan to drain. Repeat with remaining cutlets.
Heat the corn tortillas, then spread some white sauce on the bottom. Add a tofu cutlet and some cabbage slaw. Finish off with some sliced avocado, cilantro, and lime wedges. Serve with hot sauce and additional white sauce (thinned to pouring consistency).
Notes
There will be enough batter to make 2 to 3 pounds of tofu into cutlets. The batter can be saved in the fridge to make more for 1-3 days, or discard extra batter.
The slaw and white sauce can be made in advance and stored in the fridge until ready to use.
For alcohol free, substitute sparkling water. You'll want to increase the spices in the batter to compensate for the flavorless liquid.
Can make gluten free with a gluten free all purpose flour blend.
Leftover tofu cutlets can be reheated in the oven, 375 ºF for about 10 minutes or until crispy.
Recommended Products
As an Amazon Associate and member of other affiliate programs, I earn from qualifying purchases.
Nutrition Information:
Yield:

10
Serving Size:

1
Amount Per Serving:
Calories:

247
Total Fat:

15g
Sodium:

222mg
Carbohydrates:

22g
Fiber:

4g
Sugar:

2g
Protein:

8g
Nutrition is calculated automatically so should be used as an estimate.