When it comes to delicious, pantry friendly pasta sauces, this vegan vodka sauce is top of the list! Bring fine dining home, and enjoy the flavorful sauce on pasta or pizza!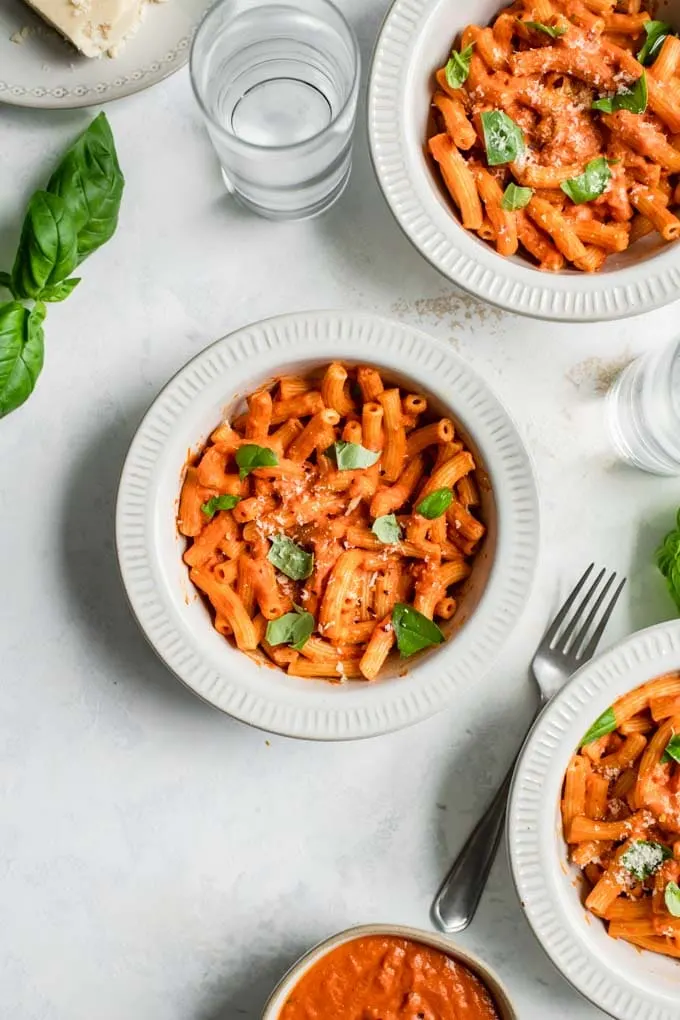 When it comes to sharing my favorite recipes, it's better late than never right? This vegan vodka sauce is one of our go to easy recipes! It's rich in flavor and creamy in texture, the perfect combination of umami savory with tomato sweetness.
It's delicious tossed with pasta or used as the base of a pizza, great in sandwiches and eaten straight with a spoon (I mean how different from tomato soup is a tomato sauce really).
This recipe is made using canned whole tomatoes, so it's easy to make year round and pantry friendly.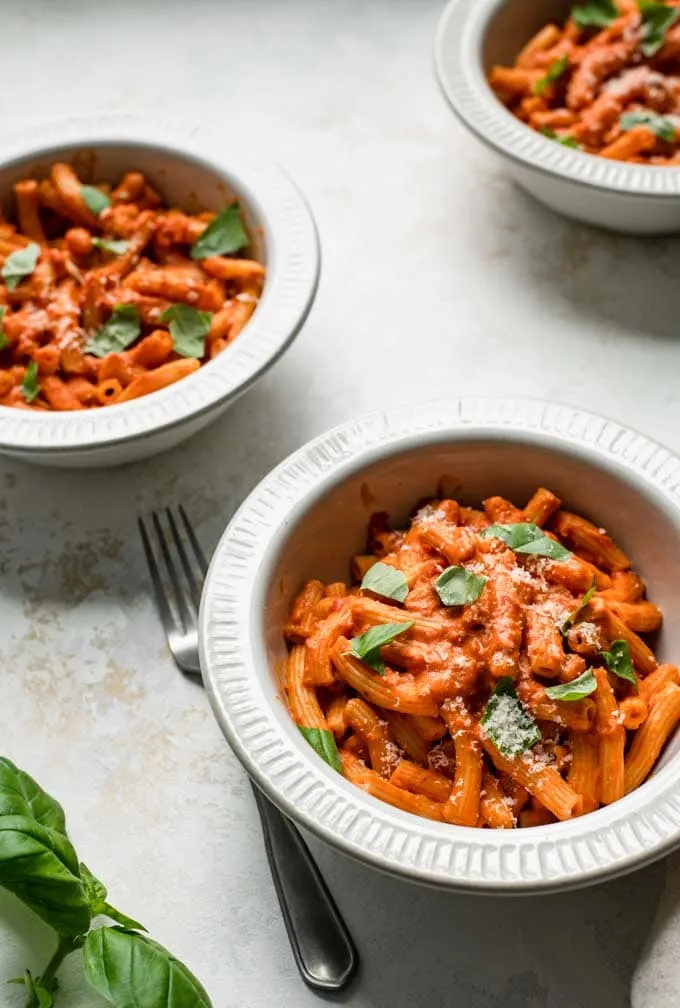 Alcohol is added to tomato sauces to bring out the more subtle aromatics and flavors. While vodka is flavorless, as it simmers with the tomatoes and the concentration of alcohol boils off it's able to interact uniquely with those flavor molecules in the tomatoes that otherwise aren't brought out.
This is why penne alla vodka is so delicious. It's why adding a splash of wine or beer to your sauces, soups, and stews makes them that much better.
Just a quick note if you do not want to consume any alcohol: no recipe that has alcohol added to it at any point will cook off all the alcohol. You can boil it for an hour or even two and there will still be traces of alcohol.
Can you make this recipe without the vodka? Sure. But then you're making a rose sauce, not a vodka sauce.
For those familiar with vodka sauce, you know it is normally loaded up with heavy cream, butter, and parmesan cheese.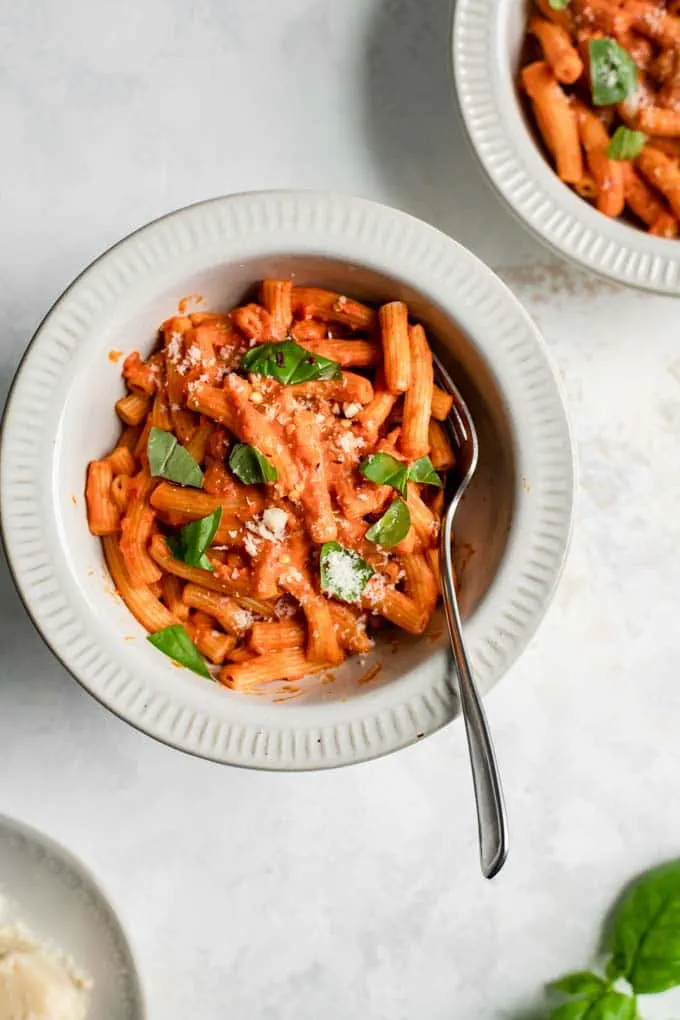 But it's easy to make vodka sauce vegan!
I swap the heavy cream for cashew cream, olive oil for butter, and parmesan for either vegan parmesan or nutritional yeast. This actually makes the recipe even more pantry friendly, as I always have some cashews on hand.
You could use a different nut if you have a cashew allergy or aversion. Sunflower seeds could work as well, but they will impart more flavor to the final dish than cashews, almonds, or macadamia nuts.
The other ingredients remain the same. Canned whole tomatoes, garlic, salt, oregano, red pepper flakes, vodka.
This sauce couldn't be simpler to make.
First, make the cashew cream. If you are using a high power blender like a Vitamix or Blendtec, then you can skip any soaking of the cashews.
If using a regular blender then soaking the nuts in water before blending helps soften them to make a smooth cream. Soak in cold water 2 hours (or longer if refrigerated, up to 24 hours) or for a quick soak boil the cashews for like 10-15 minutes.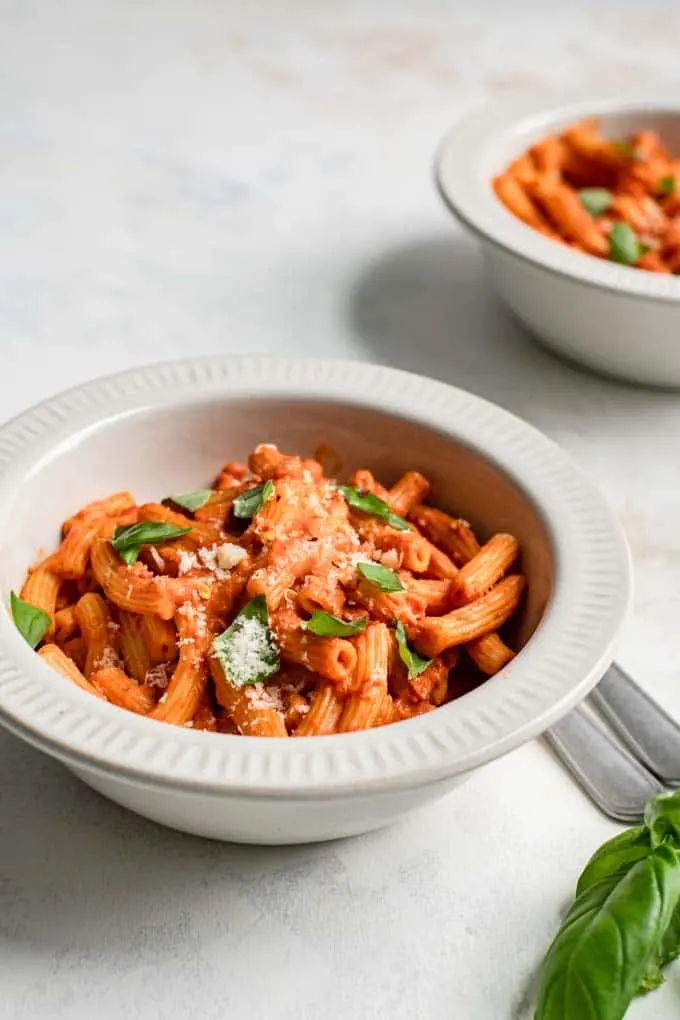 Drain and rinse the nuts, then blend them with fresh water to make a thick cream. This recipe doesn't require a huge amount of cashew cream.
My blender is able to just barely blend this amount, but if yours can't, then make extra cashew cream and save the rest for another recipe, or it can be thinned to make a cashew milk.
Set the cream aside, then without cleaning out the blender add the olive oil, garlic, salt, oregano, and red pepper flakes. Add a couple spoonfuls of the tomatoes and their juices, just enough so that your blender can blend everything together.
Blend the flavors until emulsified, then add the rest of the tomatoes. Pulse the blender just a handful of times to chop up the tomatoes but leave some texture in the sauce.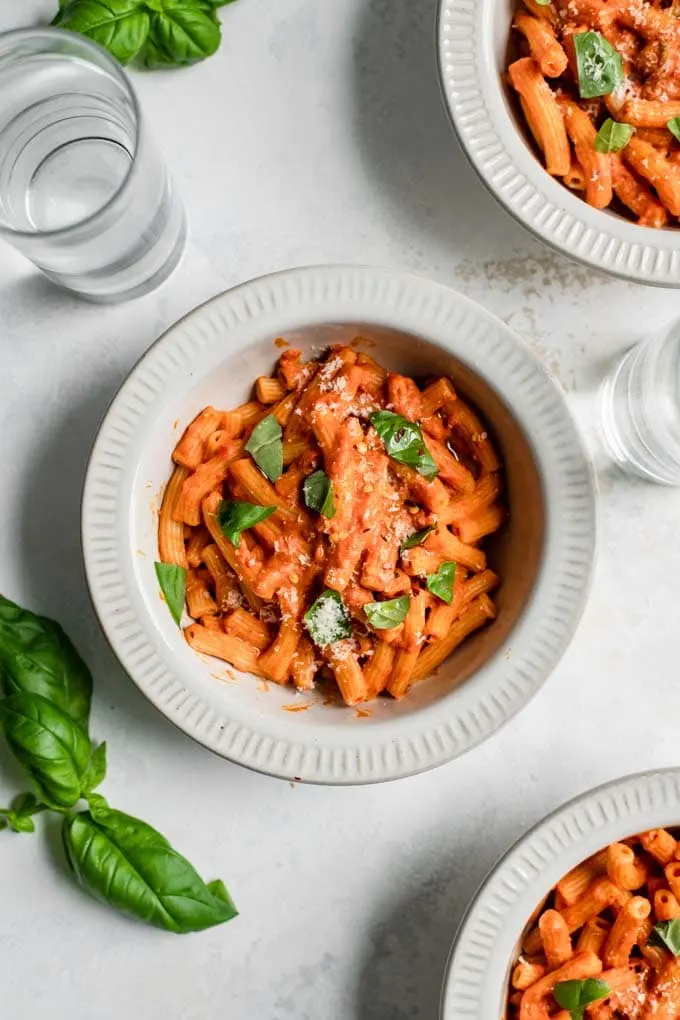 Next, combine the cashew cream and vodka in a pot.
Bring it to a simmer and let it thicken, this just takes a couple of minutes. Then add the tomatoes and the vegan parmesan (or nutritional yeast).
Cover it, but leave the lid ajar so steam can escape and let it simmer for about 30 minutes. This concentrates the flavors of the tomato and gives more than enough time to cook off a lot of the alcohol (which also lets the alcohol access those extra delicious flavor molecules!).
When the sauce is done you can use it immediately or refrigerate it for later. It should last about a week in the fridge.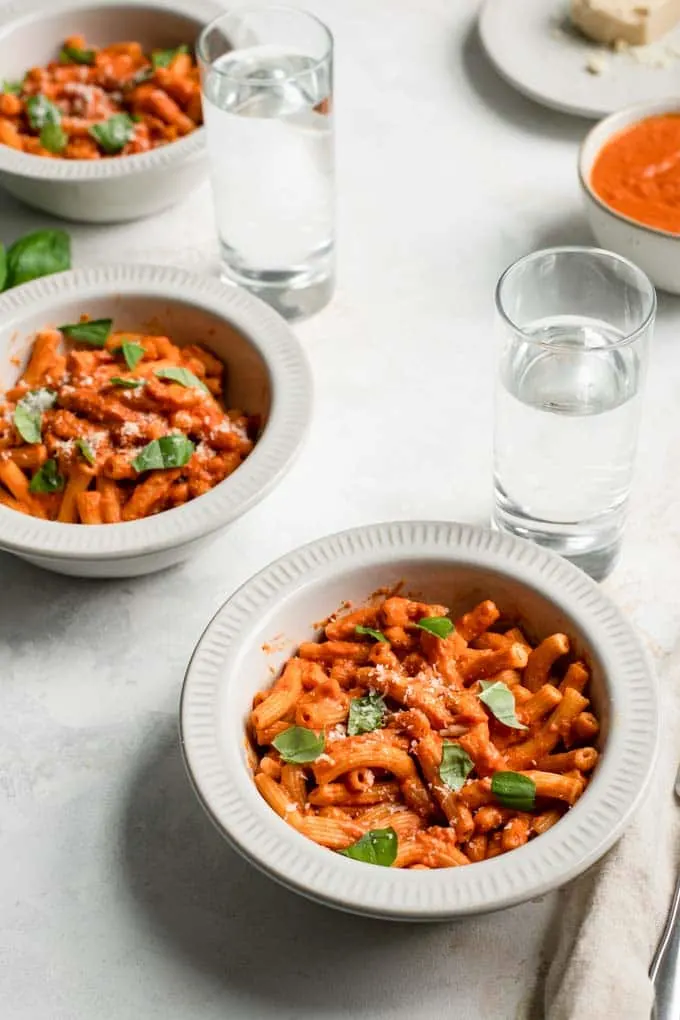 Vodka sauce is traditionally served with tube shaped noodles, like rigatoni, penne, ziti, etc. But, I do really love this sauce with fresh homemade pasta.
This time we got lucky and made the best of both worlds, tossing the vegan vodka sauce with some fresh pasta we had picked up when we were in Boston last weekend! It made for an extra special treat.
Of course, usually we use dried boxed pasta, and you are more than welcome to use a gluten free noodle!
Any leftover sauce does make a spectacular pizza!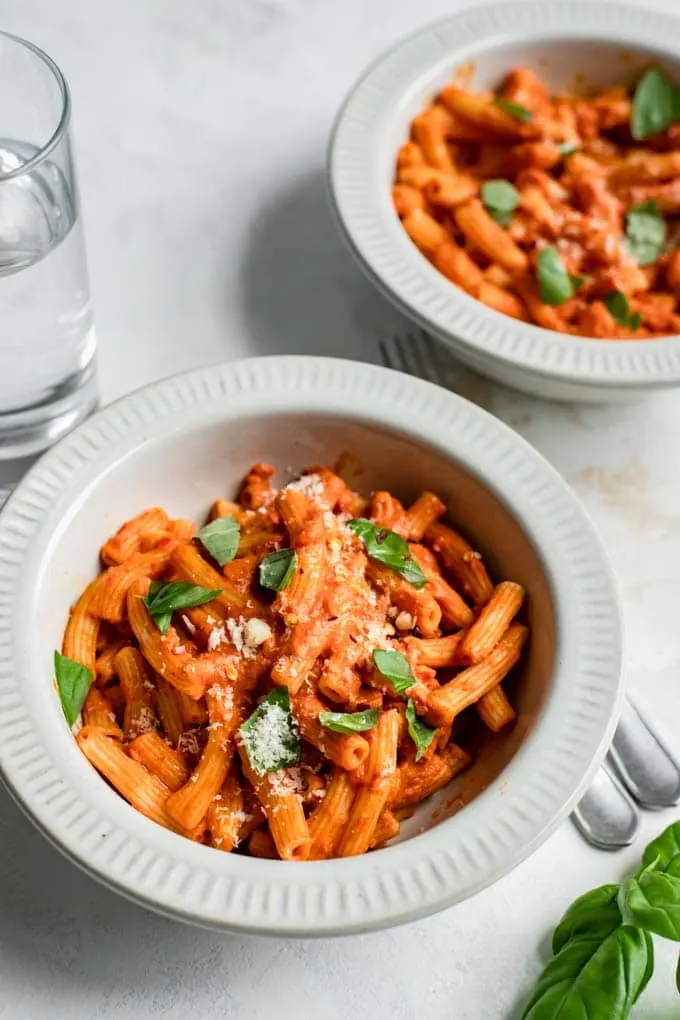 ---
If you make vegan vodka sauce, leave a comment below and rate the recipe on the recipe card. And please share your photos with me on Instagram, tag @thecuriouschickpea and #thecuriouschickpea. I love seeing your recreations!
---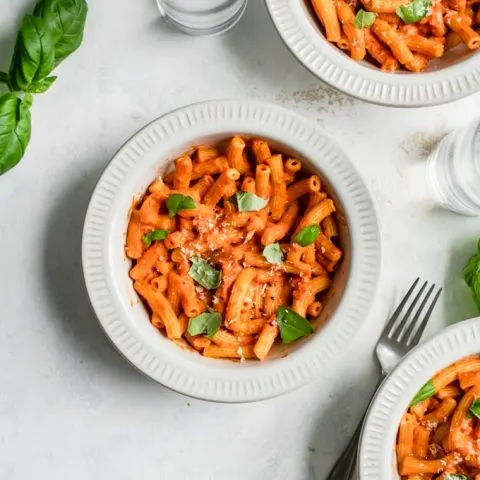 Vegan Vodka Sauce
Optional Soaking Time:
15 minutes
This delicious vegan and gluten free vodka sauce is rich, creamy, and full of flavor. It's pantry friendly thanks to canned tomatoes, and great for tossing with pasta or topping pizzas!
Ingredients
1/2 cup cashews*
1/2 cup water
1 28oz can whole tomatoes
1 tbsp extra virgin olive oil
1 clove garlic
1/2 tsp salt
1/2 tsp red pepper flakes
1/2 tsp dried oregano
1/4 cup vodka
2-4 tbsp vegan parmesan or nutritional yeast, extra to serve
Instructions
Blend the cashews and water together to make a thick cream. Scrape down sides of blender as needed. Transfer to another container (makes about 2/3 cup of cream).
Without washing the blender add the olive oil, garlic, salt, red pepper flakes, and oregano. Add a couple spoonfuls of the canned tomatoes and their juices to the blender and blend until creamy and emulsified. Add the rest of the tomatoes and juice to the blender and pulse a few times to make a smooth but textured sauce.
In a medium pot combine the vodka and cashew cream over medium heat. Let simmer for a couple of minutes until thickened and fragrant.
Add the tomato sauce and vegan parmesan or nutritional yeast. Cover the pot, leaving the lid ajar, then bring to a simmer. Cook for 25-30 minutes, stirring occasionally. Taste and adjust for salt.
Enjoy with pasta, garnished with torn basil and vegan parmesan.
Notes
If not using a high power blender, soak your cashews in water. Either soak in cold water for 2 hours (up to 24 hours in the fridge) or boil them for about 15 minutes. Drain and rinse the cashews before using.
If your blender needs more volume to blend, make extra cashew cream and save the rest for another recipe.
This vegan vodka sauce is also found in my vegan cheeseburger pizza recipe.
Nutrition Information:
Yield:

8
Serving Size:

1
Amount Per Serving:
Calories:

127
Total Fat:

7g
Sodium:

297mg
Carbohydrates:

8g
Fiber:

2g
Sugar:

3g
Protein:

5g