This crispy coconut tofu poke bowl is served with an easy wasabi sauce, seasoned sushi rice, vegetables, and topped with sesame seeds and chiles for a most delicious vegan and gluten free meal! It's easy to mix and match with what you have on hand. Switch out the vegetables, use rice noodles, add an avocado, drown in sriracha if you'd like!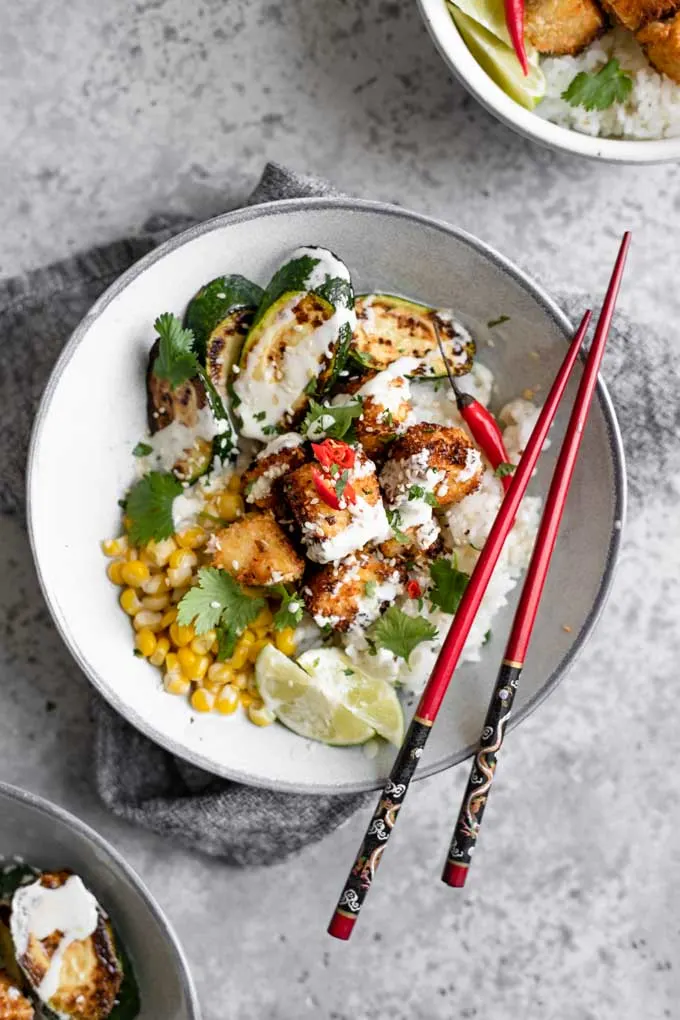 Look, I'm going to be honest with you here. I've never had a poke bowl. Not a traditional Hawaiian one nor the Americanized ones.
I haven't been to one of those fast casual restaurants that are so popular these days, only living vicariously through my husband Omar who's opinion of them is often "eh ??‍♂️."
What I really wanted was some crispy, toasted coconutty, tofu nuggets.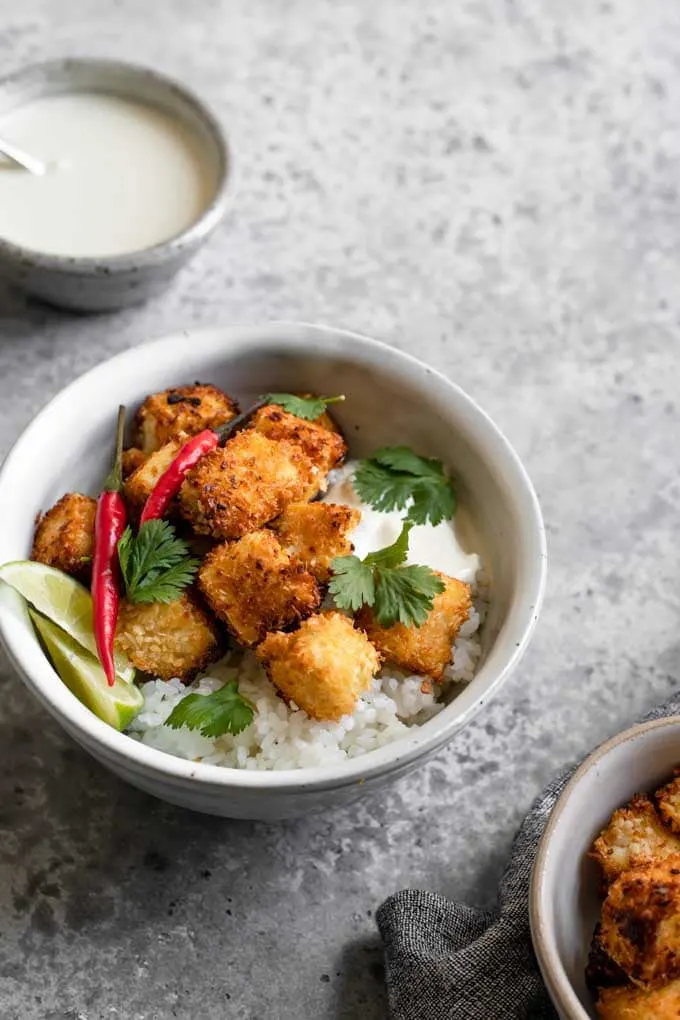 But then I needed something to serve them with and that bag of sushi rice was jumping out of the cupboard at me. And then I needed a sauce for it all and a crazy easy creamy wasabi mayo was the answer.
I added a little bit of vegetable cause it's juicy, tasty, and good for you. And then whoops, look at that, I made of a poke bowl of sorts!
Certainly a my own take on a non-traditional one (I don't eat fish after all). If you'd like to call it something else because it is not authentic poke be my guest–just make sure you don't skip eating it, because it's freaking awesome!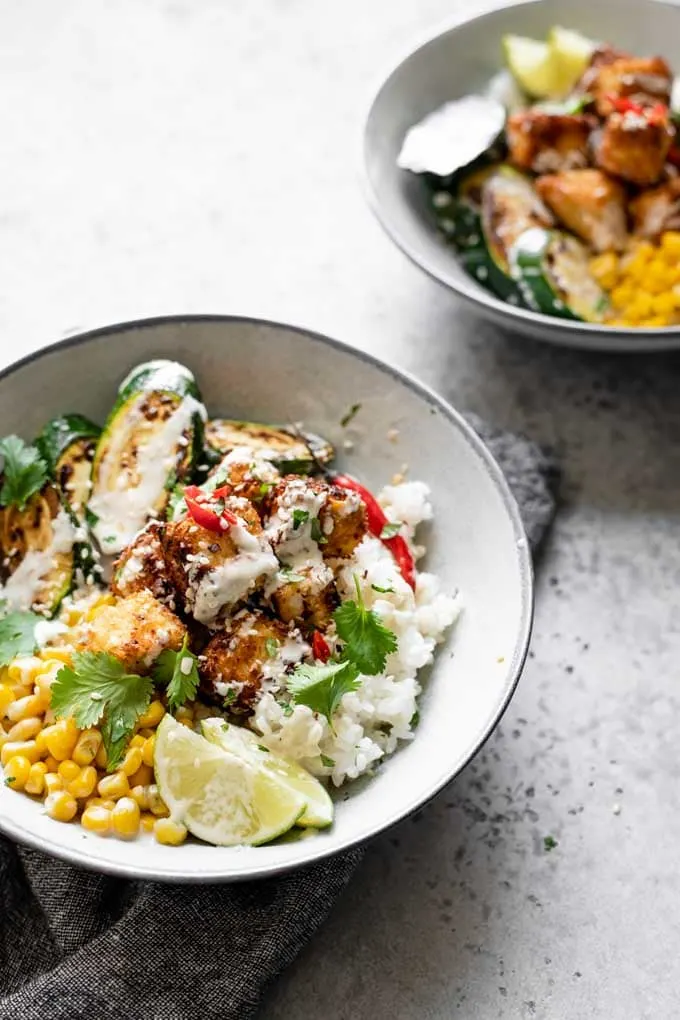 The star of this dish is the crispy coconut tofu. Hands down.
We've all had breaded tofu*, but typically that tofu is coated with breadcrumbs. This tofu instead is coated in unsweetened shredded coconut.
*ok, maybe not, but it sounds more poetic! And if you haven't, well, you gotta start somewhere!
When pan fried or baked the coconut caramelizes, turning addictively delicious and perfectly crisp. You'll find me tossing back piece of tofu after piece of tofu. No adornments needed!
First, press out extra water from the tofu. This helps improve the texture of the tofu, no worrying about soggy tofu!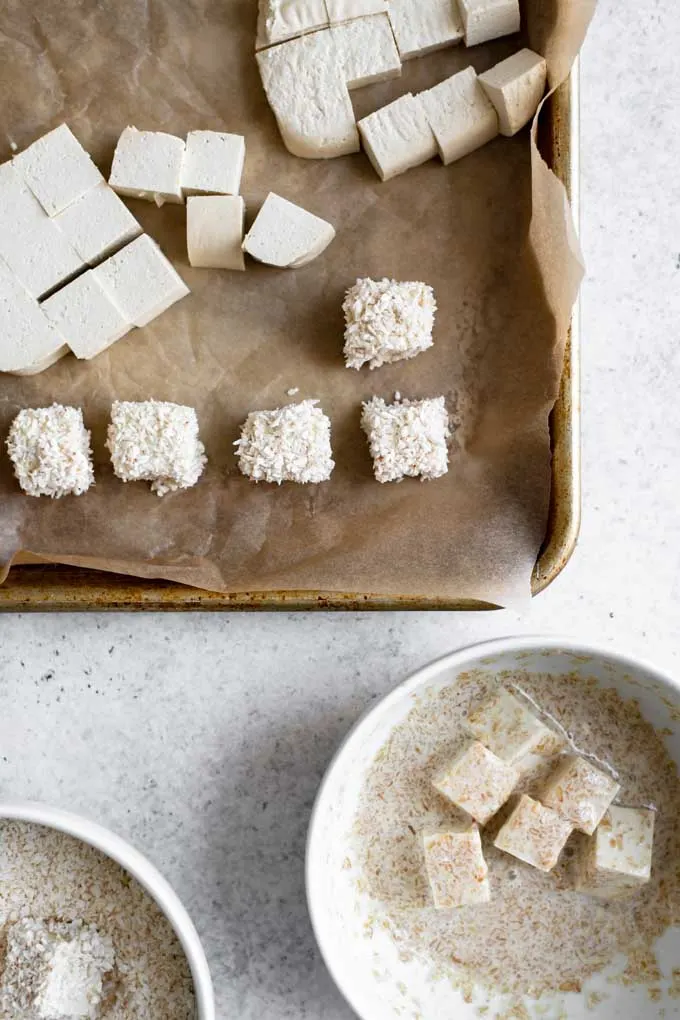 Next, make a vegan flax egg. Flax + water combines to make a gloopy liquid that helps the shredded coconut can attach to. Adding some cornstarch (or tapioca starch, arrowroot, potato starch, etc.) makes the breading more sticky for the coconut and more crispy when cooked up.
Cubes of tofu are dipped into the cornstarch and flax egg mixture, then immediately dipped into a bowl filled with lightly seasoned shredded coconut.
Use one hand (or a fork) for the dipping tofu into the wet mixture and your other hand for dipping into the dry coconut. Shredded coconut doesn't stick to your fingers like a regular breadcrumb mixture but it's still messier.
Repeat with the rest of the tofu until you've coated them all in shredded coconut.
The coconut tofu can be either baked or pan fried.
The choice is yours, but I'll be honest, the pan fried tofu is even better than the baked! That being said, if you're reheating leftovers, it doesn't matter as much if you bake or pan fry.
Whether baked or cooked stovetop, let them cook until crispy and golden. The panfried version is shown in these photos and does get a darker golden than the baked.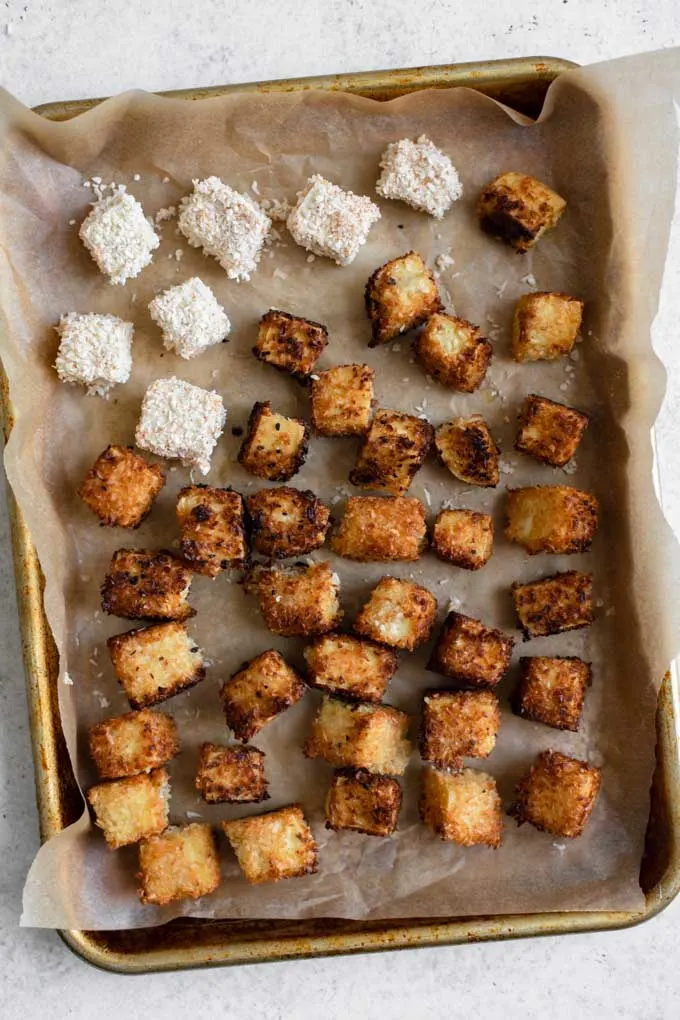 All good tofu deserves a tasty sauce and this vegan wasabi mayo is the answer!
If you, like me, keep some dried wasabi powder in your pantry this sauce is easy peasy and comes together in no time. If you don't, but some wasabi powder or wasabi paste and then the sauce will once again come together easily!
Wasabi powder gets rehydrated in a little bit of water to make a paste. Stir it and let stand for 10-15 minutes to let the flavors bloom. The more you stir in the spicier, more 'up your nose' the wasabi will get!
If using the paste, obviously skip that step. Then, mix the prepared wasabi into some vegan mayo and sour cream. Thin it with a lot of freshly squeezed lime juice.
The lime juice adds both tartness and a hint of sweet. If you want, a little drizzle of maple syrup can be added to sweeten the sauce further. This can be helpful if you want a milder sauce.
I like to make the wasabi sauce in advance and let the flavors meld in the fridge. Then it's ready to go when I'm ready to build my bowls!

Finally, prepare everything else.
I made seasoned sushi rice following these directions from epicurious. Though in typical Curious Chickpea fashion I decreased the sugar a bit and increased the rice vinegar.
For the veggies, I sautéed some zucchini and cooked some corn. On some bowls we enjoyed avocado.
You can switch out the carbs and vegetables to your liking, and based on what you have on hand. But they were amazing the way I put them together!
To finish the bowls, sprinkle plenty of sesame seeds over top. Drizzle on some sriracha or chop up some spicy chiles.
I dunno dudes, make these bowls your own! They're so, so good! I will most definitely be repeating them and making more crispy coconut tofu dishes!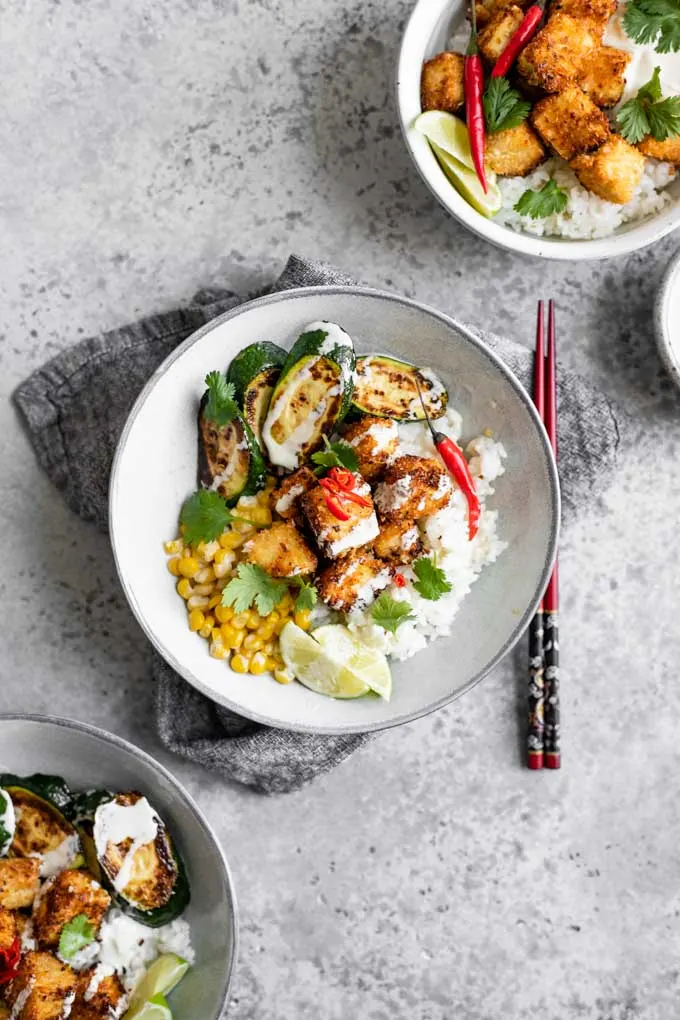 ---
If you make this crispy coconut tofu poke bowl with wasabi sauce, leave a comment below and rate the recipe on the recipe card. And please share your photos with me on Instagram, tag @thecuriouschickpea and #thecuriouschickpea. I love seeing your recreations!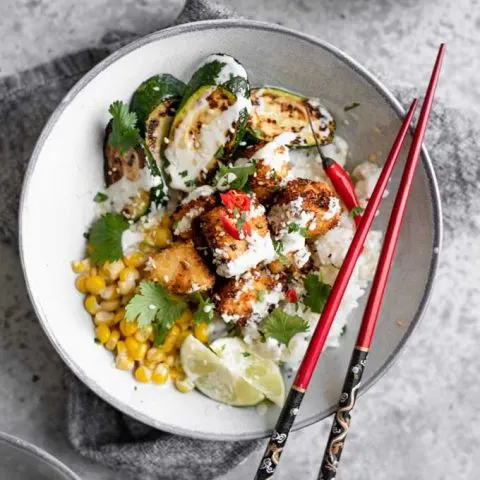 Crispy Coconut Tofu Poke Bowl with Wasabi Sauce
This crispy coconut tofu poke bowl is served with an easy wasabi sauce, seasoned sushi rice, vegetables, and topped with sesame seeds and chiles for a most delicious vegan and gluten free meal! It's easy to mix and match with what you have on hand, change the veggies or carbs as you like!
Ingredients
Wasabi Sauce
2 tbsp wasabi powder + 1 tbsp water (or 1-2 tbsp prepared wasabi paste to taste)
1/2 cup vegan mayonnaise
2 tbsp vegan sour cream
1 tbsp fresh lime juice
1 tsp maple syrup (optional)
water to thin
Coconut Tofu
1 lb extra firm or super firm tofu
2 tbsp ground flaxseed
6 tbsp water
2 tbsp corn starch
1 1/4 cup unsweetened shredded coconut
1/2 tsp salt
1/4 tsp cayenne pepper
oil to fry or bake
Everything Else
Sushi rice, cooked
Vegetables, such as sautéd zucchini, cooked corn, avocado
cilantro or chives for garnish
chiles or sriracha (optional)
Instructions
Make the wasabi sauce: stir together the wasabi powder and water vigorously to make a paste. Let rest for 15 minutes to activate. Then mix together all the ingredients (except for the maple syrup) and taste. If it needs some sweetener then add a little bit of maple syrup to taste. Add water to thin as desired. Keep sauce in fridge until ready to assemble.
Make the coconut tofu: If using extra firm tofu, press the tofu (you can skip this if using super firm tofu). Cut the tofu into 3/4- to 1-inch slabs, then wrap in a lint free towel and place a weight on top (such as a heavy pan or baking sheet loaded with cans or cookbooks). Let sit 15-30 minutes. Then finish cutting the tofu into cubes.
Meanwhile, mix together the ground flaxseed and water in a bowl and let sit for 10 minutes to activate (it will turn thick and gloopy). Stir in the corn starch. In a second bowl combine the shredded coconut, salt, and cayenne pepper.
Working with a few cubes of tofu at a time, dip the tofu into the flax mixture to cover, then put in the coconut mixture to coat the tofu in coconut. Set onto a parchment lined baking sheet or tray and repeat with all of the tofu cubes.
To fry: heat a layer of oil over medium heat and fry in batches, flipping each cube of tofu as the coconut browns. Cook at least 4 sides and keep a close eye as coconut can go from golden to burnt relatively quickly.
To bake: In a preheated 400 ºF oven, place the tofu on a parchment lined baking tray and spray lightly with oil. Bake for 25-30 minutes, flipping halfway through.
Assemble your bowls: Pile sushi rice, vegetables of your choice, and crispy tofu into bowls. Add the wasabi sauce and garnish with cilantro/chives and chiles/sriracha (optional).
Notes
To make sushi rice, I followed these instructions from epicurious and cooked 2 cups of dry rice.
I used 100% wasabi for my wasabi sauce, if you use a horseradish and mustard wasabi blend you may want to adjust the amounts to taste. Also note, some prepared wasabi blends may contain non-vegan ingredients so check the labels!
Recommended Products
As an Amazon Associate and member of other affiliate programs, I earn from qualifying purchases.
Nutrition Information:
Yield:

8
Serving Size:

1
Amount Per Serving:
Calories:

403
Total Fat:

28g
Saturated Fat:

11g
Unsaturated Fat:

15g
Sodium:

597mg
Carbohydrates:

33g
Fiber:

7g
Sugar:

6g
Protein:

10g