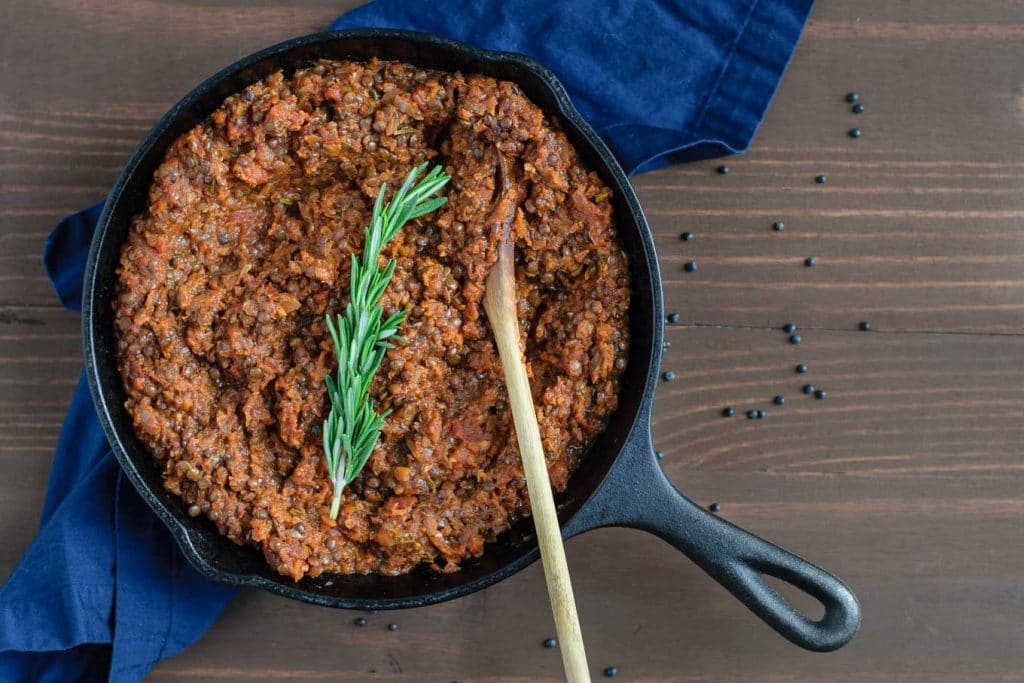 I didn't grow up with ragù, and by ragù I do mean meat-based tomato sauce, though as a child I definitely thought ragu specifically referred to the American tomato sauce brand, Ragú, and I didn't grow up with that either. My parent's cooking styles leaned more to cuisines and dishes that were "accidentally" vegetarian or vegan, in part perhaps because the quality and variety of vegan products were not what they are now. So this meant I didn't have any form of vegan bolognese sauce (which is a kind of ragù) until I was an adult experimenting with veganizing traditional meat-based dishes. Most of my versions of bolognese have included seitan, which is an obvious choice for a meaty texture, but recently I switched the wheat meat for more ubiquitous lentils and was pleasantly surprised with how bat shit crazy I went over the lentil-filled version.
Black lentils, also known as beluga lentils, are my lentil of choice for this recipe. They are the smallest of the brown and black lentils and they have a delicious delicate earthy flavor. They also hold their shape when cooked, and have a great firm texture. They helped create the thickest, meatiest tomato sauce–no meat necessary. I cooked the lentils separately from the sauce, as acidic environments (like tomatoes) prevent lentils (and beans) from cooking all the way through. I added the lentils into the sauce for the final 10 minutes of simmering to give them a chance to absorb the rich flavors and thicken the sauce. We don't have to worry much about overcooking them once they're in the tomato sauce.
A mirepoix forms the base of this recipe, with onions, carrots, and celery cooked until soft and sweet. To help them melt into the final sauce, I use a food processor to chop each vegetable up to a fine dice. It also makes quick work of everything. Just toss roughly chopped veggies one at a time (as in, do only one kind of vegetable at at time since they'll chop at different speeds) into the food processor and run it until they're finely diced. Add each diced veggie into a large heavy bottomed pot, along with a lot of minced garlic, which you might as well also chop up in the food processor as it's already in use, and a healthy pour of olive oil. The veggies are cooked over medium heat until all the extra liquid (mostly from the onions) has cooked off and everything is soft and a shade golden.
At this point we add the umami building ingredients in the sauce with soy sauce, miso, and red wine. Soy sauce is a great way to bring a rich saltiness to the sauce, packed full of glutamates for that deep savory flavor. I add a light colored miso for its lightly fermented flavor and its nutty, sweet saltiness. Red wine adds a great depth of flavor to the dish you're making, but choose a full bodied red, ideally one that is low in tannins, as they are prone to turning bitter when cooked for a long time. Cabernet, Côte du Rhône, Merlot, Chianti are all great varietals to use in cooking. Most importantly though, is to use a wine you enjoy drinking.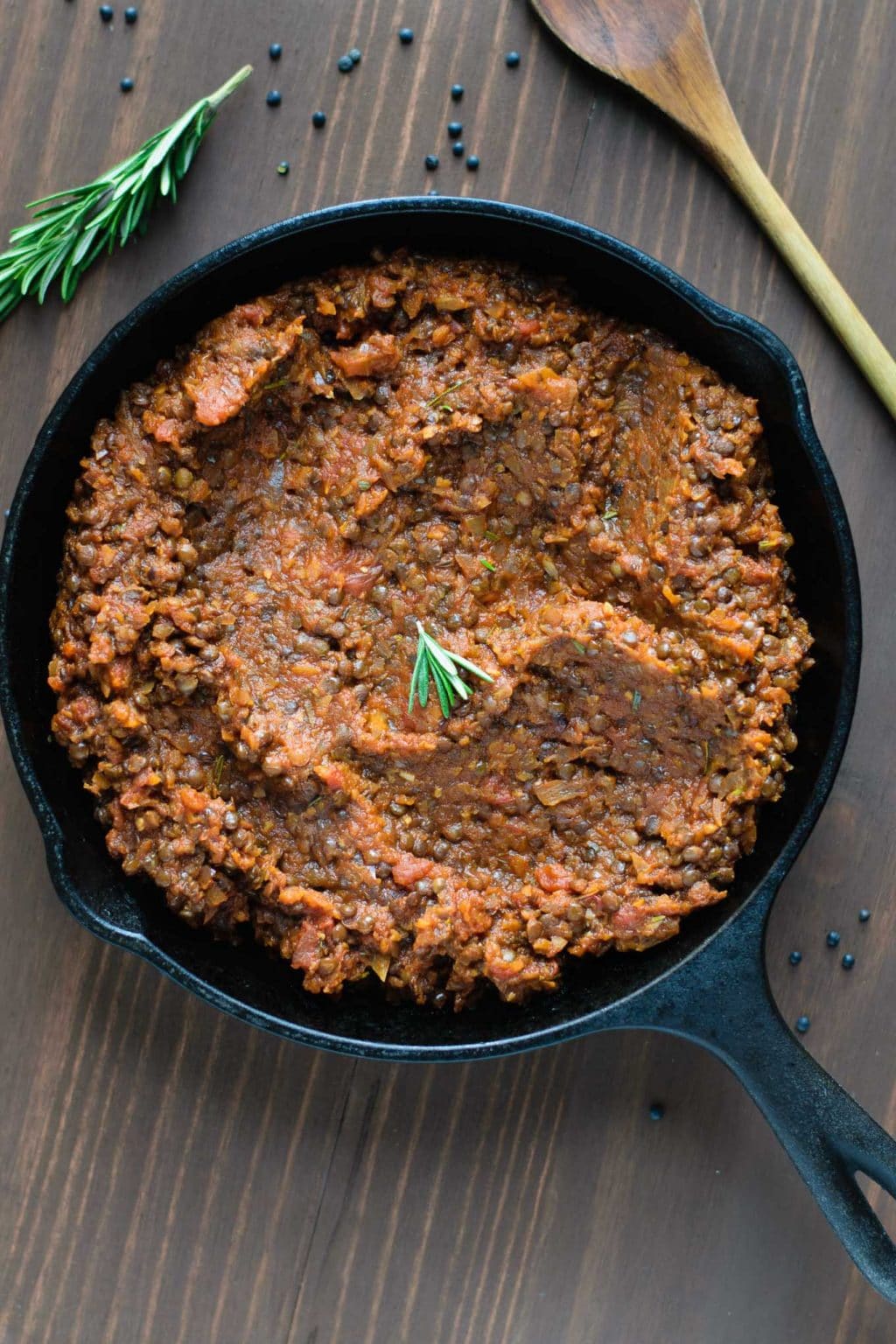 Did you know that tomatoes are a natural source of MSG? Yep. Probably why tomato sauces are so darn delicious. We get tomatoes in two ways here, with a large can of crushed tomato (making this dish pantry friendly and accessible year round) and a mound of umami-rich tomato paste. Dried basil and thyme are simmered in the sauce, and fresh rosemary is added in the last minutes of cooking for it's warming headiness.
This vegan bolognese builds in so many layers of flavor as it cooks. It's quite easy to make, and most of it is hands off. It's great on pasta, from spaghetti to farfalle, tagliatelle to lasagne. I had a hard time not eating all of it straight from the pot (ok, maybe not ALL 7 cups, but certainly enough to fill up). And it filled my home with the BEST rich smells as it simmered, I'm still day dreaming about the smell. Omar declared that he preferred the lentil bolognese to seitan bolognese sauces I'd made in the past. The earthiness from the lentils just melded itself to the sauce to create perfection. It's the perfect winter dish. Hearty and filling, while sneakily being quite healthy!
The recipe is naturally gluten free, as long as you make sure to use gluten free soy sauce and miso! And, of course, gluten free noodles if you're having this with pasta. I hope you guys enjoy this recipe, and have a wonderful holiday next week! I'd love to hear what you're eating :). As always, I love hearing when you guys make my recipes!  Leave a comment below, and tag your photos @thecuriouschickpea and #thecuriouschickpea on Instagram, or share with me on Facebook. Happy holidays friends!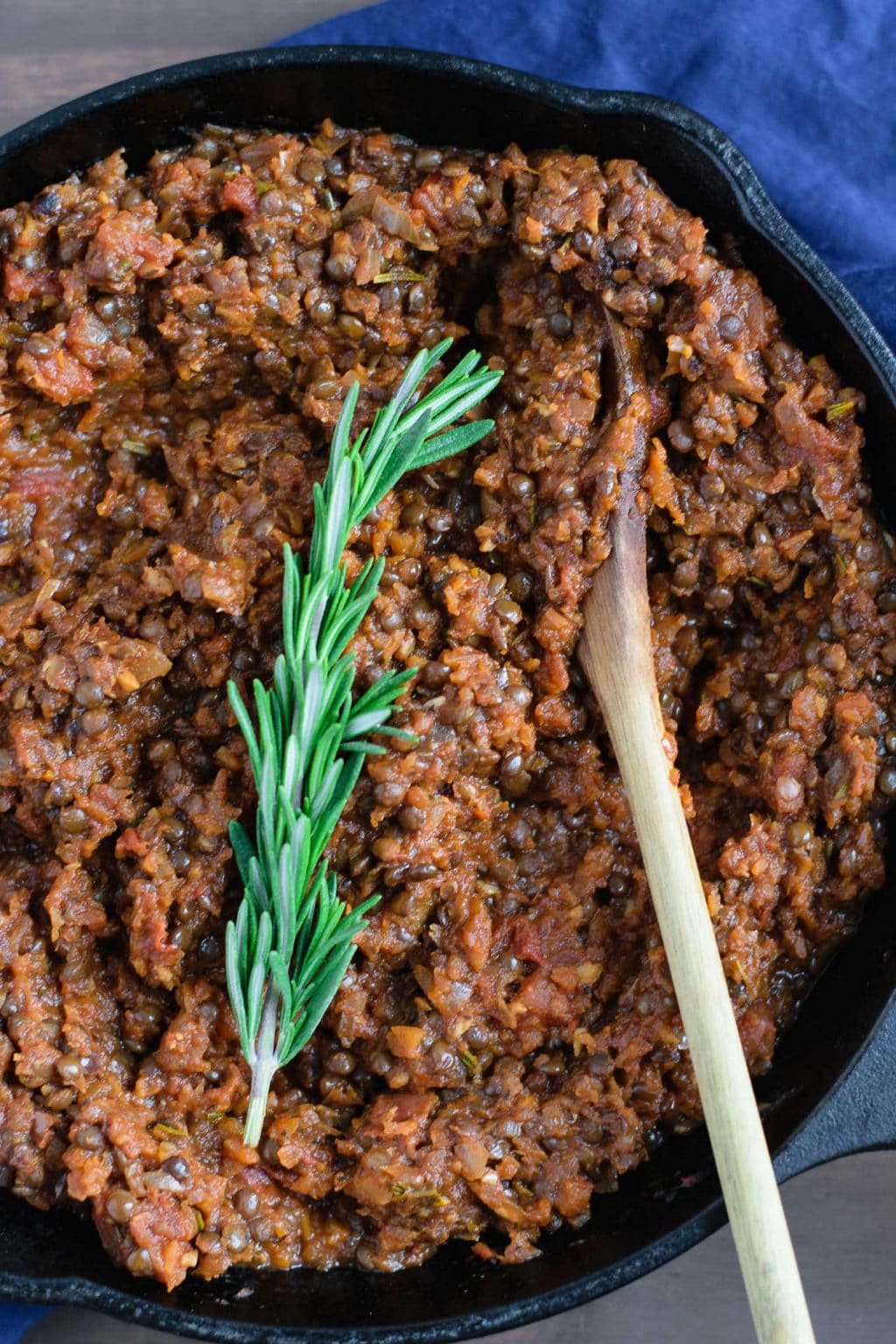 Notes:
Use a gluten free certified tamari or soy sauce and a gluten free certified miso if needed.
If you can't find black beluga lentils, you can try substituting lentils du puy (french green lentils) or even brown lentils. Or, order them online!
Vegan Black Lentil Bolognese
This vegan bolognese uses black lentils for a meaty texture, and is slowly simmered to bring out the deepest and richest flavors from the sauce. It's even better on the second day!
Ingredients
1 cup (6 oz/175g) dried black lentils, debris removed and rinsed
2 medium (1 lb 5 oz/600g) yellow onions
2 ribs (4 oz/120g) celery
1 large carrot (4.5 oz/125g)
6 cloves (1 oz/30g) garlic
¼ cup (60 mL) olive oil
2 tbsp (30 mL) soy sauce
2 tbsp (30 mL) white or chickpea miso
½ cup (120 mL) red wine, more as needed to thin
1 28oz can crushed tomatoes
¼ cup (60 mL) tomato paste
2 tsp dried basil
1 tsp dried thyme
1 heaping tbsp chopped fresh rosemary
salt, if needed, to taste
freshly ground black pepper, to taste
Directions
In a medium pot combine the dried black lentils and 4 cups of hot water. Simmer for 20 minutes until the lentils are cooked but still firm. Drain and set aside to cool until ready to use.
Use a food processor to finely dice the onion, celery, carrot, and garlic. Peel and roughly chop the onion into about 8 pieces, then place in the food processor one at a time and process until finely chopped. Transfer to a large heavy bottomed pot. Repeat with the celery, trim the edges off and roughly chop with a knife before processing until finely chopped, then transfer to the pot with the onion. Do the same with the carrot, peel and roughly chop with a knife, then process until minced with the food processor, then add to the pot. Lastly, put the peeled cloves of garlic and mince in the food processor, wiping down if necessary, then add to the pot. Alternatively you can finely dice the onion, celery, and carrot, and mince the garlic completely by hand.
Add the ¼ cup of olive oil to the pot with the onion, celery, carrot, and garlic and add a pinch of salt. Turn the heat on to medium and cook for 12-15 minutes, stirring occasionally, until the liquid has cooked off, the mixture has lost volume and turned somewhat of a golden hue, and the onion is starting to brown just a little in in areas.
Add the soy sauce, miso, and red wine, and stir, letting it absorb into the vegetables for 1-2 minutes.
Then, add the crushed tomato, tomato paste, dried basil, and dried thyme and turn the heat down to low. Cover the mixture, leaving the lid ajar, and simmer for 25 minutes, stirring occasionally.
Add the cooked lentils and the fresh rosemary, along with some freshly ground black pepper. Simmer for about 10 minutes, stirring more frequently towards the end of the cooking time, adding a splash of wine if the sauce gets too thick and dry.
Serve the bolognese on pasta, use it as a sauce on pizza, or just eat it straight from the pot with a spoon!