Caramelized onions, crumbled veggie burger, fresh basil, and delicious creamy vodka sauce. That is all it takes to make this delicious pizza. Vodka sauce is my new favorite pizza base, made creamy with cashews and a little cheesy with vegan parm or nutritional yeast. After simmering for a half hour on the stove the flavors blend together to create perfection, to the point that when you taste the sauce at the end you'll end up wishing you had been making tomato soup instead. At least, only until you make the pizza and eat it and go OMG SO GOOD.
I love pizza, always have, and probably always will. I'm so original, I know. I love it in all forms. Deep dish, thin crust, bar style pizza, pan pizza–you name it, I love it. Growing up, whenever it was my turn to pick a restaurant to eat at I always wanted to go for pizza, which was just not what the rest of my family typically wanted. They wanted to go out for Indian, Chinese, Mediterranean, Thai, or basically anything else with good vegetarian options. My older sister never liked cheese, my younger sister liked it but was lactose intolerant, and my parents viewed it as a less healthy option.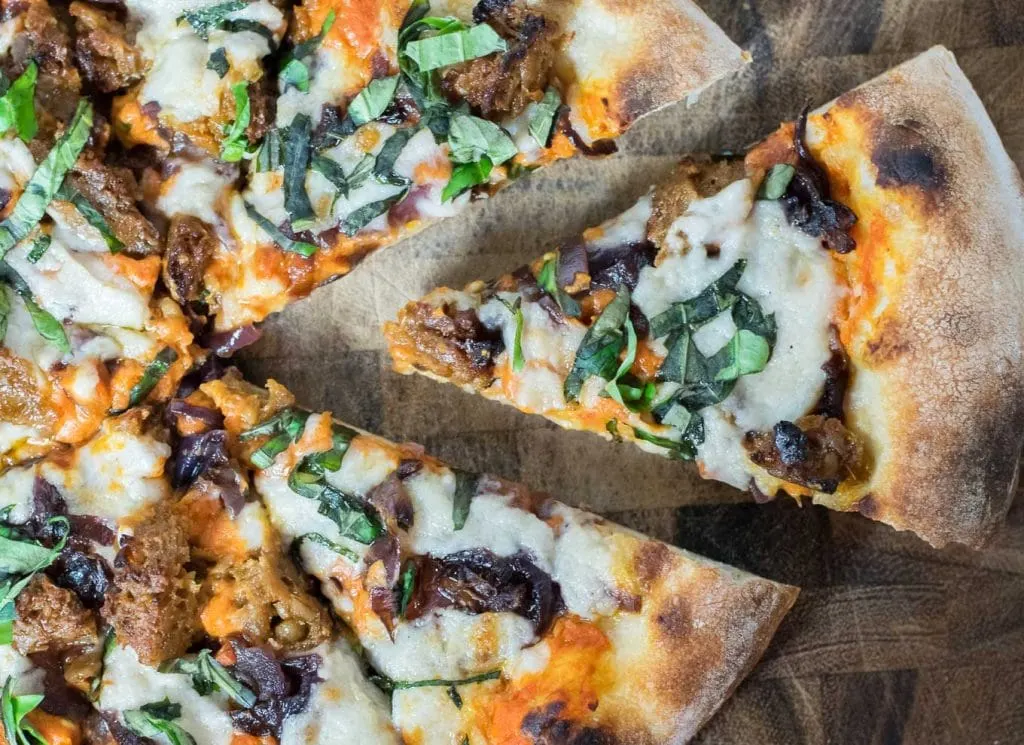 Giving up cheese was the hardest for me going vegan, but by the time I made the decision to fully transition I wasn't too concerned about missing out on pizza because I had gotten into making my own vegan cheese and the options in grocery stores were improving. Plus I had been making pizzas for a few years at that point and had really upped my pizza making skills.
It started with a Christmas gift from my older sister my first year out of college. She gave me a pizza stone and a pizza peel (kitchen and cooking related gifts always land well with me), and I started making pizzas regularly. My first couple years of pizza making are nothing to brag about. I mean they tasted good, but the crust wasn't amazing, and the shapes were certainly not as… circular. But slowly they improved, thanks to the insane amount of pizza dough research I did, and all the practice. My current go-to pizza dough (which I will be sharing hopefully soon!) involves a small amount of yeast and a slow, overnight rise in the refrigerator.
That said, there's certainly no one right way to make a pizza, and the freshly baked combination of dough, sauce, [vegan] cheese, and whatever topping you're currently in the mood for is delicious no matter what. For me, this means always trying new methods or making new sauces or switching up the toppings. I have to say, this topping combination is a real winner.
By using store bought cheese and veggie burger this pizza is quite easy to make. Both the sauce and caramelized onions can be made in advance, so when it comes time to make the pizza all you need to do is assemble and bake. If you have time to pre-heat the oven, then you have time to make pizza!
Let me know in the comments if you make this dish, rate it, or tag me on Instagram!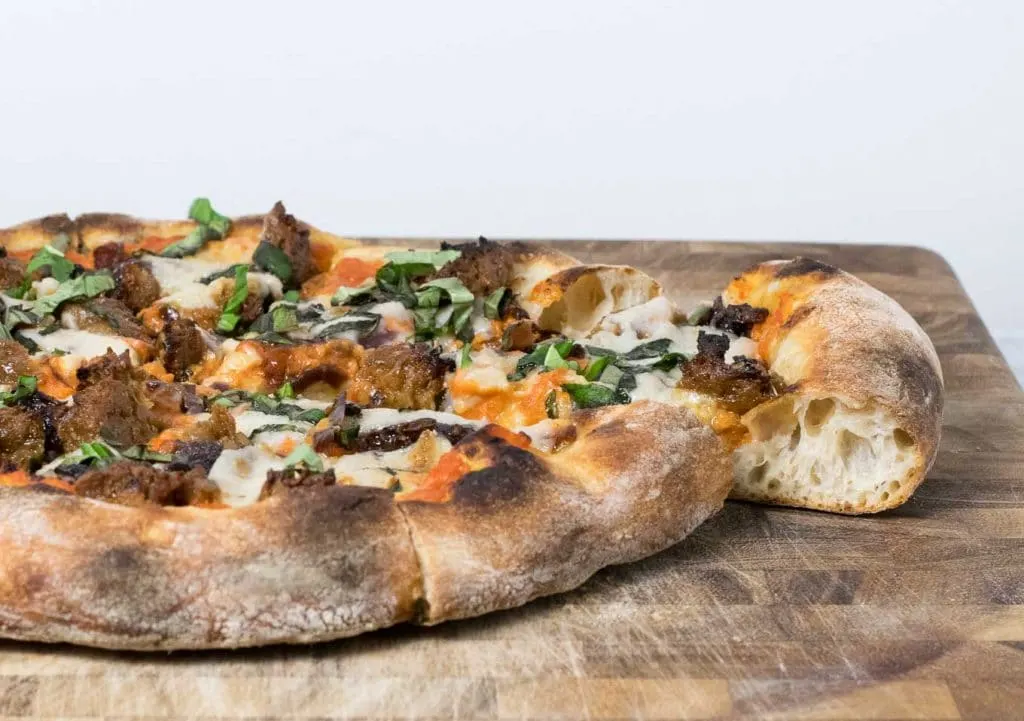 Notes:
Use your favorite veggie burger (we used field roast, but any would work!), or substitute beef-style crumbles for the burger.
I used Miyoko's Kitchen Vegan Fresh Mozzarella and really love it, but use whatever vegan cheese you like and have access to!
This recipe definitely makes more caramelized onions than you need for your pizzas, but it's so easy to make a large batch and then you can use it in other dishes all week. But if you don't want extra, only use one onion.
Use good quality canned tomatoes, you can use San Marzano style if desired, but using high quality is key.
You can use your favorite homemade pizza dough, or purchase pre-made dough from the grocery store or some pizza shops.
This vodka sauce also makes a great pasta sauce, though you would want to thin it out a little with some pasta cooking water.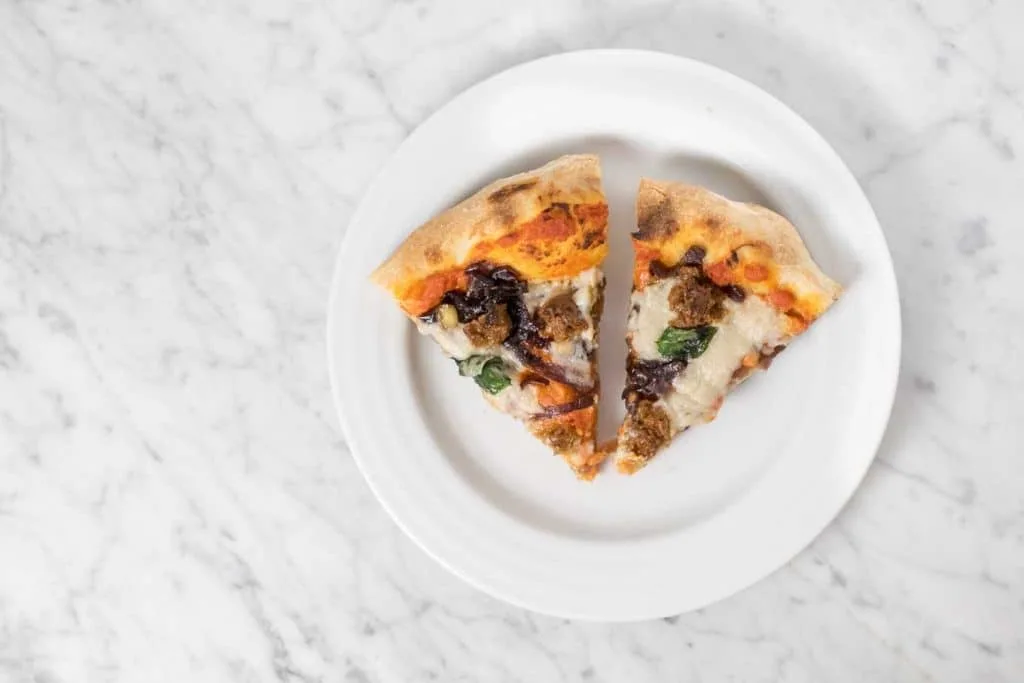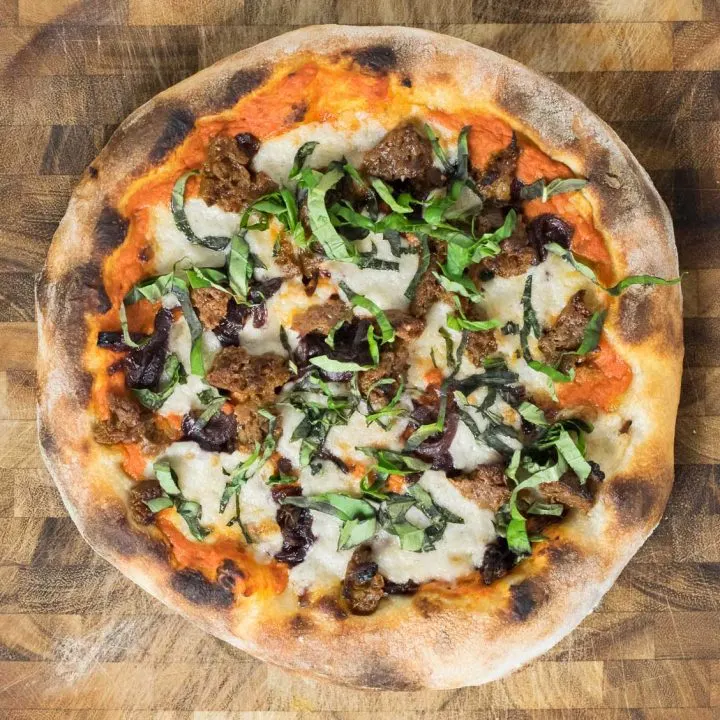 Vegan Cheeseburger Pizza with Vodka Sauce and Caramelized Onions
Make this mouth watering and sophisticated vegan cheeseburger pizza with creamy vodka sauce, caramelized onions, crumbled veggie burgers, and fresh basil.
Ingredients
Vodka Pizza Sauce
1/2 cup cashews, soaked*
1/2 cup water
1 28 oz can whole peeled tomatoes
1 tbsp olive oil
1 clove garlic
1 tsp salt
1/2 tsp dried oregano
1/2 tsp crushed red pepper
1/4 cup vodka
2 tbsp vegan parmesan, or nutritional yeast
Caramelized Onions
1 tbsp oil
2 large red onions, half moons
pinch of salt
For the pizzas
veggie burger, crumbled*
vegan mozzarella cheese
fresh basil, chiffonade
Pizza dough, store bought or homemade (~10 oz per pizza)
Instructions
To make the vodka sauce
Blend the cashews and water on high until smooth, then pour into another container (such as a measuring cup) and set aside.
Without cleaning the blender, put the olive oil, garlic, salt, oregano, and crushed red pepper in, along with a couple tablespoons of tomatoes. Blend until smooth and emulsified. Add the rest of the tomatoes and their juice, and pulse a few times in the blender. The tomatoes do not need to be fully smooth.
In a medium pot over medium heat, mix the vodka and cashew cream together, and simmer for 3-4 minutes until thick and fragrant.
Stream in the tomato sauce, and add the vegan parmesan. Bring to a boil, then lower the heat to a simmer and cook for 30 minutes, partially covered and stirring occasionally. Taste and adjust seasoning if desired. Leave to cool until ready to make pizzas.
To make the caramelized onions
Heat a large skillet over medium heat. Add the oil, onions, and a pinch of salt. Cook, stirring occasionally, until the onions are wilted, about 5 minutes.
Turn the heat down to medium low, and cook, stirring every few minutes, for 15-20 minutes, or until soft, brown, and fully caramelized. Remove from heat and set aside until ready to assemble pizzas.
To prepare the pizza
Preheat oven to 550 ºF (or as hot as your oven goes) or a full hour to fully saturate the oven with heat, with the rack positioned one level above the middle. If using a pizza stone, make sure that's in the oven as it preheats.
Stretch out the pizza, 10 oz of dough makes one ~12" pizza.
Place dough on baking sheet if using, or prepared pizza peel if baking on a stone.
Spread the vodka sauce on the dough. Place caramelized onions over the sauce. Then, sprinkle on cheese. Add crumbled veggie burger.
Bake for 8-10 minutes, keeping a close eye on it at the end.* You can turn to broil for the last 1-2 minutes if you want additional melting and browning.
As soon as it's out of the oven, add the basil.
Notes
*Instead of cashews, you could use 2/3 cup canned coconut milk
*If the veggie burger is pre-cooked then you can just crumble it straight onto the pizza, it will brown in the oven. If it isn't cooked, then pan fry it first.
*longer baking time maybe necessary if using more pizza dough, or if oven temperature is lower.