These vegan taco pinwheels have seasoned black beans, vegan chorizo, and vegan cheese wrapped in flaky pastry. Serve them with your favorite taco toppings and they make a crowd-pleasing appetizer or snack. They're delicious warm or at room temperature.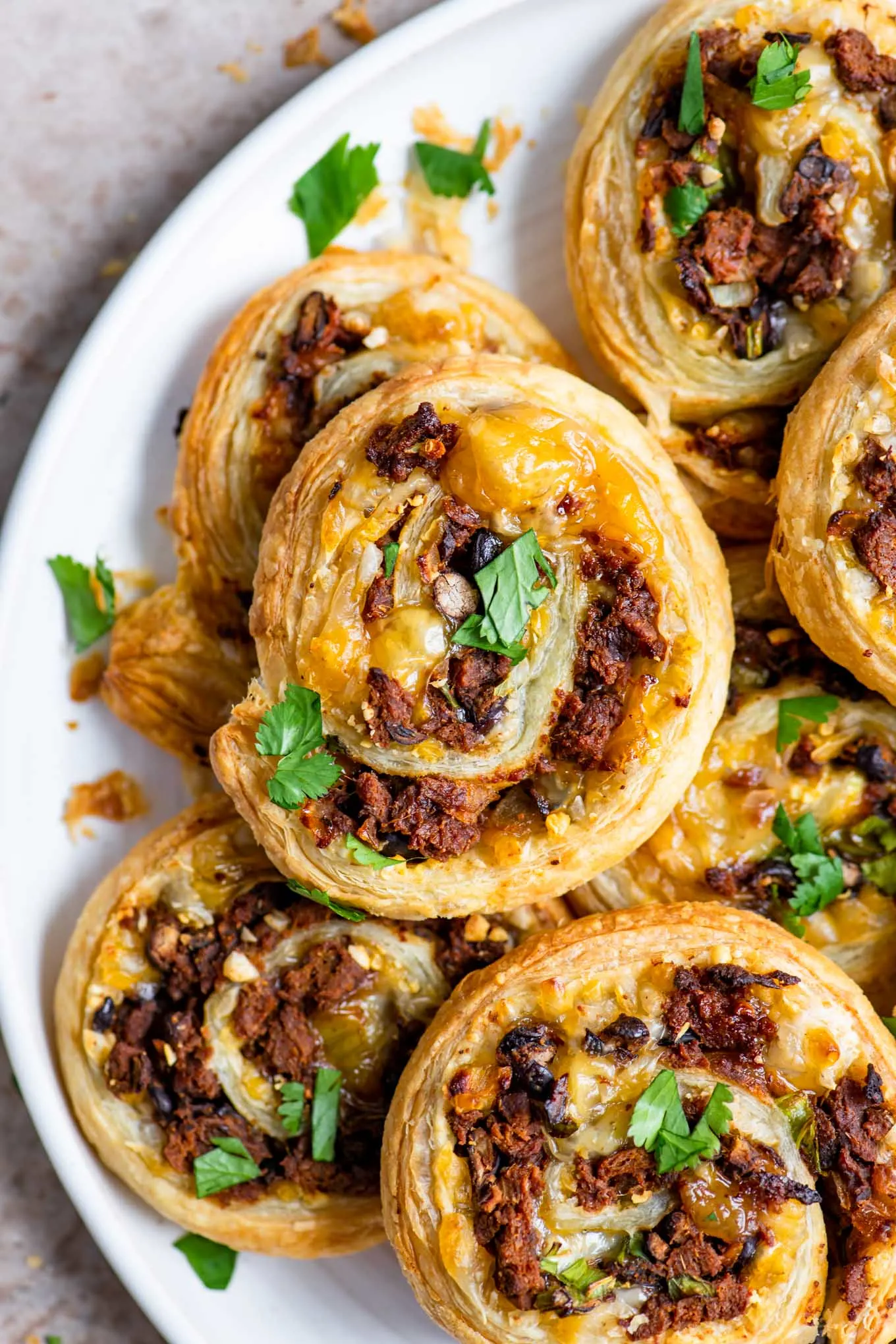 Your search for your next greatest party appetizer (or just Friday night snacky dinner) is over! Yes that's right, all you need for an incredible, flavorful, addictively delicious snack, meal, or appetizer is these Vegan Taco Pinwheels.
Serve them with sour cream, guacamole, salsa, pico de gallo, hot sauce, or your favorite taco toppings. But, even eaten plain they are just perfection!
These pinwheels are made of puff pastry and stuffed with a yummy black bean and vegan chorizo mixture and lots of vegan cheese, then baked to crispy perfection.
The combination of flaky pastry and a cheesy, meaty filling is just too good.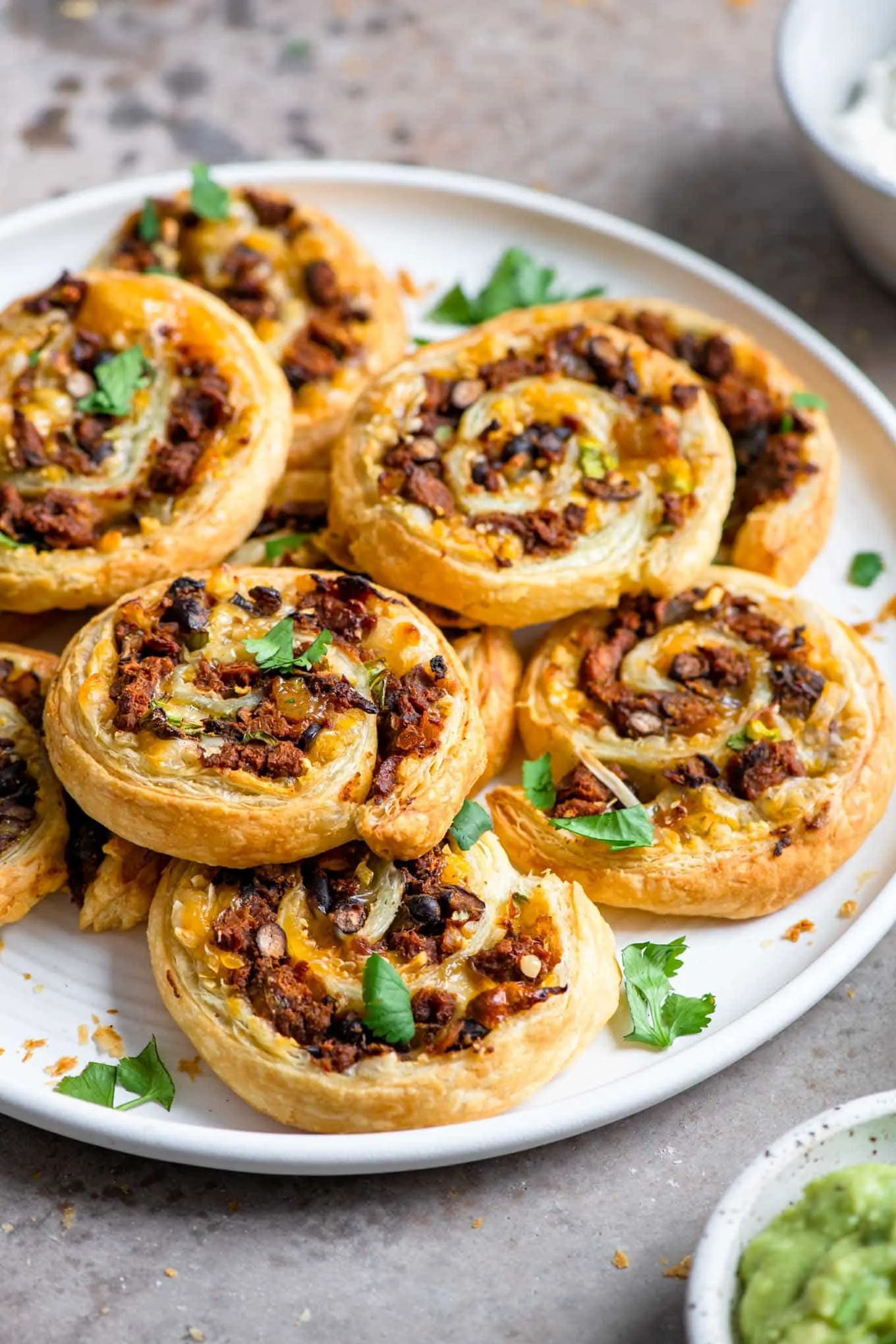 And these Mexican taco pinwheels are super easy to make! You can pull your puff pastry out of the freezer to thaw while making the easy filling then let it cool down while the oven preheats. By this time the puff pastry is likely thawed enough to unfold and prepare.
Everyone will enjoy these vegan pinwheels! There's so much flavor, the crispy cheese is to die for, and the vegan chorizo will have your omni-friends calling home about it. Or at least that's what mine did!
These pinwheels are great warm or at room temperature which makes them great for hosting, or for making a big batch to munch on yourself throughout the course of a day.
You can also make them ahead of time! After rolling up the pastry around the filling, wrap it in plastic wrap or put in a large and very air tight container (so it doesn't dry out) and refrigerate. You can leave them in the fridge for a day or two before slicing and baking.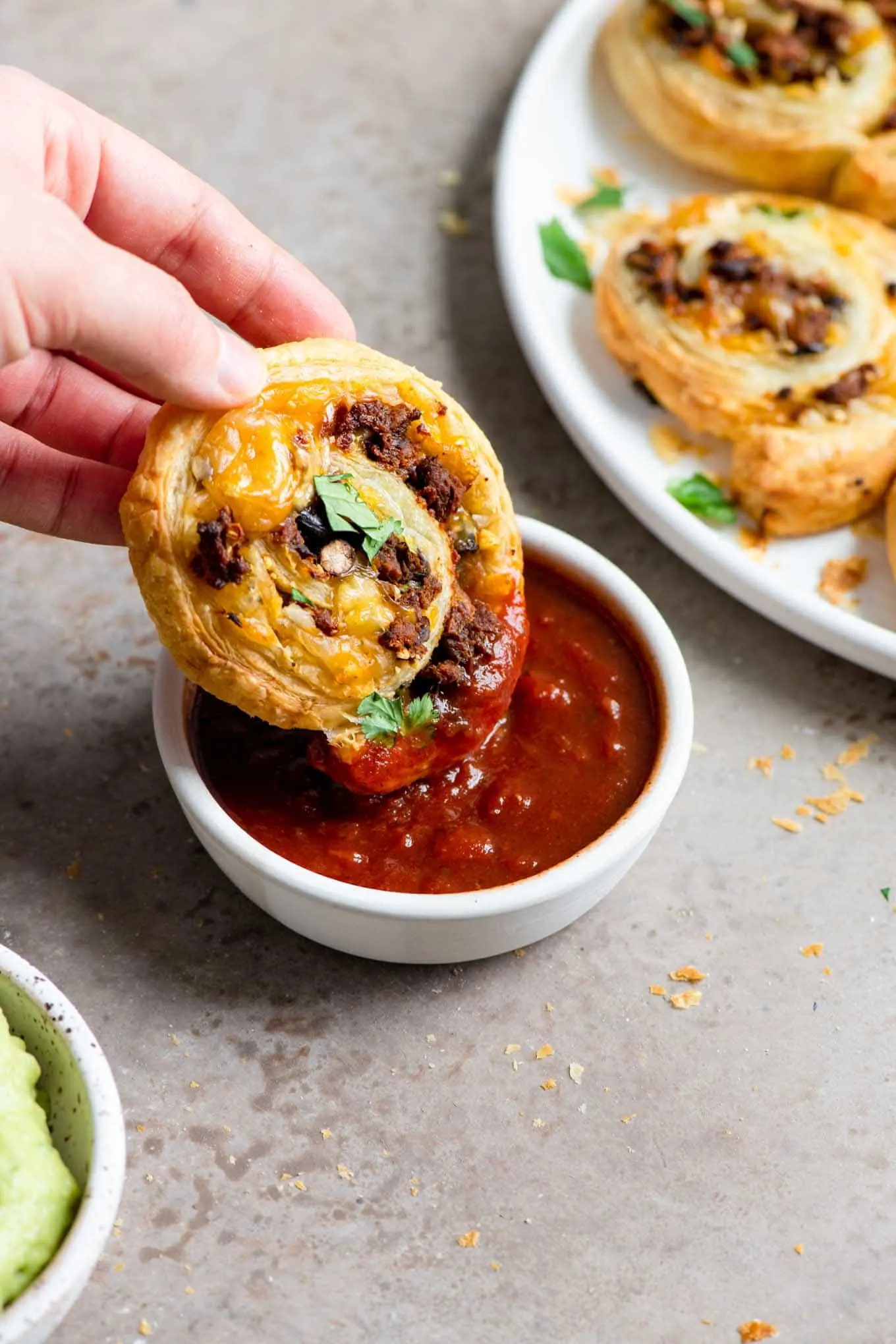 The black bean and chorizo filling:
Ok enough about the pinwheels themselves, I think you're convinced that you need them in your life! Let's get into the easy process of how you make them!
I love combining black beans and vegan chorizo. Frying up onion and garlic before adding the proteins amps up the yummy flavor and makes for an even better filling!
Add in some seasoning and salt to taste and voila! Your filling is done!
You'll want to let it cool down to room temperature or at least a warm room temperature so that it doesn't cause the fat in the puff pastry too melt. So take it out of the hot pan and let it cool when it's done! Or you can make it in advance.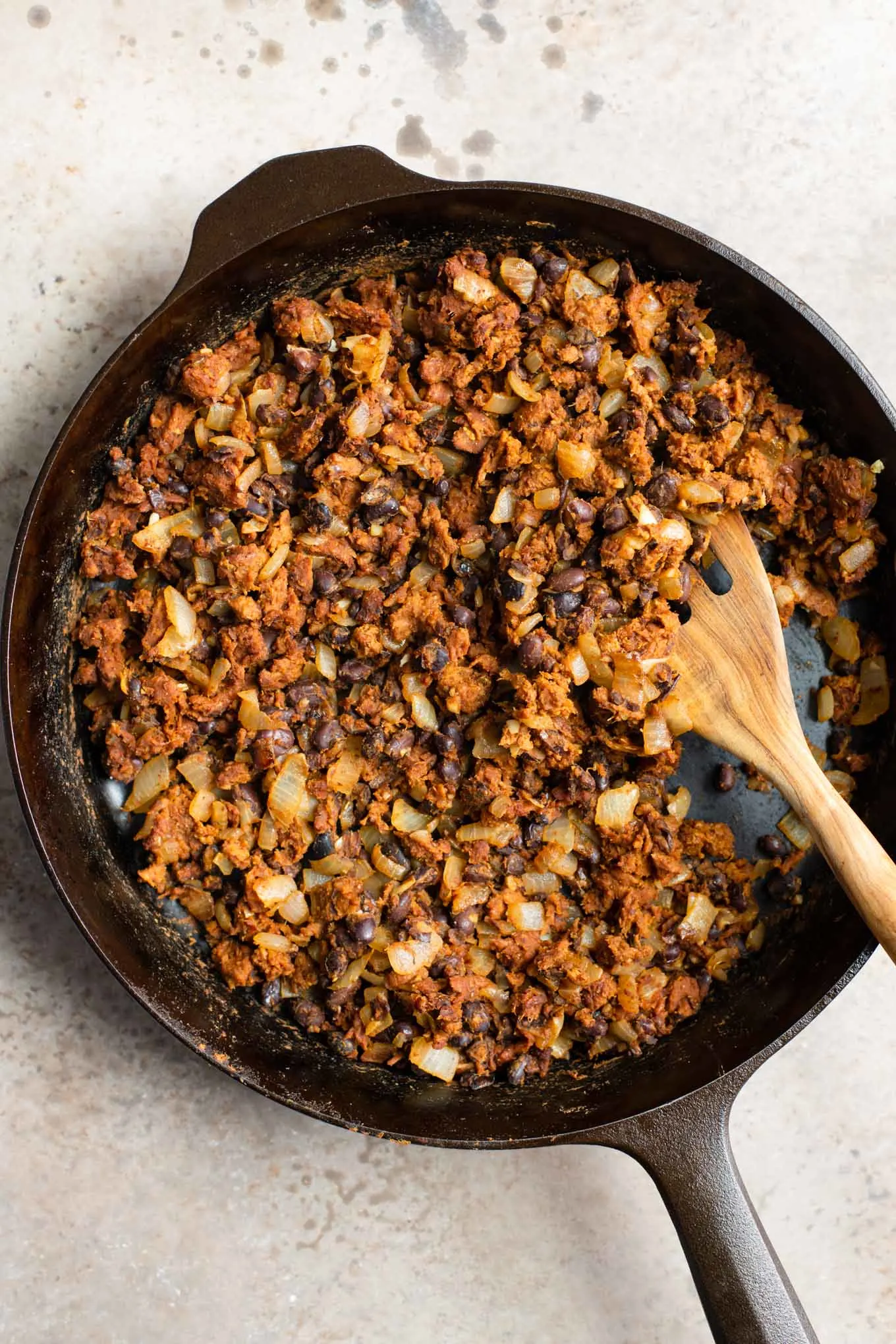 What is vegan chorizo?
It's just seasoned vegan protein, yo. Depending on where you live, you can get seitan chorizo (which is what I used this time and is seen in these photos) or soyrizo.
If you can't find either any spiced vegan sausage will do (even better if it's a chipotle or chorizo style one), or you can use vegan ground beef (if the latter I suggest upping the spices to compensate).
I like to use vegan chorizo here because it is already deliciously spiced, and the flavors lend themselves so well to this dish!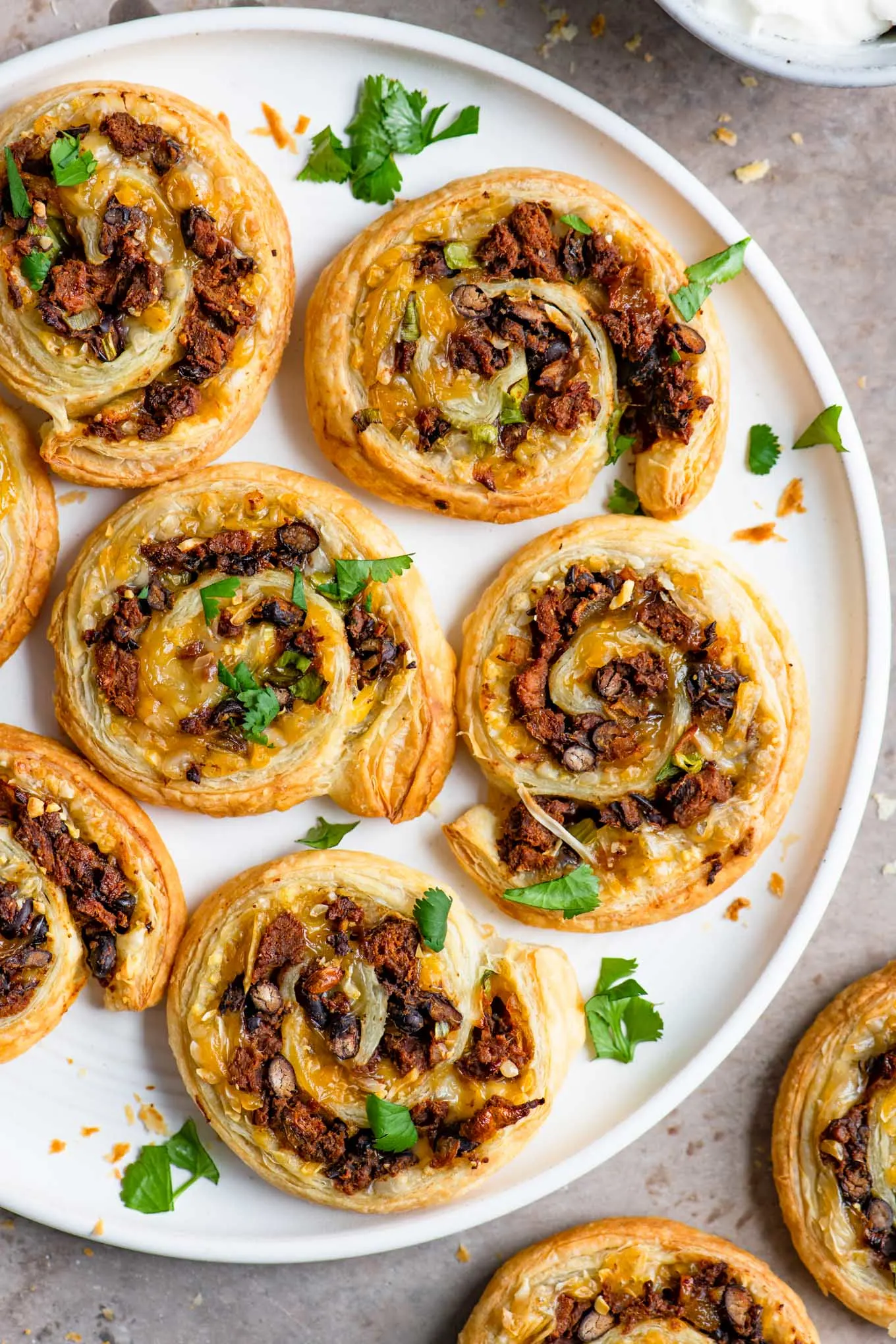 If you are using soyrizo it comes in a tube and is essentially pre-ground. Just squeeze it out right into the pan and you'r good to go!
If using a vegan sausage or seitan chorizo with larger chunks then I recommend chopping it up into a more ground texture before cooking. The pinwheels work best with a "ground meat" texture.
Vegan puff pastry:
You can't make pinwheels without puff pastry! I mean there are tortilla pinwheels that are not baked, and there are pinwheels made with pizza dough, but that's clearly not what I'm talking about here!
Not that a taco pizza roll wouldn't be delicious and isn't next up on my list!
I have the best luck finding "accidentally vegan" puff pastry at your average grocery store. It's stored in the frozen section and doesn't actually use butter.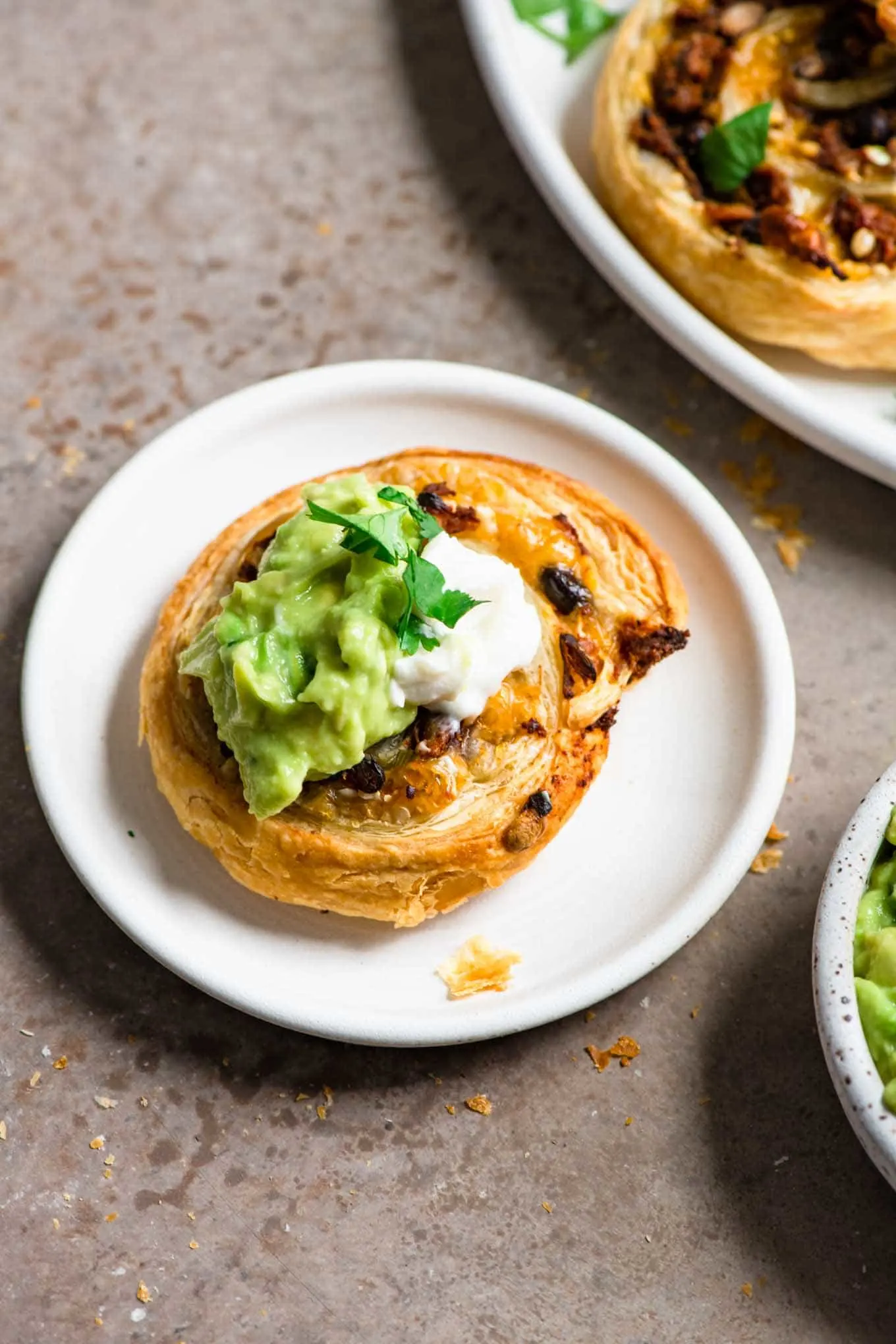 If you shop at a more bougie "organic" grocery stores, you may only find puff pastry made with "real butter."
Puff pastry is what makes these flaky small bites so good! It's why they're as yummy warm or at room temperature. So no, I don't recommend swapping it for something else. If you can't buy puff pastry you can look into making a rough puff pastry dough.
Making the vegan taco pinwheels:
Once we have the filling and the puff pastry it's time to roll it out!
Work with thawed puff pastry, but keep things cold. If puff pastry gets warm the fat starts to leech either out of the pastry or through the layers, essentially making a flat and unsuccessfully flaky pastry.
Unwrap and unfold a sheet of puff pastry and roll it out into a rectangle, about 10-12 inches but it doesn't need to be perfect.
Now load it up with a bunch of shredded vegan cheese. I used a vegan "colby-jack" this time, but love pepper jack style vegan cheese, cheddar, or even a smoked gouda!
Top the cheese with the black bean and chorizo filling and spread it out so it covers all the cheese. Lastly sprinkle on some sliced scallions, both the green and white part!
Now working from the short end, carefully roll the puff pastry into a log. Like you would roll a yoga mat! Be careful to not squeeze out too much of the filling as you roll, and don't stretch the dough! Simply lift it up and tuck to start the roll, and then gently roll over the filling. Some roly-poly filling will spill out the ends, it's inevitable.
When you've rolled the whole thing up, gently squeeze and apply some pressure to mostly seal up the seam and firm up the inside so the layers stay in place.
It's likely that your puff pastry has warmed up a bit at this point, so refrigerate it before slicing. Wrap it in plastic wrap or place in a large enough sealed container and refrigerate for 20 minutes (or a day or so until you're ready to eat).
Then slice off the ends so each piece looks nice and clean, and then slice up the roll. I get about 12 pieces from one roll, but if you get slightly fewer don't sweat it.
I recommend baking on parchment paper or a silicon mat, as otherwise the melty cheese will cause them to stick to the pan.
How to serve the vegan pinwheels?
Why, with all your favorite taco toppings!
Put out bowls of salsa, guacamole, and vegan sour cream (or a subset of these). Maybe even some refried bean dip?! Always have hot sauce available! If you want to include some pico de gallo, then be my guest!
For homemade salsas try my spicy roasted tomato salsa or salsa verde.
You can load them up with the thicker sauces (hello, guacamole), or dip them in with the thinner ones (like salsa). It's up to you!
I hope you enjoy this most perfect of perfect vegan appetizers, and make it for yourself and all your friends!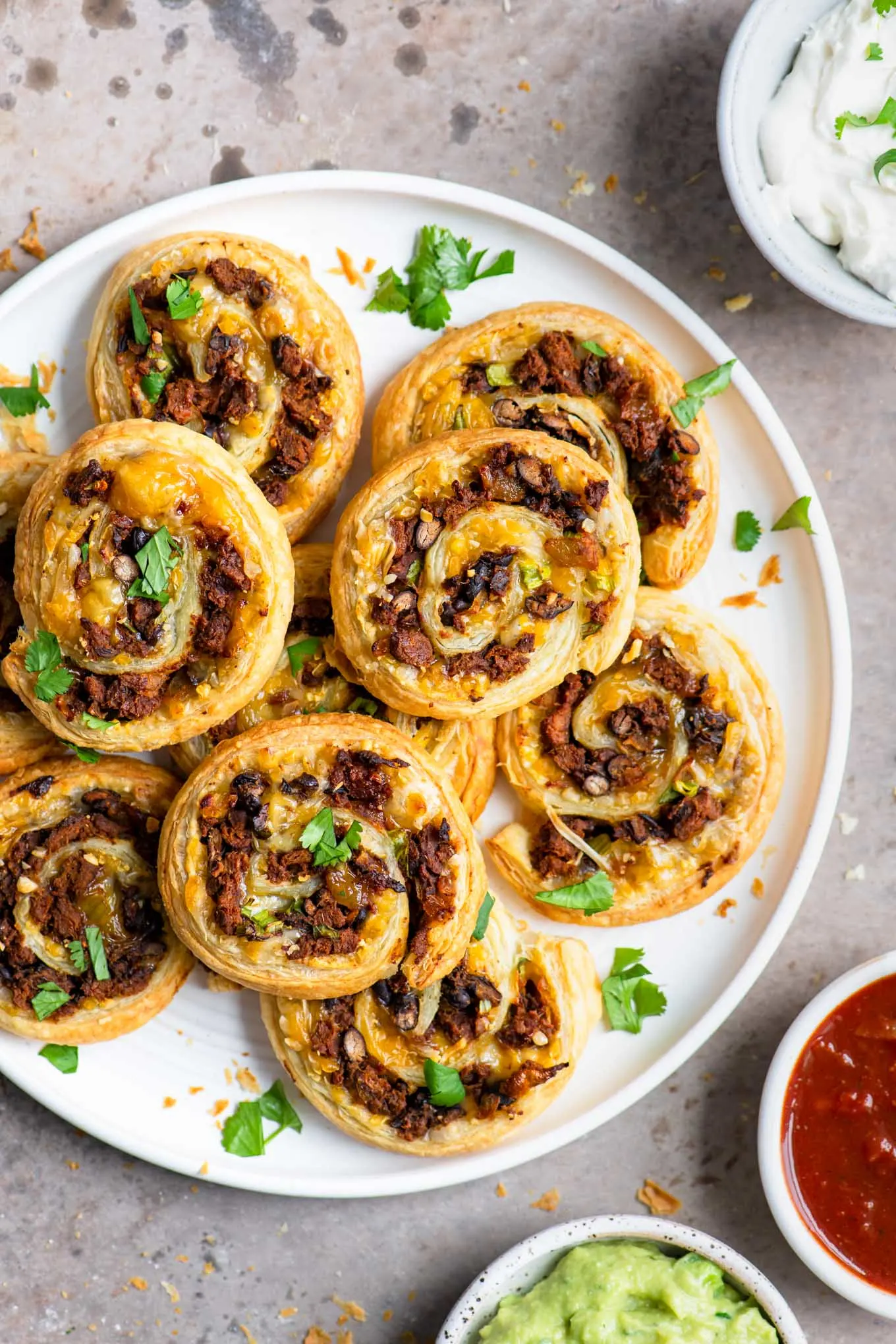 If you make these vegan taco pinwheels, leave a comment below and rate the recipe on the recipe card. And please share your photos with me on Instagram, tag @thecuriouschickpea and #thecuriouschickpea. I love seeing your recreations!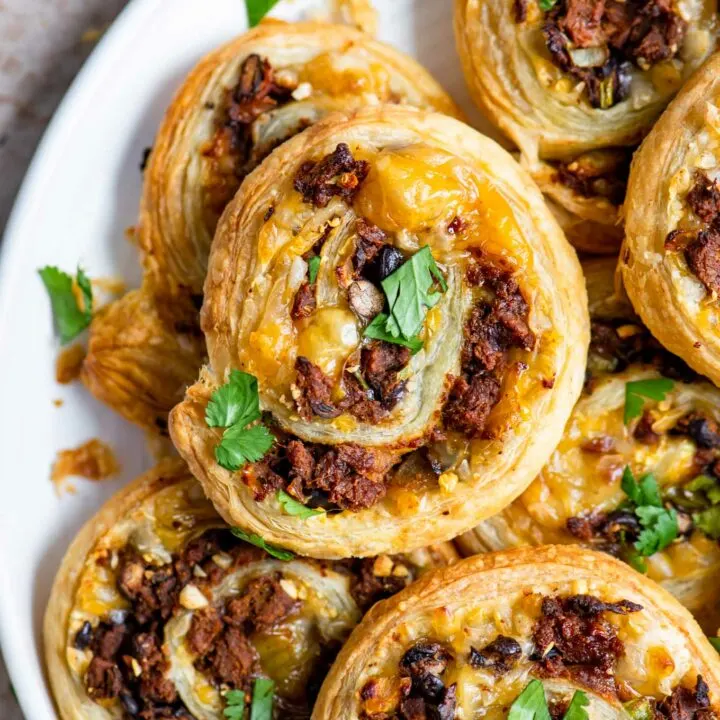 Vegan Taco Pinwheels
Chilling Time:
20 minutes
Total Time:
1 hour
2 minutes
Serve these vegan taco pinwheels with your favorite taco toppings for a crowd-pleasing appetizer or snack. They're delicious warm or at room temperature, and can be prepared ahead of time and refrigerated until ready to bake.
Ingredients
1 package vegan puff pastry (about 1 pound, 2 sheets)
2 tsp oil
1 yellow onion, diced
4 cloves garlic, minced
15oz can black beans, drained and rinsed (scant 2 cups cooked beans)
10-12oz vegan chorizo
2 tsp chili powder
1 tsp dried oregano
1/2 tsp ground cumin
1/2 tsp cayenne (more or less to taste)
salt to taste
8oz shredded vegan cheese
3-4 scallions, thinly sliced
Instructions
Take the puff pastry out of the freezer to defrost about 30-40 minutes before you need it. Preheat the oven to 400 ºF and line two baking trays with parchment paper or silicon mats.
Warm the 2 teaspoons of oil in a large skillet over medium heat and add the onion and a pinch of salt. Sauté for 5-6 minutes, or until the onion is soft and translucent. Add the garlic and cook another 30-60 seconds.
Add the black beans, vegan chorizo (chopped up if it isn't already in a ground texture), chili powder, oregano, cumin, and cayenne. Use less cayenne to keep it mild or use more to make it spicy.
Sauté for about 5 minutes or until the mixture is heated through and the chorizo is lightly browned. Add salt to taste, how much depends on the saltiness of the vegan chorizo, I used about 1/2 teaspoon salt. Remove from heat and let the mixture cool to about room temperature.
Roll out a sheet of defrosted puff pastry to about a 10 by 12 inch rectangle. It doesn't need to be exact. Layer on about half the vegan cheese and half the bean and chorizo mixture. Top with half the sliced scallions.
Starting from the short end, gently roll the pastry up to make a log. Press the log with your hands to seal the seam and stick layers a bit. Repeat with the second sheet of puff pastry and the remaining filling.
Wrap the logs in plastic wrap or place in a sealed container and put it in the fridge for 20 minutes for the puff pastry to chill. You can leave it at this point for up to 1-2 days, if you want to prepare it in advance.
After chilling, uncover the roll and trim the edges to make a flat cut on either side. Slice each log into about 12 slices, it's ok if you end up with fewer however.
Lay the slices on the baking trays, leaving a couple inches of space between them as they will expand in the oven. Bake for 18-20 minutes at 400 ºF or until the pastry is golden brown and the cheese is melted.
Enjoy warm or at room temperature with your favorite taco toppers (e.g. guacamole, vegan sour cream, salsa, hot sauce).
Notes
Store leftover pinwheels at room temperature for a few hours, or place in the fridge or freeze for longer storage. Reheat leftovers in the oven at 350 ºF until warmed through.
Nutrition Information:
Yield:

24
Serving Size:

1
Amount Per Serving:
Calories:

178
Total Fat:

10g
Sodium:

242mg
Carbohydrates:

16g
Fiber:

2g
Sugar:

3g
Protein:

7g
Nutrition is calculated automatically so should be used as an estimate.