Homemade salsa verde is made with tomatillos, a cute husk-covered relative of the tomato. They make a flavorful and complex tasting salsa with just a handful of other ingredients, and lend themselves well to spicy and bold flavors. It's smoky, tangy, spicy, and just the right amount of sweet–perfect for topping tacos, burritos, or dipping tortilla chips!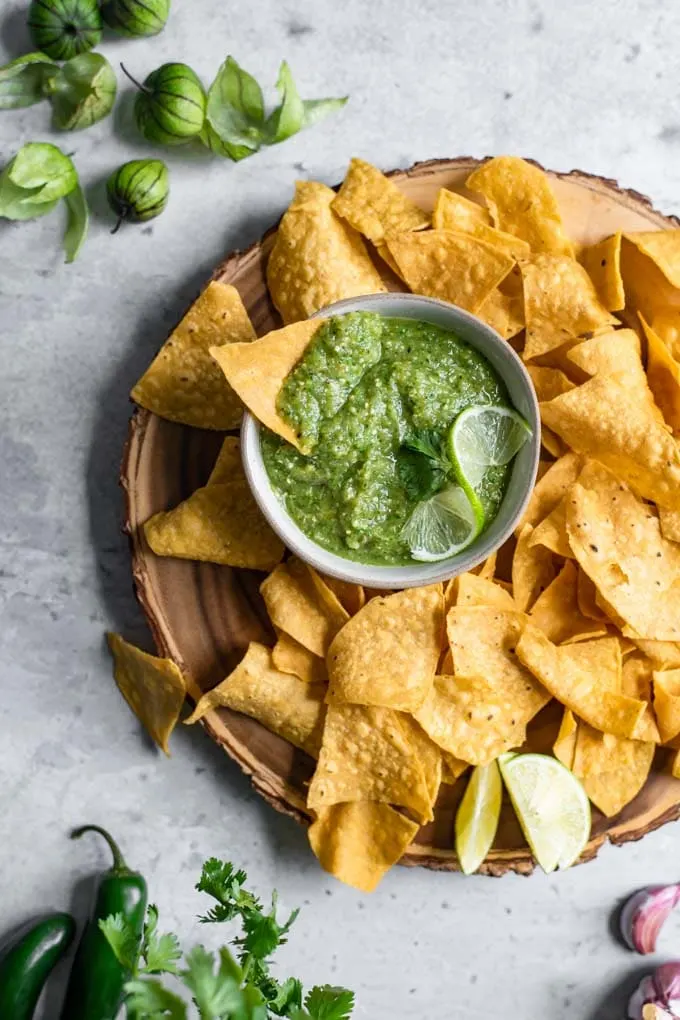 This summer I urge you to take advantage of fresh seasonal produce and make your own salsa! It's one of those things that is so simple to do, and the results are sure to blow you out of the water.
There is nothing like a freshly made salsa. It doesn't taste like the stuff from the jar. Not even the good, stupidly expensive tiny jars of salsa can hold a candle to it.
If you've been in good and authentic Mexican restaurants you know what I'm talking about. Their salsa is always outstanding! It's boldly flavored, fresh tasting, spicy, garlicky, with just the right level of sweet and smoky.
And here's the secret: it's SUPER easy to make at home! Like, super duper easy! And inexpensive.
When farmers markets, grocery stores, and maybe your CSA are overflowing with ripe tomatoes it's time to make salsa!
And the same is true when you see tomatillos.
Tomatillos are those pretty husk covered green tomato-looking things. But they're not actually tomatoes at all!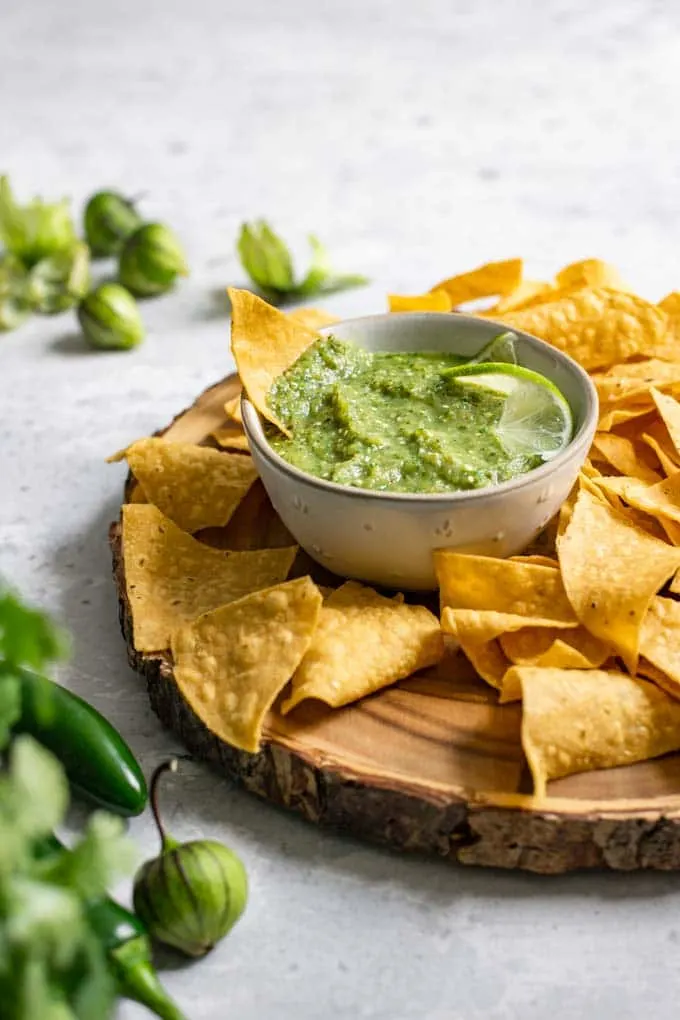 So what are tomatillos?
They translate to "little tomato" but are actually not tomatoes, though they are also fruits that are part of the nightshade family.
They're pretty green or purple-green husk covered fruits originating from Mexico. You'll often find them in the produce section of your regular grocery store, and I picked these ones up at my local farmers market. I couldn't resist the pretty purple veining on the husks!
To prepare them you peel off the papery husk and discard it. You'll notice a sticky residue on the skin of the tomatillos, but this rinses off easily under warm water.
Tomatillos should be cooked before you eat them. You can boil them, grill them, bake them, roast them, it doesn't matter too much. Raw tomatillos are very tart and sharp tasting, cooking them mellows and sweetens them and makes their flavor a lot more complex.
My preferred method for cooking them for salsa is under the broiler. This is a pretty quick method of cooking them and as an added bonus it adds some smoky char.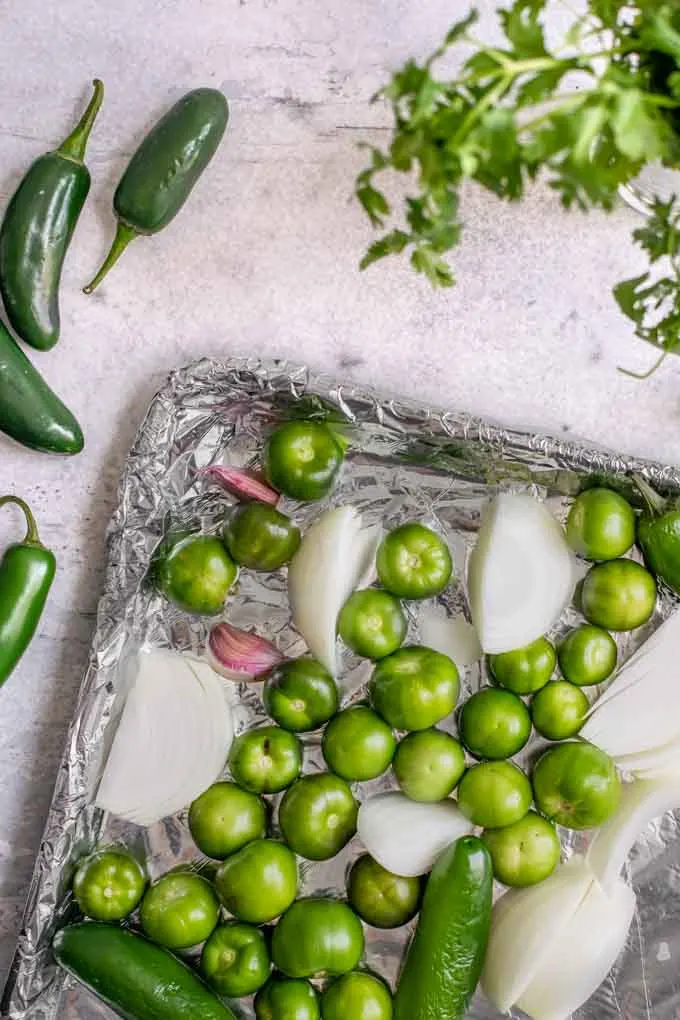 The rest of the ingredients:
Homemade salsa has a short ingredient list. Tomatillos, jalapeño or serrano peppers for heat, garlic, onion, salt, cilantro, and lime juice.
Because tomatillos are on the tarter side of things (unlike tomatoes which are naturally sweeter), the onion plays an important role to naturally sweeten the salsa. The lime juice also sweetens it, though it adds some acidity while it does so.
The ingredients are adaptable. You can make the salsa garlic free or more garlicky. Add more or less spice through the peppers (more peppers = more heat, seed them for less heat). If you're a cilantro hater then skip it or use less.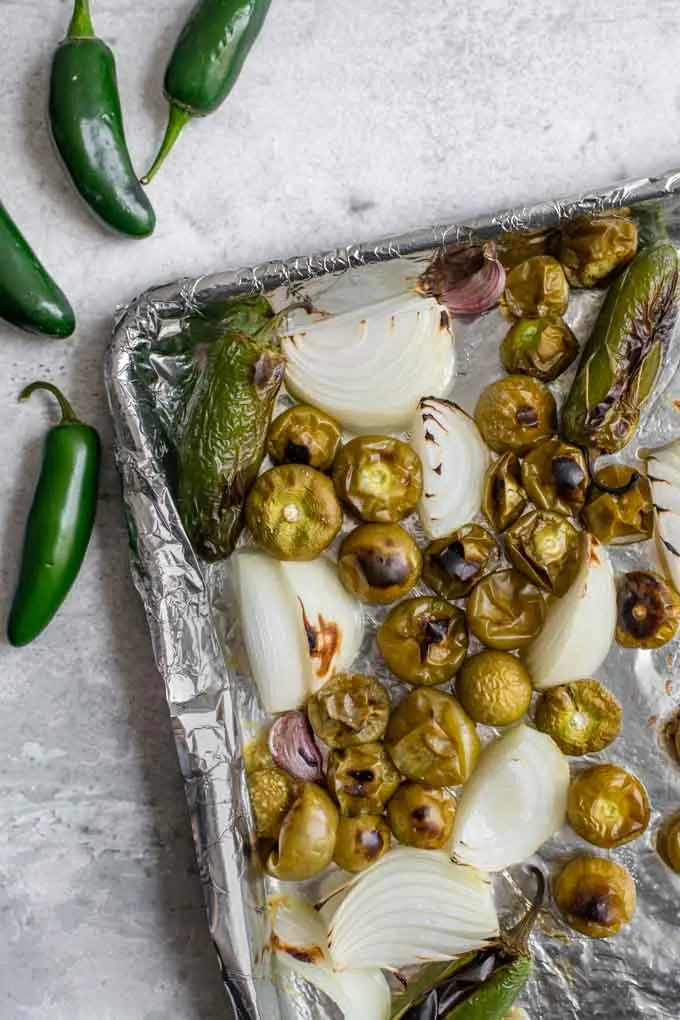 It also won't come out exactly the same every time, and this is just the nature of making things from scratch using fresh ingredients. Sometimes the tomatillos will be sweeter and sometimes they will be more tart. Same goes for the onion, and even the sharpness of the garlic.
Adjusting the salt, lime juice, and cilantro at the end can get any batch of salsa to where you like it.
Making the salsa verde:
Like I said before, I like to roast the tomatillos under the broiler. Turn your oven's broiler on high, then place a rack 3-6″ under the broiler. We want everything close to the heat.
To make clean up easy, line a baking tray with aluminum foil. You can skip the foil but don't use parchment paper or a silicon mat under the broiler. Neither of them are made for that high of a heat.
Add the garlic cloves (unpeeled), the jalapeño or serrano peppers (left whole), and onion (peeled and cut into thick ~1″ slices). If you'd like, you can drizzle a teeny bit of oil over it all to keep things from sticking. Add a couple pinches of salt.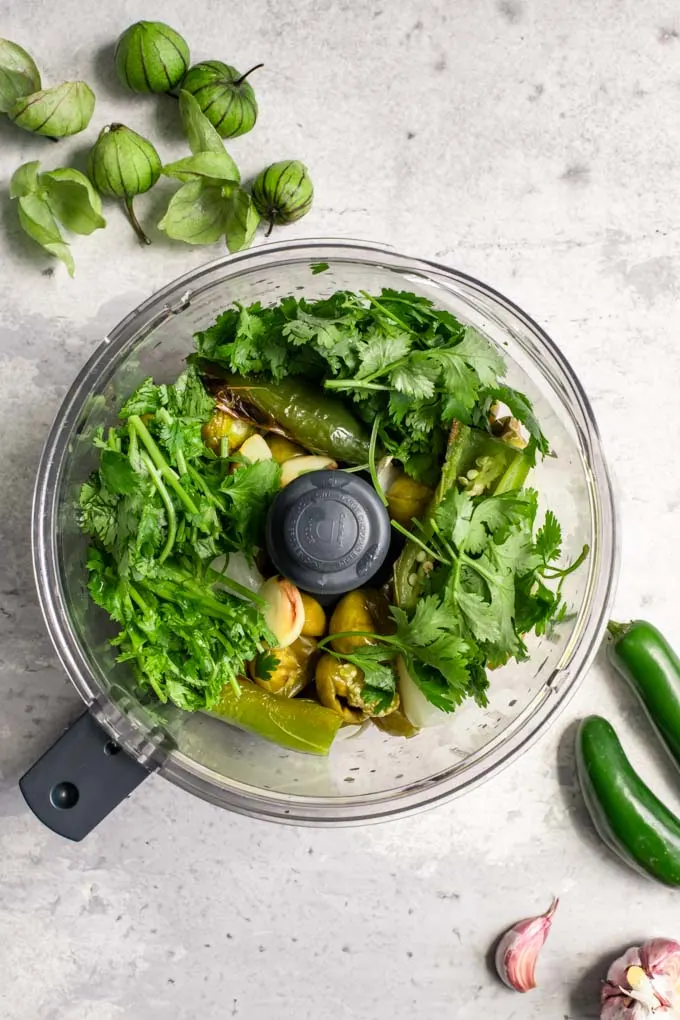 Broil the tray until the tomatillos are juicy and bursting and the jalapeños are starting to blister. Depending on a few things including your oven and how close everything is to the burner, this could take 8-12 minutes, more or less, so just keep an eye on things.
Once everything is well roasted, take it out to cool for a bit, then remove the papery skins from the garlic cloves and remove the stems from the peppers. If you want to seed the hot peppers to make your salsa less spicy, do that as well.
Then, put everything in a food processor. Grab a handful of cilantro and tear it every 2-inches or so, including the stems. This makes things easier for your food processor. Then process it up!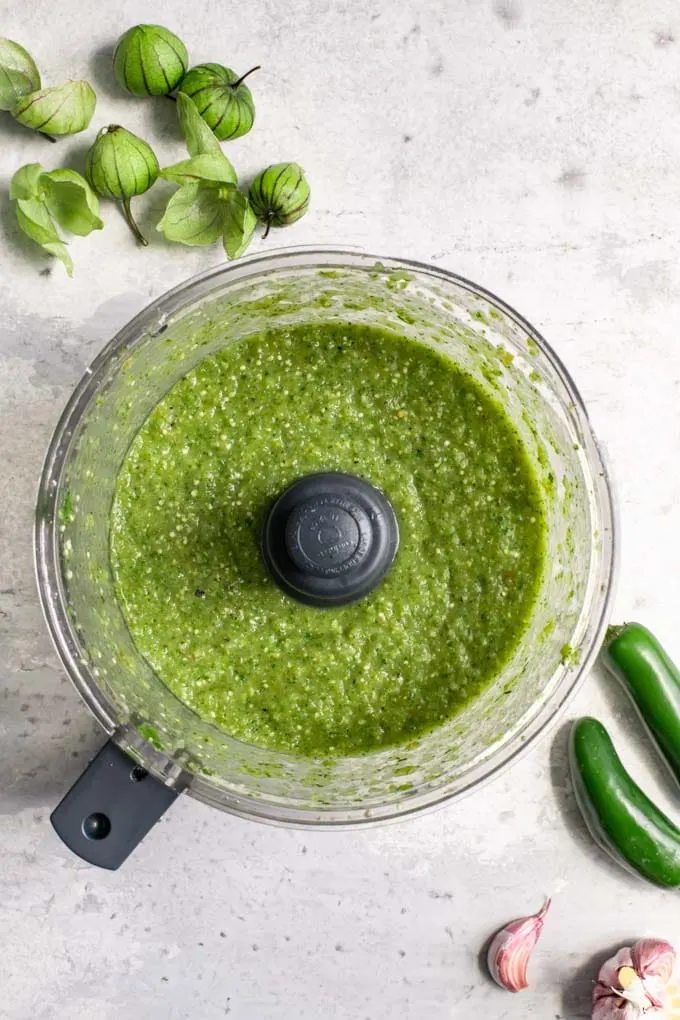 Add salt, starting with about 1/2 teaspoon, and lime juice, starting with the juice from 1/2 a lime. Blitz it to combine and then add more of each ingredient to taste. You can also add more cilantro at this point if you'd like.
Store bought salsas are often loaded with salt, and if you feel something is off in your salsa, it's likely that you just need to add more salt.
Remember that lime juice can sweeten the salsa (which I know sounds counter intuitive, but limes are sweet if also tart), and salt can bring out all the natural flavors of the sauce.
And that's it! Once you have the salsa to your liking, you can enjoy it right away, or package it up in the fridge (old glass jars are great for this!) and enjoy once it's chilled. It does get even better as the flavors get a chance to meld.
I hope you enjoy fresh, homemade salsa verde! There's just nothing like tomatillo salsa, and now I'm reallllly craving it after writing this post! haha.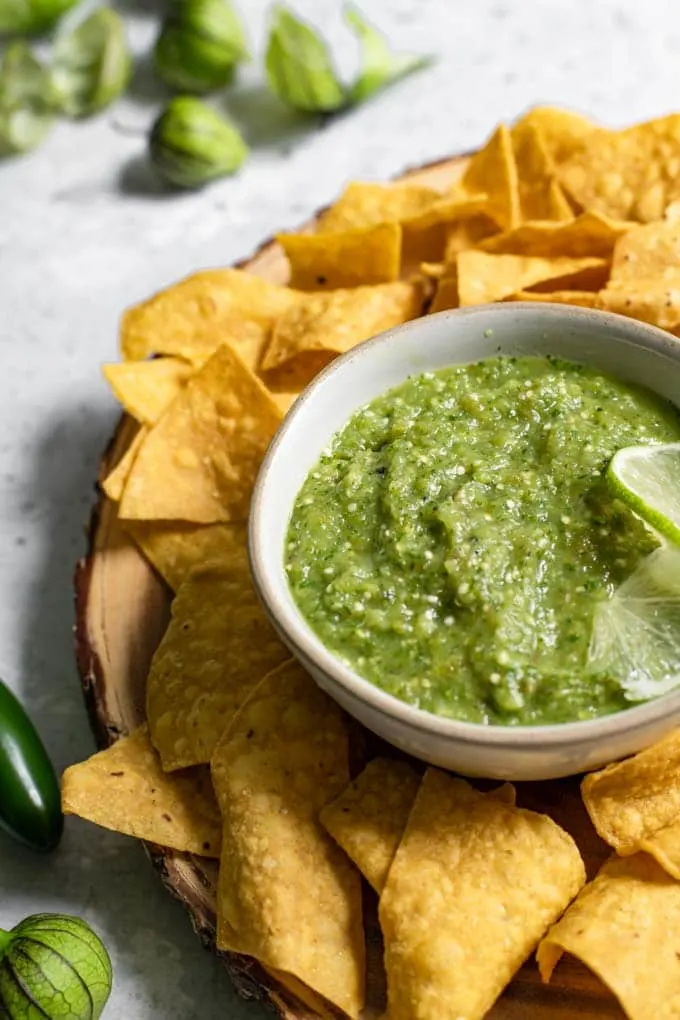 ---
If you make this salsa verde, leave a comment below and rate the recipe on the recipe card. And please share your photos with me on Instagram, tag @thecuriouschickpea and #thecuriouschickpea. I love seeing your recreations!
---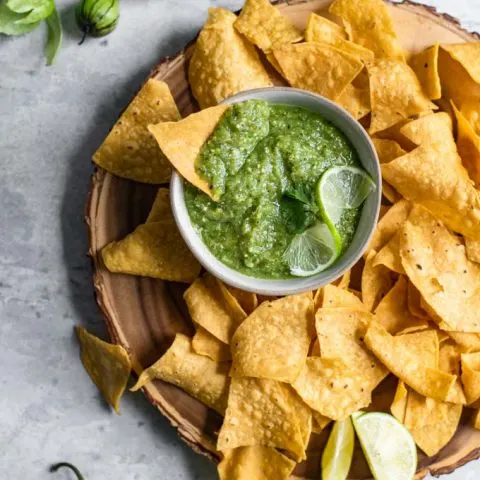 Homemade Salsa Verde
Homemade salsa verde is a delicious Mexican sauce made from tomatillos. It's complex in flavor but only requires a handful of ingredients and is ready in no time! Enjoy with tortilla chips, in tacos or burritos, with quesadillas or over your breakfast potatoes! The possibilities are endless.
Ingredients
1 lb tomatillos
1-4 jalapeños or serrano peppers, left whole (to taste)
2-4 cloves garlic, left unpeeled (to taste)
1 medium white, yellow, or sweet onion, peeled and cut in 1" slices
1 tsp oil, optional
1/2-1 tsp salt, or to taste
1/2 cup cilantro roughly torn, leaves and stems
fresh lime juice from 1 or 2 limes (to taste)
Instructions
Turn on the oven broiler and set a rack about 3-6" from the top burner. Cover a baking tray with aluminum foil.
Remove the husks from the tomatillos and rinse them in warm water to wash off the sticky reside. Transfer them to the baking tray long with the jalapeños or serrano peppers, garlic, and onion. Drizzle with oil and add a couple pinches of salt.
Broil for 8-12 minutes or until the tomatillos are juicy and bursting and the peppers are starting to blacken in places. Remove from oven and let rest until cool enough to handle.
Remove the papery skins from the garlic, and the stems from the peppers. Also remove the seeds and membrane from some or all of the peppers if you want less spicy salsa. Add both to a food processor along with the cilantro, 1/2 teaspoon of salt, and juice from 1 lime. Process until you have a sauce, then taste and add more salt and/or lime juice to taste.
Store in a sealed container in the fridge, it should keep for more than 1 week.
Nutrition Information:
Yield:

14
Serving Size:

1
Amount Per Serving:
Calories:

27
Total Fat:

1g
Sodium:

86mg
Carbohydrates:

6g
Fiber:

1g
Sugar:

3g
Protein:

1g
Nutrition is calculated automatically so should be used as an estimate.