This vegan refried bean dip is a crowd pleasing snack or appetizer! It's super easy to make and needs just a few pantry friendly ingredients to come together. Make it for [sports] game days, [board] game nights, afternoon hangs or even to have nachos for dinner! It's a gluten free recipe, just make sure that you're choosing gluten-free certified ingredients if needed.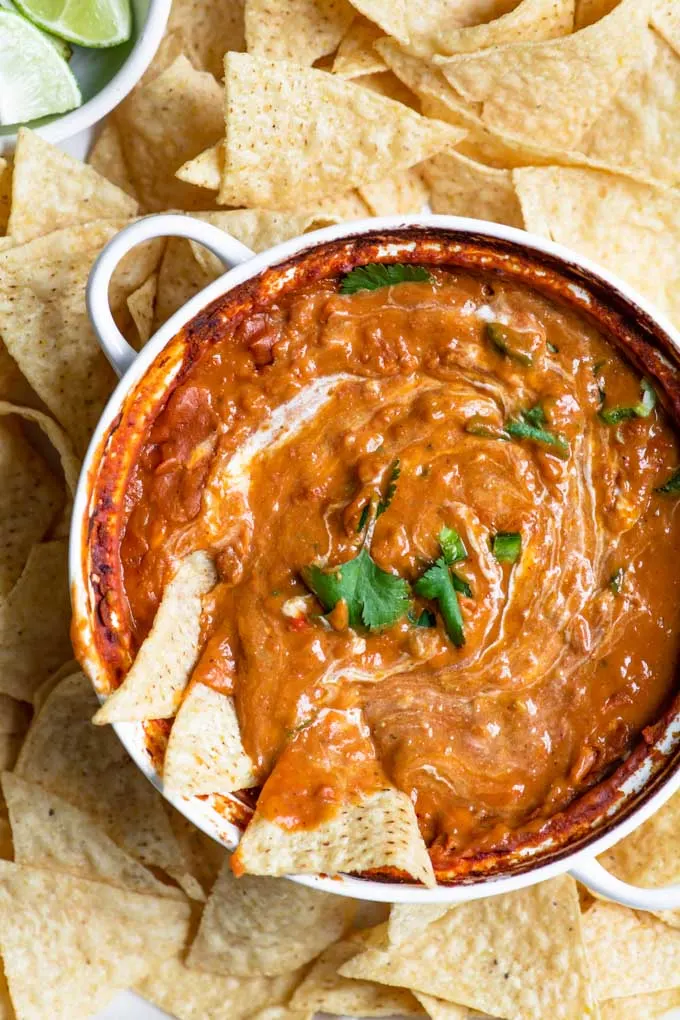 When it comes to bean dips there isn't much to say. It's a cheesy dip, with beans! And would you believe, it's as easy to make as it is to describe!
I love refried beans so much that a one month back packing trip through Europe (that is to say, a one month deprivation of refried beans and beans in general) found me eating room temperature refried beans straight from the can as my first meal back home.
But even if you aren't at my level of a refried bean love, this dip is to die for!
It's like all the good chip accompaniments rolled into one tasty dip! Well not all, this isn't a 7 layer dip after all, but it sounds better when I say that! Plus did I mention how easy this dip is?!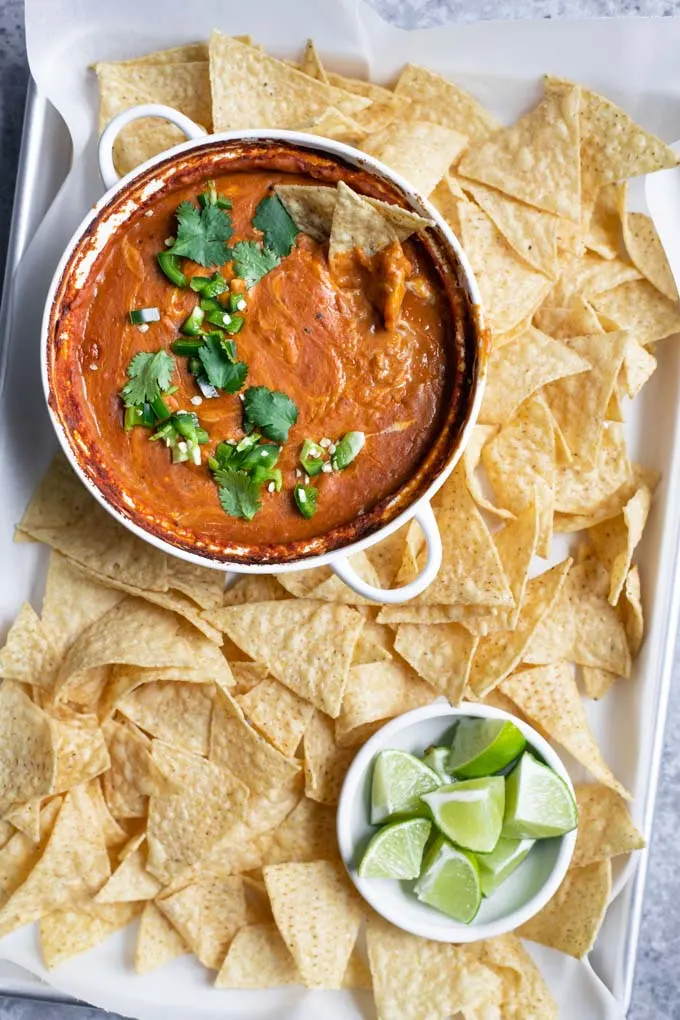 What goes into a refried bean dip?
For starters, refried beans! You can make your own, sometimes I do (haven't shared my recipe yet though). But you can also buy it!
If buying your refried beans just make sure that the one you buy is vegan–some brands use lard! (The same goes for Mexican restaurants, don't assume beans are vegan or vegetarian ?.)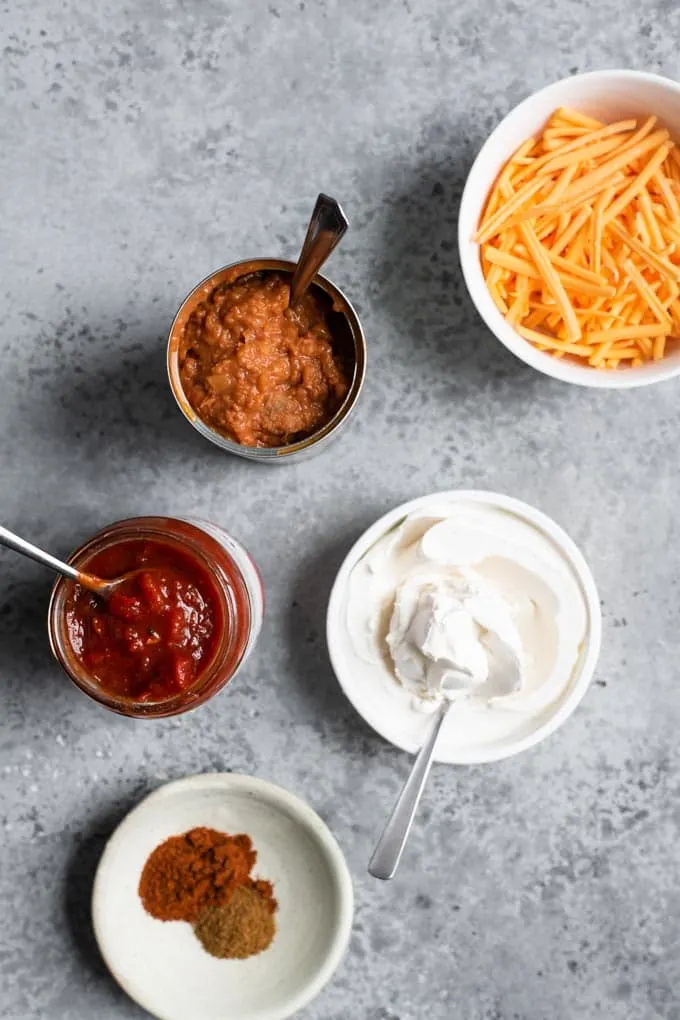 I enjoy this recipe both with black bean refried beans and pinto refried beans. Both are great!
Next up comes salsa! A generous amount of salsa flavors our bean dip. You can use hot or mild, chunky or smooth, roja or verde, homemade or store bought!
Related: Homemade Salsa Verde
Related: Spicy Roasted Tomato Salsa
The only rules I recommend when it comes to choosing salsa would be to avoid ones that are fruity flavored, I don't think those would be the tastiest in bean dip.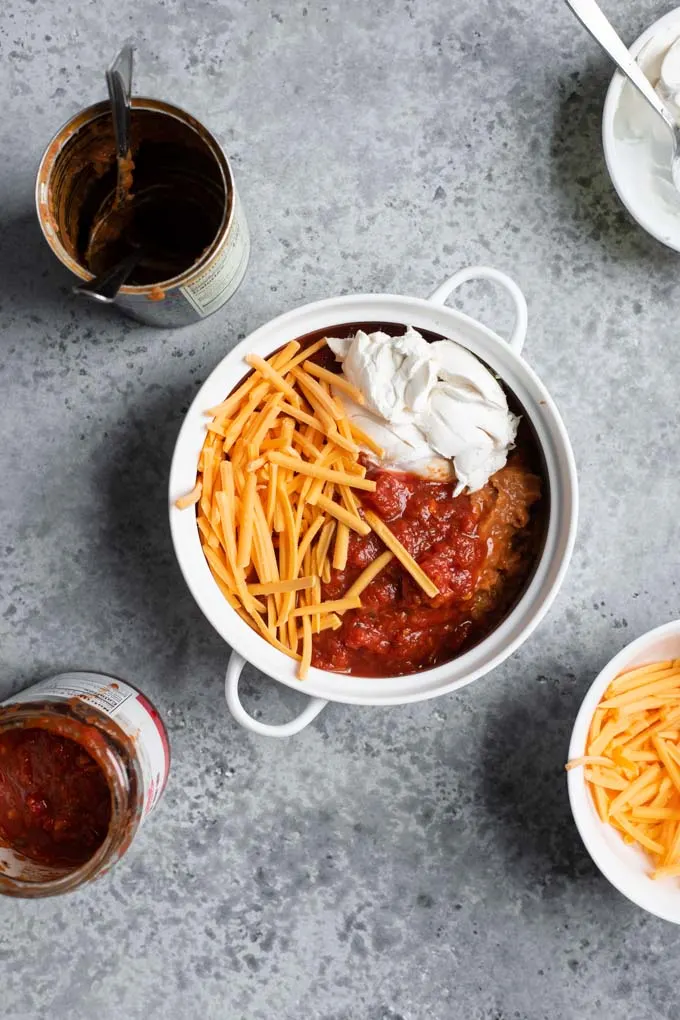 For a double dose of creamy cheesy goodness, add some vegan cream cheese and cheddar to the dip! Traditional bean dips go big on the cheese and cream, but I think you don't need a ton to have an amazing flavored dip!
Lastly, I like to amp up the flavor with a bit of chili powder and ground cumin! You can use a chili powder blend (called chili powder, but contains other spices including cumin) or ground ancho chili powder. If you want a chipotle flavor use some chipotle powder (maybe not a whole teaspoon though or your dip will be spicy).
I've made this dip without the spices and with, and I like it both ways, but when given the choice the spices just make the bean dip that much better!
There are 4 ways to make this dip!
You can make this dip on the stovetop or in the oven. A slow cooker and a microwave work as well!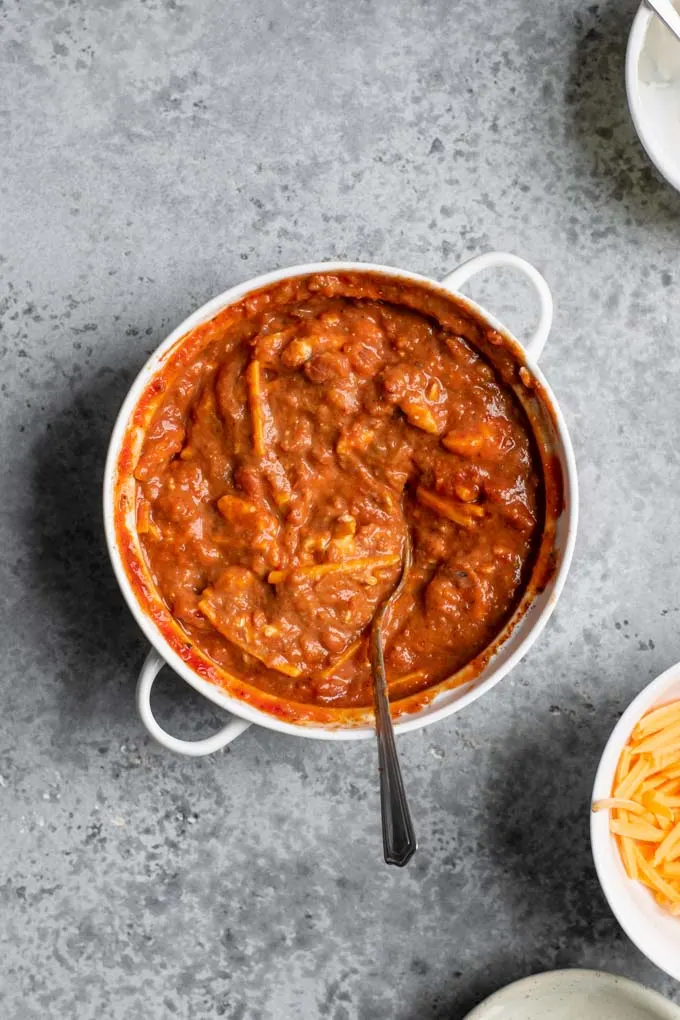 The oven is my go to, I can use a small 1 quart casserole dish with a lid, stick it in the oven and walk away. Coming back to stir a couple of times is all the dip needs!
The oven does take awhile, at least 30 minutes in my experience for the cheese to melt. Use the convection setting (fan oven) to speed it up!
Stove top makes quicker work of the dip, keep it covered to prevent hot splatters making a mess!
Microwave, same thing! Zap it in 1-2 minute increments, stirring between each round, until the cheese has melted.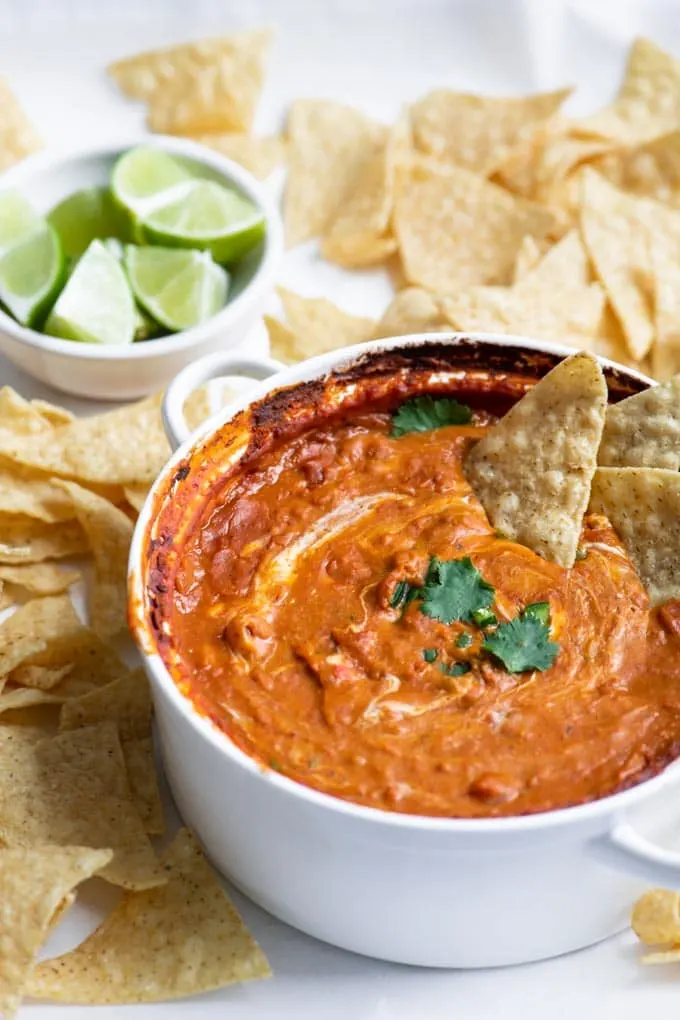 Slow cooker is possibly the most hands off way to make this dish, and if you've got a little crockpot it'll keep the recipe warm to serve!
How to serve bean dip:
Most importantly: serve it warm! It's good at room temperature but warm is really where its at. Hot bubbly dip, melty cheesy goodness, all on a crisp tortilla chip!
And speaking of tortilla chips, serve it with them! You can also use bean dip to make some good nachos!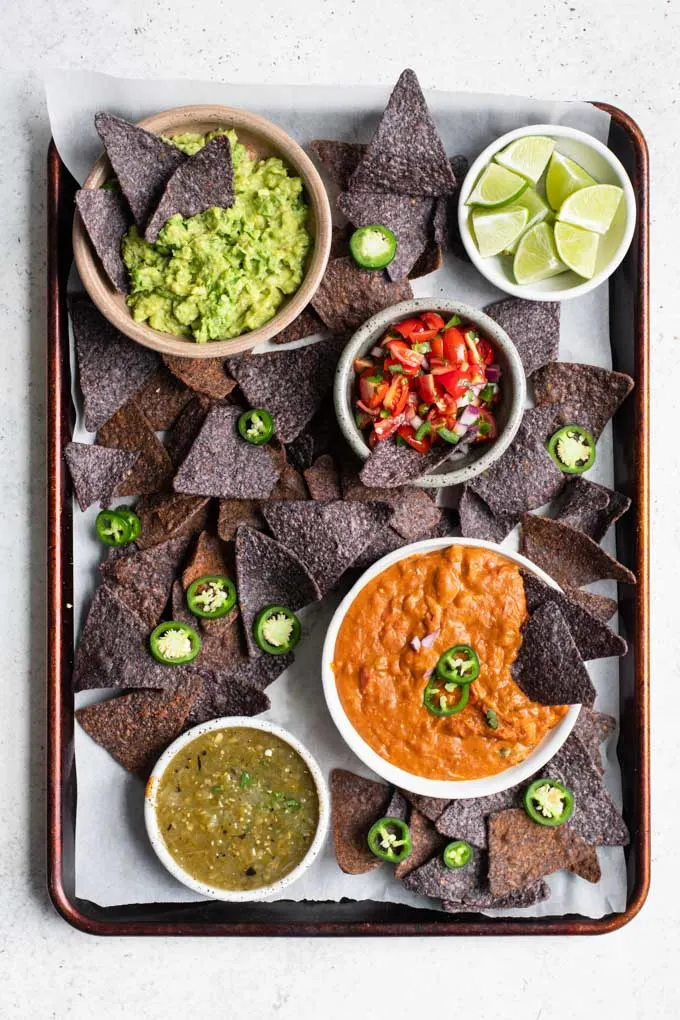 You can serve as is, or add some garnishes cause you're fancy like that. Cilantro is always a good choice (unless you're a hater), and if you want a little heat add some fresh minced jalapeño or serrano peppers! Speaking of which, if you want a spicy dip use hot salsa!
I hope you enjoy my favorite all vegan bean dip! It's such a crowd pleaser. And while you're having a chip and dip party, consider making the best vegan spinach artichoke dip and some vegan butternut squash queso! Guacamole and pico de gallo are always welcome accompaniments as well.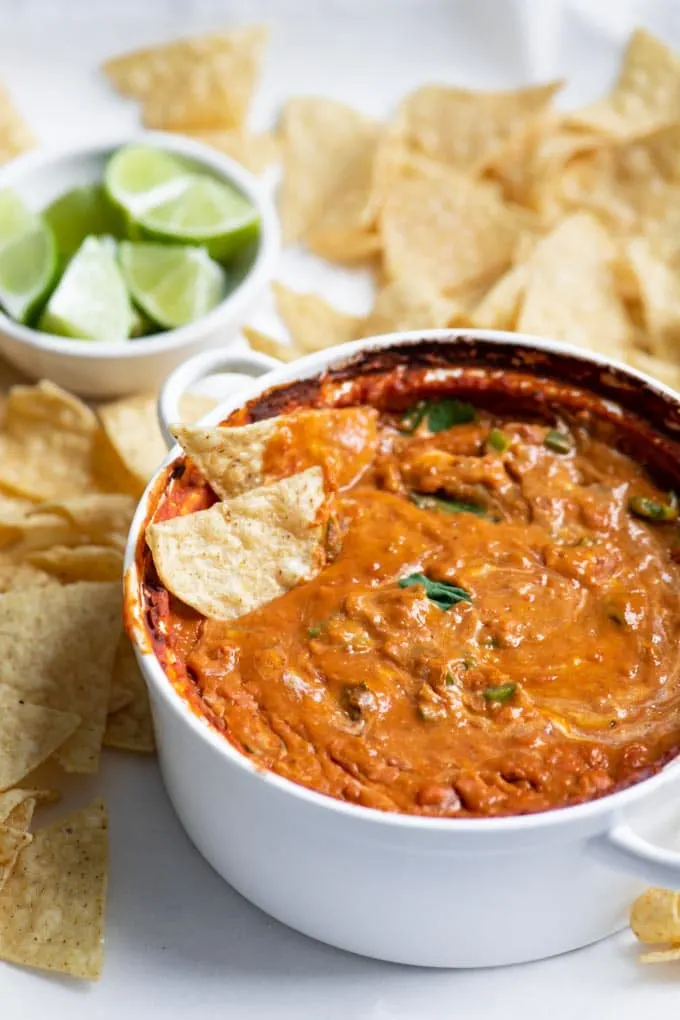 If you make this refried bean dip, leave a comment below and rate the recipe on the recipe card. And please share your photos with me on Instagram, tag @thecuriouschickpea and #thecuriouschickpea. I love seeing your recreations!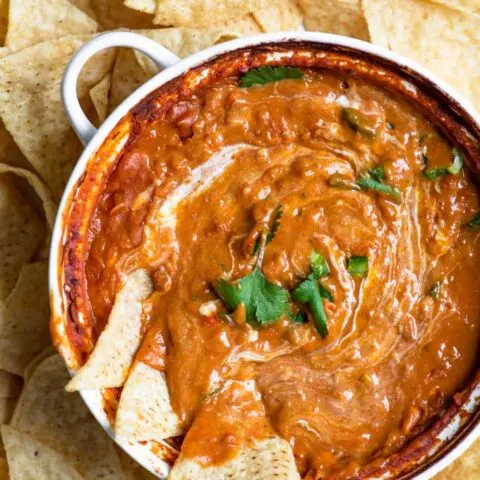 Vegan Refried Bean Dip
Ingredients
1 15oz can refried beans (~2 cups homemade)
1 cup salsa
4 oz vegan cream cheese
1 cup vegan cheddar shreds
1 tsp chili powder
1/2 tsp ground cumin
optional garnishes: cilantro, minced jalapeño
Instructions
Mix together all of the ingredients except for the garnishes.
Oven: put the dip in an oven-safe dish and bake at 375 ºF covered for 30-40 minutes or until the cheese is melted and the dip is hot and bubbly. Stir occasionally.
Stovetop: warm the dip in a pot over medium low heat (covered), stirring occasionally, until the cheese has melted and the dip is hot and bubbly.
Garnish with cilantro and jalapeños (optional) and serve warm with tortilla chips to dip!
Notes
Cook times are for the oven method.
You can use black bean or pinto bean refried beans, and salsa roja or salsa verde. Choose a hot, medium, or mild salsa for a hot, medium, or mild dip!
Nutrition Information:
Yield:

10
Serving Size:

1
Amount Per Serving:
Calories:

129
Total Fat:

8g
Sodium:

439mg
Carbohydrates:

8g
Fiber:

2g
Sugar:

1g
Protein:

6g
Nutrition is calculated automatically so should be used as an estimate.