This vegan skillet pizza dip makes a great party appetizer or snack. The cheesy, creamy center is made with my homemade vegan mozzarella sauce and the dip is topped with vegan pepperoni. It's ringed with vegan garlic butter rolls that are so good for dipping! Not to mention it makes for such a beautiful presentation.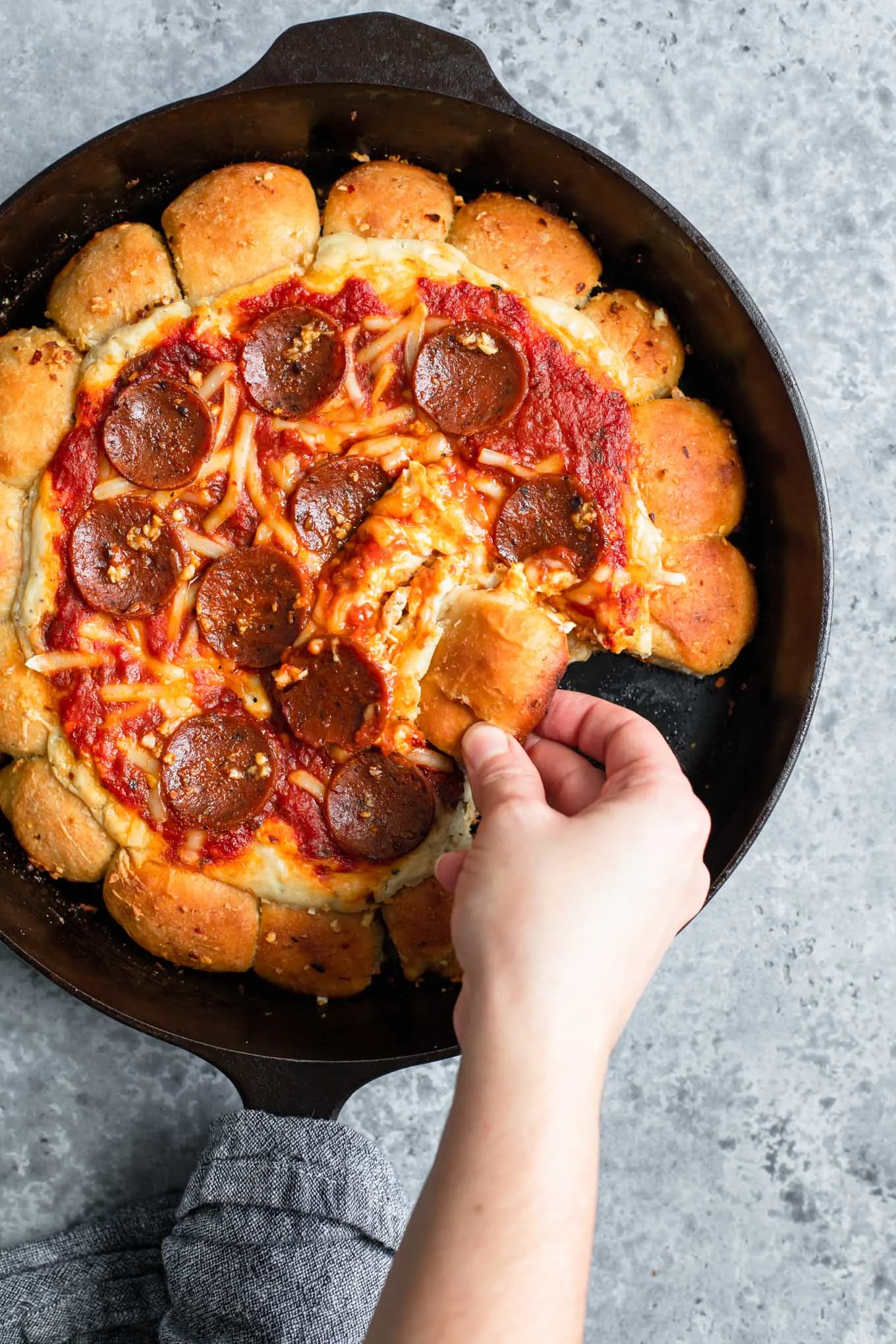 This cheesy vegan skillet pizza dip should come with a warning because it is addictively good. Like just try to stop yourself after one bite. Madness, I know.
Thankfully the recipe is generous! You can enjoy it to your hearts content while still sharing it with some of your favorite people. Or whomever you want to feed indulgent tasting vegan dip to!
Let's break it down. A beautifully creamy, cheesy, herbed dip fills the center of a ring of mini bread rolls. It's topped with pizza sauce, a sprinkling of vegan mozzarella, and vegan pepperoni.
The mini rolls are made from pizza dough. They are meant to be torn off the sides and dipped right into the warm cheesy center. Of course you can also spoon dip onto a plate or to dollop on the warm rolls directly.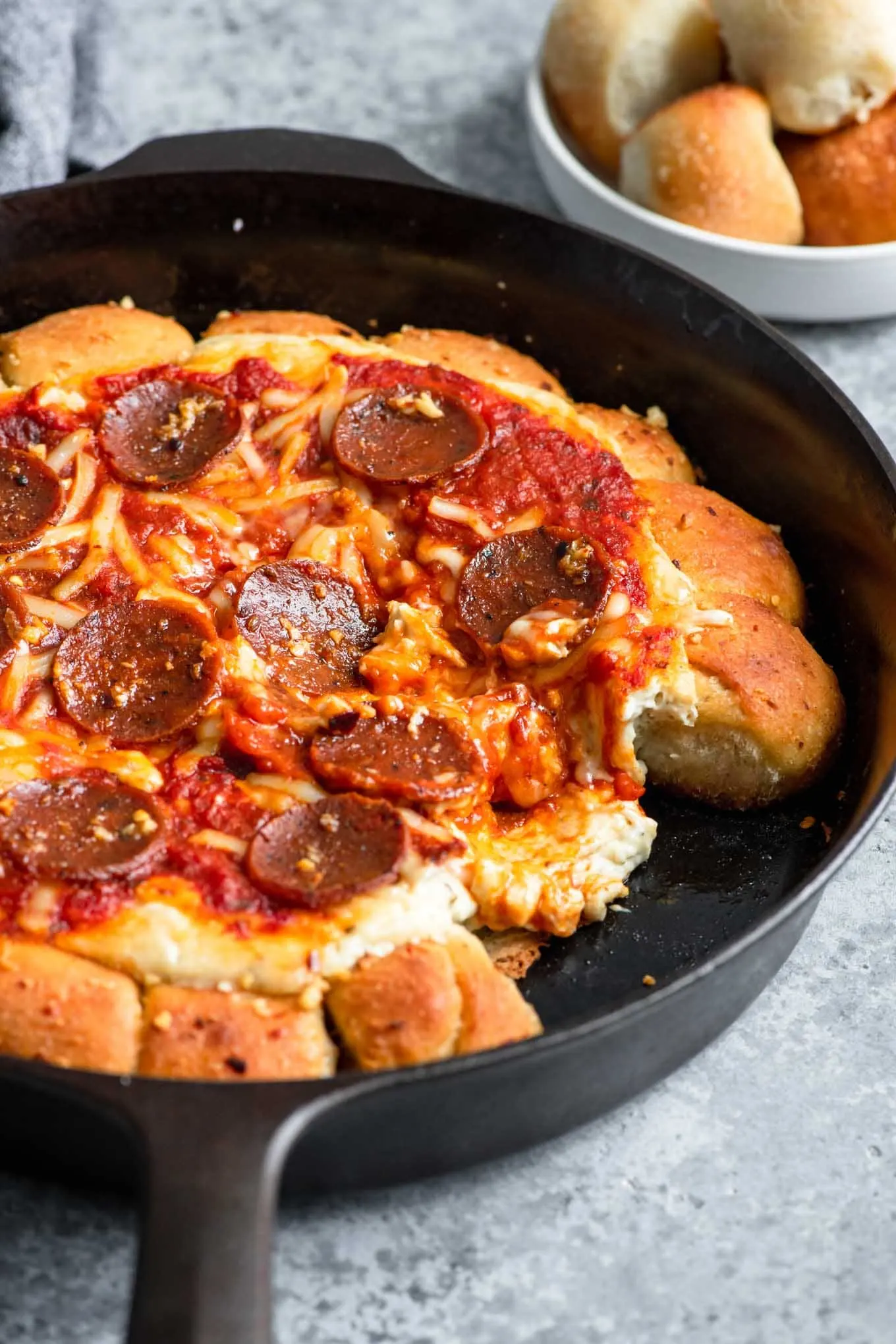 My dip is made with a version of my popular homemade mozzarella sauce. Even if you're so-so on store bought vegan cheese you're not going to want to miss this recipe! It's crowd pleasing and oh so delicious.
The cheesy vegan dip:
The dip has three parts: my mozzarella sauce, vegan cream cheese, and Italian herbs.
I use store bought cream cheese. Any will work though I usually buy Tofutti brand for cooking and baking as it is not coconut oil based. The coconut oil based ones tend to liquidize when warm. It's not the end of the world in this recipe, just something to point out!
The mozzarella sauce is cashew-based, but you can substitute slivered almonds or sunflower seeds (hulled and unroasted). Note that almonds and sunflower seeds may not get as smooth textured as cashews do. This is fine.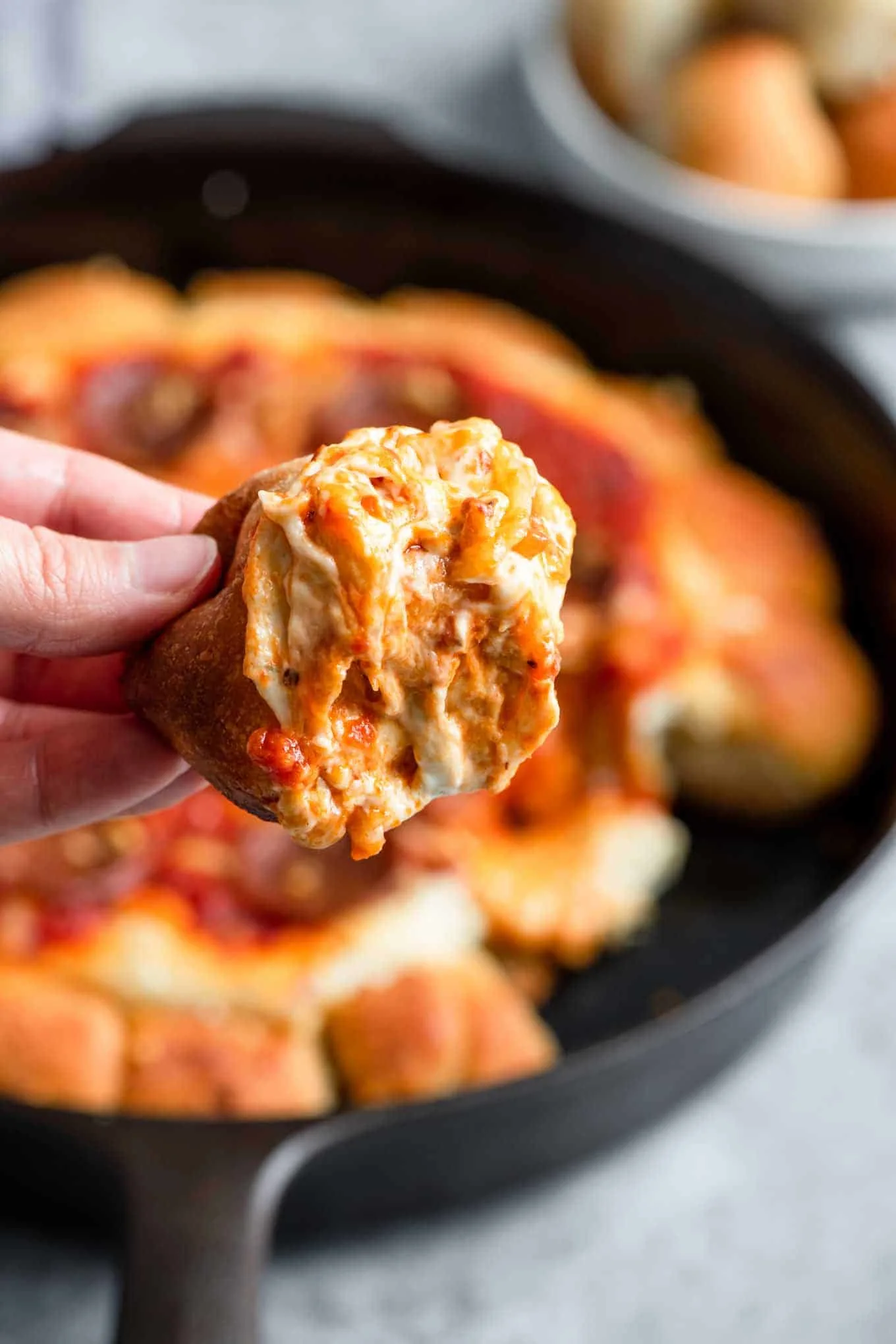 It's quite simple to make: blend up cashews, water, refined coconut oil or olive oil, garlic, tapioca starch, nutritional yeast, and salt.
The coconut oil gives a rich cheesy mouthfeel, but olive oil works just as well. The recipe is lighter on the oil (especially compared to the version I use on my vegan baked ziti), because the sauce doesn't need to stand up on its own.
Tapioca starch gives the cheesy sauce a nice stretchy quality when it thickens. However, you can also use either cornstarch or arrowroot powder to thicken it if that's what you have on hand.
The cheesy sauce thickens from both the tapioca starch and the natural starches in the nuts themselves. Warming the sauce on the stoves jump starts the thickening, and makes it easier to fully mix in the cream cheese. The herbs get added at this time too!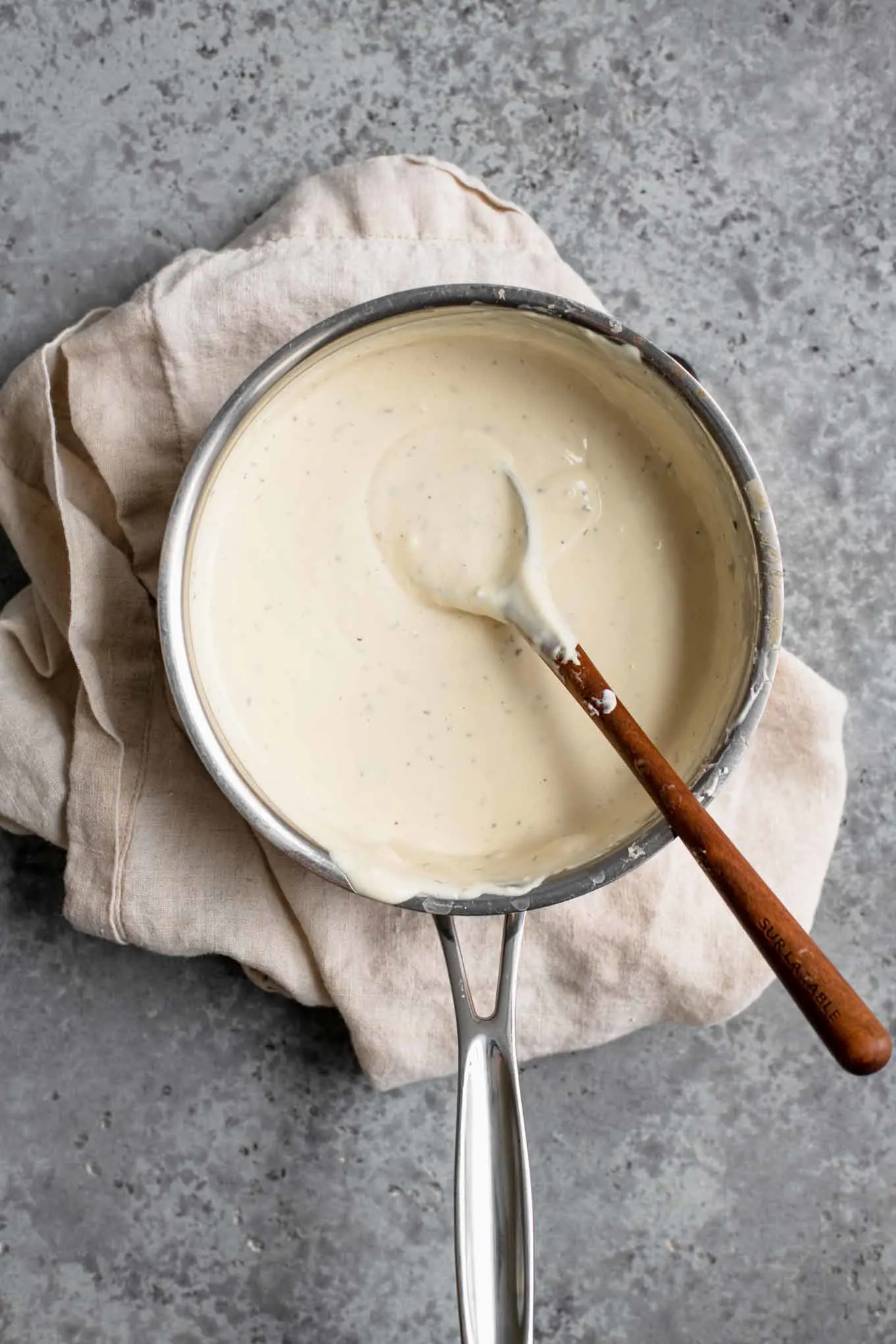 Soaking the cashews:
If you have a high powered blender like a Vitamix or Blendtec then you don't need to worry about soaking the nuts. Just add everything to your blender and hit blend and you'll have ultra smooth sauce in no time!
For everyone else, for this recipe I don't think it matters too much if your sauce is as perfectly smooth as it could be. Since it's in a dip and there's a lot going on, a little texture would make it almost ricotta like and that would be good too!
So I personally wouldn't stress soaking the cashews (or almonds/sunflower kernels) for this recipe. But if you want to soak them then cover them in cold water and let sit for an hour or two to soften. Then drain them and use the soaked nuts in the recipe.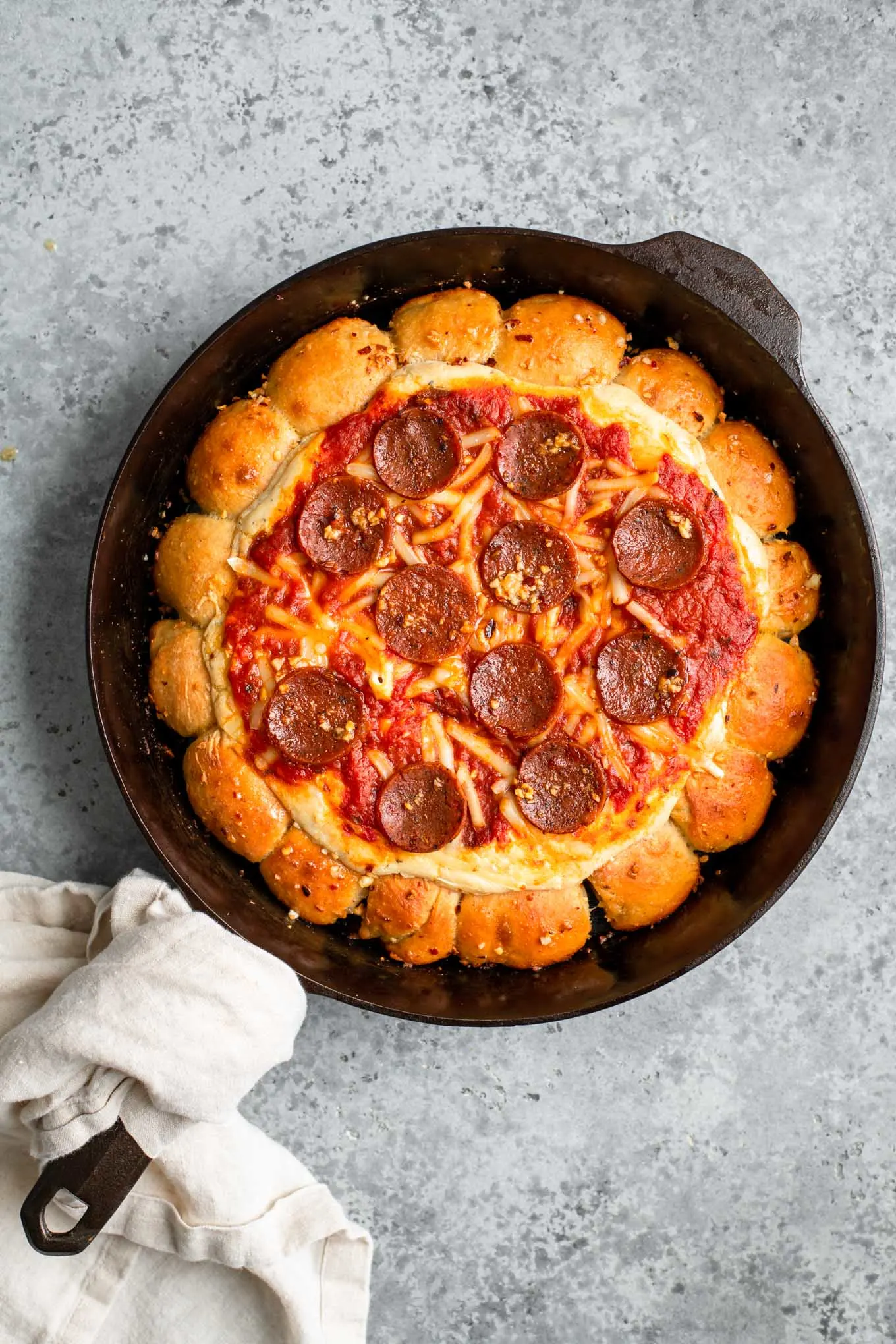 For a quicker soak cover the nuts in boiling hot water and let sit for 15-30 minutes. Or lastly you can straight up boil them for 10-15 minutes to soften. Lots of options!
The garlic butter rolls:
The mini rolls that wreathe the dip are dipped in a garlic butter (made with vegan butter of course!) and so yummy I could eat them plain!
You can use store bought pizza dough for this recipe, or make your own. I usually make my overnight pizza dough however this time used refrigerated dough from the grocery store and it came out great!
For best results let your dough come to room temperature before shaping, I recommend taking it out of the fridge an hour before you begin. If your dough is frozen, then defrost in the fridge overnight before using.
Shape a pound of dough (16 ounces) into 16-20 little rolls, it doesn't need to be exact, but you want to make sure they're not too large. Each roll should cook up to be 1-2 bites in size.
Dip each roll into the garlic butter and place it around the edge of a big oven safe skillet (I recommend cast iron). Let these rolls proof while you preheat the oven.
The rolls get baked twice: first on their own until they're a pale golden and for a second time after the dip has been assembled in the center.
Assembling the vegan skillet pizza dip:
We have the pan ringed with par-cooked mini garlic rolls. Pour in the warmed mozzarella-cream cheese dip then top that with a sprinkling of vegan mozzarella followed by vegan pepperoni, pizza sauce, some more vegan mozzarella and finished with extra vegan pepperoni.
I used Sweet Earth Foods Italian Style Pepperoni Deli Slices which I used a one inch circle cutter to make smaller vegan pepperonis with. You can use any brand of vegan pepperoni that you have access to and enjoy!
If you can't find vegan pepperoni then make this with your choice of vegan sausage. You can either thinly slice vegan sausage to use similarly to pepperoni or crumble the sausage up.
Brown your vegan meat just slightly before adding it to the dip! I did this with the vegan pepperoni too, just heated up a little oil on the skillet and cooked it over medium heat for about 20-30 seconds on each side. This is optional as seitan is pre-cooked and safe to eat straight from the package.
I did two layers of vegan pepperoni, because yum more flavor, but you can just do the one layer on top if you prefer.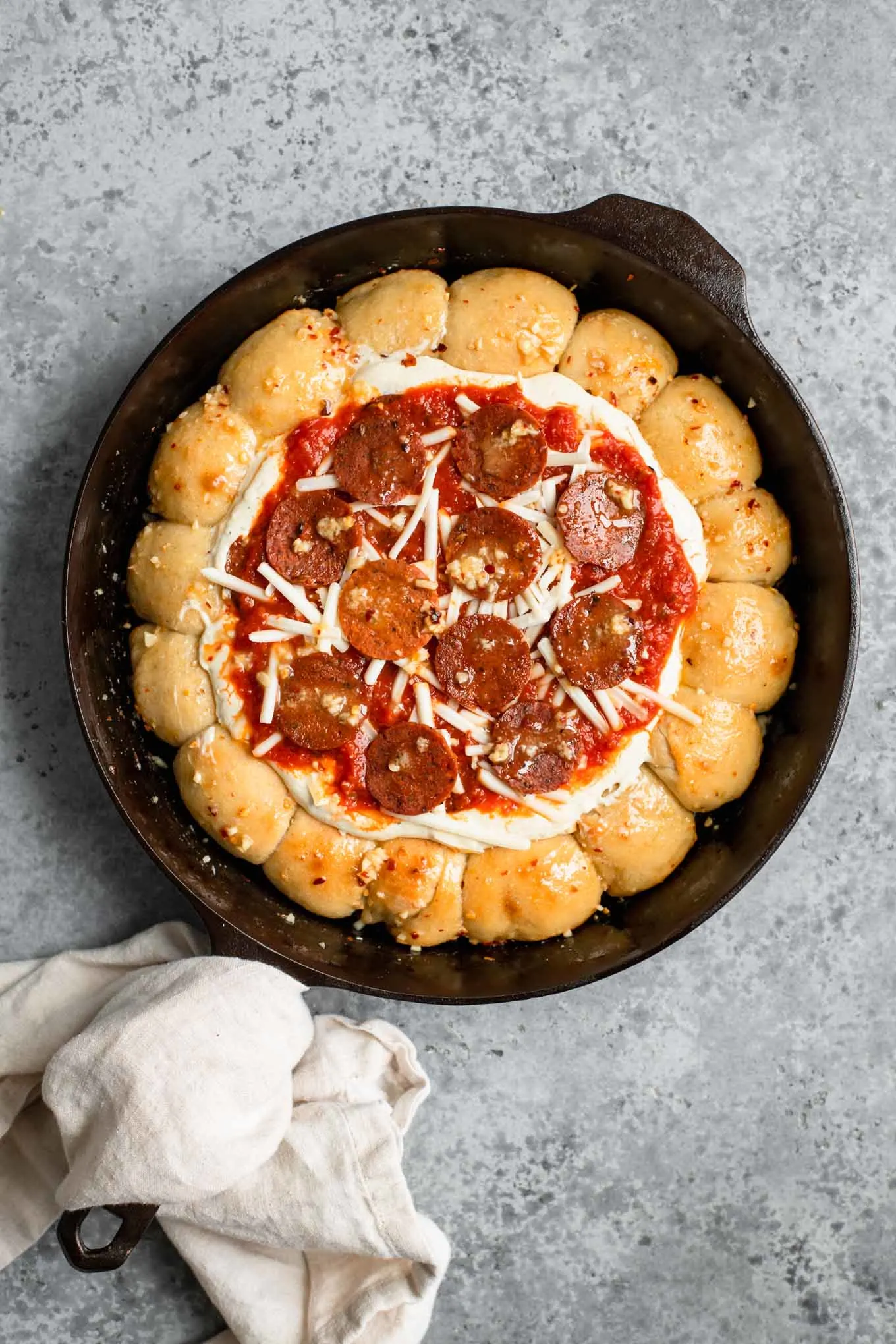 How to make this dip without a cast iron skillet:
If you don't have an appropriately sized oven safe skillet you can use a large 12-inch cake pan or a 9 x 13 inch baking dish.
You can also choose to bake the dip in a small 1 or 2 quart casserole dish and bake the rolls separately on the side for dipping.
It's also okay to make the dip without the rolls! You can eat the vegan pizza dip with tortilla chips, pita bread, breadsticks, or focaccia!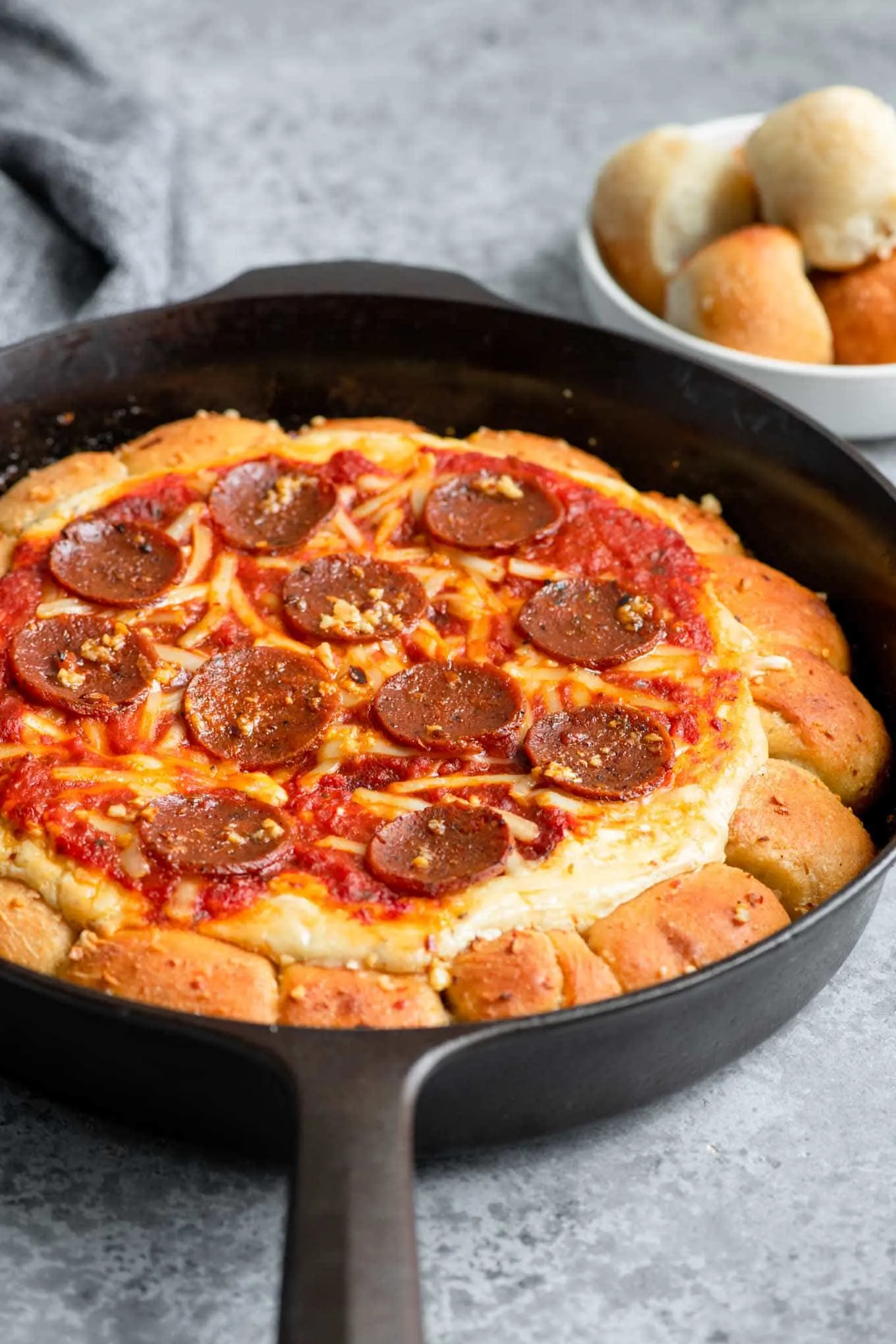 If you make this vegan skillet pizza dip, leave a comment below and rate the recipe on the recipe card. And please share your photos with me on Instagram, tag @thecuriouschickpea and #thecuriouschickpea. I love seeing your recreations!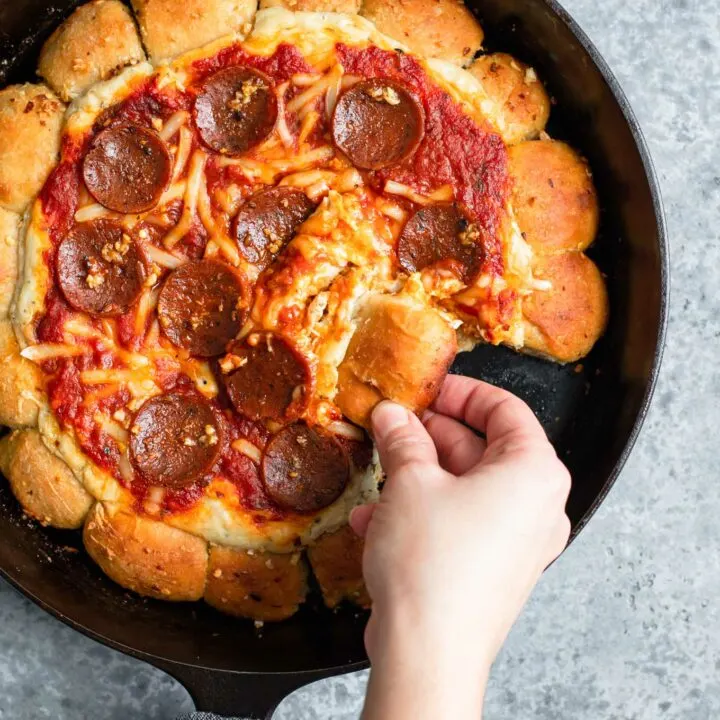 Vegan Skillet Pizza Dip
This vegan skillet pizza dip makes a great party appetizer or snack. Top it with vegan pepperoni or vegan sausage and dip in the garlic butter rolls to eat. You can also dip in tortilla chips, pita or pita chips, breadsticks, foccacia, or more!
Ingredients
Garlic Butter Rolls
16 oz pizza dough, warmed to room temperature
4 tbsp vegan butter
2 cloves garlic, minced
1/4 tsp garlic powder
1/2 tsp crushed red pepper
Mozzarella Sauce
1 cup cashews
1 cup water
2 tbsp refined coconut oil (or olive oil)
1 clove garlic, peeled
2 tbsp tapioca starch
1 tbsp nutritional yeast
1 tsp salt
Everything Else
8 oz vegan cream cheese
1/2 tsp dried oregano*
1/2 tsp dried thyme
1/4 tsp dried basil
1/4 tsp dried rosemary
1/4 tsp dried sage
1/2 cup shredded vegan mozzarella
1/2 cup pizza sauce
2-3 oz vegan pepperoni*
Instructions
Preheat the oven to 400 ºF.
In a microwave safe bowl combine the cold vegan butter, minced garlic, garlic powder, and crushed red pepper. Microwave until the butter has melted, then set aside. Alternatively do this in a small saucepan on the stove.
Divide the pizza dough into 16-20 pieces and shape each one into a small ball. Dip into the garlic butter and arrange around the edge of a large 12-inch cast iron skillet. Alternatively use a 12-inch cake pan or a 9x13 casserole dish.
Cover the skillet and let the dough proof for 30 minutes.
While the dough is proving, prepare the dip. In a blender combine all of the ingredients for the mozzarella sauce. Blend until smooth, pausing to scrape as needed.
Pour the mozzarella sauce into a saucepan and add the vegan cream cheese and all of the herbs. Heat over medium-low, stirring frequently until the cream cheese has fully combined into the mozzarella sauce and the sauce is starting to thicken. Turn off the heat.
Optional: Heat a small skillet over medium and add a little oil. Fry the vegan pepperoni for about 20-30 seconds on each side then remove from heat.
After proving, bake the rolls at 400 ºF for 15 minutes, or until the dough is a pale golden.
Pour the mozzarella sauce into the center of the skillet. Top with about 1/4 cup of vegan mozzarella, some of the vegan pepperoni, then top with the pizza sauce to cover the dip. Sprinkle another 1/4 cup of vegan mozzarella and top with the remaining vegan pepperoni.
Brush the rolls with more vegan garlic butter and then pour any remaining garlic butter over top the dip.
Cover the skillet with aluminum foil and bake at 400 ºF covered for 15 minutes. Uncover and bake another 10 minutes or until mixture is hot and bubbling. Enjoy warm!
Notes
*Substitute 1 1/2 teaspoons of Italian Seasoning for the herbs if desired.
*You can use vegan sausage instead of vegan pepperoni. Thinly slice it or crumble it and lightly brown it before using by cooking on a skillet over medium heat in some oil.
Recommended Products
As an Amazon Associate and member of other affiliate programs, I earn from qualifying purchases.
Nutrition Information:
Yield:

10
Serving Size:

1
Amount Per Serving:
Calories:

365
Total Fat:

24g
Sodium:

619mg
Carbohydrates:

29g
Fiber:

2g
Sugar:

2g
Protein:

10g
Nutrition is calculated automatically so should be used as an estimate.