Gobi Manchurian is a delicious Indo-Chinese dish where battered cauliflower is served in a sweet and sour chili sauce. It can be spicy or mild, and can be made gluten free!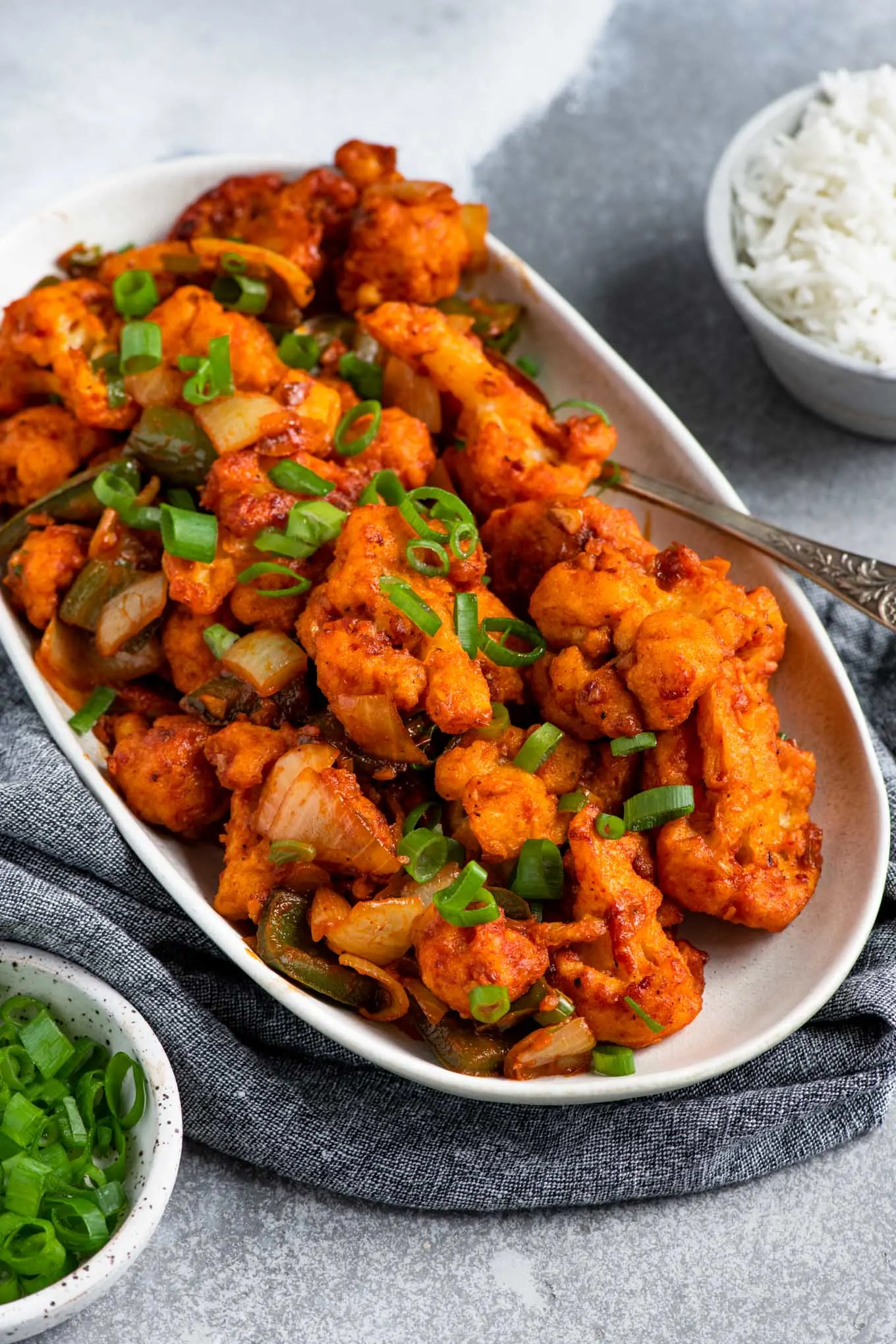 Gobi Manchurian one of my favorite Indian-Chinese dishes, and always a favorite to order when out. It's even better to make at home!
Despite the fact that it's traditionally fried, I wouldn't call it crispy because the battered cauliflower does absorb the sauce. It turns into a lovely chewy texture with a tender yet toothsome cauliflower center.
Indian Chinese food is a sub-cuisine of Indian cooking. It's thought to have originated from Chinese immigrants in Kolkota (a city in West Bengal) over 200 years ago.
It's as much a part of Indian cuisine as the dosa.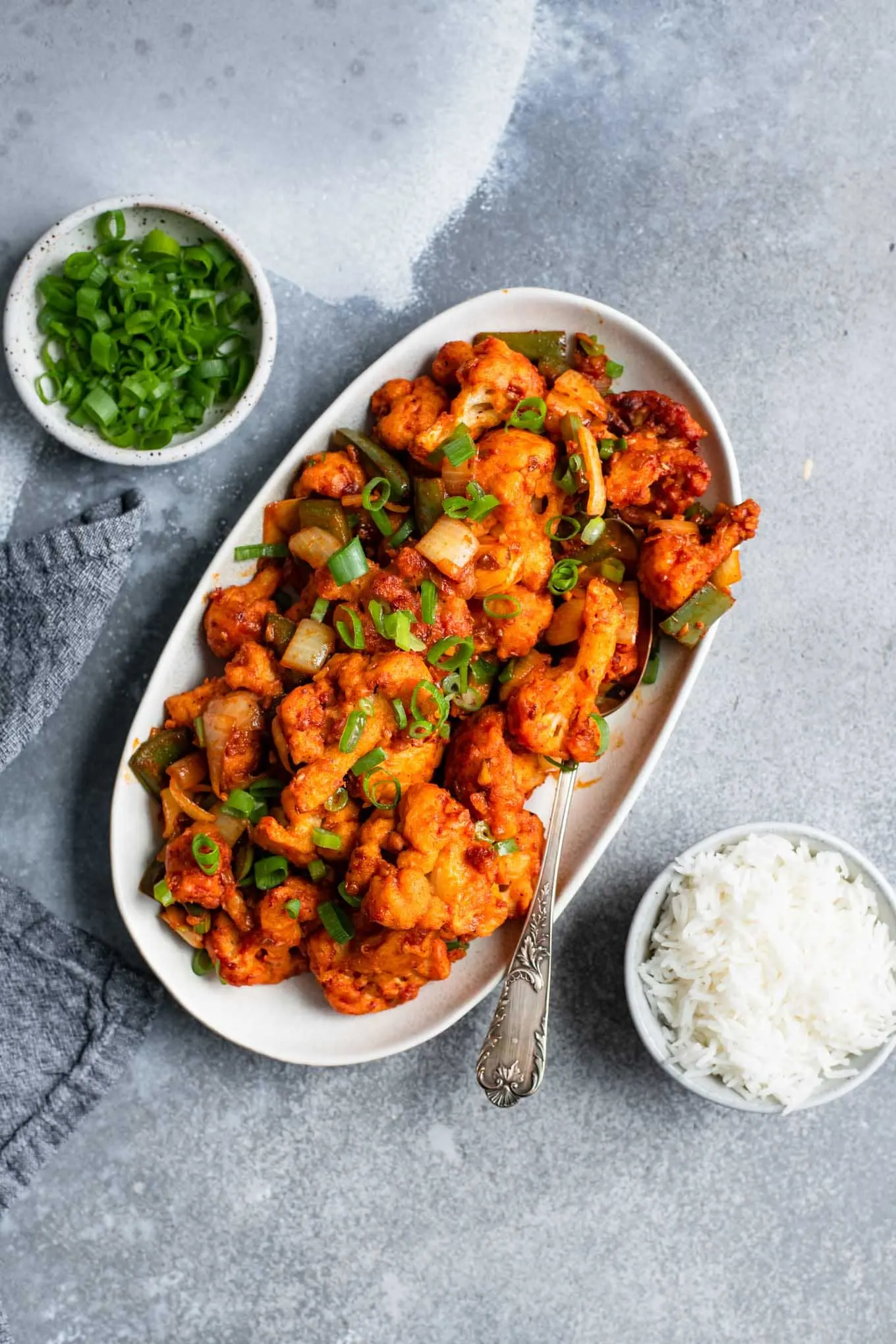 We see many instances of dishes created by immigrants where they have adapted their cuisine to palettes of their new homes. It's why dishes like "tikka masala" exist in Anglo-Indian restaurants and "chop suey" exist in American Chinese restaurants.
There's a rich history of Indo-chinese cuisine in India, and Manchurian is one of the delicious results of that cultural fusion!
So what is gobi Manchurian?
First let's translate the name. Gobi means cauliflower in Hindi. You can make various vegetables manchurian, or chicken/meat manchurian.
Manchurian refers to China, specifically the Northeast region.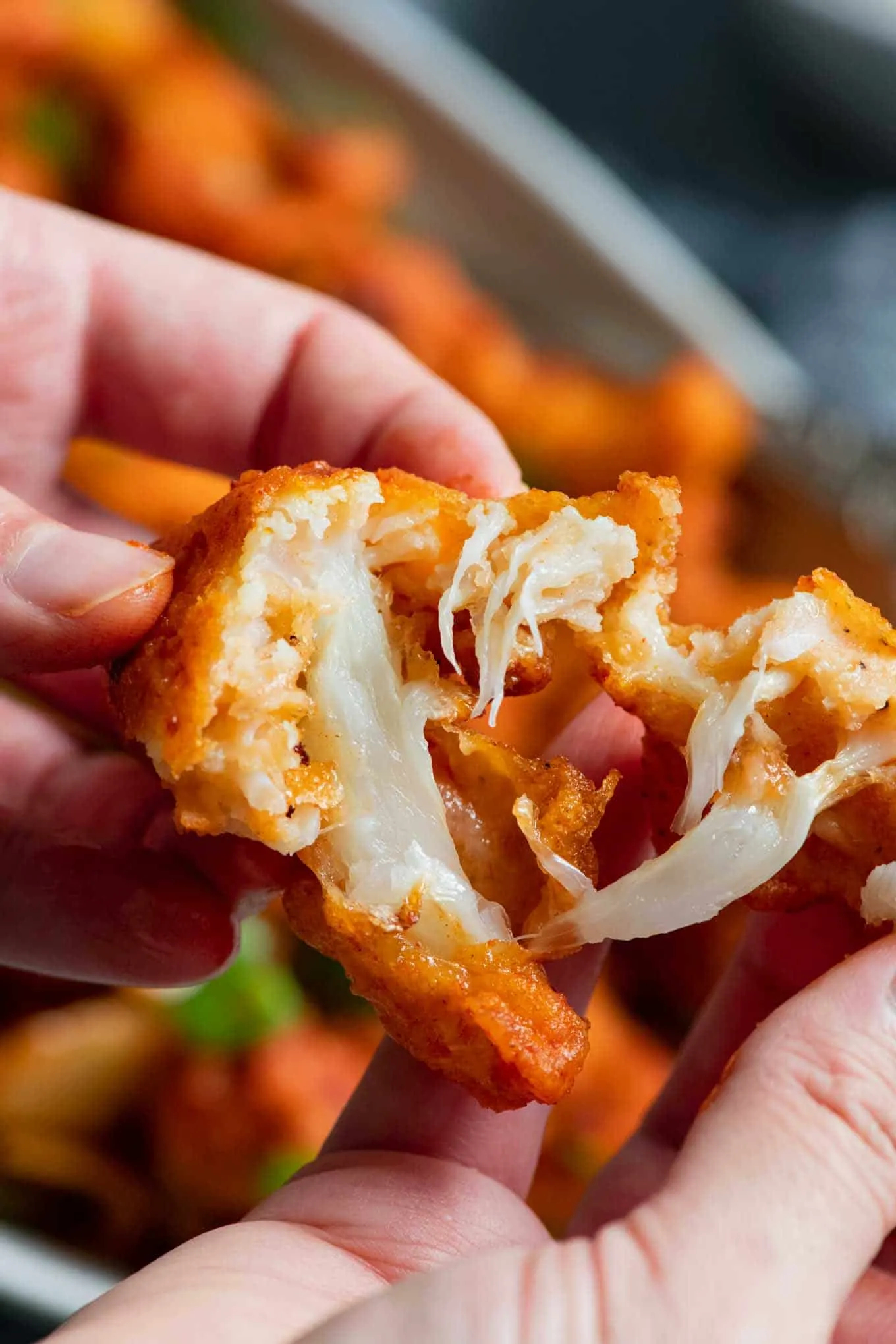 Put it together and you have cauliflower in a Chinese-style sauce. Of course it's not truly Chinese or Indian, but the Indian-Chinese fusion cuisine.
Gobi Manchurian is likely the most iconic of the Manchurian dishes. Or maybe my vegetarian background is just showing, haha.
Making the Gobi:
The cauliflower (gobi) is cut into large florets for gobi Manchurian. You then steam it for just a couple of minutes. This softens it enough that it ends up fully cooked after frying.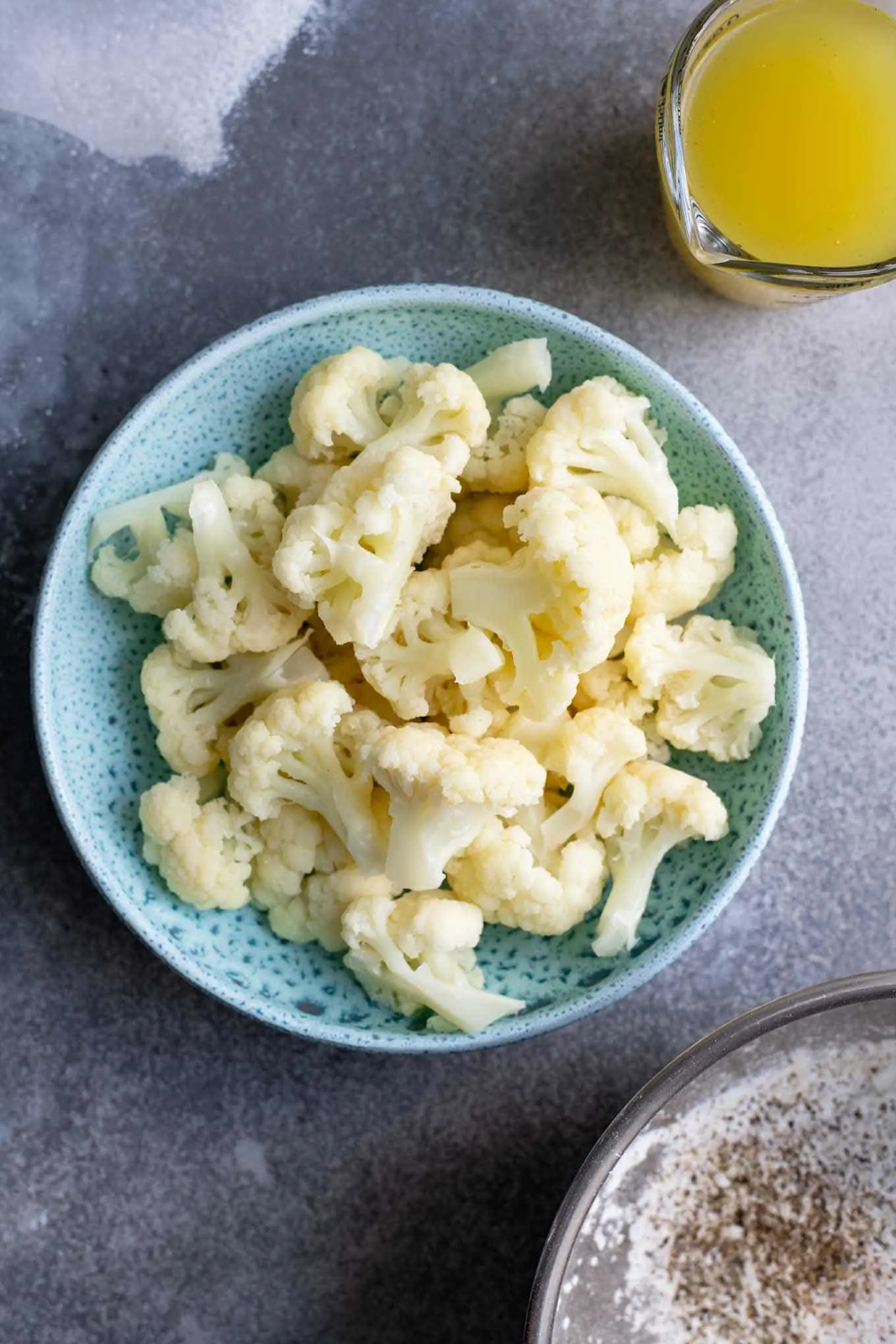 You don't want mushy cauliflower, but instead a slightly chewy floret.
Then batter the steamed cauliflower in a seasoned cornstarch (which is called cornflour in India and other British-English speaking places) and maida (all purpose) flour batter.
It's then fried until crispy and tossed in the Manchurian sauce.
Aside: deep frying is a common cooking technique in India as traditionally people did not have ovens. Or at least not the Western style ovens you picture, they instead cooked in tandoor ovens (which I talk about in my homemade naan recipe).
How to bake the cauliflower:
Since I know you'll ask, yes you can bake it. I'll say you are doing the dish a disservice by doing so, but I did recipe test it and still enjoyed the results (note: all photos here are with the fried version of the cauliflower).
If you are going to bake it, then you will want to add oil to the batter. This helps it crisp up and gives some of the richness expected in the dish. I'm sure it's still less oil than deep frying.
You could probably also use an air fryer, but make sure the batter isn't too runny in this case so that it doesn't fall off the cauliflower. I don't have an air fryer so can't give further instructions on this front.
Other than adding some oil, the method is the same with the exception that if you want to steam it beforehand steam it for half the time. It's easy to overcook cauliflower otherwise. And we don't want mushy gobi. We'll save that for aloo gobi!
If you don't mind a bit more chewy texture you can skip the steaming all together if you bake it.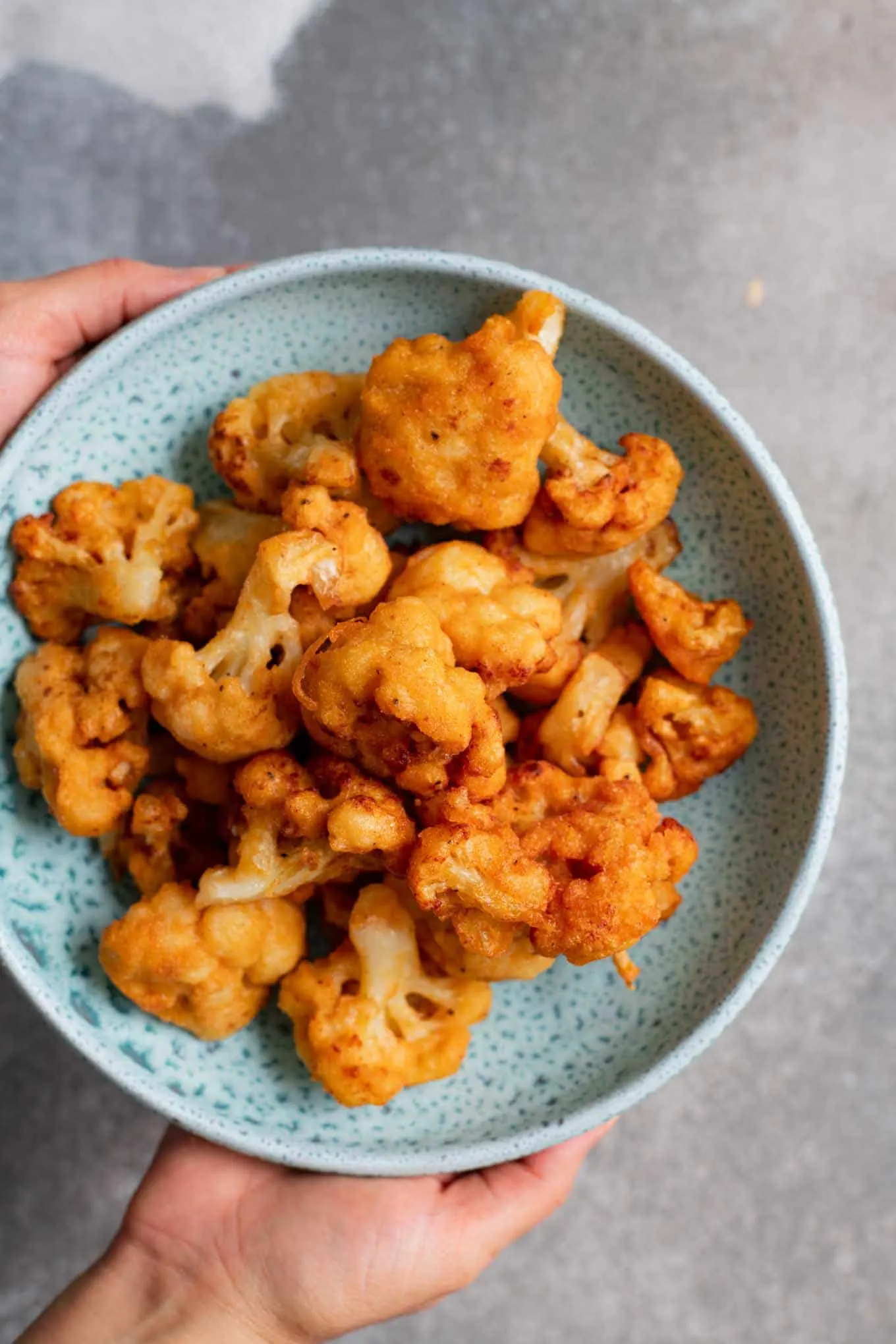 The Manchurian Sauce:
Manchurian sauce is a sweet and sour sauce. I absolutely love it.
Gobi Manchurian can be made dry, which is what I've done in this recipe, or wet. Wet gobi Manchurian just means that it's served saucy in a thick gravy versus how in this preparation all the sauce and absorbed into the cauliflower itself.
The sauce builds flavor with garlic, ginger, green onions (aka scallions), and chilies (optional, but delicious). Bell pepper and onion are added in a large dice for extra flavor, but also mostly just their delicious crunchy texture.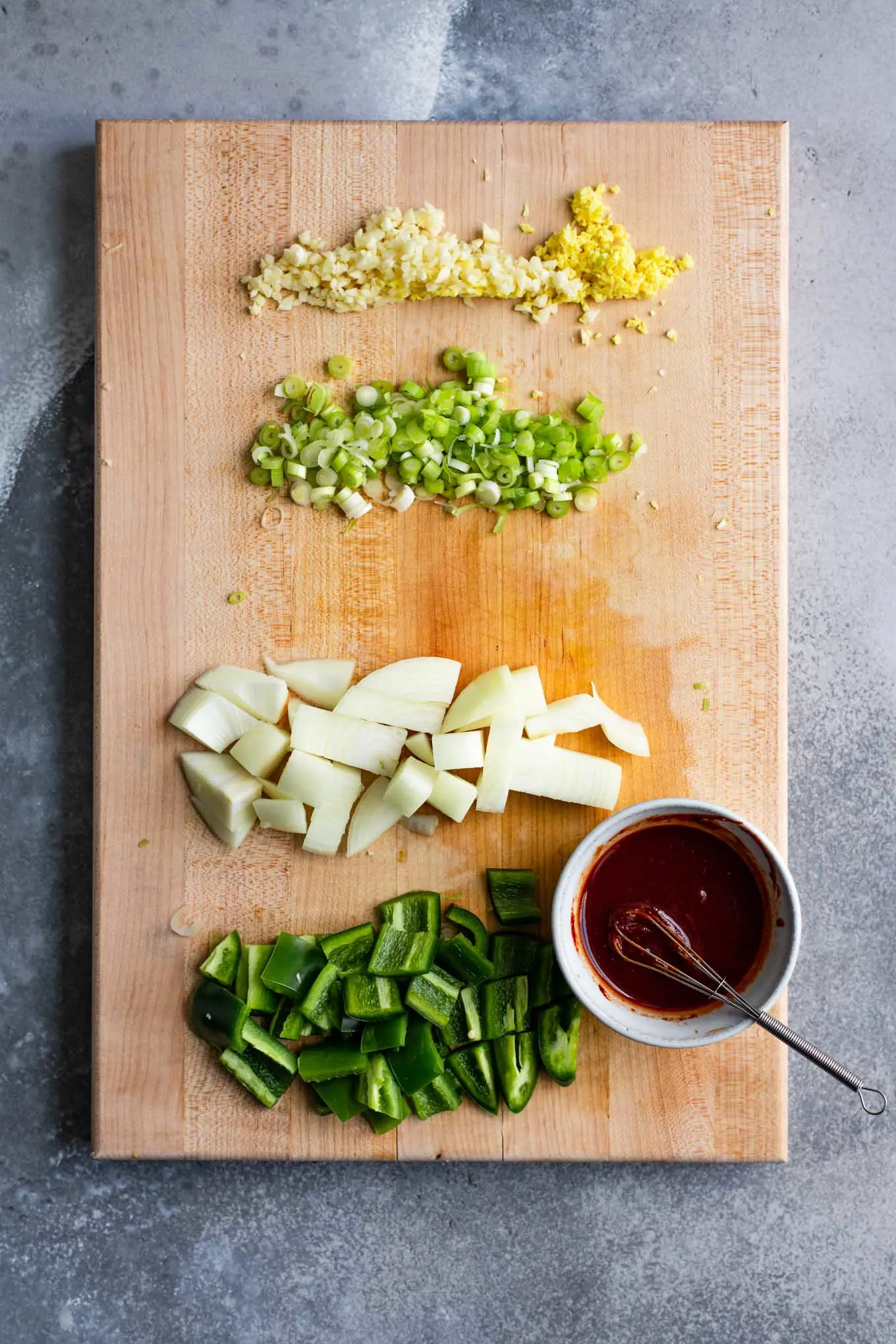 It has soy sauce, chili sauce (e.g. sriracha or a Chinese chili sauce–check ingredients for fish sauce/anchovy to keep it vegan!), ketchup (often called tomato sauce in India), and rice vinegar.
For spice we just add Kashmiri chili powder. Kashmiri chili is a flavorful but mild and vibrantly red colored pepper. You can add lot, give your dishes a beautiful red color, and not make it overly spicy.
I love Kashmiri chili and recommend you pick some up from your local Indian grocery store (or order from an online Indian grocery store/Amazon). But if you don't have it then you can use Ancho chili powder, chili powder blend, or even cayenne. If you use cayenne use less or to your own spice tolerance!
Back to the sauce, just add salt to taste and a little sugar to balance out the spicy and sour. Salt and sugar are flavor enhancers, and will bring out all of the layers of flavor of the dish.
For the dry preparation you will still add a bit of water or (even better) vegetable broth to help the sauce thin out enough to coat the cauliflower.
Adjusting the spiciness:
You can make gobi Manchurian fiery hot or mild.
For a spicy dish add chilies–jalapeño, serrano, Thai chilies, Indian chili peppers, you get the idea. You add them alongside the scallions to fry and soften.
You can also swap bell pepper for big pieces of jalapeño, or add jalapeño to the bell pepper. I say jalapeño because it's a crisp and fleshy pepper so will give some of that crunch that a bell pepper does.
For medium heat use the chilies but remove some or all of the seeds.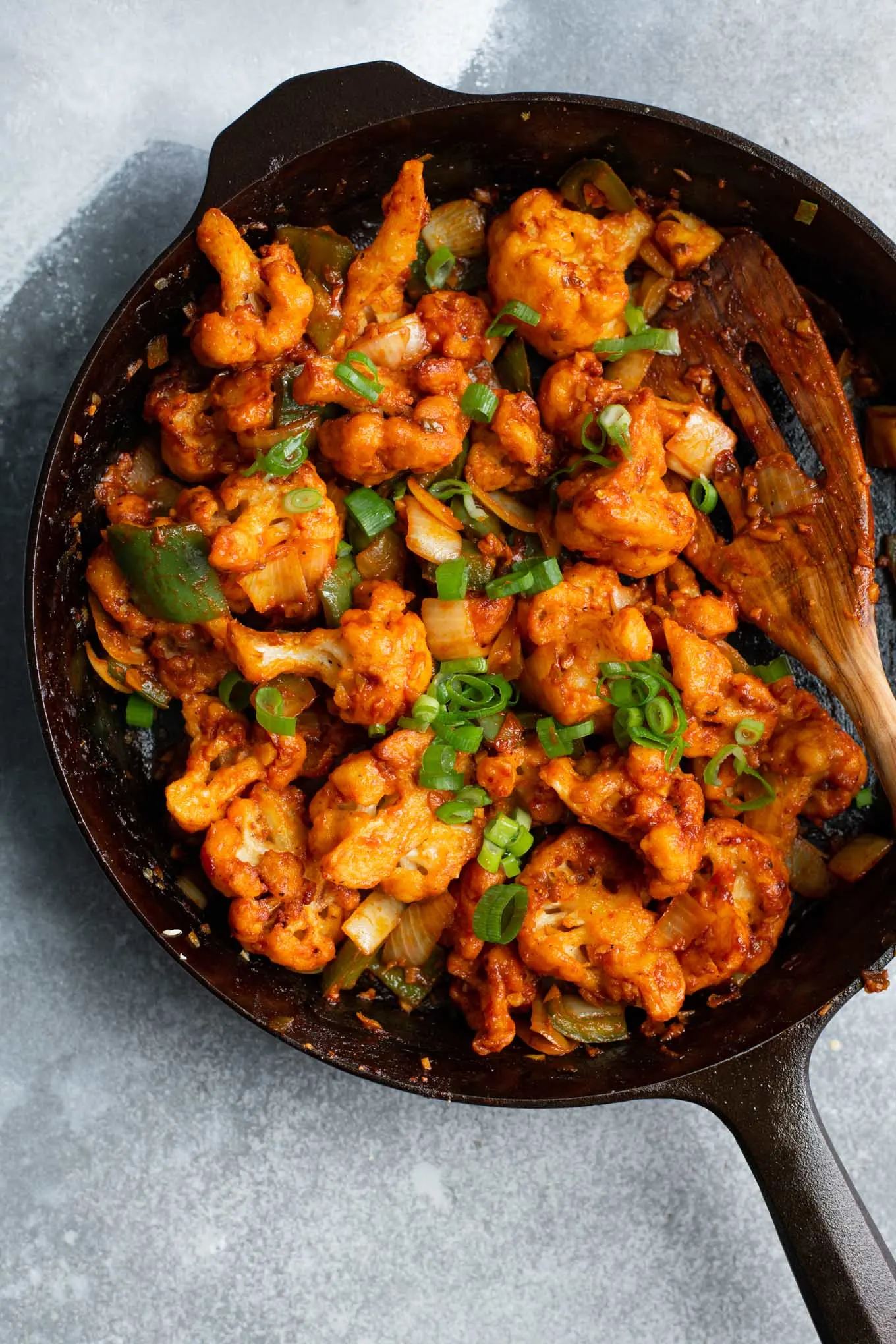 For mild, don't add any chili peppers to the dish!
You also adjust the spiciness by how much chili sauce (such as sriracha) you add. Add more hot sauce for a spicier dish, or use less to keep it milder if you need.
If you use less chili sauce then increase the ketchup to compensate for the reduced liquid.
Making a wet gobi manchurian:
If you prefer your gobi to be smothered in the flavorful gravy (which I get, that extra sauce is very good with rice) then double the sauce ingredients. That means extra soy sauce, chili sauce, ketchup, vinegar, Kashmiri chili powder, salt, and sugar.
Then make add 1 cup of water or vegetable broth to thin the sauce out, reserving a couple tablespoons of the water. Mix this water with a teaspoon or two of cornstarch then add the slurry into the rest of the liquid.
This cornstarch slurried sauce to the pan and let it warm and thicken before adding the cauliflower.
Voila, you have a wet gobi Manchurian. You're welcome.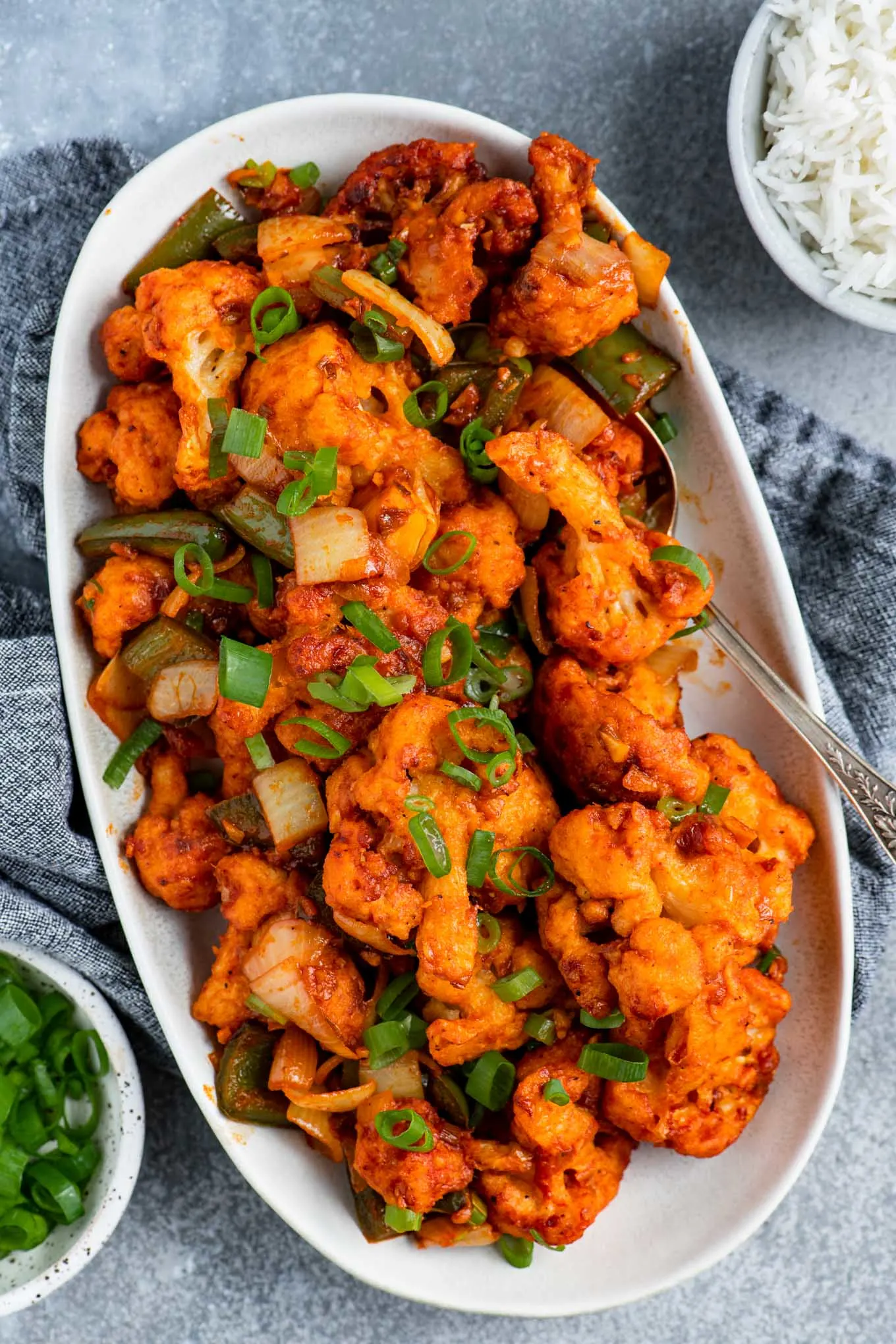 How to eat gobi Manchurian:
You can eat it as is, nothing else is needed! But I'm desi so adding carbs feels like a must. I love it with basmati rice, naan, or other roti! No matter what, I hope you enjoy!!
If you make this gobi Manchurian, leave a comment below and rate the recipe on the recipe card. And please share your photos with me on Instagram, tag @thecuriouschickpea and #thecuriouschickpea. I love seeing your recreations!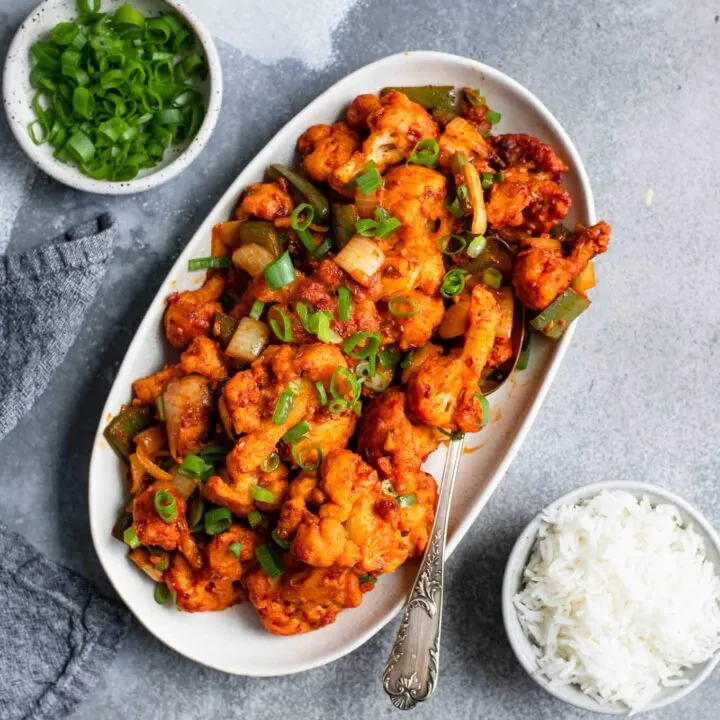 Gobi Manchurian
Gobi Manchurian is an Indo-Chinese dish with battered cauliflower in a sweet and sour chili sauce. It can be made spicy by adding more hot chilies or more chili sauce, or mild by reducing or leaving out the hot chilies and using less chili sauce. If you use less chili sauce add more ketchup to compensate.
Ingredients
Gobi
1 head cauiflower, cut into florets
3/4 cup all purpose flour (can sub GF flour)
1/4 cup cornstarch
1/2 tsp salt
1/2 tsp black pepper
1/2 tsp Kashmiri chili powder
3/4 cup vegetable broth or water
oil to fry, or 1 tbsp oil if baking
Manchurian Sauce
2 tbsp chili sauce (e.g. sriracha)
1 tbsp ketchup
1 tbsp soy sauce (Tamari for GF)
2 tsp rice vinegar
1 tsp Kashmiri chilli powder
1 tsp sugar
1/2 tsp salt, or to taste
2 tbsp vegetable broth or water
2 tsp oil
4 cloves garlic, minced
2 tsp minced ginger
6 scallions, thinly sliced and light parts and dark parts divided
1 or more green chili peppers, minced (to taste)
1/2 green bell pepper, large dice
1/2 yellow onion, large dice
Instructions
Make the Gobi
Set up a steamer basket in a pot and steam the cauliflower florets over boiling water for about 3 minutes or until they are just slightly tender when poked with a fork. If baking the gobi then steam for 1/2 the time or skip steaming completely.
In a large mixing bowl whisk together the flour, cornstarch, salt, pepper, and chili powder. Add the broth or water and whisk to make a batter. If baking add 1 tablespoon of oil to the batter.
Add the steamed and slightly cooled cauliflower to the batter and toss to coat evenly.
Heat up oil in a large skillet or kadai (Indian cooking vessel) over medium heat. Use at least 1/4-inch of oil to pan fry or an inch or more to deep fry. When hot add the battered cauliflower in batches and fry until golden, about 5 minutes. Flip the cauliflower halfway through to cook evenly (if shallow pan frying you may need to flip more times to get all the sides). Remove fried cauliflower from pan with a slotted strainer and let drain on a paper towel lined plate.
To bake the cauliflower: Spread battered cauliflower in a single layer on a parchment lined baking pan. Bake at 450 ºF for 15-20 minutes or until the breading is crisp and cauliflower tender enough.
Make the Manchurian Sauce
In a small bowl whisk together the chili sauce, ketchup, soy sauce, rice vinegar, chili powder, sugar, salt, and vegetable broth. Set aside.
Heat a large pan or skillet (to accomodate the cauliflower later) over medium heat and add 2 tsp of oil. Add the garlic and ginger and cook for about 30 seconds or until the raw smell is gone.
Add the light part of the scallions and chilies (if using) and sauté anothere 30 - 60 seconds. Add the bell pepper and onion and cook until slightly softened and golden in spots, about 3-5 minutes.
Pour in the sauce and then the cooked battered cauliflower and stir to coat the cauliflower in sauce. Cook another couple of minutes until the sauce has absorbed into the cauliflower.
Top with reserved scallion greens for garnish and serve immediately.
Notes
To make a wet gobi manchurian double to liquid sauce igredients + salt, sugar, and chili powder and add 1 cup of water or vegetable broth. Make a cornstarch slurry with 1-2 teaspoons of cornstarch and 1 tablespoon of water and add it to the sauce. Let the sauce cook until thickened before adding the cauliflower.
Recommended Products
As an Amazon Associate and member of other affiliate programs, I earn from qualifying purchases.
Nutrition Information:
Yield:

6
Serving Size:

1
Amount Per Serving:
Calories:

206
Total Fat:

11g
Saturated Fat:

1g
Trans Fat:

0g
Unsaturated Fat:

10g
Cholesterol:

0mg
Sodium:

797mg
Carbohydrates:

24g
Fiber:

2g
Sugar:

4g
Protein:

3g
Nutrition is calculated automatically so should be used as an estimate.