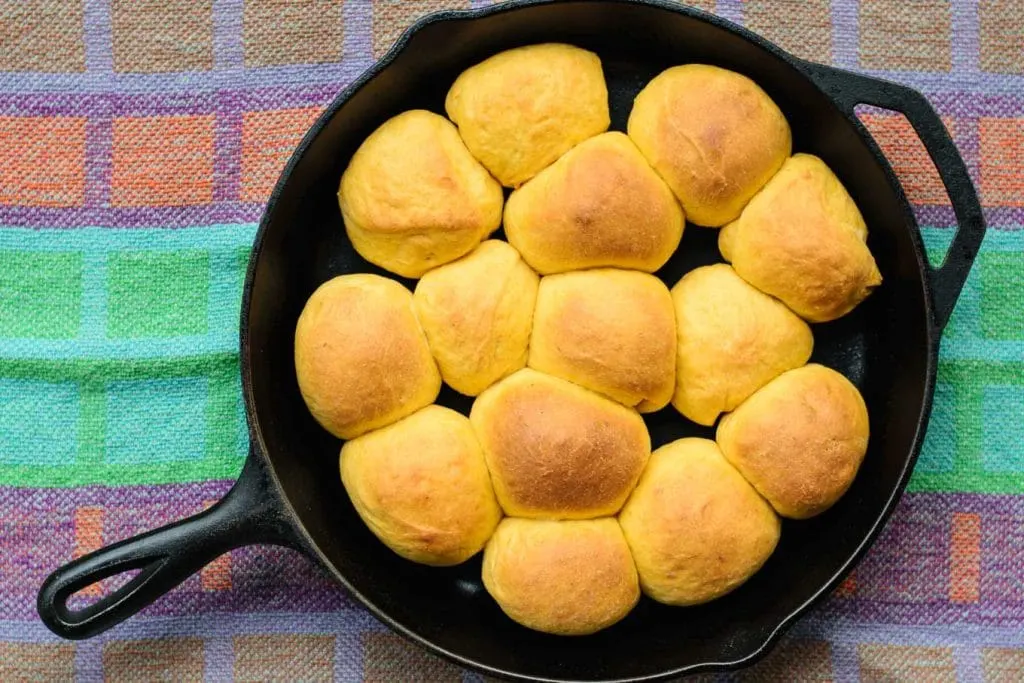 These vegan sweet potato rolls are the soft and pillowy bread of your dreams. A beautiful golden color thanks to the sweet potatoes, these savory dinner rolls are the perfect accompaniment to any fall feast, or to take a simple dinner to the next level. The soft and enriched dough is made vegan with the simple substitution of vegan butter (oil works too, though) for the typical dairy version and aquafaba for the traditional egg. Aquafaba (the water that comes from a can of cooked beans) works with the mashed sweet potato to create the softest bread that practically melts in your mouth.
The sweet potato rolls are made using a simple yeasted recipe, only requiring 5 ingredients, 3 minutes of kneading, and a couple of (mostly hands off) hours. They are so fast (by bread standards) and so easy to make, making them the perfect recipe for your busy life! With minimal effort you can have beautiful, warm, mouth-watering rolls to serve with dinner, and, quite possibly, steal the entire show.
I wrote a bit about enriched doughs in my post for coconut ginger custard filled doughnuts, and while these dinner rolls aren't deep fried and have no added sugar, the concept is basically the same. The fats in the dough effectively shorten the gluten strands (the protein network) for a more delicate bread. Increasing the ratio of starch in the dough, done by adding sweet potato and aquafaba, also influences the final texture of the dough, allowing for a tender product with a longer shelf life (i.e. these rolls don't go stale as quickly as unenriched bread would).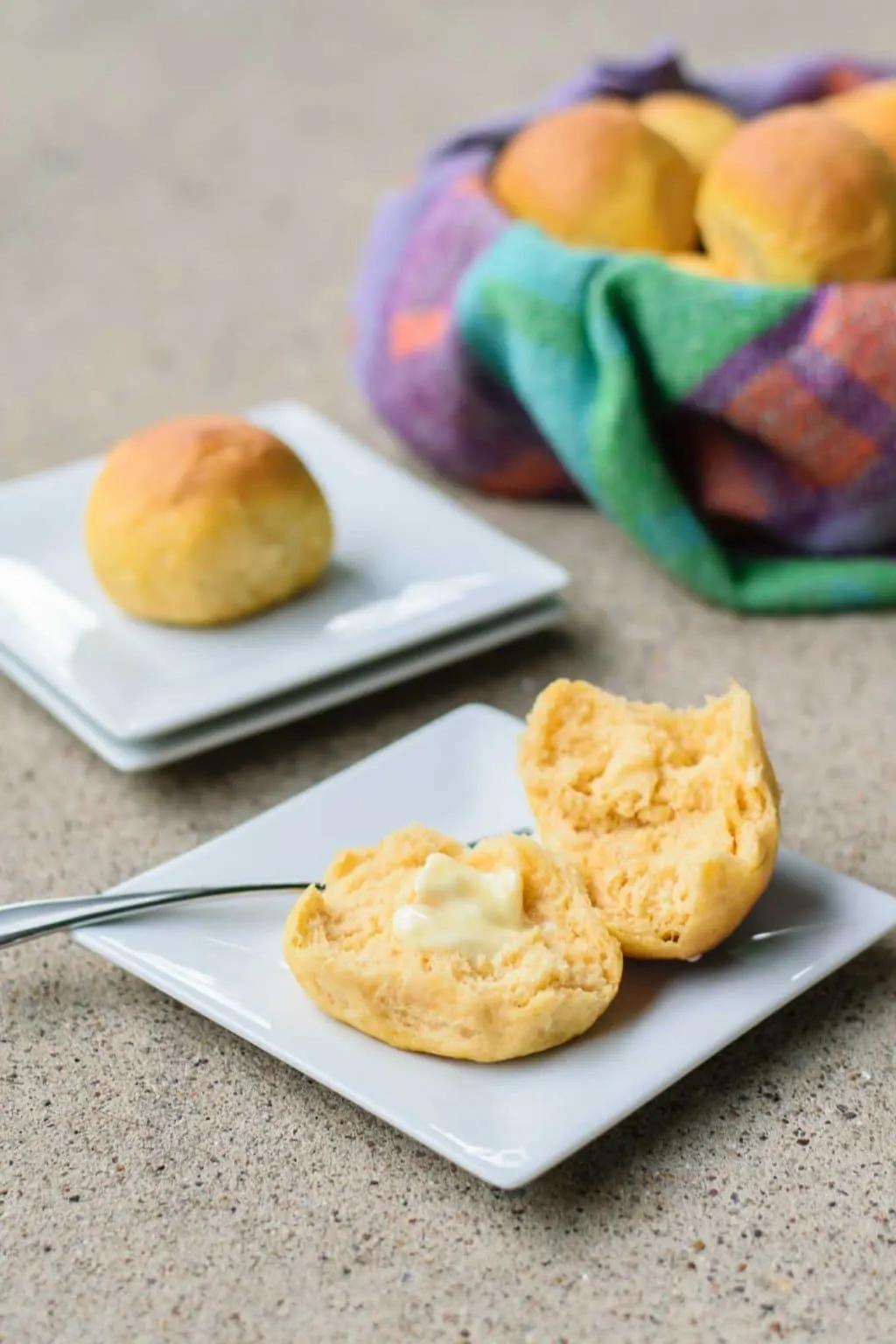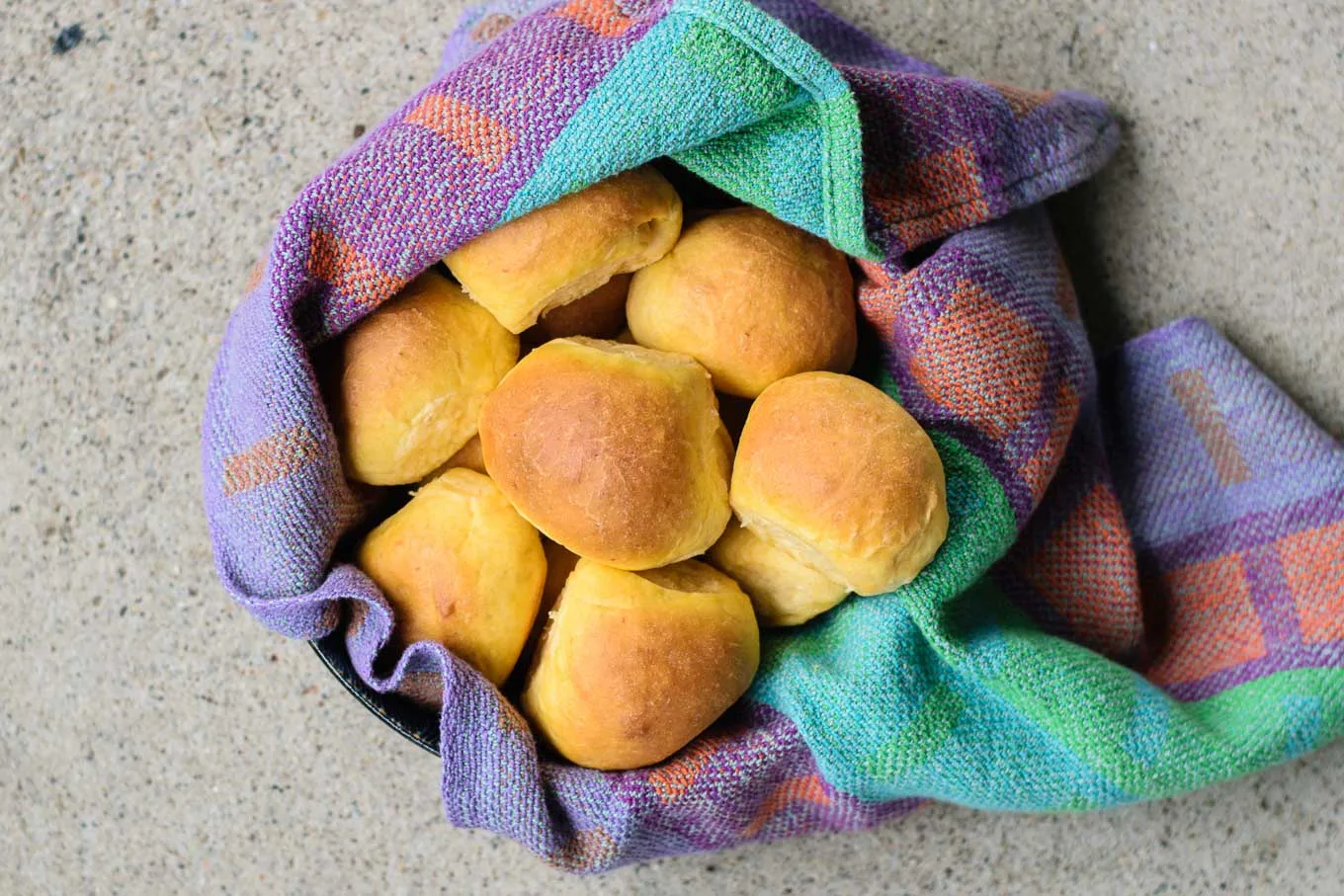 All the flavor from the sweet potato, milk, and vegan butter means that I don't opt for my typical slow, refrigerated rise overnight (which builds flavor through that slow yeast proliferation) and certainly, the final product is lacking for nothing. The rolls are soft and savory, buttery with yeasty undertones and a mild sweet potato flavor. They are delicious plain, dipped in soup, or slathered with vegan butter. There's nothing quite like eating hot, freshly baked bread that you've made yourself. That these rolls are quick and easy to make means that you'll be able to enjoy that experience as often as you'd like!
These vegan sweet potato rolls would be perfect for Thanksgiving dinner. We enjoyed them recently with this black bean soup recipe. You can make them with leftover cooked squash or sweet potato, the canned stuff, or do what I did and quickly microwave a sweet potato just for this purpose (see notes after recipe for microwave instructions). I can't get enough of these rolls and imagine that they'll be making an appearance on our table several times this fall.
Let me know if you try these vegan sweet potato rolls! Leave a comment and/or rate the recipe below, tag me on Instagram (#thecuriouschickpea), or share with me on Facebook! Happy baking everyone!

Notes:
Aquafaba is the liquid from cooking beans. Chickpeas create some of the best aquafaba, and it's easiest to collect it from a can. When separating the liquid from a can of beans, first shake the can before opening to loosen and distribute the starches and proteins that settle on bottom. Then strain and freeze the liquid until you're ready to use it.
This recipe can easily be doubled or tripled as needed to serve a crowd.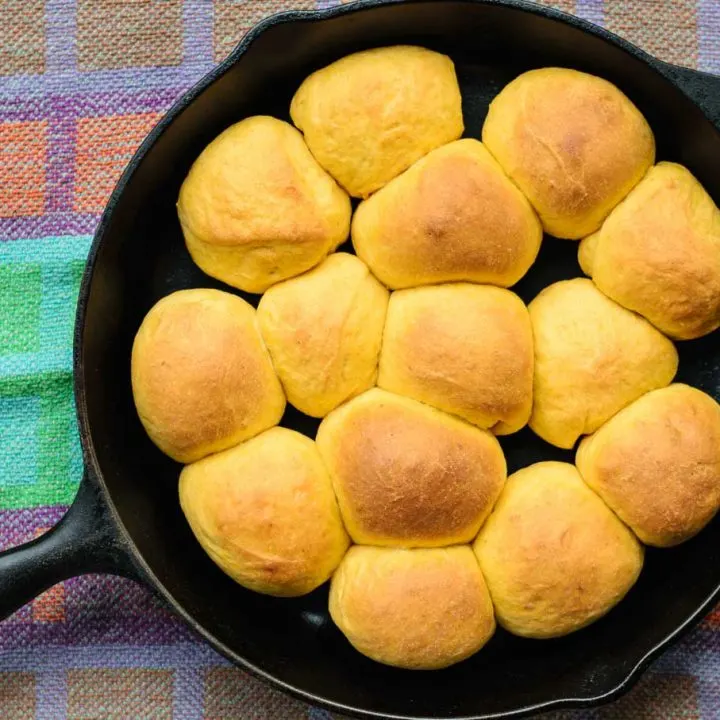 Vegan Sweet Potato Rolls
Total Time:
2 hours
18 minutes
Beautifully orange-hued, soft and tender dinner rolls are made with mashed sweet potatoes and perfect for a fall feast.
Ingredients
2 tsp (7 g) instant yeast
1/2 cup (120 mL) warm plant milk, ~110 ºF
1/2 cup (100 g) cooked and mashed sweet potato*
2 tbsp (15 mL) melted vegan butter or vegetable oil, plus extra for brushing
1/4 cup (60 mL) aquafaba
3 - 3 1/3 cups (360 - 400 g) all purpose flour
1 tsp (5 g) salt
Instructions
In a small mixing bowl whisk together the yeast and warm milk. Let sit for a few minutes until the yeast is dissolved and the mixture is a bit foamy (if your kitchen is cooler it may not get foamy in that shorter time frame). Add the mashed sweet potato, melted vegan butter, and aquafaba and whisk until smooth. If the mixture is very lumpy blend with a immersion blender or regular blender until fairly smooth ( a few small lumps are ok).
In a large mixing bowl whisk together the flour and the salt. Pour in the wet ingredients and using a wooden spoon or your clean hand, mix together until it just comes together to form a shaggy dough.
Turn onto a clean, lightly floured surface and knead by hand for about 3 minutes, until you have a smooth and barely tacky dough. Add flour or water if necessary to reach the desired texture. Alternatively knead in a stand mixer for 3 minutes, checking after 2 minutes to see if additional flour or water is needed.
Form the dough into a ball, and place in an large, oiled mixing bowl, turning the dough ball to coat in oil. Cover the bowl with plastic wrap and let rise in a warm place for around 1 - 1 1/2 hours, or until doubled in size (time will vary depending on how warm your room is, and may take even longer if it's below 70 ºF).
When dough has doubled in size, preheat your oven to 400 ºF with a rack placed in the center. Prepare a large baking dish or a large cast iron (12") skillet by brushing the inside with melted butter (or vegetable oil), making sure to cover both the bottom and sides.
Punch dough the dough and turn it onto a clean counter. Divide into 14 equal sized pieces and roll into balls. Place the rolls seam side down in the prepared baking dish or cast iron skillet, leaving 1 - 1 1/2" between each roll. Cover and leave to rise 20-30 minutes until swollen and about doubled.
When doubled in size, brush the tops of the rolls with melted butter. Put in oven and bake for 15-18 minutes until the rolls are a golden color on top.
The rolls are best served warm, but are also very tasty at room temperature.
Notes
*To quickly cook a sweet potato: wash it and pierce it several times with a fork all over. Wrap in a paper towel and microwave in 2 minute intervals until a fork easily pierces through with no resistance. Exact time will vary, depending on how large your sweet potato is. You can substitute canned sweet potato purée, or pumpkin or squash purée. Canned pumpkin or squash can vary in moisture so you may have to adjust the flour.
*loosely adapted from King Arthur Flour