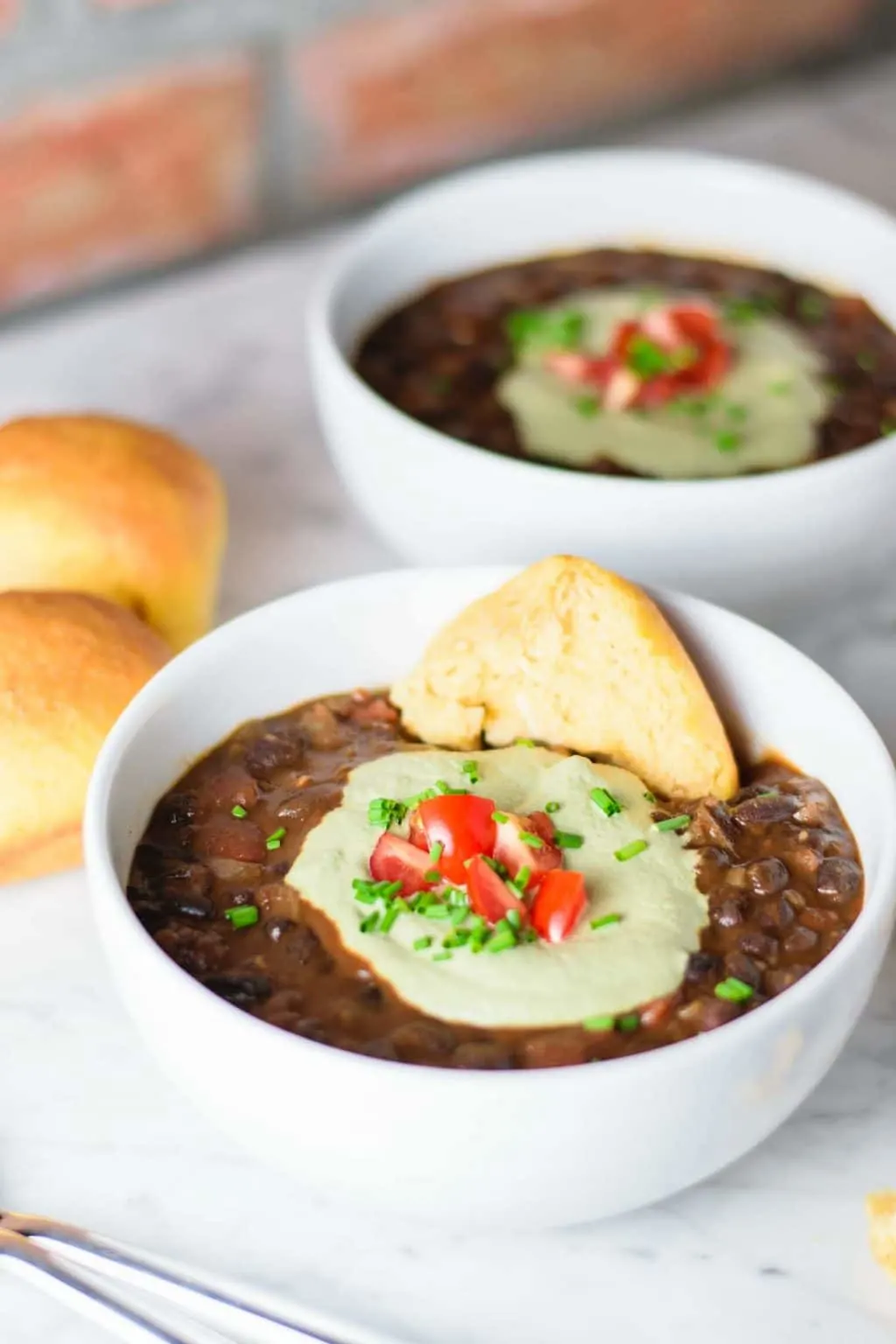 Black bean soup is lazy day cooking at it's best. A perfectly cozy homemade meal that is so hands off it practically makes itself. I've been craving black bean soup for weeks now, with a mason jar full of dried beans set aside for this exact purpose. But despite the fact that it wouldn't take much advance planning, as you don't need to soak dried black beans, I kept putting it off in favor of faster cooking projects. Finally my practical side kicked in along with a late hour hankering, and I found myself pulling cans of black beans off the shelf. Dinner was ready almost 30 minutes later, and I didn't miss the long stewed flavors of cooking from dried beans in the slightest. I figured you guys would have the same appreciation for this weeknight friendly meal and had to share.
Black beans are simmered in tomatoes and broth, along with a disproportionate amount of onions and garlic. There's so much hearty flavor that I find all that's necessary in terms of adding spice is a rather subdued amount of chili powder. My preference is to mix the American-style chili powder with some straight ground ancho chile (though, I bet ground chipotle pepper would be excellent as well for a smokey and slightly spicy soup). Both tomato paste and Worcestershire sauce are added for extra umami-rich depth of flavor. Tomato paste allows for that long-cooked sweet and rich tomatoey flavor without actually cooking your soup for too long while Worcestershire sauce adds a wonderful sweet and tangy, fermented flavor to the soup. All this blends into a perfectly satisfying, flavorful bowl of comfort food.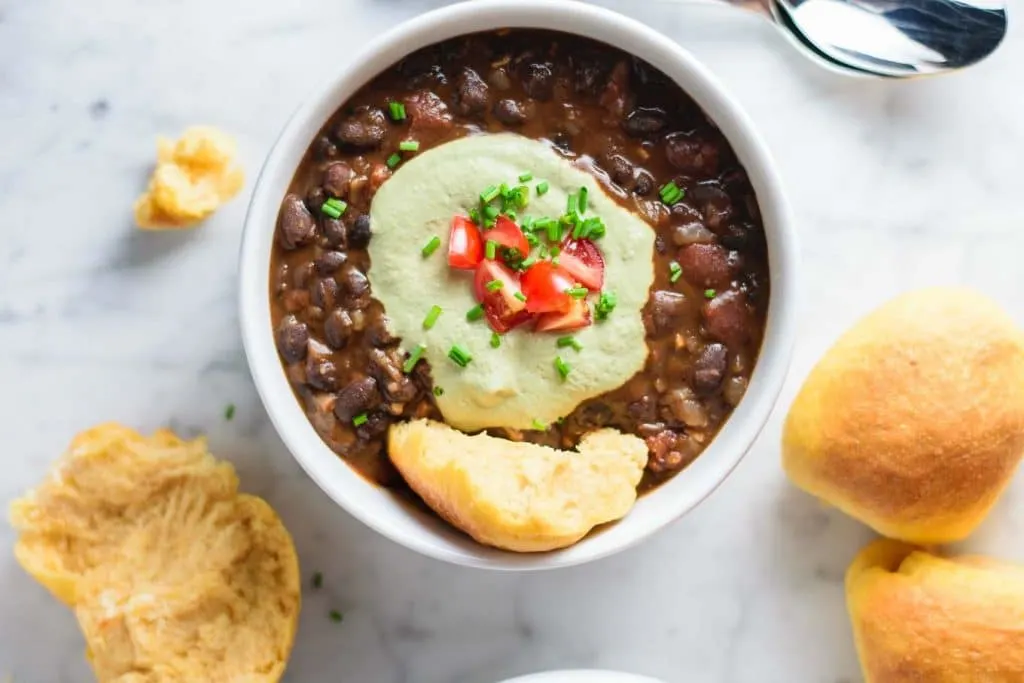 The pepita cream makes for the perfect accompaniment to the black bean soup. Pepitas are nutty and rich, toasty and subtly bitter. Freshly squeezed lime juice and salt balance out and brighten the pepita flavor for a delicious and velvety smooth cream. Spooned overtop or swirled into the soup, I find the pepita cream to be a big step up flavor-wise from the typical sour cream. While you could stop there, extra garnishes like diced cherry tomatoes and chives are fun while adding extra dimensions of flavor and texture.
When black bean soup is this easy to make, there's really no excuse not to! I hope you try it so that you too can tuck into a steamy bowl of soup in lickety split. Let me know if you do! Leave a comment and/or rate the recipe below, tag me on Instagram (#thecuriouschickpea), or share with me on Facebook! Happy eating!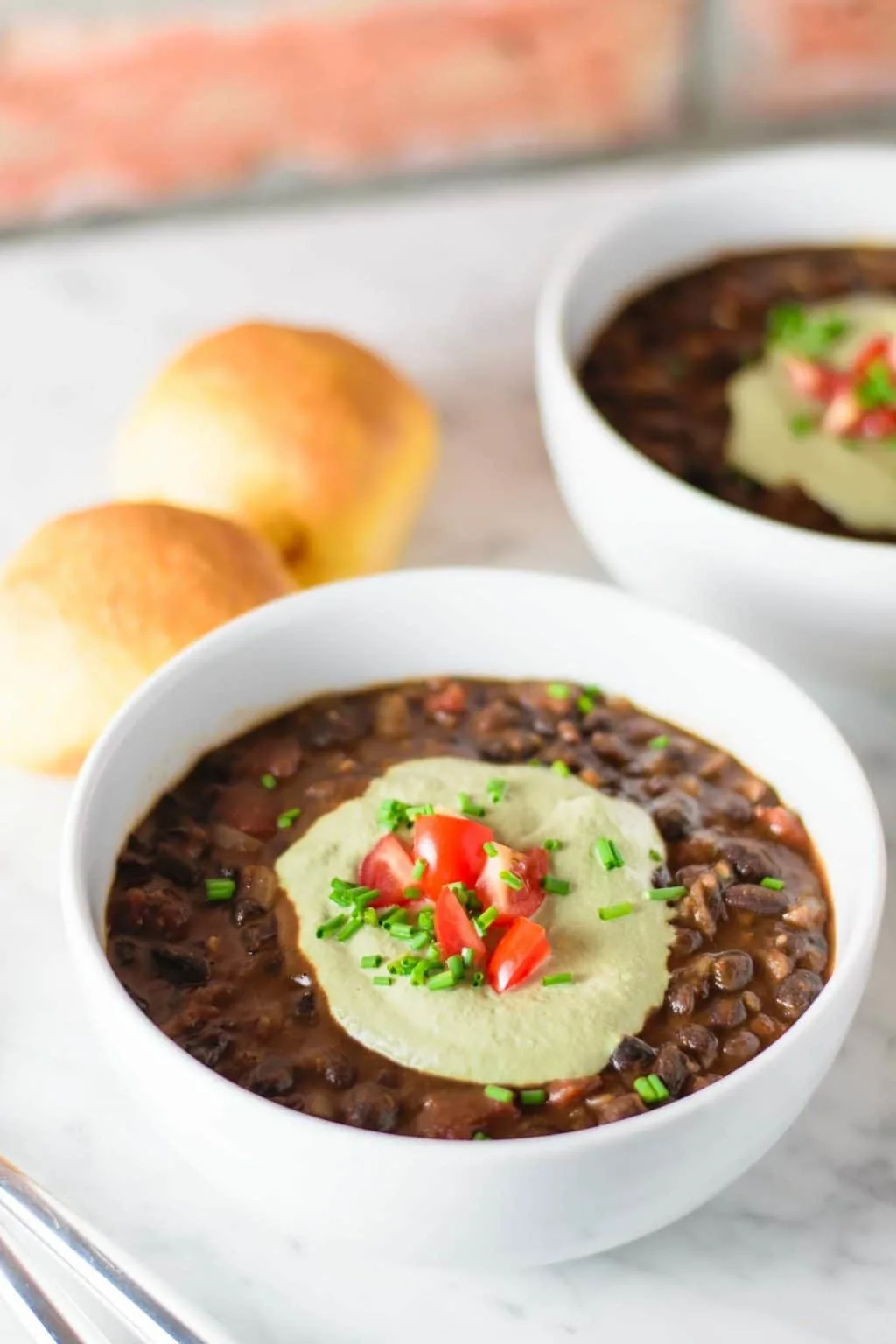 Notes:
For a gluten free soup, check that your vegan Worcestershire sauce is gluten free (a lot aren't). Or you can make your own.
You can cook with less oil if you'd like, but there's not too much going on calorie wise, so I personally don't worry about it and like the added richness.
If you don't feel like making the pepita cream, that's cool, this soup is excellent with sour cream or nondairy yogurt too. And it's really great with that + my red pepper afghan chutney.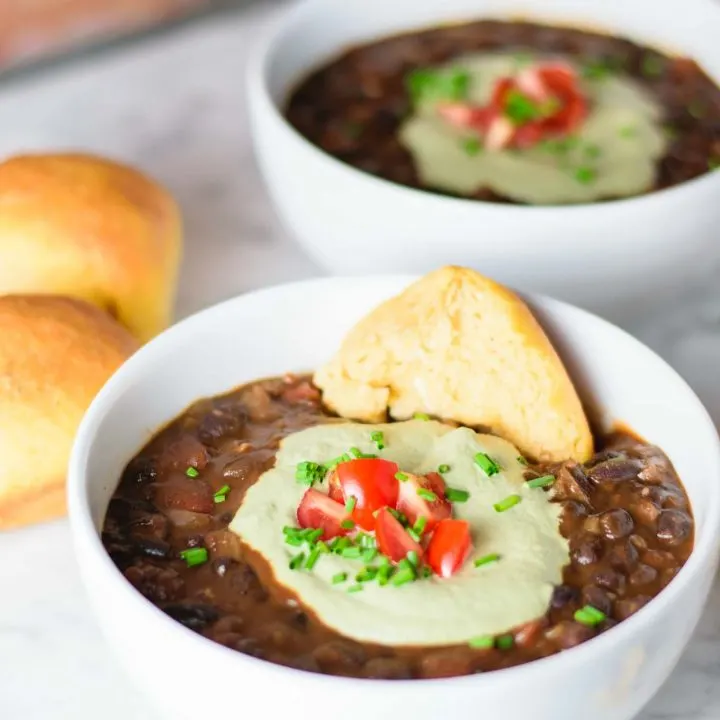 Black Bean Soup with Pepita Cream
A flavorful and healthy black bean soup is served with a velvety smooth, toasty and nutty tasting pepita-lime cream.
Ingredients
Pepita Cream*
1 cup pepitas, soaked in water for 2 or more hours and drained
1 cup water
1/3 cup lime juice (juice from ~3 limes)
1/2 tsp salt
Black Bean Soup
2 tbsp vegetable oil
2 medium red onions (12 oz), small dice
4 cloves garlic, minced
2 tbsp tomato paste
1 tbsp vegan Worcestershire sauce
2 tsp chili powder
1 tsp ancho chili powder, or more chili powder
1 cup no-chicken style vegetable broth, plus more to thin if desired
1 15 oz can diced tomatoes, or 1 1/2 cups diced fresh tomatoes
6 cups (2 30 oz cans) black beans, drained but not rinsed
1-2 tsp salt, to taste (less if beans are salted, more if they weren't)
freshly ground black pepper, to taste
2 tbsp lime juice (juice from 1 lime)
Optional garnishes: diced tomatoes, chives, cilantro, vegan shredded cheddar, diced avocado
Instructions
To make the pepita cream
Add everything in the blender, and blend until smooth, scraping down the sides as necessary. This could take several minutes depending on your blender. Taste and adjust salt or lime if desired. Add more water to thin if desired. Transfer to a container and place in fridge to chill until ready to use.
To make the black bean soup
In a large, heavy bottomed pot heat the oil over medium heat. Add the onion and a pinch of salt, and cook until soft and translucent, around 4-6 minutes, stirring occasionally. Add the garlic and cook an additional 1 minute, stirring almost constantly. Add the tomato paste, Worcestershire sauce, and both chili powders, and cook about 1 minute, stirring constantly.
Stream in the vegetable broth and the canned tomatoes. Stir to combine, then stir in the black beans and 1 tsp of salt (if your beans were heavily salted, start with just 1/2 tsp). Turn the heat up and bring to a boil. When boiling, lower heat to a simmer and cook the soup for 15-20 minutes, partially covered and stirring occasionally. Turn off the heat, add the black pepper and lime juice, then taste and adjust salt as desired.
To serve
Top the soup with peptia cream and desired garnishes (such as minced chives, chopped cilantro, diced tomatoes, vegan shredded cheddar, diced avocado, some red pepper chutney, etc)
Notes
*The pepita cream makes a lot more than you'll need to serve over soup. If you have a small blender container or your blender can handle smaller amounts, feel free to half it. Otherwise enjoy the extra pepita cream over other dishes, from salads to pasta to tacos and more, until it's gone!