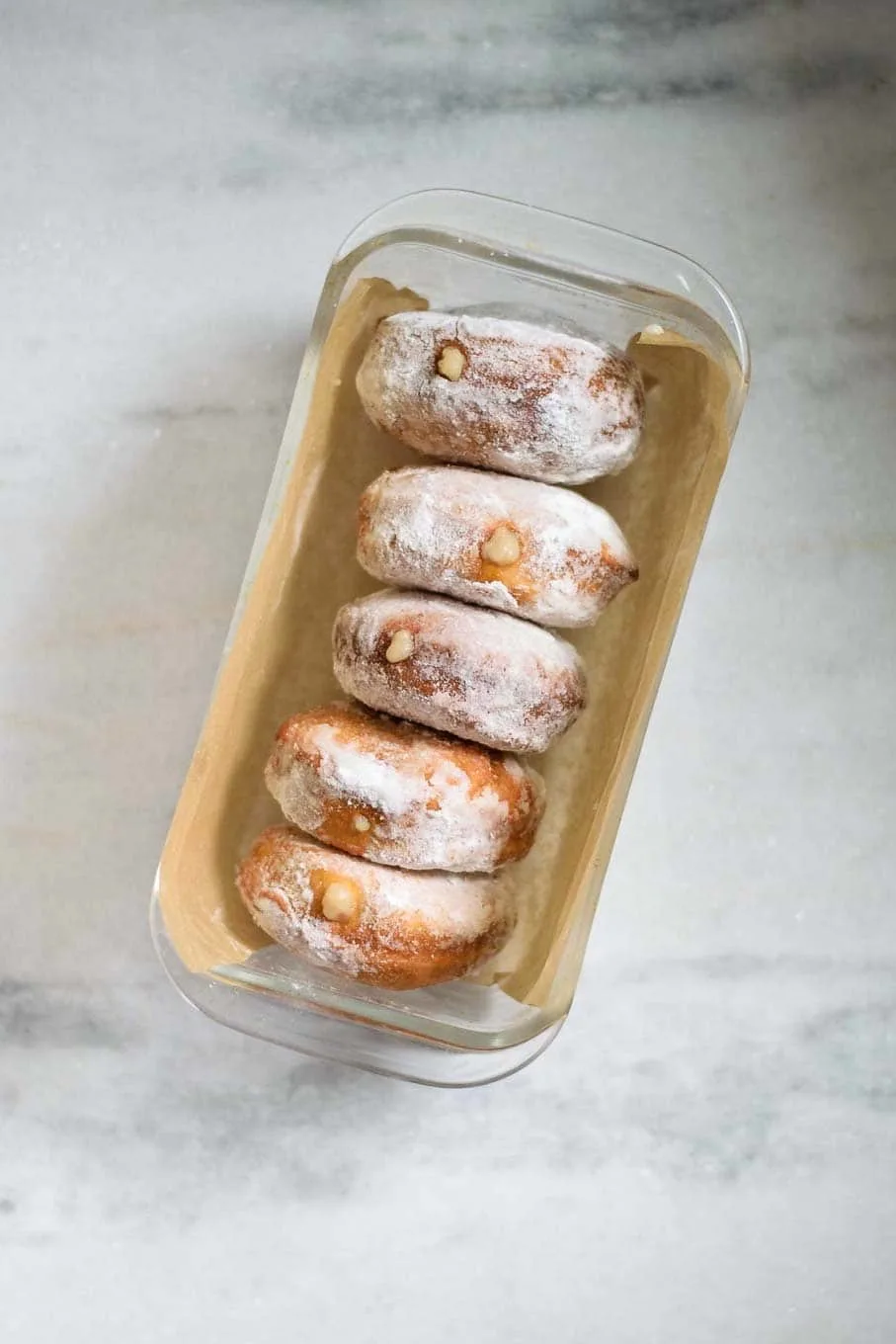 Calling all doughnut lovers! These doughnuts are everything you want your doughnuts to be. Or at least, everything I want in a doughnut. They are yeasted and fried. No baked or cake doughnuts here! They are light and airy inside, with a bit of a chew. Eaten while still warm, they practically melt in your mouth. If you've never had a homemade doughnut before you are in for a treat! These doughnuts are filled with a coconut ginger custard that's so delicious you could just eat it with a spoon. Which, you can do, because the recipe definitely makes extra!
You shouldn't be intimidated by making doughnuts. It's super easy, and this recipe only requires a few minutes of kneading! You could even do it in a stand mixer, but kneading by hand will help you feel if you need to add more flour or not. The doughnuts are ready about an hour and a half (if it's very cold in your kitchen it might be closer to 2 hours) after you get a hankering, which is pretty quick in the world of yeasted dough!
Doughnuts are made using an enriched dough. Enriched doughs are made with milk instead of water, have fat and eggs in the dough, and often include sugar. This is why vegan doughnuts are few and far between at doughnut shops. But it's not difficult to make them! Substitute a non-dairy milk (my milk of choice is soy, but almond or cashew or whatever will work as well) and use a vegan butter or just some neutral flavored oil. For the eggs I have substituted aquafaba, which is the liquid left from cooking beans. It's what you normally dump down the drain! Aquafaba makes the most perfect soft and tender dough which turns into the best doughnuts when fried. [Did you make my Thai curry cauliflower red lentil soup yet? Save the liquid from that can of chickpeas you opened and voila, you have an excellent excuse to make doughnuts (and pairing them with a healthier meal might make you feel better about eating several doughnuts in a day)!]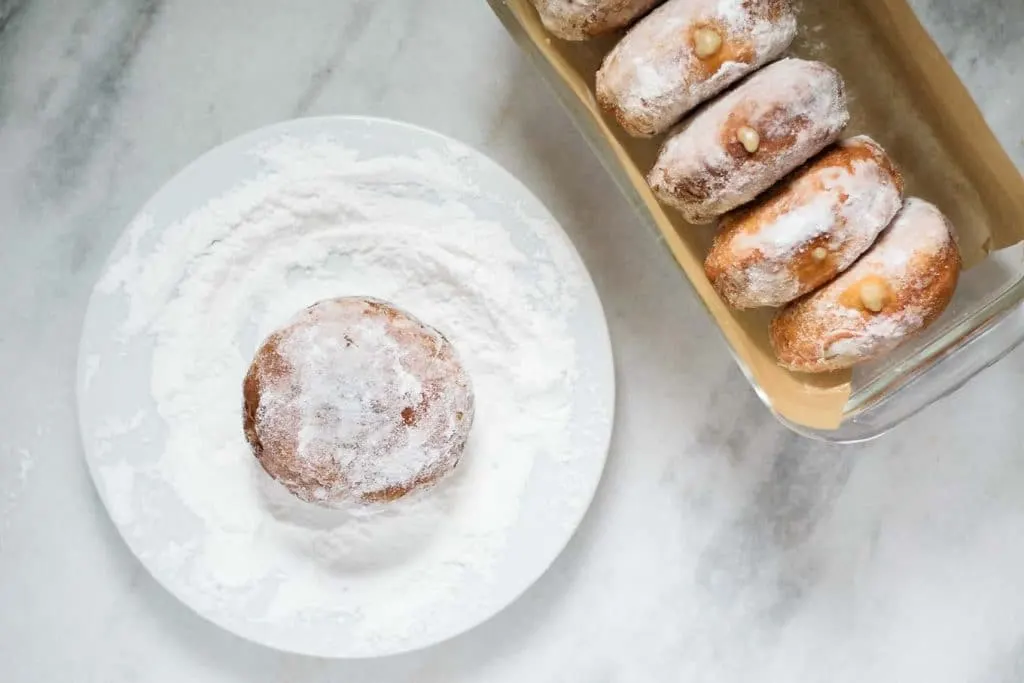 Enriching dough with fats slows down the proliferation of the yeast, which means that the dough will be slower to rise. To offset this, doughnuts use more yeast than you'll notice I use in my various bread doughs and pizza dough. It also helps that there's plenty of flavor in the dough already, so doing a slow overnight rise in the refrigerator (which helps develop flavor from the yeast) is not necessary.
Deep frying also doesn't need to be scary! Get yourself a cooking thermometer that goes up to at least 400 ºF, and add a couple inches of oil into a large heavy bottomed pot. A big soup pot works perfectly for this purpose! Heat up the oil slowly over a lower heat so you have a stable temperature and so can make small adjustments towards the end until you reach 350 – 365 ºF, but not hotter than 375 ºF. If your oil is too hot, the outsides will cook too quickly while the inside remains raw. You'll fry them about 1 minute on each side until they're a dark golden. I find that they get a little lighter in color as they cool. Use a spider strainer spoon to flip and lift the doughnuts out of the hot oil.
You can fry without a thermometer, but it requires a little more intuition and experience. It's even more important to heat the oil slowly over a lower heat. When you think it's hot enough, test the oil with a small piece of dough. When the oil is at the correct temperature and a piece of dough is gently dropped in it will drop down then immediately float and little bubbles will form around the dough as the oil boils. Watch that the dough doesn't darken too quickly, which would suggest that the oil is too hot. And if it takes too long to brown, it isn't hot enough.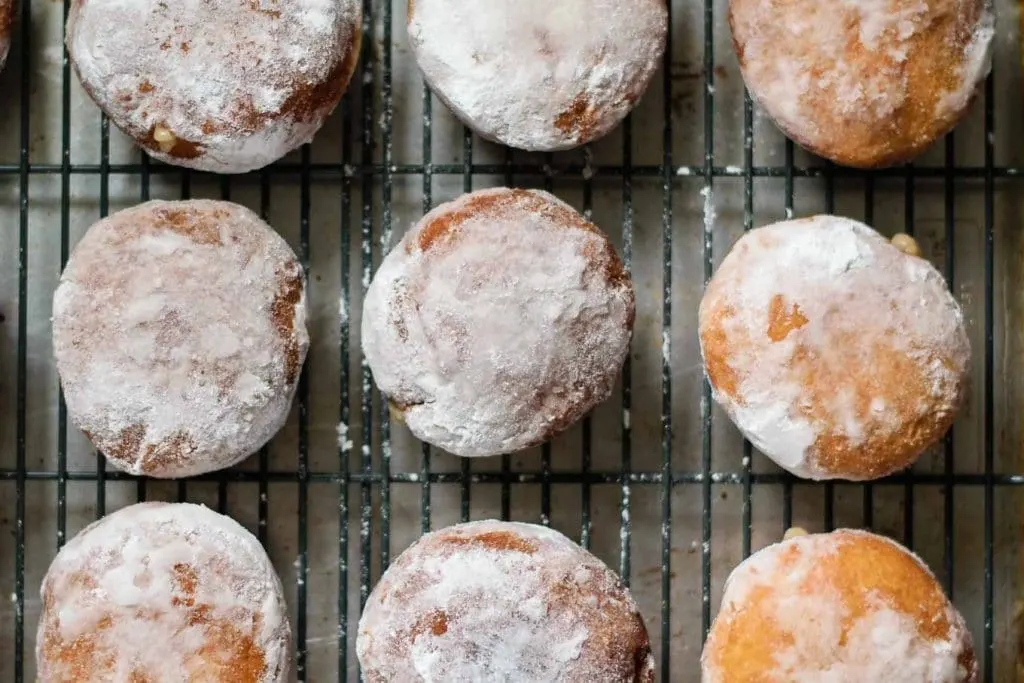 Now that you know all about the dough and frying part of these treats, I've got to tell you about how incredible this custard is! First of all, I've apparently completely missed out on the raging debate between custard and cream filled doughnuts! I can't tell you where I fall on the spectrum because until recently I had 0 interest in stuffed doughnuts at all. So, I've actually never heard anyone bring this up, but my husband Omar claimed it's a thing while eating doughnuts over the weekend (and apparently he falls firmly on the custard side of the debate). Well whatever you're into, you should definitely give this custardy filling a try! It's so easy to make, and is ready in just a handful of minutes!
Lightly sweetened coconut milk with warming vanilla and a double dose of spicy ginger–all thickened up with cornstarch! Ground powdered ginger is hydrated in some warm water so that it's flavor really pops! And on top of that, there's a splash of fresh ginger juice, which you may be able to find in the international section of your grocery store (I did!), though I also provide some basic instructions on how to make it at home under the recipe. Coconut milk tempers the bite from the ginger and makes for the creamiest custard. A squeeze of lemon is added at the end for a bright and citrusy finish.
These doughnuts are so delicious and made even better when filled with the coconut ginger custard. Just beware, if you make these, you might end up eating 3 in a day! I may or may not know this from experience. I hope you try making these doughnuts, but if you do and find yourself eating many of them, you can't say I didn't warn you! If you do try the recipe, or have any questions about it, let me know! Leave a comment and/or rate the recipe below, tag me on Instagram (or #thecuriouschickpea), or share with me on Facebook! Happy eating!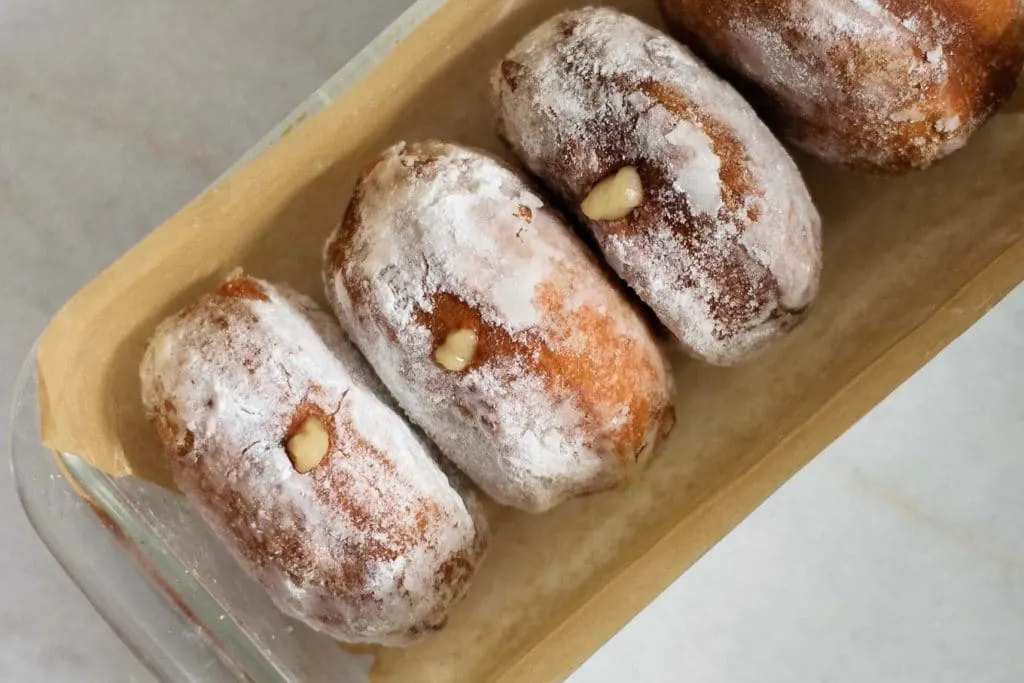 Notes:
For less greasy feeling doughnuts fry in vegetable shortening. Since it's solid at room temperature, they won't feel as greasy on your fingers when you eat them. I often do a blend of high heat safe canola oil and vegetable shortening when I deep fry.
Aquafaba is the liquid from cooking beans. Chickpeas create some of the best aquafaba, and it's easiest to collect from a can. When separating the liquid from a can of beans, first shake the can to loosen and distribute the starches and proteins that settle on bottom. Then strain and freeze the liquid until you're ready to use it.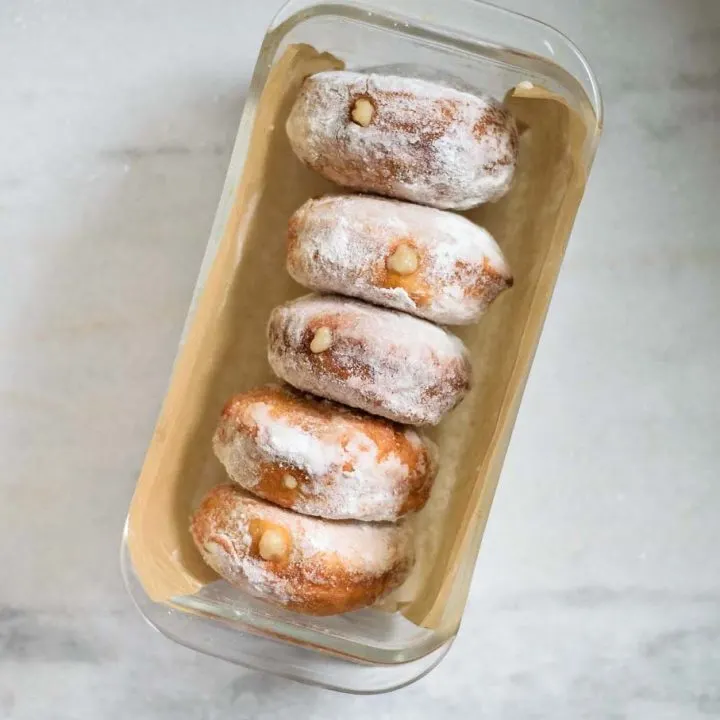 Coconut Ginger Custard Filled Doughnuts
Vegan yeasted doughnuts stuffed with an easy to make and delicious coconut ginger custard.
Ingredients
Doughnuts
2 tsp instant yeast
1 cup (240 mL) warm nondairy milk, ~95 ºF
3 tbsp (45 mL) aquafaba
2 tbsp (30 mL) melted vegan butter or neutral flavored oil
3 cups (380 g) all purpose flour, more as needed
3 tbsp (36 g) sugar
1/2 tsp salt
high heat-safe oil or vegetable shortening for frying
powdered sugar to coat*
Coconut Ginger Custard
2 tsp ground ginger + 2 tbsp warm water
1 15 oz can coconut milk
3 tbsp maple syrup
1 tbsp ginger juice*
1/8 tsp salt
1/2 tsp vanilla extract
1/4 cup corn starch
1 tsp freshly squeezed lemon juice
Instructions
To make the doughnuts
In a large measuring cup or a mixing bowl combine the warm milk and the yeast, stir and leave to hydrate for a couple of minutes. Then add the aquafaba and the melted butter (making sure it is not too hot before adding it so it doesn't kill the yeast) or oil. Mix to combine.
In a large mixing bowl add the flour, sugar, and salt. Whisk to combine. Pour the wet ingredients into the dry, and stir to combine with a wooden spoon until a shaggy dough is formed.
Turn the dough out onto a clean and floured counter. Knead for ~2 minutes, adding more flour as necessary to create a lightly tacky (but not sticky) dough. Let the dough rest for 5 minutes to give the flour a chance to hydrate and the gluten to relax, then knead an additional 3 minutes until you have a relatively smooth and very lightly tacky ball of dough. Place the dough into a large, oiled mixing bowl, cover, and let rise for 1 to 1 1/2 hours until about double in size. *During this time, you can prepare the custard.
Once the dough has doubled in size, gently deflate and turn it out onto a clean and floured counter. Gently roll the dough out until it is 1/2" thick, and using a 2 1/2" - 3" round cutter, cut into rounds, pressing down firmly but not twisting the cutter. Knead the scraps of dough together gently to reform a cohesive dough, then roll again to cut, repeating as necessary to shape all the dough. Place the cut rounds onto a lightly floured baking tray and sprinkle some flour over the tops. Lightly cover with some plastic wrap or a towel and set aside to proof an additional 20 minutes.
While the dough is rising for the second time, heat up your oil and/or shortening to deep fry. In a large heavy bottomed pot, pour enough oil to cover at least 2" of the pot. Heat it to 350 ºF - 365 ºF. Do not let the oil go above 375 ºF to cook, or you will end up with raw dough in the center of your doughnuts. Prepare your doughnut cooling station by placing a wire cooling rack over a paper towel lined baking tray.
When the oil is hot and the doughnuts are proofed, fry in batches, around 3 at a time, taking care not to overcrowd the pot. Fry about 1 minute then flip and fry an additional 1 minute, until they are a dark golden brown on each side. Using a slotted or wire spoon, drain each doughnut from the oil and place on the prepared wire rack. When cool enough to handle, roll each side on a plate covered in powdered sugar. Return to the rack.
Fit a piping bag with a bismark filling tip or use pastry syringe and fill with the prepared coconut ginger custard (instructions below). Inject some custard into each doughnut by poking the tip in the side and squeezing some filling in. How much or little you like is up to you!
To make the coconut ginger cream
In a small bowl, combine the ground ginger and the 2 tbsp of warm water and set aside for several minutes for the ginger to bloom.
In a small pot, whisk together all of the custard ingredients. Heat over medium heat until it reaches a light simmer. Then, whisk almost constantly until it has thickened, 1-3 minutes.
Transfer to a bowl and let cool until the doughnuts are ready. Place in the fridge to speed the process. The custard will thicken further as it cools.
Notes
*You can use store bought powdered sugar (confectioner's sugar) to coat, or you can grind your own granulated sugar in the blender until fine. In the photos I had ground my own sugar and it's slightly coarser than the store bought variety of powdered sugar.
*Ginger juice can be purchased at the store or prepared at home. To prepare at home, add about 4 tbsp of coarsely chopped ginger and about 1 cup of water to a blender and blend for a minute or two (or longer depending on the strength of your blender) until relatively smooth, then pour through a cheese cloth layered fine meshed strainer. Gather the cheese cloth and squeeze the juice out of the ginger pulp.