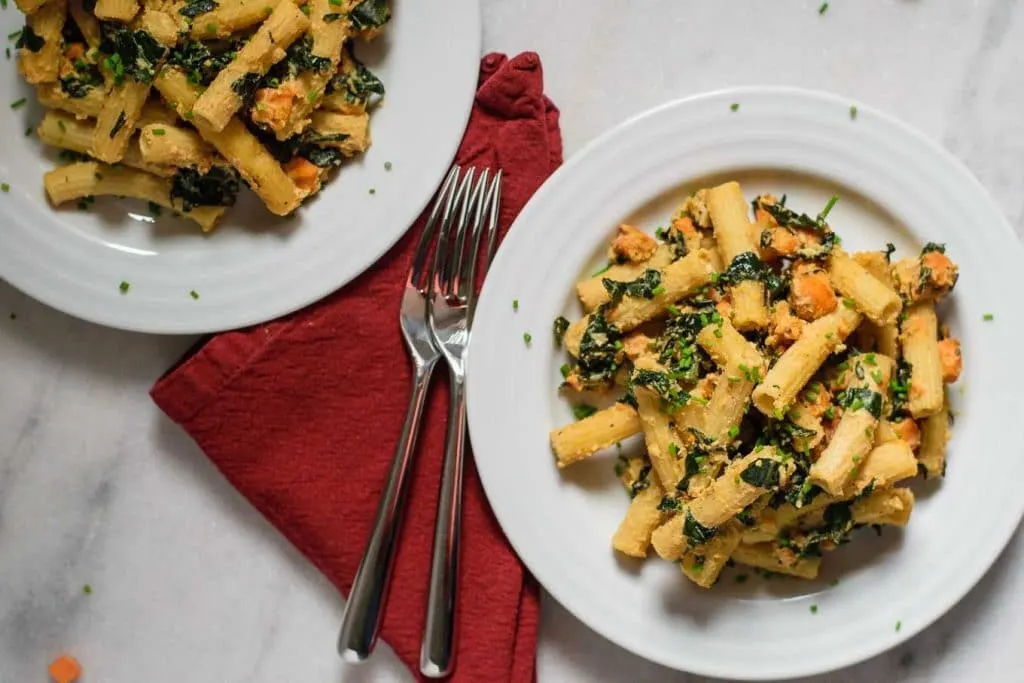 This tahini pasta skillet is my kind of fall meal. It's stuffed full of kale and sweet potato, it's wholesome and super quick to throw together. This one-pot (pan?) meal has it all: protein, carbs, veggies, and healthy fats. It's a nice break from the popular cashew-based sauce and is also conveniently nut free for those with allergies!
Plus, did you guys know tahini was such a nutritional powerhouse? It's a great source of iron and calcium, along with a bunch of other vitamins and minerals. Combine that with sweet potatoes, which are a great source of vitamin A and C and high in fiber, and kale, which is a ultra nutrient dense superfood to the point I don't even know where to begin with it, and you have yourself not only a delicious meal, but one you can feel good about eating.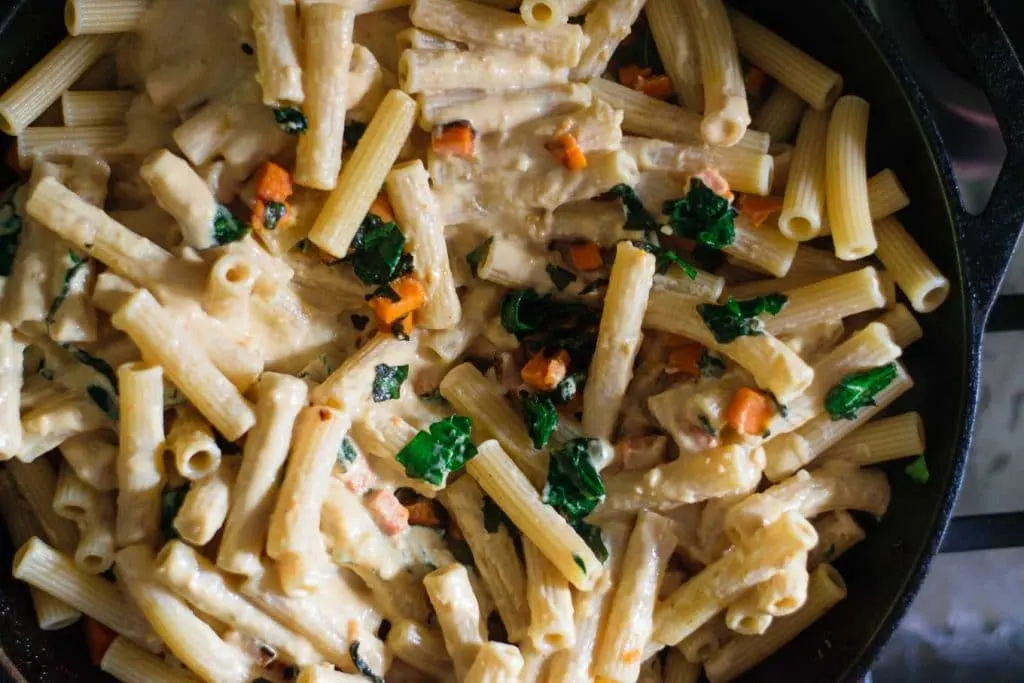 The 7-ingredient tahini sauce is so good. Tahini on it's own is super flavorful. It's nutty and rich and a little bitter. Miso adds a salty and pungent earthy flavor that brings a lot of body to the sauce. I used a mellow brown rice miso (similar to white or chickpea miso), which also brings a delicate sweetness to the sauce.
Lemon juice adds much needed acidity, breaking some of the bitter flavor and adding a little sweetness as well. It brightens the flavors and makes everything pop. Nutritional yeast gives some cheesy flavor to the sauce and using fresh garlic adds a mouthwatering garlicky bite.
Everything is whisked together with some warm water to thin to a thick but pourable consistency, making this the easiest of sauces. No blending or pre-soaking nuts, no roux or any pre-cooking required. All you really need is a fork! I'm a fan.
Cooking the vegetables is equally easy. Sweet potatoes are diced nice and small and cooked until caramelized and soft on the skillet. Adding a bit of water halfway through steams the sweet potato a little to help cook it through.
Kale is cut into bite sized pieces and also added midway through so that it cooks until nice and tender. Cooked pasta is tossed in at the end and sautéd over low heat with the sauce, adding some of the pasta cooking water to thin as desired. Cooking the pasta with the sauce turns the pasta extra chewy, with some almost crispy bits.
The sauce thickens and soaks into the pasta and veggies, clinging to them and coating everything evenly. I personally love the thick texture of the tahini sauce. Chives are tossed in at the end and act as double agents–a bright pop of vibrant green for eye candy and a pop of oniony flavor for mouth candy.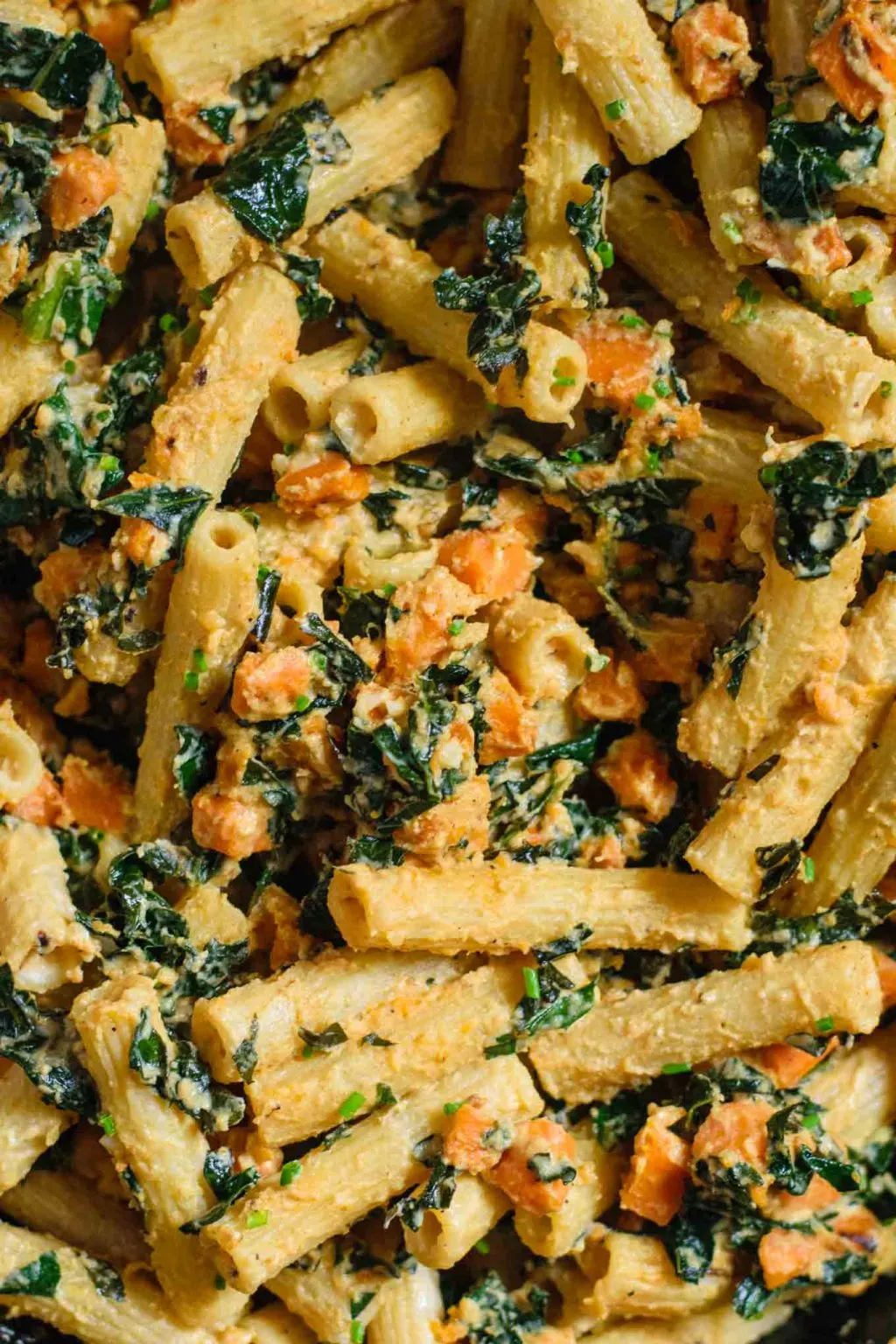 Sweet potatoes pair perfectly with both kale and tahini. And you guys know I like my kale and tahini combination. Tossing all of those flavors together and adding my favorite vehicle for food (pasta) and hey, it's the recipe for my newest favorite meal. It had Omar and I fighting over leftovers (ok, not really, but only because he is generous) and announcing to each other that it's the best thing we've eaten in awhile (to be safe, you gotta keep these kinds of statements vague so you can say them as often as necessary).
The best thing about this meal is it requires only 1 pot and 1 pan, a fork, and if you use a liquid measuring cup you barely need any other measuring implements! Cleanup is pretty easy, and the meal comes together within 30 minutes.
I hope you enjoy this delicious pasta skillet as much as we do! Let me know if you try it! Leave a comment and/or rate the recipe below, tag me on Instagram (#thecuriouschickpea), or share with me on Facebook! Happy cooking everyone!

Notes:
You could roast your sweet potatoes in advance if you'd prefer (and if you have the oven on already for something else). Just start the skillet with cooking the kale and toss the sweet potatoes in towards the end so that they can heat through.
For gluten free use a GF pasta (high protein chickpea pasta is so good in this application!) and use a GF miso.
This pasta is extra good served with some hot sauce of your choice (Omar's 100% on the tabasco train)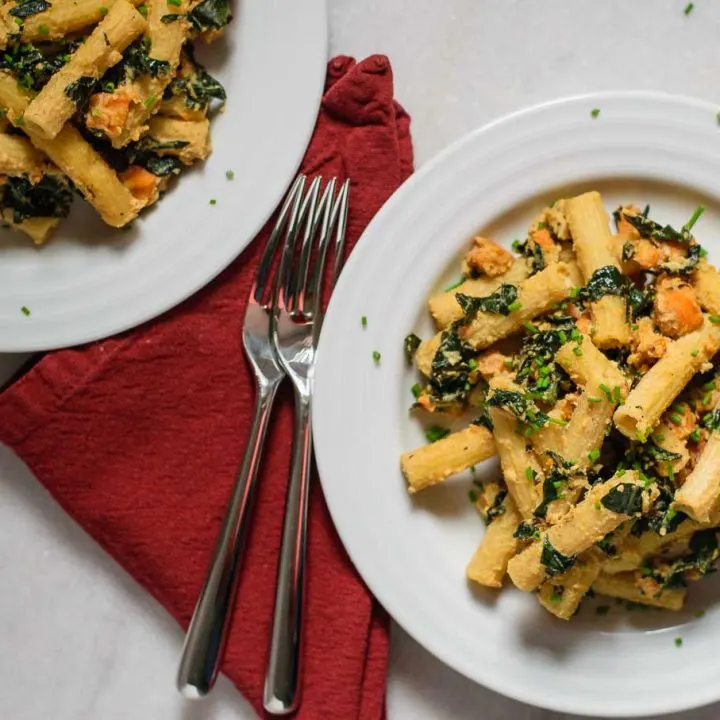 Tahini Pasta Skillet with Sweet Potato and Kale
Nutty tahini pairs perfectly with chewy ziti, creamy sweet potatoes, and tender kale in this easy pasta skillet
Ingredients
1 lb pasta, gluten free if desired
1 tbsp canola oil
1 large (1 lb) sweet potato, peeled and cut into a small 1/2" dice
1 large bunch (1/2 lb) flat leaf kale, chopped
2 tbsp water
freshly ground black pepper to taste
1/4 cup minced chives
Tahini Sauce
1/2 cup tahini
1/2 cup warm water, plus extra pasta cooking water to thin
1/4 cup freshly squeezed lemon juice
2 tbsp miso*
1/4 cup nutritional yeast
2 cloves garlic, minced
1 tsp salt, or to taste
Instructions
Cook pasta according to package directions to just shy of al dente, as you will finish it up on the skillet. Reserve ~1 cup of pasta water before draining pasta.
Meanwhile, heat the oil in a large skillet over medium heat. Add the sweet potato and a pinch of salt, and cook ~8 minutes, stirring occasionally, until it's starting to soften and golden in spots.
Add the kale to the skillet along with a pinch of salt, and about 2 tablespoons of water and cook another 6-10 minutes, stirring occasionally, until sweet potato is soft and easily pierced with a fork and kale is wilted and tender.
While the veggies are cooking, mix together the tahini sauce. In a small mixing bowl or large graduated measuring cup, whisk together all the sauce ingredients until smooth. Set aside until ready to use.
When the vegetables are ready, turn the heat down to low and add the cooked pasta along with the tahini sauce and about 1/2 cup of the reserved pasta water. Cook over low heat, stirring constantly, for 1-2 minutes, until the tahini sauce has absorbed into the pasta and thickly coats everything. Add additional pasta cooking water if necessary. Season to taste with salt (it might not need any more, taste first) and freshly ground black pepper. Add more lemon juice if desired. Turn off heat and toss with the minced chives. Serve hot and with hot sauce at the table (if desired).
Notes
*I used mellow brown rice miso, but I believe any would be nice in this dish. Use a gluten free miso if desired.