A light molasses-y spiced holiday cookie. Make a wish, then place the cookie in your palm and press down in the center to break it. If it breaks into 3 pieces and you eat it without speaking, then your wish is said to come true!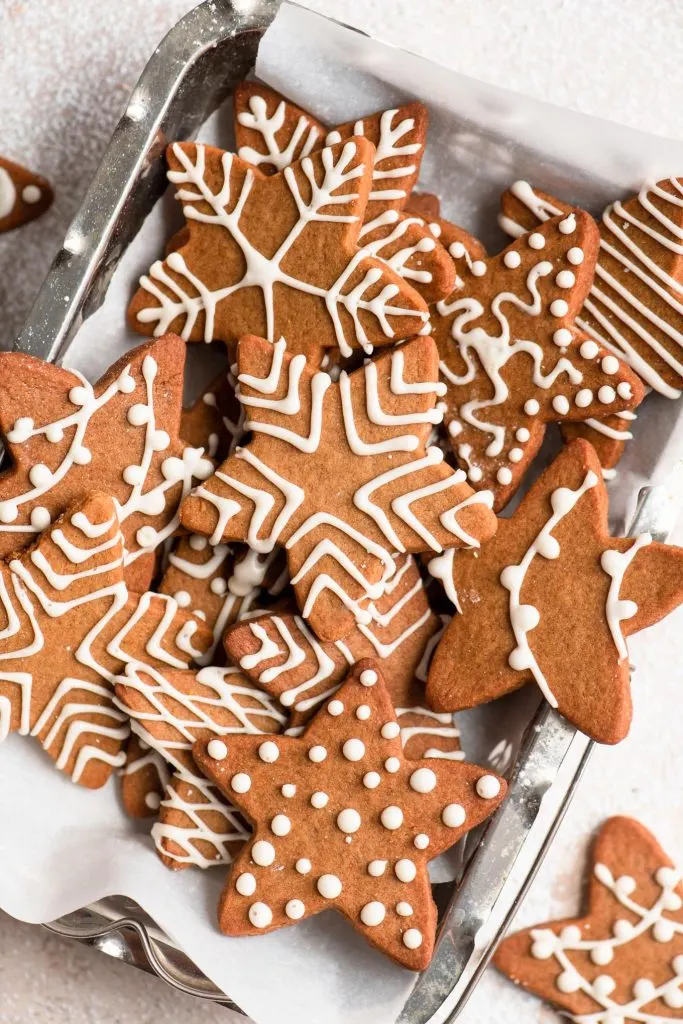 Wishing cookies are my personal favorite holiday cookie. They're a Swedish Christmas cookie and they came to my family via Minnesota, where my mom grew up.
Minnesota has a large Scandinavian population and though we don't have any Norwegian or Swedish heritage, my moms family adopted a lot of their neighbors holiday traditions and those have passed down to us kids.
Swedish wishing cookies, which to my understanding are also called Swedish ginger cookies or pepparkakor. They're a sort of gingerbread or gingersnap cookie. Crisp, well-spiced, lightly-molasses flavored cookies.
They are flavored with ginger, cinnamon, nutmeg and (optionally) orange zest.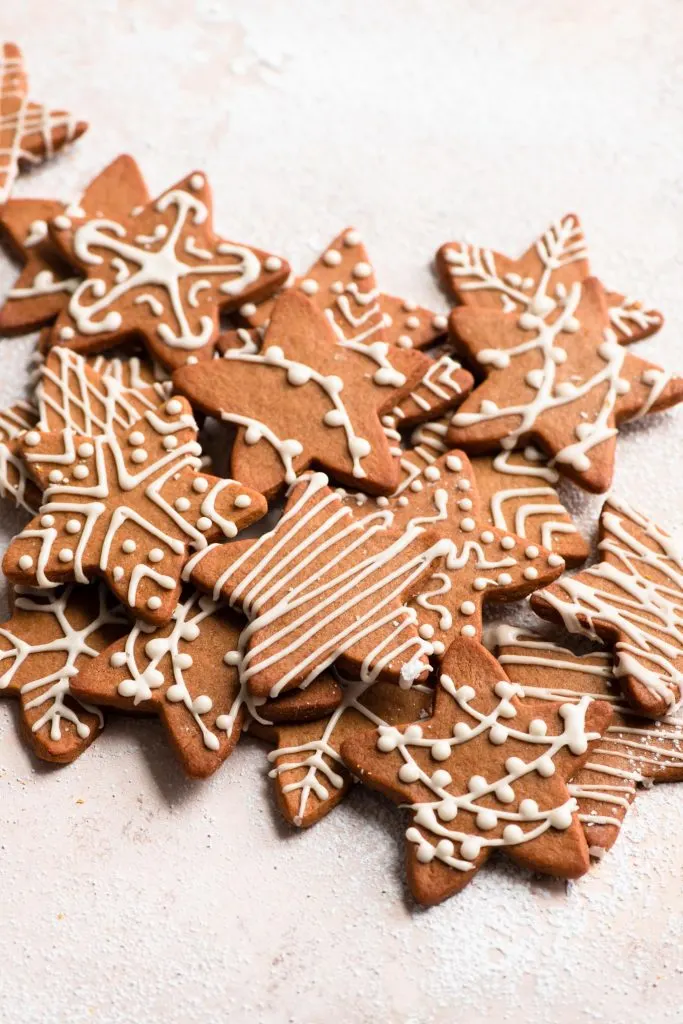 Now, I'm not the biggest molasses fan, so it's a bit surprising that I love these cookies so much, and that they were always my Christmas cookie pick without fail.
But these cookies are not overpoweringly molasses flavored. And molasses is so good for you, it's a great source of iron, calcium, magnesium, B6 and more. We all eat cookies for health reasons, right??? I kid of course, but hey it doesn't hurt!
What makes them wishing cookies?
The tradition behind the cookies goes: take a cookie and make a wish. Place the cookie in your palm and press on the center to break it. If it breaks into three pieces eat it without speaking and then your wish is said to come true!
The fact (yes, fact*), that you get to eat cookies and have wishes GUARANTEED (yes, guaranteed**) to come true makes these the best cookies to ever exist in the entire history of cookie existence.
*not fact **not guaranteed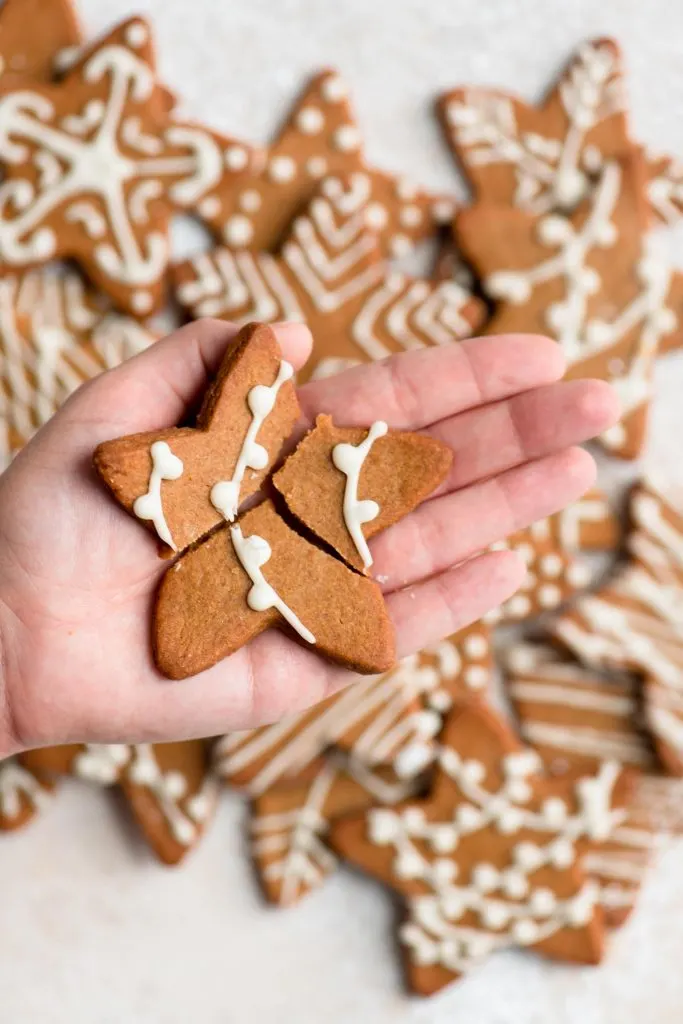 It's probably pretty clear why these cookies were my favorite growing up. Though I enjoy the silly wish making as much now as an adult!
And if your cookie doesn't break into three pieces on your first try, well that's just a reason to pick up a second cookie I think!
Veganizing these cookies:
Turning cookies vegan is actually quite straight forward. It can be as simple as swapping liquid for eggs.
In these cookies I use aquafaba, which is the liquid you'll find in a can of beans or from cooking beans from scratch. Choose chickpeas or white beans, and I prefer buying no salt added beans, but it's ok if you have salted beans.
If you don't want to use aquafaba, you can use your choice of non-dairy milk instead, but the aquafaba makes a crisper cookie.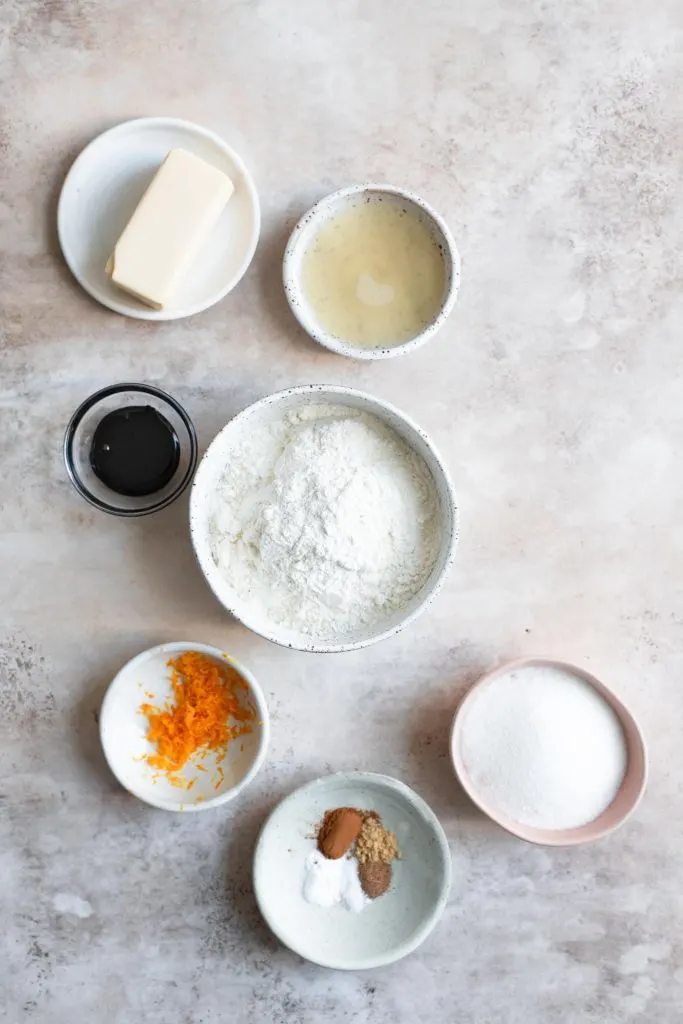 Then of course there is the butter, but that's even easier as you just use vegan butter! These days there are a lot of options, and any will work great but I do recommend that you use the kind that comes in a stick and not a tub.
The kind of butter that comes in a tub is made for easy spreading and can be softer and/or have higher water contents making them not ideal for baking.
Making the Swedish wishing cookies:
The dough is straight forward to make, it's really just your average cookie dough. Whip up the vegan butter, beat in the sugar (& molasses) and the vegan "egg" which in this case is aquafaba, then mix in the dry ingredients.
The dough needs to be chilled so that the [vegan] butter firms up, the flour absorbs the moisture, and the gluten has a chance to relax so the cookies are easy to roll out and don't lose their shape while baking.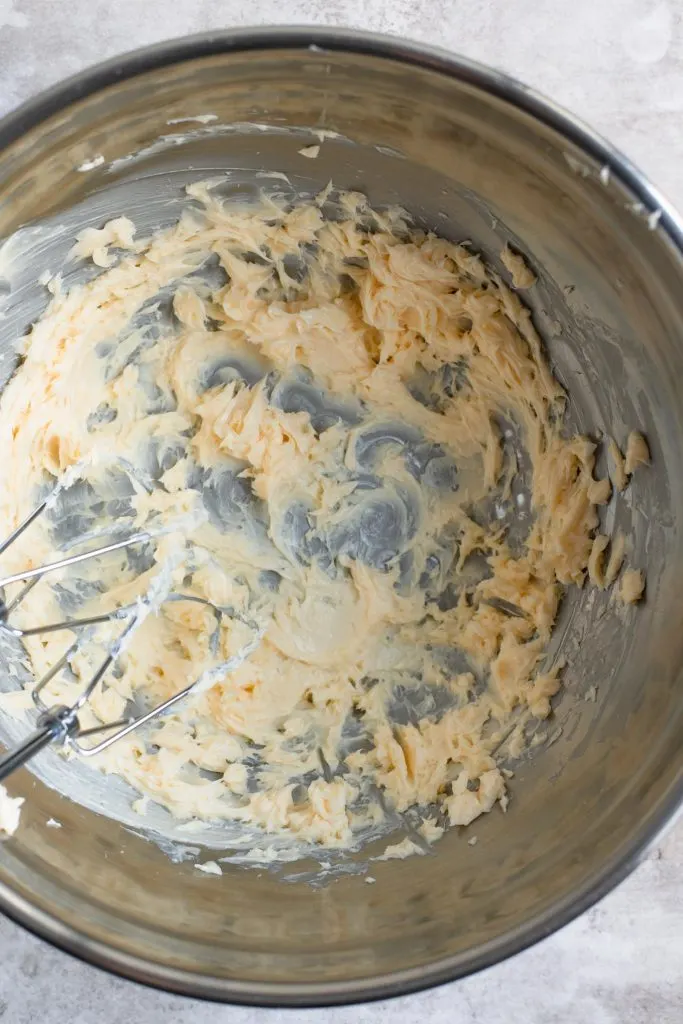 Typically you'd form the dough into a ball, wrap it in plastic wrap and then leave it for at least two hours in the fridge to chill.
However, in a tip I learned from Smitten Kitchen you can fast forward the chilling process by rolling out the dough right away between sheets of parchment paper then chilling the rolled dough for 15 minutes in the freezer or at least 30 minutes in the fridge.
The chilled dough is easy to cut with your star-shaped cookie cutter and transfer to the baking sheet.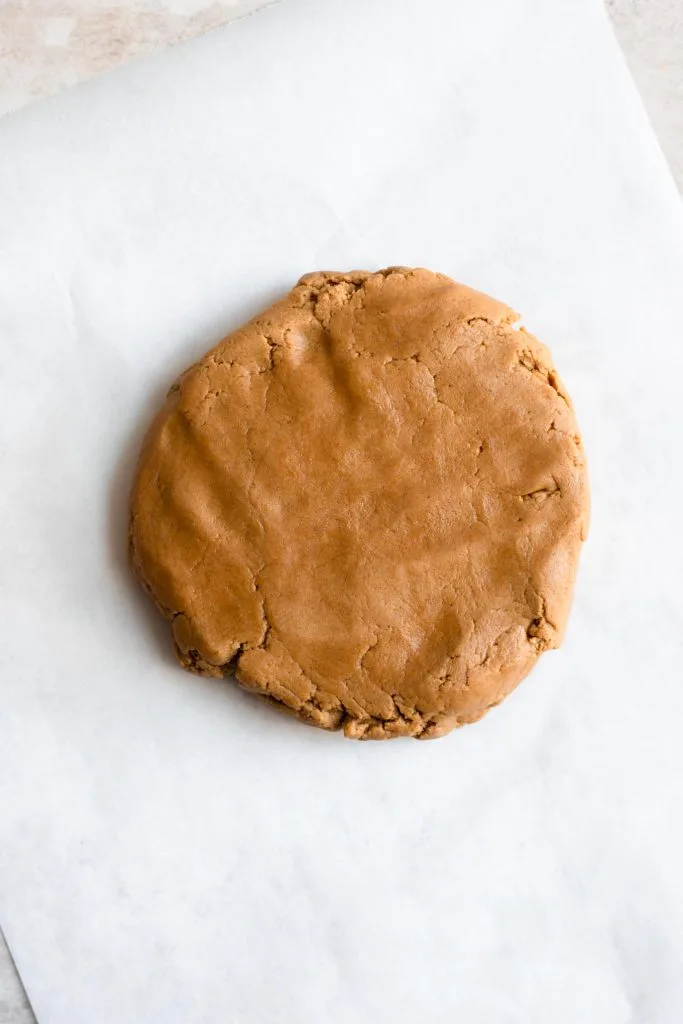 Take the scraps left behind after cutting and reform into a ball and roll out to cut more stars from. If your kitchen is warm and the dough starts to get soft when you re-roll it out, then just stick it in the freezer for a few minutes to firm it back up.
How thin to roll out the cookies?
You want to roll them out around 1/8″ or maybe a bit thicker to around 3/16ths of an inch.
I'll be the first to admit I don't pull out a ruler when I roll out these cookies! But if you're newer to cookie baking then do grab a ruler to measure.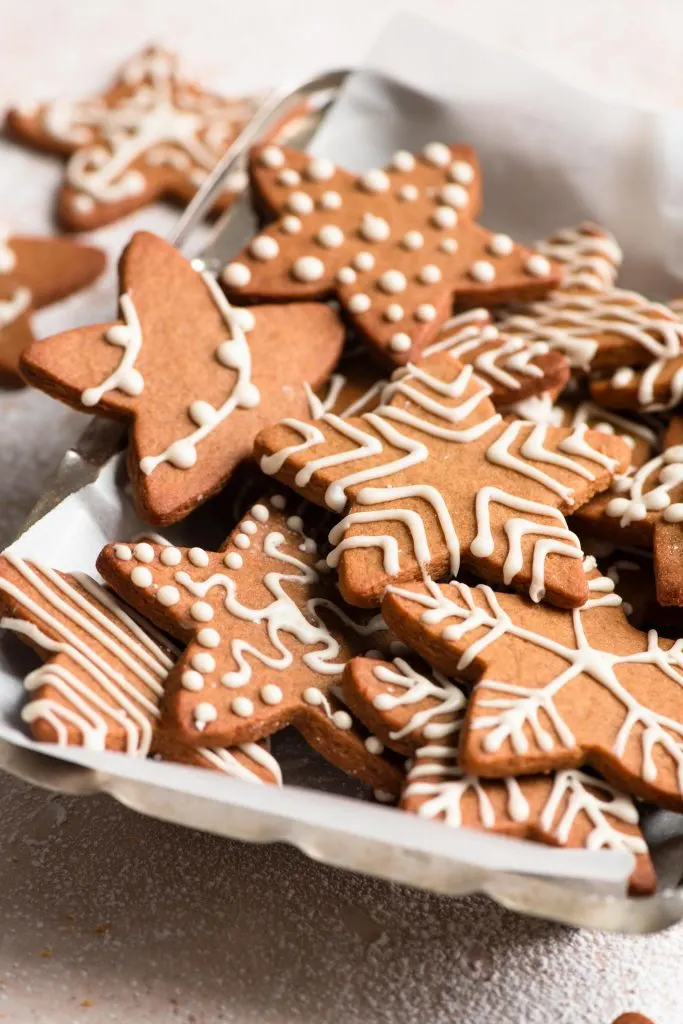 A thicker cookie is more likely to remain soft in the center and will be on the longer end of the baking time range, and a thinner cookie gets crisper but will start to get overdone more quickly as well.
The decorative icing:
These cookies are frosted with a simple powdered sugar icing made with vanilla extract your choice of non-dairy milk. If you want a whiter icing use water instead of milk.
These cookies don't have to be decorated all fancy. If you have kids around, hand some piping bags over to them to swirl icing on top! You can even just use a butter knife to swipe some icing overtop.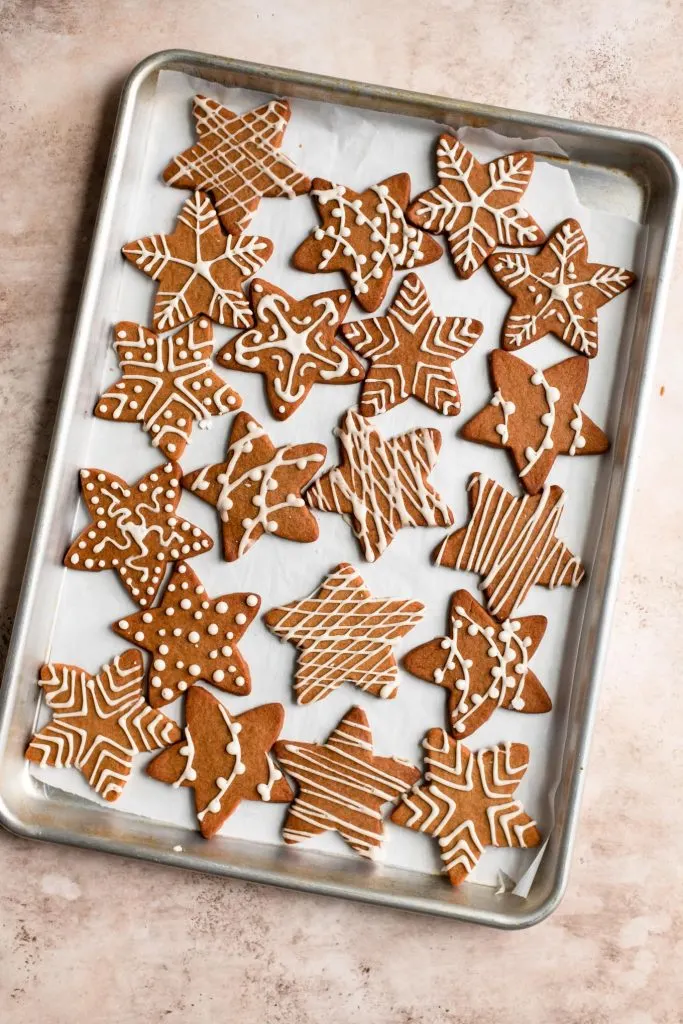 The icing contrasts beautifully with the spiced cookies, delivering a burst of vanilla sugar to every bite!
The icing will harden after a bit, and once it does you can stack the cookies to store them.
I hope you enjoy these vegan wishing cookies! And may all your wishes come true!
You might also want to check out and bake my cinnamon mocha bars and peppermint candy cane cookies!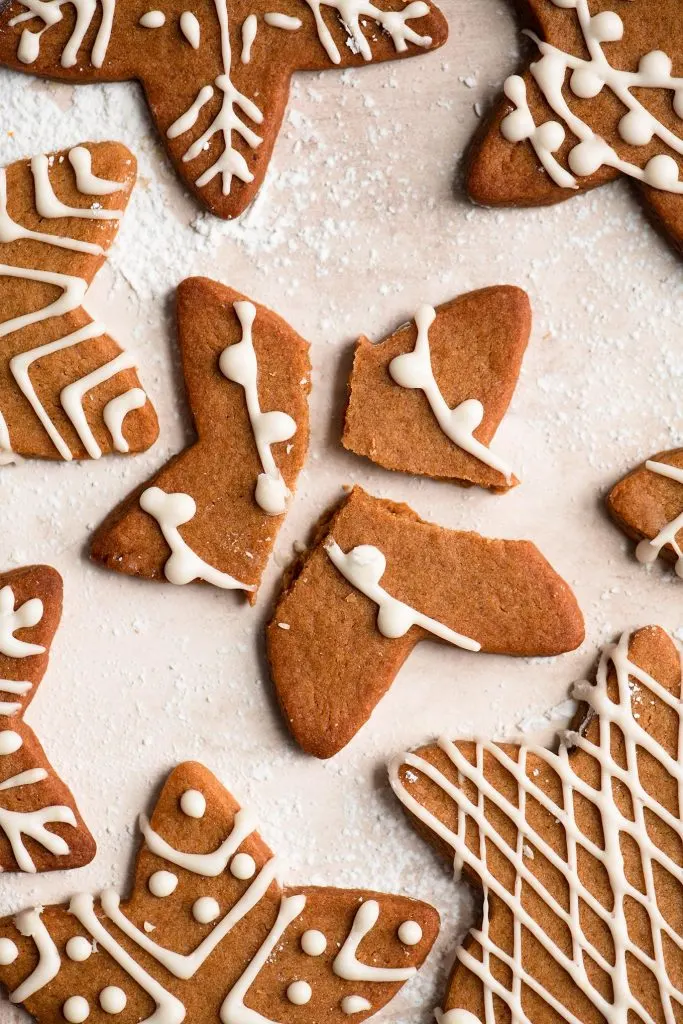 If you make these Swedish wishing cookies, leave a comment below and rate the recipe on the recipe card. And please share your photos with me on Instagram, tag @thecuriouschickpea and #thecuriouschickpea. I love seeing your recreations!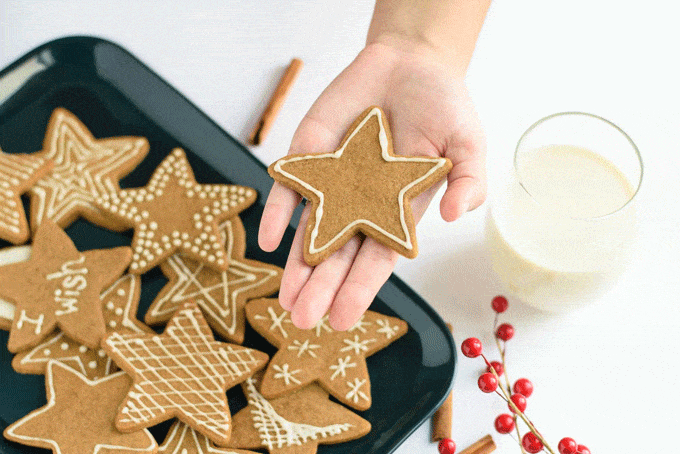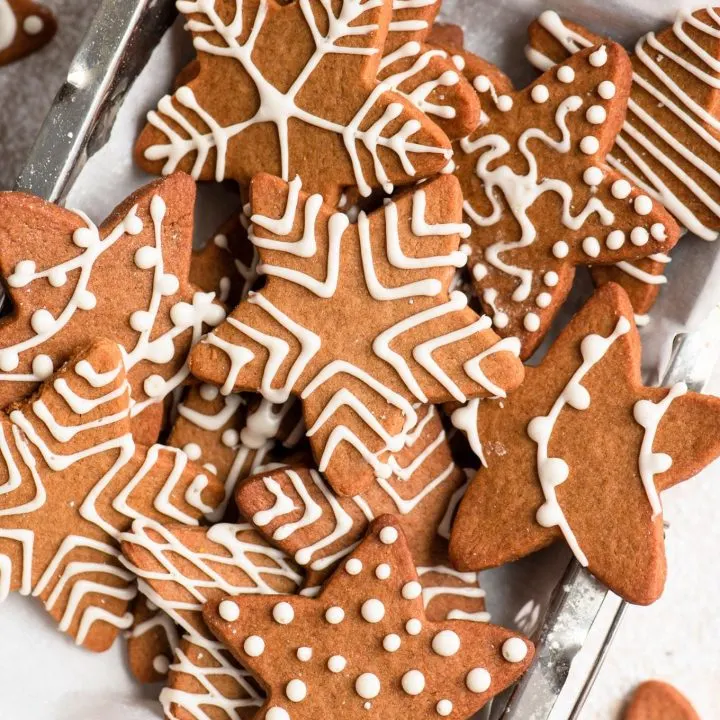 Wishing Cookies
Chilling Time:
15 minutes
Wishing cookies are a ginger-spiced Swedish Christmas cookie. Make a wish then place a cookie in your palm and press on the center to break it. If it breaks into 3 pieces eat it without speaking and then your wish is said to come true!
Ingredients
Wishing Cookies
1/2 cup (113g) vegan butter, left at room temperature for 15 minutes
3/4 cup (138g) sugar
2 tbsp (30g) aquafaba*
1 tbsp (22g) molasses
1/4 tsp orange zest (optional)
1 3/4 cup (226g) all purpose flour
1/2 tsp baking soda
1/2 tsp ground cinnamon
1/4 tsp ground ginger
1/8 tsp ground nutmeg
1/8 tsp salt
Icing
3/4 cups powdered sugar, sifted
1/2 tsp vanilla extract
1 tbsp plant milk
Instructions
Make the cookies
Preheat your oven to 375 ºF.
In a large mixing bowl beat your vegan butter with an electric mixer until it is fluffy and creamy. Then add the sugar, aquafaba, molasses, and orange zest and beat the mixture again until everything is creamed and fluffy, this can take a few minutes.
In a separate mixing bowl whisk together the flour, baking soda, cinnamon, ginger, nutmeg, and salt to combine. Then, add the dry ingredients to the wet and using electric beaters, mix until a smooth dough forms.
Shape the dough into a thick disk. If making the dough in advance: wrap the dough in plastic wrap and chill in the fridge for at least 2 hours, then roll out between two sheets of parchment paper to 3/16 - 1/8" thick
To bake right away: place the disk of dough between two large sheets of parchment paper and use a rolling pin to roll the dough out to 3/16 - 1/8" thick. Transfer the rolled dough onto a flat baking sheet and then place it in the freezer for 15 minutes to firm up or in the fridge for 30 minutes.
Use a star shaped cookie cutter (about 3 inches from point to point) to cut shapes out of the rolled dough. Place the cut out cookies onto an ungreased baking sheet leaving about 1/2-inch between the closest points of each cookie.
Take the scraps and re-roll and cut as necessary, freezing for 5-10 minutes if the dough becomes too soft making it difficult to cut and transfer the shapes.
Bake the cookies at 375 ºF for 8-10 minutes, or until the edges are just a shade darker but not browned. Let them cool on the baking trays for 3-5 minutes then transfer to a cookie sheet to cool completely. If baking more than one tray at a time, place one on a rack just one spot above center and one on a rack one spot lower than center and switch the trays halfway through baking.
Make the icing and decorate the cooled cookies
In a small mixing bowl, whisk together the sifted powdered sugar, vanilla extract, and plant milk with a fork or small whisk. The icing should be stiff enough that when you run a spoon through it, it separates and takes a moment before it runs to fill in the line. And, it should be thin enough that it will run easily off a fork or a spoon, but not immediately lose its shape and settling back into the rest of the icing. If needed, add a little more powdered sugar or milk until you reach the desired consistency.
Decorate the cookies with a piping bag and a tip with a very small hole, or just spread some on each cookie with a knife.
Notes
*Aquafaba is the liquid in a can of chickpeas or white beans. Shake the can to loosen the starches that settle on the bottom of the can, then strain it from the beans. Use immediately or freezer for longer storage.
Adapted from the 1985 edition of the Better Homes and Garden Cookies for Christmas Cookbook.