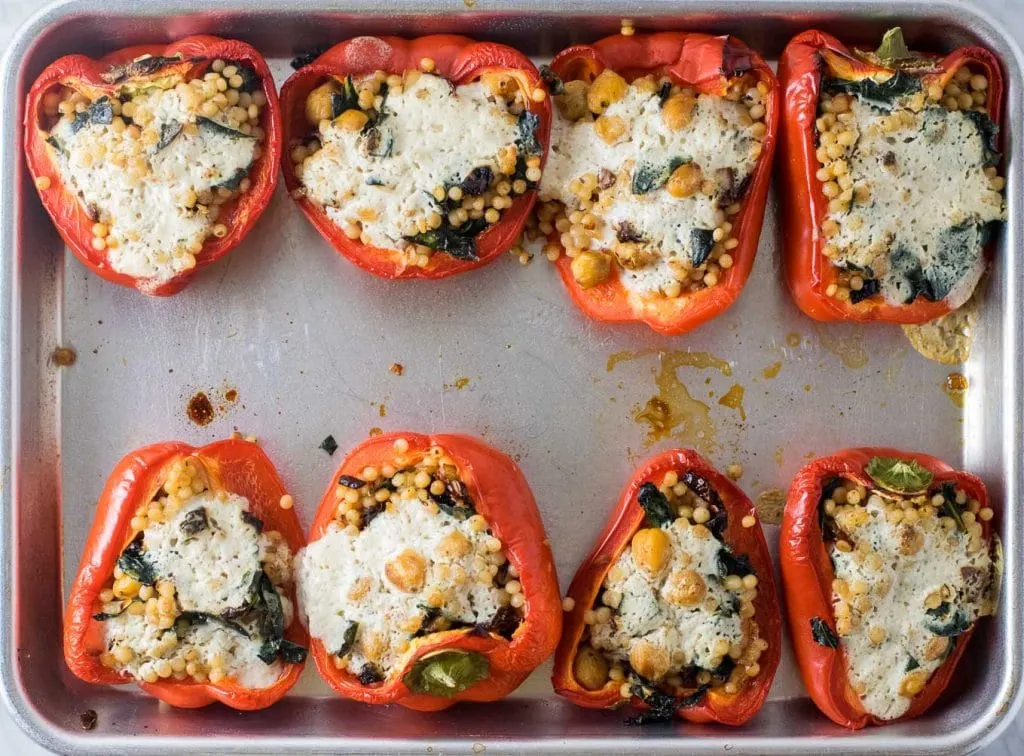 Stuffed peppers are a classic vegetarian entree, maybe a bit less popular these days, but a common dish nonetheless. It's definitely a dish I've been served on more then one occasion, typically filled with 90% rice, 10% cheese. The problem with this is 1) they are so not filling, one pepper and I'm still hungry, 2) they're boring like that, and 3) of course it's not vegan friendly–I'm not sure what I would have been served if I had been vegan at the time, a pepper filled with rice only? This recipe for chickpea and couscous stuffed red bell peppers are everything I wished those sad peppers were. They are filling and healthy and packed with flavor. Perfect for the vegans in your life or for your meatless Monday dinner.
Roasted red peppers are filled with toasted Israeli couscous–a chewy, delicious, pearl shaped pasta. Sautéd collard greens are added to the mix for your dose of green veggies and chickpeas for one of my favorite protein sources. Sun dried tomatoes add a burst of umami, salty flavor and bring a Mediterranean vibe to the dish. Spiced simply with thyme and oregano, and a squeeze of lemon juice to brighten the flavor, the filling is delicious enough to eat as a meal on its own. But when it's spooned into roasted peppers and covered in a creamy sauce it turns into something really special, and fancy enough to impress your dinner guests.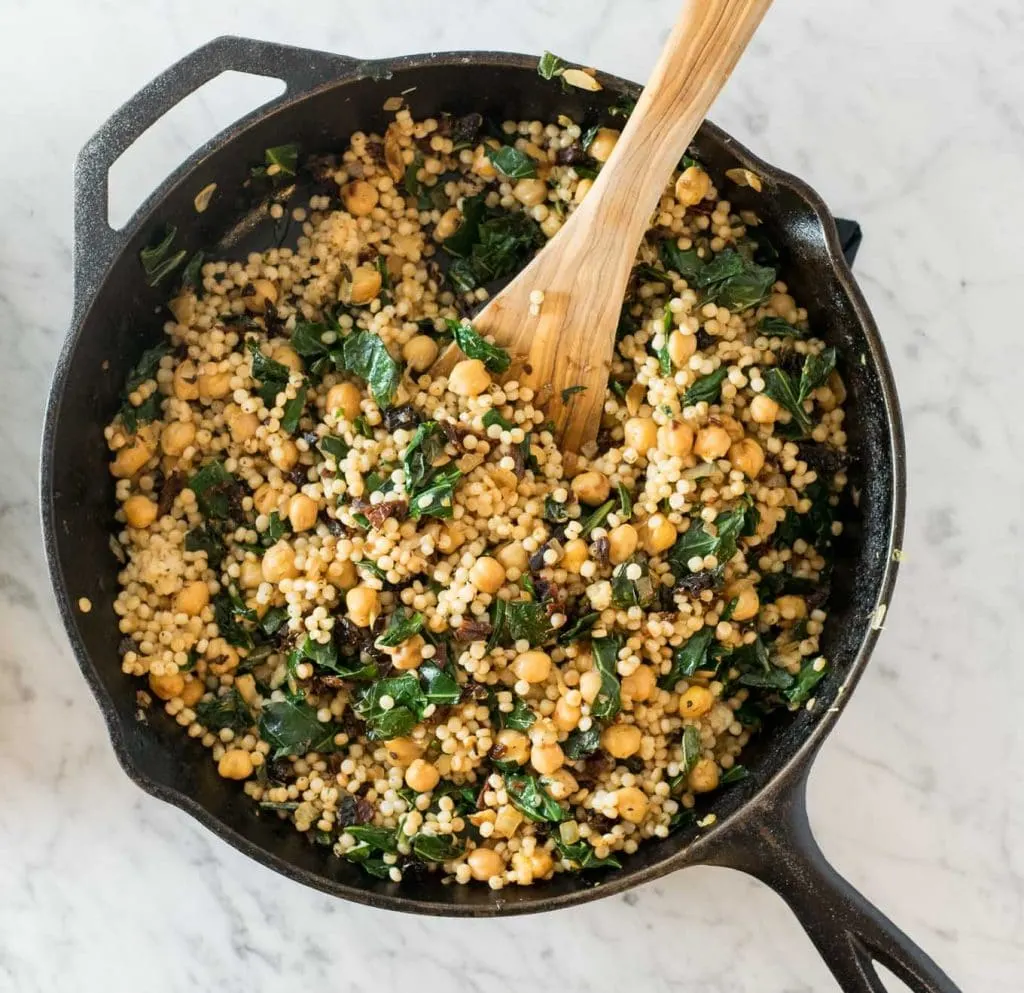 Now let's talk about that creamy sauce. Made with silken tofu, this is safe for anyone with a nut allergy who wishes vegans didn't put cashews in everything. Mild chickpea miso provides just enough salty umami depth of flavor to balance out the garlicky bite. Toss in a little thyme and oregano for spicing, and a good squeeze of lemon juice into the mix and you have yourself a sauce for many occasions. When poured over the couscous stuffed peppers, they add an extra layer of flavor and bake to a pretty golden color for serving.
We loved these peppers, and with summer around the corner and red bell peppers at their finest, it's definitely the time of year (at least in the Northern Hemisphere!) to make these.
Let me know in the comments if you make this dish, rate it, or tag me on Instagram!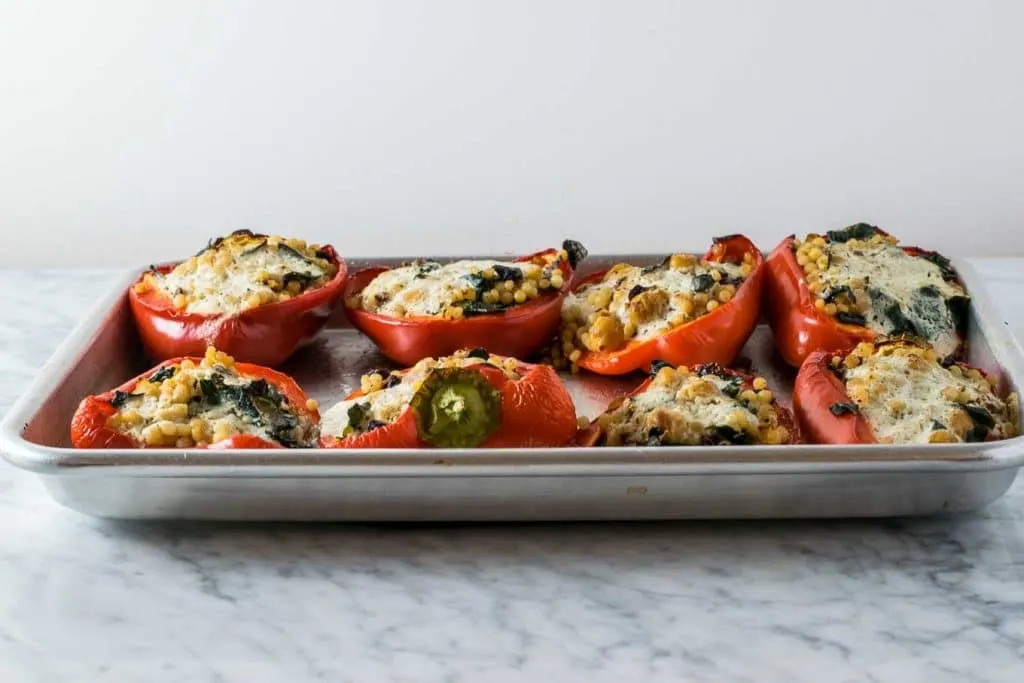 Notes:
The filling and sauce can be prepared a day in advance to make for easy pre-dinner prep.
You could substitute spinach or kale for the collard greens if desired
The cream sauce is really versatile, and if you have any extra, try it anywhere you would typically dollop sour cream or yogurt. We enjoyed it with some sweet potato and seitan chorizo tacos. *It is thinner than sour cream/yogurt, and you can always blend it with less water if you want it thicker.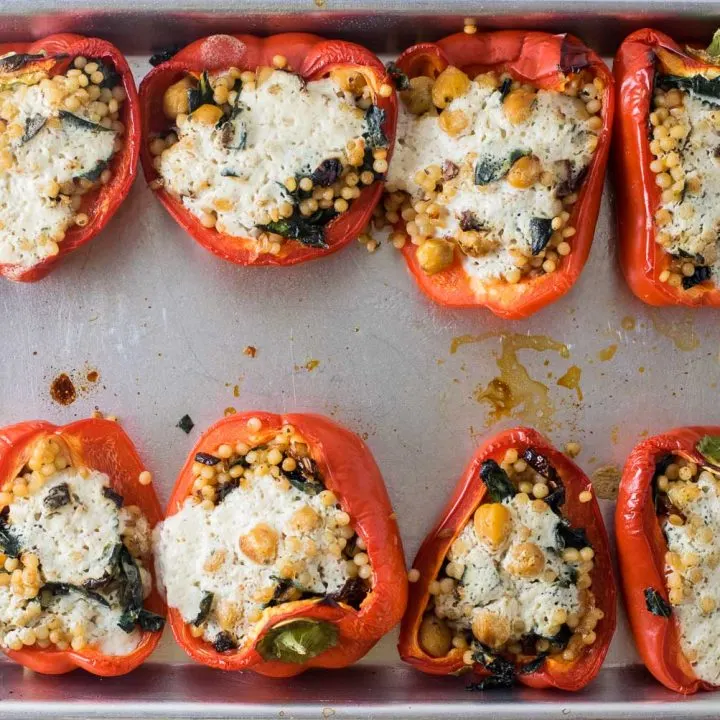 Chickpea and Couscous Stuffed Red Bell Peppers
Roasted red bell peppers are stuffed with chickpeas, collard greens, and Israeli couscous for an easy, delicious, and fancy looking vegan entrée, perfect for a dinner party or a casual Meatless Monday meal.
Ingredients
For the couscous
1 1/2 cups Israeli (pearl) couscous
2 1/4 cups water
1 tsp salt
For the chickpeas
1 tsp olive oil
1 small onion, diced
1 small bunch (8 oz) collard greens, chopped
1 15 oz can (1 1/5 cups) chickpeas, drained and rinsed
1/2 cup packed diced sun-dried tomatoes
1 tsp dried oregano
1/2 tsp dried thyme
1/2 tsp salt, or to taste
freshly ground black pepper
2 tbsp (~1/2 lemon) lemon juice
For the cream sauce
8 oz (~1 cup) silken tofu
1/3 cup water
2 cloves garlic
1 tbsp chickpea miso
1 tsp dried oregano
1/2 tsp dried thyme
2 tbsp (~1/2 lemon) lemon juice
1/2 tsp salt
freshly ground black pepper
Instructions
Preheat oven to 425 ºF.
Prepare the bell peppers by cutting them in half, cutting around the stem to leave it intact on one side. Remove all seeds and white pith. Place them cut side up on an oiled baking tray.
Bake for 20 minutes, or until softened and juicy. Pour out any juice that's collected inside the peppers, but you don't have to be too fussy about this, it's flavorful!
Prepare the filling
Meanwhile, cook the couscous. Heat a large heavy bottomed pot over medium heat. Add the couscous and toast in the dry pan for 3-5 minutes, stirring regularly, until lightly browned. Add the water and teaspoon of salt. Turn the heat down to low, cover the pot, and simmer for 18-20 minutes until all the water is absorbed. Remove from heat.
While the couscous is cooking, prepare the rest of the filling. Heat a large nonstick skillet over medium heat. Add the oil, onions and a pinch of salt. Cook for around 5 minutes, stirring occasionally, until the onions are soft and translucent.
Add the collard greens to the onions and cook, stirring occasionally, until collards are wilted and tender, around 5 minutes. Add the cooked couscous, chickpeas, sun-dried tomatoes, oregano, thyme, salt, and pepper. Heat through for about 1 minute, then remove from heat and add the fresh squeezed lemon juice. Taste and adjust seasoning if desired.
Prepare the cream sauce
In a blender add all the ingredients. Blend until smooth. Add a tablespoon more of water if needed.
Fill & roast the peppers
Scoop the prepared couscous mixture into the roasted bell peppers to fill. Pour sauce over top to cover. Bake 15-20 minutes, or until the top is lightly golden.
Remove from oven and serve hot.