These vegan sheekh kababs are meaty Indian-syle (if we're being specific they are Pakistani/Sindhi-style) skewers. Kebabs are heavily spiced and deliciously flavorful. They're great served with basmati rice or paratha.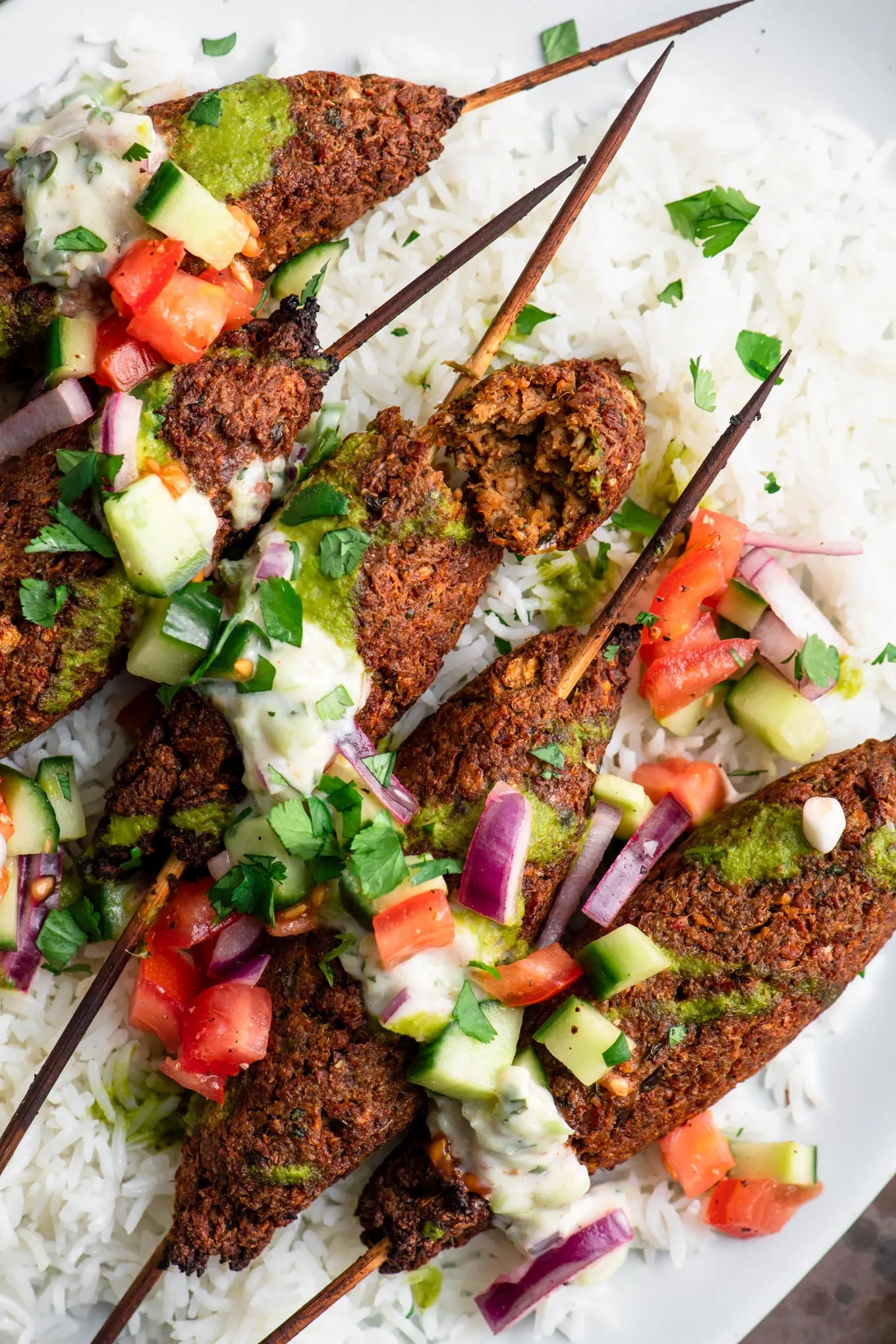 This style of sheekh kabab (also spelled seekh kebab) is super popular in the Sindh province of Pakistan, where my dad grew up. It's a cousin to the shish kebab that is popular in Middle Eastern countries like Turkey.
There are versions of sheekh kababs all over the subcontinent. Generally speaking they are made with spiced ground meat and formed into elongated meatballs which are cooked skewered over a grill.
There are two kinds of kababs: sheekh kababs and shami kababs. Shami kababs are when the spiced meat is shaped into patties and pan fried (like sliders essentially).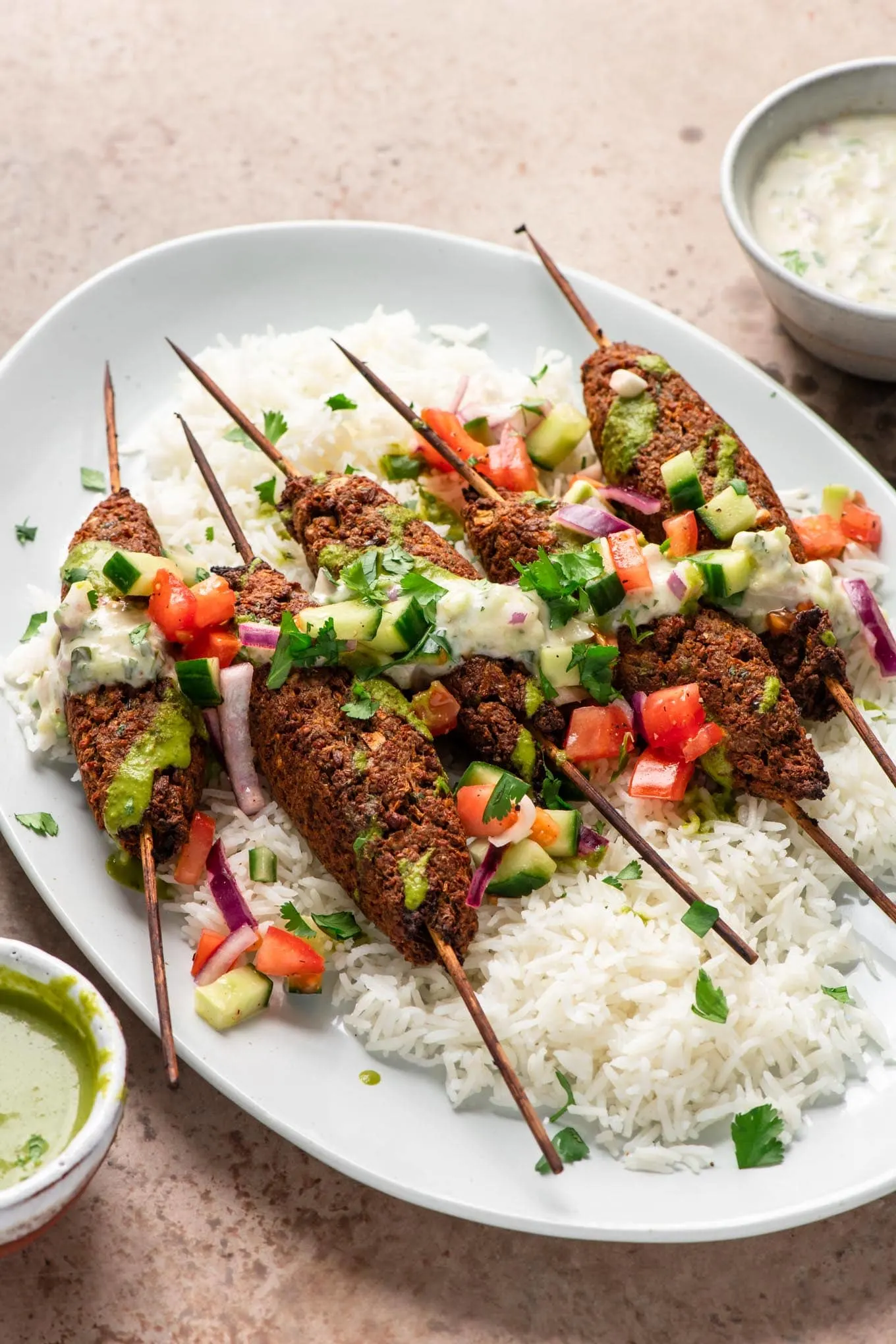 As I was raised vegetarian, I did not grow up eating these, but they are a super nostalgic food for my now-vegan husband who is first generation Bengali. His mom, I've been told, makes a mean kebab.
How to veganize a kabab?
Over many months, with a lot of input from my husband Omar who has a lot of opinions on the exact texture a kebab should have!
First, you need a substitute for the ground meat. I ended up using TVP, or textured vegetable protein. This is a dehydrated soy-based ground that really acts as a sponge when it hydrates.
It has a great chewy, meaty texture that I really loved in the kababs.
On it's own, TVP doesn't hold together and can't be formed into the kabab shape. I use vital wheat gluten, or the protein from wheat, to hold the kababs together.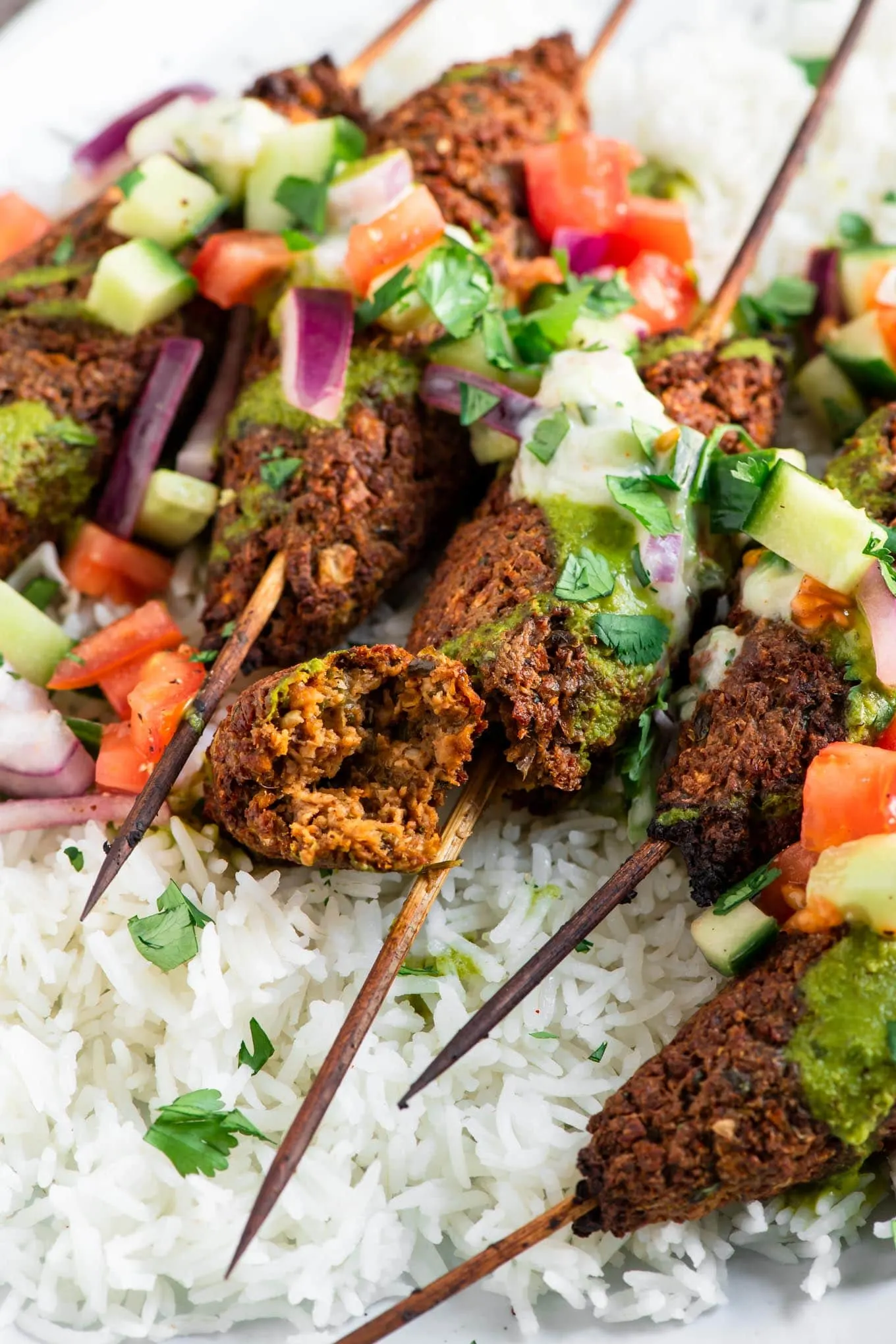 By sending the mixture through a food processor we break up the TVP crumbles into a ground meat texture and effectively knead the gluten until it's stringy and can hold the mixture together.
Ingredients for vegan sheekh kababs:
We've already covered the meat of the recipe (hah, bad pun, sorry): TVP and wheat gluten. Now, we can get into the flavor!
Indian-style kababs are heavily spiced. So no, that is not a typo in the recipe below, you are actually adding tablespoons worth of seasoning!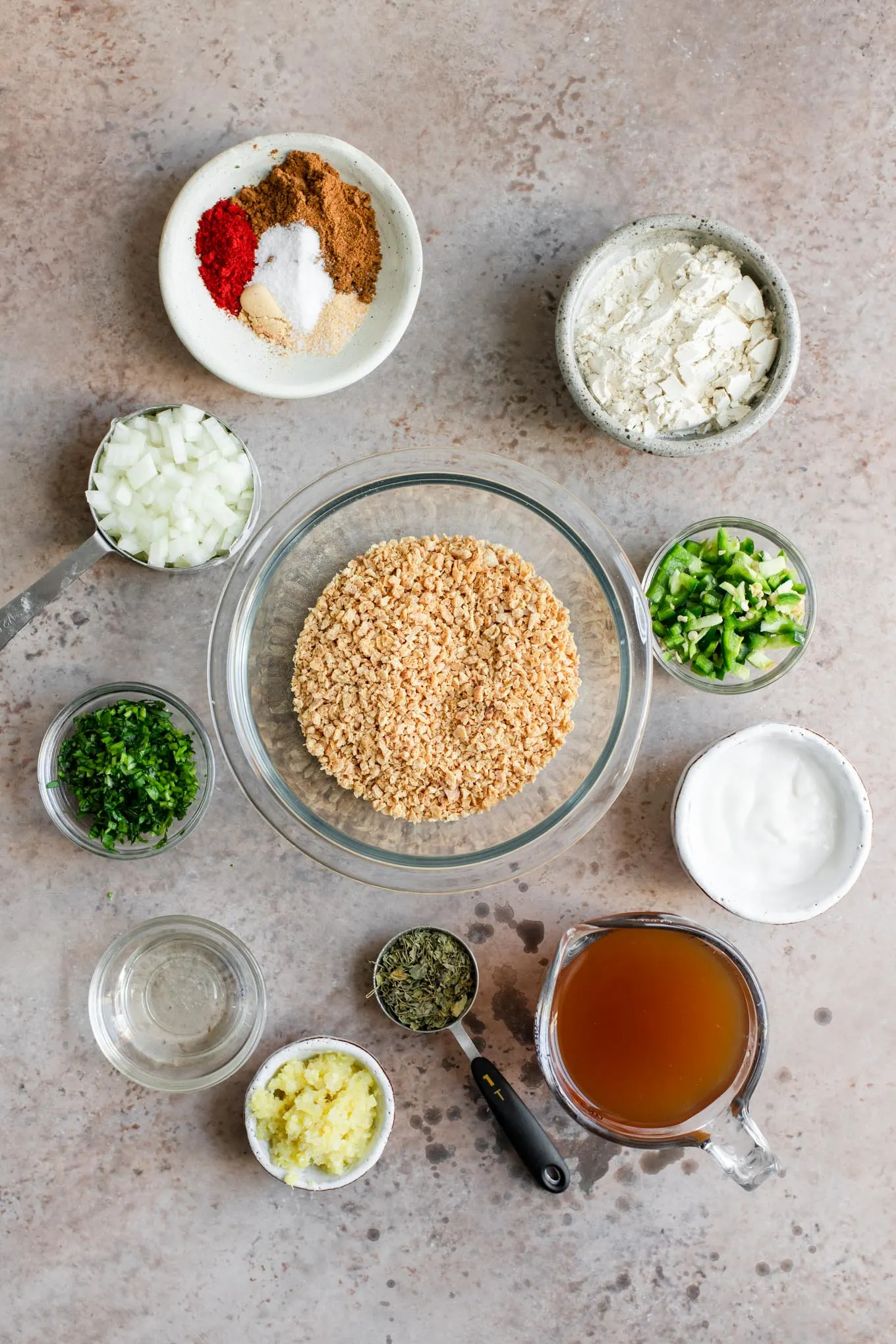 Like most Indian recipes, we build flavor with garlic, ginger, onion, and chili. This comes in the form of finely diced onion, ginger-garlic paste (which you can also make yourself by just mincing up equal parts ginger and garlic until it's paste-like), and minced chili peppers (e.g. finger peppers, serrano peppers, jalapeños, thai chilies, etc.).
For even more flavor, add fresh cilantro directly into the kebab mixture. Mince up both the stem (just trim the very bottom first) and leaves. The stems have a lot of flavor, and there's no need to waste it here!
My mother-in-law adds yogurt to her kebabs to tenderize the meat (ew sorry I know). I add vegan yogurt (or use vegan sour cream) to my recipe because 1) it has a nice flavor and 2) it adds moisture that the gluten needs to activate.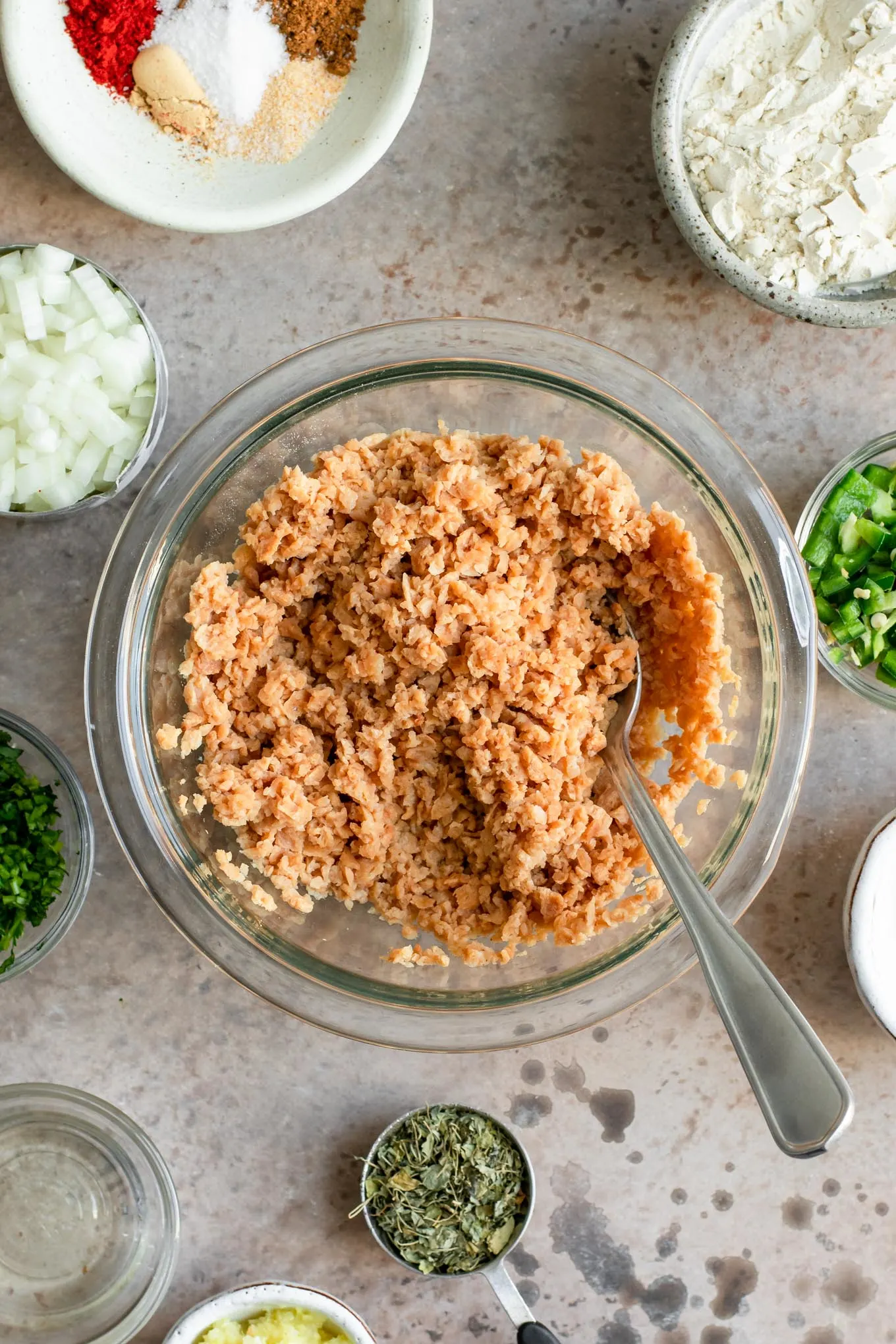 I also add oil to my recipe, because so far we are using ingredients without any fat. TVP is defatted and wheat gluten has a very small amount of natural fat in it. As I'm sure you're aware, meat is very fatty. So a little bit of oil adds moisture to the kebabs and gives it that richness you'd expect.
The spices:
Then comes the dried spices: garam masala, kashmiri chili, ginger powder, garlic powder, and kasoori methi.
Garam masala is a popular Indian spice blend and the bulk of the seasoning for this recipe. It combines cumin, cardamom, coriander, cinnamon (all the c's), and a few other spices depending on the exact version/brand/recipe.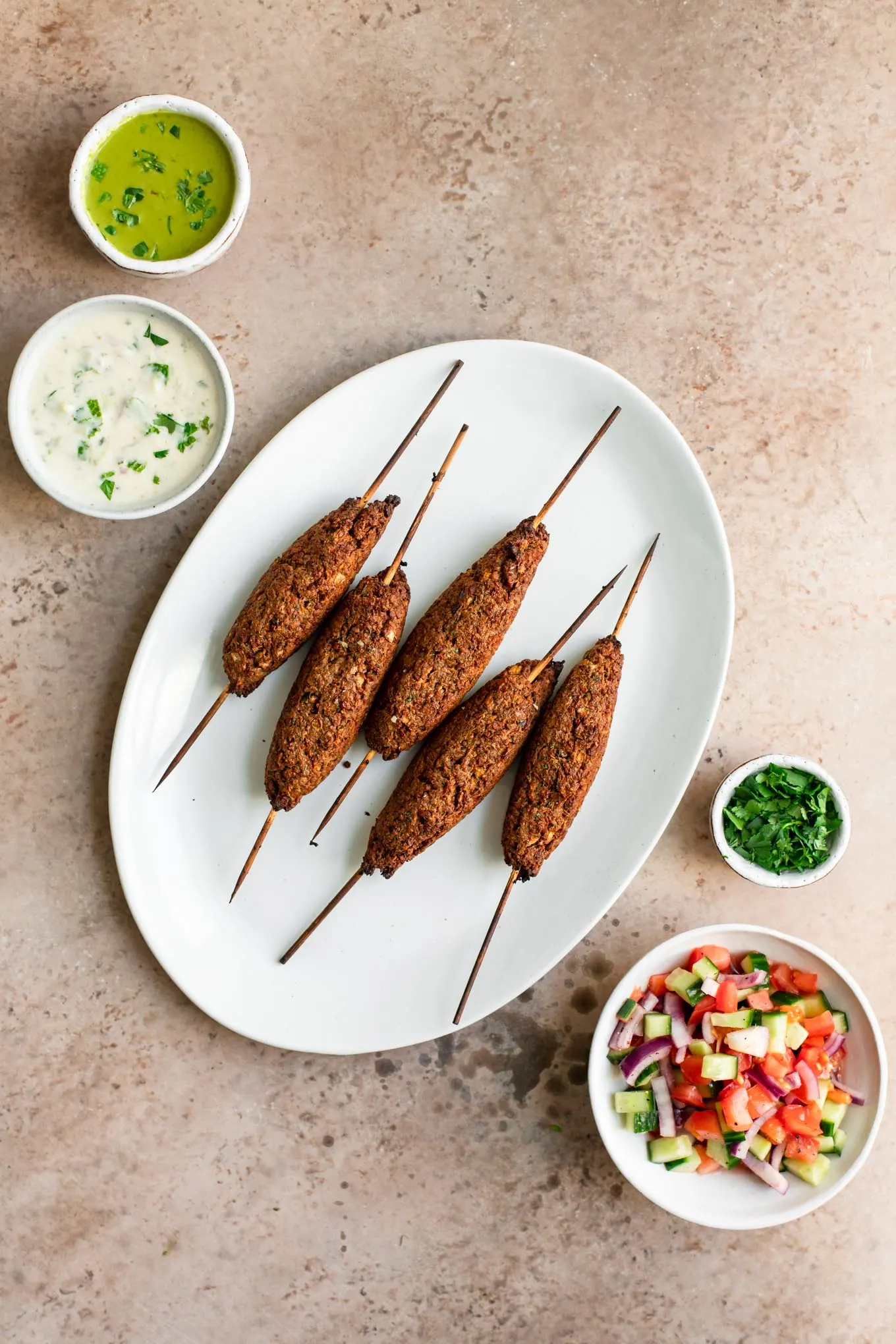 Kashmiri chili is a vibrantly red, flavorful chili that is mild in its heat-level. If you need to substitute it, you can try ancho chili powder or a the ubiquitous chili powder blend. These will not have the exact same flavor of course. If you use cayenne, decrease the amount unless you enjoy very spicy dishes.
Kasoori methi is dried fenugreek leaves, another more "specialty" ingredient that really brings that restaurant quality taste to your home cooking. If you enjoy Indian cuisine, I recommend you pick some up, and I use methi in a lot of my recipes so there are plenty of dishes to make with it!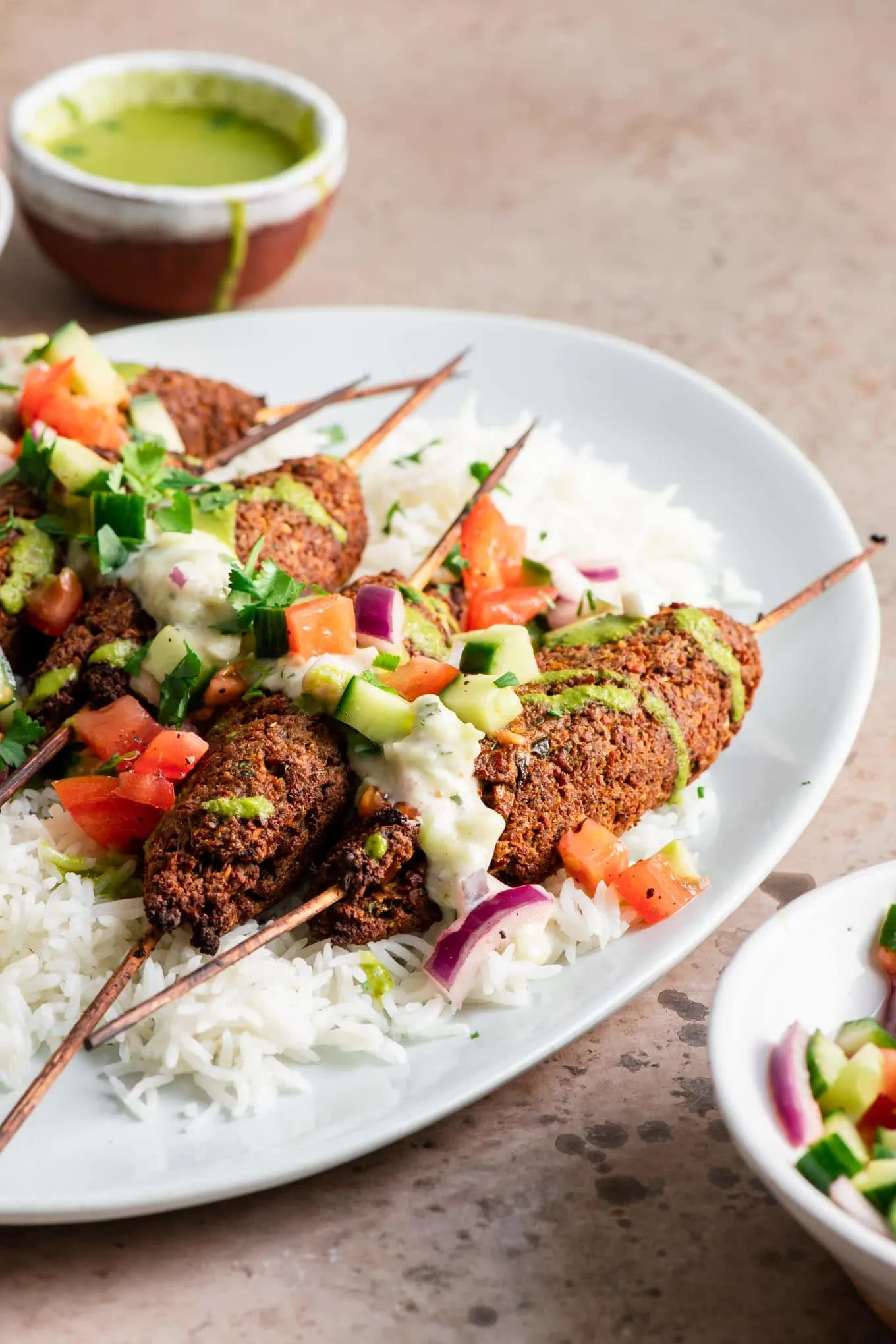 How to make the vegan kababs:
Kebabs are so easy to make!
Step 1: hydrate the TVP.
Step 2: Mix all the ingredients together, then run them through a food processor until the mixture holds together when shaped.
Step 3: Shape and bake.
Step 4: Enjoy!
It's honestly that easy!
How to serve Indian-style Kababs:
Serve the kababs with basmati rice and/or paratha or roti (my homemade roti is great with them).
You then want to serve them with a chutney or raita. I served them both with my cilantro chutney and homemade vegan raita. Choose one or make both (you can also buy bottled cilantro chutney at Indian grocery stores). The sauce is essential.
It's also traditional to serve kababs with katchumber salad (pronounced saah-lawd if you know what's up). It's essentially diced cucumber, tomato, and red onion in fresh squeezed lemon juice, seasoned with salt and black pepper.
Other then that, you can cook up any sabzi (vegetable dish) you want!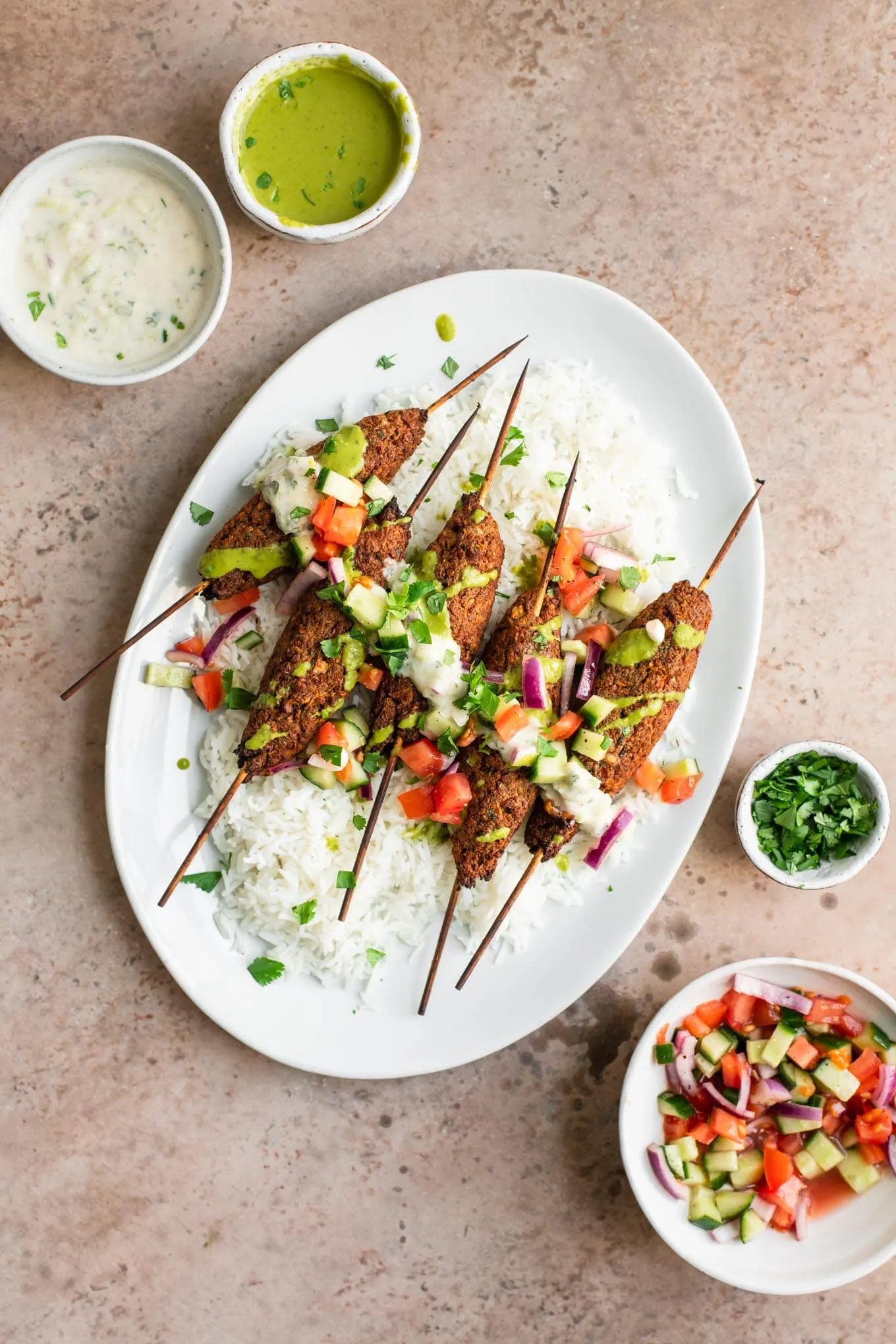 If you make these vegan sheekh kababs, leave a comment below and rate the recipe on the recipe card. And please share your photos with me on Instagram, tag @thecuriouschickpea and #thecuriouschickpea. I love seeing your recreations!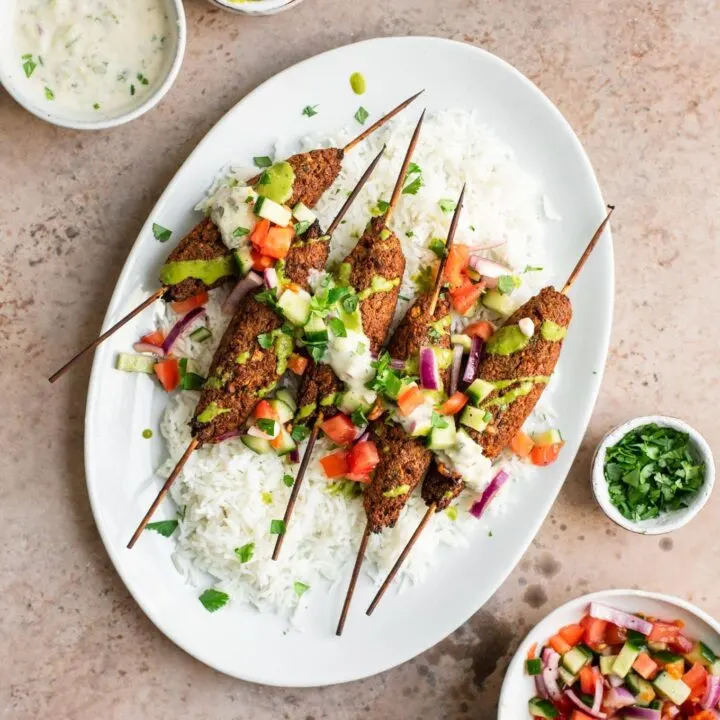 Vegan Sheekh Kababs
Sheekh kababs are Indian or Pakistani-style skewered meat kababs. This delicious vegan version uses TVP and wheat gluten for a meaty texture. Enjoy the kababs with vegan raita and/or cilantro chutney and a side katchumber salad!
Ingredients
1 cup TVP
1 cup boiling water
1 tsp vegetable bouillon (optional)
1/2 cup minced onion
2 tbsp ginger-garlic paste (or 4-6 cloves minced garlic + 1 tbsp minced ginger)
1-4 minced spicy chili peppers, e.g. serrano, jalapeño, thai chili, finger peppers
2 tbsp minced cilantro (stem + leaves)
1/4 cup vegan sour cream or vegan plain unsweetened coconut yogurt
1 tbsp canola oil
2 tbsp garam masala
1 tbsp kasoori methi (optional)
1 tsp kashmiri chili
1/2 tsp ginger powder
1/2 tsp garlic powder
1 tsp salt, or to taste
1/2 cup vital wheat gluten
6 skewers
Instructions
Preheat the oven to 425 ºF and line a baking tray with parchment paper. Place the skewers in water to soak.
In a large heat safe bowl stir together the dry TVP and the boiling water, along with the bouillon if using. Let sit to hydrate for about 10 minutes while you prepare the rest of the ingredients.
Add the onion, garlic, ginger, chilies (add to taste), cilantro, vegan sour cream or yogurt, oil, and the dry spices. Crush the kasoori methi between your palms to add it (if using). Add 1 tsp of salt and mix everything together. Taste and adjust salt or any other seasoning if needed.
Stir in the wheat gluten and transfer the mixture to a food processor (you can use a mini-food processor in 2-3 batches). Process the mixture until it's ground enough to hold its shape and the gluten has activated and looks stringy.
Divide the mixture into 6 portions (about 1/2 cup mixture per kabab) and shape each portion into an elongated meatball over the skewers. Compress the mixture as much as you can, but it will be more delicate at this point, it firms up as it bakes.
Brush or spray the shaped kababs with oil and place on the parchment lined baking tray. Bake at 425 ºF for 30-35 minutes, rotating once or twice to cook evenly. When done the kababs will feel firm to the touch and the outsides will be crispy. Enjoy!
Nutrition Information:
Yield:

6
Serving Size:

1
Amount Per Serving:
Calories:

174
Total Fat:

3g
Unsaturated Fat:

3g
Sodium:

518mg
Carbohydrates:

14g
Fiber:

4g
Sugar:

5g
Protein:

24g
Nutrition is calculated automatically so should be used as an estimate.