Enjoy this homemade cilantro chutney alongside any Indian meal! It's delicious with snacks like samosas and pakoras, and great with any dal, subzi, or curry.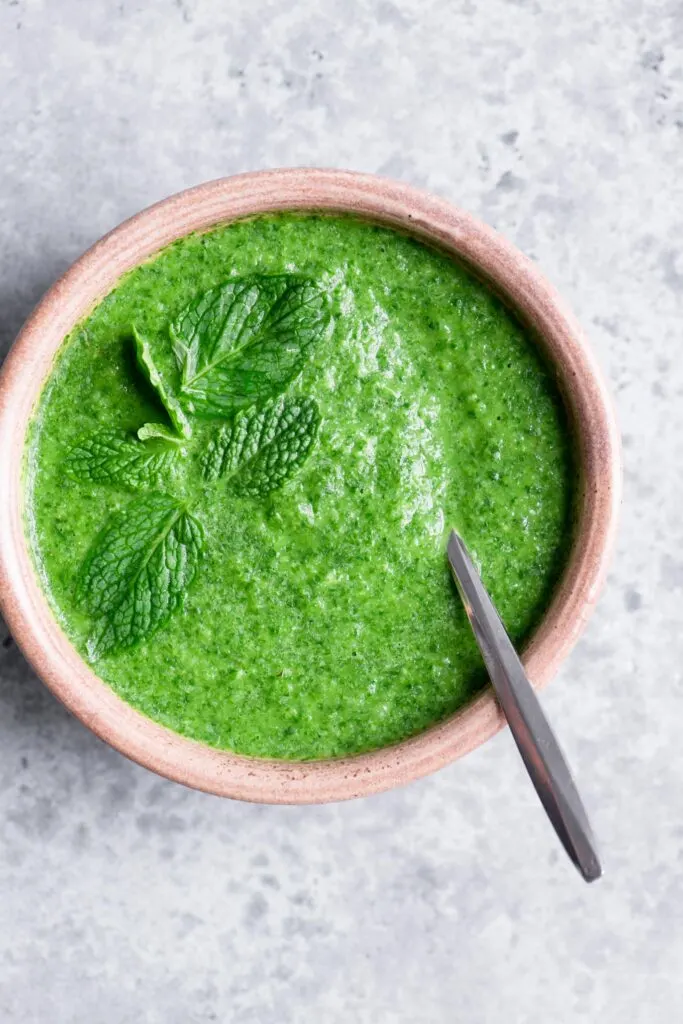 I've always loved cilantro chutney. It's spicy, fresh tasting, herbaceous, citrusy, gingery, and garlicky. And it's often a touch creamy and sour to balance all those flavors out.
It's probably the easiest chutney to make. No cooking is required, just a little chopping and then a food processor or blender does the rest!
It's my go-to when I need to whip up a chutney in no time. And yes, that's partly because it's so easy to make… but mostly it's because I love it so much! Cilantro chutney makes everything taste better.
Put it on your samosas (homemade cocktail chana samosas even better), your pakoras (kale pakoras coming in hot!), your aloo tikki, chaats and kebabs. Serve it alongside vegetable subzis and spicy dals.
Dip your roti into it, or let's cross some cultural boundaries and enjoy it with dumplings of any sort!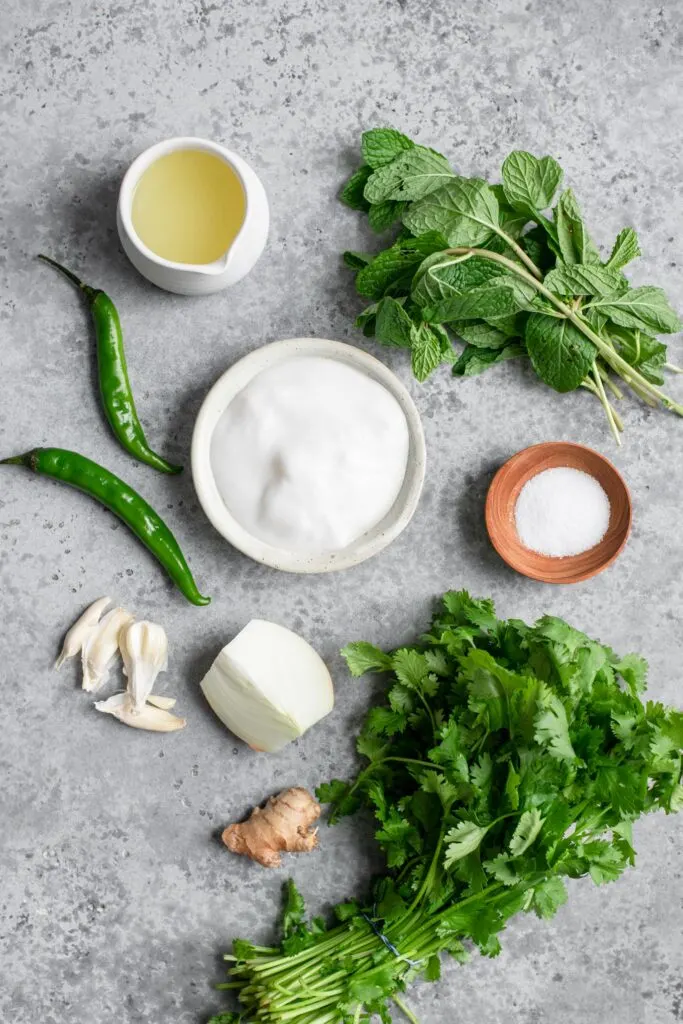 I grew up with lots of cilantro chutney (a category which I include cilantro-mint chutney in). Sometimes it was jarred store bought stuff (ehhh I'll pass) and sometimes homemade–no comparison, homemade always tastes a million times better!
And I haven't met a cilantro chutney I don't like, but this one is extra special because it's my Bengali mother-in-law's chutney recipe. The one my husband grew up making and eating all the time! Making this recipe is muscle memory to him.
The ingredients for homemade cilantro chutney:
The big one: cilantro! Now this is important. USE THE STEMS! Stems are flavor. And they're good. And this gets blended up so you won't even notice that you have stems in your chutney! Except that you will because it will taste better.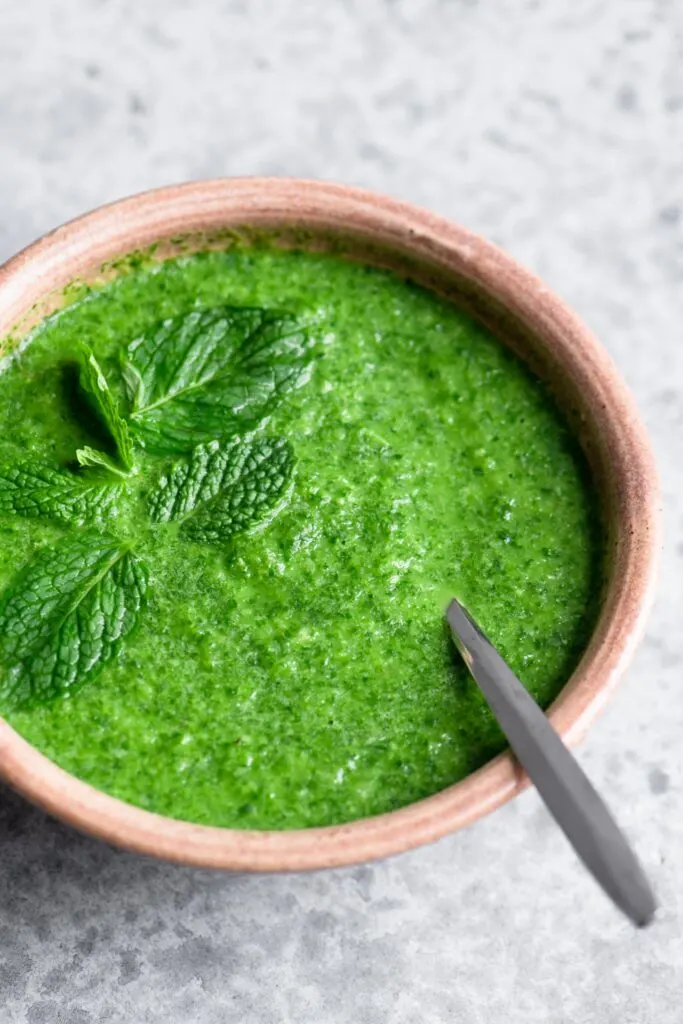 Next up: mint! Yeah sure adding mint makes it cilantro-mint chutney but hey that's more of a mouthful so I drop the word mint because I'm a bit sneaky like that.
Mint adds freshness to the chutney and makes for a more flavorful chutney. It's all the wins.
Herbs aren't enough to get all the flavor you need for a good chutney however. The real power of the chutney comes from onion, garlic, ginger, and green chilies (like serrano or jalapeño, or if you're lucky enough green chilies from the local Indian grocery store).
Fresh squeezed citrus juice is a must for this chutney! You can use either lemon or lime juice and add it to taste. Lemon juice is a bit sweeter and lime juice can be a touch more bitter. But either works or you can even use a mix of the two!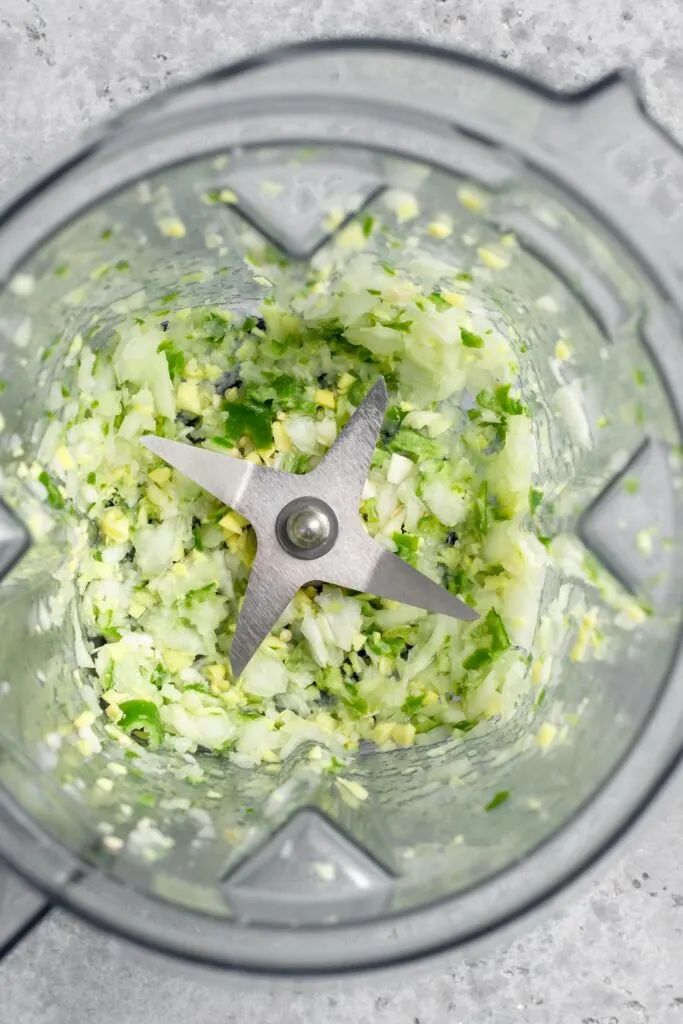 Salt enhances all these flavors and you'll add it to taste.
Now for a touch of creaminess add in some plain unsweetened yogurt of the plant-based variety. Because we're vegan chez chickpea!
Substitute for the yogurt?
This is maybe not the most Indian ingredient, but my mother-in-law lives in Arizona these days and has taken notes. She'll often use avocado instead of yogurt. About 1/2 of an avocado for 1/2 cup of yogurt!
I love the avocado version, but it's less "traditional." But hey if the aunties can make it this way, so can we!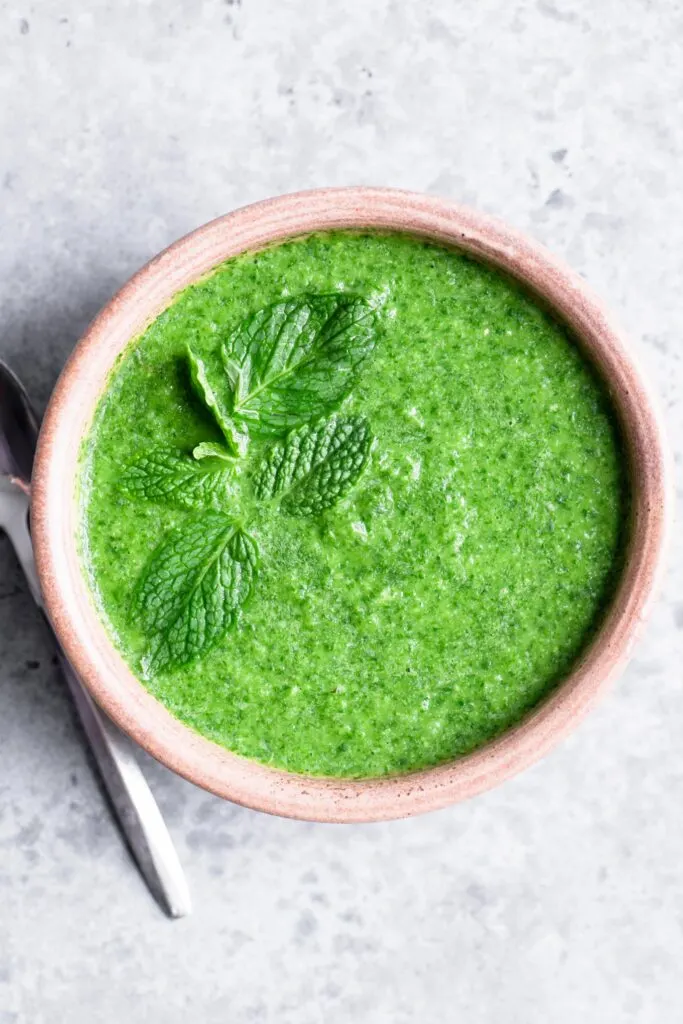 It also becomes accidentally vegan this way, no vegan yogurt needed!
If you do use avocado instead of yogurt, then you may find yourself wanting a bit of extra lemon or lime juice to up the tanginess of the cilantro chutney a bit!
If you make this homemade cilantro chutney, leave a comment below and rate the recipe on the recipe card. And please share your photos with me on Instagram, tag @thecuriouschickpea and #thecuriouschickpea. I love seeing your recreations!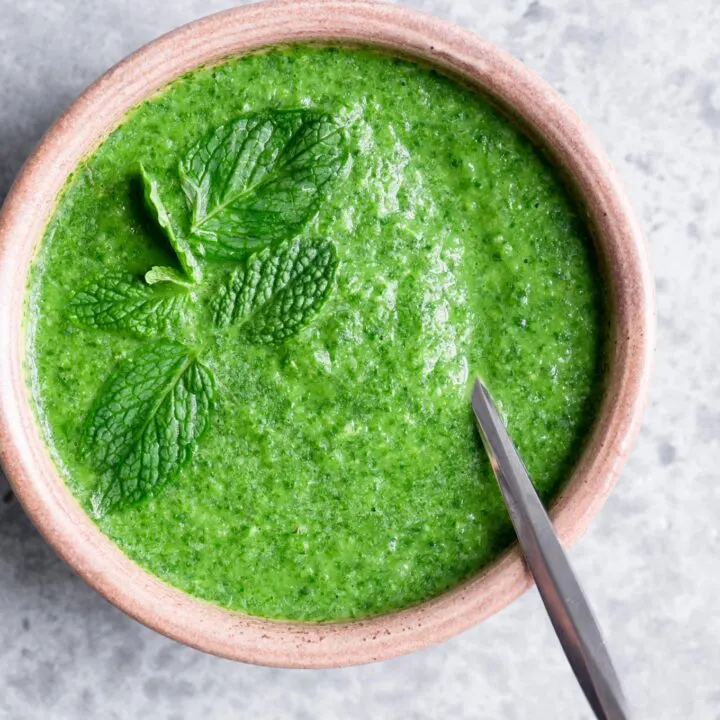 Homemade Cilantro Chutney
This cilantro-mint chutney is easy to make and so delicious! It's best enjoyed in the first week after making, but can be frozen for longer storage.
Ingredients
1/4 of a small yellow onion, coarsely chopped
2-3 cloves garlic, chopped
1-inch piece of fresh ginger, chopped
2-8 green chilies (2 for mild, 4-8 for spicy), chopped
1 bunch cilantro, washed and cut into 1-2 inch sections (including the stems)
1/2 cup fresh mint, coarsely chopped
1/2 cup vegan plain unsweetened yogurt*
1/2-1 tsp salt, to taste
2-4 tbsp fresh squeezed lemon or lime juice, to taste
Instructions
In a food process or blender combine the onion, garlic, ginger, and chilies and process until finely chopped.
Add the cilantro, mint, yogurt, 1/2 tsp of salt, and 2 tablespoons of lemon or lime juice. Blend until smooth (some texture is okay).
Taste and adjust seasonings, paying special attention to the salt and lime or lemon juice as these will help bring out the flavors.
Notes
*I like to use coconut yogurt or other thick and tangy yogurts in this chutney. Or you can substitute the yogurt with half an avocado for a delicious creamy twist!
For green chilies you can use the variety you find at Indian grocery stores or use serrano peppers or jalapeños. Spiciness will vary depending on the heat level of the chilies you use.