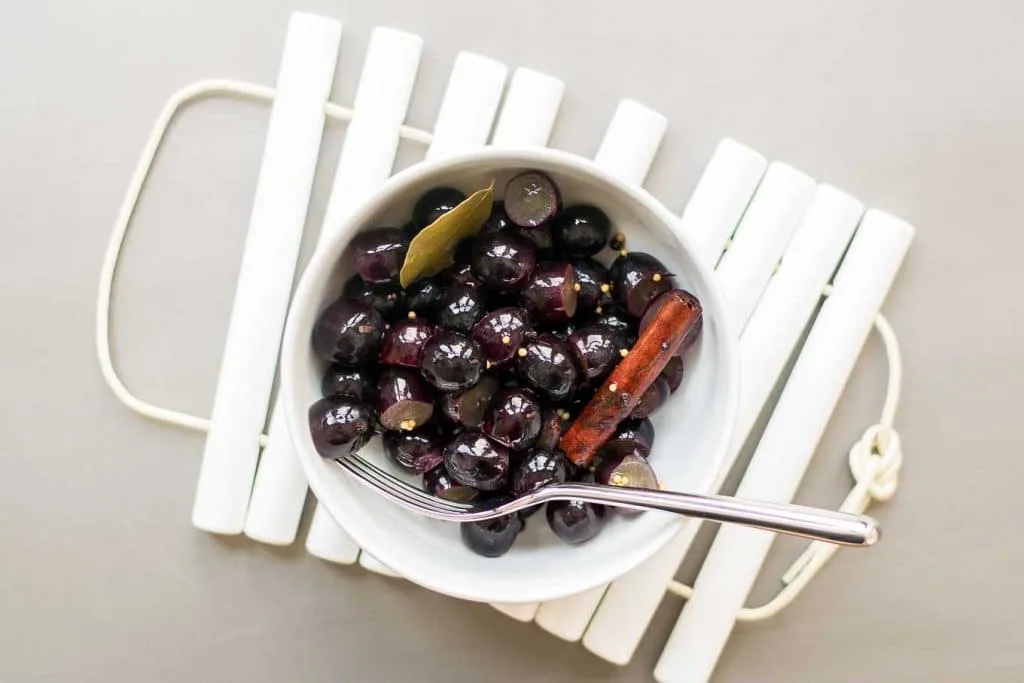 Have you ever had pickled grapes? The first time I had them was in 2013 at the Paulie Gee's in Brooklyn. They were a topping on at least one of the vegan pizzas on the menu, and while I was certainly skeptical of grapes on pizza, not to mention grapes that have been pickled, I figured, whatever I'll try it, it's always a good idea to expand your eating horizons. And guys they were SO good! Pickled grapes are sweet and tangy, juicy and bursting with spicy-sweet pickled flavor. Two bites into that pizza and I was glad I didn't live in the area, or I'd be spending all my money on pizza! Though, not really, because I enjoy making my own too much ;)!
I liked the pickled grapes to the point that you'd think it would have been months not years before I got around to trying my hand at them. But, you need to take into account the fact that I don't actually love grapes. I'm fine with them, and I'll eat them, and I love wine–pour me some more please, but I don't buy fresh grapes. I excuse this by telling myself grapes are essentially all sugar, but I'm pretty sure that's a lame reason as high sugar content doesn't stop me from eating all the mangoes I can get my hands on or from eating insane amounts of cherries in their too-short season. At least there's a chance I'm getting some of grape's antioxidant properties from wine? Oh well. Point is, I probably haven't bought grapes since that time (and before), and so it quickly became out of sight out of mind.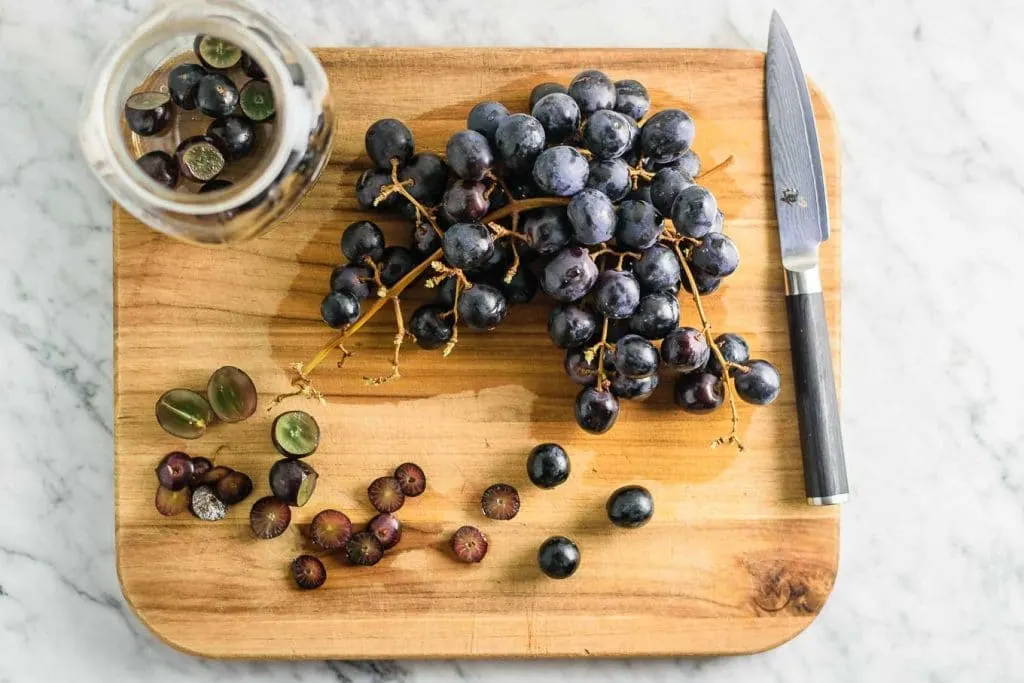 This all changed when I bought grapes to go with my almond cheese platter. Which is great, except, we didn't eat them. I even washed them and left them out (I hate eating/don't eat cold fruit) to snack on. But I just didn't eat more than a few. And Omar is no better, in fact, I think he did a worse job of eating grapes than I did! Fast forward several days and we have both washed and unwashed grapes hanging out in the fridge, ugh. So, I started thinking about ways to eat them so I didn't just spend good $$ on grapes for a couple of photos, and I remembered those pickled grapes all the way back from January 2013 and knew the time had finally come to try them.
So, I did my best to recreate that pizza! And by recreate I actually just mean the quick pickled grape part, I have no idea what else was on there… I threw together some pizza dough, quick pickled some grapes, and the next day made a few delicious pizzas, both with and without vegan pepperoni. They were so good! But the pickled grape fun didn't stop there. We also found ourselves topping our veggie burger with them–they were great with both the stuffed mediterranean veggie burgers and the southwestern black bean burgers! They went into [vegan] grilled cheeses and quesadillas. Omar started snacking on them. They flew out of the jar. And before I knew it, we were out of grapes! So crazy.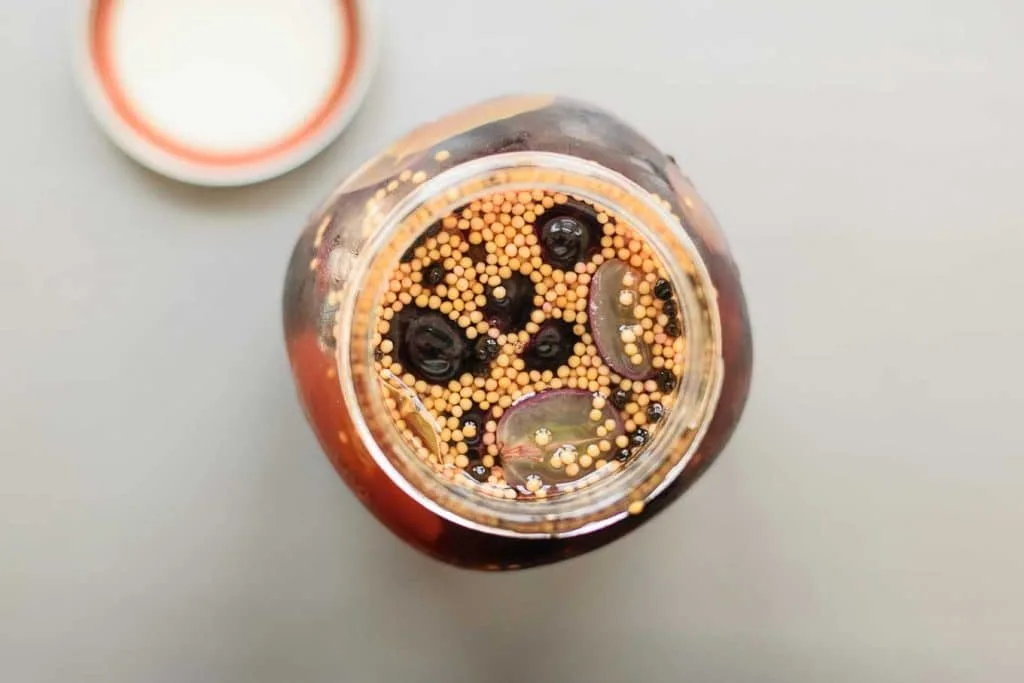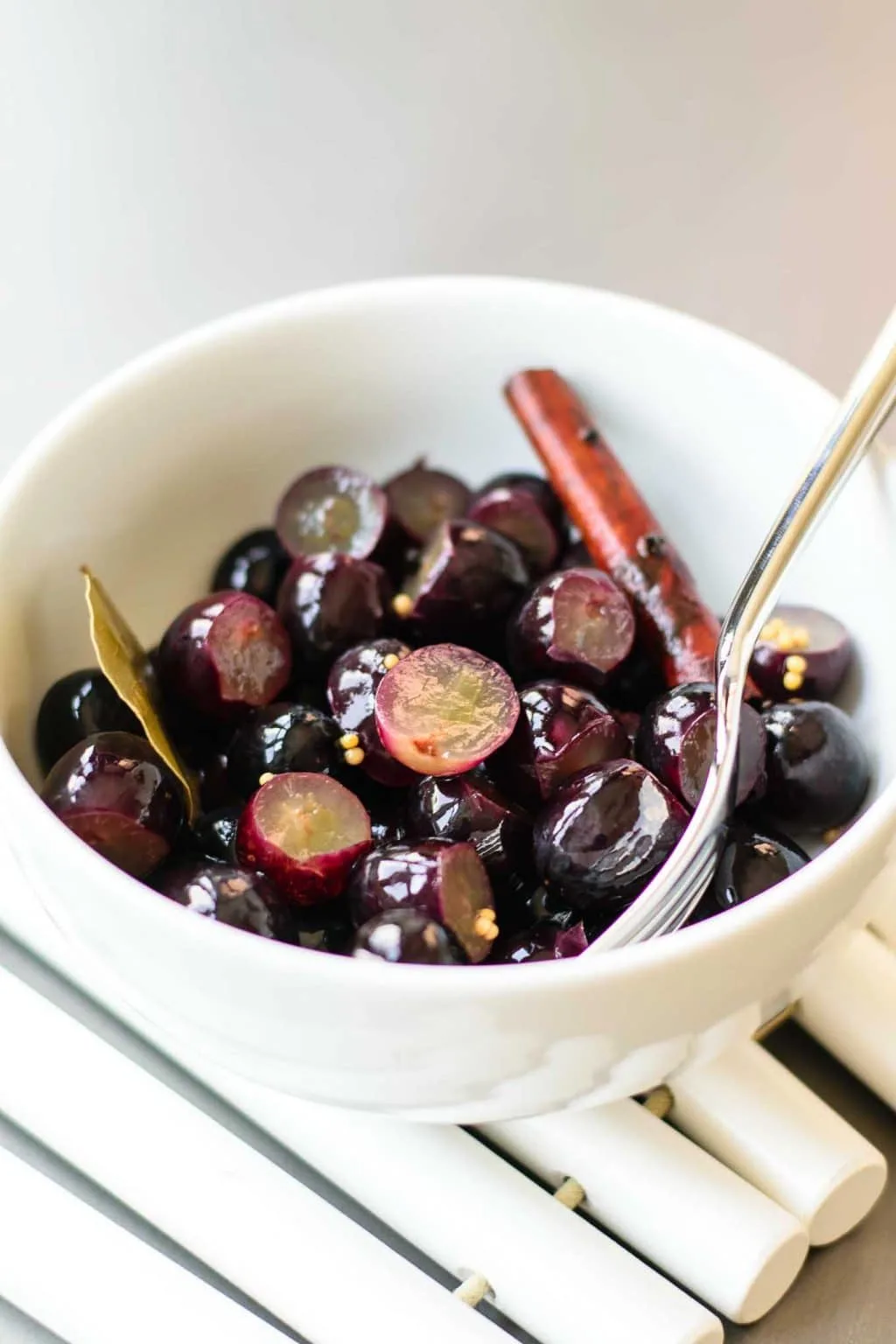 I made them again to retest the proportions, and reduce the sugar as I like things a bit tarter. I hope to make some more pizzas with this new batch. Maybe throw them onto some summer produce-filled salads? All I'm certain of is, if I ever end up with a bunch of grapes in the fridge, I know they'll quickly be turned into pickles!
I think everyone should try their hand at these, whether or not you're a grape lover. And whether or not you're a pickle lover! I mean, if you absolutely hate the taste of vinegar in all it's forms then I guess don't? But that's just crazy talk. They are pickled in a mixture of apple cider vinegar and red wine vinegar which are both milder and sweeter vinegars. You could use all one or the other, or a white wine vinegar if you prefer. Like most sweeter pickles a healthy portion of sugar is dumped into the mixture. I practically halved this amount the second time around, and honestly, I really liked it that way. But if you want these to go in a dessert or if you have a bit sweet tooth, you could up the sugar to 3/4 or 1 cup. I think grapes are sweet enough though.
For pickling spices I went the simple route. Warming cinnamon blends perfectly with spicy black peppercorn, infusing the pickles with spice and heat. Mustard seed is essential for pickling, and yellow seeds are used for their more balanced and milder flavor. Bay leaves bring some herbal notes and more quintessential pickle flavor. You could get fancy after your first batch and add other spices such as cumin or coriander, red chili instead of black peppercorn, or perhaps some vanilla or clove for some extra sweetness. Personally, I'm pretty happy with them as is.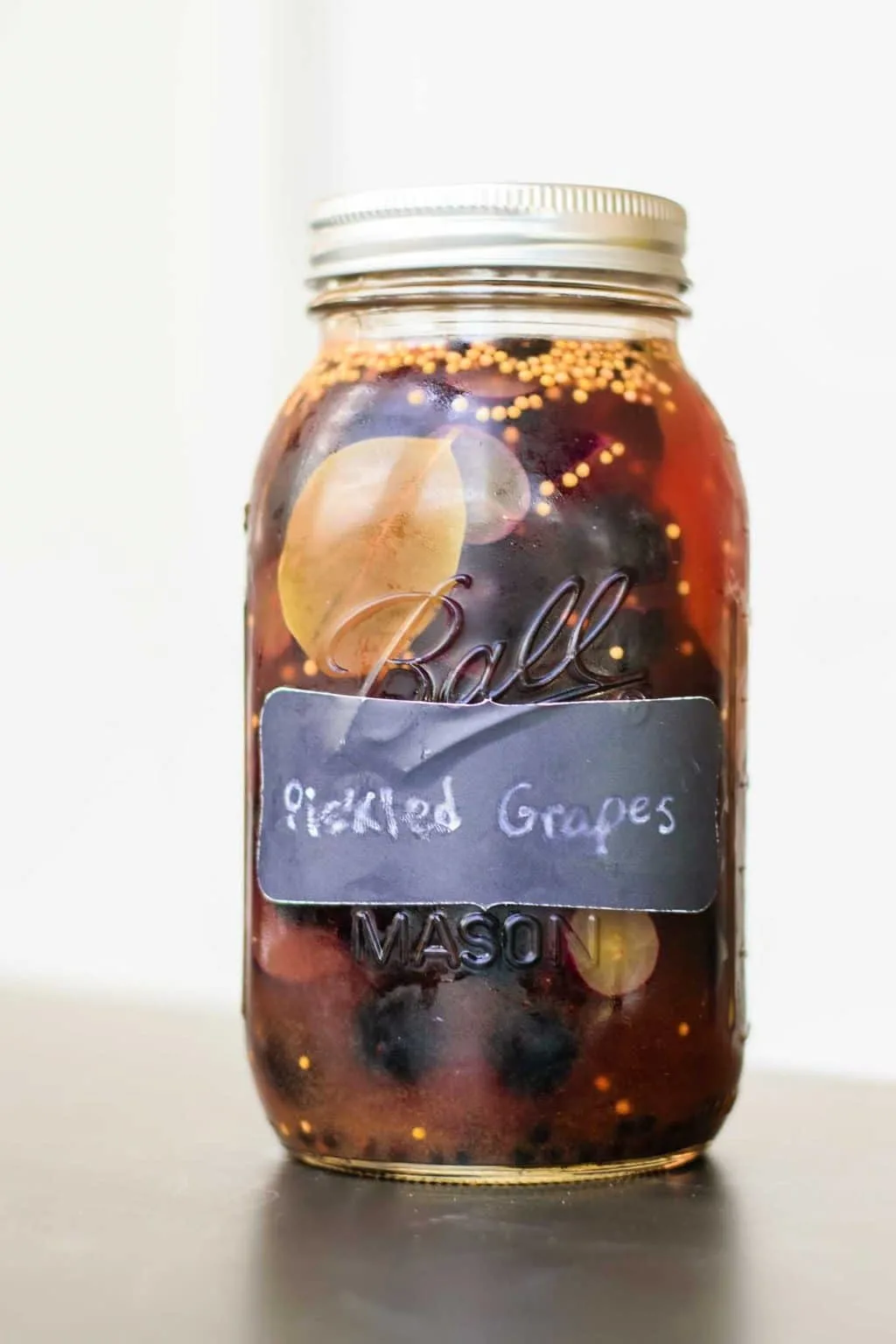 If you try these quick pickled grapes let me know! Tell me how you used them, and if you made any changes to the spices. Leave a comment and/or rate the recipe below, tag me on Instagram (or #thecuriouschickpea), or share with me on Facebook! I really hope you like them as much as we did!
And, because I can't resist, I'm leaving you with a semi-silly photo with my reflection in EVERY SINGLE GRAPE. Pickled grapes are super shiny guys.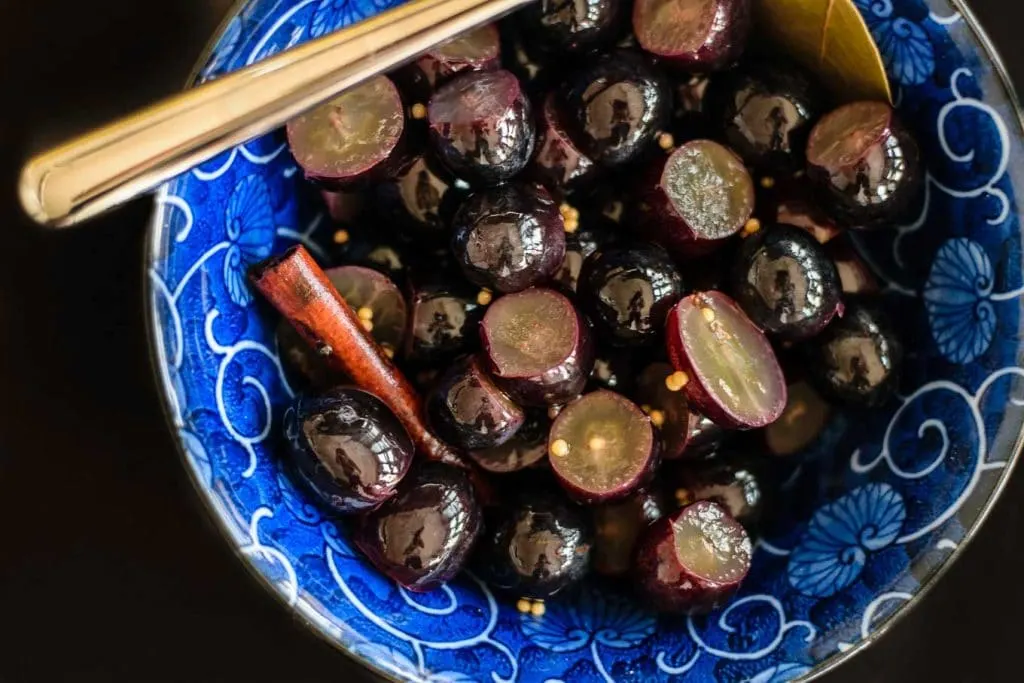 Notes:
You can use black or red grapes, but remember to choose seedless (I mean, unless you really like seeds)! I used black grapes.
Use the freshest grapes possible for pickling. You want them to have smooth skins and be very plump. Avoid using wrinkly grapes. Especially if you're using thinner skinned red grapes.
You can get creative with your pickling spices, but for the first time you make it I recommend following the recipe closely.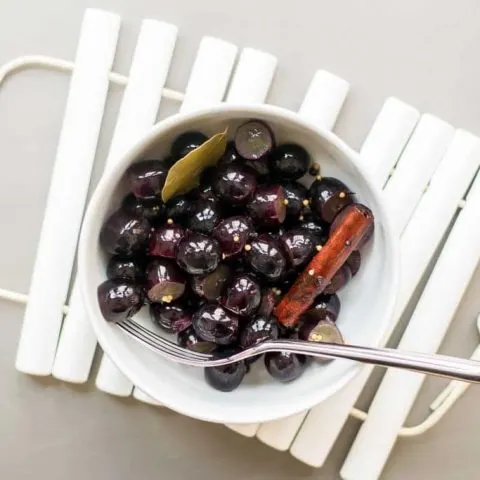 Quick Pickled Grapes
Total Time:
1 day
25 minutes
Black grapes are pickled in a deliciously spiced vinegar. They're tangy and sweet. The perfect accompaniment to so many things: pizza, salads, cheese plates, sandwiches and more!
Ingredients
500g (~3.5 cups) seedless black or red grapes
1 cup apple cider vinegar
1/4 cup red wine vinegar
1/4 cup water
1/2 cup sugar*
1 1/2 tsp yellow mustard seed
1 1/2 tsp black peppercorn
3/4 tsp salt
2-3 bay leaves
1 cinnamon stick
Instructions
Prepare the grapes: pluck them from the stem and either cut off a small portion of the top for smaller grapes, or cut in half for large grapes. This cut is important for allowing the pickling liquid to infuse. Place the cut grapes into a clean 1 quart glass jar.
In a small pot add the remaining ingredients. Bring to a boil, and let boil for about 1 minute. Then turn off the heat and let cool for at least 15 minutes. Take the cinnamon stick and bay leaves and nestle them into grapes so they don't just float on top, then pour the pickling liquid into the glass jar. If needed add a little extra water or vinegar to fully cover the grapes. Let cool to room temperature before putting the lid on, then transfer to the refrigerator. Give them at least a day to pickle before eating (if you can!) and they should last a week.
Notes
*use up to 1 cup sugar for a sweeter pickle
loosely adapted from Serious Eats