This spicy vegan buffalo pizza is loaded with buffalo soy curls (other options given), a cooling vegan ranch dressing, and extra hot sauce for the most delicious and fiery pizza there is!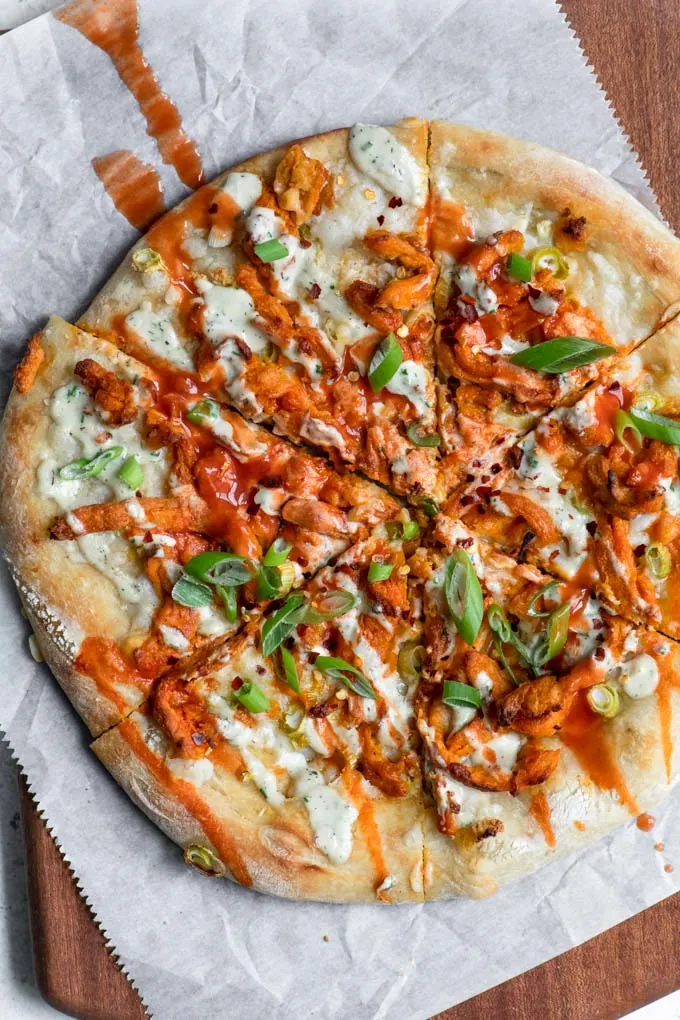 When that craving for buffalo sauce hits, you know what they say–make some pizza! Ok maybe not the most common refrain, but oh boy is it one of the tastiest ways to enjoy that spicy sauce.
There are a lot of choices you can make with regards to what to buffalo. You can make buffalo seitan, buffalo tofu, buffalo chickpeas, buffalo cauliflower, buffalo pasta… well you get the idea.
For this pizza I turn to the delightfully chewy vegan protein soy curls. Soy curls are made from the isolated protein of soybeans and are dehydrated. They are gluten free, though of course this pizza isn't because of the dough, but you could use these toppings on a gluten free base!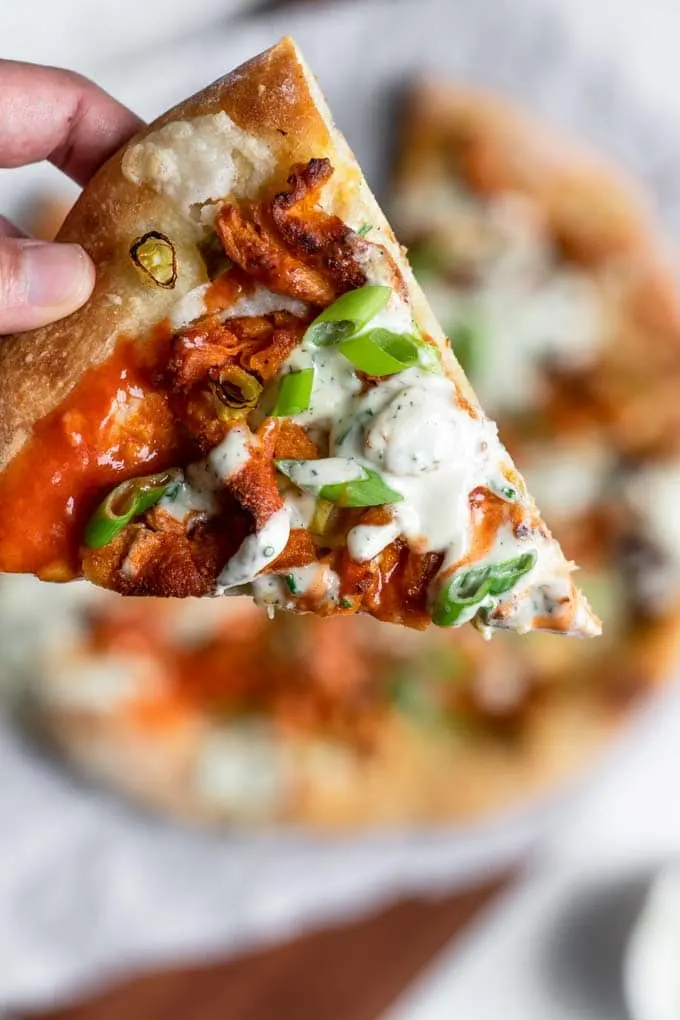 I'll go more into detail about soy curls shortly, but you should know that they soak up the buffalo sauce like a sponge so they are quite literally bursting with flavor.
Spicy, salty, vinegary, buttery, vibrantly orange flavor.
You'll want to pair these spicy nuggets with a cooling vegan ranch. Store bought is a-okay, but I also have my homemade cashew ranch dressing which I used in these photos if you prefer to go a more whole foods route!
Picture your toppings piled atop a soft puffy pizza base with a perfectly crisp bottom and your pizza finished with scallions in all their oniony glory, creamy vegan mozzarella, and extra drizzles of hot sauce to serve.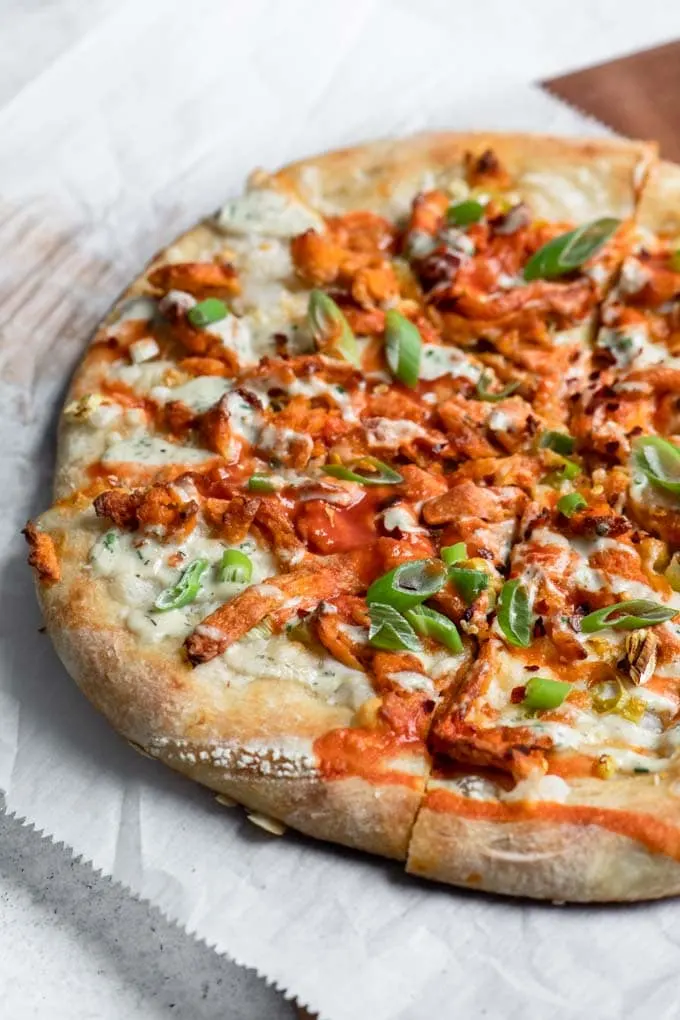 Many tears are shed over how much we enjoy this pizza every time I make it (ok, maybe not actually, but emotionally, we are there).
First order of business, the pizza dough.
When it comes to making pizza, you must start with the dough. Either plan ahead a little and make a homemade pizza dough (this easy overnight pizza dough is my go-to), or pick some dough up either from the refrigerated section or freezer section at your local grocery store, or from a local pizza shop.
No matter what pizza dough you use, you want it to be at room temperature for at least 1 hour before shaping and baking it. This lets the gluten relax so that the dough is easily stretched for topping.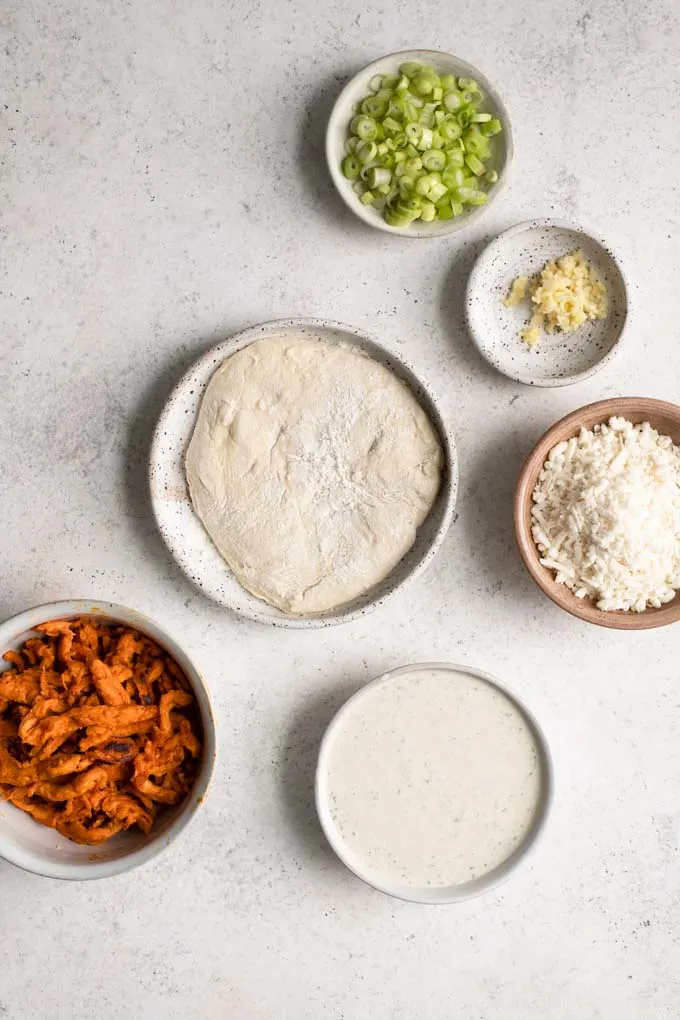 If it's a same day pizza dough just make sure you've let it really relax after shaping into balls before using!
While you're at it, note that you'll want to preheat your oven for the hour before you bake as well. This allows the heat to really soak and permeate into the walls of the oven as well as your pizza stone or baking steel (if using).
I like to have my top rack positioned 1/3 of the way down from the top of oven. [For more tips on pizza dough shaping and baking, including tips for using a pizza peel, read the post of my pizza dough recipe.]
While we're thinking ahead get the ranch dressing ready:
If you're making your own vegan ranch dressing, go ahead and make that ahead of time! I like to give it at least an hour to chill in the fridge before using. But it's even better the next day.
If you're using store bought vegan ranch, just know it's waiting for you in your fridge ?.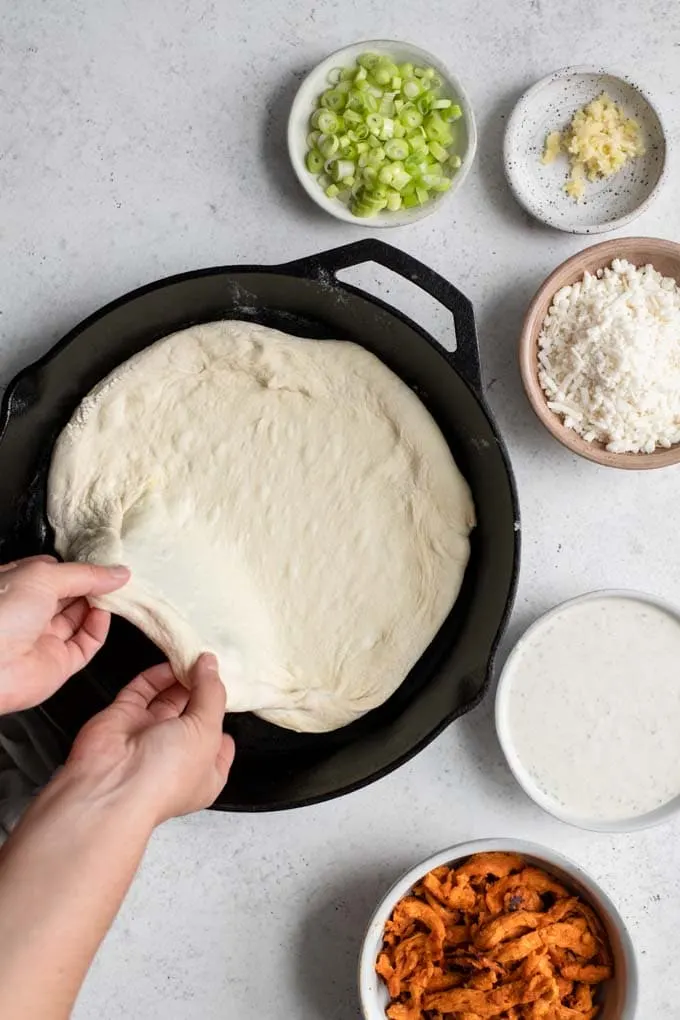 Making the buffalo soy curls:
Soy curls are largely flavorless, but like I said before they soak up whatever flavor you marinade or cook them in. Plus I really do love their chewy texture!
You may be able to find them in some grocery stores, but I have better luck ordering them online. You can find them on Amazon, or buy directly from Butler Foods (which is the company that makes them in the US). They are dried and last for months in the pantry, so I'm always sure to stock up on them!
To make the buffalo soy curls, first rehydrate them with hot water until plump and soft. Then, squeeze out as much water as you can (once it's cooled enough to do so) so that they're ready to soak up that buffalo sauce.
Once they're rehydrated, lightly fry them in a skillet until they're just browned, then pour in the buffalo sauce. Cook them another minute or two so they soak up the sauce. Then just set them aside until you're ready to make the pizzas!
The buffalo soy curls can be prepared in advance if you'd like.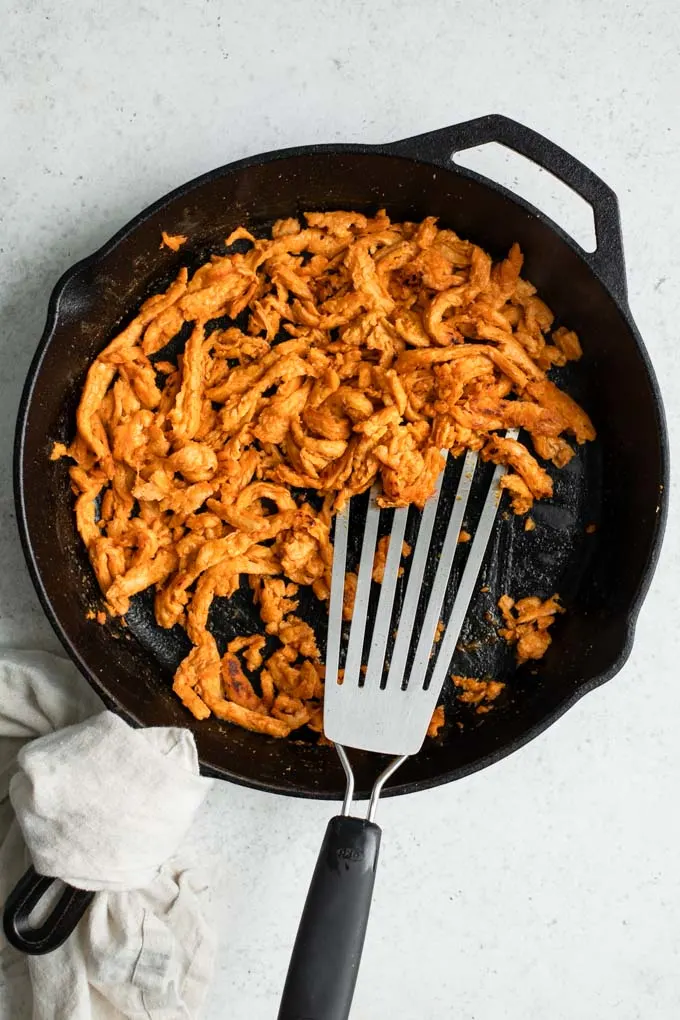 Preparing the vegan buffalo pizza:
When you're ready to top your pizza, get everything laid out on the counter: olive oil, crushed garlic, shredded or crumbled vegan mozzarella, buffalo soy curls, sliced scallions (with the white and dark green parts separated), ranch dressing, and some more hot sauce.
As I've written this recipe there are enough soy curls to make 3 approximately 12-inch pizzas, using 10oz balls of dough for each. But you can leave it as one dough ball for a large half-sheet pan sized pizza, or divide into 2, 4, or even 5 balls if you prefer a different size.
Now decide how you're going to bake this pizza. Is it on a baking sheet, a pizza pan, a cast iron, directly on a pizza stone or baking steel?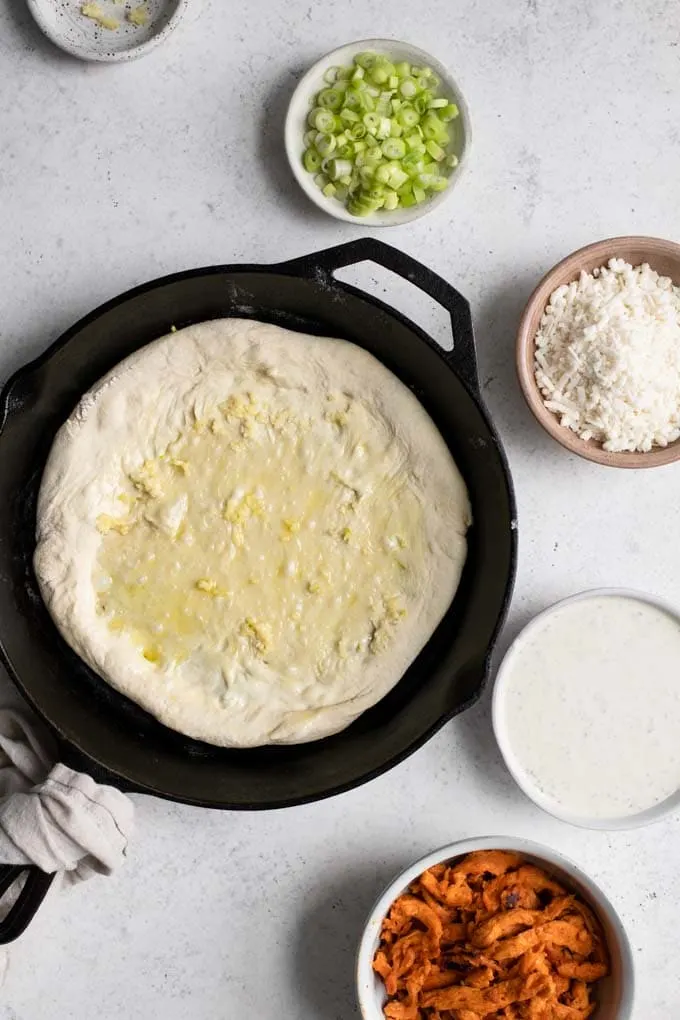 As seen in the photos, I baked this pizza in my cast iron pan set on my baking steel, but I'll detail a couple other options below.
Shape your dough into a 12-inch round and set it into the skillet if using, onto your baking pan of choice, or on a floured pizza peel (the latter if baking directly on a pizza stone/baking steel).
Then load up the toppings. First a thin layer of olive oil, then the crushed garlic. A layer of vegan mozzarella (I use about 2 2/3 oz cheese per pizza, but you do you), then add about 1/3 of the buffalo soy curls on top. Finish with some sliced scallions (white and light green parts).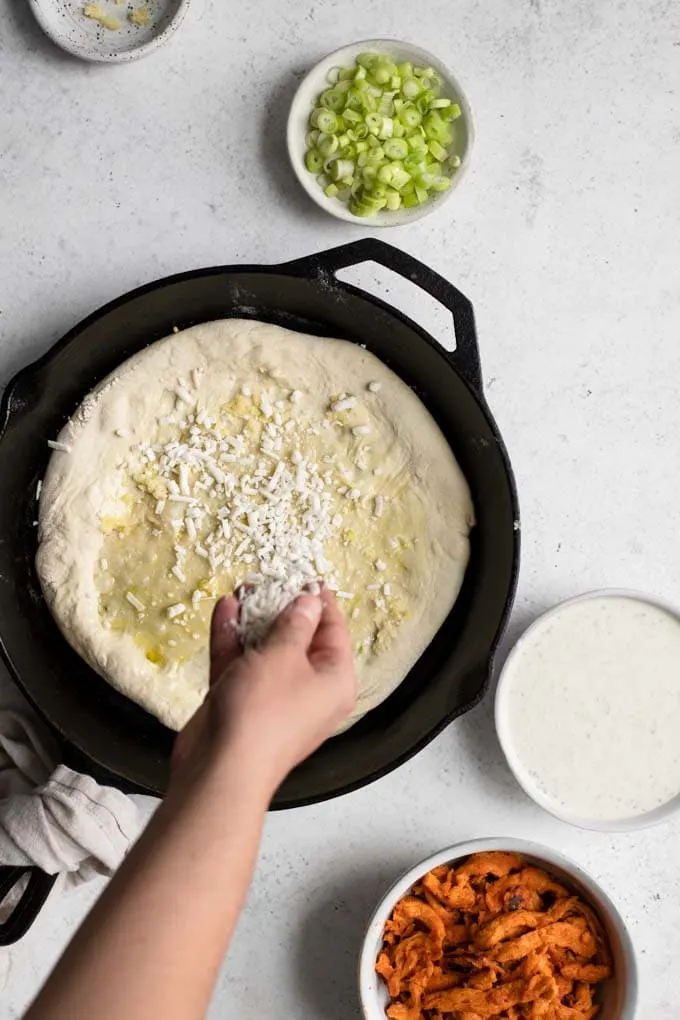 Bake the pizza until the cheese is melty, the crust is crispy on bottom, and there are dark golden or lightly blackened spots on top. Finish the pizza with a drizzle of ranch dressing and hot sauce to taste, and the sliced scallion greens. Serve with more hot sauce and ranch at the table.
Options for baking methods:
I've given two ways to bake this pizza in the instructions. The first is in a cast iron skillet and the second is directly on a pizza stone or baking steel.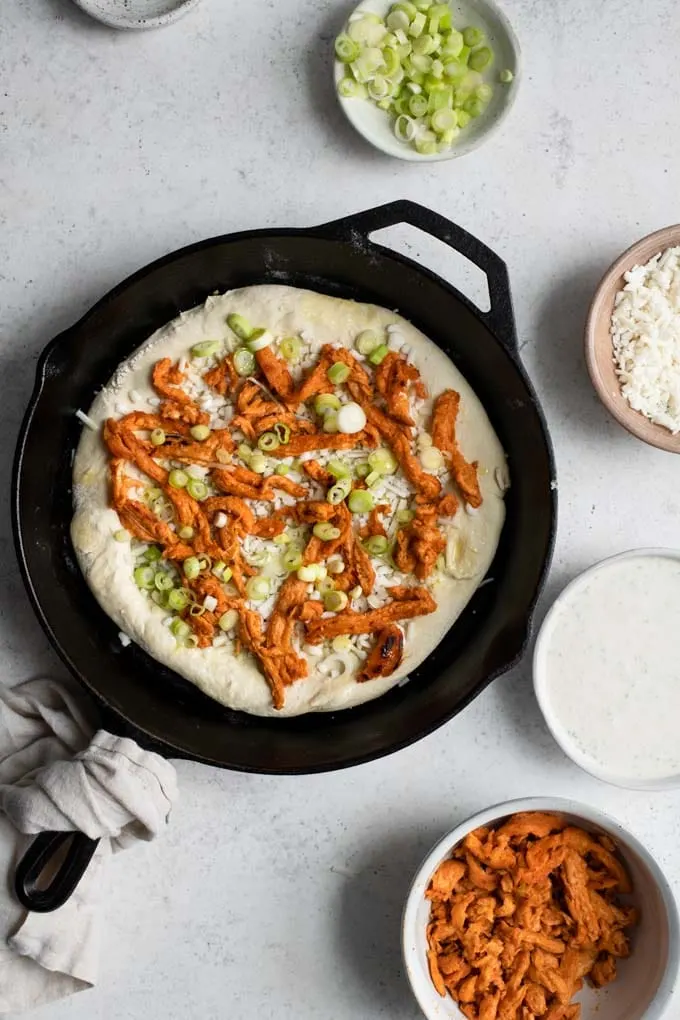 For pizzas baked in the cast iron, I'll go in to cut them with kitchen shears, but you could also remove the pizza from the skillet with a spatula then cut with a knife.
As I've mentioned I also enjoy making this into a giant half-sheet pan pizza. Just oil the half sheet pan, then stretch the dough out to fill the pan (you'll want about 30oz of dough). Top your pizza as normal using up all the soy curls. It will need longer to bake, maybe about 15-20 minutes, but keep an eye on it!
Substitute for soy curls?
So you want a vegan buffalo "wing" pizza but don't have or can't have soy curls? Well you could use seitan or prepared vegan chicken in place of soy curls. You'll skip the hydrating step of course, but otherwise proceed the same way.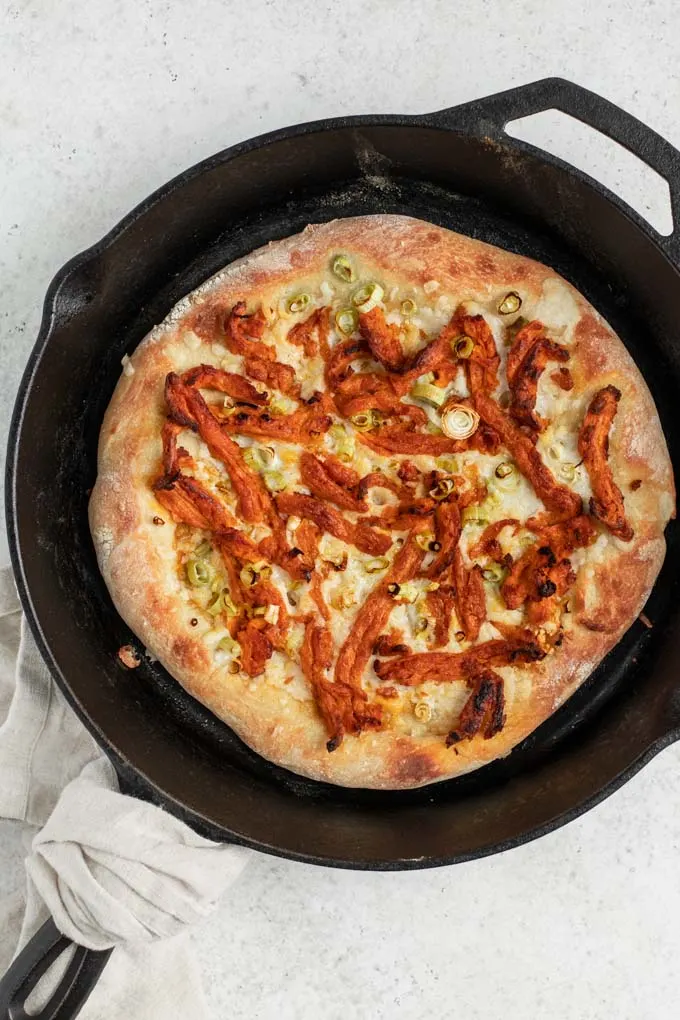 Seitan won't soak up the buffalo sauce the same way that soy curls do, so they'll be saucier. That's fine.
You could also try buffalo chickpeas. Use a 15oz can of chickpeas (that's about 2 cups cooked). Drain and rinse the chickpeas then proceed with the recipe. Like the seitan, these will be saucier.
Roasted cauliflower tossed in buffalo sauce would also be tasty! Feel free to use your imagination. But I do highly recommend grabbing soy curls and trying it this way! It's so so good.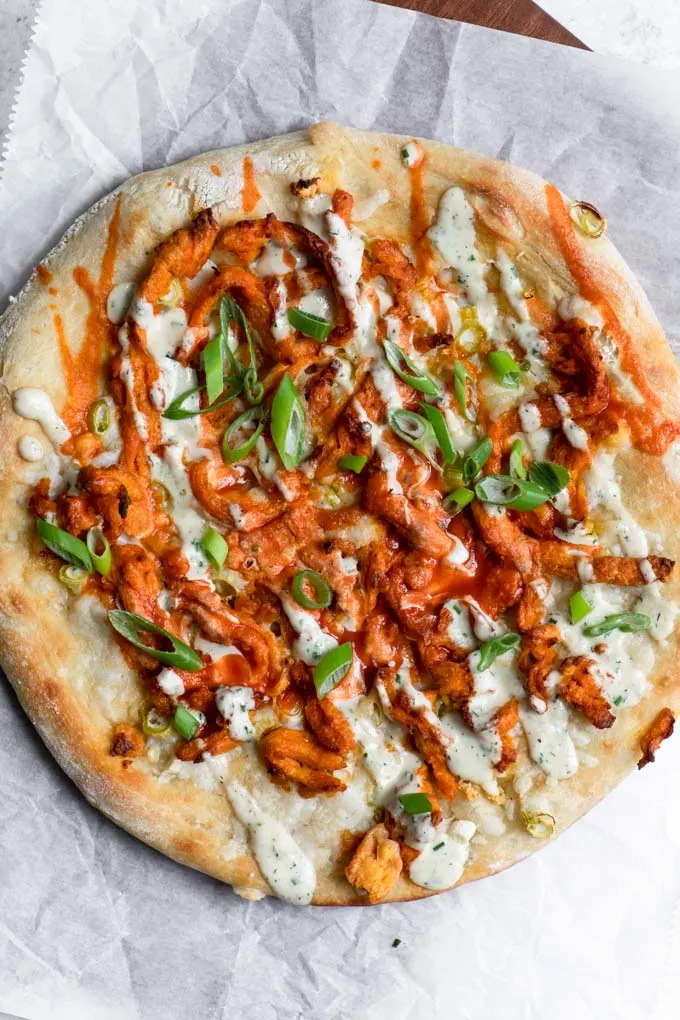 If you make this vegan buffalo pizza with soy curls, leave a comment below and rate the recipe on the recipe card. And please share your photos with me on Instagram, tag @thecuriouschickpea and #thecuriouschickpea. I love seeing your recreations!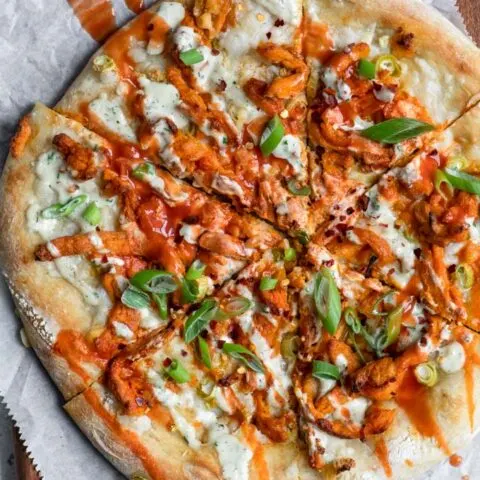 Vegan Buffalo Pizza
Pizza dough is topped with vegan mozzarella and buffalo soy curls, baked, then finished with a homemade cashew ranch dressing, scallions, and extra hot sauce in this delicious vegan buffalo pizza!
Ingredients
Buffalo Soy Curls
2 cups (100g) soy curls
boiling hot water
6 tbsp (90g) Franks RedHot hot sauce, or a similar hot sauce
3 tbsp (35g) vegan butter, melted
1/8 tsp granulated garlic
1/8 tsp salt
2 tsp canola oil
For the Pizza
Extra virgin olive oil
2-3 cloves garlic, minced or pressed
7oz vegan mozzarella
2-3 scallions, sliced with the white and green parts divided
Additional hot sauce
Instructions
Make the buffalo soy curls
Place the soy curls in a heat safe bowl, then pour in enough hot water to cover. Let sit at least 15 minutes, or until cool enough to touch, then drain them, squeezing out extra water by hand.
In a small mixing bowl whisk together the melted vegan butter, the hot sauce, granulated garlic, and salt to make the buffalo sauce. Set aside.
Heat a large skillet over medium heat. Add the two teaspoons of oil and drained soy curls. Sauté until the soy curls are lightly browned, about 5-7 minutes. Pour in the buffalo sauce and cook an additional 2-3 minutes until the sauce is absorbed. Remove from the heat and set aside until ready to make the pizza.
To make the pizza
One hour before you're ready to bake, preheat your oven to 550 ºF, or as hot as it will go. Place a rack 1/3 way down from the top of the oven, and place a baking steel or baking stone on that rack if using. You want the oven to saturate with heat for 1 hour before baking pizza for best results.
When the oven is nice and hot, prepare your pizzas. Stretch the dough into a 12-inch round and place in a lightly oiled large cast iron skillet. Drizzle a little olive oil over the dough and spread it with your fingers to coat the dough. Top with the minced garlic, then add the vegan mozzarella followed by about 1/3 of the soy curls. Lastly add the sliced white and light green parts of the scallions. Place the entire cast iron skillet on rack, and bake for 8-15 minutes, or until the crust has darkened and turned dark brown or black in spots.
Alternatively you can bake the dough straight on a pizza stone or baking steel, just place the dough on a prepared pizza peel, then top the pizza and slide into the oven on the stone or steel and bake for 7-10 minutes.
When the pizza is cooked, remove from oven and drizzle some of the chilled ranch over top and extra hot sauce if desired. Then finish with some of the green parts of the scallions. Slice and enjoy while hot!
Notes
You can speed up the baking process when baking in a cast iron if you preheat the cast iron before adding the dough. You can do this by just placing the empty skillet on a burner and turning on the stove to medium. Let it warm up, then be careful when assembling your pizza in the skillet!
Recommended Products
As an Amazon Associate and member of other affiliate programs, I earn from qualifying purchases.
Nutrition Information:
Yield:

6
Serving Size:

3 slices of pizza
Amount Per Serving:
Calories:

714
Total Fat:

31g
Sodium:

1282mg
Carbohydrates:

78g
Fiber:

8g
Sugar:

9g
Protein:

33g
Nutrition is calculated automatically so should be used as an estimate.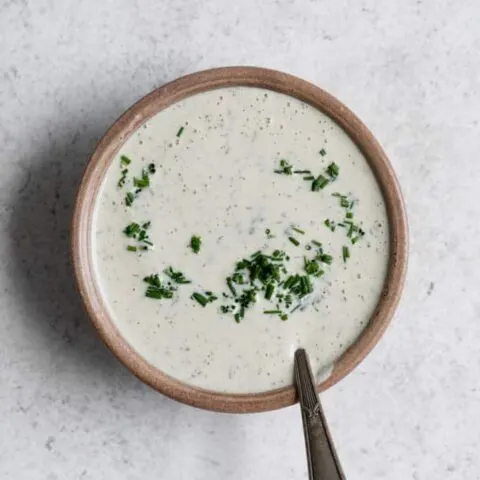 Cashew Ranch Dressing
This cashew ranch dressing is a delicious creamy dressing that's easy to make at home. Use anywhere you'd typically enjoy ranch dressing!
Ingredients
1 cup (125g) raw cashews
3/4 cups (175g) water
1 tbsp (15g) apple cider vinegar
3/4 tsp onion powder
1/2 tsp granulated garlic
1/2 tsp dried dill
1/2 tsp salt
1/8 tsp white pepper
2 tbsp minced fresh chives
Instructions
If not using a high speed blender, soak your cashews in boiling hot water for 30 minutes or in cold water for 2 hours. Drain, then use the cashews. If using a high speed blender you can skip soaking!
Add the cashews, water, and apple cider vinegar to a blender and and blend until smooth and creamy. Pause to scrape down as needed.
Add the onion powder, granulated garlic, dried dill, and salt, and white pepper and blend the spices in.
Stir in the chives with a spoon (do not blend). Transfer the dressing to a sealed container and chill for at least 1 hour before using. It will thicken as it chills. Enjoy within 1-2 weeks.
Nutrition Information:
Yield:

8
Serving Size:

1
Amount Per Serving:
Calories:

101
Total Fat:

8g
Saturated Fat:

2g
Trans Fat:

0g
Unsaturated Fat:

6g
Cholesterol:

0mg
Sodium:

256mg
Carbohydrates:

6g
Fiber:

1g
Sugar:

1g
Protein:

3g
Nutrition is calculated automatically so should be used as an estimate.
This recipe was originally posted on December 19, 2017.