Broccoli in garlic sauce is a mouth watering, guilt-free, healthy dish that comes together in no time! It's better than take out–better in flavor and better for you!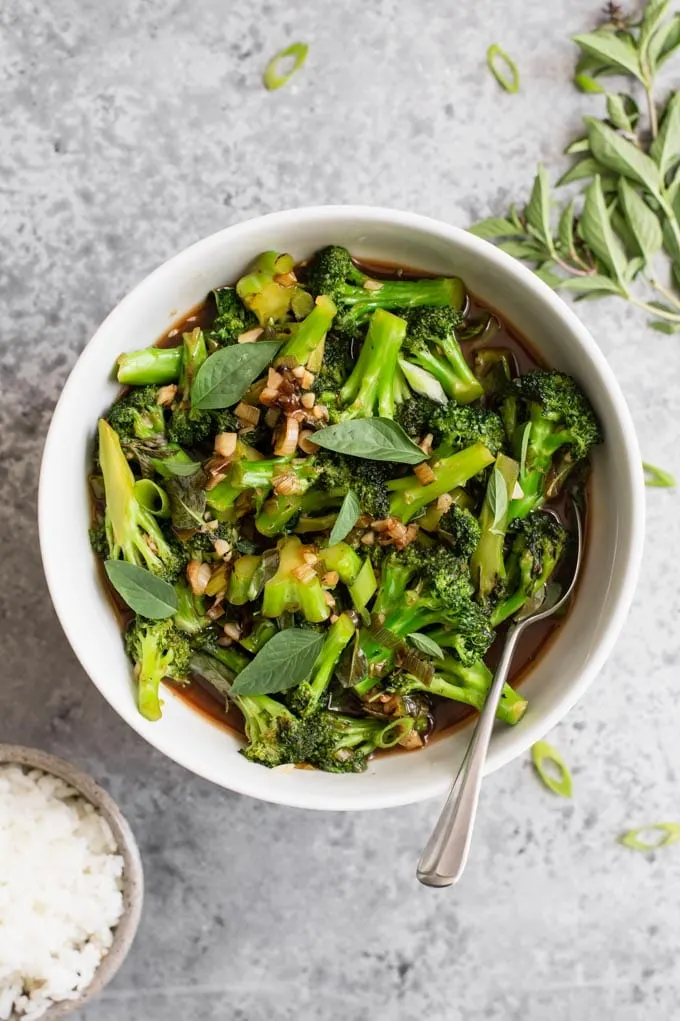 This recipe for Chinese restaurant-style broccoli in garlic sauce is quick and easy. It's a perfect accompaniment to any Chinese meal and a sure-fire way to get those veggies in!
Making Chinese restaurant style food at home is simple. You do need a variety of sauces, but once you've collected these you have many delicious meals at your fingertips.
Here we've got broccoli in a medium brown garlicky sauce. It's not too thin or too thick, but nice and saucy for soaking into your rice, which we all know is one of the best parts of Chinese food.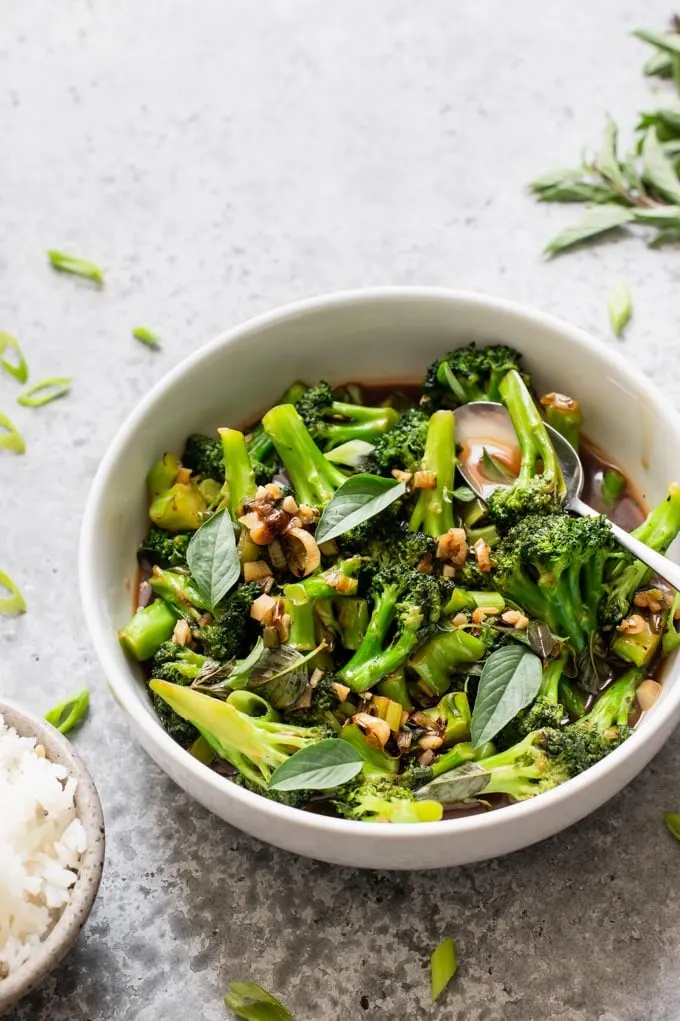 The Chinese specialty ingredients:
Like I mentioned, making Chinese food requires a particular set of sauces–some of which we use in this recipe, and which you'll also find in my other Chinese food recipes.
For this recipe, the 'specialty' ingredients we are using are Chinese rice wine, two kinds of soy sauce, and sesame oil.
Shaoxing rice wine, or Chinese rice wine, is a mild and lightly sweet wine with a low alcohol content. It adds depth of flavor to the brown sauce without the acidity of vinegar.
Look for shaoxing wine in specialty Asian grocery stores or online. If you cannot find it, you may substitute sake or mirin. It's not exactly the same, but they are good substitutes and can fill the same role.
I spoke about different kinds of soy sauces more in depth in my tofu with black bean sauce recipe, so will keep it simple here. Side note: that black bean sauce tofu pairs wonderfully with this broccoli in garlic sauce!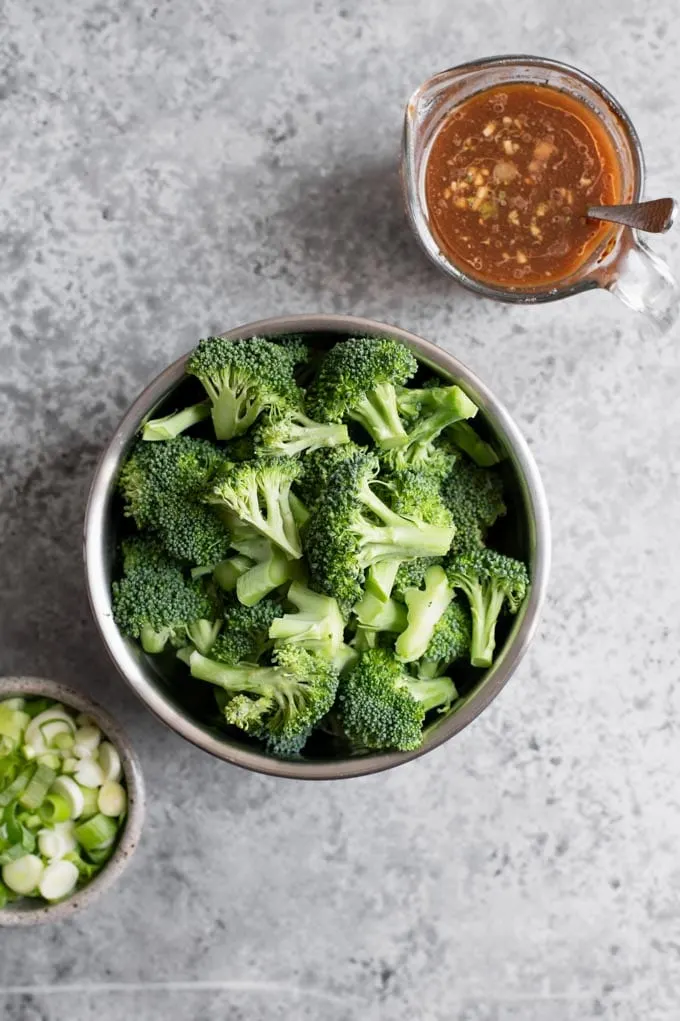 Our garlic brown sauce needs some soy sauce to actually be brown and more importantly bulk up that salty savory flavor. We use both a light soy sauce and dark soy sauce in this recipe.
Light soy sauce is what it sounds like, a more mildly flavored salty soy sauce. It's clean tasting and provides the bulk of the soy sauce in the recipe. It's not the same as low sodium tamari.
You can order the soy sauces online or find them at Asian grocery stores. If you cannot find them, then substitute shoyu or tamari–and low sodium tamari is fine in that case. You'll have to substitute it for both light and dark soy sauces, and it won't taste as "authentic" (I'm not saying this is China-Chinese authentic, but more the Chinese take out authentic).
Sesame oil is the easiest of the 'specialty' ingredients, as it's commonly available at grocery stores. Sometimes in the Asian section and sometimes in with the other oils. You can use plain sesame oil or toasted sesame oil.
The rest of the ingredients are straight forward:
Vegetable broth or water (if possible use a low sodium broth since we're adding so much salt with the soy sauces).
Sugar, an odd seeming ingredient but it actually brings out the salty flavors of the sauce and keeps it from falling flat. You can use a natural sweetener or just plain old granulated sugar.
Garlic, because duh, garlic sauce.
Cornstarch + water slurry. This is what thickens the sauce. I use enough to make a relatively thin sauce, if you want it super thick and clingy sauce then you can increase the amount of cornstarch slurry.
White pepper. If you don't have white pepper you can use black pepper. But it's worth getting some white pepper for your Asian cooking! (I clearly do not have a minimalist pantry ?)
Fresh chilies or chili oil. This last one is optional, unless you live at my house… in which case chili it up!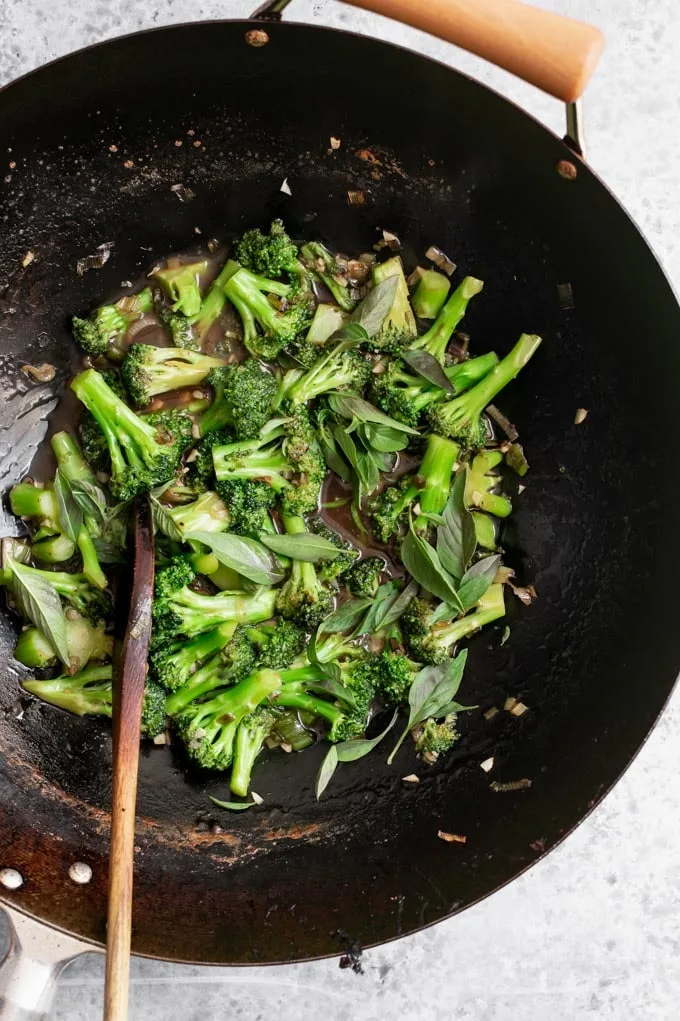 Cooking the stir fry:
This is the fun part! Your stir fry will be ready in next to no time (well a bit longer because broccoli does take a few minutes to cook and soften). But compared to other cooking methods, stir fries are super speedy!
They're cooked at high heat and the best way to cook them is in a carbon steel wok. That being said, if you don't have a wok, use your skillet! If it's one of those nonstick skillets you likely aren't supposed to use it on high heat, but if it's cast iron then you can crank the heat up.
But before we get to the cooking, make sure you've prepared all your ingredients. Chop up the broccoli (florets and tender portion of the stems thank-you-very-much), stir together the sauce, slice up the scallions, and prep your basil.
Now, heat that wok up to high, add the oil and let it lightly smoke, then add in the scallions. These soften and char slightly, then we add the broccoli. Let the broccoli cook until it's vibrant green and starting to char in spots. It'll still be quite firm but that's ok because we're going to let it steam and soften in the sauce!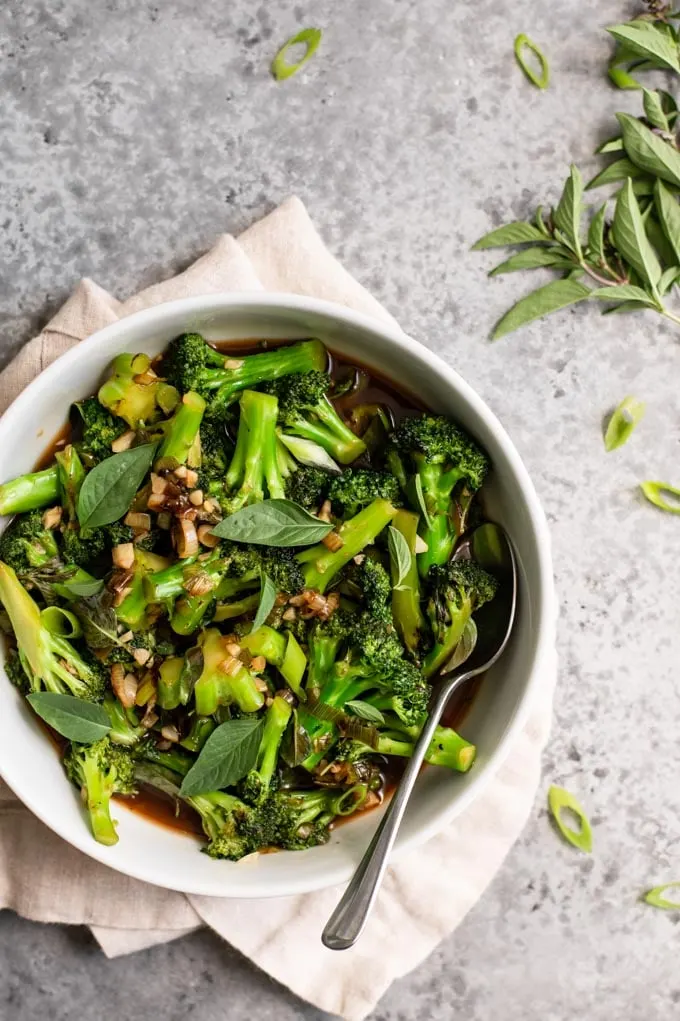 Pour in that sauce and let it come to a low boil. The sauce will thicken thanks to the cornstarch. If you're not happy with the level of thickening after a few minutes you can always add more cornstarch slurry (always mix the cornstarch with a small portion of water before adding it to the dish or the cornstarch will clump).
How long you let the dish simmer depends on how soft you like your broccoli. I like mine on the firmer side, but perhaps you like really mushy broccoli, idk. If you like it super soft you can always cover your wok with a lid to capture that steam and soften the broccoli further.
When done, simply garnish with your basil and serve it with jasmine rice! Or, quickly throw together your next stir fry (which you've conveniently already prepared so will be done in minutes–before your broccoli has a chance to cool)!
---
If you make this Chinese broccoli in garlic sauce, leave a comment below and rate the recipe on the recipe card. And please share your photos with me on Instagram, tag @thecuriouschickpea and #thecuriouschickpea. I love seeing your recreations!
---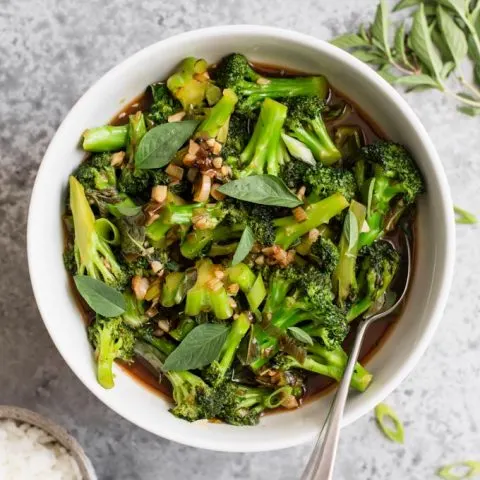 Broccoli in Garlic Sauce
Chinese take-out style broccoli in garlic sauce. Delicious and quick and easy to make!
Ingredients
Garlic Brown Sauce
1/2 cup vegetable broth or water
2 tbsp Chinese rice wine or sake
2 tbsp soy sauce
1 tbsp dark soy sauce
1 tsp sesame oil
1 tbsp sugar
4 cloves garlic, minced
1 tbsp corn starch mixed in 2 tbsp water
1/4 tsp white pepper
optional: chili oil or fresh chiles to taste
Everything Else
1 tsp oil
1 lb broccoli, cut into florets and tender portion of stems chopped
3 scallions, sliced
1/4 cup thai basil or sweet basil
Instructions
Mix all the sauce ingredients together and set aside.
Heat a wok or large skillet over high heat until lightly smoking. Add the oil and then the scallions. Fry for 1 minute. Add the broccoli and fry for 2-3 minutes, or until the broccoli is a vibrant green color and charring in spots.
Add the sauce, and bring to a simmer. Let simmer until the sauce has thickened and the broccoli is as tender as you like. Turn off heat and add the Thai basil. Garnish with scallion greens and serve immediately!
Recommended Products
As an Amazon Associate and member of other affiliate programs, I earn from qualifying purchases.
Nutrition Information:
Yield:

4
Serving Size:

1
Amount Per Serving:
Calories:

106
Total Fat:

3g
Sodium:

792mg
Carbohydrates:

16g
Fiber:

4g
Sugar:

5g
Protein:

4g
Nutrition is calculated automatically so should be used as an estimate.