These vegan garlic parmesan potato stacks are similar to scalloped potatoes, but they're arranged and baked in individual portions for maximal cuteness and so that the edges get deliciously crispy. They make a great side dish!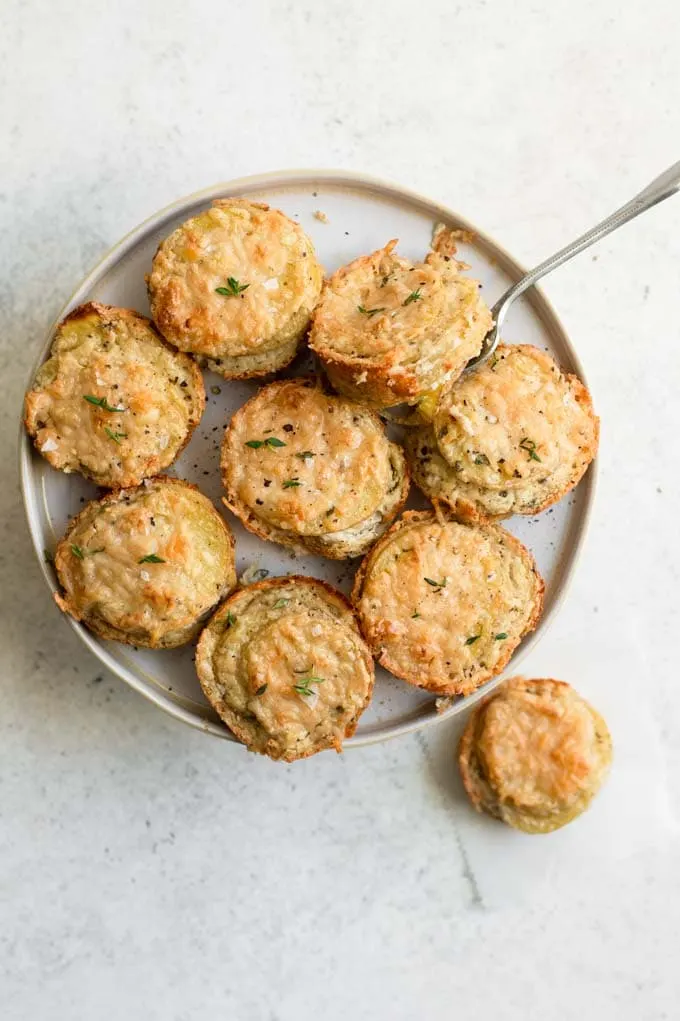 These little potato stacks are as tasty as they are adorable. They're similar to scalloped potatoes but stacked upright and made into individual sized portions because why not!
Made this way the edges get a bit crispy and it makes them even more addictive and enjoyable to eat!
Potato stacks make a great side dish perfect for big get togethers and romantic dinners for two. What brings people together more than cheesy, garlicky potatoes? A rhetorical question, obviously.
It's such an easy recipe to make, with a short ingredient list and taking very little hands on effort.
The best potatoes to use for potato stacks:
With such a short ingredient list it really makes a difference in how you choose and prepare each ingredient. But nothing is more important than the potatoes you use!
I tested this recipe both with waxy yukon gold potatoes and starchy russet potatoes. While both turn out scalloped potato stacks, I did prefer the buttery soft texture of the waxy yellow potatoes that just practically melted in my mouth.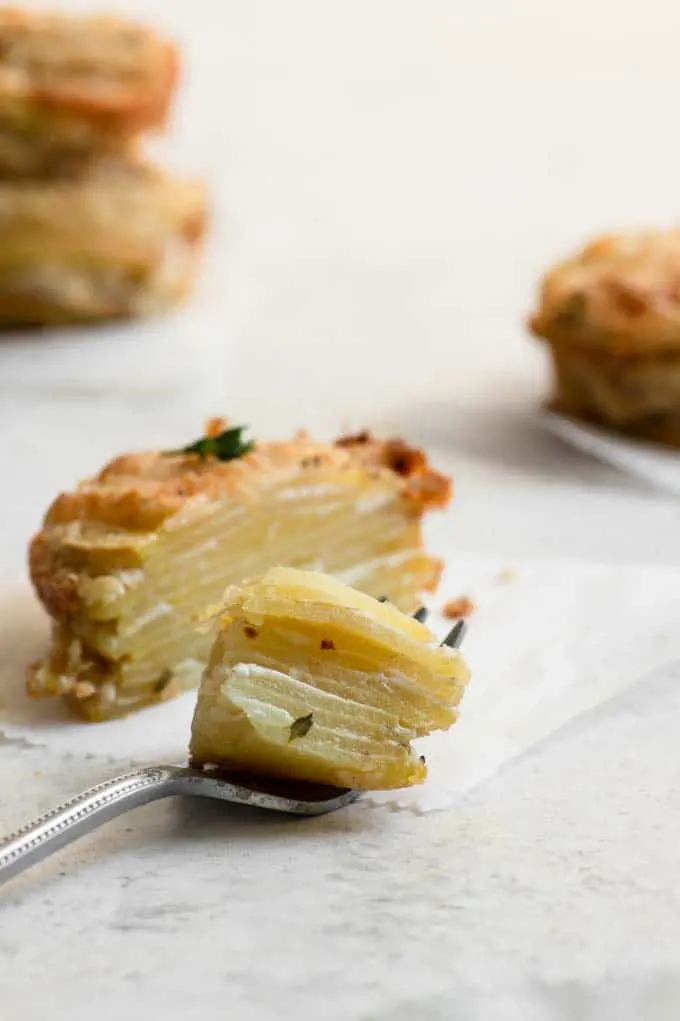 With that in mind, I recommend using yukon gold potatoes, however if you have a hankering for russets, they work too and crisp up more. I haven't tested red-skinned potatoes but imagine they'd be somewhere in between the two and would also make some good potato stacks!
The other thing to keep in mind is the size of the potatoes. You want to choose smaller potatoes.
If you consider the size of a muffin tin, which we'll be baking the potato stacks in, you want the potatoes to be no larger in circumference than the muffin tins. We're talking about no bigger than 1 1/2 – 2″ in circumference.
It's easier to find small yukon gold potatoes which is another reason to go for those!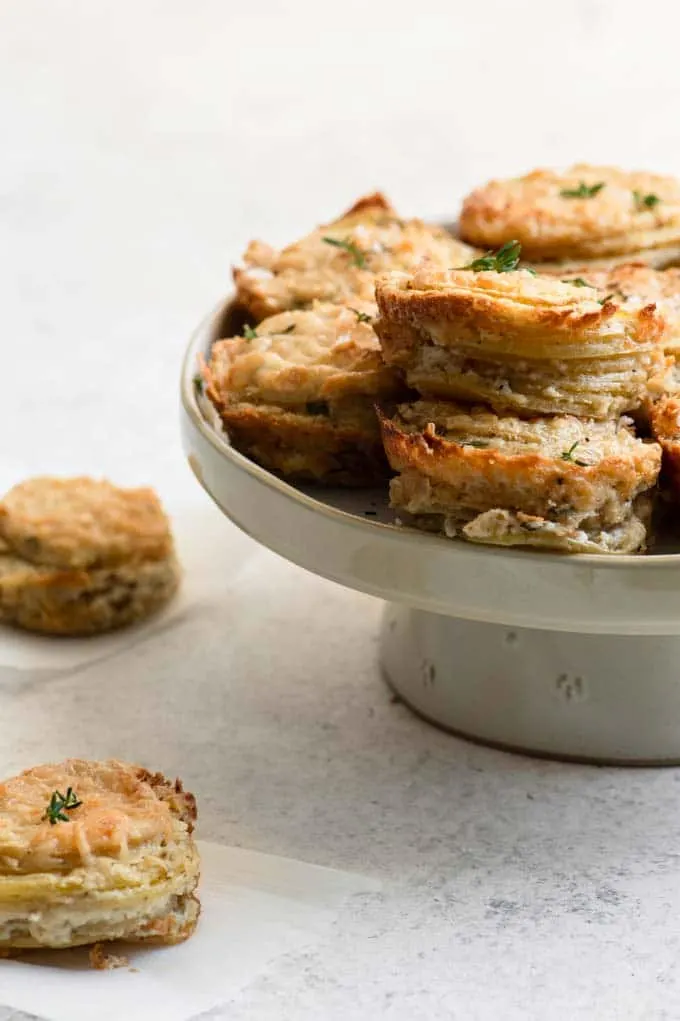 Preparing your potatoes:
When it comes to these these scalloped potatoes, whether they're stacked or layered in a baking dish, is to make thin even slices.
You can leave the skins on, they help create the pretty ruffling around the edges of the stacks and get a bit crispy.
Now if you have some great knife skills you can thinly slice with a knife. Just cut them as thinly and evenly as you can.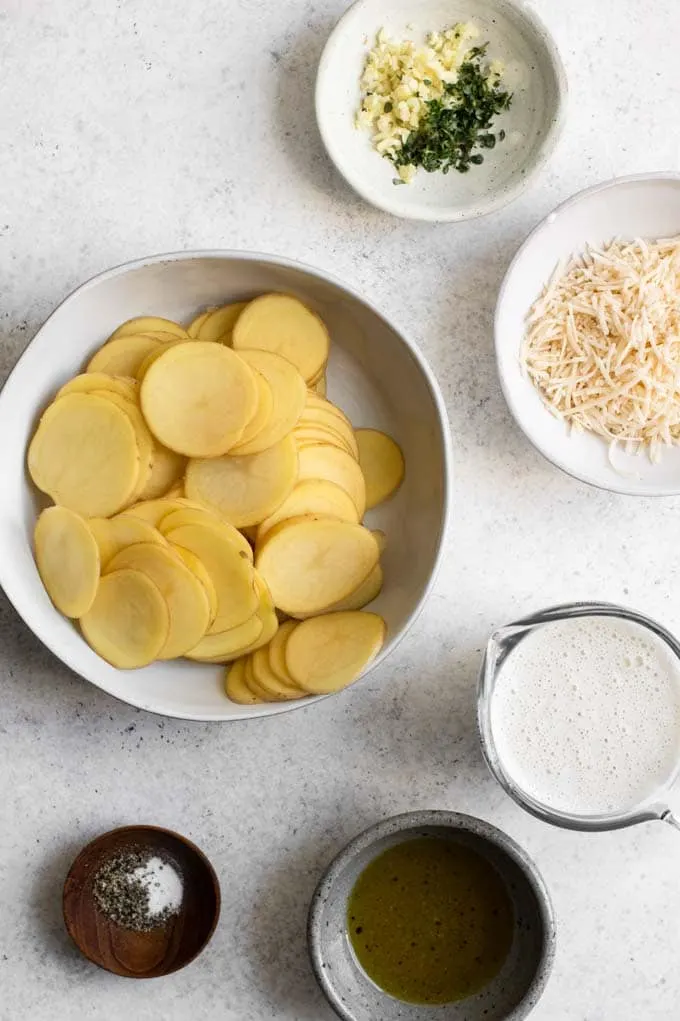 Personally, I grab my mandolin slicer for making these potatoes! Even if it takes a minute longer to wash than a knife, it makes quick work of slicing potatoes and will keep the slices at an even thickness.
If using a mandolin be careful, they are very sharp and should be treated with respect!
The cream:
The second most important ingredient to this recipe is the vegan cream. My preference is to use a homemade cashew cream. I blend the cashews in a 1:1 ratio with water (so 1 cup cashews in 1 cup water) to make a rich cream.
Cashew cream is super easy to make if you have a powerful blender, you can just toss the raw cashews in with water and blend until smooth–rub some of the liquid between your fingers and it shouldn't feel gritty at all.
If you want to make it and have a more average blender you can still make good cashew cream! Simply soak the cashews in water to soften them before blending.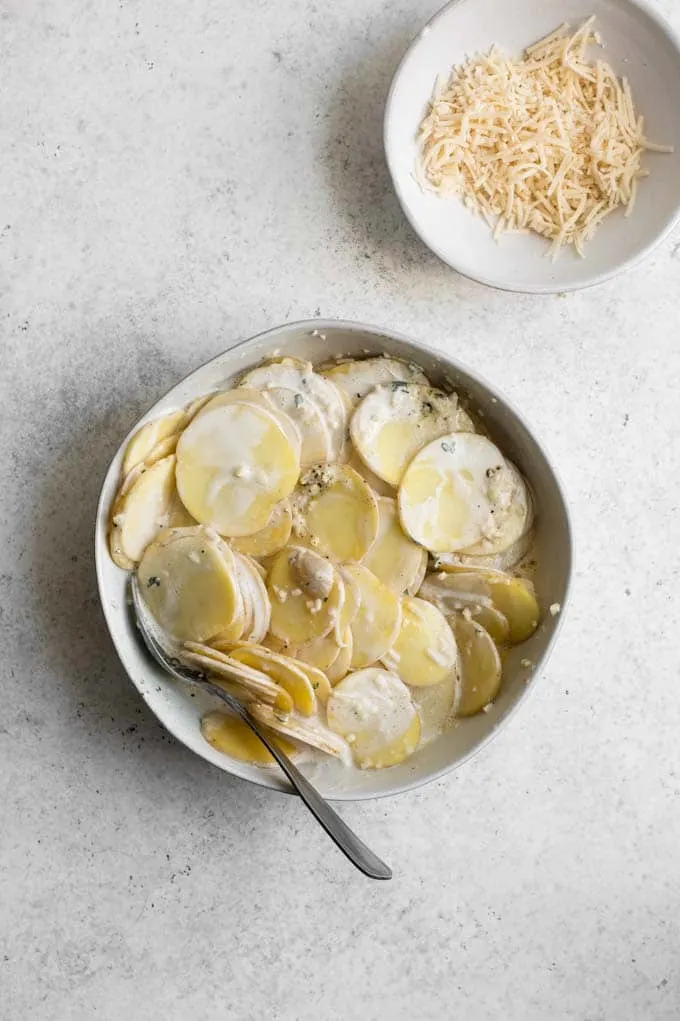 You can do a quick soak where you boil the cashews for 15 minutes, or let sit in boiling hot water for 30 minutes. Or you can do a slow soak and cover the cashews in cold water for a couple of hours (up to one day, but if soaking longer than 2 hours keep them in the fridge). Drain the soaking water and use fresh water to make the cream.
You can also use a store bought creamer, but you need to be careful that it's not sweet and doesn't have a strong flavor.
I find that the Forager brand half-and-half is a good option even though it's lightly sweetened with dates and does have coconut milk in it. It's pretty mild in flavor and works well here.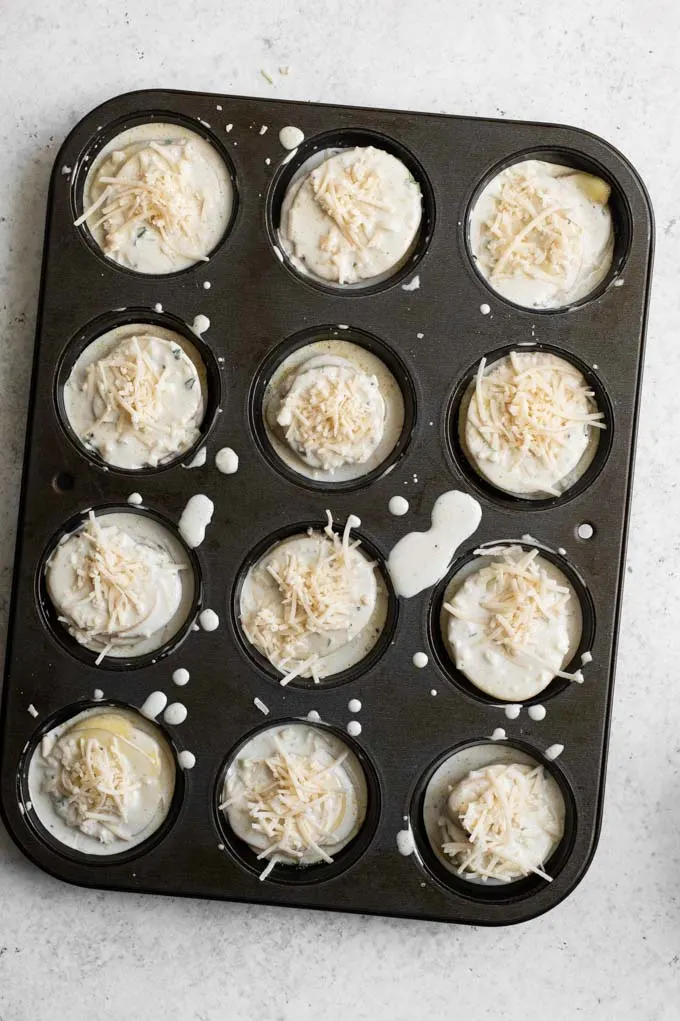 I also thing some of the plant milk barista blends work well for recipes like this, they're richer and creamy and often unsweetened. Oat milk and soy milk in particular can work well.
Everything else:
You can make these potato stacks without the vegan cheese, and in that case I would substitute 1/4 cup nutritional yeast for some cheesy flavor (along with an extra 1/4 tsp of salt), but I really recommend making them with vegan parmesan!
We're no longer in the vegan dark ages, there are great vegan parmesan options out there–go out and get them!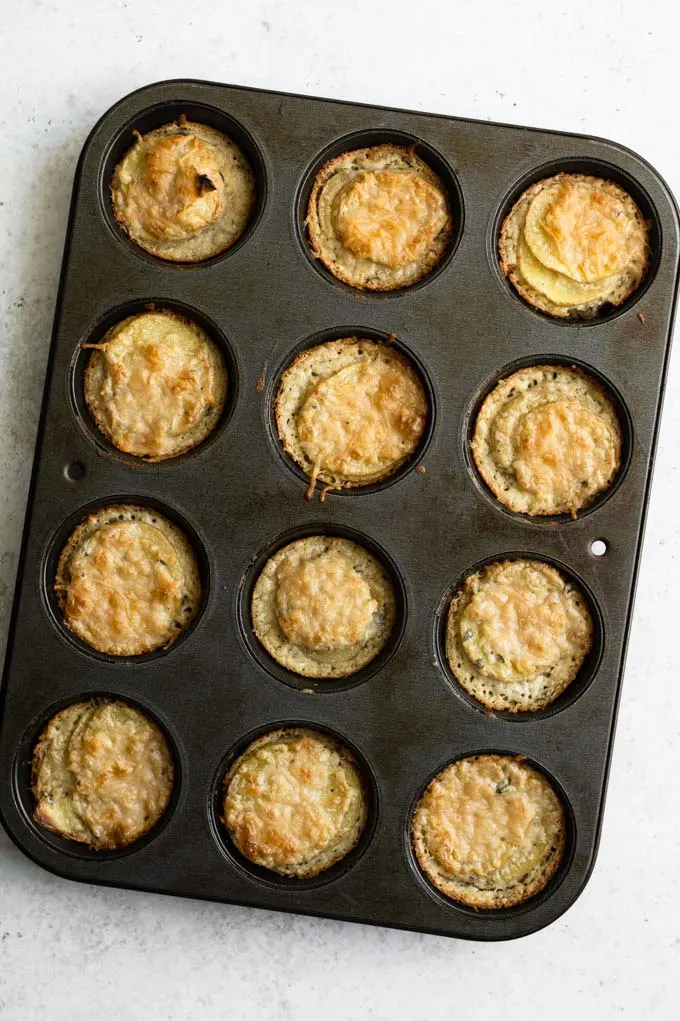 The vegan cheese is also what helps make these so perfectly crispy on the edges!
While we're at it, add in a bit of extra virgin olive oil or melted vegan butter. Potatoes are always best with a bit of added fat! You don't need a lot but it does make them better!
Next up, the garlic. Don't skip it! Garlicky cheesy potatoes are the best, remember!
Some fresh herbs and salt and pepper finish the dish up. I like either fresh thyme or fresh rosemary (both if you're feeling fancy)!
How to make the vegan garlic parmesan potato stacks:
Toss together the thinly sliced potatoes, olive oil or vegan butter, vegan cream, half of the vegan parmesan, garlic, fresh herbs, salt, and pepper in a large bowl.
This coats them in the cream. Now grab a stack of the potatoes, catching some of the garlic and herbs between the layers as you do so. Put the stacks in an oiled muffin tin to reach the brim of the cup. They'll shrink down as they bake.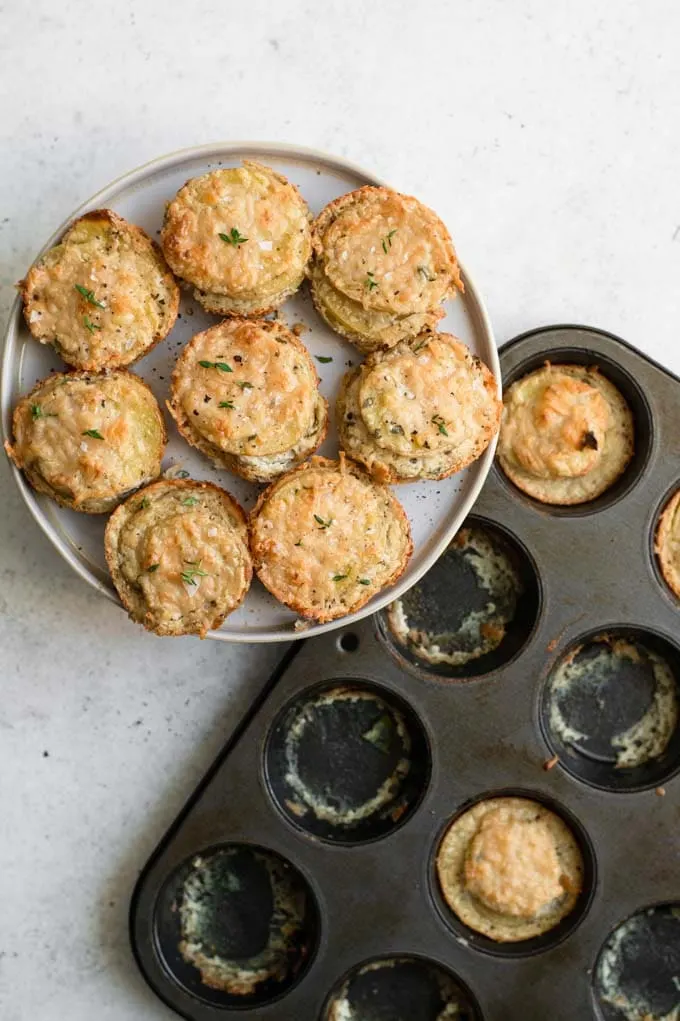 Once you've used up all the potatoes, pour the remaining cream mixture overtop. The potato stacks will be about 3/4 submerged in cream. Now take the rest of the vegan parmesan and sprinkle it atop.
Then this is optional but helps browning–drizzle a bit of oil or melted butter over each potato stack. Then stick them in the oven and bake until the potatoes are completely tender!
You'll want to enjoy these right away, and regularly!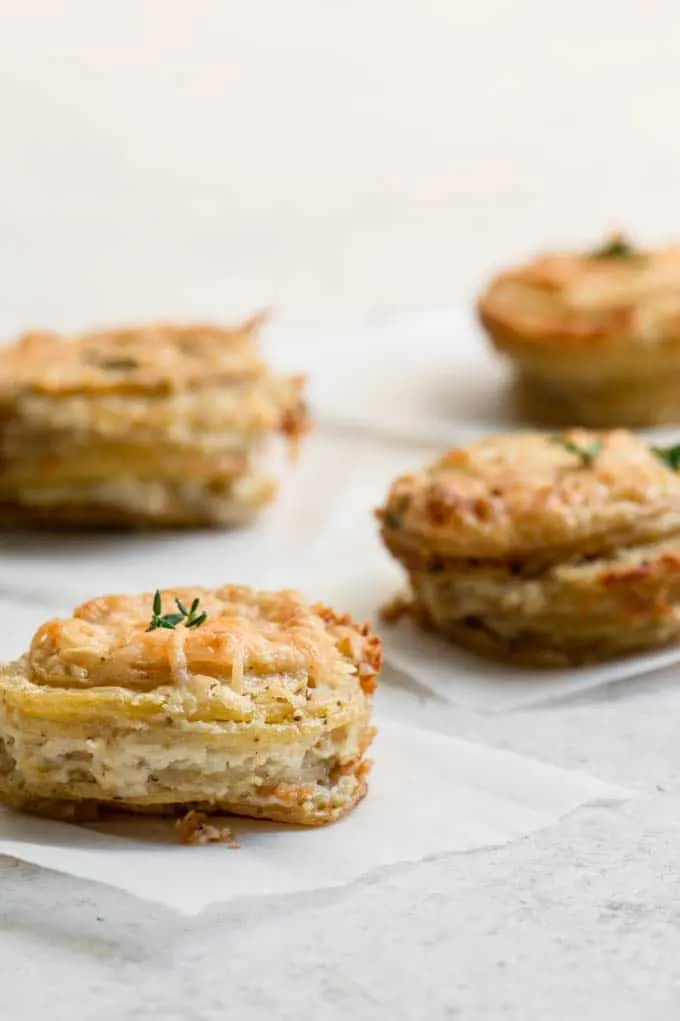 If you make these vegan garlic parmesan potato stacks, leave a comment below and rate the recipe on the recipe card. And please share your photos with me on Instagram, tag @thecuriouschickpea and #thecuriouschickpea. I love seeing your recreations!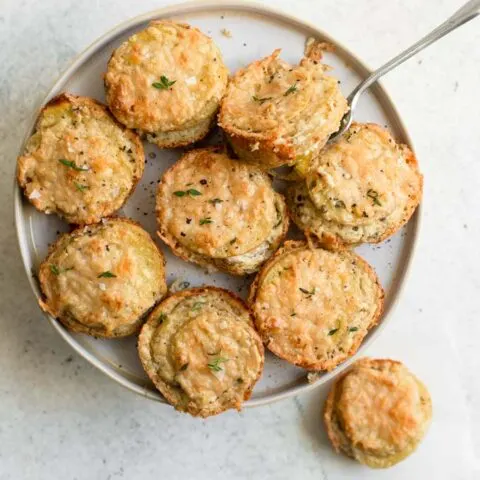 Vegan Garlic Parmesan Potato Stacks
These cheesy vegan potatoes make for the most delicious and cute side! Similar to scalloped potatoes but arranged into individual portions.
Ingredients
6-8 yukon gold potatoes
1 tbsp extra virgin olive oil or melted vegan butter, plus a bit extra
1 cup vegan cream*
½ cup vegan parmesan
2 garlic cloves, minced
½ tsp fresh thyme
½ tsp salt
pepper to taste
Instructions
Preheat oven to 375 ºF. Oil a muffin tin by brushing with olive oil or melted vegan butter or spraying with oil and set aside.
Thinly slice the potatoes (no need to peel) using a mandolin on its thinnest setting or a sharp knife.
Put the potato slices in a large bowl, add the olive oil or melted vegan butter, vegan cream, half of the vegan parmesan (1/4 cup), garlic, thyme, salt, and pepper and toss together.
Stack the muffin tins with the potatoes until they're as high as the rim. Spoon the cream over each stack of potatoes until they're about ¾ submerged, or until the cream is used up.
Sprinkle the rest of the vegan parmesan overtop each stack, and drizzle a bit more olive oil or melted vegan butter on top.
Bake for 20-25 minutes, or until the potatoes are very tender when pierced with a knife.
Notes
*You can use store bought unsweetened plant based cream or vegan
half and half, or make your own with 1:1 cashews and water blended until
smooth.
Recommended Products
As an Amazon Associate and member of other affiliate programs, I earn from qualifying purchases.
Nutrition Information:
Yield:

12
Serving Size:

1
Amount Per Serving:
Calories:

130
Total Fat:

4g
Sodium:

174mg
Carbohydrates:

20g
Fiber:

2g
Sugar:

2g
Protein:

3g
Nutrition is calculated automatically so should be used as an estimate.