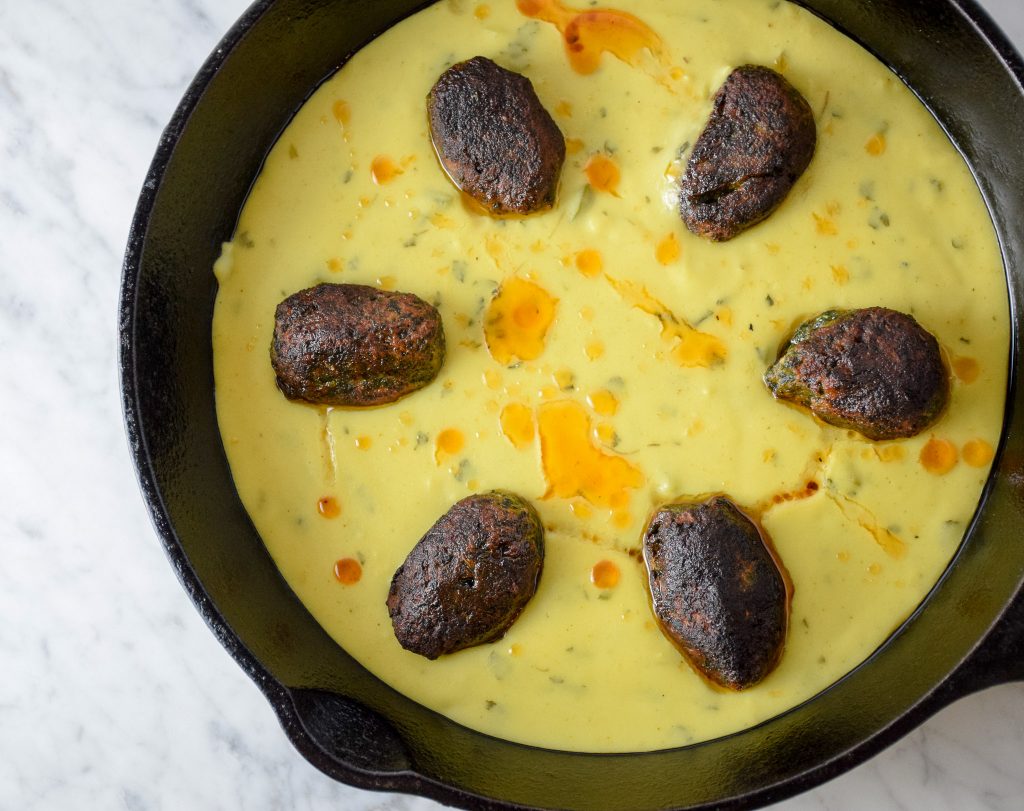 This Indian curry is so good it's going to make you want to buy extra kale every week. You would never guess while eating it, but the spiced kofta hides an entire huge bunch of curly kale in it! When kale is mixed with some mashed potato and chickpea flour, then fried (or baked, your call) to golden perfection, the resulting kofta tastes like a fully guilt-ridden indulgence, until wait! you remember, you're basically just eating protein packed kale balls.
And possibly the best part is that you get to eat them with a tangy spiced yogurt sauce (kadhi). Yogurt is thickened to a creamy gravy with chickpea flour, and flavored simply with turmeric, fenugreek, chilis, and garlic. A squeeze of fresh lemon juice provides the extra tang that your vegan yogurt may be lacking. When finished off with a little drizzle of 5-minute chili oil, you'll forget you're at home cause things got so fancy.
This dish is naturally gluten free. It's full of protein and low in added fat (especially if you bake the kofta). And because it's filled with superfoods kale and turmeric, this dish is extra healthy. Plus, it's easy and quick to make, and it fills your home with the most tantalizing curry aromas.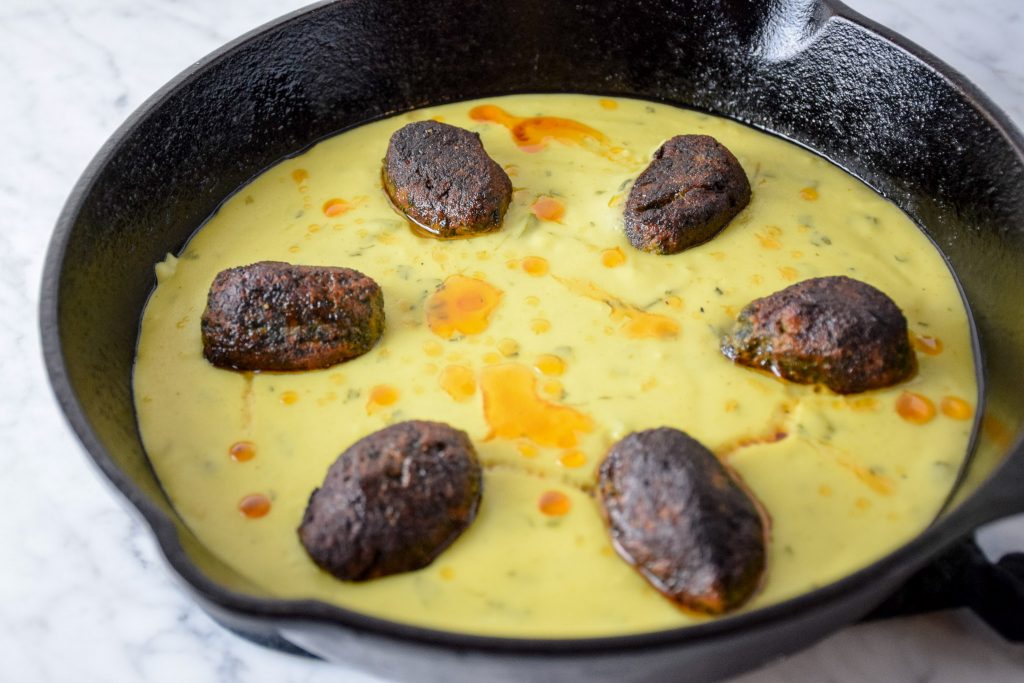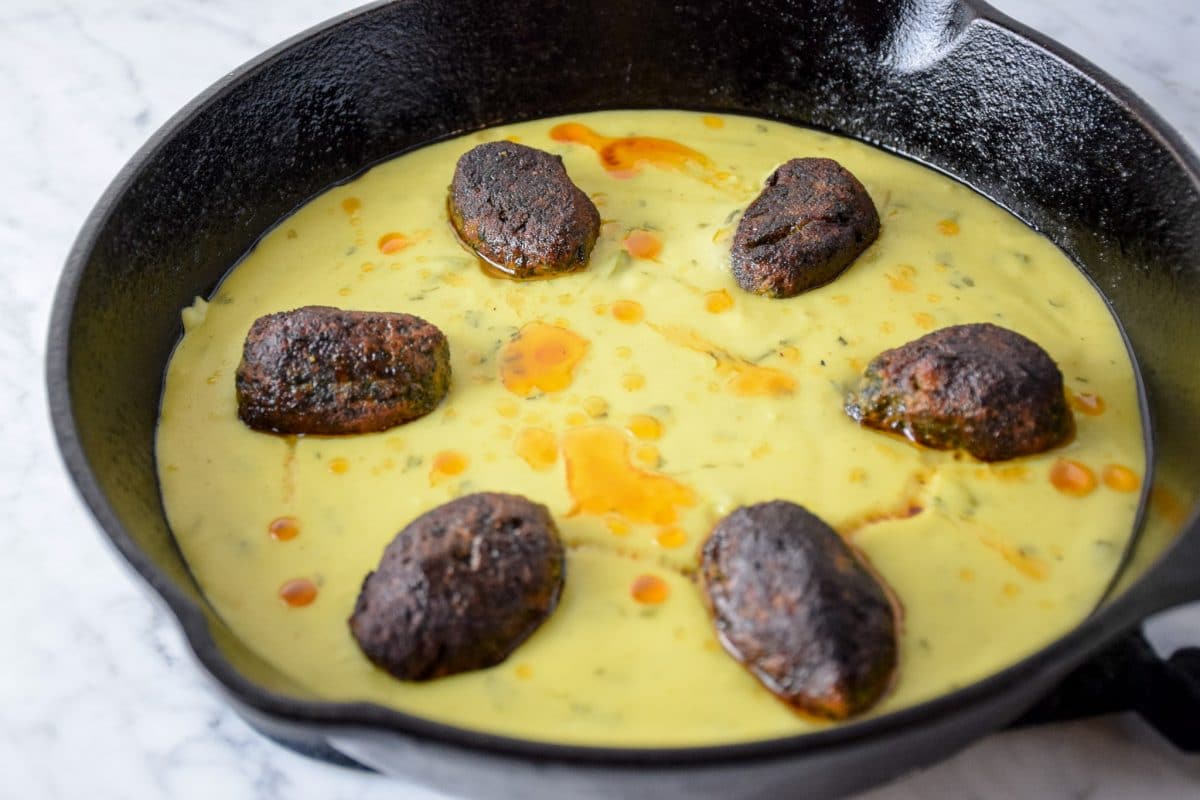 When I was a pre-teen, my family spent several months living in a rural town in Kutch, a district in the state of Gujarat in India. My mom, a linguistics professor, was doing research there during a sabbatical. It was also a chance for us kids to learn a little bit more about my dad's culture as there are a lot of Sindhis in the area. While we were there my older sister and I went to an English-medium Catholic run school. It was so not my cup of tea, the main reason being that they expected me to have my hair in two braids every day (as a pony tail every day kind of person, this was pure torture). And I learned from the government teacher that the US has a prime minister you never hear about (we don't).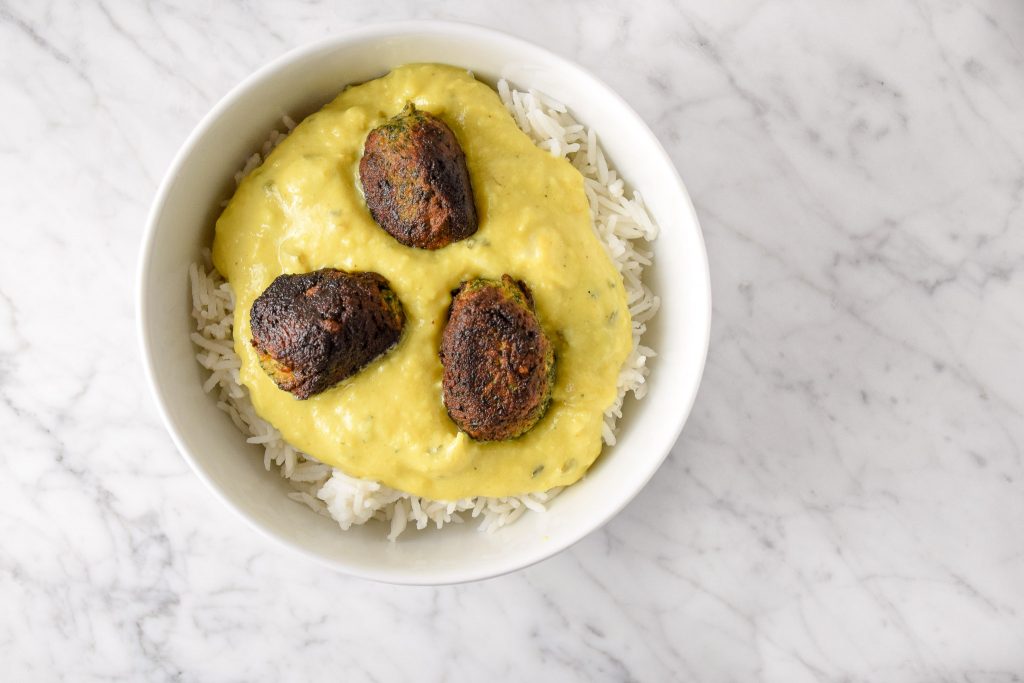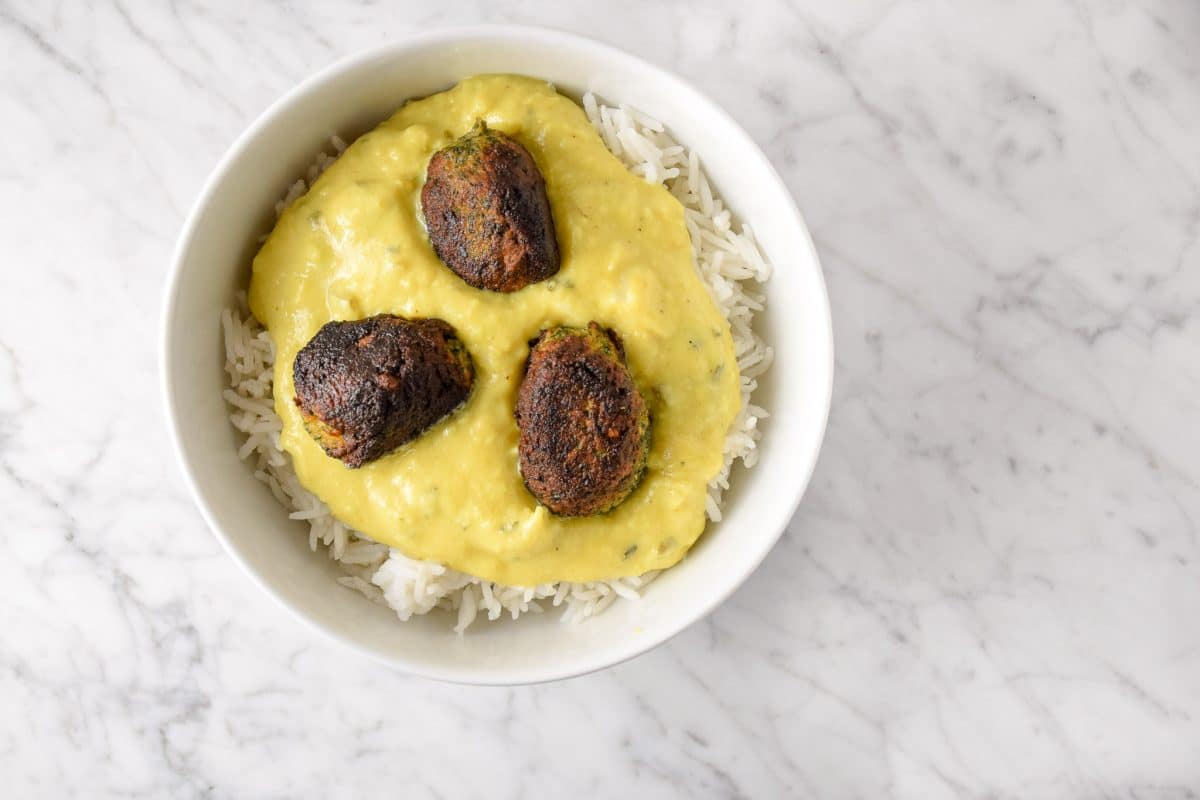 I also ate a lot of delicious food, prepared way richer than my parents ever cooked, with plenty of homemade yogurt on the side. Because, while the food was excellent and fueled my ever present hunger for rich fried foods, it was also very spicy. Especially for little 12 year old me. Adding yogurt to every bite was the only way I could manage eating the food, and what started as a necessity became an obsession. This love for yogurt did not return to the States with me, maybe it was the subpar options available at the time (the Greek yogurt craze hadn't become mainstream yet), but for whatever reason, I was over it. That meant when I transitioned to eating fully vegan, yogurt was never a sticking point for me.
I haven't been a huge yogurt buyer for the most part, especially after Wholesoy & Co shut down and there wasn't a great vegan plain unsweetened yogurt option in stores. Recently, however, we have been buying and enjoying Forager Project Unsweetened Plain Cashewgurt, which I used to make this dish. You could also use your homemade vegan yogurt (and more power to you, if that's your thing! Hi mom!), or whatever plain unsweetened yogurt you have access to and enjoy eating!
Let me know in the comments if you make this dish, or tag me on Instagram!
Notes:
If you can't find fenugreek leaves (methi) or seeds, substitute curry powder for both the methi and the turmeric. The flavor will be slightly different, but it will still be good! Both fenugreek and turmeric are typically found in curry powder along with a bunch of other spices.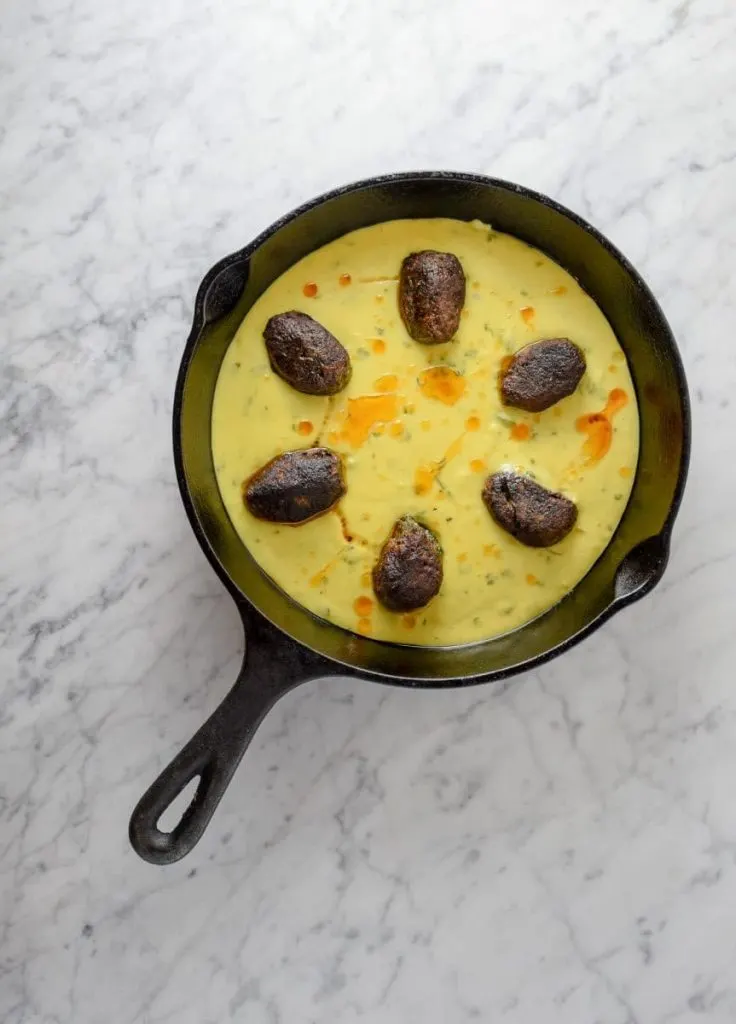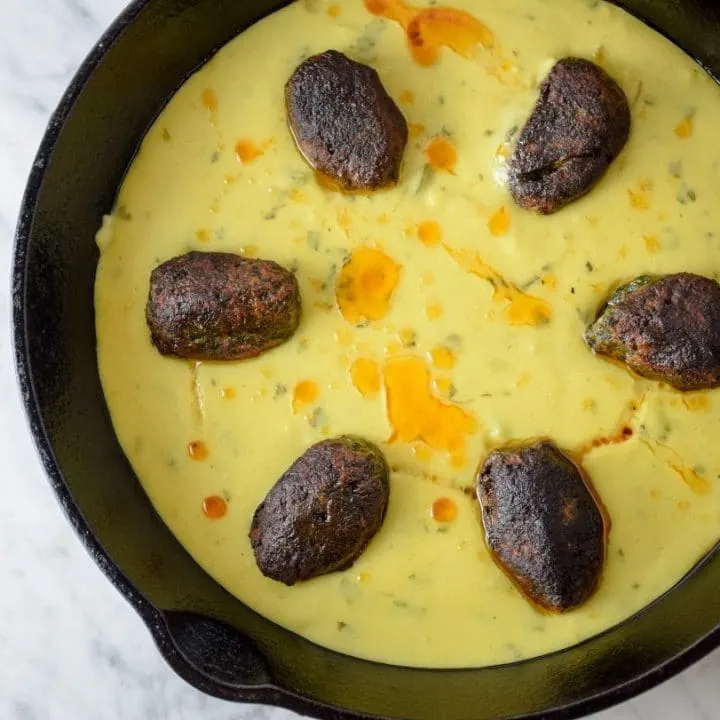 Kale Kofta Kadhi
This Indian dish hides an entire bunch of kale in these tantalizing veggie kofta, which are served in a tangy, creamy spiced vegan yogurt sauce (kadhi).
Ingredients
Kale Kofta
1 medium-large yukon gold potato, peeled and large dice
1 large (~3/4 lbs) bunch curly kale, washed and roughly chopped
1 tbsp oil
1/2 tsp cumin seed
1 tsp coriander seed
2 cloves garlic, minced
1 cup chickpea flour
2 tbsp tomato paste
1 tsp salt
Kadhi (yogurt curry sauce)
1/2 cup chickpea flour
2 cups plain unsweetened vegan yogurt
1/2 tsp turmeric
1 tbsp methi (fenugreek leaves)*
1 tsp oil
1 clove garlic, minced
1 green chili, minced
2 cups water
2 tbsp lemon juice, or more to taste
1 tsp salt, more to taste
Chili Drizzle
1 tbsp oil
1/2 tsp paprika
1/2 tsp cayenne pepper
basmati rice, for serving
Instructions
To prepare the kale kofta
First cook the potato. In a small pot, cover the cut potato with water and bring to a boil. Once boiling, reduce to a simmer and cook for 8-10 minutes, or until soft when pierced with a fork. Drain the water and mash the potatoes. Set aside.
Meanwhile, heat a large skillet or heavy bottomed pot over medium heat. Add the tablespoon of oil and the cumin seed and coriander seed. Heat for one minute, or until fragrant and toasty. Be careful not to burn. Add the garlic and stir for about 30 seconds before adding the chopped kale. Cook the kale until it is wilted and bright green, around 3-5 minutes.
Transfer the kale to a food processor and process until the kale is finely chopped. Add the chickpea flour, tomato paste, and salt and process to combine. Transfer to a bowl and mix in the mashed potatoes.
Shape walnut sized (1 tbsp) kofta footballs with the mixture. Use damp hands to prevent sticking. This makes ~25 kofta balls.
To fry the kofta: cover the bottom of a skillet with oil and cook over medium heat. When the oil has heated add the kofta in batches, cooking 3-5 minutes, turning as necessary, until a rich golden brown on all sides.
To bake the kofta: Place the kofta on a lightly oiled parchment paper, and spray or brush with a little more oil. Bake in a 425 ºF oven for 12 minutes, then turn the kofta and bake an additional 8-10 minutes until nice and golden (they won't get as dark as if fried).
To make the Kadhi sauce
Whisk the chickpea flour, yogurt, turmeric, and methi in a bowl.
In a heavy bottomed pot heat 1 tsp of oil over medium heat. Fry the chili and garlic (and fenugreek seeds if using*) for about 30 seconds to 1 minute until the garlic is lightly golden.
Whisk in the yogurt mixture, water, and salt and bring to a low boil. Turn heat to low and simmer partially covered, for 15 minutes, stirring occasionally. Thin with more water if necessary. You should have a thick gravy.
Add lemon juice, taste, and adjust seasonings if necessary.
To prepare the chili drizzle
Heat the oil and spices in a small pot over medium heat. Once hot, let it steep for one minute, then remove from the heat.
Add the kofta to the kadhi sauce, and drizzle the chili oil over the finished dish. Serve with basmati rice.
Notes
*If you can't find methi but have fenugreek seeds, use 1 tsp of those instead, and add it when you along with the garlic and chili to cook in the oil.
*cook time will obviously be a bit longer for baking, but it's hands off that way!