This creamy red curry lentil soup is an easy and nutritious recipe that's naturally vegan and gluten free. It's made with red lentils, cauliflower, and red curry paste which packs a flavorful punch, and topped with red curry chickpeas for an extra protein packed meal!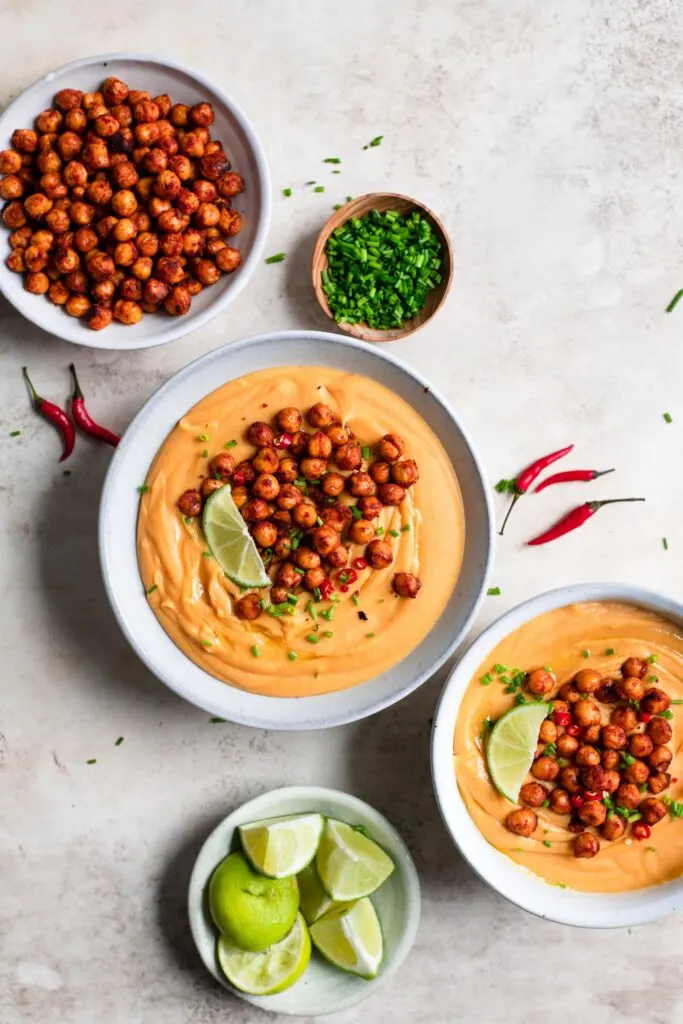 Not that you asked, but one of my pet peeves is when people think of anything curry as "cold weather" foods. Because hello! The countries were "curries" come from are quite hot weather countries.
Yes, the Indian subcontinent and South East Asia are overall hot places. That includes Thailand, India, Pakistan, Bangladesh, Myanmar, the Philippines, Indonesia, and I'll stop listing places now but you get the idea.
So go ahead and crave your spicy and flavorful curries of all kinds in the cooler months. But curries are meant for enjoying year round! Spicy food is as good in the dead heat of summer as it is on cold blanket wearing days.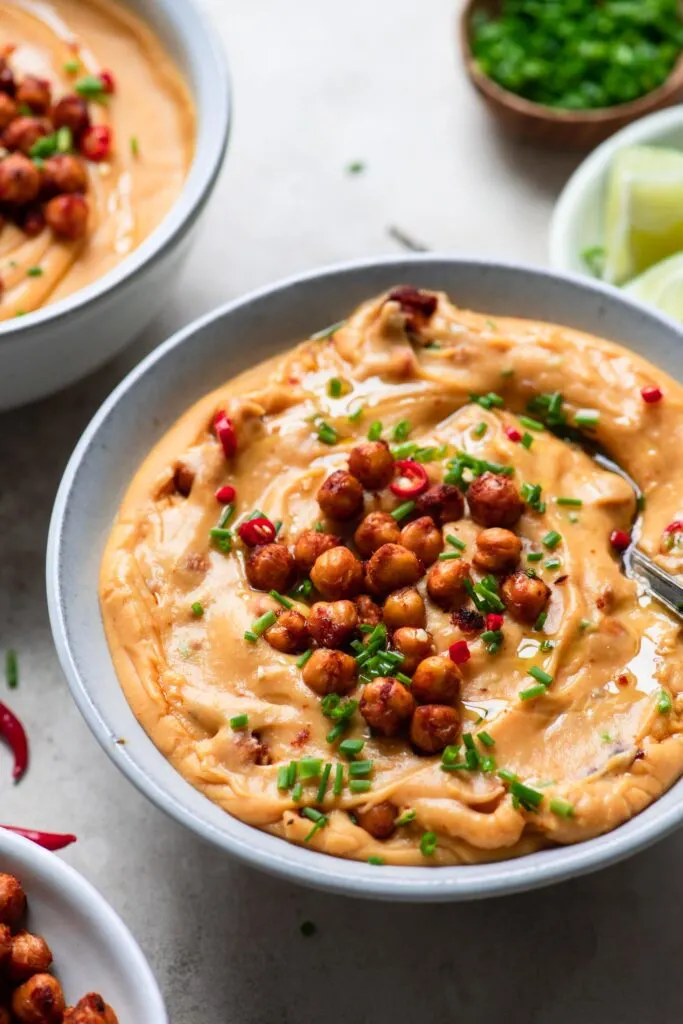 Anyway, this red curry lentil soup.
It's inspired by Thai flavors and mixed with Indian lentils for a hearty and satisfying meal. Perfect for enjoying any time of the year of course ?.
You get a double dose of protein in this soup thanks to a topping of baked red curry chickpea croutons. They add texture and filling power to the soup and are just snack-ably good!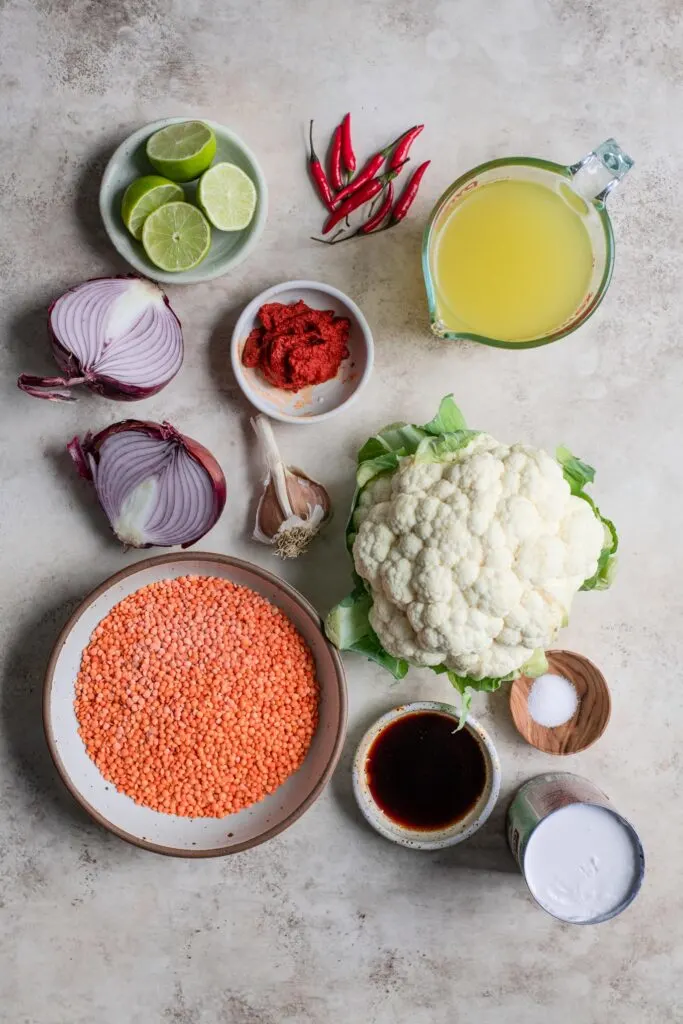 And have I mentioned yet that there is an entire head of cauliflower blended sneakily into this soup which adds to the creamy texture and ensures you eat your veggies? Well. Now you know!
Making this soup basically goes like this: (1) toss together your chickpeas and seasoning and bake; (2) sauté the soup's aromatics, then add the cauliflower, lentils, and broth and cook until both are soft; (3) blend up the soup until creamy, return to pot and add coconut milk and lime juice; (4) serve up delicious soup in bowls, top with the curry chickpeas, and enjoy!
See? So crazy easy.
The red curry paste:
Keep a jar or two of store bought red curry paste tucked in your pantry and you can make this recipe anytime!
Thai red curry is made from red chilies, garlic, shallot, galangal (which is similar-ish to ginger), lemongrass, lime leaves, and spices. It packs a punch of flavor in one gorgeous hued paste.
Note: not all red curry pastes are vegan or vegetarian. Some contain fish sauce or shrimp paste. Be sure to read the label!
It's a flavor that tastes great the day you use it but really develops in flavor making leftover soup liquid gold.
The strong, spicy flavor of the red curry is tempered by the creamy coconut milk and the creaminess of blended cauliflower, so though it is spicy on its own, I find myself adding extra chiles to cook the soup, garnish it, and even drizzle some finishing chili oil at the end for extra heat.
If you don't have such a love for spicy foods, just skip the extra chili and you'll find the soup isn't that spicy, just super flavorful!
Red lentils:
Red lentils are known in Indian cuisine as masoor dal. They are actually a split lentil, which means that the whole bean has had the skin removed and the seed has been cut in half. It's these thin half-seeds which are our split lentil.
Split lentils cook quickly and do not need to be soaked before cooking. For red lentils the cooking time is just 12-15 minutes! That's almost as fast as cooking Italian pasta.
Because the skins have been removed, red lentils are lower in fiber than their whole lentil counterparts. However they're still plenty good for you! Red lentils are high in protein, vitamins and minerals, not to mention are still a decent source of fiber.
These lentils break down as they cook, turning almost creamy on their own. But when you blend them up they turn so smooth. Plus they add so much body to the soup!
Lentils thicken as they sit, so leftovers will likely need to be thinned out with water. In fact you may end up needing to thin out the soup with water depending on how thirsty your lentils were (along with how large your cauliflower was).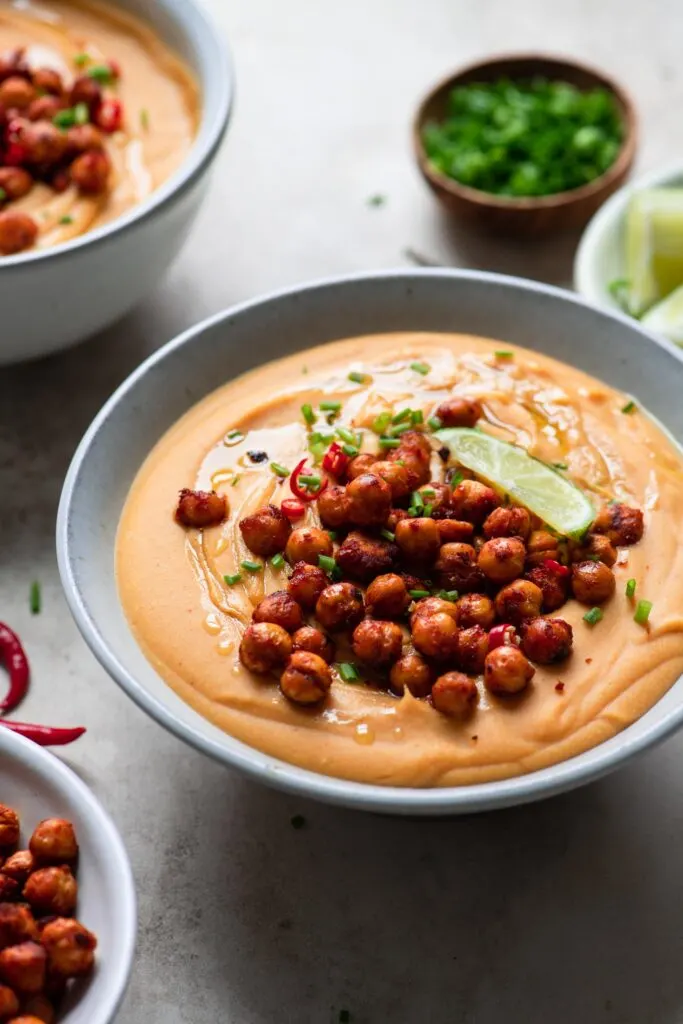 The cauliflower:
Just kidding. We don't really need to discuss the cauliflower.
Just buy a nice sized head of cauliflower, cut it up into florets and let it boil until soft alongside the lentils.
I don't give an exact size of cauliflower, because its a soup recipe so it's flexible. If your cauliflower is smaller your soup may come out a bit thinner, if it's massive you'll end up needing to thin out your soup with water (or just use 1/2 to 3/4 of the head)!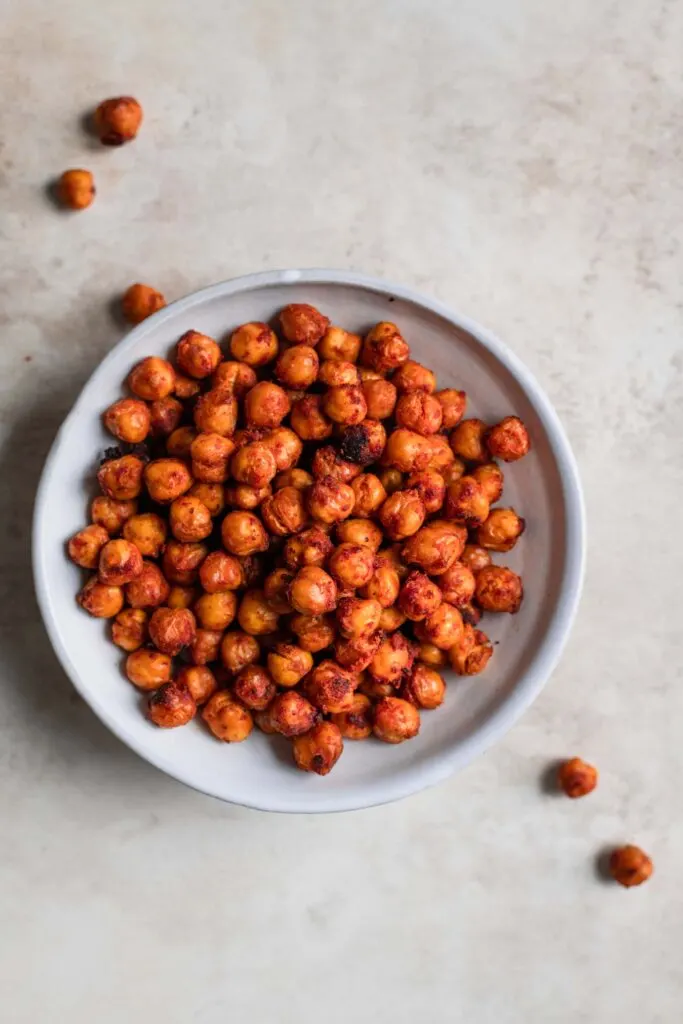 The red curry chickpeas:
You gotta love recipes within recipes! These red curry chickpeas are great on salads, noodles, grain bowls, and hey-ooo soup!
You just toss cooked chickpeas in some oil, soy sauce, red curry paste, and salt and stick them in the oven to bake until dried out and somewhat chewy.
The salt and oil helps them get that nice crouton-y texture. Soy sauce and red curry paste give all the yummy flavor you need!
The curried chickpeas add texture to our silky smooth curry soup and up that delicious red curry flavor!
It's a must add element and plus they bake up while the soup cooks. Easy, peasy!
The rest of the garnishes:
Mince up those chives and sprinkle them overtop! Squeeze over wedges of lime to taste.
If you like some heat add some fresh minced chilies (red Thai chilies, green Thai chilies, or even jalapeños or serrano peppers).
And a finishing oil always makes your soup look fancy while making it extra tasty! A store bought chili oil is great or use a homemade chili oil. Another option if you don't like spice is to make a chive oil, and you can find those instructions in the recipe notes.
Gluten free?
If you're gluten free make sure your curry paste is certified gluten free and use tamari instead of soy sauce.
Can you freeze leftovers?
Yes. This soup will freeze really well!
Ok I've said enough. Go make this pretty soup! Then try not to overeat it! But if you do, it's not the end of the world cause it's rather good for you.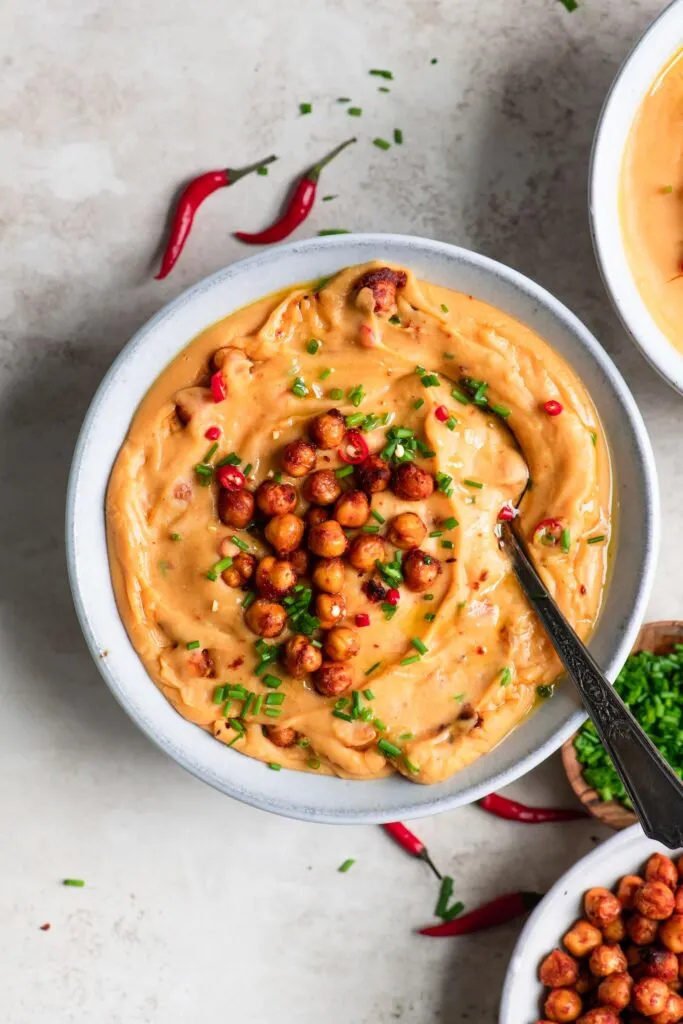 If you make this red lentil curry soup, leave a comment below and rate the recipe on the recipe card. And please share your photos with me on Instagram, tag @thecuriouschickpea and #thecuriouschickpea. I love seeing your recreations!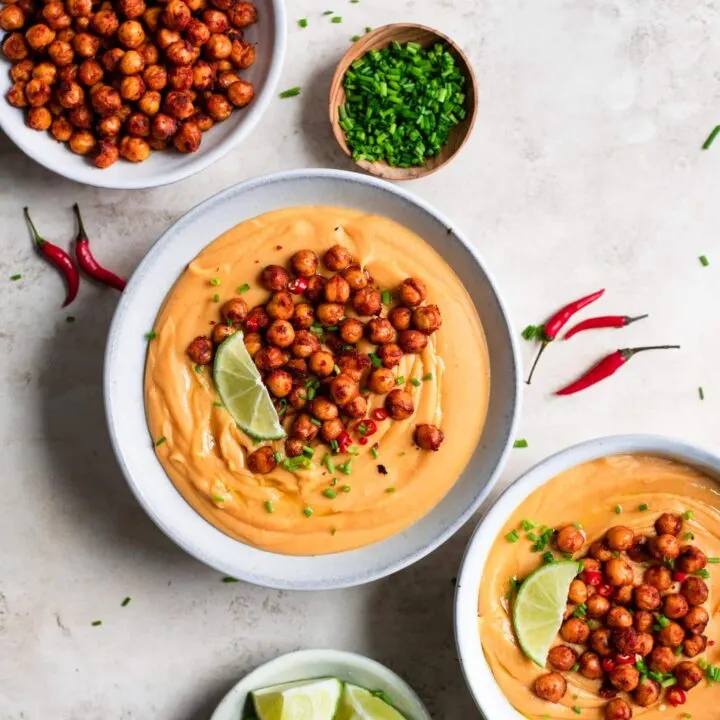 Red Curry Lentil Soup
A creamy cauliflower and red lentil soup inspired by the flavors of Thai red curry. Serve this protein packed soup garnished with baked red curry chickpea croutons, chives, and a wedge of lime and enjoy!
Ingredients
Chickpea croutons
28oz can chickpeas (3 cups cooked), drained and rinsed
2 tbsp red curry paste
1 tbsp oil
1 tbsp soy sauce
1/2 tsp salt
Curry Cauliflower Soup
1 tbsp oil
1 large red onion, diced
6 cloves garlic, minced
1 tbsp crushed red chili, or to taste (substitute fresh Thai or green chiles to taste)
1/4 cup red curry paste
2 cups (340g) red lentils, rinsed well
1 large cauliflower, cut into large florets
4 cups vegetable broth
2 tbsp tamari (can substitute soy sauce if not gluten free)
15 oz can coconut milk
1 tsp salt, or to taste
1/4 cup fresh squeezed lime juice, more to taste
chives, for garnish (optional)
Instructions
To make the chickpeas
Preheat the oven to 400 ºF. In a large mixing bowl add the chickpeas, curry paste, oil, soy sauce, and salt. Toss to coat. Spread in an even layer on a parchment lined baking tray and bake for 30 minutes, stirring every 10 minutes.
To make the soup
Heat a large heavy bottomed pot over medium heat. Add the oil and onion, and cook for 5-7 minutes, stirring occasionally, until the onion is soft and lightly golden. Add the garlic, chili, and curry paste and fry for 1 minute, stirring almost constantly.
Add the red lentils and cauliflower and stir to coat in the curry paste. Add the vegetable broth and soy sauce and bring to a boil over high heat. Once boiling, turn the heat to low and maintain a simmer, partially covered, for around 15 minutes, or until the cauliflower and lentils are soft. Turn off the heat.
Using an immersion blender or a regular blender, blend until fairly smooth. Return to the pot if using a regular blender. Add the coconut milk, salt, and lime juice and turn the heat on low until warm. Taste and adjust salt and lime juice as needed. Turn off heat.
To serve
Ladle soup into bowls and top with the chickpea croutons. Optionally you can garnish with minced chives and/or minced chilies. A drizzle of chili oil or chive oil (see note) would be nice as well.
Notes
To make chive oil heat 1/2 cup of olive or safflower oil over low heat with 1/4 cup roughly chopped chives. Let it warm and come to a low simmer (just barely bubbling) for about 2 minutes. Turn off the heat and let it cool, straining out the chives after 20-30 minutes or once cool.
Or use my homemade chili oil recipe! Store bought chili oil also works well.
Recommended Products
As an Amazon Associate and member of other affiliate programs, I earn from qualifying purchases.
Nutrition Information:
Yield:

8
Serving Size:

1
Amount Per Serving:
Calories:

467
Total Fat:

18g
Cholesterol:

0mg
Sodium:

1403mg
Carbohydrates:

57g
Fiber:

13g
Sugar:

6g
Protein:

21g
Nutrition is calculated automatically so should be used as an estimate.
This recipe was originally published August 24, 2017.