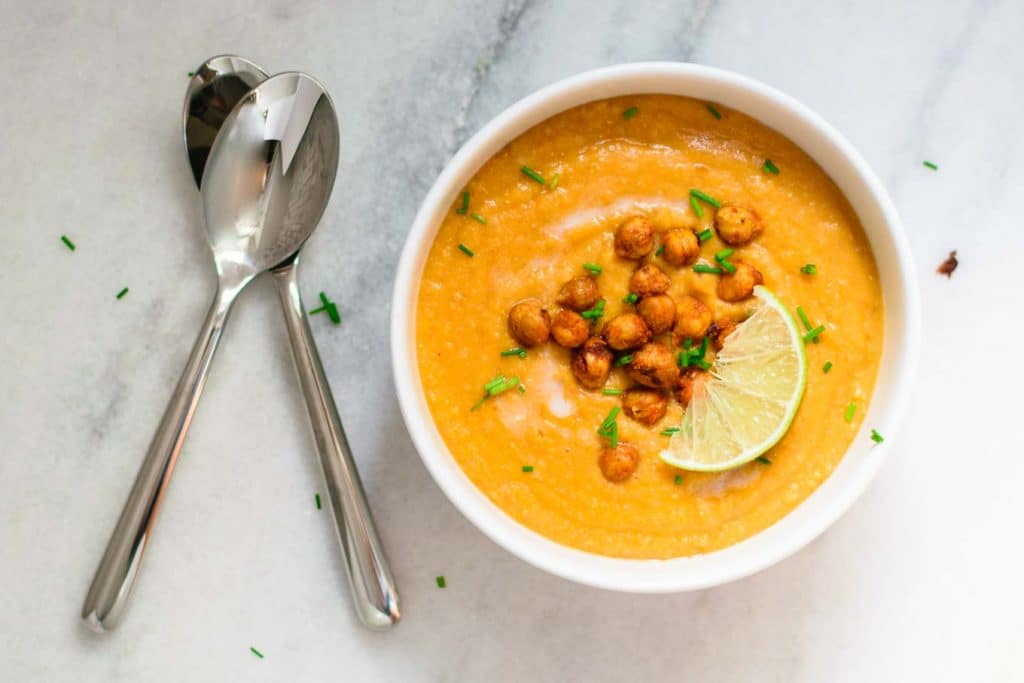 DC is a cool 72 degrees as I write this post this morning (and the high is only 79 ºF today). It feels like a godsend after the last week, which was around 20 ºF hotter. We're taking advantage of this brief respite with some soup. I mean, ok, we actually don't have any more soup. It's too good! We ate it all! But you should take advantage of a cool day (I'm not sure when I started calling 70s cool weather) with some soup. But having had this in 95 degree weather I will attest that it's great then too.
This Thai curry cauliflower lentil soup is a healthy and complete meal without even trying. You get a double dose of protein with red lentils, which add body and thicken the soup, and roasted chickpeas, which provides a chewy finish. An entire head of cauliflower is blended in with the soup adding a bit of creaminess, a bit of texture, and a healthy dose of good for you vitamins, minerals, and antioxidants. Red curry paste provides a rich flavor, which melds with the soup and develops into something that is even more delicious the next day! It's easily purchased in the international section of your regular grocery store or at Thai/Asian grocery stores, or you can make some at home (I should do a recipe for that, it makes your curries next level good). Coconut milk adds richness which helps keep you full for longer, while also making an extra creamy soup that's even more delicious to eat.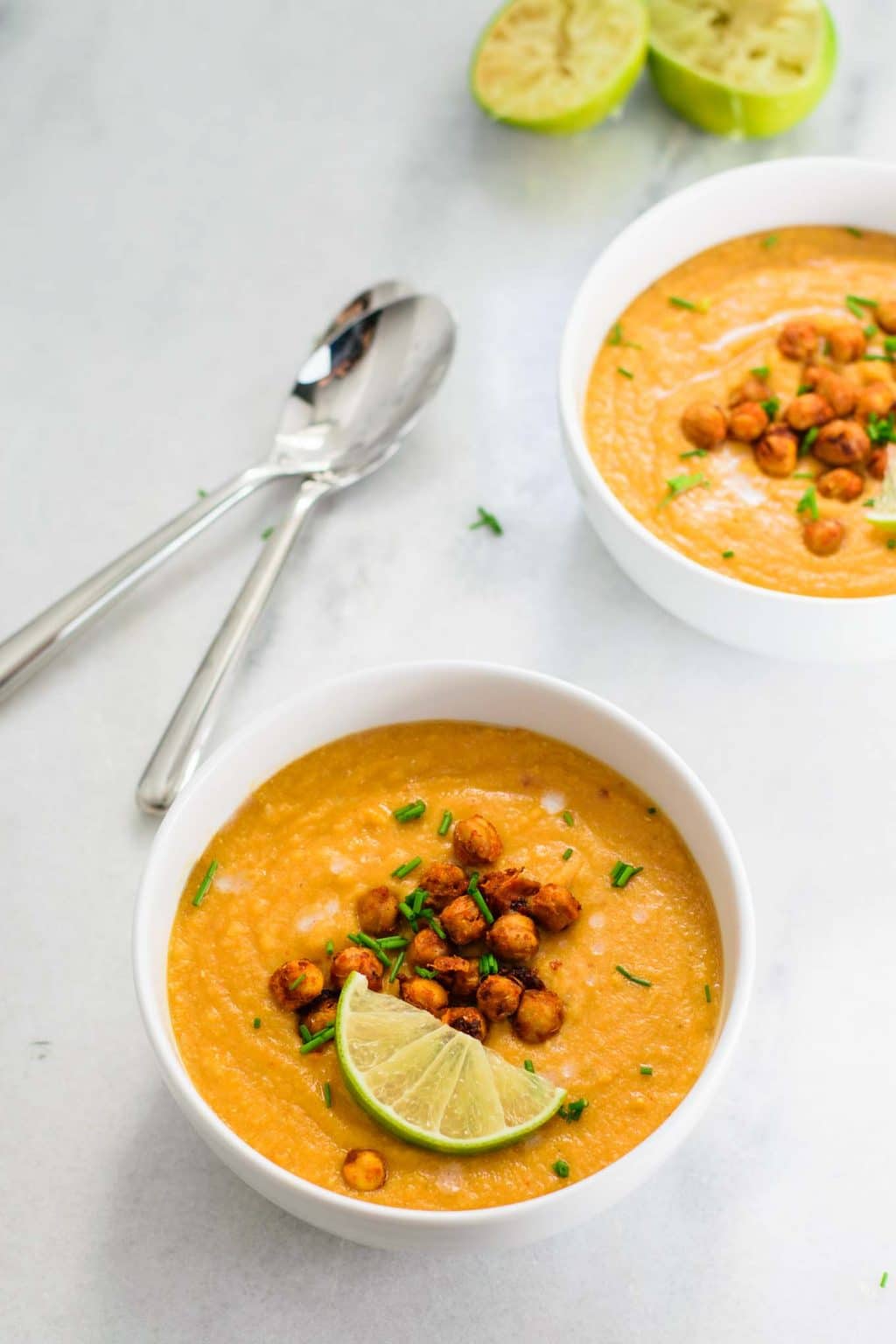 This is the type of meal that's effortlessly vegan and totally plant-based. It's easy to make with very little prep necessary, and requires only a tiny bit of hands on time. It only requires 1 pot + an immersion (or regular) blender so clean up is minimal too! The entire recipe clocks in at maybe 40 minutes, but I'm going to call that quick considering it makes a giant vat of soup that will easily feed a large family, or provide plenty of leftovers. Especially if you serve it with some easy stir fried udon noodles or some gyoza (things I just happen to be craving right now).
Ok I've said enough. Go make this pretty soup! Then try not to overeat it! But if you do, it's not the end of the world cause it's rather good for you. Let me know if you do! Leave a comment and/or rate the recipe below, tag me on Instagram (or #thecuriouschickpea), or share with me on Facebook! Happy cooking and eating!
PS save your liquid aka aquafaba from the chickpeas and make dessert! Try these chocolate chip marshmallow cookies or some chocolate bottomed coconut macaroons and then send some my way, ok?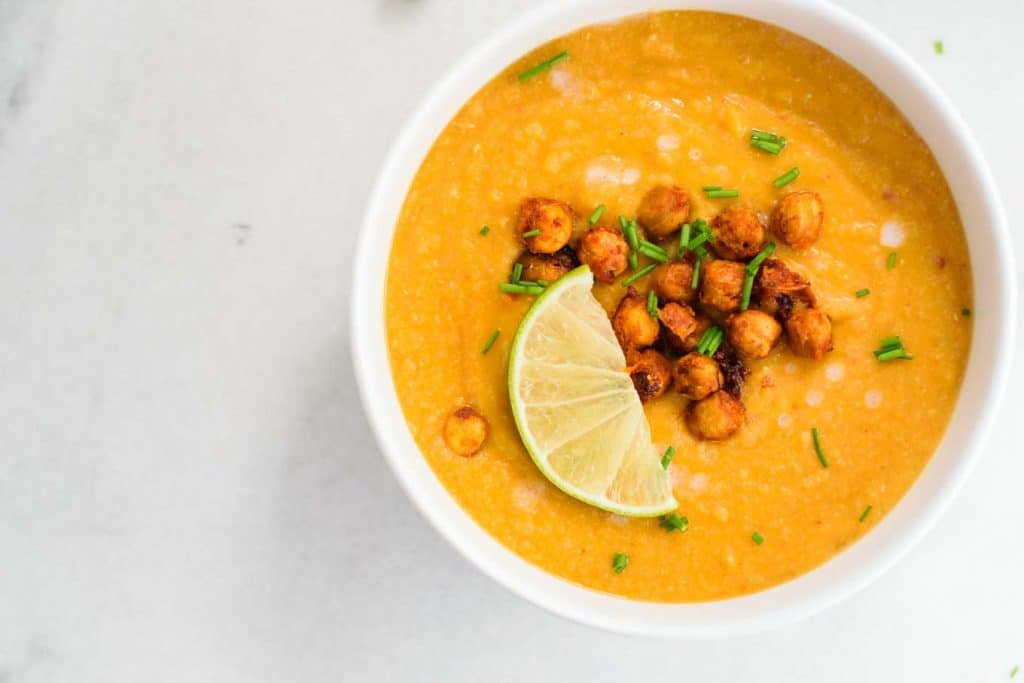 Notes:
To keep this gluten free, make sure to use a gluten free certified soy sauce like tamari.
Vegetable broth can vary a lot in saltiness, and I use a low sodium tamari, so you might want to start out with less and add more until the flavors of the soup really pop.
As many soups are, this one is even better the next day if you can manage to keep leftovers!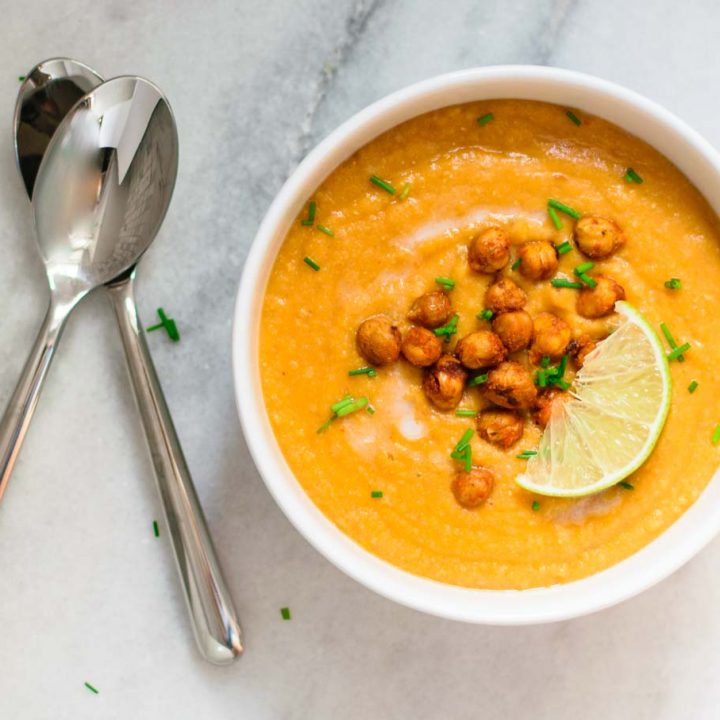 Thai Curry Cauliflower Lentil Soup with Chickpea Croutons
A Thai-inspired recipe for a creamy cauliflower and red lentil soup. Red curry paste makes this an easy and flavorful recipe.
Ingredients
Chickpea croutons
3 cups chickpeas (30 oz can), drained and rinsed
2 tbsp red curry paste
1 tbsp oil
1 tbsp soy sauce
1/2 tsp salt
Curry Cauliflower Soup
1 tbsp oil
1 large red onion, diced
4-6 cloves garlic, minced
1 tbsp crushed red chili -OR- 2+ fresh chiles minced -OR- 1/2 tsp hot chili paste, to taste*
1/4 cup red curry paste
2 cups (12 oz) red lentils, rinsed well
1 large head (~1 3/4 lbs) cauliflower, cut into large florets
4 cups vegetable broth
2 tbsp soy sauce
1 15 oz can coconut milk
1 tsp salt, or to taste
1/4 cup fresh squeezed lime juice, more to taste
chives, for garnish (optional)
Instructions
To make the chickpeas
Preheat the oven to 400 ºF. In a large mixing bowl add the chickpeas, curry paste, oil, soy sauce, and salt. Toss to coat. Spread in an even layer on a parchment lined baking tray and bake for 30 minutes, stirring every 10 minutes.
Alternatively, you can cook the chickpeas on a non stick skillet, such as cast iron. Just fry them around 10 minutes over medium heat, stirring occasionally.
To make the soup
Heat a large heavy bottomed pot over medium heat. Add the oil and onion, and cook for 5-7 minutes, stirring occasionally, until the onion is soft and lightly golden. Add the garlic, chili, and curry paste and fry for 1 minute, stirring almost constantly.
Add the red lentils and cauliflower and stir to coat in the curry paste. Add the vegetable broth and bring to a boil over high heat. Once boiling, turn the heat to low and maintain a simmer, partially covered, for around 15 minutes, or until the cauliflower and lentils are soft. Turn off the heat.
Using an immersion blender or a regular blender, blend until fairly smooth. Return to the pot if using a regular blender. Add the coconut milk, salt, and lime juice and turn the heat on low until warm. Taste and adjust salt and lime juice if desired. Turn off heat.
To serve
Ladle soup into bowls and top with the chickpea croutons. Optionally you can add some minced chives and a drizzle of coconut milk. A drizzle of chili oil or chive oil (see note) would be nice as well.
Notes
*I like it spicy, but as written it will be on the mild side. Feel free to amp up the spice if that's your thing!
*You can make chive oil by heating 1/2 cup of olive or safflower oil over low heat with 1/4 cup roughly chopped chives. Let it warm and come to a low simmer (just barely bubbling) for about 2 minutes. Turn off the heat and let it cool, straining out the chives after 20-30 minutes or once cool.
Nutrition Information:
Yield:

6
Serving Size:

1
Amount Per Serving:
Calories:

564
Protein:

25g