Next time you're craving egg salad, make this curried tofu salad! It's so flavorful and good, a traditional egg salad made vegan with an Indian curry twist! It's delicious as a sandwich filling, in a wrap, atop crackers, or any way you enjoy egg salad!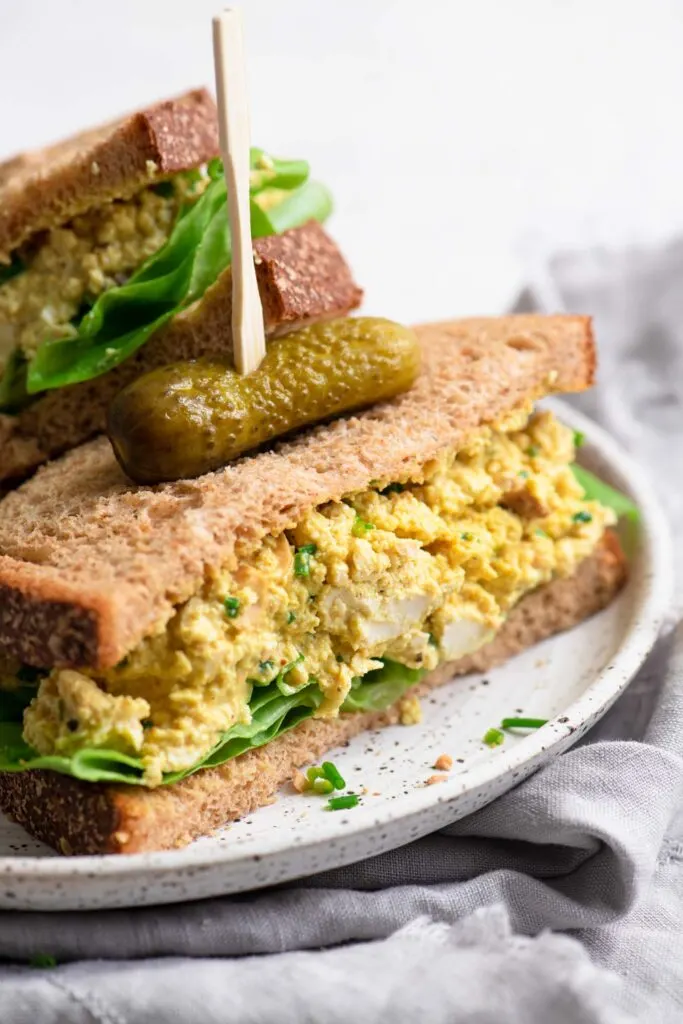 What is tofu salad, you ask? Well, what is egg salad? Think less dressed greens and more a Minnesotan idea of salad. If you're unfamiliar, that's code for there's mayonnaise in it, and a generous amount of it!
Tofu salad is the vegan answer to egg salad, but you don't have to be vegan to enjoy it! Crumbled tofu makes the perfect mild base for a creamy mayo dressing. And it's creamy flavor complements Indian curry powder perfectly.
Because this isn't just any vegan egg salad. This is a vegan curried egg salad! But by egg we mean tofu obviously.
An added benefit of making tofu salad over egg salad? Well, there's no cooking involved! All you need is a mixing bowl and a few minutes of your time.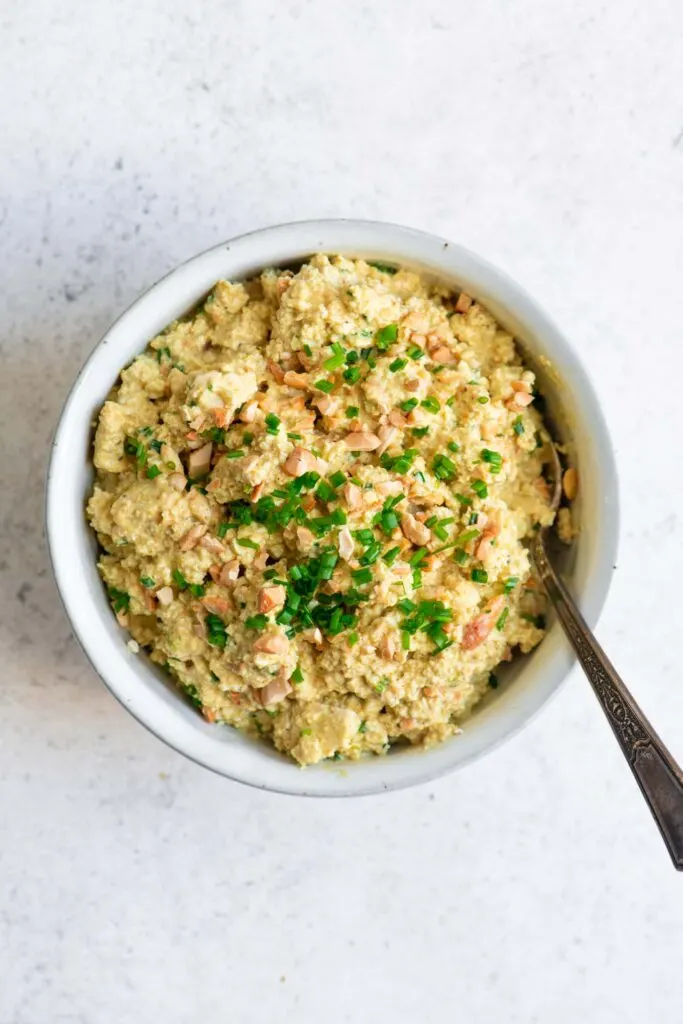 How to make a vegan egg salad?
Well, first step, you switch out the egg. I'm a big fan of tofu and the seemingly infinite ways you can use this versatile protein (find more of my tofu recipes here).
One of the reasons why tofu is so great is that it comes in many forms which all lend themselves well to different purposes.
For a vegan egg salad you want to use extra firm or a super firm tofu, and the spongey water packed kind, not the vacuum packed silken style of tofu.
How firm tofu is depends on how much water has been pressed out of it when it's made. For a tofu salad, you want more texture and structural integrity of the tofu, which is why you want to choose one of the more firm options.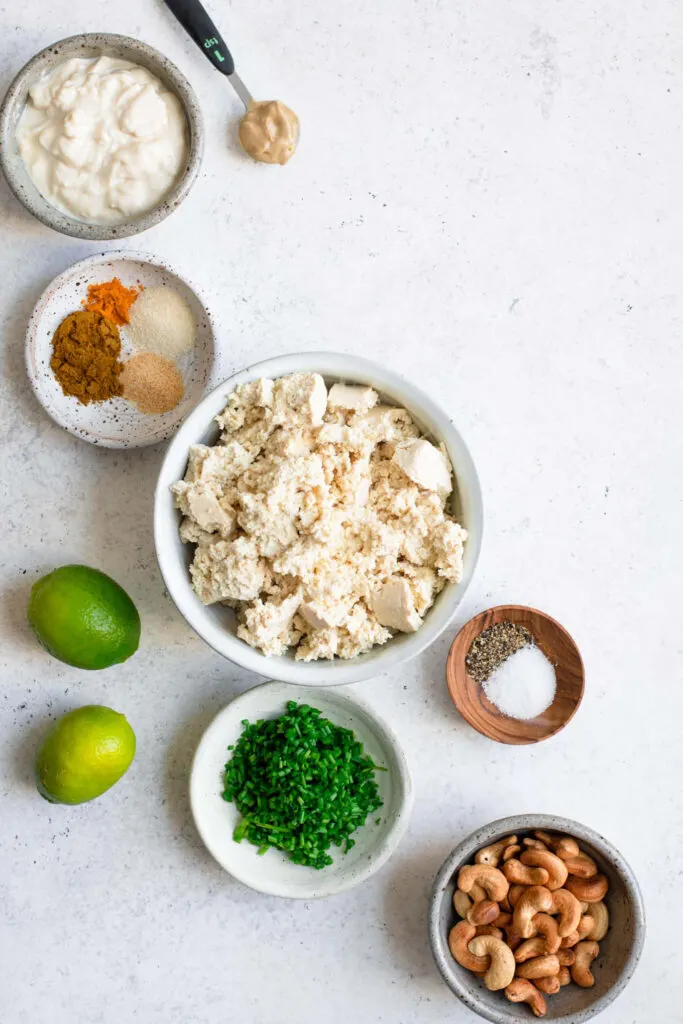 Extra firm tofu will crumble without turning to mush and while still having an almost creamy texture. You'll get a variety of sized crumbles which is exactly what you want!
Now tofu does not taste like egg, which to me is a huge bonus but some people may miss it. If you want an eggy tasting dish, then you will want to use Indian black salt (kala namak) for some of (or all) the salt. This is a sulfurous salt and it tastes decidedly eggy. It's powerful stuff, so start small and add to taste.
Ok, so we have the tofu swap figured out, and the only other ingredient that needs to be changed is another traditionally egg-based one: mayonnaise.
Luckily, plant-based mayo has been around for many decades. We all know vegan mayo is a thing by now, right?! Well it is, and it's great!
What makes a curried tofu salad?
Ok so you now know the top secret that vegan egg salad is easy to make. But let's be honest here, curried tofu salad is even better! Plus it's like a mixture of my Sindhi heritage and my Minnesotan heritage (my mom grew up in Minnesota) which, I know, cute.
I go beyond just adding curry powder to your typical tofu salad recipe. Oh no, we want to build the curry experience in this recipe!
Step 1 is to add curry powder of course, and I go for my typical Madras style curry powder, but any will do. Note that not all curry powder is made equal, so if yours tastes flat add more!
Step 2, up the savory flavors with some onion and garlic powder. And then for extra measure add in minced chives.
Step 3, toast some cashews until golden in spots and then chop them up. Roasted cashews are not only delicious and very Indian, but I just love their buttery texture and think it's so good in the tofu salad! Obviously if you have a nut allergy you can skip the cashews.
Step 4, add some citrus. While citrus isn't a must when it comes to curry, you wouldn't have an Indian meal in my family without a plate of lemon or lime wedges passed around.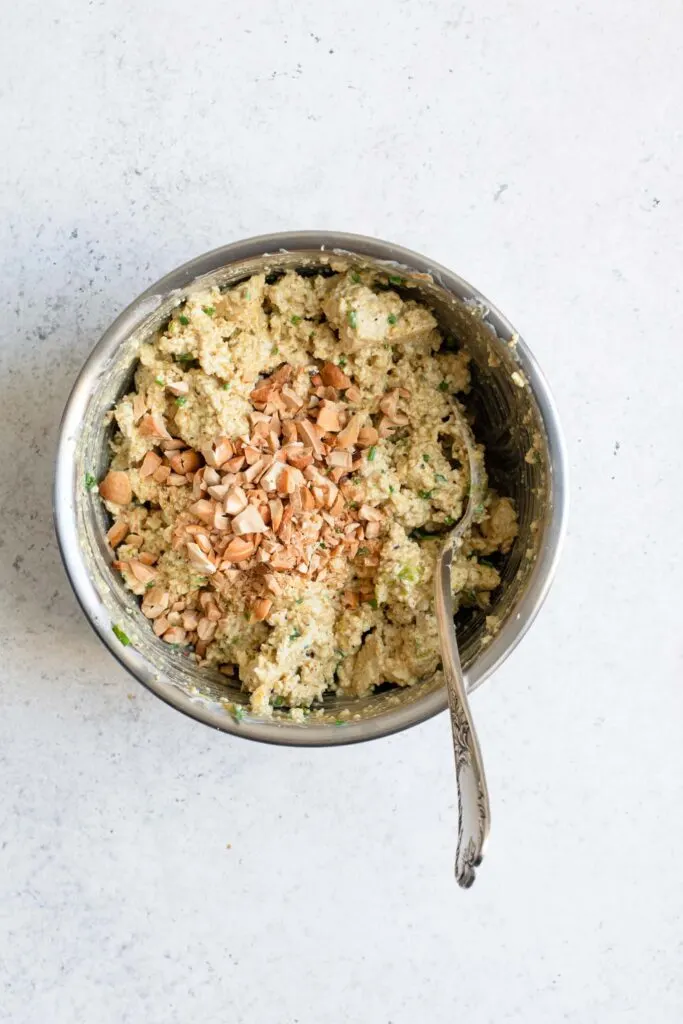 I go double on the lime in this recipe, adding both lime zest and fresh squeezed juice. Pure delight!
Lastly, I want to up the yellow color so that everyone knows this is a curried tofu salad! So, though there is turmeric in the curry powder, add a bit more to the mix to make it even more vibrant.
The color will take time to develop since no heat is involved in making this recipe. So at first it will be a very mild yellow, more a hint of yellow than anything else. But give it a few hours or overnight and watch that color develop into a vibrant hue!
What to do with vegan curried egg salad?
Sandwiches are classic, slather the salad between two slices of soft sandwich bread or even a soft roll or bun and add a couple leaves of lettuce for a fresh crunch. I love adding some hot sauce or sliced jalapeño (or other pepper) for a spicy crunch.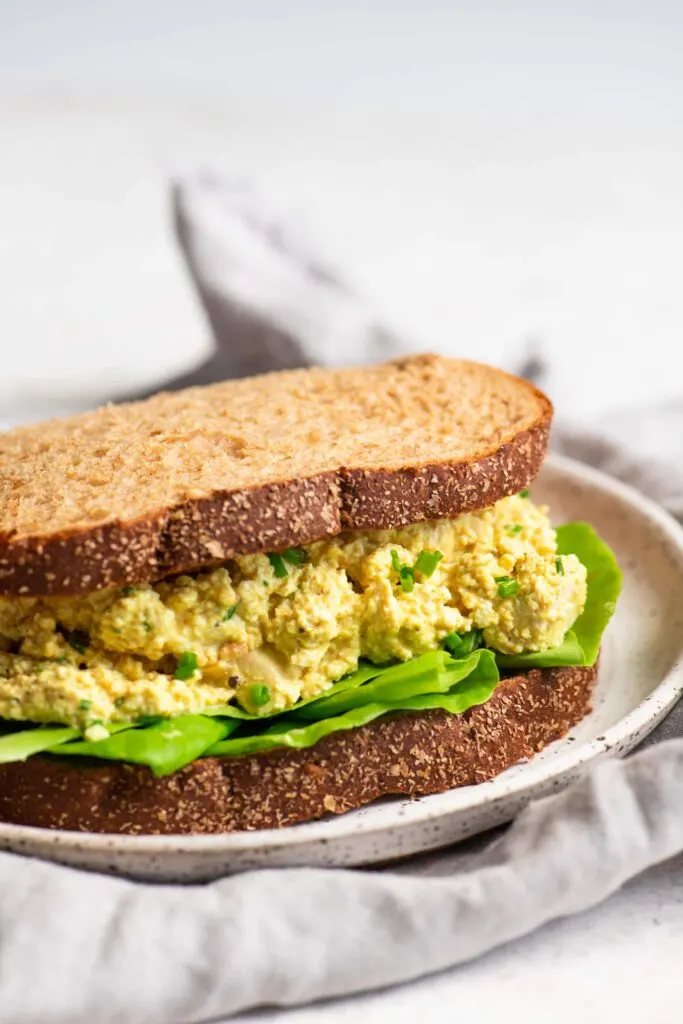 I recently served these to some friends cut up into cute little tofu salad and watercress tea sandwiches. They were super popular with my non-veggie crowd!
Similarly to sandwiches, it makes for a great wrap filling!
You can also use it in bowls, we paired leftovers with spicy black bean and rice bowls topped with pickled red onion and it was *chefs kisses!*
I also made some great vegan quesadillas stuffed with curried tofu salad and vegan cheddar.
Use it as a pizza topping for something different.
Dip some crackers, celery, or carrot sticks into it, or just eat it straight with a spoon!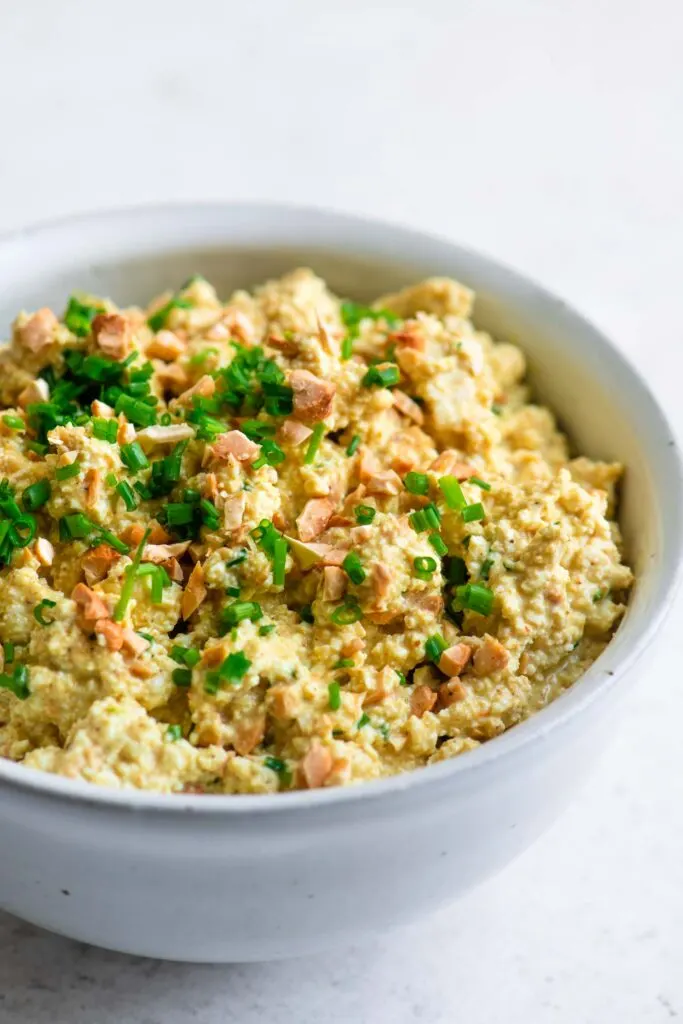 If you make this curried tofu salad, leave a comment below and rate the recipe on the recipe card. And please share your photos with me on Instagram, tag @thecuriouschickpea and #thecuriouschickpea. I love seeing your recreations!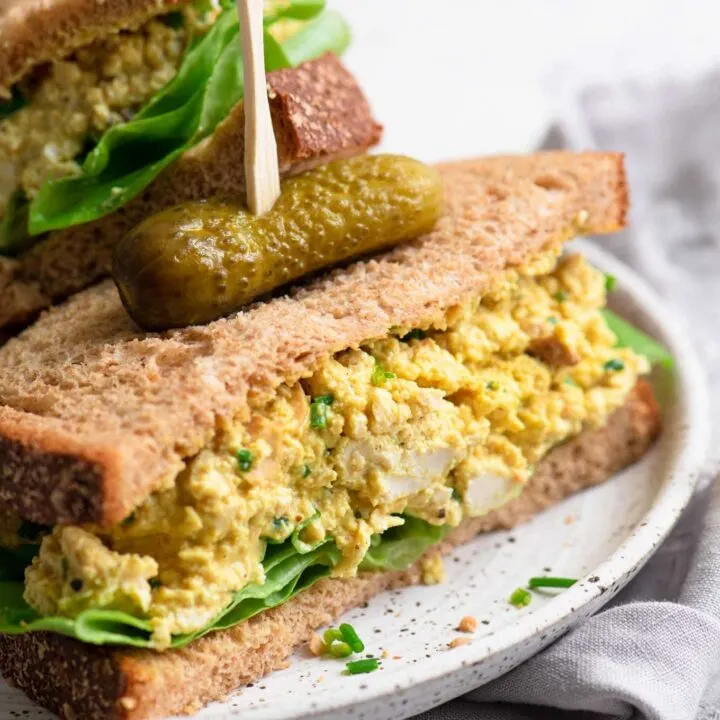 Curried Tofu Salad
It's so easy to make this curried vegan egg salad. It's great on sandwiches and more! Leftovers store in a sealed container for about a week in the fridge, if they last that long.
Ingredients
1 block extra firm or super firm tofu
3/4 cup vegan mayonnaise
1 tsp dijon or yellow mustard
1 tsp lime zest (from 1 lime)
1 tbsp fresh lime juice
1 1/2 tsp curry powder
1 tsp onion powder
1/2 tsp granulated garlic
1/4 tsp turmeric (optional, for color)
1/2 - 1 tsp salt (see note), or to taste
black pepper to taste
1/4 cup chopped roasted cashews
2 tbsp minced chives
Instructions
Crumble tofu and add to a mixing bowl. Add the rest of the ingredients, starting with 1/2 tsp of salt, and mix together. See note if using kala namak.
Adjust salt and pepper to taste, and any other seasonings as needed. The yellow color from the turmeric will develop after a couple hours.
Notes
For an eggy flavor, use kala namak (Indian black salt) in place of some of the salt. Add it to taste, as it is a strong flavor, then add more sea salt as needed.
Roast cashews in 325ºF oven for 8-12 minutes until darker in color and golden in spots, stirring once halfway through. Or toast them on a dry skillet over low heat until browned in spots.
Recommended Products
As an Amazon Associate and member of other affiliate programs, I earn from qualifying purchases.
Nutrition Information:
Yield:

8
Serving Size:

1
Amount Per Serving:
Calories:

155
Total Fat:

13g
Sodium:

393mg
Carbohydrates:

5g
Fiber:

1g
Sugar:

2g
Protein:

6g
Nutrition is calculated automatically so should be used as an estimate.