If you like apples, cinnamon, and fall you have got to try these vegan apple pecan cinnamon rolls. They're stuffed with apple butter and toasted pecans and smothered in an apple butter cream cheese icing for a delectable fall treat!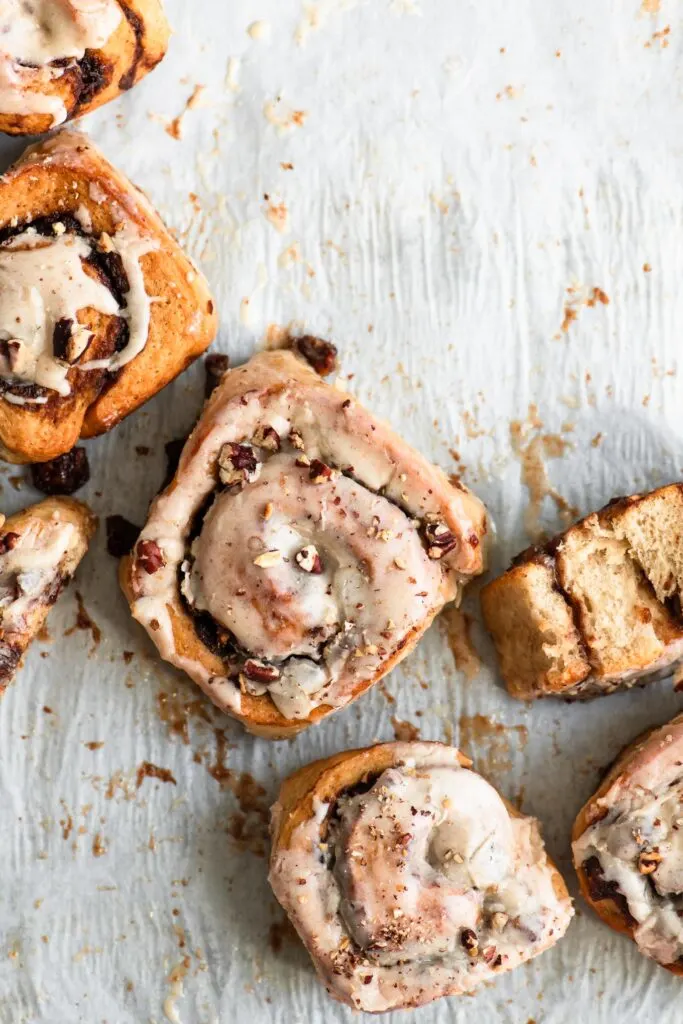 I love cinnamon rolls in all forms. But when it comes down to it, store bought cinnamon rolls can't hold a candle to these homemade buns!
The dough itself is so soft and pillowy and almost no effort to make. The buns are full of concentrated apple flavor thanks to the apple butter and lots of warming cinnamon.
They would be worth making just for the smells that waft from your oven as they bake. And it just makes eating them all the better.
They're the perfect sweet treat for your indulgent brunch, afternoon pick me up snack, or after dinner dessert. You can pair a roll with a cup of tea or coffee and make it a whole thing.
I think these apple butter cinnamon rolls are super pretty when baked! Dark crannies of apple butter and cinnamon, pieces of toasted sticking out, and a crackly and sticky cream cheese glaze.
A feast for the eyes as well as the belly!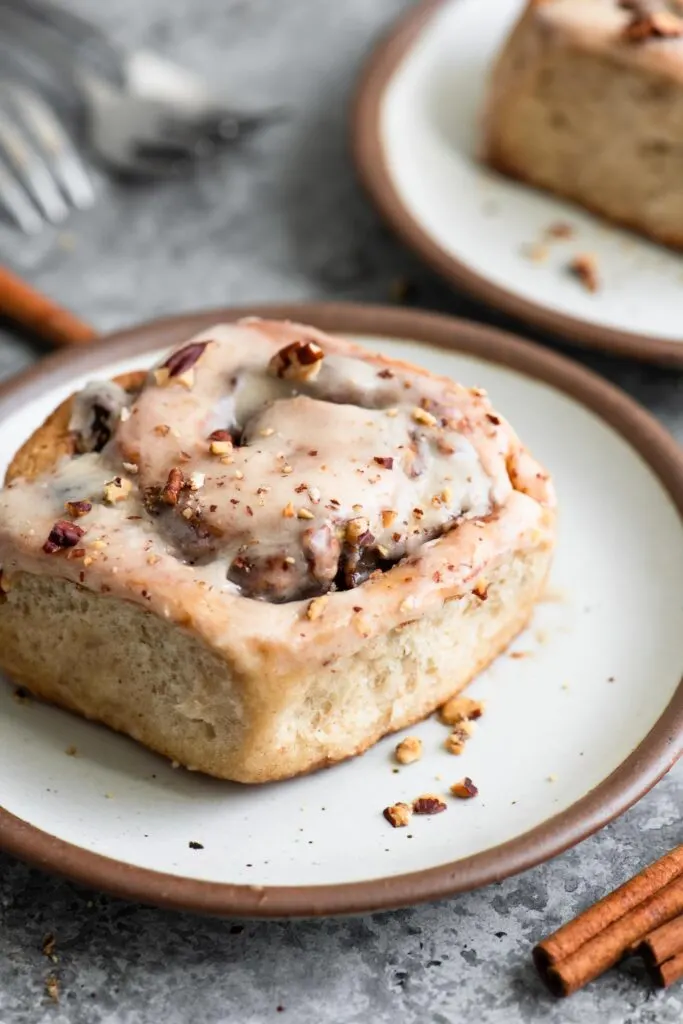 You can use homemade apple butter to make it or a store bought version. I often make a low to no sugar added stovetop apple butter which makes these buns less sweet, but this works best with very sweet apples otherwise you'll end up with a slightly tart apple butter. Otherwise I love getting locally made apple butter from a nearby orchard!
If you've never made homemade cinnamon rolls, you might as well start with these mouth watering apple butter and pecan stuffed ones. And if you're an old hat cinnamon roll maker, well, branch out a little!
The Cinnamon Roll Dough:
I'm going to argue that you can't have good cinnamon buns without a good dough. And as this is not a controversial statement in the slightest, I'm glad we all agree!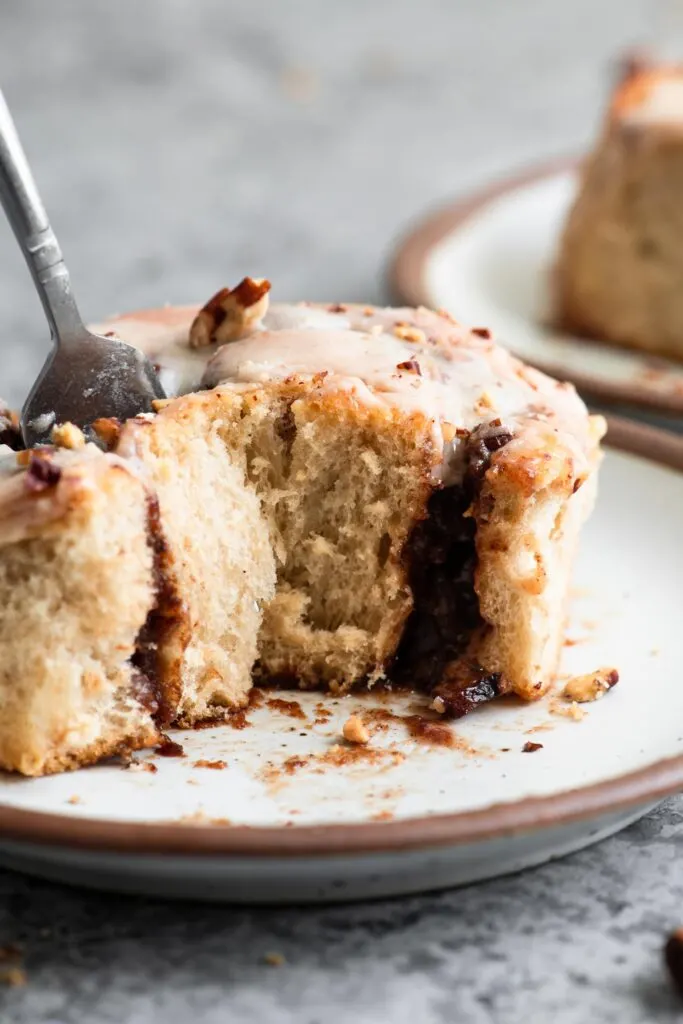 I love making homemade bread, and cinnamon rolls are a kind of bread and not that different to make.
For my cinnamon rolls I keep the kneading to a minimum which keeps the baked rolls extra tender and soft.
Kneading is a mechanical process that develops the protein (aka gluten) network of wheat flour. The strands of gluten swell and lengthen when hydrated and transition from more or less random directions to form a scaffolding network.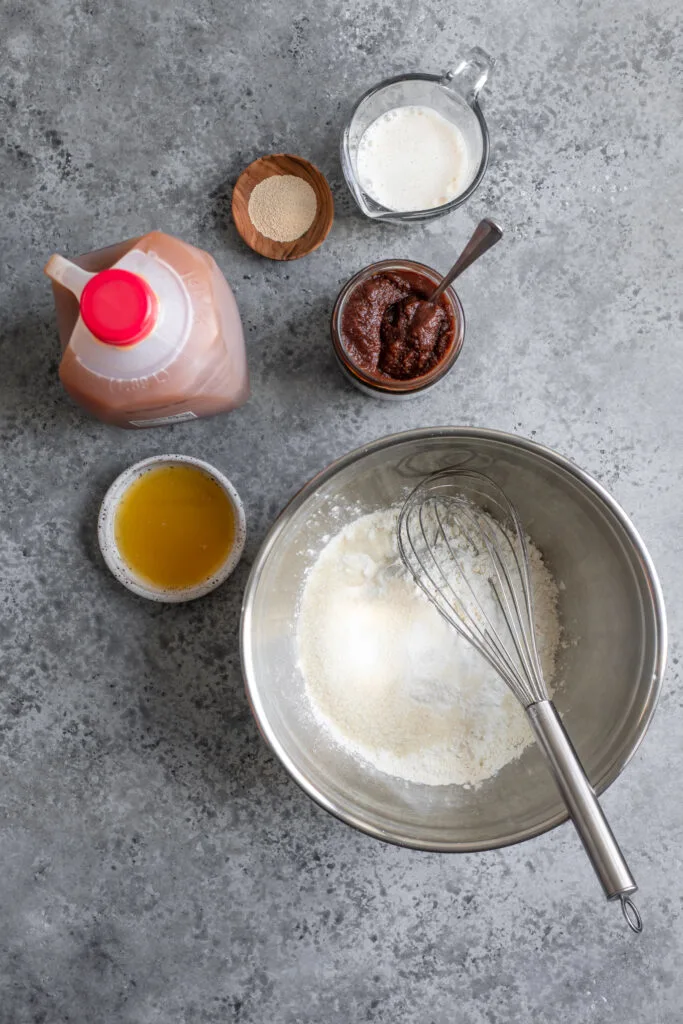 This network traps air pockets in it, air which is a product of the activated yeast. When the dough hits the oven the gas expands and it helps the dough rise.
For enriched dough like these cinnamon buns, you need to knead just enough to get a smooth bowl of dough, but not enough to make for a tougher dough. This also lets us keep the rising time short.
The dough itself is soft and supple after kneading, and a bit tacky but not sticky. If it is sticking to your hands then you need to add a bit more flour.
What is enriched dough?
I mentioned this dough is enriched, and that's why it's so soft and fluffy and doesn't crust as much. Enriched dough has butter, milk, and sometimes eggs in it. Usually sugar as well. For this dough we use vegan versions because hey, I'm vegan!
Our apple pecan cinnamon rolls have vegan butter, plant milk (I like soy milk but any will work), and sugar to enrich the flour.
I also add apple butter and apple cider to the dough to infuse it with spiced apple flavor!
The double rise:
Cinnamon rolls have two rises. The first is the bulk rise, when you first mix all the ingredients together, knead the dough, and then leave it somewhere warm to about double in size.
The second rise comes after shaping the rolls and before you bake them.
Shaping the apple pecan cinnamon rolls:
You gently remove and punch down the dough after the first rise and then roll it out on a very lightly floured countertop or butcher block or a piece of parchment paper.
You then roll the dough out into a long thin rectangle and add a layer of melted vegan butter which helps the buns be extra flakey and buttery tasting–a must for cinnamon rolls!
Then spread a layer of apple butter and top with sugar and cinnamon, and some chopped toasted pecans.
Gently roll the long edge of the dough to make a big log. Then gently cut the dough into 12 equal pieces, trying hard to not squish the layers together.
Gently transfer the cut rolls into a large 9×13 baking pan or a couple of round cake pans and brush some melted vegan butter overtop. Remember, cinnamon rolls need to be buttery!
At first the rolls will barely touch each other if at all, but as they rise for the second time they will swell and run into their neighbors. When the rolls have gotten all puffy you know it's time to bake them!
It can feel a bit sloppy when rolling, cutting and placing the cinnamon rolls. The filling threatens to leak out at every turn! But stick with it and gently nudge any spillage back into the rolls once they're placed in the baking tray.
The apple butter cream cheese frosting:
You know the saying, a cinnamon roll is only as good as the icing on top! Ok, I just made that up, but you really do need a frosting to complete the treat!
A little vegan cream cheese, melted vegan butter, a spoonful of apple butter, drizzle of vanilla extract, and sifted powdered sugar whip together to make a soft and fluffy frosting that melts over warm cinnamon buns.
Of course, if you wait for them to fully cool it won't be as melty and you might want to call the buns frosted instead of iced!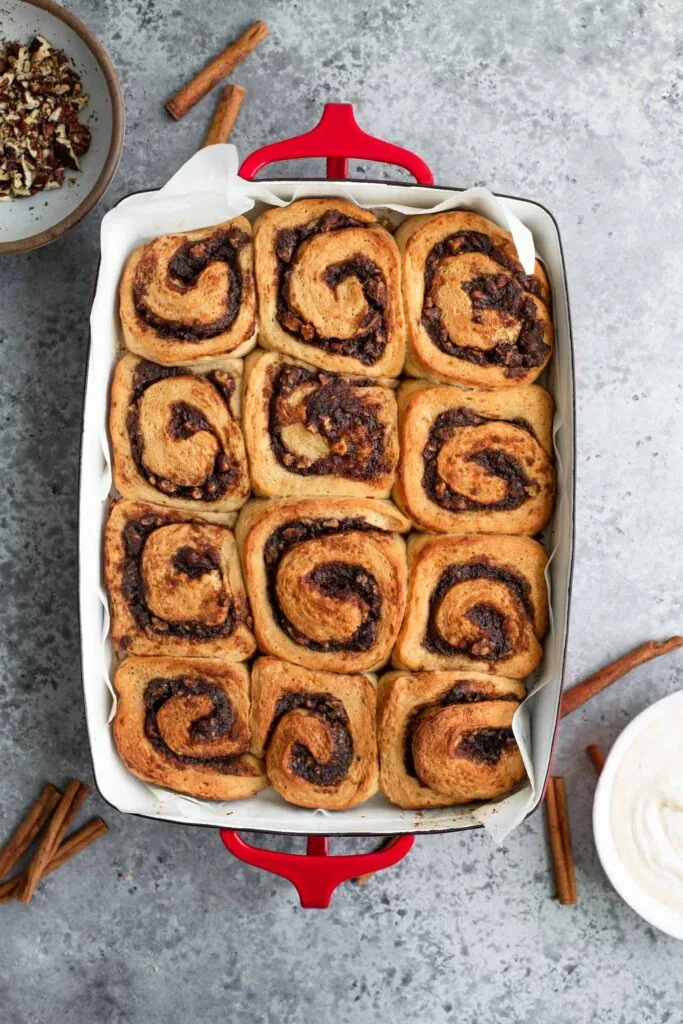 Got leftovers?
Heat up leftover buns by warming in the microwave for 20-30 seconds. This will return the just baked softness.
If you know you'll have leftovers you can leave the buns unfrosted then add frosting to the warmed buns but it's also fine to microwave with frosting on.
You can freeze un-iced buns and let defrost at room temperature or in the fridge, and either bake (350 ºF) to warm or zap in the microwave.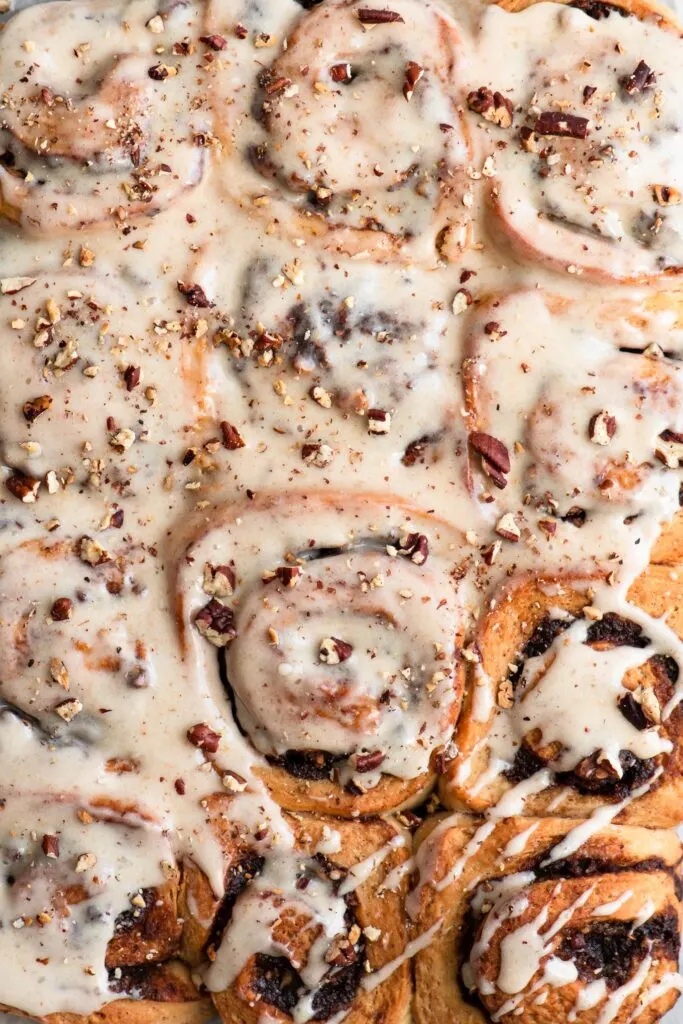 Want to break up the process into two parts?
If you want early morning cinnamon buns you can divide the instructions across two days.
You can do one of two options:
Once you've kneaded the dough and covered it in the bowl to rise, place it immediately in the fridge and let it have slow overnight rise. The following morning, roll out the dough and let it go through the second rise as planned. The second rise may take more time as the dough is cold, so be patient!

Once you have shaped the rolls and placed them in the baking dish, cover the dish tightly and put it in the fridge to rise overnight. Bake the buns cold, straight from the refrigerator the next morning.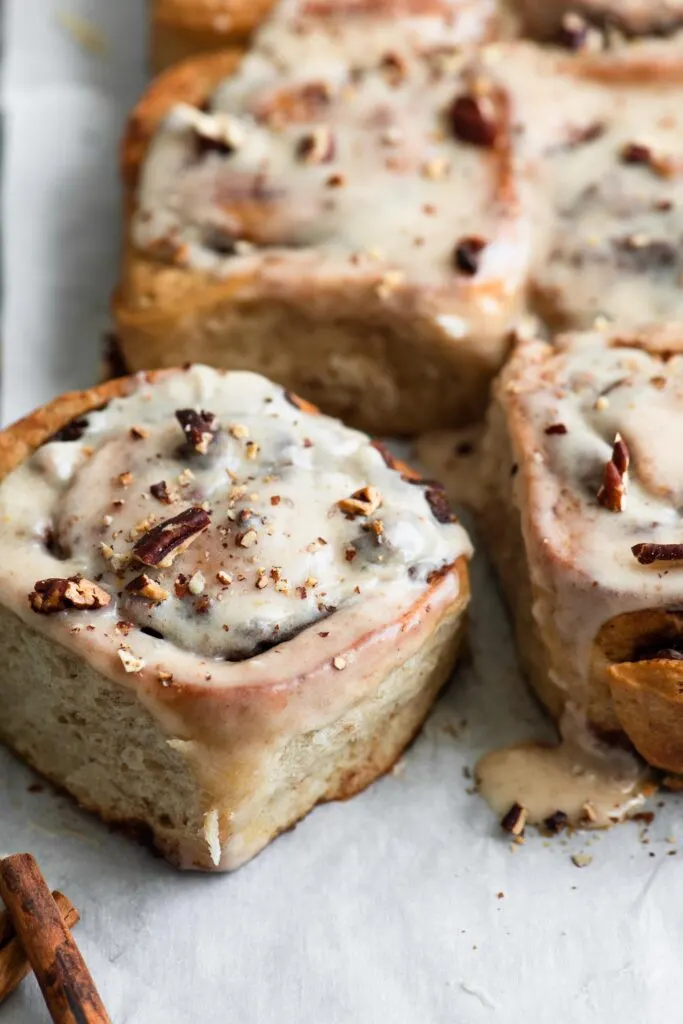 If you make these vegan apple pecan cinnamon rolls, leave a comment below and rate the recipe on the recipe card. And please share your photos with me on Instagram, tag @thecuriouschickpea and #thecuriouschickpea. I love seeing your recreations!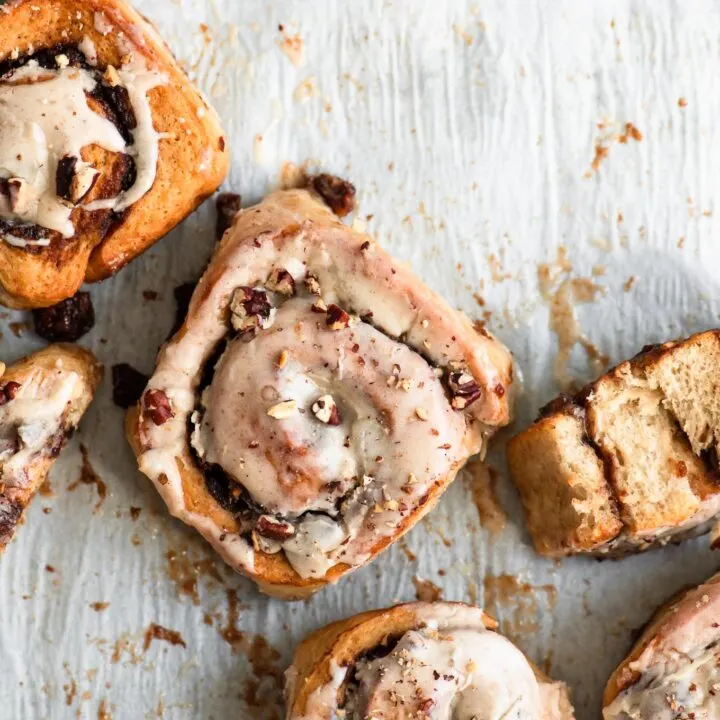 Vegan Apple Pecan Cinnamon Rolls
Prep Time:
1 hour
45 minutes
Total Time:
2 hours
25 minutes
These oversized cinnamon rolls are stuffed full of apple butter and chopped toasted pecans. They're the perfect autumn treat!
Ingredients
Cinnamon Roll Dough
3 1/3 cups (430g) all purpose flour
1 tsp (7g) salt
2 tbsp (28g) sugar
2 1/4 tsp (9g) dried instant yeast
1/2 cup (125g) non dairy milk, 95-110 ºF
1/2 cup (125g) apple cider, 95-110 ºF
3 tbsp (36g) melted vegan butter, or vegetable oil
1/4 cup (56g) apple butter
Apple Pecan Filling
3 tbsp melted vegan butter, divided
3/4 - 1 cup apple butter
1/3 cup granulated sugar
1 tbsp ground cinnamon
1 cup pecans toasted and chopped*
Apple Cream Cheese Icing
4 oz vegan cream cheese
1/4 cup (2 oz) melted vegan butter
1 cup sifted powdered sugar
1/2 tsp vanilla extract
1 tbsp apple butter
Instructions
In a large mixing bowl whisk together the flour, salt, and sugar.
Pour the warm milk and cider into a second mixing bowl and stir in the yeast. Let the yeast prove for 5-10 minutes until foamy. Whisk in the melted butter (cooled slightly so it doesn't kill the yeast) and apple butter.
Pour the yeast mixture into the dry ingredients and mix with a wooden spoon to form a shaggy dough. Turn onto a clean, lightly floured counter and knead to form a smooth ball, only 2-3 minutes. Add more flour if necessary until the dough is tacky but not sticky.
Place the dough ball into an oiled bowl, turning to coat. Cover the bowl and let rise at room temperature 45 minutes - 1 hour or until doubled in size.
Gently ease the dough onto a clean surface, lightly dusted with flour. Roll into a thin rectangle, 18" wide and about 12" deep.
Brush about 2 tablespoons of the melted butter in a thin layer over the dough. Then, spread the apple butter to cover. Sprinkle the sugar on evenly over the apple butter, then dust on the cinnamon and distribute the chopped pecans.
Roll the long edge of the dough away from you to form a log. Cut the roll into 12 segments, ~1 1/2" thick, using a serrated knife. Apply as little pressure as possible and use a sawing motion to cut the roll without smashing it.
Grease a large 9 x 13" baking dish with butter or line with parchment paper. Place the individual rolls into the baking dish, leaving space between each roll. Brush the tops of the rolls with the remaining 1 tbsp of melted butter and cover with plastic wrap.
Preheat the oven to 350 ºF and let the buns rise for 30 minutes while the oven preheats. They'll be ready when they have increased in size and are pressing against each other.
Bake for 36-40 minutes or until rolls are golden. Remove them from oven and let them cool for at least 15 minutes before frosting.
Prepare the apple cream cheese icing
In a mixing bowl beat together the cream cheese and melted butter with electric beaters until smooth. Add the powdered sugar and vanilla extract and beat until smooth, then whisk in the apple butter.
Notes
*roast the pecans in a 350 ºF oven for 10-15 minutes until they smell nice and toasty and are a shade or two darker
Apple butter can be store bought or homemade. For a no sugar added homemade recipe (buns will be less sweet), try my stovetop apple butter recipe.
Recommended Products
As an Amazon Associate and member of other affiliate programs, I earn from qualifying purchases.
Nutrition Information:
Yield:

12
Serving Size:

1
Amount Per Serving:
Calories:

366
Nutrition is calculated automatically so should be used as an estimate.