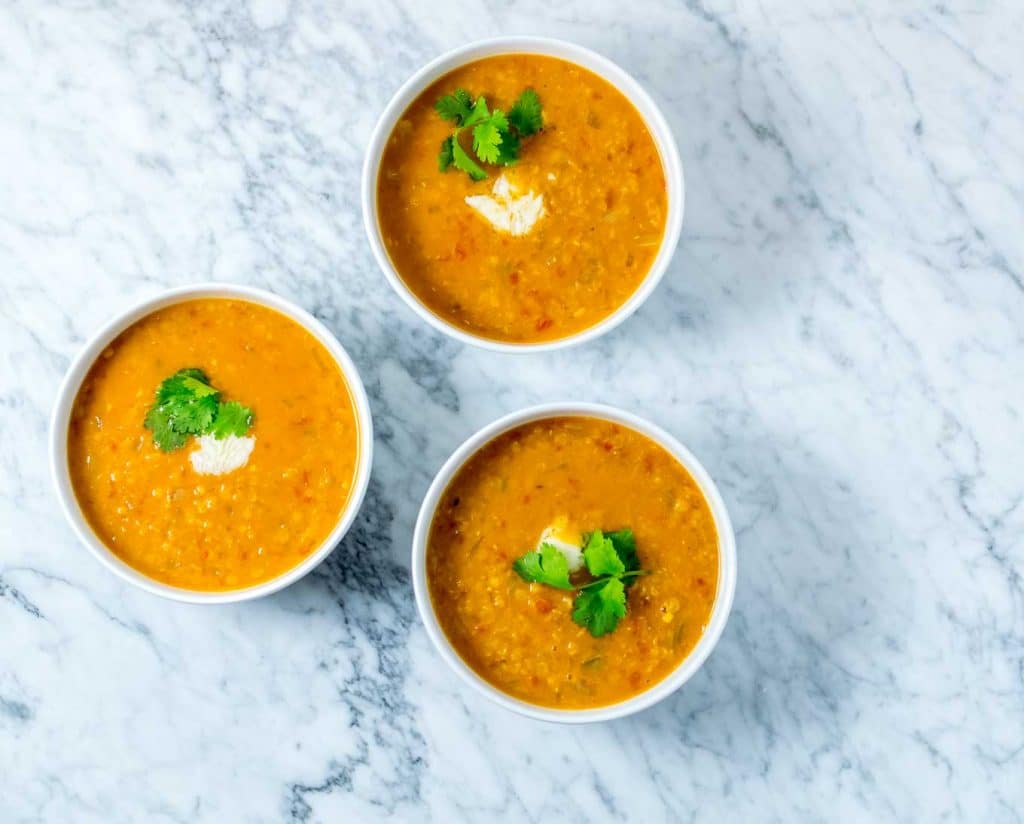 When I first started dating my now-husband, he would do a lot of batch cooking–make a large quantity of one dish and eat it for the entire week, or at least the next several days. One dish he would make was a version of this tamarind red lentil soup. He had more of a general outline than recipe: some sort of lentils, as many chiles as he had in the fridge (the more the better), onion, garlic, ginger if it was around, tomatoes or maybe tomato paste, and then he'd go back and forth with tamarind concentrate and coconut cream until it tasted right. Which, with that many chiles he had to work against in the background, would be a lot of tamarind, and at least two 15 oz cans of coconut cream (*three cups* coconut cream guys).
He made the soup for me in this form, though he held back on the heat, using only 4 or 5 peppers for my more pedestrian spice loving taste (I like spicy, but I also want to taste what else is going on). The soup was amazing, no doubt, but as good as it was, my metabolism is not on par with his (sigh), and I just can't eat what essentially is coconut cream with a some lentils stirred in on a regular basis. But the flavors of that soup were great, and that is what inspired this much healthier adaptation, with a much more specific tried and true recipe. Though, hey, if you want to play with the quantities a little you'll find this recipe as adjustable as he did. But also, seriously, try my way first, it's amazing (if I'm allowed to say so).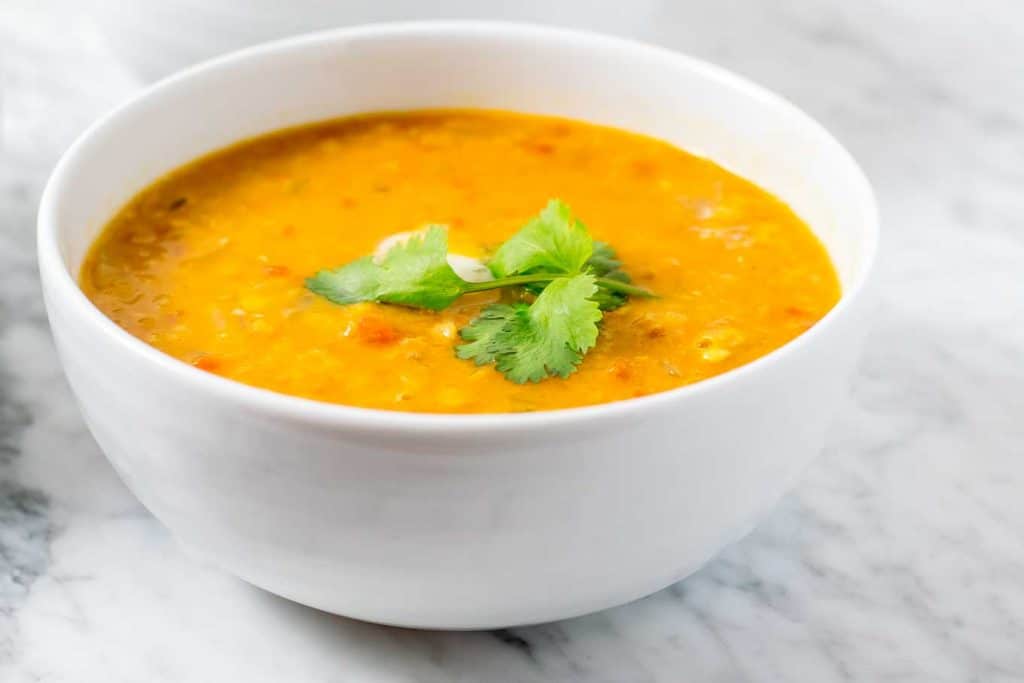 This soup is tangy, creamy, and bursting with flavor. I like to eat it plain, but it is also good when served with basmati rice. It's so easy to make, only requires one pot and has lots of hands off time while it simmers. Onions, garlic, chiles, and ginger provide a flavorful base to the soup. Cumin and coriander spice it subtly, but the real star of this soup is the tamarind. It is sweet and sour, and that flavor is highlighted by tomatoes (added later in the recipe so not to inhibit the lentils from softening) and lemon juice. Creamy coconut milk completes this dish, helping all the flavors meld together and as an added bonus it makes the soup more filling, so you don't need to eat it with rice or anything to feel satisfied.
The dish is not very spicy as written (at least not by our standards), especially as the coconut milk tempers the heat from the chiles, but between the peppers and the ginger it has a nice bite to it. We love eating this in the middle of winter as well as when it's 95 ºF outside. The bright and tangy flavors and creamy coconut base complement any season. If you don't believe me, try it!
Let me know in the comments if you make this dish, or tag me on Instagram!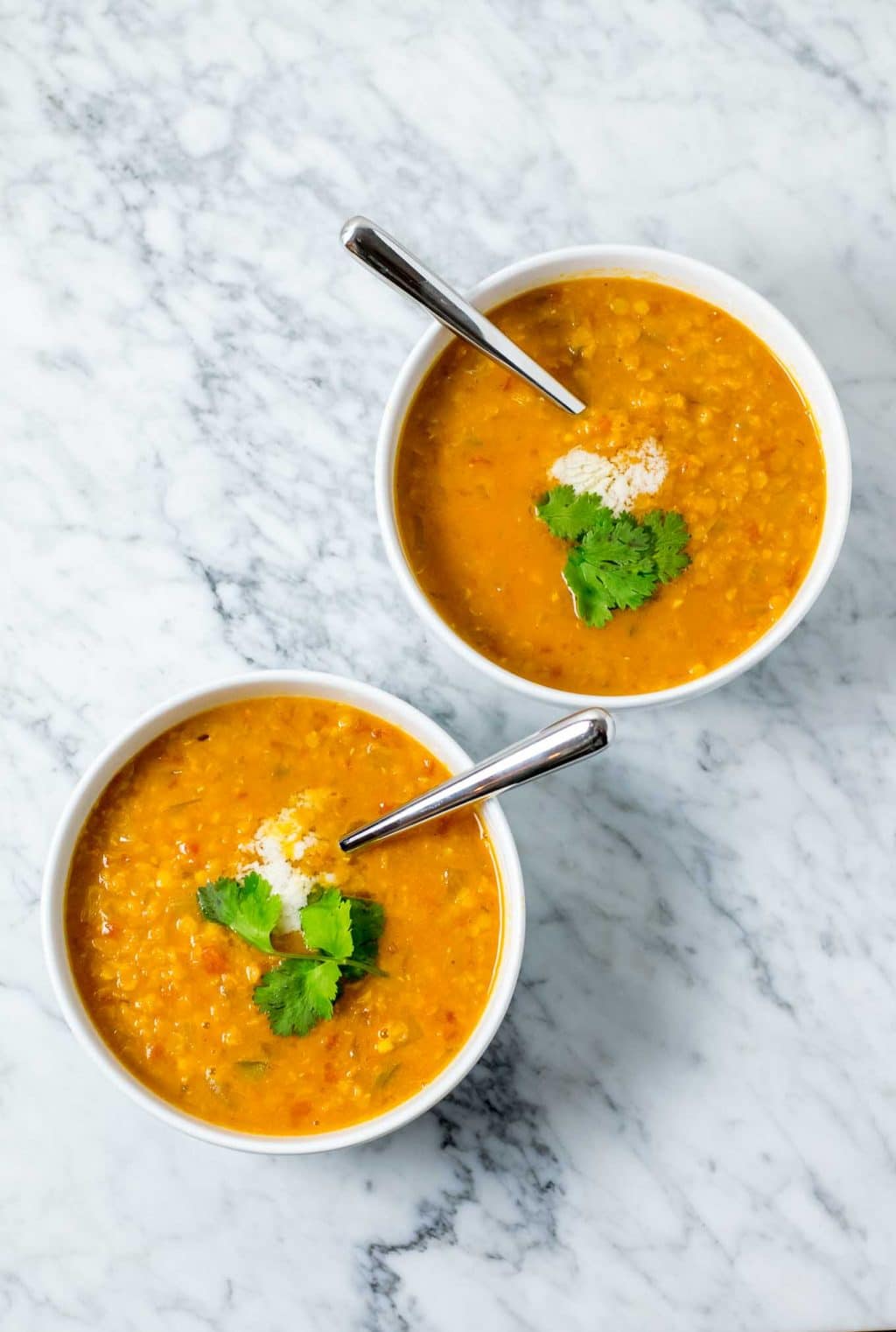 Notes:
If you like spicy food then you can definitely increase the number of chiles, if you are sensitive to spice use only one chili, and deseed it.
If you haven't cooked with tamarind concentrate before, I really recommend you try it! You can buy it at an Indian store, or some East Asian specialty grocery stores, and maybe a regular grocery store with a well stocked international foods section. You can also buy it on amazon. Once you open it, it stores in the fridge seemingly forever, and you'll certainly use it all before you would even have to worry once you have tried this soup 😉
If you aren't a purist, and need veggies in your daily soup, add some chopped spinach for the last 10-15 minutes of cooking.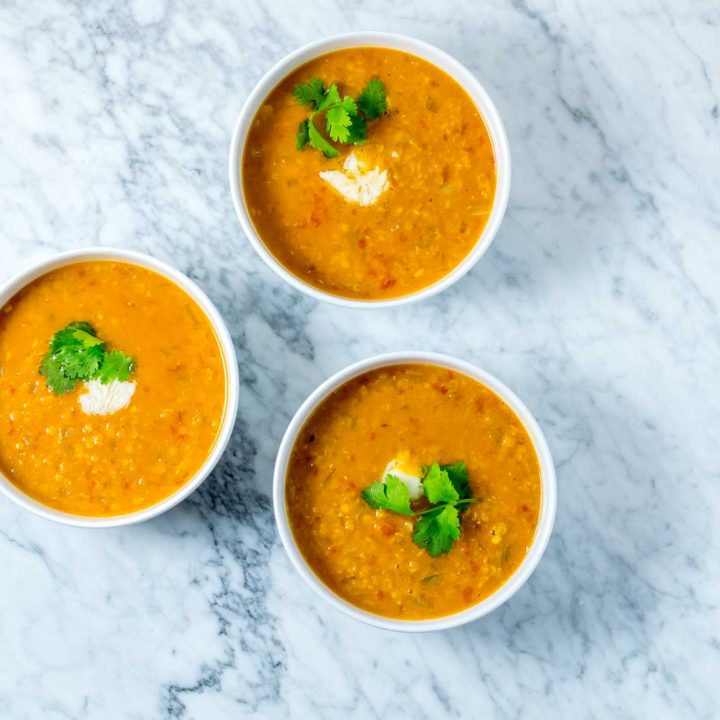 Tamarind Red Lentil Soup
A creamy and tangy tamarind red lentil soup.
Ingredients
2 tsp coconut or vegetable oil, divided
1 yellow onion, small dice
2 cloves garlic, minced
1-2 chilis, minced and seeded if desired
1" piece (1 1/2 tbsp) ginger, minced
2 tsp ground cumin
1 tsp ground coriander
1 1/2 tsp salt, or to taste
2 cups (400 g) red lentils, rinsed
6 cups water
3 tbsp tamarind concentrate
1 15 oz can crushed or diced tomatoes, or 1 1/2 cups fresh tomatoes, chopped
1 15 oz can coconut milk
2-3 tbsp fresh lemon juice
cilantro, to garnish (optional)
vegan butter, to serve (optional)
Instructions
Heat 1 teaspoon of oil in a large heavy bottomed stock pot over medium heat. Add onion, and sauté it for 5 minutes, stirring occasionally, or until slightly caramelized and browned.
Add the additional teaspoon of oil and the minced garlic, chili, and ginger, and cook for 1 minute, stirring.
Add the cumin, coriander, and salt, stir, and then add the rinsed lentils. Mix the lentils in and let cook for about 1 minute, stirring. Then add the 6 cups of water and the tamarind concentrate.
Bring to a boil over high heat, then turn the heat to low and simmer, covered, for 15 minutes, or until lentils are soft.
Add the tomatoes and coconut milk, and bring to a simmer. Cook for an additional 15 minutes to allow flavors to meld.
Add lemon juice, taste, and adjust seasonings if desired.