Sweet and sour tamarind, spicy chiles, and zesty ginger are mellowed by creamy coconut milk to make this tamarind red lentil soup the dal of your dreams. It's super easy to make, and so flavorful. Pair it with some naan or flatbread, eat it plain as soup, or serve it with basmati rice.
This tangy, creamy red lentil soup, or if you prefer to call it, tamarind masoor dal, is one of the go-to meals at our house. It's bursting with flavor, and a delicious light and bright change of pace from our typical masoor dal tadka.
It's gingery and spicy with bright and tangy flavors and a rich creamy coconut base. We love eating this in the middle of winter, as well as when it's 95 ºF outside. It complements any season perfectly! Make it spicier or less spicy to suit your taste buds, but don't miss out on this wonderful recipe!
I actually adapted this recipe from a dish my husband used to batch cook in grad school. He'd cook up some spicy lentils, add in some form of tomato, then dump tamarind and coconut cream in until it tasted right. It's cheap and easy to make, packs incredible flavor, and requires very little hands on time–in other words, it checks all the boxes!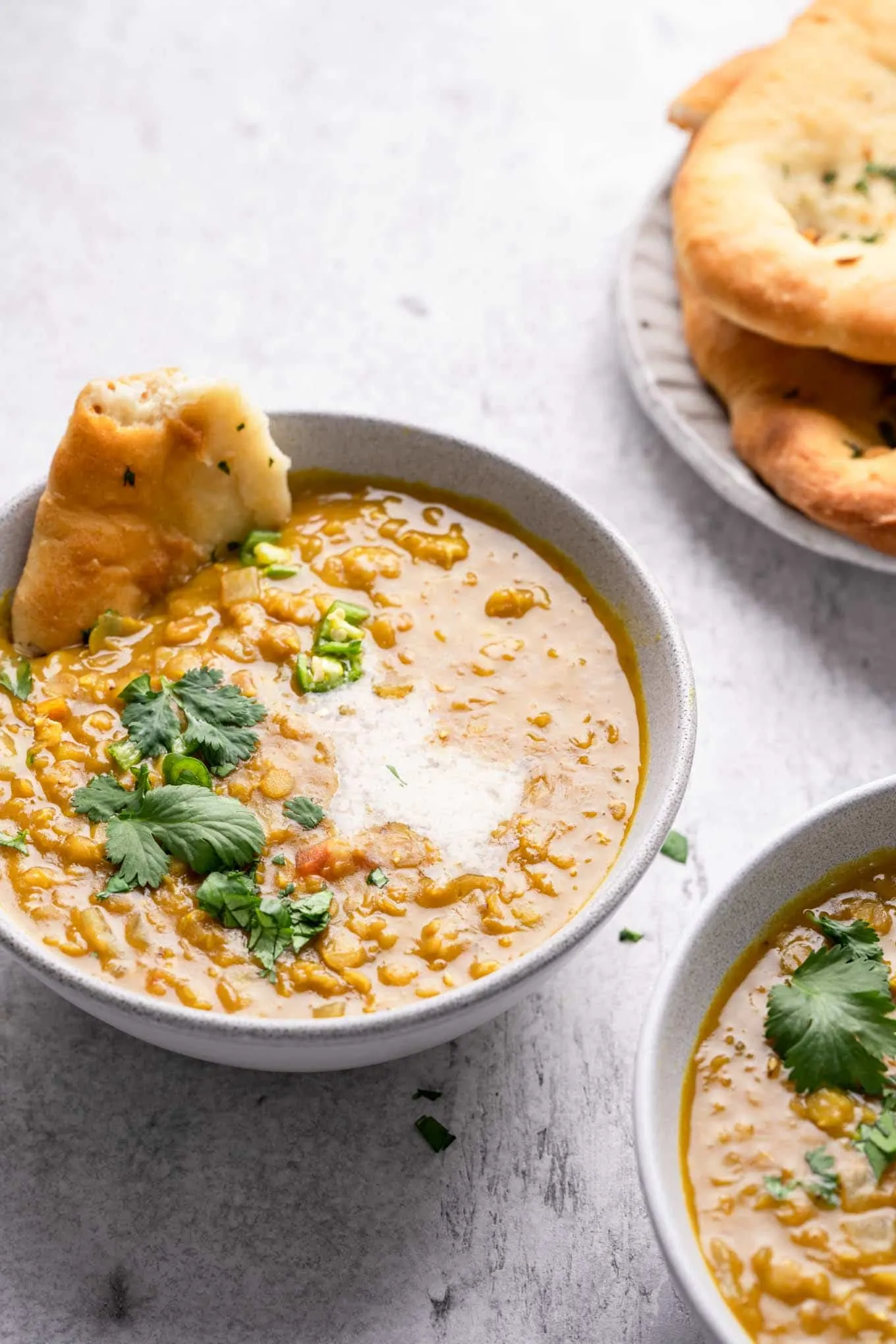 You can eat it like a soup, or like you would other Indian daals and enjoy it with garlic naan, flatbread, or basmati rice.
How to make this easy red lentil soup:
There are two ways to approach cooking lentils. You can cook the lentils then add seasonings to the cooked lentils, or you can cook the lentils in the seasoning itself. Tadka dals use the prior technique, in fact it's in the name–tadka means tempering.
This recipe uses the latter technique, which means you only need one pot to put your soup together!
First, cook up your onion, garlic, ginger, and chili peppers. Stir in the spices, then add the red lentils and stir to toast them slightly before adding water. Add tamarind concentrate with the water and cook the lentils until they're soft.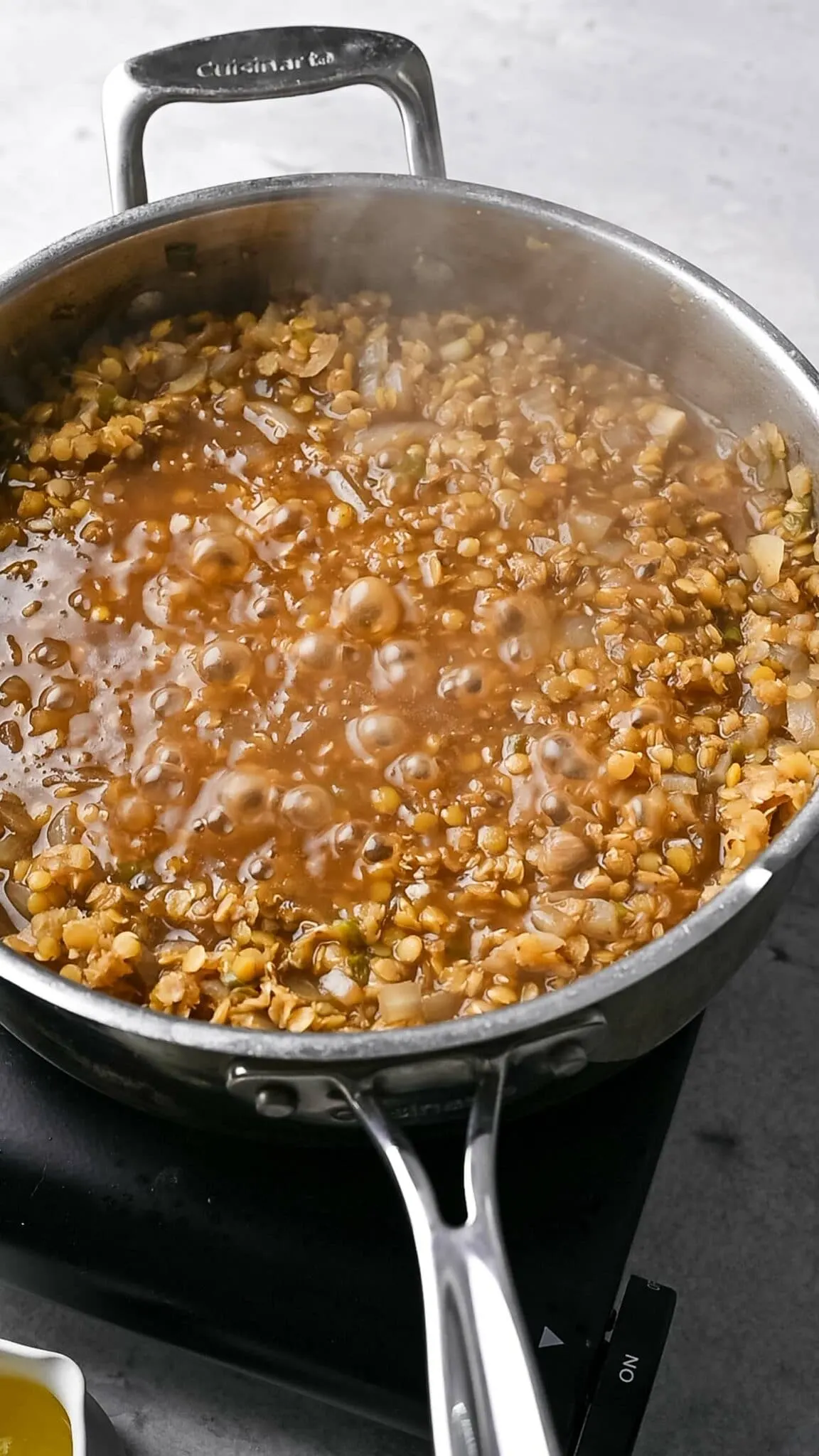 Only when the lentils are tender can we add the tomatoes. Tomatoes are acidic and can inhibit lentils from fully softening. Tamarind is also acidic, but I have not had difficulty with red lentils softening when cooked with a little tamarind.
Add canned full-fat coconut milk along with the tomatoes, then bring the soup back to a simmer and let it cook another 15 or so minutes for the flavors to meld and the tomatoes to start to break down.
And that's it! Add some lemon juice and taste the dish, adjusting any seasonings or adding tamarind or more coconut milk to your liking.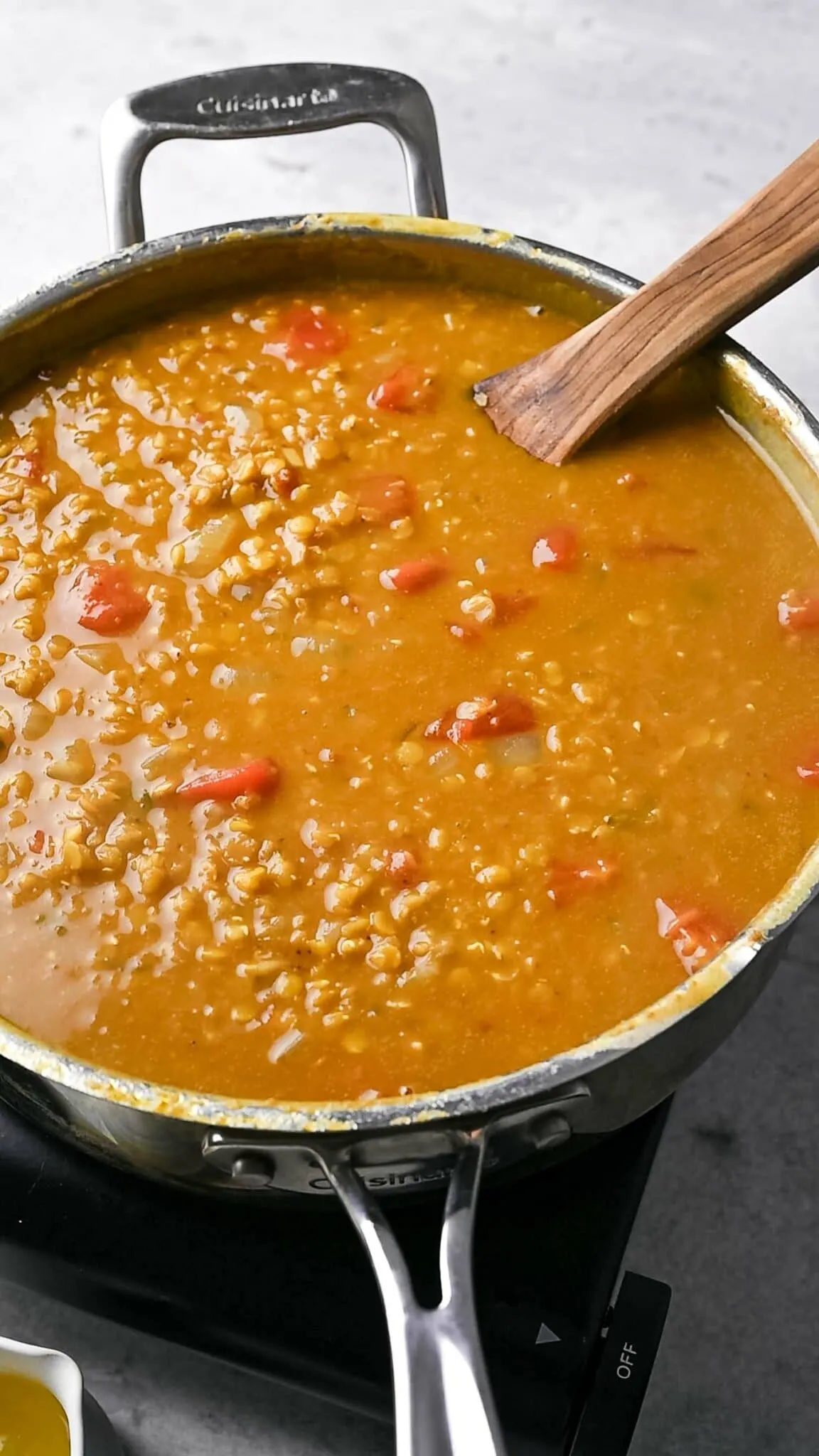 Notes on Tamarind Concentrate:
Tamarind concentrate or tamarind paste can vary a lot by brand. It can be thinner or thicker, sweeter or tarter. Because it varies I recommend starting with just 1 tablespoon of tamarind paste and then adding more to your own liking once you've added in the tomato and coconut milk.
You can use tamarind chutney, but it will likely be thinner in texture, have added sugar (or dates), and will also be lightly spiced.
You can buy tamarind in some well stocked grocery stores in the "international" section, in Indian grocery stores, or online. There are Indian online groceries you can shop at, or you can always find it on amazon. Tamarind concentrate lasts seemingly forever in the fridge so don't worry about picking up a jar!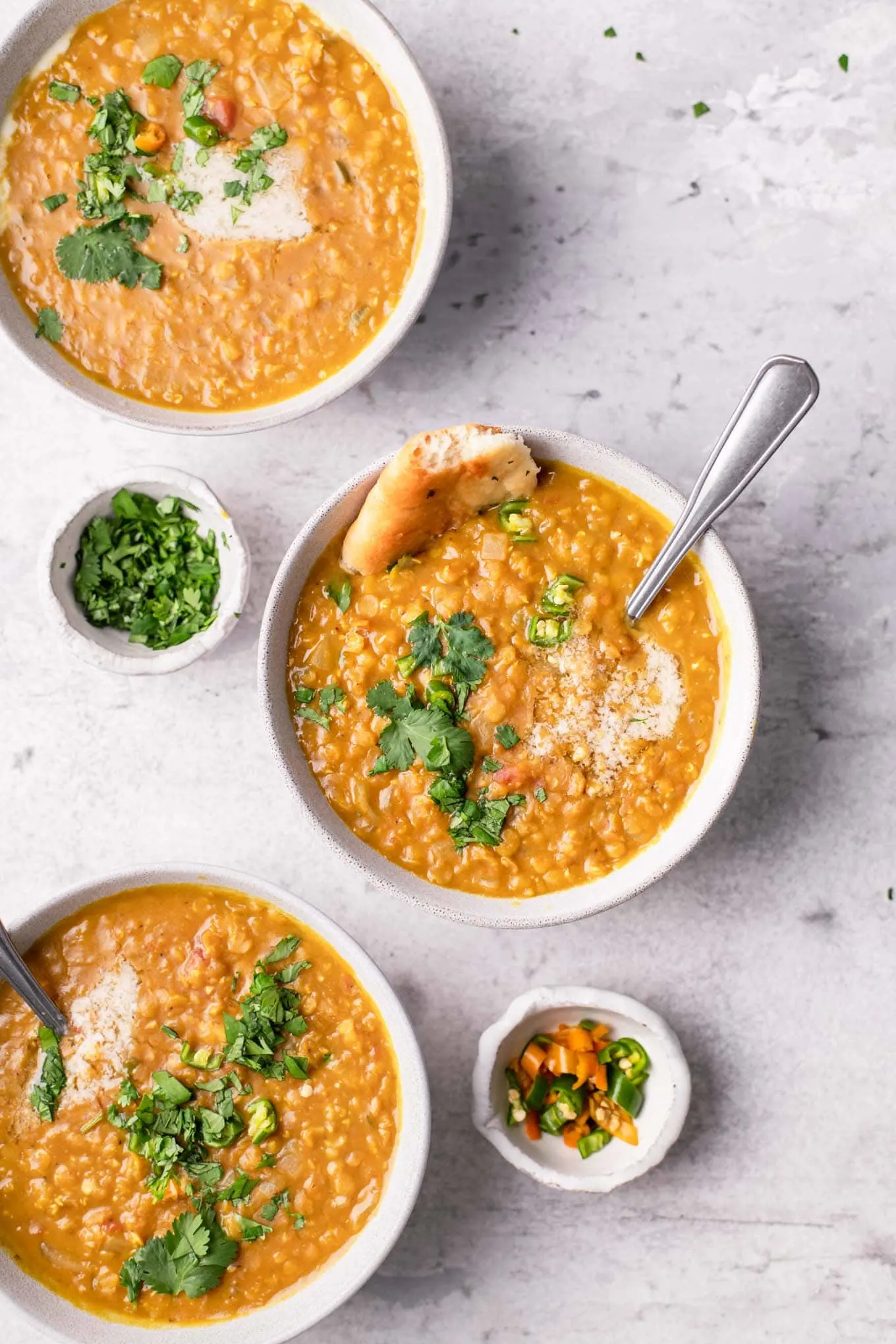 How to serve tamarind red lentil soup:
This dish is so versatile! We love to eat it as a soup, dipping bread into it as we go. It's great with Indian flatbreads or slices of crusty bread. If you prefer, you can serve it as a dal with basmati rice.
Top the soup with a dollop of vegan butter if you're feeling fancy, just as you may find dal topped with a dab of ghee.
Stir in a big handful of chopped cilantro at the end, and then garnish with even more cilantro to serve. If you like spice, then add fresh chopped chili peppers as well!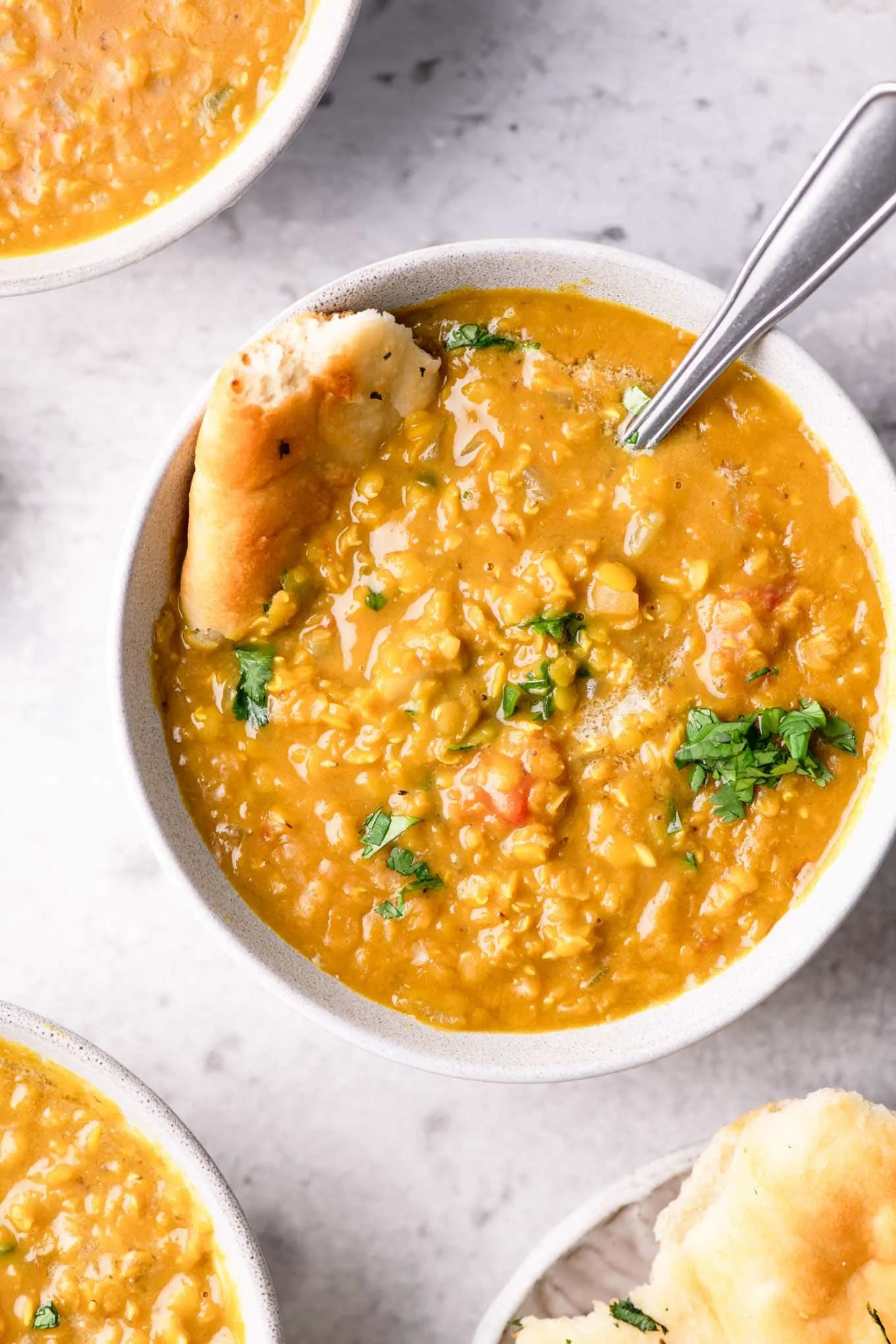 What kind of chilis should I use for this recipe?
If it's spicy, you can use it! Serranos, jalapeños, finger peppers, Thai chilies, etc. all work to make this dish! They vary in spice level, so I trust that you can know your own spice tolerance and cook appropriately for it.
The coconut milk in the soup tempers the spice somewhat, so keep that in mind when adding spice! (This means you may be able to handle a little more chili than usual.)
How to store tamarind lentil soup:
If for some reason you can't finish this dish in the 5 or so days it's good in the fridge, you can freeze extra. Lentils freeze really well, and this dish is no exception!
But once you realize how good it is, especially after a night in the fridge, you'll find it disappearing in no time! Or maybe we just have really big appetites when it comes to this dish, haha.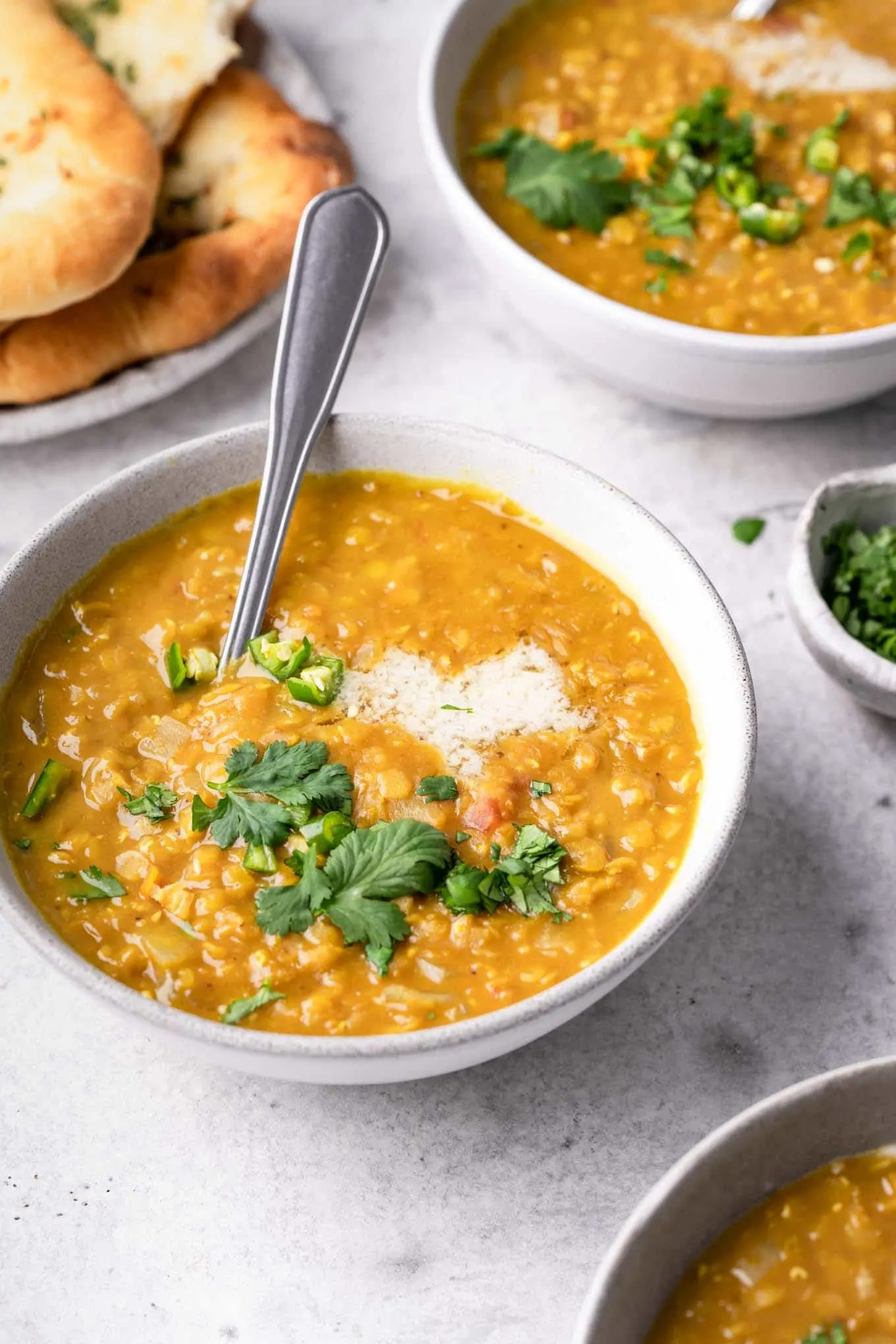 Adding some greens to the soup:
If you want to amp up the nutrition of this dish you can add in some washed and chopped spinach (or baby spinach) to the last 10-15 minutes of cooking.
Other greens that are fabulous in this dish are mustard greens, kale, swiss chard, or even collard greens.
For tougher greens like kale and collard greens, and if you want to add the chard stems, then I recommend sautéing the greens separately to soften first, then add to the soup and simmer for another 5-10 minutes.
If you make this tamarind red lentil soup, leave a comment below and rate the recipe on the recipe card. And please share your photos with me on Instagram, tag @thecuriouschickpea and #thecuriouschickpea. I love seeing your recreations!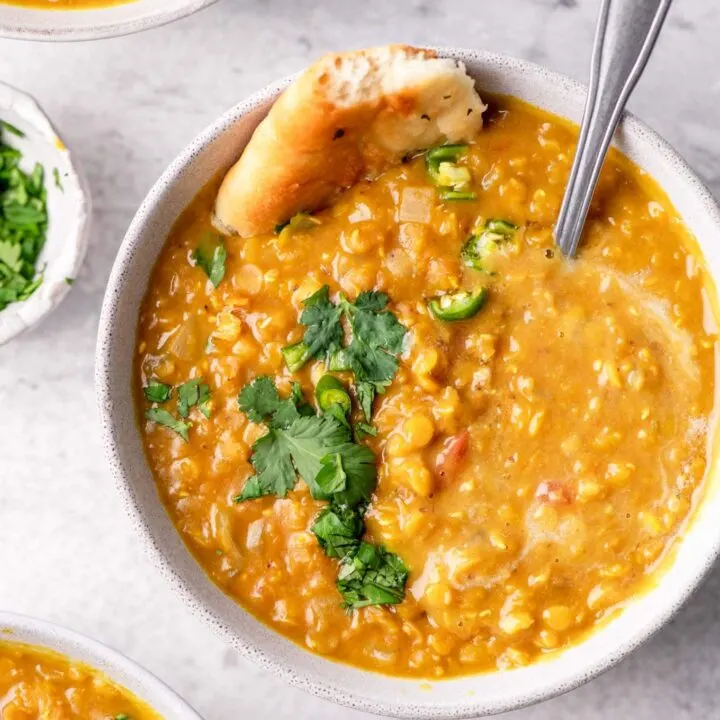 Tamarind Red Lentil Soup
This delicious tamarind red lentil soup is so simple to make and bursting with flavor! It's creamy, spicy, gingery, tangy–just all around incredible! Eat it as a soup with some bread for dipping, or enjoy it as dal with basmati rice.
Ingredients
2 tsp coconut oil or vegetable oil, divided
1 yellow onion, small dice
4 cloves garlic, minced
1-6 chilis, minced (to taste)
1-inch piece ginger, minced (~1 1/2 tbsp)
2 tsp ground cumin
1 tsp ground coriander
1 1/2 tsp salt, or to taste
2 cups (400 g) dry red lentils, rinsed clean
6 cups water
1-3 tbsp tamarind concentrate
1 15 oz can crushed or diced tomatoes (1 1/2 cups diced fresh tomatoes)
1 15 oz can coconut milk
2-3 tbsp fresh squeezed lemon juice
cilantro, to garnish (optional)
minced chilies, to garnish (optional)
vegan butter, to serve (optional)
Instructions
Heat 1 teaspoon of oil in a large heavy bottomed stock pot over medium heat. Add onion, and sauté it for 5 minutes, stirring occasionally, until soft and translucent.
Add the additional teaspoon of oil and the minced garlic, chili, and ginger, and cook for 1 minute, stirring.
Stir in the cumin, coriander, and salt, then add the rinsed lentils. Mix the lentils in and let cook for about 1 minute, stirring constantly. Then add the 6 cups of water and 1 tablespoon of tamarind concentrate.
Bring to a boil over high heat, then turn the heat to low and simmer, covered, for 15 minutes, or until lentils are soft.
Add the tomatoes and coconut milk, and bring to a simmer. Cook for an additional 15 minutes to allow flavors to meld and tomatoes to break down. As it cooks taste and add 1-2 more tablespoons of tamarind concentrate if needed.
Turn off the heat and add the lemon juice, taste, and adjust any final seasonings to taste.
Serve warm with a dollop of vegan butter (optional), minced cilantro, and minced chilies to taste.
Recommended Products
As an Amazon Associate and member of other affiliate programs, I earn from qualifying purchases.
Nutrition Information:
Yield:

6
Serving Size:

1
Amount Per Serving:
Calories:

419
Total Fat:

18g
Sodium:

689mg
Carbohydrates:

51g
Fiber:

9g
Sugar:

5g
Protein:

18g
Nutrition is calculated automatically so should be used as an estimate.
This recipe was originally published on April 18, 2017.