These shredded mushroom carnitas are made with king oysters and are an ultra flavorful, delicious, meaty, and easy recipe! They're perfect for filling tacos, burritos, and more!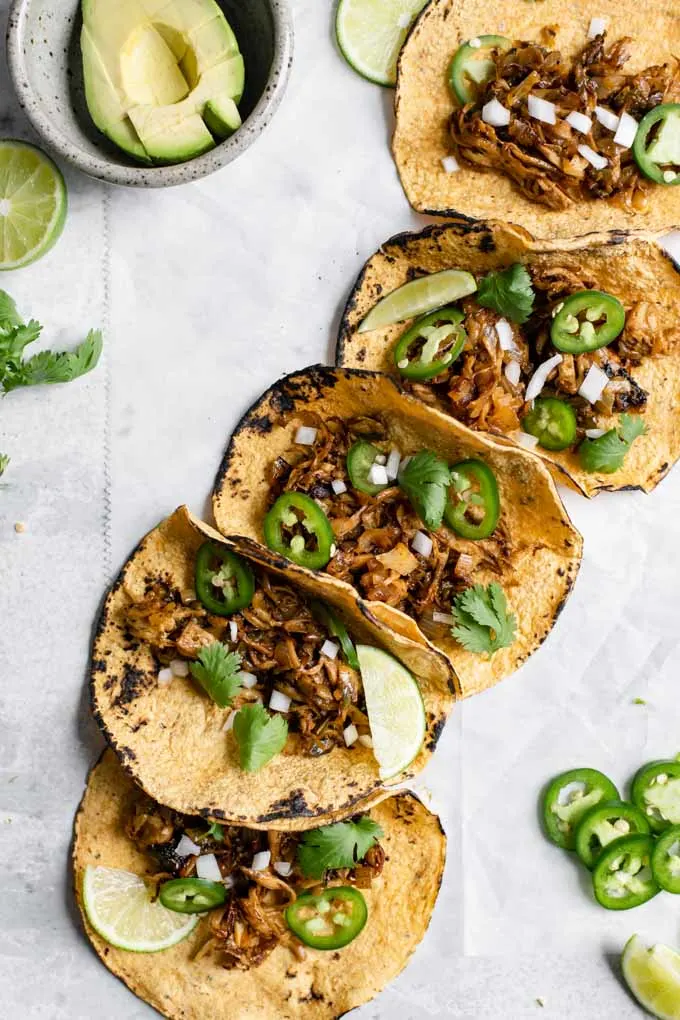 I never thought I'd say this, but I'm crazy for vegan mushroom carnitas. They're ultra savory, balanced with a hint of sweet. The texture delightfully chewy with crisped edges–downright meaty, for lack of a better word.
I love them stuffed into tacos. Fresh corn tortillas piled high with the carnitas and topped with jalapeño, onion, cilantro, and creamy avocado.
Before you know it, I'll down 3 of these loaded up shredded mushroom carnitas tacos!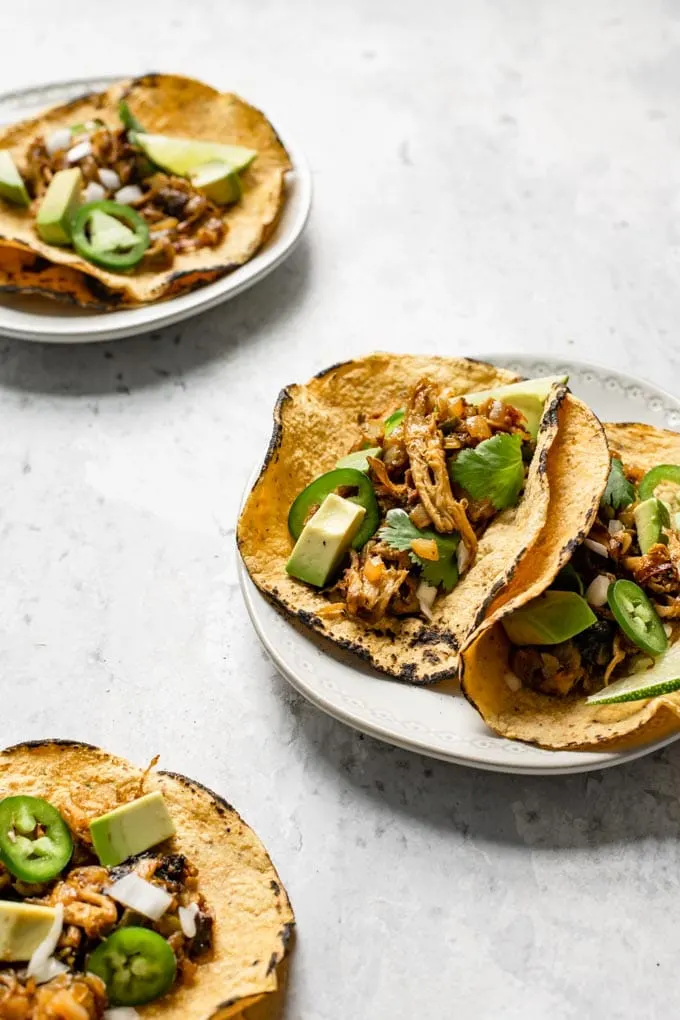 That's right, you heard me!
Shredded. Mushroom. Carnitas. Tacos. *Checks website address to make sure we're at the right place.*
I might have a reputation for not loving mushrooms (and if I didn't, I probably do now). I'm team: mushroom flavor–amazing! mushroom texture–ehhhhh…
But, I'm surrounded by mushroom lovers (my husband Omar, my family, and probably most of you as well) and firmly believe in expanding taste horizons, especially my own, so do make the occasional mushroom dish.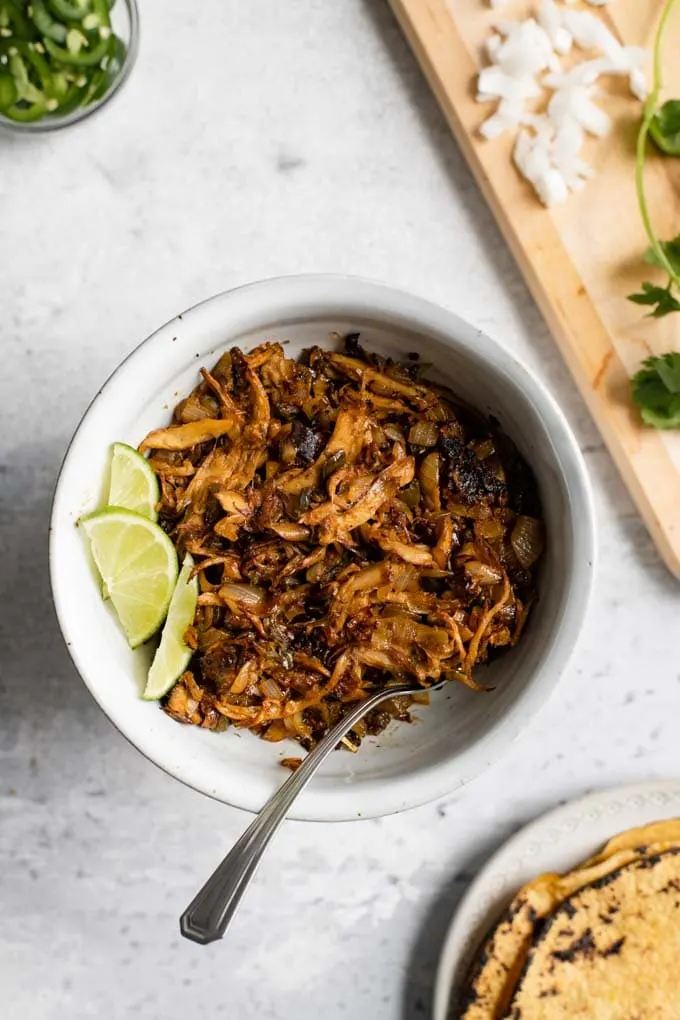 And I'll be honest with you, even then I kinda hide them, sneak them in, and probably use about 1/3 the amount that both Omar and you wish I would use.
This recipe for shredded mushroom carnitas are different. It's an ode to the king oyster mushroom. There's no hiding mushroom when the entire recipe is about highlighting the crazy (and a bit freaky, I mean, do we even trust mushrooms?) texture and transformative properties of the king oyster!
And I have to say, I was there for it! Like all of it! I ate my fair share (maybe a bit more even) of mushroom tacos! These are just that insanely good!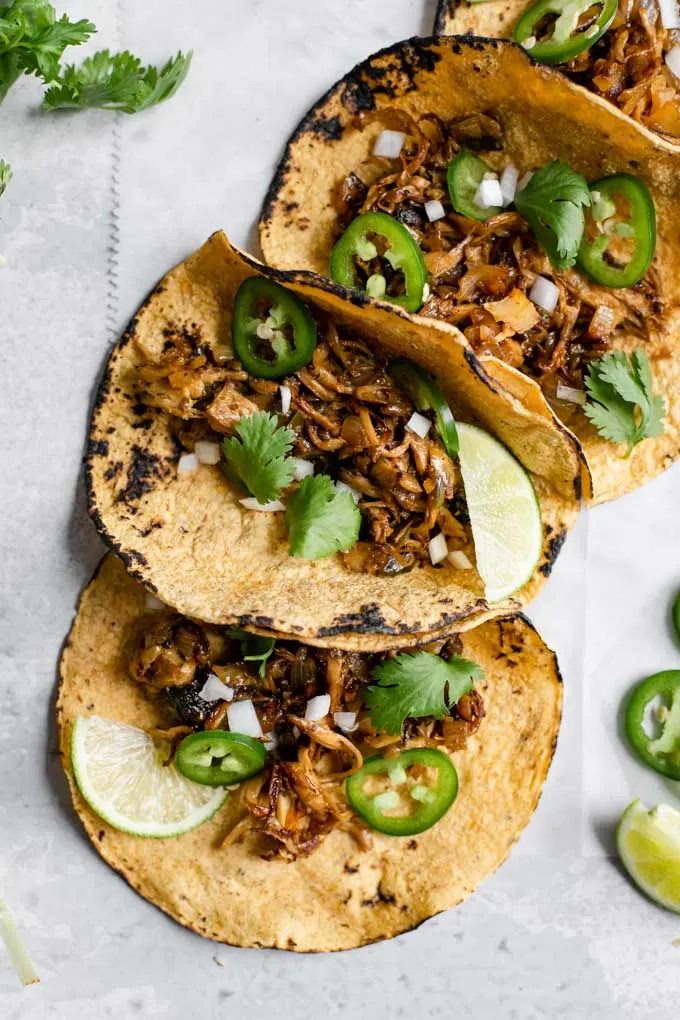 Let's just put it out there: not all mushrooms are created equal!
And the aptly named king oyster mushrooms are at the top of the list (a spot they share with quite a few other great varieties such as maitake, chanterelle, morels, shiitake, porcini, & enoki).
King oyster mushrooms have thick and firm stems that can be shredded, diced up, or cut into medallions and cook up to have such a great texture.
How to make the vegan mushroom carnitas:
Shred king oysters between two forks to create varying shapes and sizes and tear up the caps. Then toss the mushrooms in a dry rub along with a bit of oil to help things stick to the mushrooms and the flavor absorb.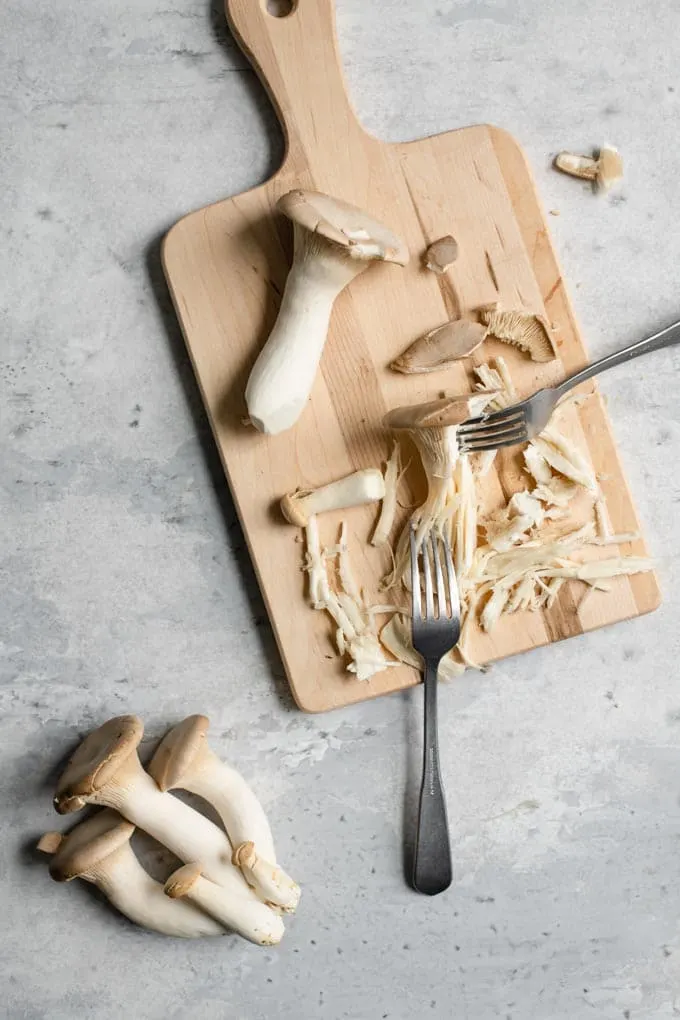 Then the mushrooms are baked to cook out water and turn them into tasty, perfectly chewy vegan mushroom meat.
Meanwhile on the stove, sauté onion, garlic, and jalapeño until soft and just a bit caramelized.
Add the orange juice, some vegan worcestershire sauce for extra savory notes, and the baked mushrooms, and let cook until the mushroom carnitas are browned and sticky.
It really couldn't be simpler!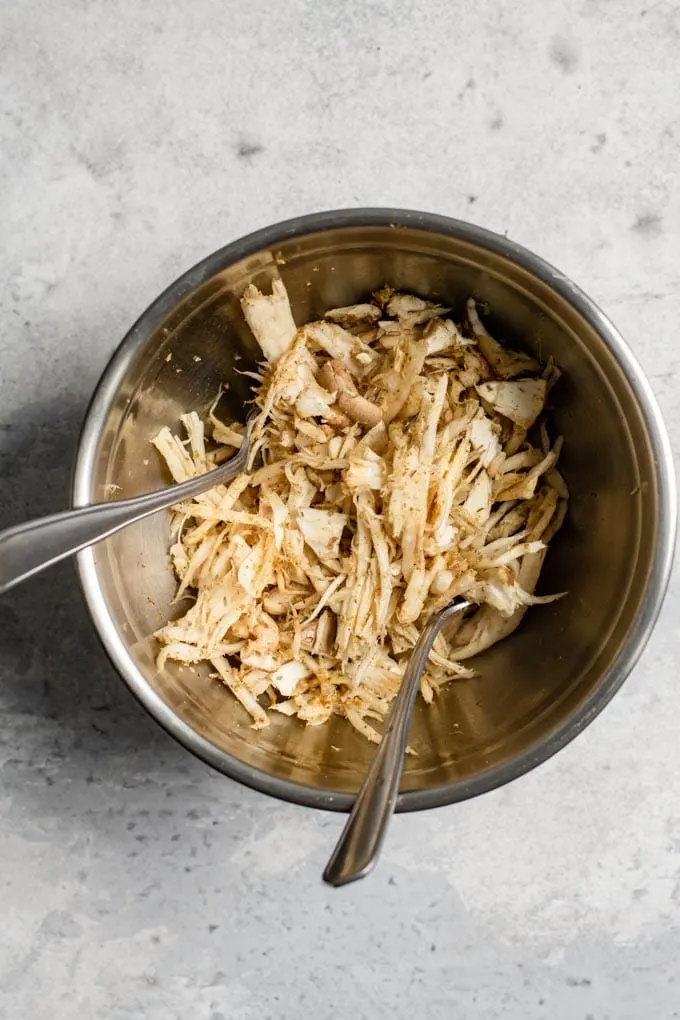 To serve, I stuffed the shredded mushroom carnitas into warmed corn tortillas.
Then topped them with fresh jalapeño, minced white onion, cilantro, and avocado. Lastly, a squeeze of fresh lime overtop before we polished them off!
You could also use them to fill a burrito, or top on nachos, stuff into a quesadilla, or in any place you'd use a [vegan] taco meat. The world is your oyster (ha)!
Now, while these mushrooms carnitas may taste super flavorful and meaty, they are mushrooms and aren't super filling on their own. Loading up your tacos with some avocado definitely helps the "fill" factor, or enjoy them as a lighter meal!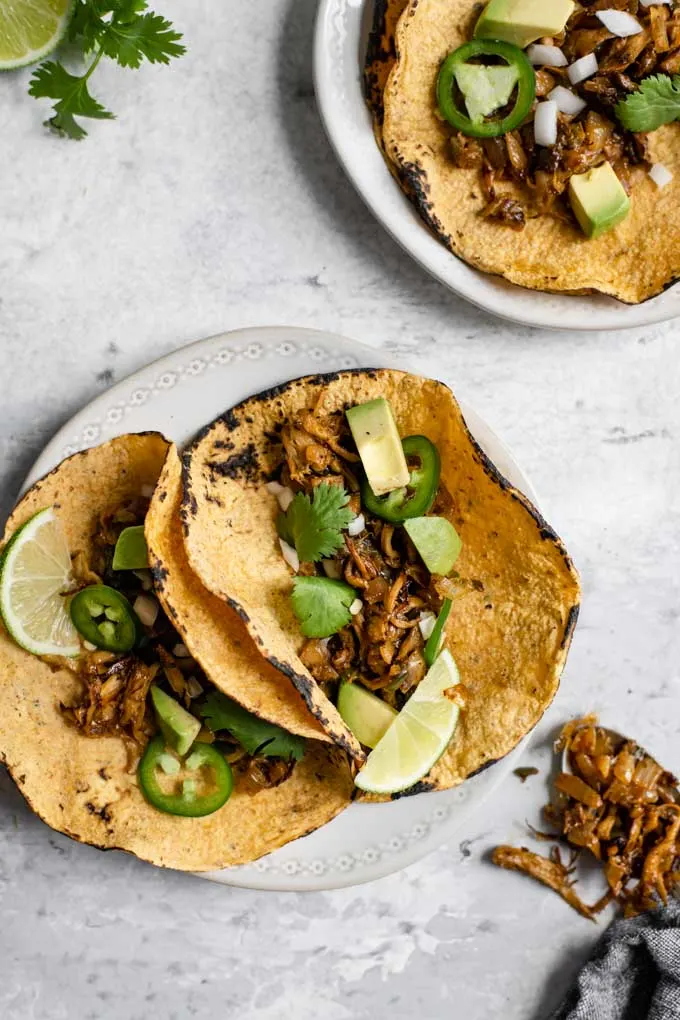 You can pair them with one of my other Mexican recipes to make a flavorful and hearty vegan meal!
---
If you make these vegan shredded mushroom carnitas, leave a comment below and rate the recipe on the recipe card. And please share your photos with me on Instagram, tag @thecuriouschickpea and #thecuriouschickpea. I love seeing your recreations!
---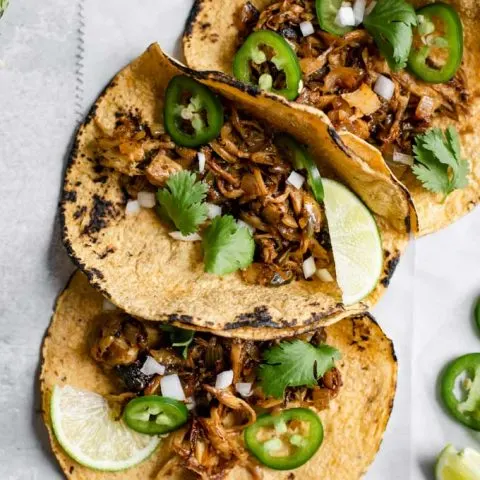 Shredded Mushroom Carnitas
Shredded mushroom carnitas are made with king oysters and are an ultra flavorful, delicious, meaty, and easy vegan and gluten free recipe! They're perfect for filling tacos, burritos, and more!
Ingredients
10oz king oyster mushrooms (5-6 large mushrooms)
2 tsp dried oregano
1 1/2 tsp ground cumin
1 tsp ground coriander
2 tbsp olive oil, divided
1 small white onion, small dice
4 garlic cloves, minced
1 jalapeño, diced (optional: deseed for mild heat)
1/2 cup fresh squeezed orange juice, 1-2 oranges
1 tsp vegan worcestershire sauce (optional)
salt and pepper to taste
Instructions
Preheat the oven to 400 ºF and line a baking tray with parchment paper or a silicon mat.Trim the ends of the king oyster mushrooms and shred the stems and caps between two forks.
Toss the shredded mushrooms in the oregano, cumin, coriander, 1/4 tsp salt, black pepper to taste, and 1 tablespoon of olive oil. Spread evenly over the lined baking tray.
Bake for 15-20 minutes at 400 ºF until the mushrooms are chewy with some crispy ends. Stir halfway through for even cooking.
Heat a large skillet over medium-low heat and add the remaining tablespoon of oil along with the onion, garlic, jalapeño and a pinch of salt. Sauté until soft, translucent and lightly caramelized, about 8-10 minutes.
Add the baked mushrooms, the orange juice, and vegan worcestershire sauce (if using). Salt and pepper to taste. Sauté until the juice is absorbed and sticky, stirring just once or twice to allow the mushrooms to crisp on a couple of sides, about 5 minutes.
Notes
If gluten free make sure to use a certified gluten free and vegan worcestershire sauce, or leave it out.
Recommended Products
As an Amazon Associate and member of other affiliate programs, I earn from qualifying purchases.
Nutrition Information:
Yield:

6
Serving Size:

1
Amount Per Serving:
Calories:

101
Total Fat:

5g
Saturated Fat:

1g
Sodium:

70mg
Carbohydrates:

14g
Fiber:

3g
Sugar:

7g
Protein:

3g