This vegan pesto leek pizza with coconut bacon is perfect for the spring and summer!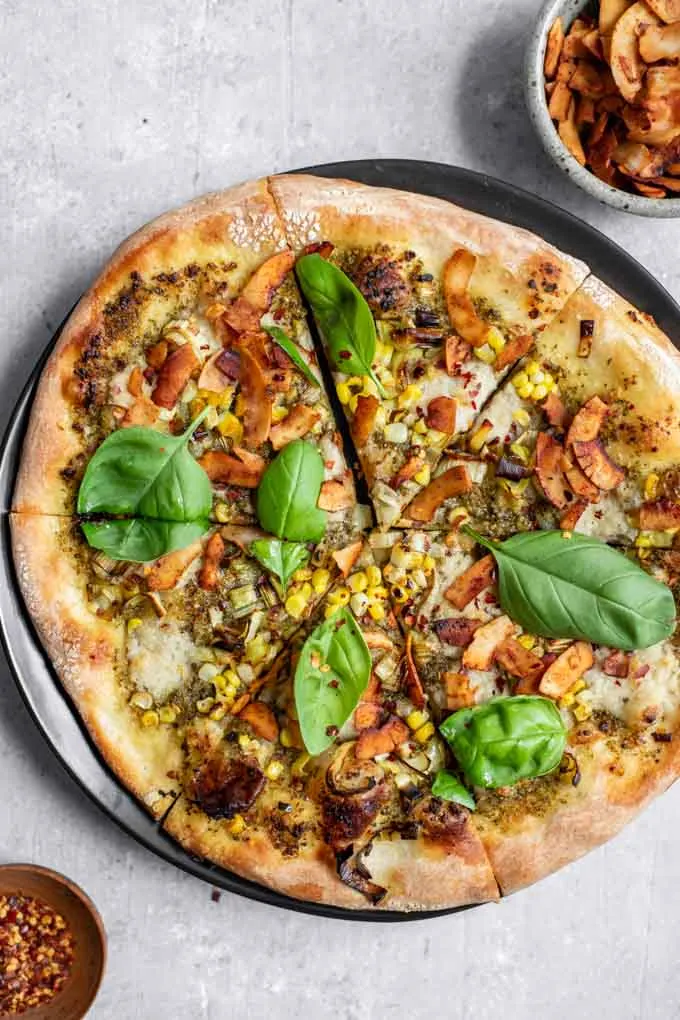 This pizza is out of this world! Topped with pesto, charred leeks and charred corn, dollops of melty vegan mozzarella, and crispy coconut bacon (aka the pizza's raison d'être). All over a pillowy pizza dough, baked up to hot, chewy perfection.
It's the kind of pizza you'll want to eat for breakfast, lunch, and dinner. If only because a couple of slices at one meal just isn't enough!
It's perfect for the transitioning seasons, making the most of seasonal produce. Leeks are prime spring season, and we're just starting to see some of summer's ripe corn.
The basil in my porch herb garden is growing like crazy, and I'm pretty sure it's always coconut bacon season. ?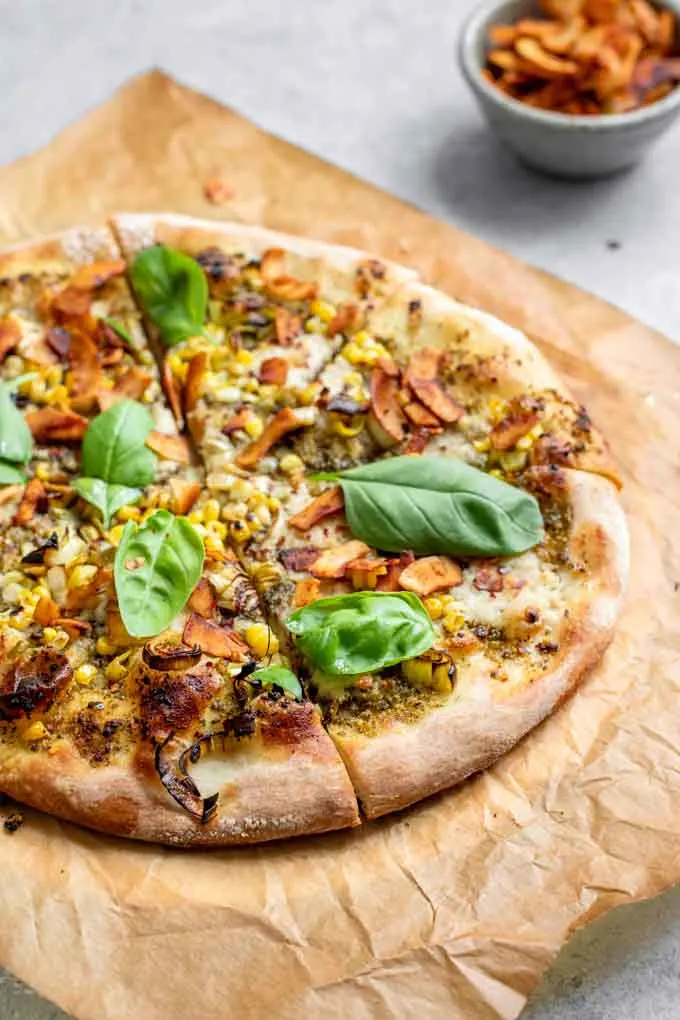 I was inspired by the veritable bounty of the fresh foods in my fridge and garden. But, the driving force behind this pizza was the desire to make the most of my oven before my AC turns on for the season.
I bake my pizzas in threes, so we still have a little left of these pies, but I'm already plotting the next round!
Making pizza is so simple! If it's not part of your cooking rotation, you should add it!
Whether you start with homemade pizza dough, store bought dough, or a pre-made crust, this pizza is sure to be a hit!
For the base of this pizza, I used a simple herb stuffed pesto.
My homemade pesto used a combination of toasted walnuts and pine nuts for the base along with some fresh garlic.
For the herbs, I used mainly basil, but added a bit of fresh thyme and a handful of fresh parsley to amp up the flavor.
Last I added extra virgin olive oil, a bit of sea salt, and the juice from one lemon to brighten up the herbal flavors.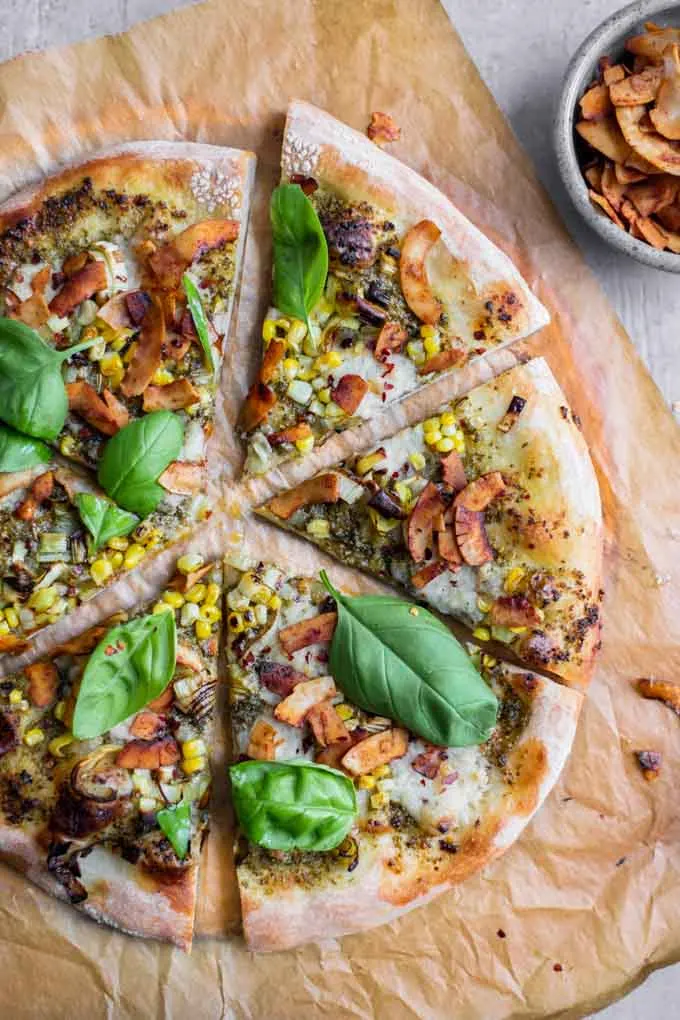 Any pesto recipe would be delicious on this pizza, and you can certainly purchase one at the store (check the ingredients for parmesan cheese, it's often in store bought versions!).
The pesto should be on the runny side so it can be easily spread over the dough. While I used plenty of olive oil in my pesto to achieve this–nothing like pizza dough and olive oil, you can always substitute some of the olive oil for water.
Next we have the pizza toppings.
I lightly charred the leeks and corn over a hot, oiled skilled to get some spots of blackened color.
I used corn on the cob, but to be perfectly honest, I only bought out of season fresh corn for the photo styling. Frozen corn is more than ok!
Leeks on the other hand are so in season, you'd be crazy to not use them! That being said, if you're reading this post outside of spring season, you have my permission to use out of season leeks.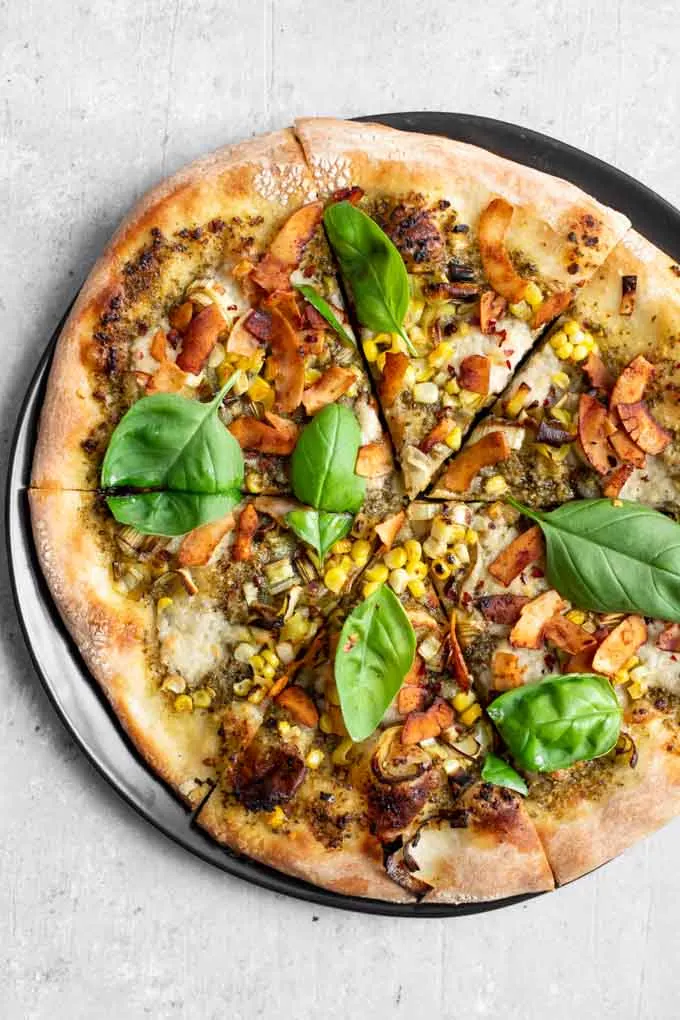 For the cheese, I used some fresh mozzarella style vegan cheese. Other options would be some homemade almond cheese or a vegan feta.
There's so much delicious flavor going on with this pizza that I recommend going light on the cheese, just some dollops here and there, or a light layer of shredded vegan cheese. You can even skip it if you prefer!
Bake the pizza with these toppings, then add the coconut bacon once it's out of the oven!
Making the coconut bacon:
If you've never had coconut bacon, it's bound to become one of your top vegan bacon options!
It's so simple to make. Toss large flakes of desiccated coconut in a smoky, salty, and sweet marinade. Then bake them to absorb the marinade, and turn crisp.
Coconut bacon is salty, savory, the perfect amount of sweet, and smoky. It's rich and flavorful, and the perfect accompaniment to this savory vegetabley pizza!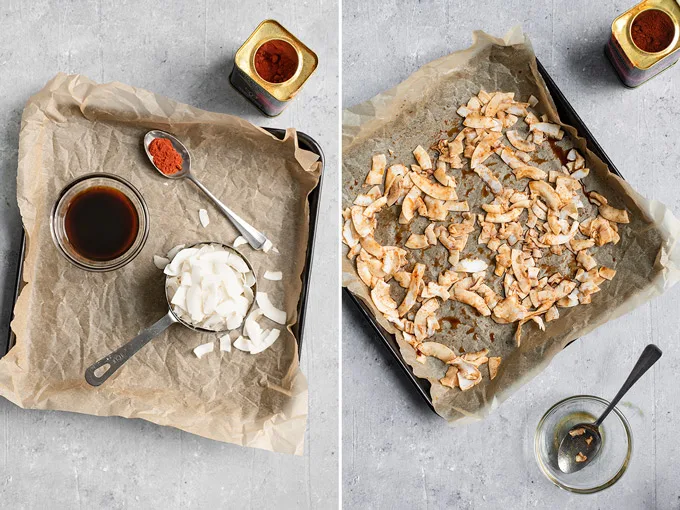 If you'd prefer to use a store bought vegan bacon, you can use a tempeh bacon, seitan bacon, or soy bacon, but you'll want to add it to the pizza before it bakes. You may even want to crisp it up in the pan (not necessary for my homemade tempeh bacon) before topping the pizza!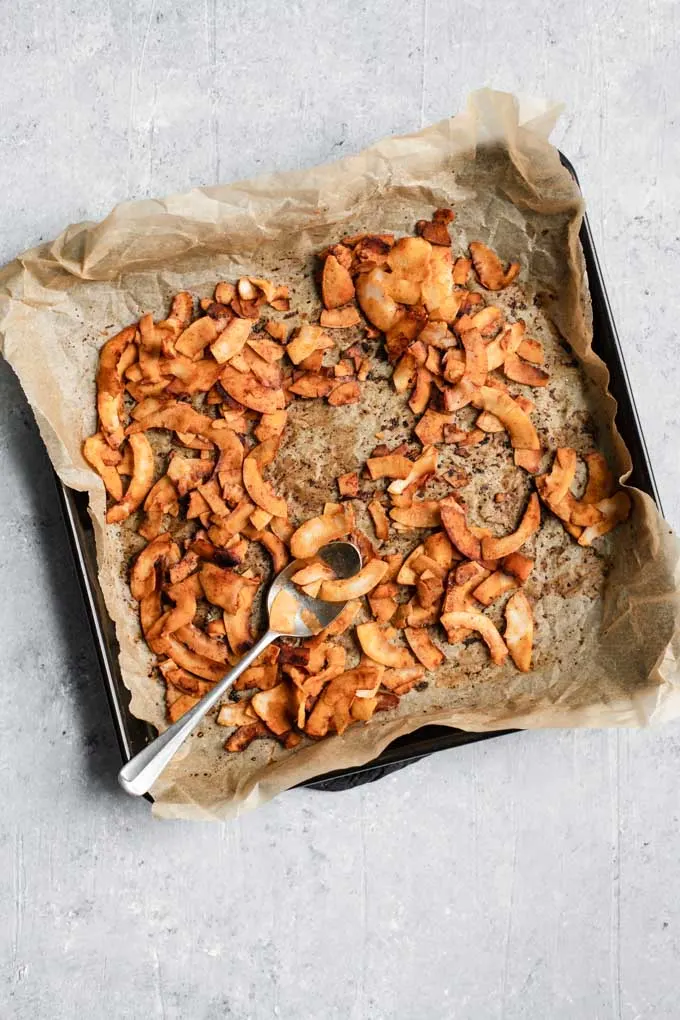 This pizza turned out extra delicious and special. It was the first time I've put corn on one of my homemade pizzas, and I'm sure to repeat that soon!
The last time I had corn on pizza was at this restaurant in Romania, and we ordered what was called a Mexican pizza (which, I know, bad call). It came out with cheese and like those frozen mixed vegetables on top. So corn, green peas, diced carrots, lima beans.. you know the one.
It was let's say, an experience I didn't care to repeat anytime soon and swore me off the idea of adding corn to pizza for years! I'm glad I got over it, because wow! I think this is going to be the summer of corn on pizza!
I hope you enjoy this tasty pesto leek pizza as much as we did!
---
If you make some pesto leek pizza with coconut bacon and charred corn, leave a comment below and rate the recipe on the recipe card. And please share your photos with me on Instagram, tag @thecuriouschickpea and #thecuriouschickpea. I love seeing your recreations!
---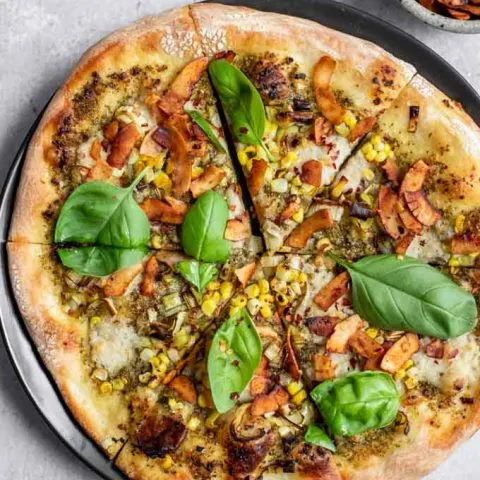 Pesto Leek Pizza with Coconut Bacon
Total Time:
1 hour
40 minutes
This delicious vegan pesto leek pizza with coconut bacon and charred corn is the perfect spring and summer pizza!
Ingredients
Coconut Bacon
1 cup large flaked coconut
1 tbsp tamari
1 tsp apple cider vinegar
1 tsp maple syrup
1 tsp liquid smoke
1/2 tsp smoked paprika
Pesto (or use store bought)
1/4 cup toasted pine nuts
1/4 cup toasted walnuts
2 cloves garlic
2 cups lightly packed basil
1 tbsp fresh thyme
1/4 cup parsley
1/2 cup extra virgin olive oil
1/2 tsp salt
juice from 1 lemon
Everything Else
1-2 leeks, ends and dark green leafy portions trimmed and discarded, cut in half, thoroughly washed, and sliced
1 large cob of corn, or ~1 cup kernels (fresh or frozen)
Vegan Mozzarella
Red pepper flakes
Fresh Basil
Instructions
Make the Coconut Bacon
Preheat the oven to 325 ºF. Mix together the tamari, apple cider vinegar, maple syrup, liquid smoke, and smoked paprika. Toss with the coconut flakes, and spread out over a parchment covered baking tray.
Bake for 12-15 minutes, stirring halfway through. Keep a close eye on them at the end as they can go from perfectly done to burnt quickly. Remove from oven and they will continue to crisp as they cool. Keep at room temperature until ready to use.
Make the Pesto
Add the garlic and nuts to a food processor. Pulse to grind into fine crumbs. Add the basil, thyme, and parsley and process to finely chop. Add the salt and drizzle in the olive oil and process to combine and puree as finely as you'd like. Add the lemon juice and pulse to combine. Refrigerate until ready to use.
Make the Pizzas
Turn the oven to 550 ºF, or as hot as it will go. Place a rack one third of the way down from the top of the oven, and place a baking steel or baking stone on that rack. You want the oven to saturate with heat for about 1 hour before baking pizza for best results.
At this time also remove the pizza dough from the fridge so it can come to room temperature and the gluten can relax.
Prepare the vegetables: heat a skillet over medium high heat. Add a drizzle of oil, then cook the corn, rotating the cob or stirring the kernels infrequently, until they are charred in some spots. Remove from the pan, then add more oil and add the leeks with a pinch of salt. Cook the leeks for 1-3 minutes, stirring just once or twice until they have some charred spots as well. Remove from heat. Cut the corn off the cob.
When the oven is nice and hot, prepare your pizzas one at a time. Stretch your dough to around 10-12" diameter and place on a lightly floured pizza peel.
Spread the pesto over the dough then top with the charred leeks and charred corn. Add some vegan mozzarella, and some red pepper flakes.
Transfer the pizza onto the baking steel or pizza stone and bake for about 8 minutes. If needed, turn the heat to broil for another 1-2 minutes to brown the top. Alternatively, bake on a baking sheet: assemble the pizza straight on the pan and place directly in the oven to bake.
Repeat the pizza assembly and baking with the remaining dough.
Top the pizza with coconut bacon and fresh basil, and cut into it once it's cooled for a couple of minutes. Best enjoyed while hot!
Recommended Products
As an Amazon Associate and member of other affiliate programs, I earn from qualifying purchases.