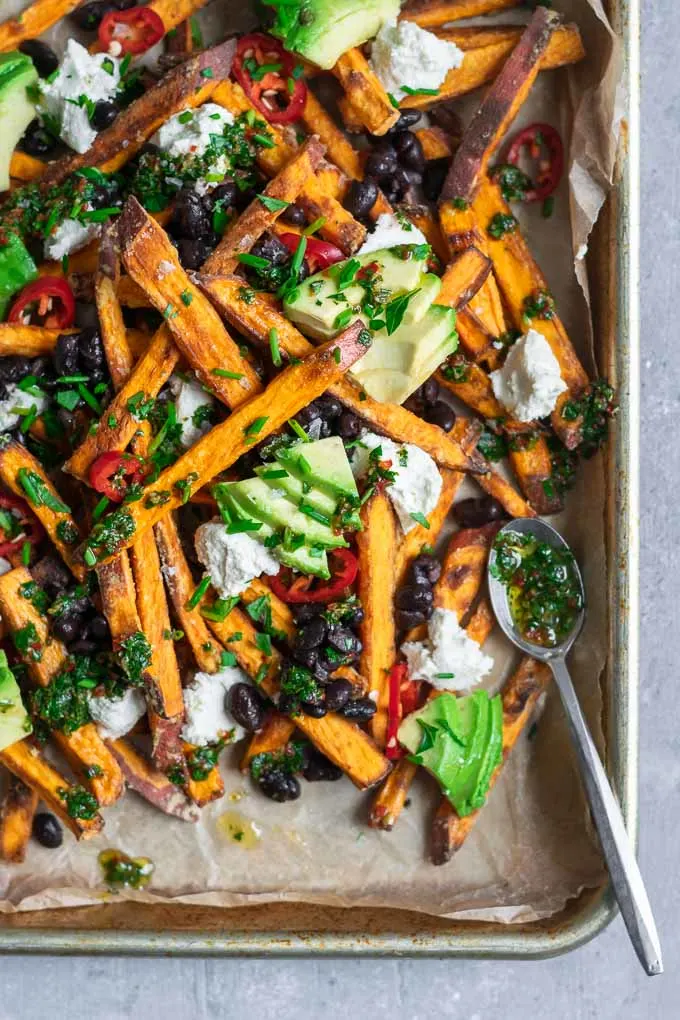 These chimichurri loaded sweet potato fries are a quick & easy, healthy & hearty, insanely delicious meal! We're talking garlicky chimichurri paired with earthy black beans, dollops of creamy almond cheese, buttery avocado, spicy fresh chiles, and lots of fresh chives.. all over crisp, oven baked sweet potato fries!
If I'm being 100% honest with you, this was a clean out the fridge meal. We were headed out of town last week for my sister-in-law's wedding and it hit me that we had way too much perishable food in the fridge that would not last the week!
Somehow I brainstormed this meal from what we had lying around. I think I might just be a genius, it was so so sooo good! Like, I want more, and am now lamenting that we didn't have all these ingredients waiting for us in the fridge when we got home!
First, I whipped up a quick chimichurri–a flavorful Argentinian sauce made from parsley. Garlic, fresh red chiles (or substitute crushed red pepper), oregano are processed in a mini food processor along with the parsley until finely minced. This makes quick work of the chopping!
Traditionally you would use a fresh oregano, but as this was a clean out the fridge meal and I didn't have any fresh on hand I substituted dry which worked perfectly. Luckily dried oregano keeps its flavor well and the chimichurri tastes amazing with it!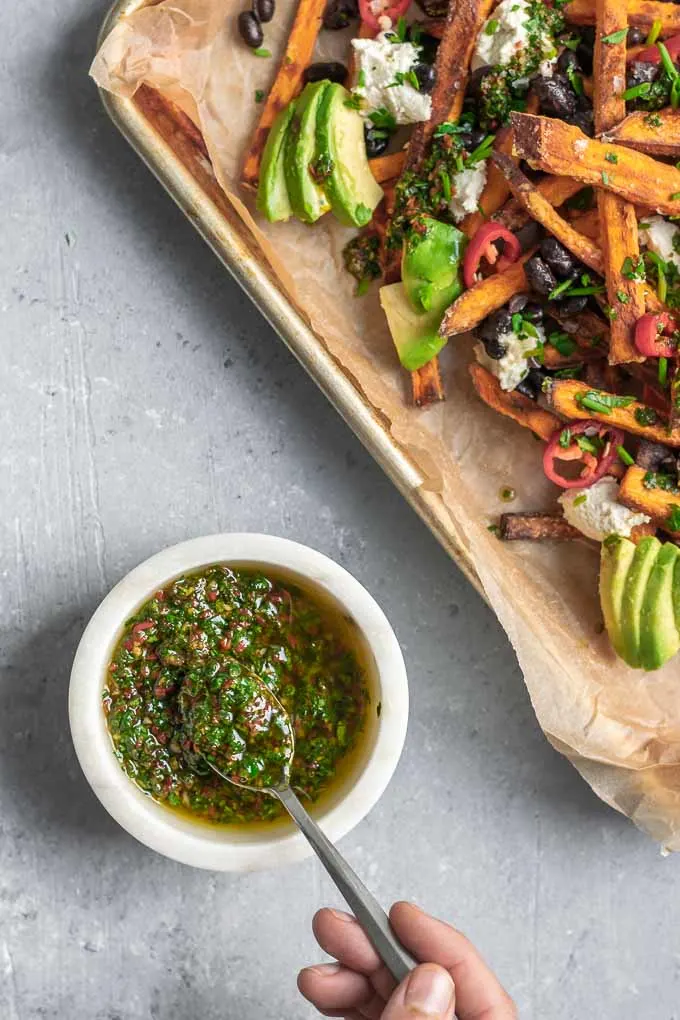 Once everything is finely chopped, we transfer the sauce to a bowl and stir in olive oil, red wine vinegar, salt, and pepper. Doing this step by hand and not blending it in the food processor keeps the delicate olive oil from bruising and turning bitter and gives the sauce a nice handmade look as the parsley don't blend into a smooth paste.
The chimichurri is best left to meld flavors for at least 20 minutes, or stick it in the fridge for longer. Make sure to taste and adjust seasonings. Adding a little extra vinegar, salt, pepper, or even minced garlic as you like!
While the chimichurri flavors were melding, I went ahead and made my sweet potato fries. If you're in a hurry to get the loaded fries on the table, then make the sweet potatoes first and while they're baking whip up your chimichurri, or even better, make your chimichurri a few hours or a day in advance.
I don't often make my own sweet potato fries or regular potato fries, but I think I might need to change that now that I've had this recipe! It made for such a satisfying meal, indulgent tasting but quite healthy.
To make quick crispy oven baked sweet potato fries, there are a few tricks. First, coat the cut potatoes in starch and salt. The starch acts to soak up any moisture from the fries and creates a crispy coating while the salt helps draw out the moisture. This means a perfectly crisp fry.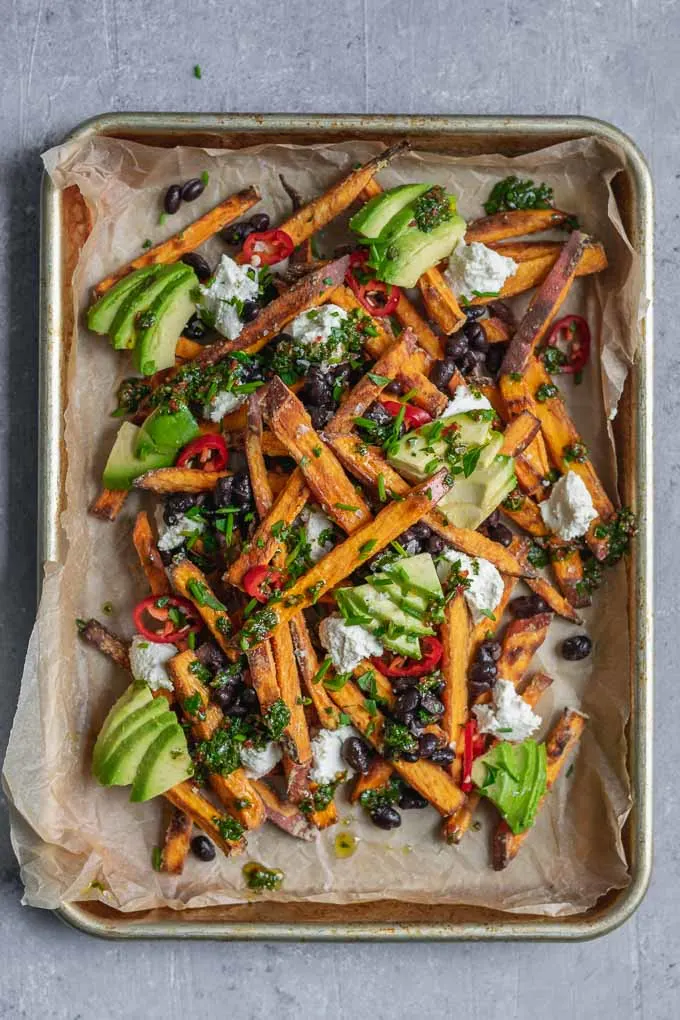 Next we drizzle in and coat the starch covered fries in a thin layer of oil. Oil helps the fries get nice and crispy, plus let's be honest, it makes them taste better too.
The real secret comes down to how you bake them. For the best oven fries, line the potatoes up individually in a single layer, with about a fingers width between each cut fry.
This allows for the potatoes to release their moisture without steaming the neighboring fry. It might mean that you use two baking trays instead of one for a single large sweet potato, but it's a necessary step to good home baked sweet potato fries!
Then halfway through baking, ideally you want to flip them! This helps with even browning, especially when you have two trays of fries on two different racks in the oven. Flip each fry then switch the trays.
Then you just load up your fries and serve! Take the hot fries straight from the oven and layer with dollops of creamy vegan almond cheese, sliced avocado, black beans, spicy sliced chiles, chimichurri, and minced chives.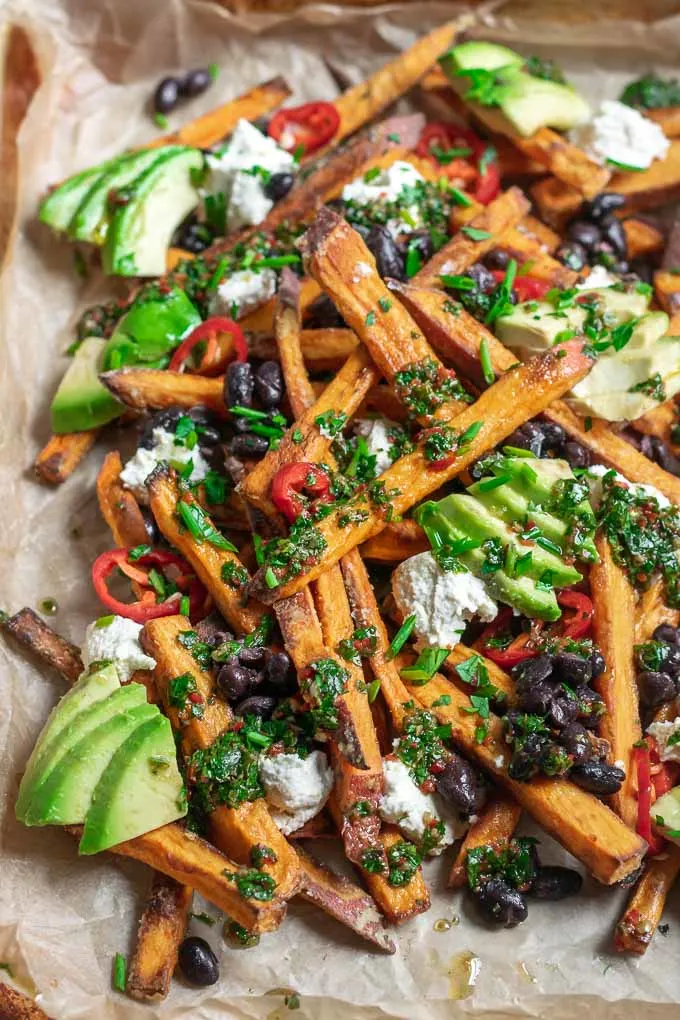 The almond cheese is one of our favorites to have on hand in the fridge. For smearing over toast, stuffing into homemade pasta dough, putting on pizza, in lasagna.. you get the idea! It's tangy with freshly squeezed lemon juice, salty, garlicky, and rich tasting and pairs so perfectly with the chimichurri. Honestly I'm pretty sure the rest of the meal is just a vehicle for this pairing.
Avocado provides a cooling, mild counterpoint for those bold flavors. And plain, cooked (/canned), and rinsed black beans as a mild but earthy creamy source of protein. This is a meal or appetizer best eaten with a fork so you can get a little of everything in each bite!
The chimichurri makes enough for a second batch of these loaded fries, which means you get to eat this twice! Or leave the leftovers to your friend who is watching your cat and house and have her eat them–because it's too good not to share!
This clean out the fridge meal became one of my favorite things I've eaten in awhile and I can't wait to make it again! This recipe makes 1 large tray of loaded fries, which is perfect for two filling entree sized portions, or could easily be shared between 4-5 people for a tasty appetizer. And you can always double it if you're serving more!
Whichever way you enjoy this recipe, it's sure to delight! I can't wait for you guys to try this recipe! So, please let me know when you do! Give the recipe a rating and leave a review on the recipe card below! Also don't forget to share your creations with me on Instagram, tag @thecuriouschickpea and #thecuriouschickpea, I absolutely love seeing your photos!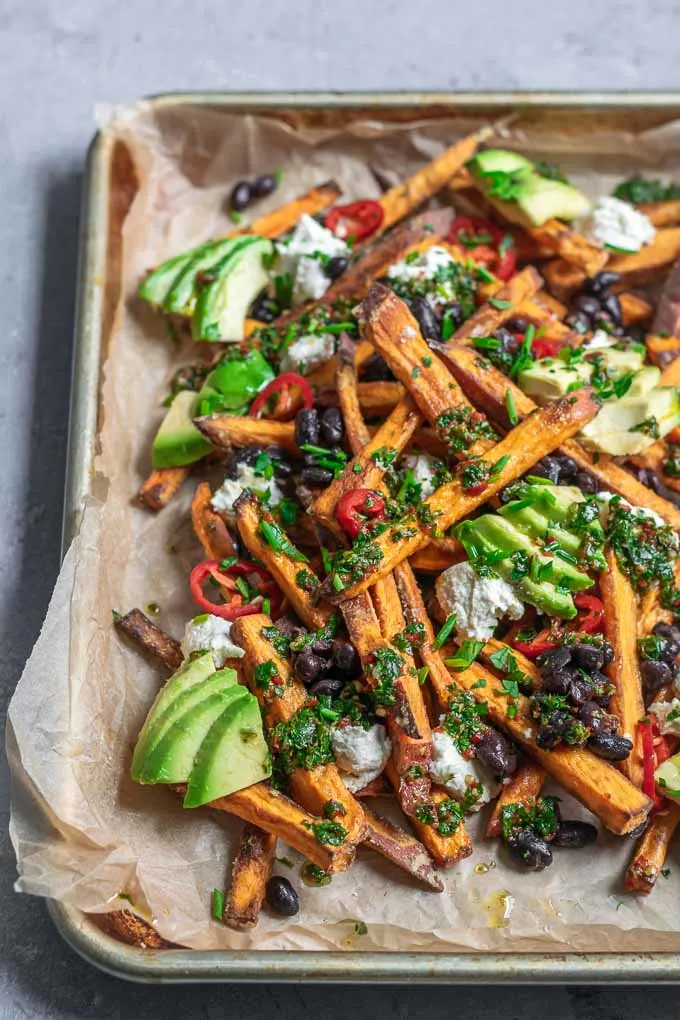 Notes: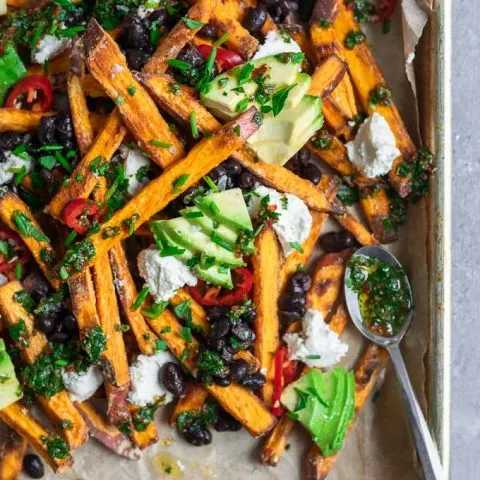 Chimichurri Loaded Sweet Potato Fries
Baked sweet potato fries are topped with black beans, avocado, almond cheese, sliced hot chili peppers, and homemade chimichurri. These loaded fries are healthy and filling and incredibly delicious.
Ingredients
Sweet Potato Fries
1 large sweet potato (~1 lb)
2 tbsp cornstarch, tapioca starch, or arrowroot
1/2 tsp salt
2 tbsp olive oil
Chimichurri
1 cup packed flat leaf parsley, stems removed
2 garlic cloves
1 tsp dried oregano or 1 tbsp fresh
1 red chili pepper or 1/2-1 tsp crushed red pepper flakes
1/4 cup olive oil
2 tbsp red wine vinegar
1/2 tsp kosher salt or 1/4 tsp fine sea salt
freshly ground black pepper
Everything Else
1 15oz can black beans, drained and rinsed
1 avocado
Chives
Instructions
Make the sweet potato fries
Preheat the oven to 425 ºF.
Cut the sweet potatoes into evenly sized matchsticks, about 1/4". Place in a bowl or ziplock bag and toss with the cornstarch and salt to evenly coat. Drizzle the oil over and toss once again to coat.
Arrange the sweet potato fries in a single layer across two lightly greased or parchment covered baking sheets. Leave about a fingers width between the fries. Bake for 15 minutes, flip, then another 10-15 minutes or until the fries are crispy and starting to turn brown in spots.
Make the chimichurri
In a small food processor chop the parsley, garlic, oregano, and red chili until finely minced. Alternatively mince with a knife by hand.
Transfer to a bowl and stir in the olive oil, vinegar, salt and black pepper. Let sit for about 20 minutes before using. Taste and adjust seasoning if desired.
Assemble the loaded fries
Layer the baked sweet potato fries with the black beans, dollop with almond cheese, diced avocado, and sliced jalapeño. Drizzle with chimichurri then garnish with plenty of minced chives. Enjoy hot!
Notes
Serves 2 as a meal or more as an appetizer or snack.